The Perfect High Heels for Winter
Heels & winter barely ever mix. Especially when you live in Toronto, Canada, where the streets are often lined with ice & snow. Which is sad, because it completely hinders our fashion sense & street style, not to mention seriously reduces the types of shoes we can wear!
Luckily we've been spared in the snow & cold department this year, leaving us much more wiggle room for footwear & outfit choices. Yes, rejoice!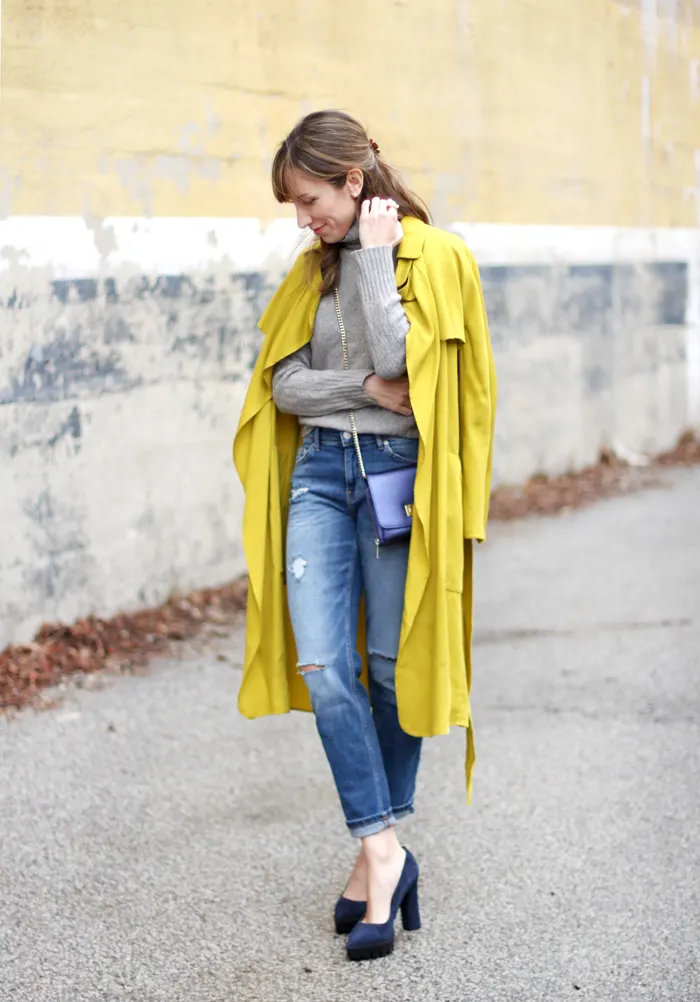 Lug Sole Heels: c/o Nine West. Distressed Jeans: H&M (in store now). Purse: Danier c/o Dixie Outlet Mall. Grey Sweater: vintage. Yellow Trench: Zara (old)
---
Shop the Look

---

Navy Suede High Heels for Winter
I mean, how sad it is when your pretty heels & shoes are relegated to their tiny shoe box cells, buried deep within in your closet? Not that it's summer-warm around these parts or anything, so we still need to keep our feet from getting too cold.
And I've found what I believe to be the best high heels for winter, for many a reason. These high heels being on sale, doesn't hurt the cause either 😉
So when it's unbelievably cold, pumps in the winter won't work. Unless you wear thick socks, but many people frown upon that (not me! I'll take a fun sock with a pump any day!). However ,with this year's more manageable winter temperatures, pumps work great. Especially with a thick plastic platform with lug sole!
Not only will the suede uppers be protected from the variable ground, but my feet will be kept warmer because of that platform's "padding" so to speak. Because no one wants to have their feet too close to the ground, even if it's "only" 0 degrees Celcius, right? Of course, I wouldn't recommend wearing them in the snow (they are suede shoes after all!). Check out my guide on to how to clean suede shoes to understand why.
How to Wear
How to wear such a high, platform heel? Considering its chunky nature, with its block heel & inch tall platform, I'd definitely opt for a boyfriend or looser jean if you're looking at pairing them with denim.
An extra wide pant would look fabulous too & perfect for a chic, but somewhat alternative corporate office look.
With respect to other outfits, these heels could look amazing with a midi skirt, looser fitting over-the-knee dress & 70s style button up A-line mini. Just to name a few! I'd stay away from bodycon dresses & skin tight skinny jeans, where the shoes will throw off the outfit's silhouette & look too 'boxy'.
See more info in my guide to wearing shoes with skinny jeans here.
About Nine West's "Kasen" Track Sole Pumps
These "Kasen" heels are pretty high, but not a tall as you'd think! With their 4″+ chunky heels & 1″ platform, the heels appears more like 5 inches high, but feels like you're strutting on 3″ instead.
The upper is made of navy suede & the shoe also comes in black leather, brown suede & burgundy suede. The outsole is rubber & the interior/insole material is imitation leather.
These are a great, yet trendy alternative to a classic single soled, pointed toe high heel pump. Speaking of a pointed toe, most chunkier shoes have a rounded toe shape & I love how these are a perfect point! It keeps them on-point (bwahaha, pun intended!), while giving them a bit of a edge with their deeply grooved soles.
Are they comfortable? Well, yes and no. Because your foot is only raised about 3″, they're completely walkable & the chunky heels help to that effect too. They are padded at the balls of the foot which is also important. However, the toe box being as pointy as it is, does constrain the toes, making them less comfy than other heels.
Then again, I've only worn them once & could probably use a little breaking in. I had to go up a half size up in these due to the toe shape & the slightly smaller fit of the overall shoe vs. other Nine West heels. For instance, I'm the usual Nine West 7.5 in these nude pumps.
You can purchase these navy "Kasen" pumps from The Bay & Nine West Canada.
So what about you? Do you have any go-to high heels for winter, or prefer keeping to flat boots?
xo Cristina
Cristina is the chief editor, fashion & shoe expert here at ShoeTease. As a seasoned stylist and women's fashion & shoe designer, she boasts over 20 years of experience in the fashion industry. She loves crafting effortless outfits for ladies both online and off and believes that styling advice should be accessible to everyone. Whether you're a styling pro or just starting out, Cristina's here to guide you on your fashion journey! Learn more.