Affordable & Stylish Vegan Dress Shoes
If you read my shoe blog often enough, you'll notice I showcase a lot of leather shoes. In fact, I normally prefer them. But I realize there are a lot of animal lovers out there who aside from not eating meat, prefer not to wear it either. And I empathize; it's difficult to get a hold of decent vegan leather shoes that can last more than a few wears.
So today I'm showcasing a particular women's vegan dress shoe brand that specializes in fashionable formal & bridal shoes, yet also has quite a few great dancing shoes to put an extra bounce in your salsa step!

I wasn't too sure what to expect from Loslandifen, an Amazon-based shoe brand that sells affordable women's shoes made of vegan leather. And very affordable shoes at that. I'm not using "affordable" as a euphemism either, folks. With prices ranging $20-$60 US, most of which are around $35, you can definitely have your vegan cake and eat it too. Uh, well, you know what I mean!
Anyhow, I was pleasantly surprised when I recently opened the package containing the two styles I'm going to review today. And if you don't believe me, low and behold, below, my first YouTube shoe unboxing video. Well, first YouTube video ever.
Women's Vegan Dress Shoes Review
Which is really quite scary as I'm not only camera shy, but suffer from a fairly severe case of verbal diarrhea ineptitude. So I'm in as much shock as you probably are.
Luckily for all of us, there's digital editing bwahahaha! But, seriously, watch it and you'll see just how happy (and quite frankly, relieved!) that the quality & look of the heels were far beyond anything I was expecting. And yes, I talk a lot with my hands. I'm Italian; I can't help it 😉
So on with the review…
1. Black Vegan Leather Boots Review
The pair of vegan leather shoes that I was most excited about receiving were these pointed-toe booties with a block heel & buckle detail. As I've already said in my video, I don't have many pairs of very high heeled ankle boots. Possibly only 1 pair & they're not even black. I know. SHOCKING. So needless to say that I was happy to finally get a pair for my shoe closet that were sleek & modern.
Sizing & Fit:
Although I was told to size up from my usual US shoe size 8 (their shoes come in half American sizes, so I went with an 8.5), the shoe is a little long on my foot. But nothing that an insole can't fix
Usually if the length of a shoe is a long the width will be drastically so. Not with these. My slim feet fit snugly in the boots & the pointed toe is comfortable. This makes me think that I was well advised to size up & that the smaller size would have crammed my toes. That's my long winded way of saying these fit a slim foot well!
Quality
The quality of these vegan leather shoes is fantastic, especially for the price ($52.99 US)
The physical shoe & small details such as stitching is even & strong; no shoe glue is visible
The vegan leather upper looks great, aside from some creases created from the tight packaging. Nothing that shows much once the boots are on the foot, though
The furry material they're lined with on the inside is a great touch. Makes them feel luxurious
Comfort:
I love how the arch of the boots are high, so that my whole foot is supported, making them easier to walk in. Although I wouldn't run a marathon in these boots, they give me no discomfort & are much more comfy than similar boots I have tried on
While the foot bed is lightly padded, but I could use more cushioning under the toe area
2. Vegan High Heel Sandals with Snake Print Review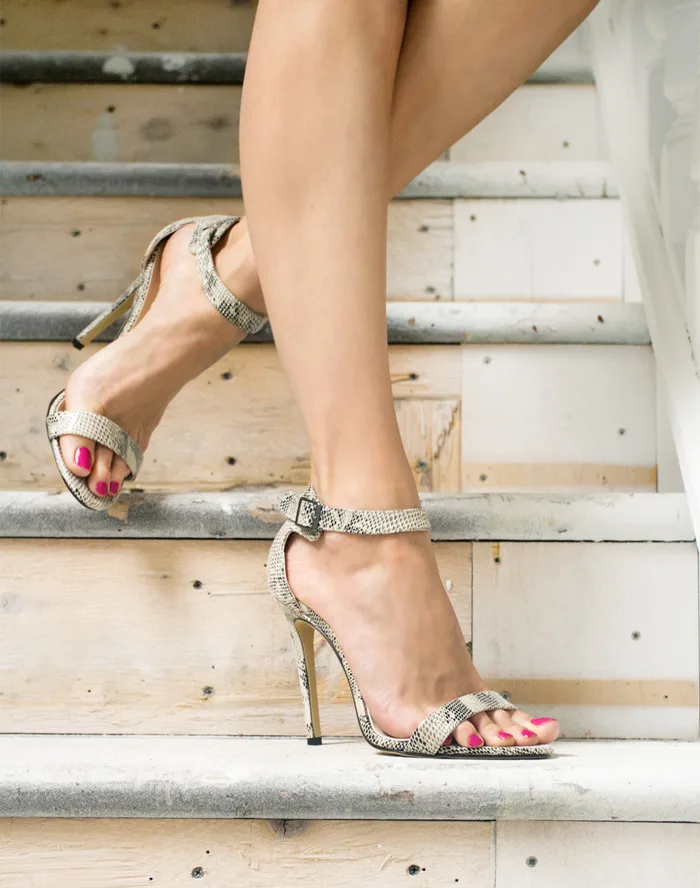 Loslandifen offers these strappy sandals in so many colors, materials & prints, it was so hard for me to pick just one. But this snake print sandal with its beige/black tones spoke out to me, so I was happy to try them out!
Sizing & Fit:
The 8.5 US fits my usually 8 US size foot well. Any smaller, my toes would go over the edge
The shoe base is perfect for my narrow feet, but the upper toe strap is too loose to properly secure my weirdly skinny toes
Quality:
The base of this shoe & heel is so solid & sturdy. Impressive. However, both upper straps feel a tad flimsy in comparison. If they were a tad thicker they'd be perfect
Comfort:
Strutting in 4.5inch heels in never a walk in the park, especially in itty bitty sandals. But with the well padded foot bed & high reaching arch, it allows my whole foot to rest on the shoe, taking the pressure off the balls of my feet
If I were to wear these for most of the day, I'd likely opt for a padded cushioning such as Dr Scholls ball of foot cushions. Would also help with the loose toe strap. But make no mistake: I use these inserts in my designer sandals as well!
All in all I'd say the high star rating of this shoe company is well deserved. With loads of styles to choose from & a great quality vs. price product, you just can't go wrong. Especially if you're looking for stylish vegan dress shoe alternatives that won't break the bank such as Stella McCartney's outrageously priced faux leather shoes!
Vegan Shoes GIVEAWAY!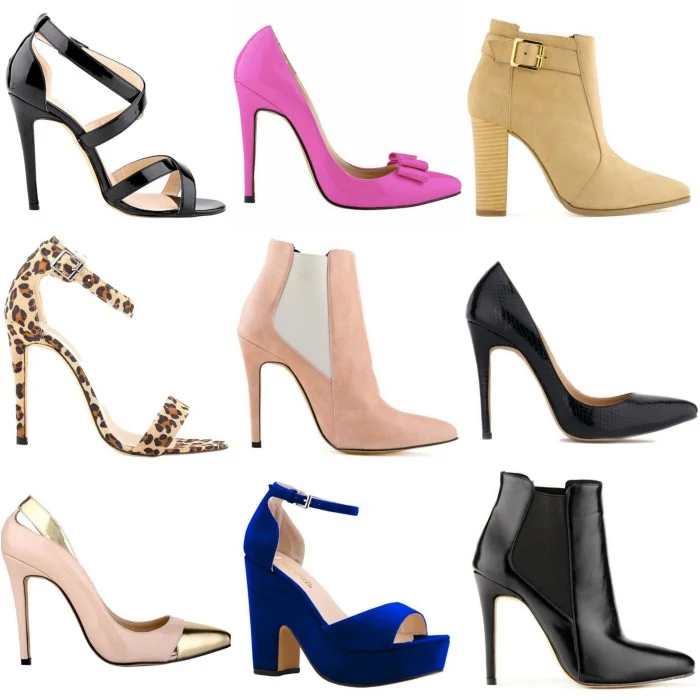 Loslandifen offers so many women's vegan shoes, it will be hard for you to pick just one! They offer a ton of fashionable high heels, bridal & wedding, including a few designer dupes. You'll find a great selection of faux leather heeled dance shoes as well. Above are a few of my personal favorites 🙂
Contest is now CLOSED!
Didn't win? If you entered & want an extra 10% off a pair of vegan shoes from Loslandifen's Amazon Shop, please email zbeibeimary@gmail.com to get your discount!
Giveaway Fineprint
Contest starts February 19, 2016 12AM EST and ends March 04, 2016 12AM EST. 1 winner will win 1 pair of Loslandifen vegan leather shoes. The winner must visit Loslandifen's Amazon shop and leave a comment on the blog to quality for enter. All other entries are optional. The winner will be announced shortly after the end of the giveaway. The winner will be randomly selected by Rafflecopter. The prize is non-transferrable & cannot be redeemed for cash value or exchanged for another product. Applicants must be over 13 years of age and must reside in the USA or Canada. Prize will be shipped directly from Loslandifen.
xo Cristina