No one wants a pair of too-tight boots (or any kind of tight shoes, for that matter!). Tight boots are uncomfortable to wear and can give you terrible blisters.
The last thing I want is for your beautiful boots to end up at the back of your closet – a footwear travesty! So keep reading if you want to find out how to stretch boots, especially how to stretch leather boots.
These methods listed here, on shoe-tease.com, will work with too tight boots that are both short and tall.
Looking for methods on stretching tough leather boots? Take a look at my post about how to break in cowboy boots if the tips below aren't hefty enough!
Various methods on how to widen your boots in the toe area, lengthwise, even how to stretch leather boots at the calf will be listed. Ladies with larger calves or wider feet? I'm looking at you 😉
How to Stretch Leather Boots that are too Tight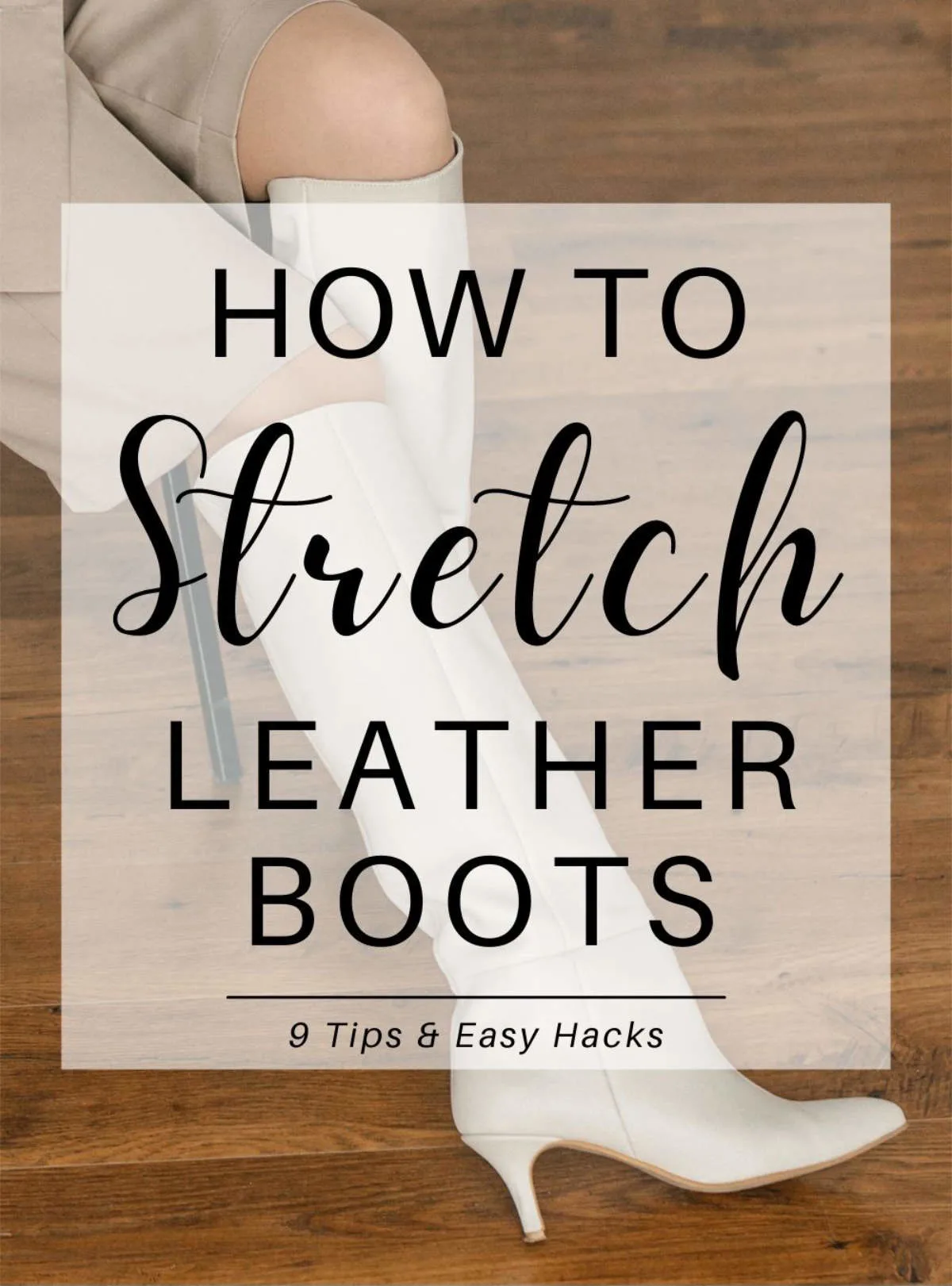 I've had my own turn with too tight boots in my day. And my investigative research led me to discover the best way to stretch new boots. That's how I found out there are so many options! Honestly, some of the DIY ways are absolutely wild.
You can stretch boots with patented gadgets, professional tools, store-bought potions – even lotions! But easiest are the DIY options, where you can use your own items and products.
Of course, it's always best to buy the right fitting boots. For ladies with larger feet, this can be tough. However, many great brands exist that cater to larger feet. Take a look at where to buy large size women's shoes for more info.
Mostly DIY Methods to Stretch Boots at Home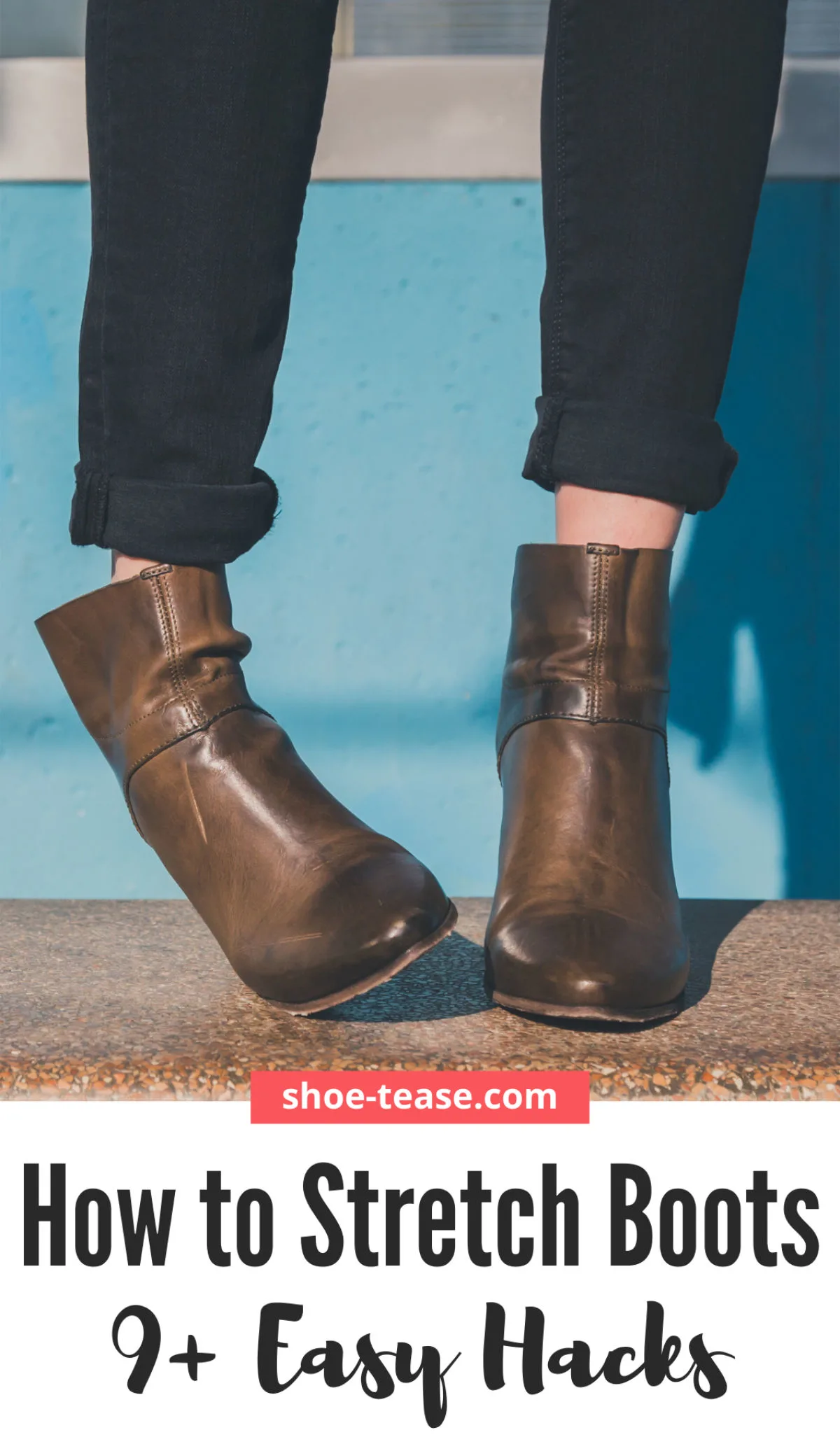 Just remember that there are many different types of materials and leathers and some may get ruined using these stretching methods. Please proceed with caution!
1. Wear Thick Socks (or Double Up!)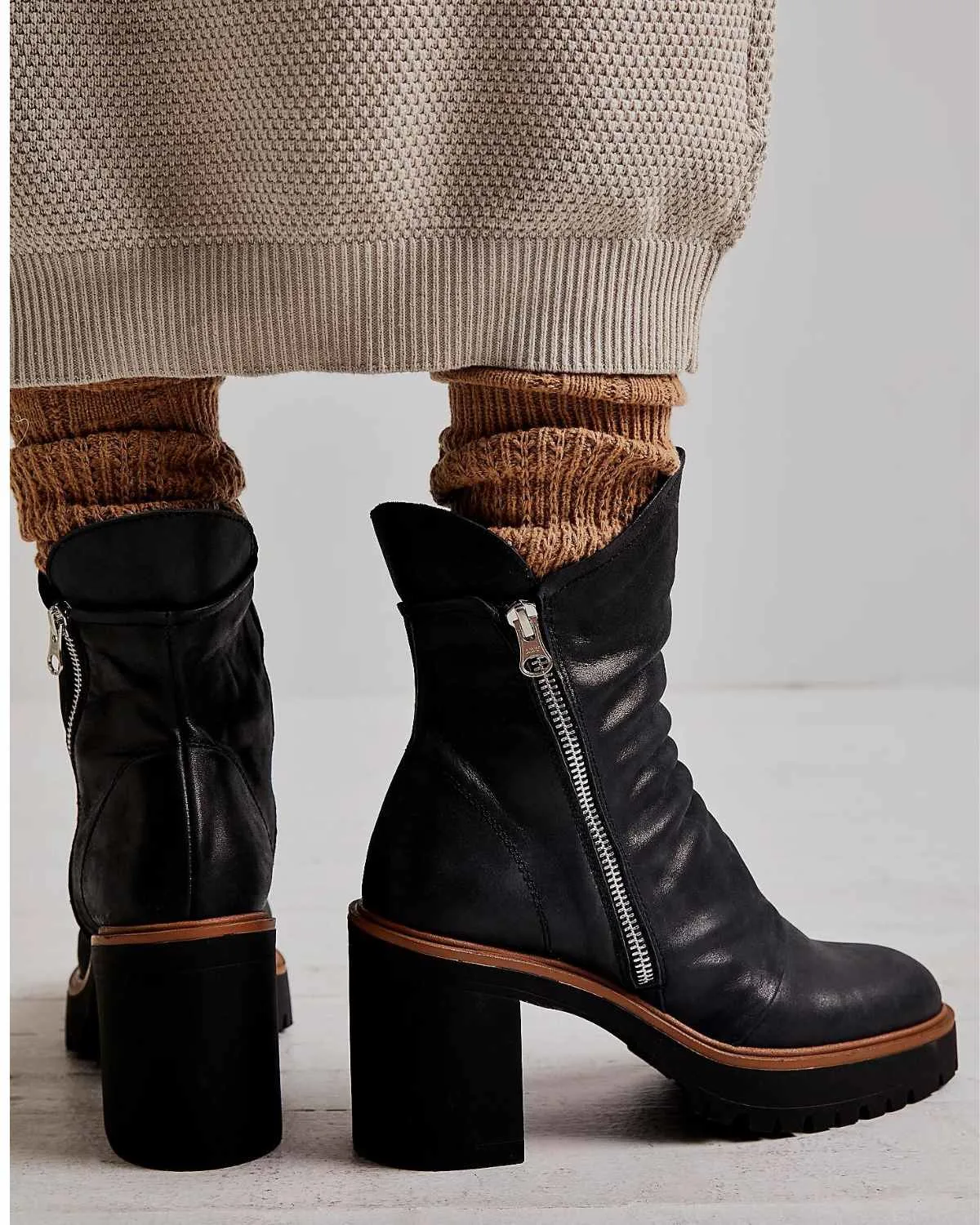 This is one of the easier (and cheapest!) ways how to stretch out leather boots, including boots made of other materials. It's my personal favorite because it stretches out boots slowly, which is the safest option.
It can also stretch out boots pretty fast if the leather is soft enough and your boots don't require too much stretching.
You just need to wear two pairs of socks while wearing the boots. Or one very thick pair. It's simple enough, but it can get uncomfortable.
The pressure from wearing the two socks can slightly increase the width and height in the toe box, leading to a more comfortable fit.
However, we'd recommend you be extra careful as you may develop some blisters during the process. Best to start out with one pair of socks, then double up if you really need to.
2. Use a Shoe or Boot Stretcher
This classic solution to stretch out tight boots, was invented in the US in 1918 by Mr. Robert Elmstrom. And now in the 2020s, it's still a readily available item you can pick up at most online retailers like Walmart at various price points.
And if you're wondering whether boot stretchers really work, the answer is yes! Shoe stretchers are a top choice and one of the best ways for stretching out boots in a precise and even manner.
Especially leather boots, as real leather and suede is more pliable than rubber or synthetic materials. But it is a way to stretch boots fast? Unfortunately not super fast, as you will have to leave the shoe stretcher in for at least 8 hours.
How does a boot stretcher work?
They make boots bigger by expanding the boot in various tight areas by applying pressure in the desired spots. This pressure releases the tightness of the leather and material in order to make them fit better and more comfortably.
There are a variety of different types of boot stretchers: the classic ones are a one-way shoe stretcher, that will stretch the width of your boot where your foot/toes fit in, and those that will expand the calf area.
This means that boot stretchers can be used for a variety of boot lengths, including ankle boots, calf height boots, knee length boots and even those sky high thigh-highs.
Heck, they've also come out with specific Western boot stretchers for those looking for info on how to stretch out cowboy boots, which are known to be quite the feat in the stretching department!
How to use a Boot Stretcher on Boots to stretch the Foot
Start the process by applying a shoe stretching spray to relax the material, following the product's instructions (more info on stretching sprays and oils, in the next section)
Place the boost stretcher into your boots and ensure it fits snugly, reaching into the toe box.
Turn the knob as indicated in the instructions, usually about 2-3 times is necessary.
Leave the boot stretcher in for 6-8 hours, then try them back on.
If they're still too tight, repeat steps 1-3, using a shoe stretching spray or leather conditioner if you didn't do so the first time.
Yes, it's really that simple and effective! You just need to leave the stretcher in for a few hours, ideally overnight, for the boots to mould to their new & improved shape.
How to use a Boot Calf Stretcher:
For those looking for info on how to stretch tall boots at the calf, a variation of boot stretchers can be used, called a calf boot stretcher. Yes, a very original name it is!
Place the stretcher into the boot shaft with or without a shoe stretching agent. Spray with a shoe stretching spray if needed.
Gently turn the knob to stretch it out to the desired width, leaving it in for approximately 8 hours. Repeat the process if necessary.
Calf boot stretchers also come in extra handy, doubling as a great way to store boots for winter in order to keep them in tip-top shape for the next season!
Keep in mind that although boot stretchers work to stretch out leather boots, they can't magically increase the size of boots or shoes by full sizes, or double the size of the calf area. The max limit would 1 full size up, but even that is pushing it. Any kind of boot stretching is best for boots that need just a bit more give.
3. Use Leather Oil Conditioner
If your leather boots need only a bit of stretching, leather oil conditioners may be for you. They help moisturize and condition the material, helping to soften the boot enough to gently stretch them out. This is why they are recommended when using a shoe stretcher.
Leather oil conditioners are not only a great shoe stretching prep, but they also help prevent cracks to increase the leather's longevity, while often also acting as a waterproofing agent. Although for waterproofing, a waterproof shoe spray usually works best, add this to your leather shoe care kit!
Conditioners are readily available in most major retailers such as Walmart, and can often be found at your neighborhood shoe repair shop.
Lexol is one of the top leather oils. It is non-toxic, deeply conditions, and gentle enough for even the most delicate leathers.
How to use Leather Oil Conditioner
Make sure you start with a clean boot
Using a dime-sized dollop on a clean, lint free cloth
Rub the conditioner onto the inside of your boot in a circular motion
Once the leather has absorbed the oil, it should soften enough to make your too-tight leather boots comfortable
Try the sock method if you don't find your boots stretched out enough
4. Shoe Stretching Spray for your Boots
But what if your boots aren't leather? Stretching spray is one of the best ways to stretch out boots of all materials. It's also easier to use and less messy than oils and conditioners. Of course, is also works in stretching leather boots!
Each stretching spray works a bit differently, so be sure to read the label. You'll either have to spray on the inside (recommended) or outside of the boot before attempting to stretch it with a shoe stretcher. Or you can simply wear them around the house with thick socks right after you've spritzed your shoes.
5. Stretch Boots with Rubbing Alcohol
While stretching sprays are available at most retailers, you can even DIY a version. All you need is equal parts rubbing alcohol & water, in a clean spray bottle and voilà! Such an easy way to stretch tight boots.
No spray bottle? Use cotton pads and dab on the mixture to your boots. Be careful not to apply too much.
6. Blowdryer + Socks Method
Looking how to stretch boots fast? Then if you're feeling extra adventurous, grab a blow dryer! This DIY method on how to stretch leather boots requires only 2 items: a blowdryer and a thicker pair of socks.
This is a tried-and-true method for stretching any shoe, not just boots. But if you have genuine leather boots, it might just be one of the best DIY and fastest ways to stretch out leather boots.
This trick will even work for patent leather. All you need is a blowdryer & a pair of thick socks.
How to stretch boots with a blow dryer:
Slip on a pair of very thick socks, or 2 pairs of socks and put on your tight boots
Blow dry the tight areas from half foot away, holding for a 20-30 seconds. Careful not to overheat the boots.
Move your feet and toes during the process for better stretching
Wait until the boots have cooled down so they have a chance to properly mould to your feet and walk around a bit.
You can repeat this process as many times until your boots fit just right!
7. Freeze Your Boots
Ok, so hear me out. You can also do the exact opposite of the blowdryer method by freezing your boots instead.
This is a great way on how to stretch boots in the foot area without needing to wear them for hours. It works overnight and slowly – which is always a good way to stretch leather boots!
All you need is a big enough space in your freezer & a couple sealable sandwich bags filled with water.
How to Stretch Boots in the Freezer
Fill a few sandwich bags of water, making sure they are properly sealed. Size and amount will depend on which part of the boot needs stretching.1 should suffice for stretching out the toes, but you may need more if you're stretching out tall boots.
Place the sandwich bags in the desired area inside the boots.
Place the boots in a plastic or fabric boot bag to prevent contact with freezer elements.
Wait 6-8 hours until the bags have frozen. As the water freezes, it expands and slowly stretches out the boots.
The bags will freeze before 6-8 hours, but the boots need enough time to mould to their new shape, so they don't snap back.
And like the blowdryer method, you can repeat this process multiple times until your boots have stretched out as you'd like them to.
The main con about this method is that it takes up a lot of space in the freezer. I don't know about you, but I don't have that kind of freezer real estate!
8. Take Your Boots to a Professional
Most of these DIY methods take some time and effort, but if you don't have time to spare, take them to a professional.
Also, this is the safest way to stretch boots because they're shoe-altering professionals. And well, you're not. Most cobblers/shoe stretching professionals will ensure that your too-tight boots are safely stretched
I highly recommend for the designer pair in your closet or any great pair of leather shoes that you would like to preserve for a long time.
Just be prepared to wait a little longer for your perfect boots, anywhere from one day to a full week. But what's a week when you have the rest of your life with perfectly fitting boots that don't need further stretching?
Final Thoughts on How to Stretch Boots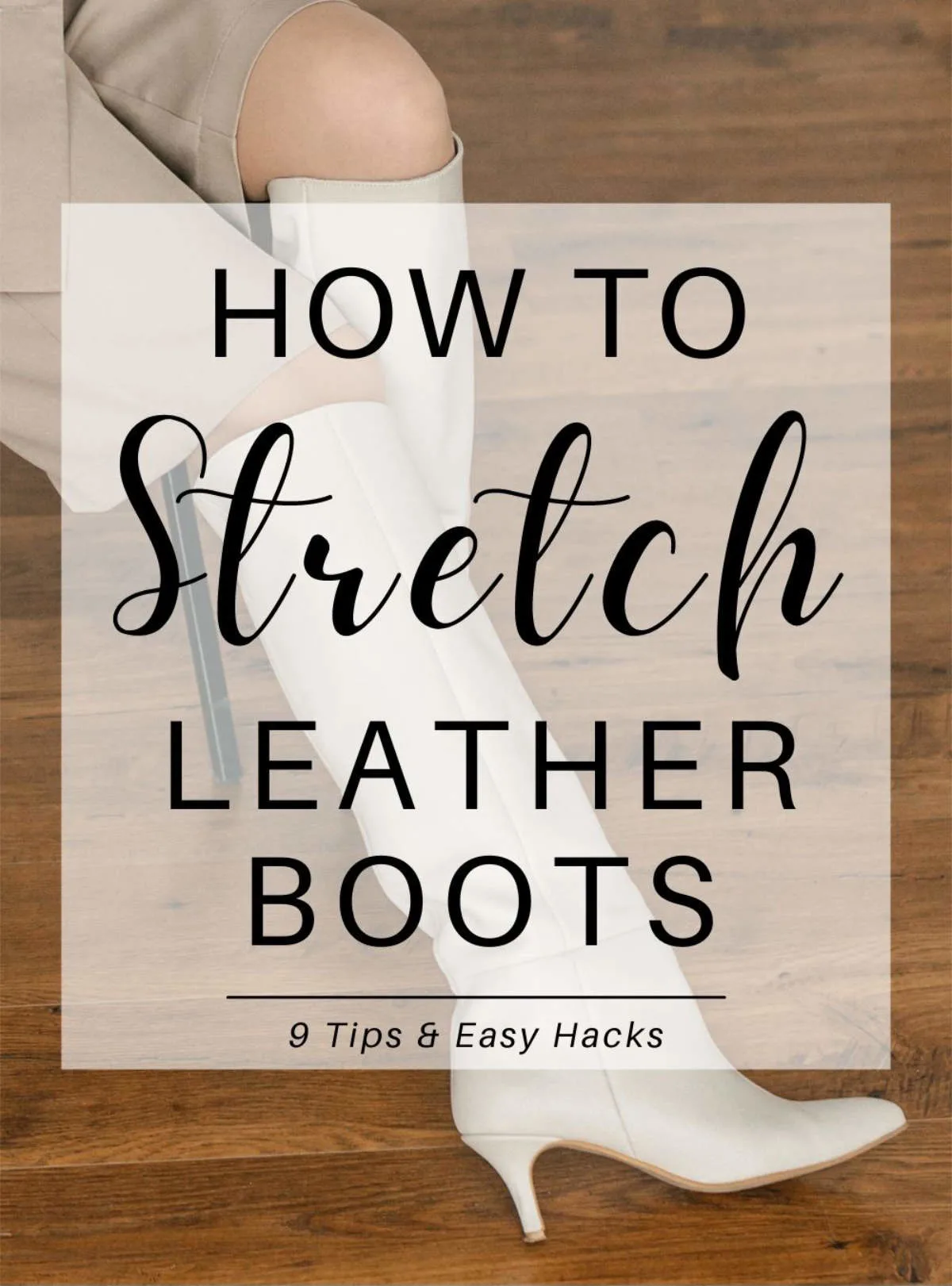 So if you've found yourself wondering what is the best way to stretch boots? and didn't find much beyond a short blurb on how to break in boots, I hope this boot stretching guide has helped you.
Of course, the ideal scenario is always purchasing a pair of well-fitting boots! That's really the first step. If you ever find yourself struggling in a new pair of boots before you've even purchased them – don't buy them.
I hope this boot stretching guide spares you the pain of ill-fitting boots and having to deal with pesky returns. Shop online to your heart's content knowing that you know how to stretch boots.
If you're looking at how to stretch heels or other shoes, we got you covered! Check out my posts on how to make shoes bigger and how to break in shoes.