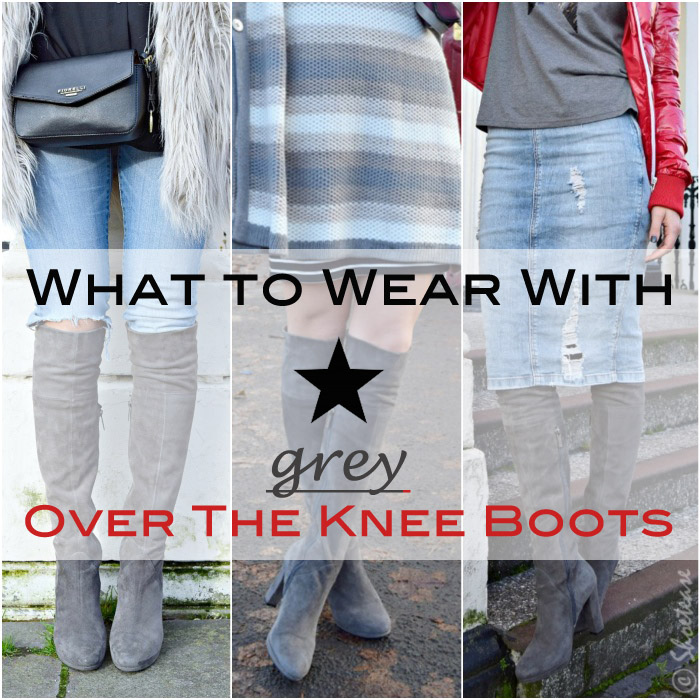 I absolutely love OTK boots & have a particular fondness for grey suede ones. Grey, however, might be a tricky color for some to style, especially in thigh high boot form. So who better to suggest what to wear with grey over the knee boots than a favorite personal style blogger of mine?
I've been eyeing UK blogger Tatyana's street style outfits ever since I landed on her Secret Little Stars blog via my ShoeTease Instagram. Not only does she have a great high heel & boot collection, but she's also got a great eye for layer & pairing her shoes and clothing in fun & unexpected ways. I'm particularly fond of her slate grey OTK "Dita" Duo Boots, which are not only a great alternative to black, but their chunky heels, sleek platform, cushioned insoles & made-to-measure shaft make them the perfect fusion of high fashion style meets comfort! And as you will see below, they can be styled to suit a slew of occasions. Here are 4 ways Tatyana kills it in her tall grey boots!
How to Wear Grey Over The Knee Boots like a Fashion Blogger
1. With a Striped Poncho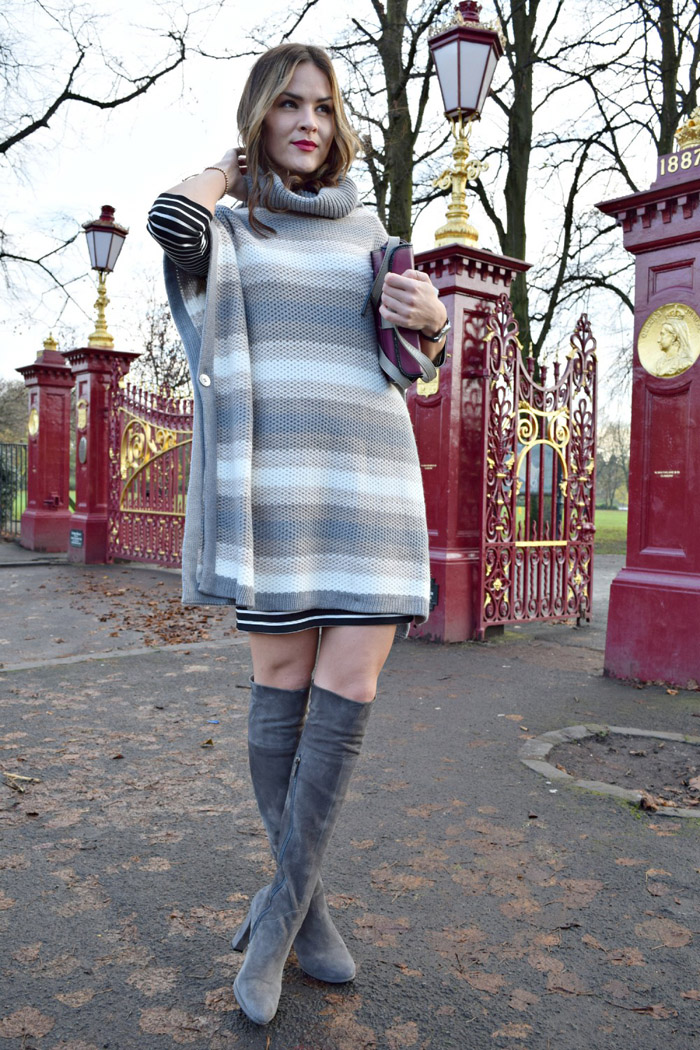 If you're looking for a casual yet sophisticated OTK boot office look, this outfit is perfection! The hemline might be high & therefore sexier, but the thicker fabric, high neck & non-clingy draping of the poncho transforms it into work-appropriate attire. Remove the cape to show off your striped t-shirt dress underneath & you've got yourself a day-to-dinner look in a flash. Or as long as it takes for you to remove the top layer 🙂
2. With Skinny Jeans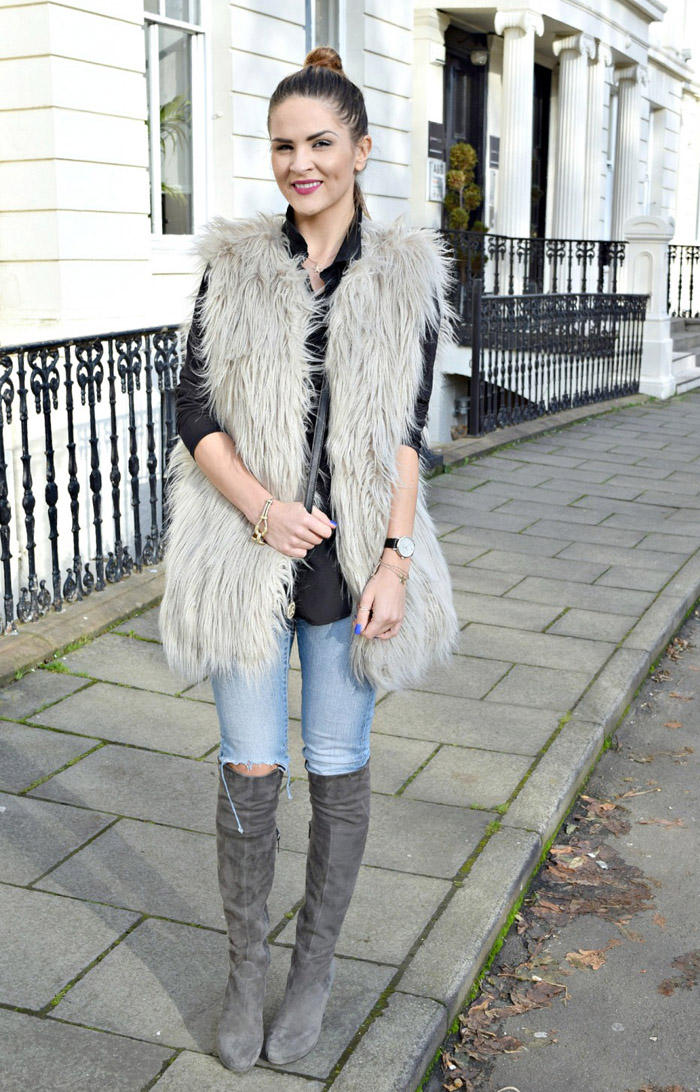 When in doubt, there's always your go-to skinny jeans that will never fail to look stellar with grey thigh high boots! But why not jazz it up with a furry vest or coat? As seen with the previous poncho-clad outfit, beige or greige tops & outerwear look phenomenal with slate grey footwear. Make sure your jeans are very skinny or downright jeggings, so that they fit snugly into your shoes without looking bulky. My top choice for a casual date outfit!
2. Over the Knee Boots with a Printed Mini Skirt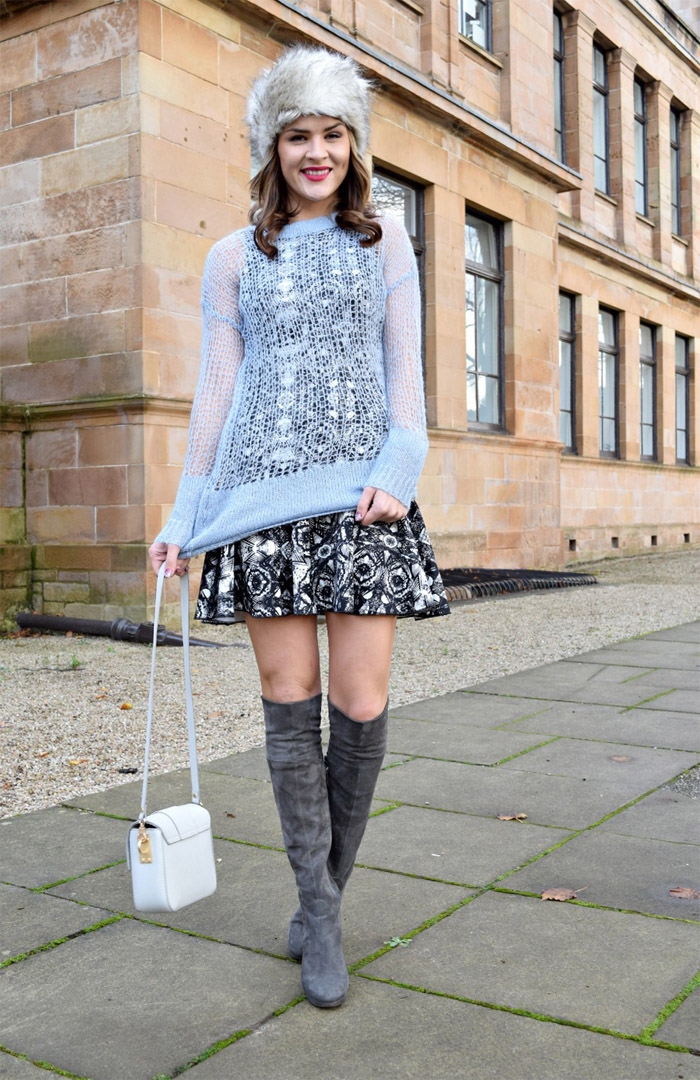 Alright, so this is not actually skirt, but a dress, yet either work just as well! This is the best look to wear with high boots in order to show off your fabulous legs. If you're too shy you can easily add a pair of black or matching grey opaque tights or leggings. The black & white pattern in the skirt works so well with these grey over the knee boots, as it contains shades of grey, creating subtle, rather than stark contrast. The baby blue is a pretty addition to the greyscale mix & the Russian hat makes it street style snap worthy!
4. OTK Boots with a Denim Pencil Skirt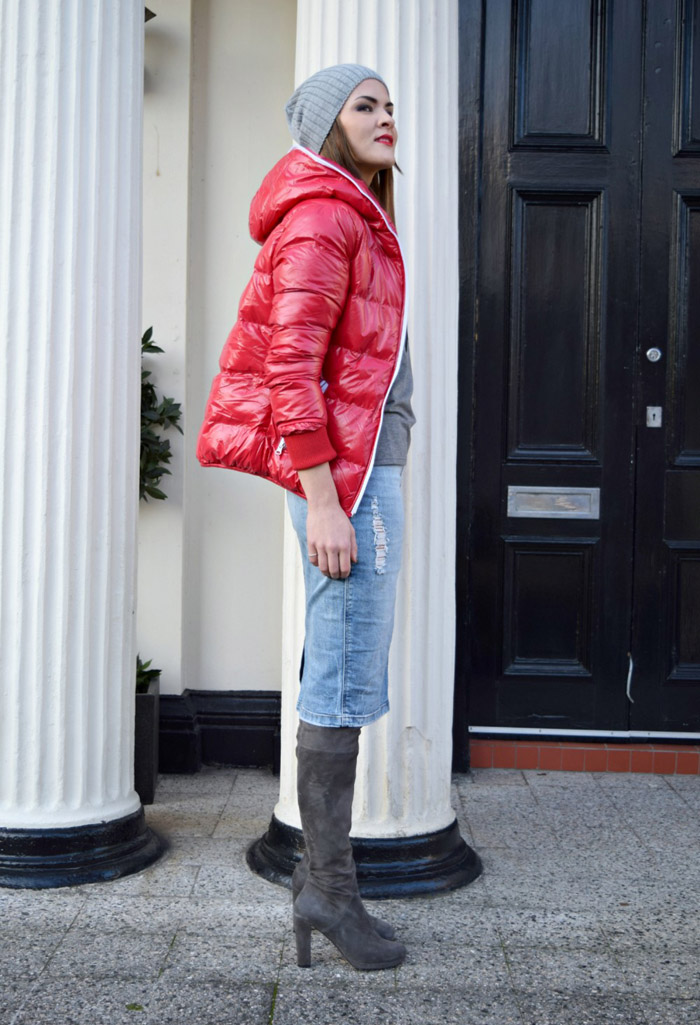 This is definitely Tatyana's most original grey OTK boot outfit pairings! We're used to seeing short hemlines or leggings/skinny jeans worn to accentuate the thigh height of the boots. Yet it's also fun alterntaive to style them in such a way that the boots hide underneath. The denim skirt makes it casual but feminine. Throw on a puffer jacket & toque for a sporty chic look! Oh, and did I mention that cherry red looks great with charcoal grey?
Curious about how to keep your suede boots clean? See my recent post on how to clean suede shoes & learn how to keep them looking their best!
Buy High Heel Grey Over The Knee Boots

xo Cristina M.