This post was most recently updated on July 5th, 2019
Sequins top the list among the many glamorous holiday party & New Year's Eve outfit choices, but picking the best shoes to wear with sequin dresses or what to wear with sequin skirts & even pants is an important part of the outfit process.
Footwear usually is! Between hand-picked celebrity shoes, blogger shoe pairings & online catalogue styling, below are the top high heel style choices for your sparkly attire! Since this is the time to go glam, flats need not apply 😉
---
Shop Sequin Dresses:

Shop Sequin Skirts:

---
Shoes can certainly make or break your outfit. You want your sequin pieces to shine & the best shoes for sequin dressing should complement, rather than compete for the sparkly part's attention.
Of course, boots & flats can look cute for more casual outings. But since we're chatting about New Year's Eve & party outfits specifically, it's one of those events where shimmer is best served up with a good high heel.
If your sparkly dress/pants/skirt is going to shine, great heels, in the form of pumps, sandals & peep-toes (pick your favorite!) will literally prop you up & make you sparkle at centre stage. That is the point, isn't it? Below are my suggestions for the best shoe colors & styles to suit your sequin dresses, no matter what their shade or how intricate their print!
Style note: Emerald green, silver & gold frocks are trending this year. Which is great, because if a gold sequin dress is what you're after, I've written up a full post on the what color shoes to wear with a gold dress too!
Not to mention I've written up a whole post on the best shoes & heels for cocktail dresses or any kind (including sequin dresses!).
Shoes to Wear with Sequin Dresses & Skirts
Black Heels with Sequin dresses
Black heels are probably my favorite & possibly the best shoes to wear with sequin dress es. With a personal preference for black suede in a classic slinky pump, any black shoe will do. Just as long as it's not any boot! If I were to say what shoes not to wear with sequins, it would be that.
Why? Ankle boots will be too heavy; a visual cut to the ankle & will seriously reduce the dainty nature of the outfit. Over-the-knee boots, on the other hand could potentially make you look like Julia Roberts (& not in a good way). But then again, taste is relative!
Black Pumps with Sequins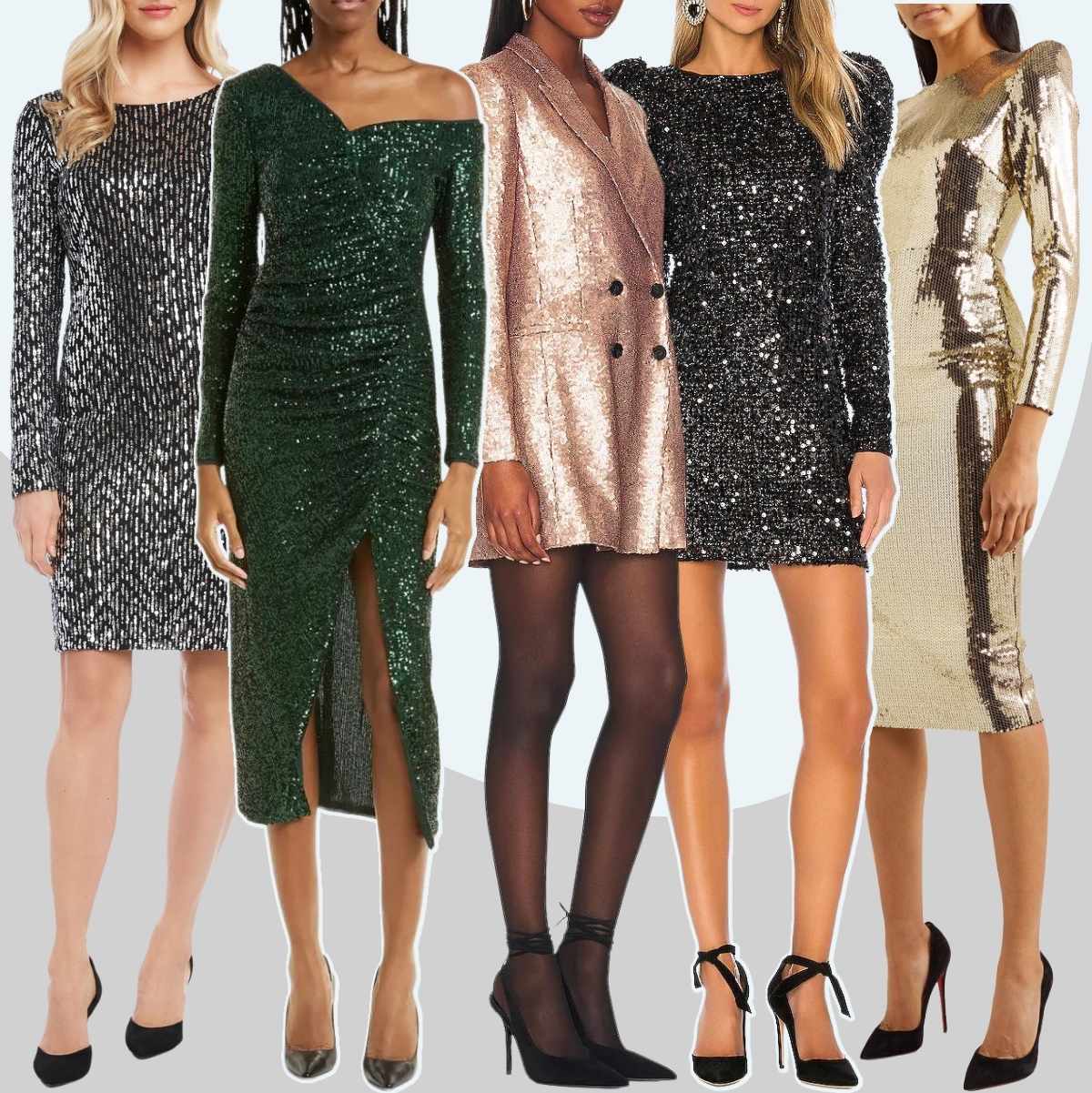 When in doubt wear black pumps, n'est-ce pas?! Whether with an exposed or hidden platform, pointed toe or almond toe, with chunky heels or stilettos, the heel you most likely have in your shoe closet is your no-brainer best bet!
And if you don't have a pair of black high heel pumps already stuffed in your wardrobe, then we need to talk. Stat. Emmy Rossum & Victoria Justice may chime in too.
---
Shop Black Shoes:

---
Black Minimalist Sandals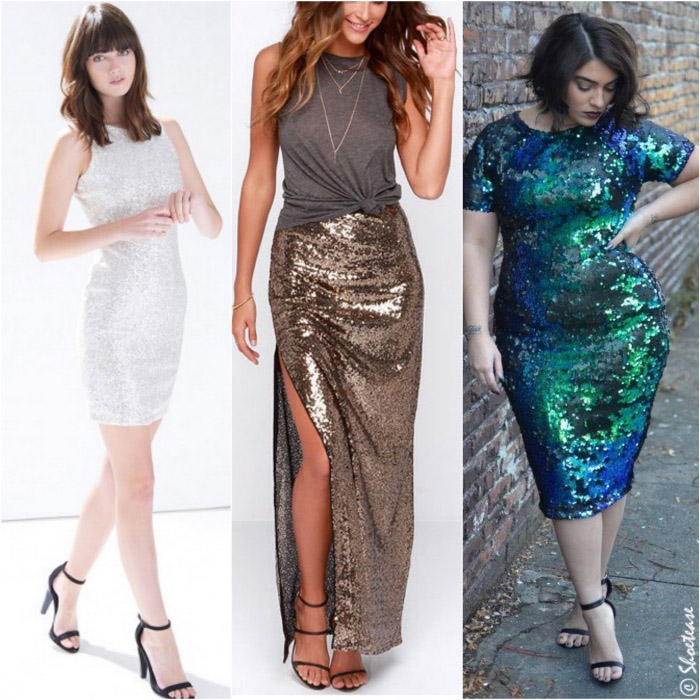 Surely the most prominent shoe of 2014, a black minimalist, barely-enough-straps-to-hold-in-your-foot, is another great choice. Think Stuart Weitzman Nudist or Steve Madden's Stecy.
Also the most subtle shoe style that will let your dress sparkle & your feet look glam. Fabulous pedi required! This type of black sandal are the perfect shoes to go with silver dress.
Sequin Dress + Black Pumps with Opaque Tights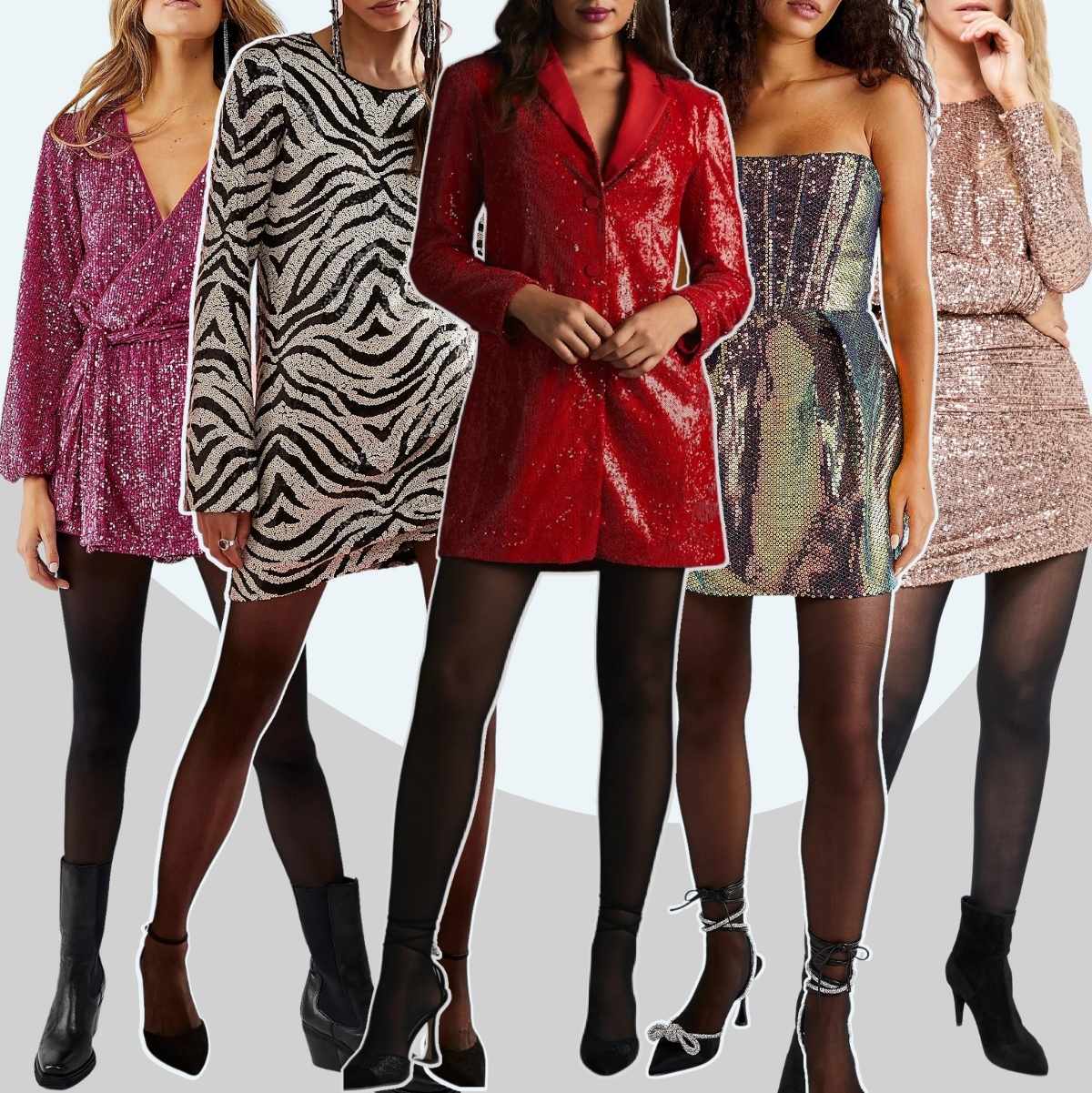 What tights to wear you ask? I love the look of opaque black tights & black pumps worn with a medium length or sparkly mini dress. This pairing works well with any color sequin dress & is especially visually seamless with suede shoes. See how the attention falls right to the dress?
When you're wearing shiny clothes, that's usually the part you want people to notice! Added bonus: your legs won't freeze when ringing in the New Year! If you live in Canada, that, my friends is a big deal. Unless you're going for a 90s-inspired look, I wouldn't wear semi-sheer pantyhose with this look!
Black Multi-Strap Heels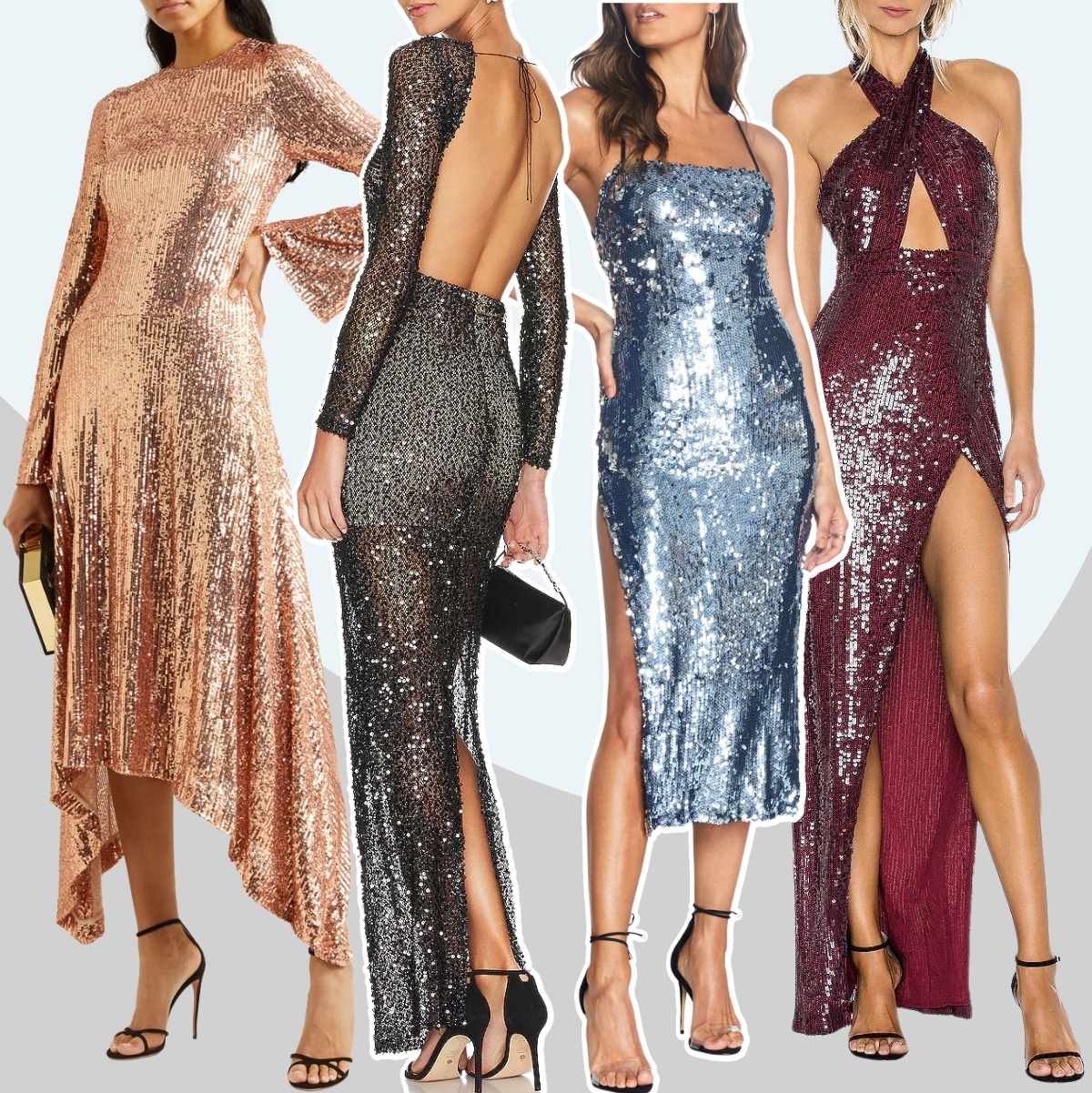 Strappy black heels add a dash of sass & loads of sexy to an already sultry look. Thinner straps will look daintier, while thicker black straps will add some edge, if that's your sort of thing.
Black Ankle Strap Pumps with Sequins
Olivia P. & Taylor Swift's style doesn't lie: thin ankle straps look pretty & make New Year's Eve dancing a heck of a lot easier, not to mention stable!
An added peep-toe gives an ankle strap pump even more flair & sex appeal. If the party goers around you can handle that, of course!
Nude Heels with Sequin Dresses & Skirts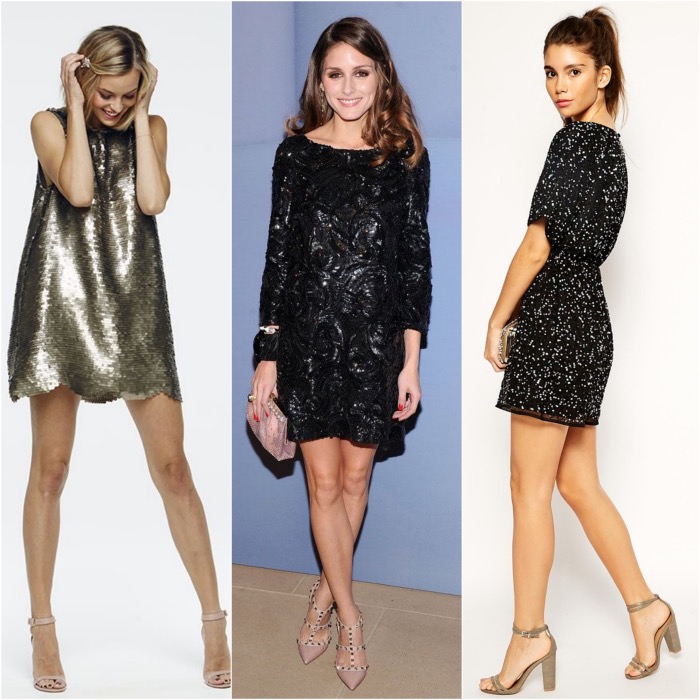 ---
Shop Nude Heels:

---
Nude heels that are close or an exact match to your skin tone is the best way to go if you want your sequin dress to stand out the most. Don a naked minimal sandal & the shoe-vanishing effect is complete!
Unless, of course, you decide to wear a pair of blush Valentino Rockstuds as Olivia Palermo, above. Still subtle, but hard not to notice those Rock Studs. If you know what I mean.
Matching your Shoes with Sequin Dresses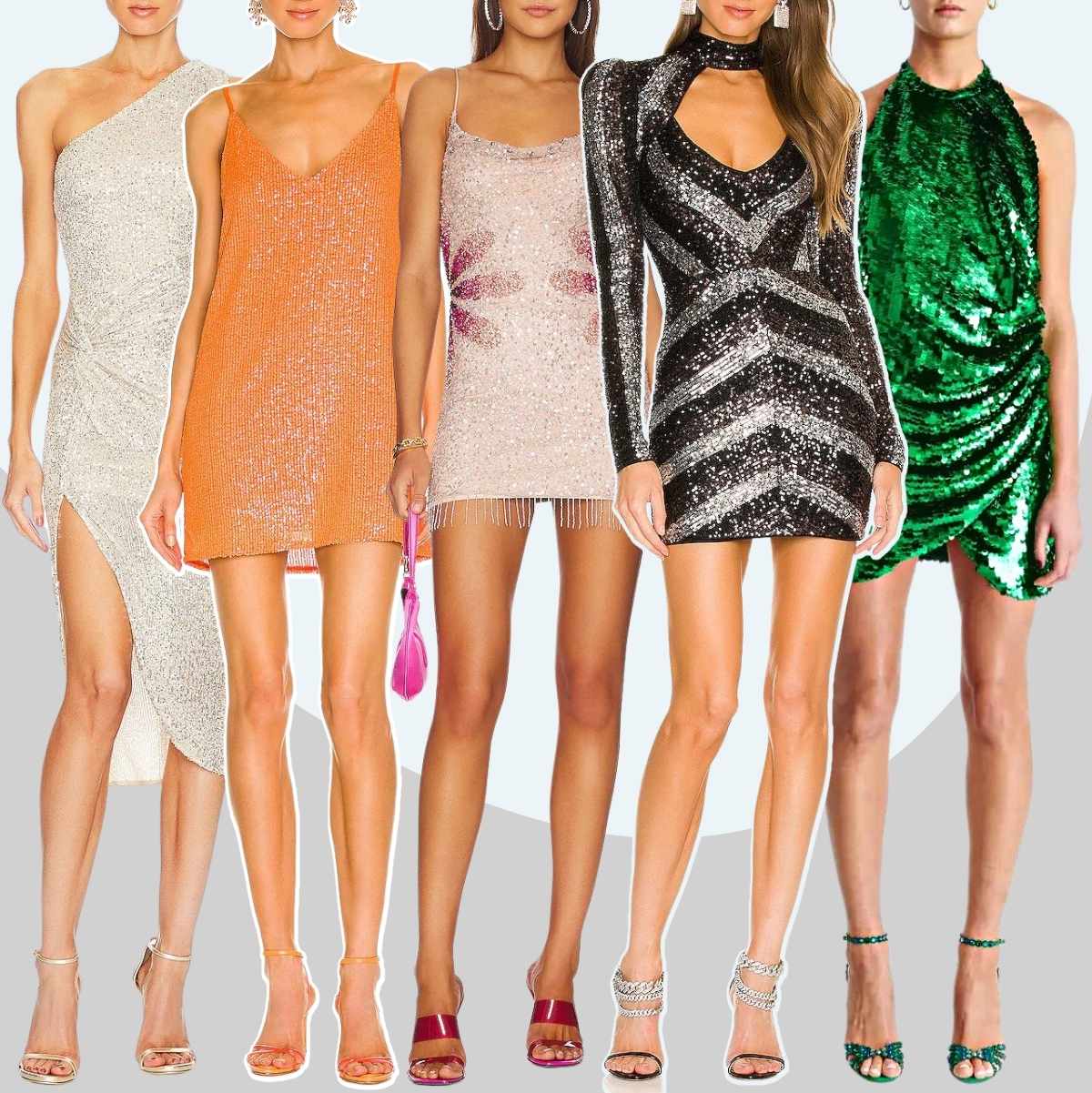 Another alternative footwear option for sparkly dresses & skirts is matching them to your frock. I find metallic mirror sandals or pumps to be the "wildest" choice, best for the woman who likes to shine from head to shoe for NYE.
Be sure to match your metallic heel to your dress: gold with gold, silver with silver & so on so forth. A basic mirrored pump or sandal is a great choice.
If you'd like to take a lesser high-octave stance on your matchy-matchy shoes, canvas & suede materials are good contenders. You could also match the shoes to your outfit with printed footwear, like Anna Dello Russo above.
A bit of a daring move if you ask me, but if you're feeling gutsy, go for it! Check out all of my posts on which shoes to wear with dresses!
xo Cristina
Photo Credits – Pinterest via: pinkpeonies.com, burnettsboards.com, feedly.com, karinainfashionland.com, mayasari.ne, popsugar.com, express.com, glamour.com, instyle.com, lulus.com, nadiaaboulhosn.com, 2dayslook.com, whowhatwear.com, renttherunway.com, asos.com, laurenconrad.com