One of the most popular dress colors for special or casual occasions is red. More specifically, darker reds such as burgundy dresses, maroon or wine-colored dresses.
They are extremely trendy at the moment. Probably because burgundy outfits also look great on all women, year-round and the hue is great for formal to smart casual attire.
Best Shoes to Wear with a Burgundy Dress
But what color shoes to wear with maroon or burgundy dresses or outfits is the real conundrum. So if you're looking for what colors to wear with burgundy dresses, you've come to the right place!
Whether you're calling your dark red dress burgundy, maroon, wine red, cranberry, crimson or vermillion, it won't matter.
You're here because you want to know the best shoe colors to wear with burgundy or a similar shade of deep red.
I'll also suggest burgundy dress accessories, such as the right color purse colors, jewels & accessories to go with burgundy dresses. If you're looking for shoe colors to pair with bright red dresses skip directly to my red dress what shoes post 🙂
If your dark red dress is a bit purpley, you can read my post about what color shoes to wear with plum dresses.
No matter what burgundy outfit shade you're wearing (maybe it's slightly more brown, purple or orange-y), each of the shoe colors below will work.
Some better than others, so I'll definitely let you know if one maroon shade with a certain shoe color may look a-ok or not so great.
---
Shop Burgundy Dresses from Net-a-Porter or Nordstrom, below:

---
What Color Shoes to Wear with a Burgundy Dress
Silver Shoes with Burgundy Dresses & Outfits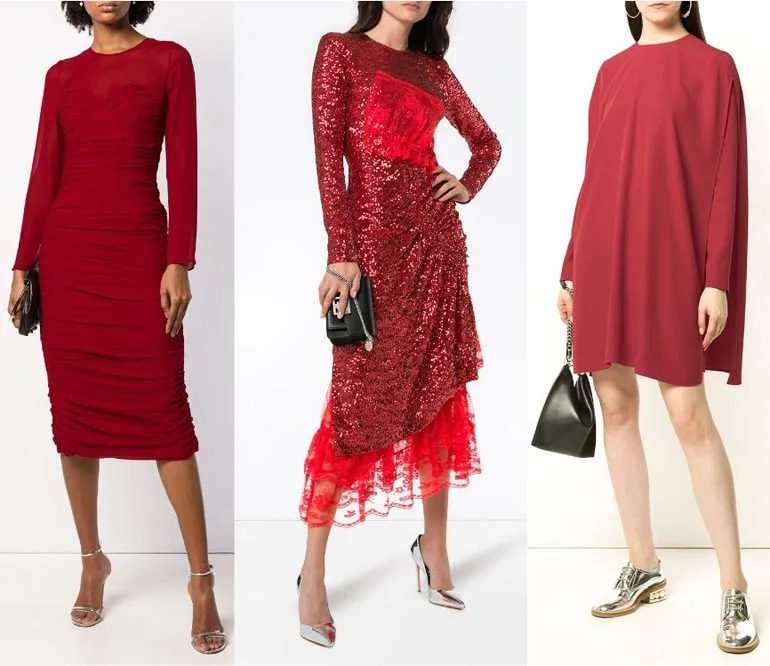 Metallic shoes are everything at the moment & silver shoes are pretty high up on the trend list. Silver shoes with burgundy dresses look amazing, but this metallic hue also looks great with every color dress/outfit under the sun!
So grab a pair of silver ankle boots, strappy sandals &/or pair of patent silver pumps to complete your maroon outfit.
Chinese Laundry from Nordstrom has a perfect pair of strappy sandals that make fabulous bridesmaid & formal heels. And priced at under $100!
Also featured in the silver shoes, above. J. Renée's Maressa metallic silver pointy pump which is also a great silver shoe to wear with a maroon dress. Perfect shoes for a cocktail dress!
Purse & Jewelry Styling Tips: A black purse looks best, but you can also opt for white. With silver shoes, a burgundy dress with silver accessories and jewels look best. For a formal occasion, you can match your silver shoes to a silver clutch.
Favorite Silver Shoes & Heels:
Black Shoes with Burgundy Dresses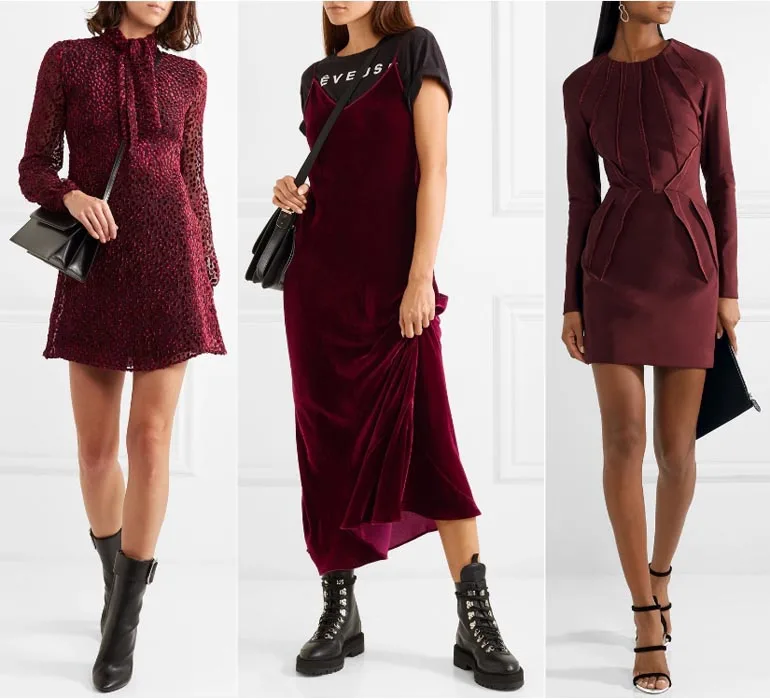 You will likely already have a pair of black shoes in your closet to wear with your burgundy dress! I love to wear black colored boots with maroon dresses & outfits myself.
Ankle boots are my fave & if you're looking for an updated, yet understated black ankle boot this season, look no further than Vincent Camuto's Themlin booties.
Red dIn terms of pumps, Sam Edelman makes a great, simple but comfy pointed pump called the Hazel.
If you're looking for a strappy black sandal, Stuart Weitzman's NudistSong (available here at Nordstrom) is a great choice & comes in a ton of colors, including black.
Or if you're looking for a lower price, Steve Madden makes a nice minimal sandal called Stecy that you can also buy here and they have more colors than black. But this sandal style is a great basic to have in any shoe closet!
Sam Edelman makes a great, simple but comfy pointed pump called the Hazel. It comes in many colors & you can take it from ballroom to boardroom to the bar!
Purse & Jewelry Styling Tips: When you pair black shoes with burgundy dress & outfits, anything goes in terms of purse color. I would opt for a metallic or white or blush pink purse for an evening out.
I love a burgundy dress with black and silver accessories, so you can go for a black patent purse, matte black shoes and silver jewels.
For a less formal look, you can easily pair your maroon dress and black shoes with a caramel brown bag. Complete your look with rose or rose or gold jewelry.
Favorite Black Shoes & Heels:
Gold Shoes with Burgundy Outfits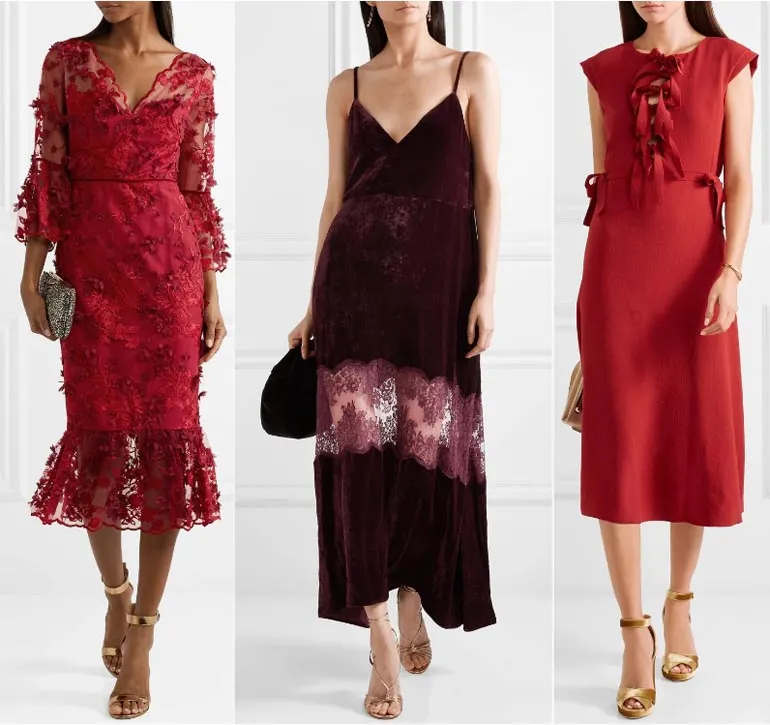 Burgundy dress with gold shoes? Love it! Gold shoes with maroon dresses look fabulous in high heel form for a special evening or as a bridesmaid shoe choice.
These Sam Edelman Yaro lovelies are the perfect sandal for such occasions unless you're looking for a strappier one like these from Vince Camuto.
Then again, gold shoes do look good with so many colors! You can kick it up a notch by wearing rose gold sandals, which are a trendy metallic shoe hue at the moment.
Purse & Jewelry Styling Tips: Burgundy outfits with gold shoes look best with a black, beige white or black purse. A contrast silver clutch can work well too, as seen in the image above.
If you're going to match your black shoes with a black bag, it's much more fun to pair a, say, suede or matte shoe with a shiny/patent bag. Rose or rose gold jewelry and small accessories to match the shoes will look best.
Beige Shoes with Burgundy outfits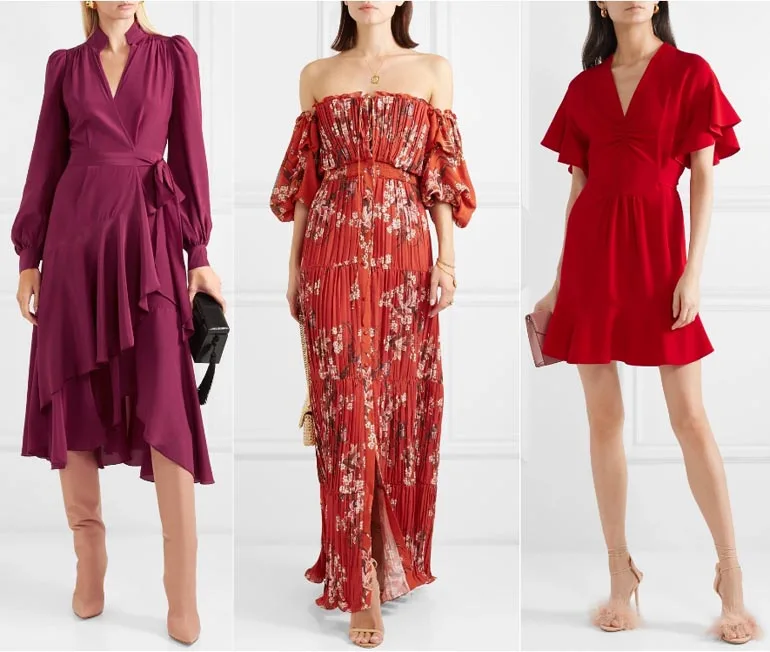 I'm really loving beige & especially blush shoes with a burgundy dress. The pale pink really adds warmth & prettiness and is especially a good combination with wine red & purply maroon dresses & outfits.
Purse & Jewelry Styling Tips: With a burgundy dress and blush shoes, opt for a black or white purse. A brown purse can work well for a more casual outfit.
Favorite Beige Shoes & Heels:
White Shoes with Burgundy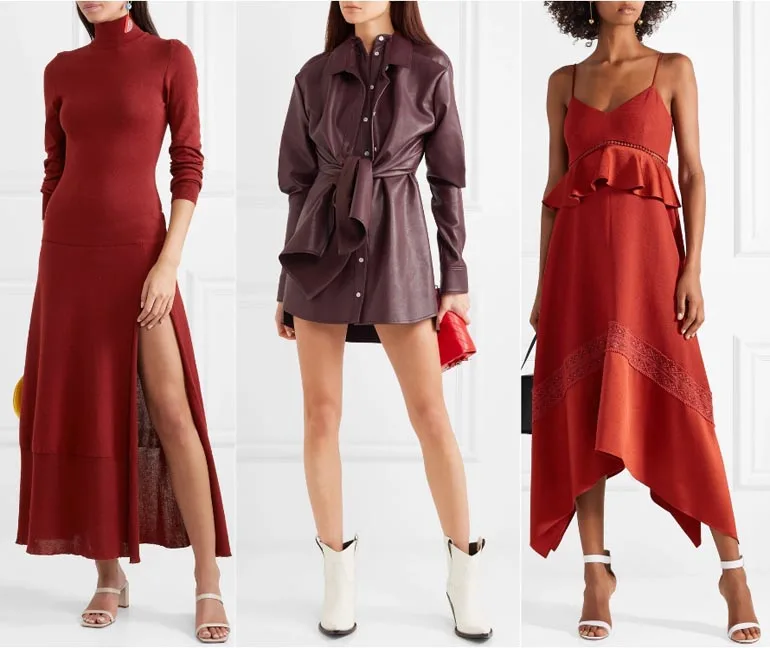 Never underestimate the power of a white shoe or bootie with a burgundy red dress! White shoes are generally unexpected & look great in optic white or even off white if you're looking not to distract too much from your burgundy dress outfit.
Purse & Jewelry Styling Tips: A maroon dress and white shoes look good with a bright red, black or blush purse. You can also opt for a metallic if you're going somewhere fancy!
Favorite White Shoes & Boots:
Brown Shoes with Burgundy Dresses

Brown shoes with burgundy outfits make a subtle & elegant combo. Best for casual or office outfits, brown shoes are understated & can look very chic.
I prefer brown shoes paired with burgundy dresses for laid-back setting, but it's a great shoe color if you'd like to play up the dress in the outfit & make it stand out.
Especially if the shade of brown or beige matches your skin tone. Brown shoes and a burgundy dress is a good combo for conservative office attire.
Purse & Jewelry Styling Tips: Burgundy dress accessories with brown shoes? I say a maroon dress with brown heels, shoes or boots works well with almost any purse color.
Opt for black, beige white or gold handbags. Since the tones are warm, choose gold or rose gold jewelry.
Contrast Red Shoes, Burgundy Shoes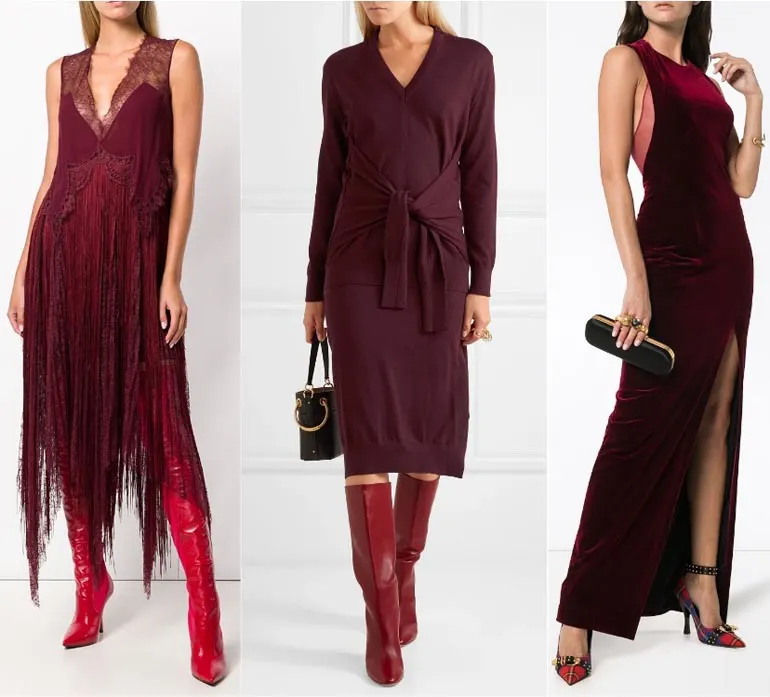 Likely not the most popular shoe color for burgundy dresses, but if you contrast a dark maroon dress with a bright red heel or a bright red dress with a wine-hued shoe, it can look fabulous.
Definitely not for the faint of heart, as you will definitely steal the spotlight! I definitely recommend contrasting red shades here.
Purse & Jewelry Styling Tips: I would choose a beige, blush, white, black, gold or even navy purse to wear with your burgundy outfit & red heels. Pretty much anything goes – aside from another red!
Small accessories and jewels with this red and maroon dress pairing calls for silver jewels and lots of sparkles if the event calls for it!
Favorite Red Shoes & Heels :
Turquoise Shoes, Blue Shoes, Purple Shoes with Burgundy Dresses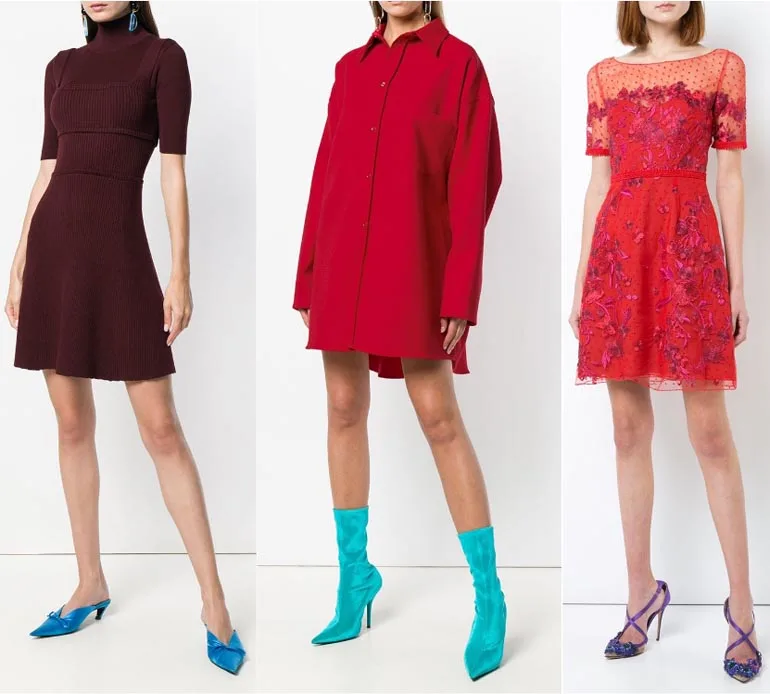 Does turquoise go with burgundy? Or purple, or any blue for that matter? Well, a burgundy dress or maroon outfit with blue shoes or purple shoes can look absolutely fab! But it all depends on what shade your burgundy dress is.
I would say all blue hues, from navy to cobalt to bright turquoise would look fab with any red or burgundy outfit! Purple shoes look best if they are paired with a brighter shade of burgundy.
If your maroon dress is wine-hued, purple may look too similar. However this can be determined better on a case-by-case basis depending on the hue of the purple shoes and burgundy dress combo!
Purse & Jewelry Styling Tips: Play is safe with black or white, or get a little creative with a contrast yellow or gold purse! Unless your purse is gold, choose silver jewels to complement the cool tones of the blues.
Final Thoughts on Accessories & Shoes for Burgundy Dresses + Outfits
I hope I've clearly answered your what color shoes to wear with burgundy dresses & burgundy outfits question. And also helped with what accessories for a burgundy dress work best.
Of course, as I always mention at the end of my dress styling posts, the way you put your outfit together is relative to each wine-colored dress, each specific shoe & occasion.
In the end, if it makes you feel fierce, just do it! But if you do feel like being more conservative with your burgundy outfit, great understated shoe colors to wear with burgundy (that always work!) are black, beige & brown shoes.
Any questions? Leave me a note down below and feel free to check out more posts about certain dress colors to wear with specific shoes.
xo ShoeTease
Cristina is the chief editor, fashion & shoe expert here at ShoeTease. As a seasoned stylist and women's fashion & shoe designer, she boasts over 20 years of experience in the fashion industry. She loves crafting effortless outfits for ladies both online and off and believes that styling advice should be accessible to everyone. Whether you're a styling pro or just starting out, Cristina's here to guide you on your fashion journey! Learn more.