I'm here to talk about these black and white pumps that are anything but ordinary. How so, you ask? Let's begin with the fact that many of us are so busy in our daily lives, that the thought of having to change our clothes or shoes before or after work is completely out of the question.
Ain't nobody got time for that 😉 And now that our days are being stretched out to include evening events & meetings, 9 to 5 dressing is no longer applicable.
Zvelle is a newly established Toronto-based, Canadian brand with three sassy shoe designs with the #9to9 woman in mind. Because whose life ends at 5pm anyway?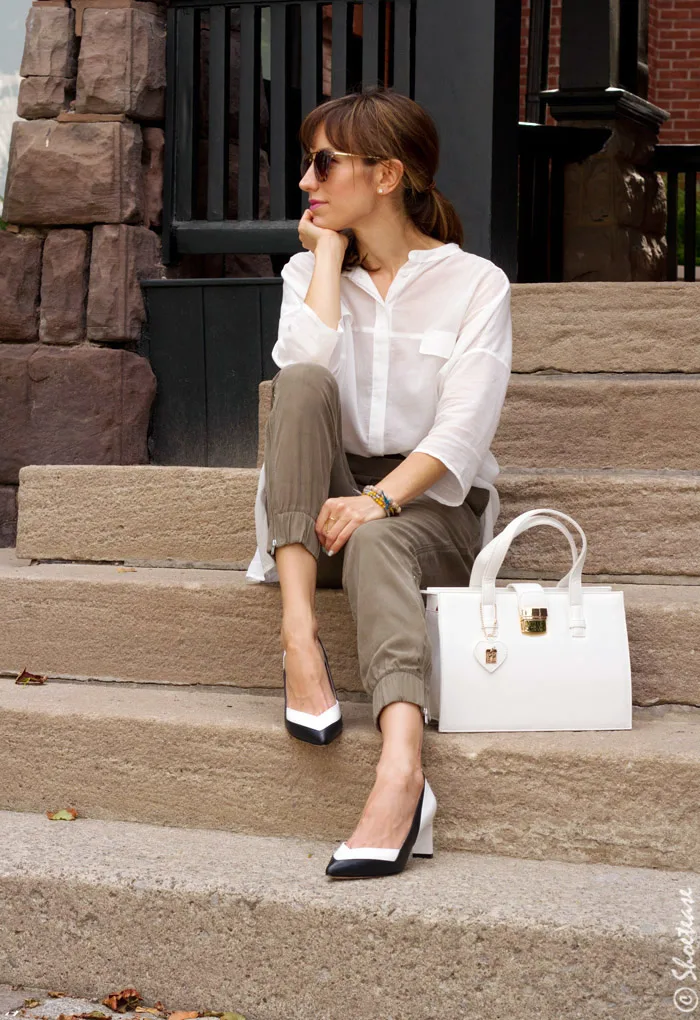 Black and White Pumps: c/o Zvelle. Khaki joggers: Gap. White blouse: Sisley. Purse:c/o Jeanne Lottie
Working in finance & luxury retail, founder Elle AyoubZadeh saw a gap in the women's shoe section, especially for the busy working woman like herself. Fun, luxurious shoes that are both comfortable & competitively priced aren't that obvious to find. Especially not in Canada.
With her heart set on an architectural aesthetic with strong lines & bold colors, Zvelle's #9to9 collection was born. Elle's striking designs should come as a breath of fresh air for women on the go who are making their way to the top. Her visionary styles are year-round timeless classics, as opposed to seasonal passerbys, & easily adapt to one's fluctuating 9 to 9 life.
With the perfect balance of form & function, corporate & working women, with their personal & professional dance card filled to the brim, have an alternative option to the ubiquitous plain Jane shoe.
Or the untouchably pricey, far-too-quirky-for-your-own-good designer shoe. These Zvelle heels have just the right amount of sass, structure & personality to take you from the office, to a night out on the town.
Available in 4 different colors, I decided to feature the black and white "Sydney" pump. I'm a huge fan of black and white shoes, especially in pump form, so I took the challenge (which, as it turns out, wasn't very difficult!) of incorporating these color block heels into my everyday outfits. These are great shoes to wear with joggers!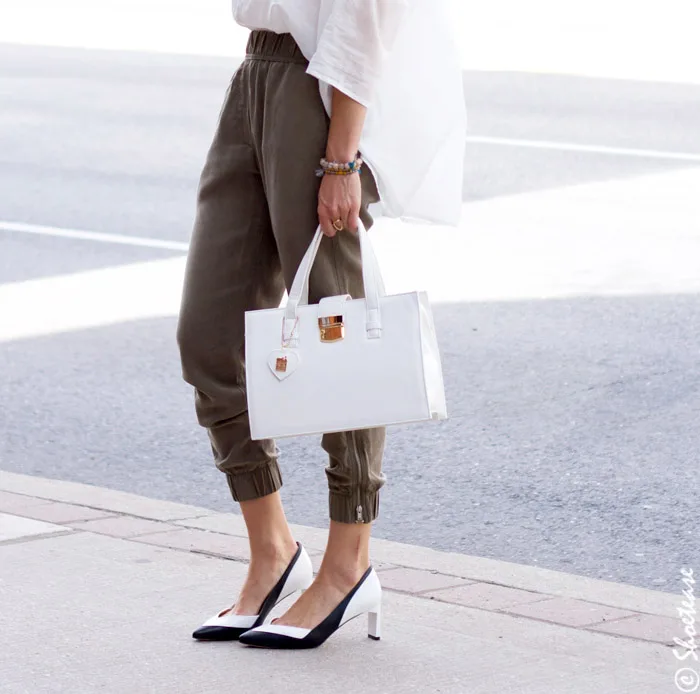 Zvelle Black and White Leather "Sydney" Kitten Pumps
The collection's token heel, which looks like a stiletto from the side & a block heel from the back, is only 2.5 inches of a kitten heel. Perfect for business travel & sitting at your desk (anyone else kick off their too high heels when they have to sit?). Yet also sensible enough to allow you to run your errands without that 4 inch & over high heel pain. I mean, lining up for your morning (or evening!) Venti latte shouldn't a sore foot make
There is so much attention to detail, from the perfect seams & stitches to the incredible gold ornate logo on the outsole. Nothing is overlooked; it's a perfectly constructed shoe.
The shoe's upper, insole & outsole are all made from high-end, ethically sourced nappa leather & produced in an equally quality-driven Brazilian factory. I did, however, find the toe box quite stiff & as a result the shoe requires some 'wearing in' before getting your #9to9 on!
The heel itself is made of a tough plastic material, which doesn't scuff as easily as wood or a leather covered heel. The white heels on these black and white pumps match the white leather uppers to a T. Seriously flawless!
This pump & all other shoes in the collection have a thick cushioned padding under the insole to help support the foot & arch
The leather outsole is grooved under the toe area for more traction & does the trick. However, the leather itself is very delicate. So if you walk (or rather stomp!) a lot like I do, you'll find yourself better off getting a cobbler to add a rubber layer to the front portion of the outsole, to extend its life.
These pumps are great shoes to wear with skinny jeans in particular. Like the black distressed version I'm wearing below.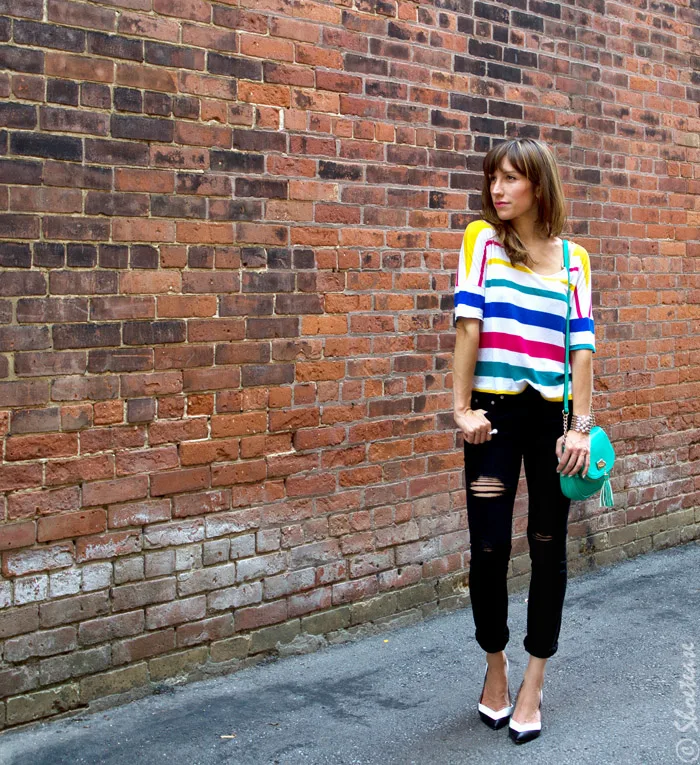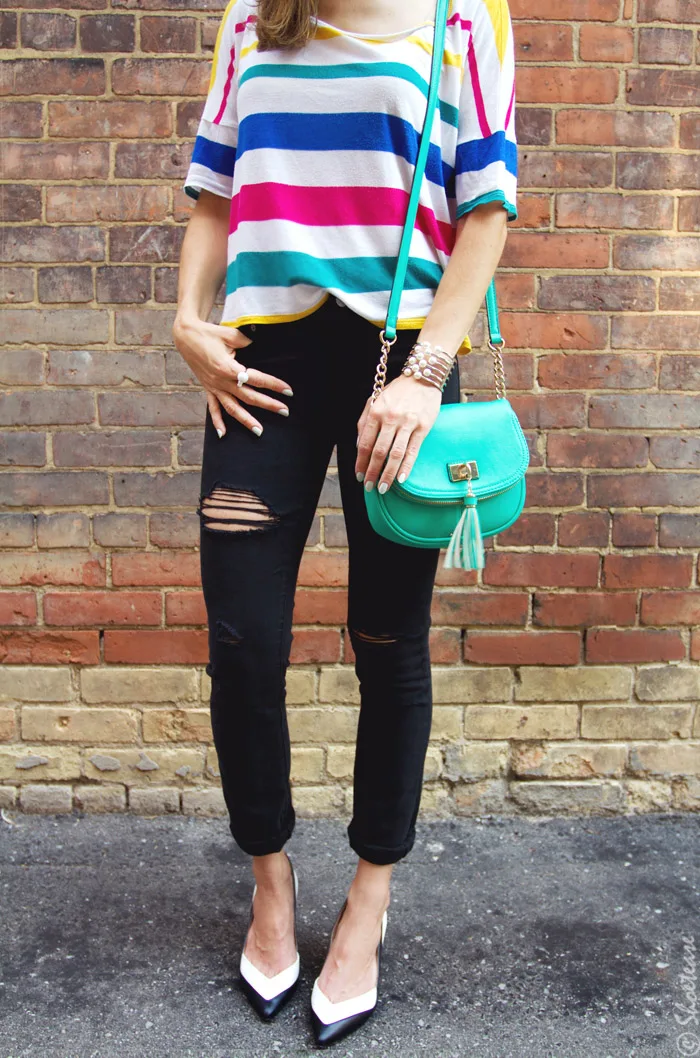 Ripped Jeans: Gap. Purse: Aldo. T-Shirt: Winners. Jewelry: flea market finds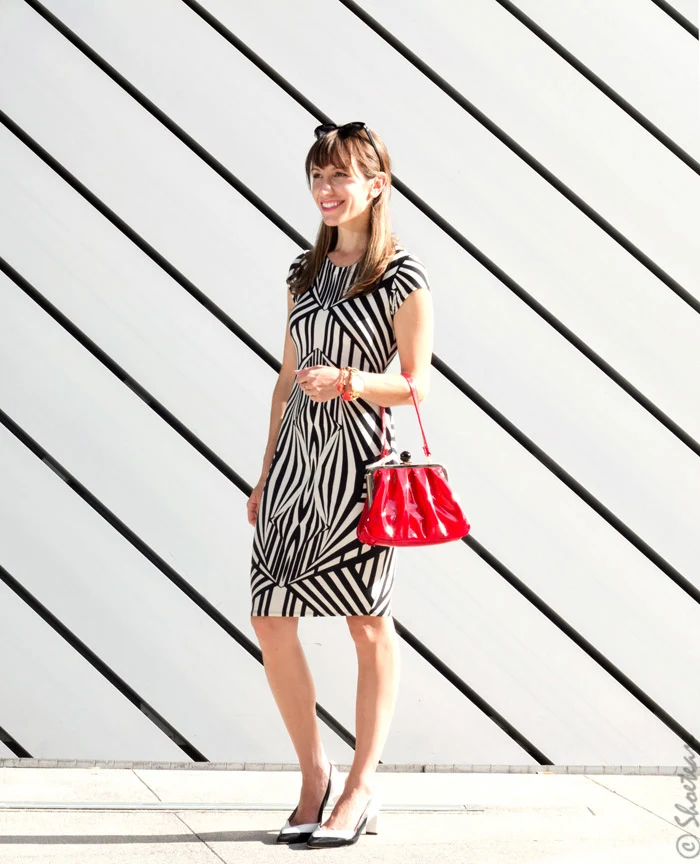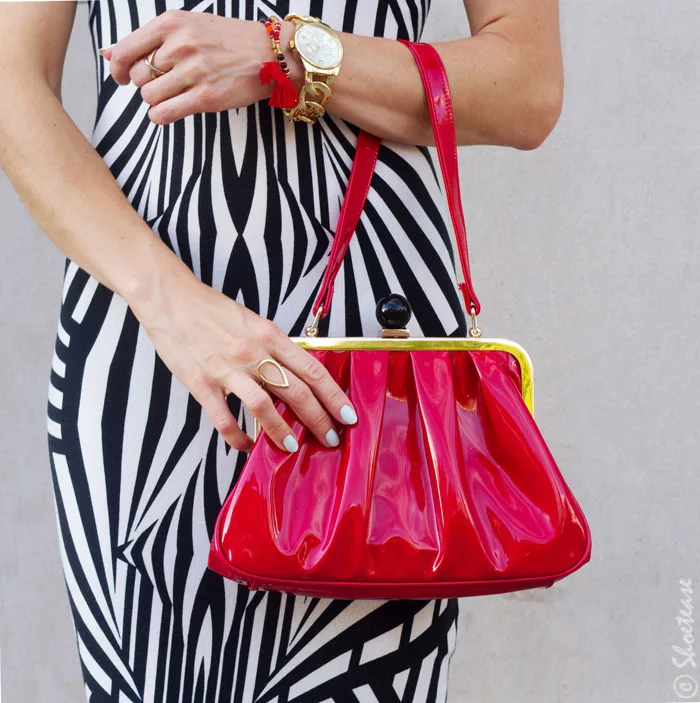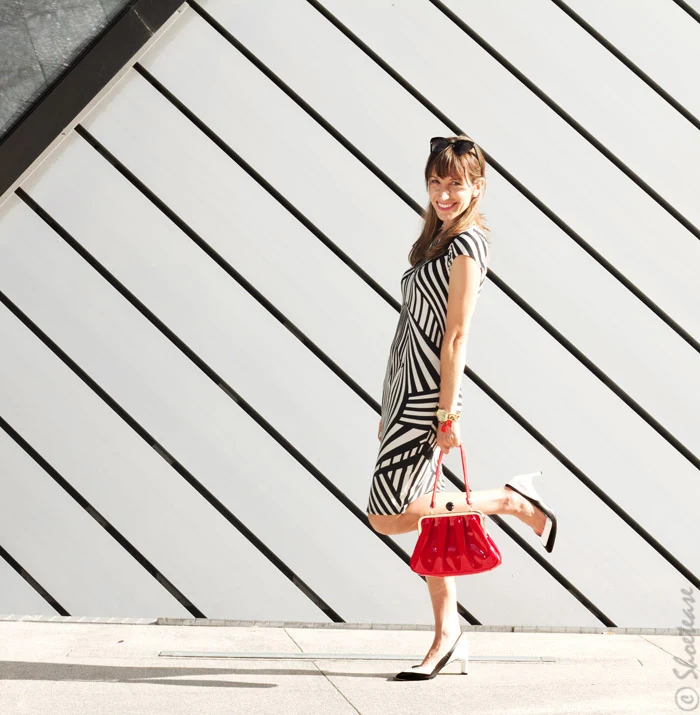 Dress: Dorothy Perkins. Purse: c/o Jeanne Lottie. Gold watch & Sunglasses: Aldo
As a lover of black and white shoes, I'm so glad I came across this particular pump. I just love black and white shoes with a black and white dress! I hope you enjoyed the versatility of this heel & have inspired you with some block pump shoe styling.
I would recommend this particular style for a medium to wide foot. As per the sizing, this brand fits large. A usual 38 myself, the 39 in Zvelle sizing fit my foot length perfectly.
xo ShoeTease