Sneakers have a special place in our hearts. In honor of sneaker culture, I've put together a list of over 100 sneaker quotes, sayings, and sneakers captions for Instagram!
There's something about sneakers that just makes people excited! Maybe it's the history behind them or the way they make you feel when you wear them.
Whatever the reason, sneakers must be celebrated, especially with sneakerhead quotes and other inspirational sneaker quotes from past, and present, celebrities and designers alike.
Whether you're a sneakerhead or not, these quotes will make you appreciate sneakers in a whole new way.
So what are you waiting for? Check out my list here on shoe-tease.com and get motivated with new, old, funny, and inspiring quotes about sneakers!
Sneakers Quotes, Sayings & Captions for Instagram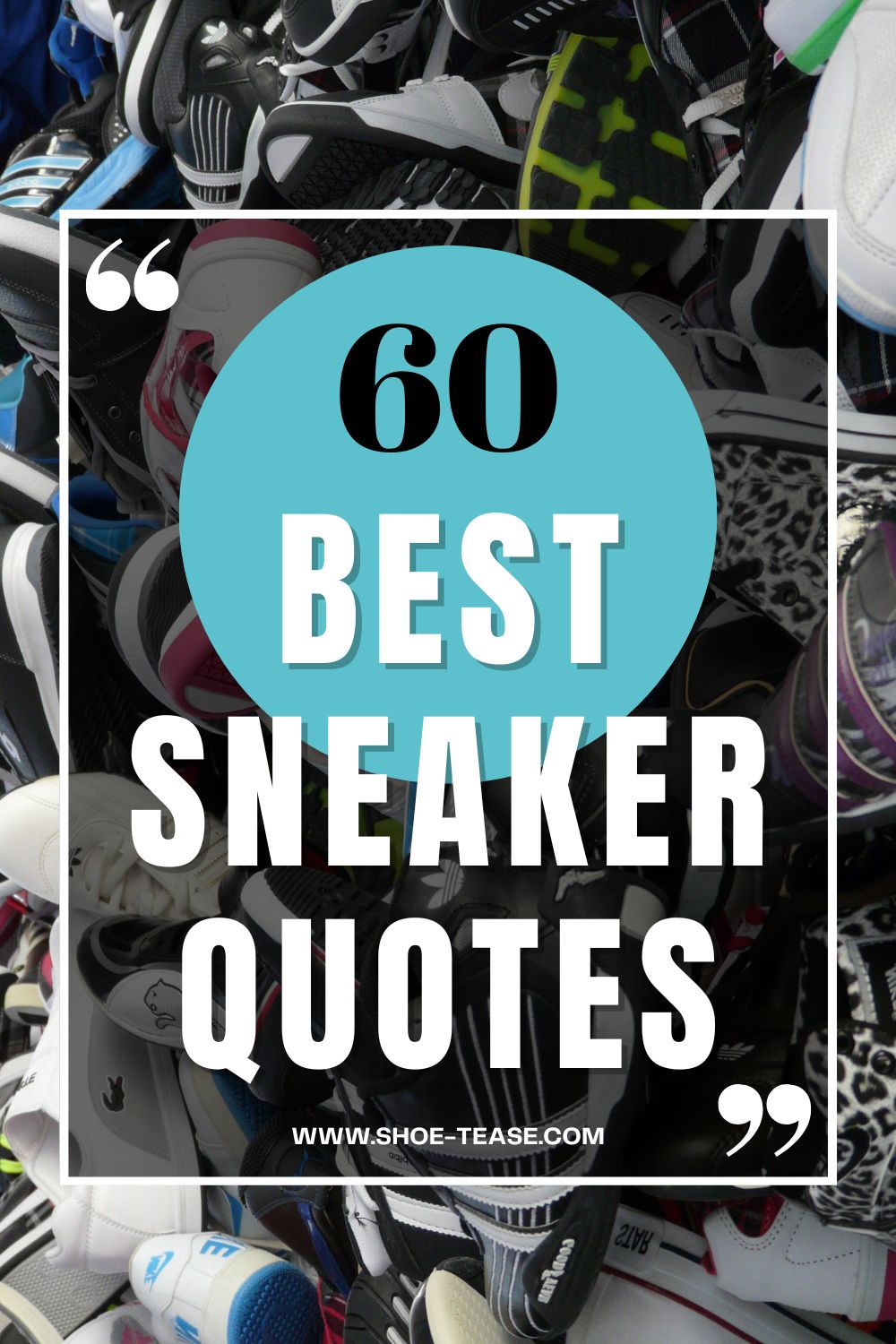 New Sneaker Quotes
There's something special about having a new pair of sneakers. Starting from that new sneaker smell to the feeling of having fresh kicks on your feet! Below are some great new sneaker quotes for your to enjoy:
"Sneakers are a new era. Anyone can feel new with a new pair of shoes. They make you feel contemporary. It's fun because I'm not a young designer, and it opens my brain. Hip-hop isn't just for the U.S. Everyone loves it." – Giuseppe Zanotti
"I've always been into fashion since I was a kid. I love fashion. I appreciate it. I just enjoy dressing up and getting all the new sneakers and all the hot exclusive clothes – I did even when I was young." – Future
"The passion for sneakers has been there since day one, but I never held onto them. I never shrunkwrap them. It's always been about getting it, buying it, wearing it, showing it and moving on to the next one." – Pusha T
"Aw man, growing up I just loved sneakers. In my neighborhood, having the freshest shoes was always a key. A major key." – Nick Young
Sneaker Collector & Sneakerhead Quotes
Whether you call yourself a sneaker lover, collector or sneakerhead, it doesn't matter. Below you will find some of the best sneakerhead quotes to match your deep love of sneakers!
And if you think you have a sneaker obsession, these quotes will make you realize that you're not alone 😉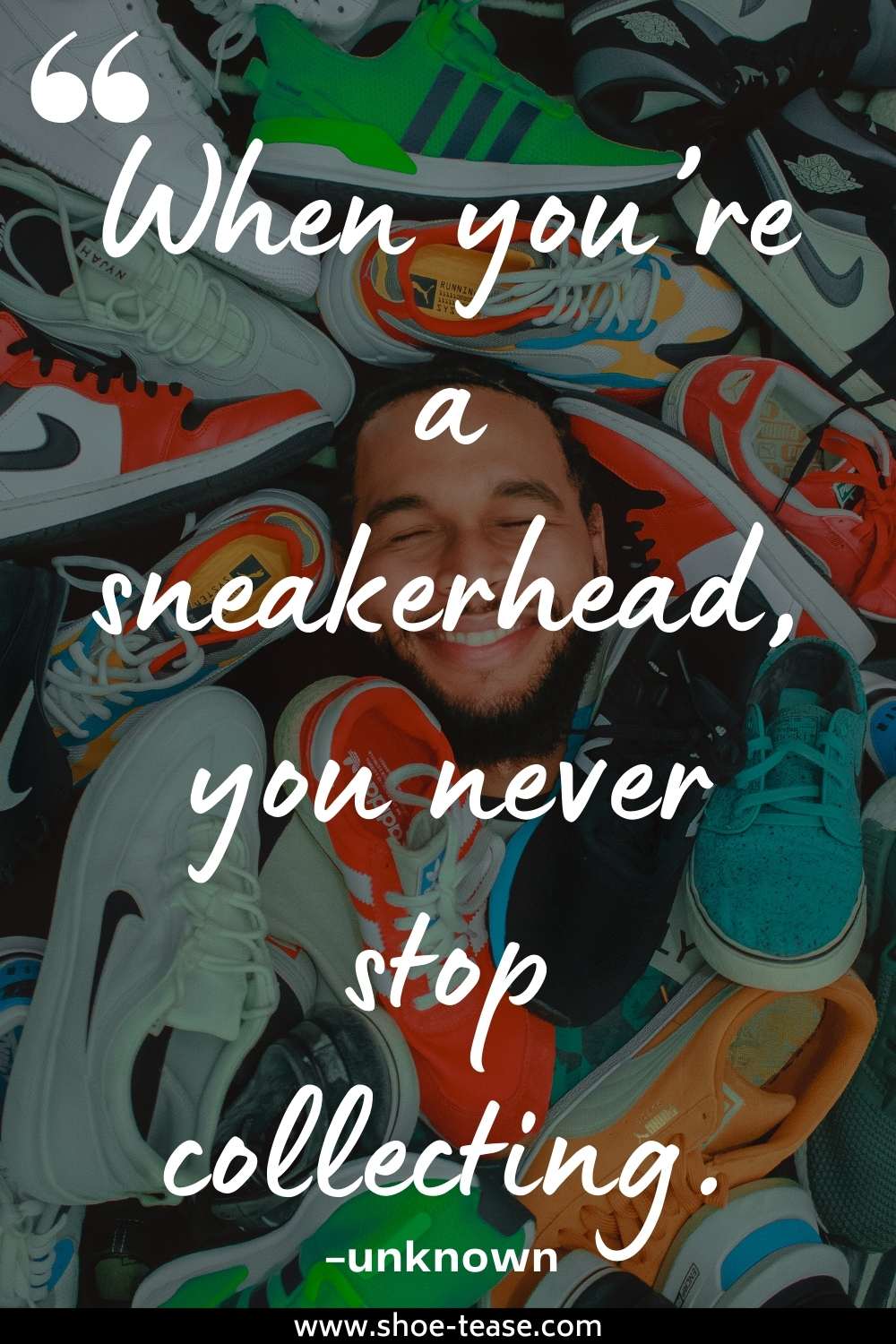 "When you're a sneakerhead, you never stop collecting."
"It all starts with a sneakerhead. (Yes, it's OK to wear your sneakers everywhere)."
"Sneakerhead. Sneaker addict. Sneaker slave. Call it what you want; there's a certain thrill, like an itch only shoes can scratch, that sneakerheads feel for their passion."
"I am a Sneakerhead. I started buying sneakers because I loved them, but something about
"The chase got me hooked on collecting sneakers. Today the thrill of the hunt drives me just as much as it did when I first started."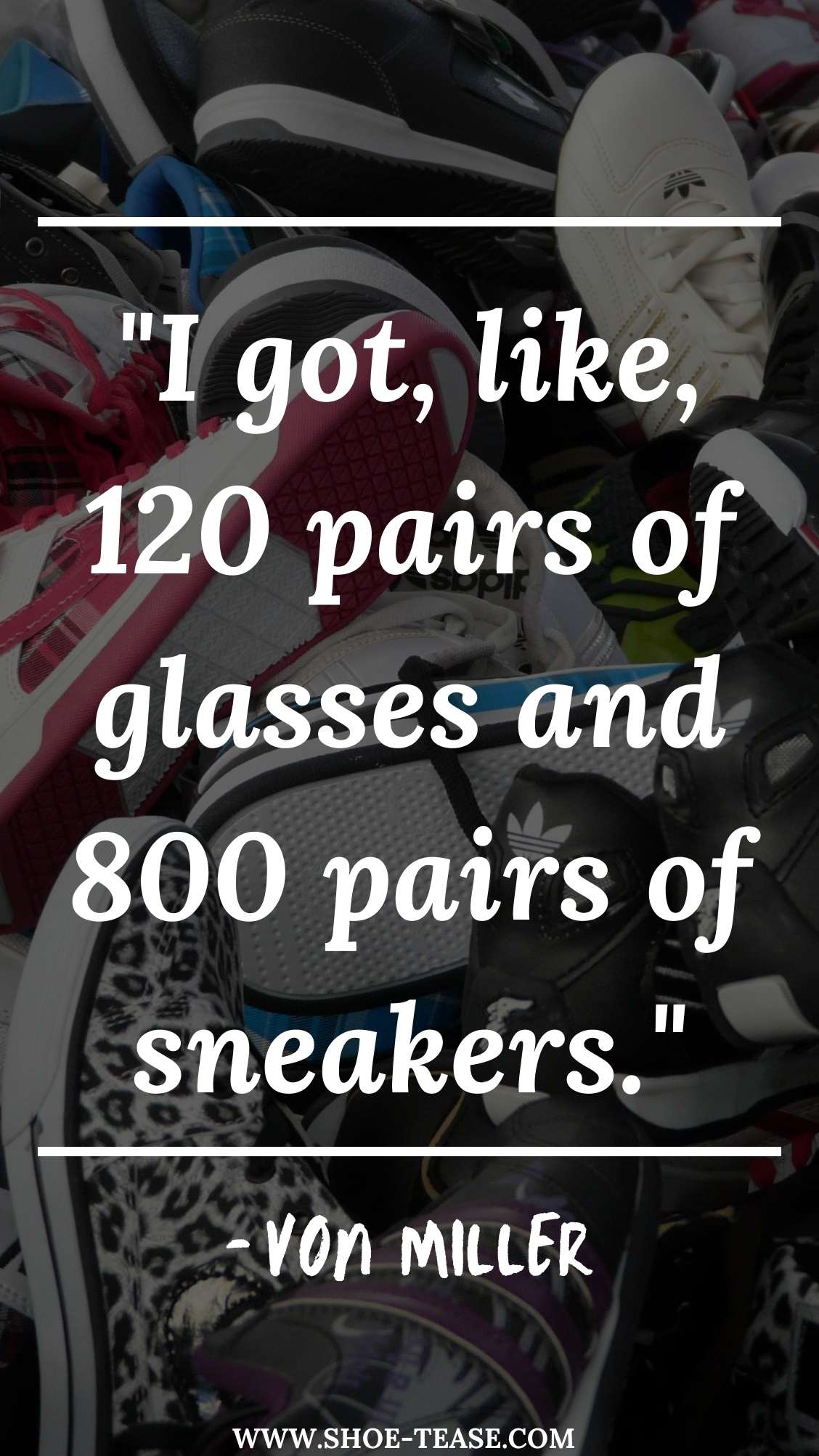 "I got, like, 120 pairs of glasses and 800 pairs of sneakers." – Von Miller
"I AM A SNEAKERHEAD. I spend way too much time looking at shoes, researching shoes, stalking shoes, buying shoes. I have no self-control in the shoe department."
"I'm a compulsive sneaker collector, mostly limited edition."- Jourdan Dunn
"I like sneakers. I guess I could call myself a collector."- Mike Shinoda
"Even though I am in the sneaker world, I am very diverse." – Fabolous
"The man that got me into collecting sneakers in the first place was the man they call Michael Jordan. He was the one who kind of exposed me to the sneaker world – he was my favorite basketball player, and he had the best shoes." – Macklemore
Inspiring Sneaker Quotes
Looking for inspiring sneaker quotes to place as a sneaker caption on Instagram, or to inspire you? Below are some of the best motivational and inspirations sneaker quotes:
"You don't need fancy sneakers to run fast." – Jon Bon Jovi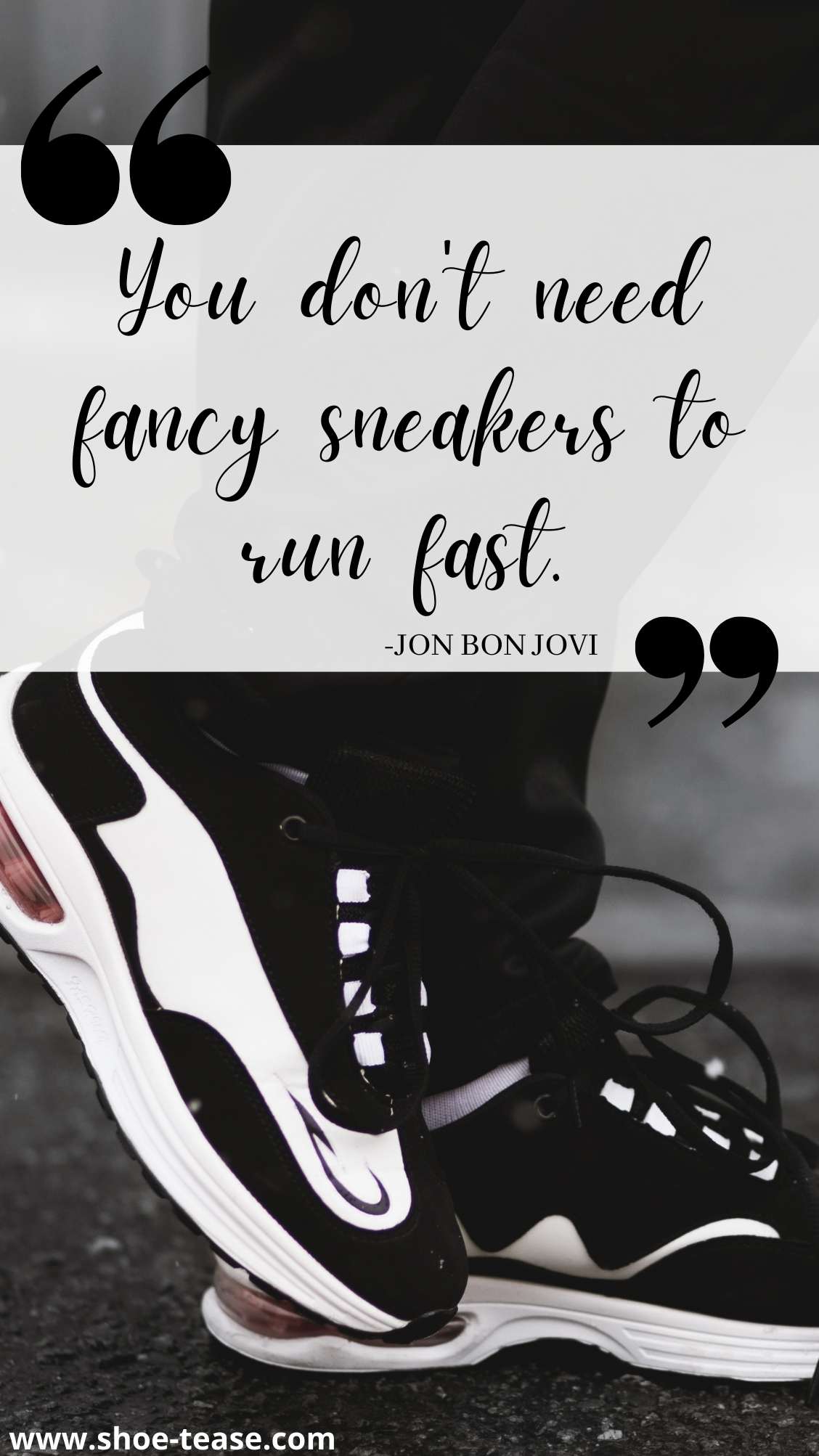 "The attitude of kindness is everyday stuff like a great pair of sneakers. Not frilly. Not fancy. Just plain and comfortable." – Barbara Johnson
"It was crazy how a hearse and a pair of sneakers could cheer a guy up." – Kami Garcia
"What you wear says a lot about who you are. Don't be afraid to let your sneakers express your individuality. That is what makes them special."
"When you're not sure whether to wear sneakers or sandals, opt for these bad boys."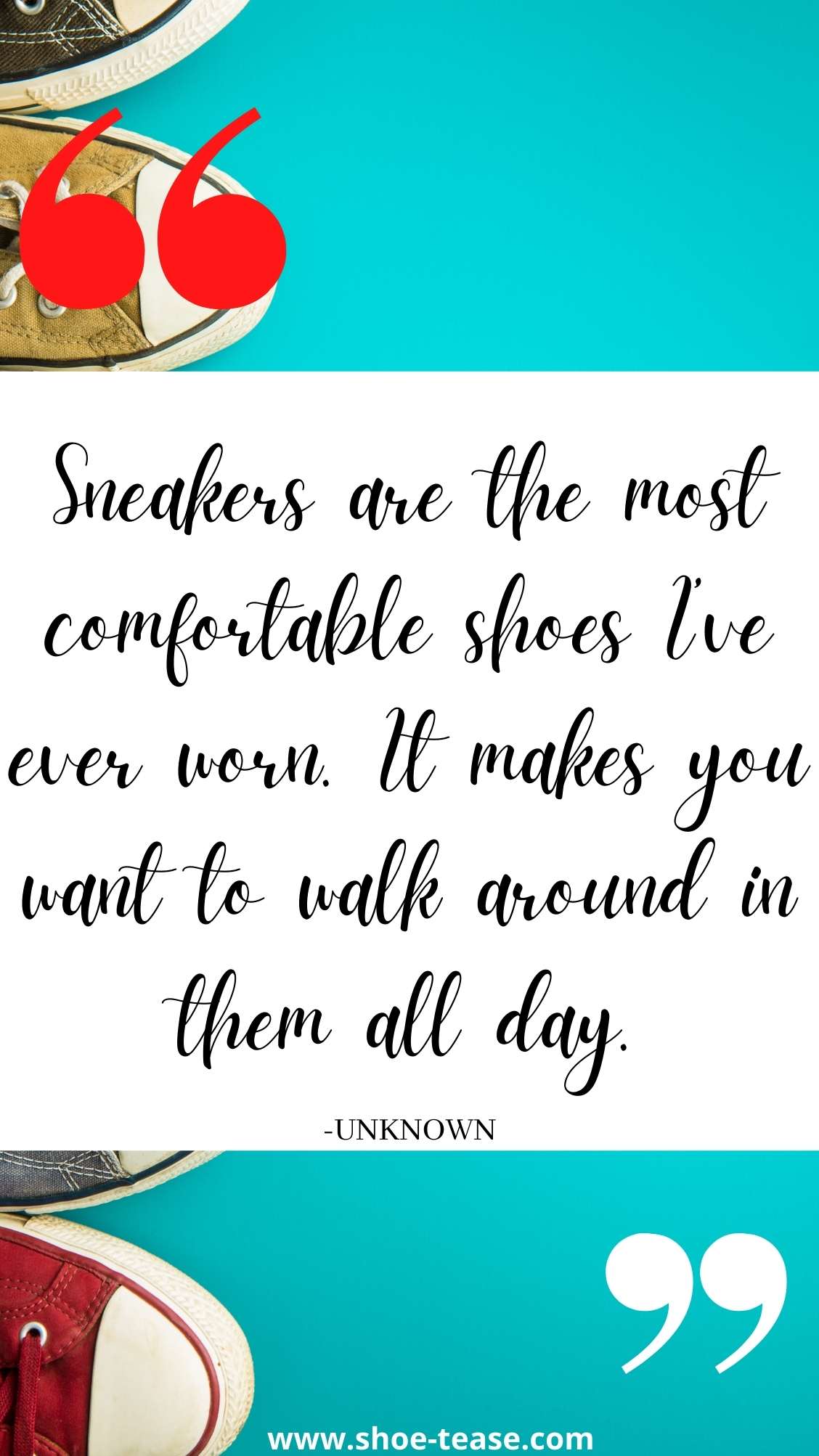 "Sneakers are the most comfortable shoes I've ever worn. It makes you want to walk around in them all day."
"I always wore sneakers when I wanted to. It was always about being comfortable and being myself." – Whoopi Goldberg
"There was a time when only athletes had sneakers. Entertainers having sneakers, on any level, is a blessing. " – Cam'ron
"I have a weird obsession with wearing not just fashion sneakers, but actual sneakers that have bounce, because I want to feel like I'm in an active state." – Lake Bell
"I have a deep, deep love for sneakers." – Kerry Washington
"It just feels good when I give people sneakers." – Cam'ron
"I'm like a little kid that has a basketball and don't want nobody else to play with it. "It's mine, it's mine, and it's mine!" When it comes to sneakers." – Fat Joe
Fashion Sneaker Quotes
The largest collection of sneaker quotes are those about sneaker styling and sneaker fashion. Especially from designers and celebrities talking about their love of sneakers and how they wear them. Let these style tips inspire you on how to wear sneakers!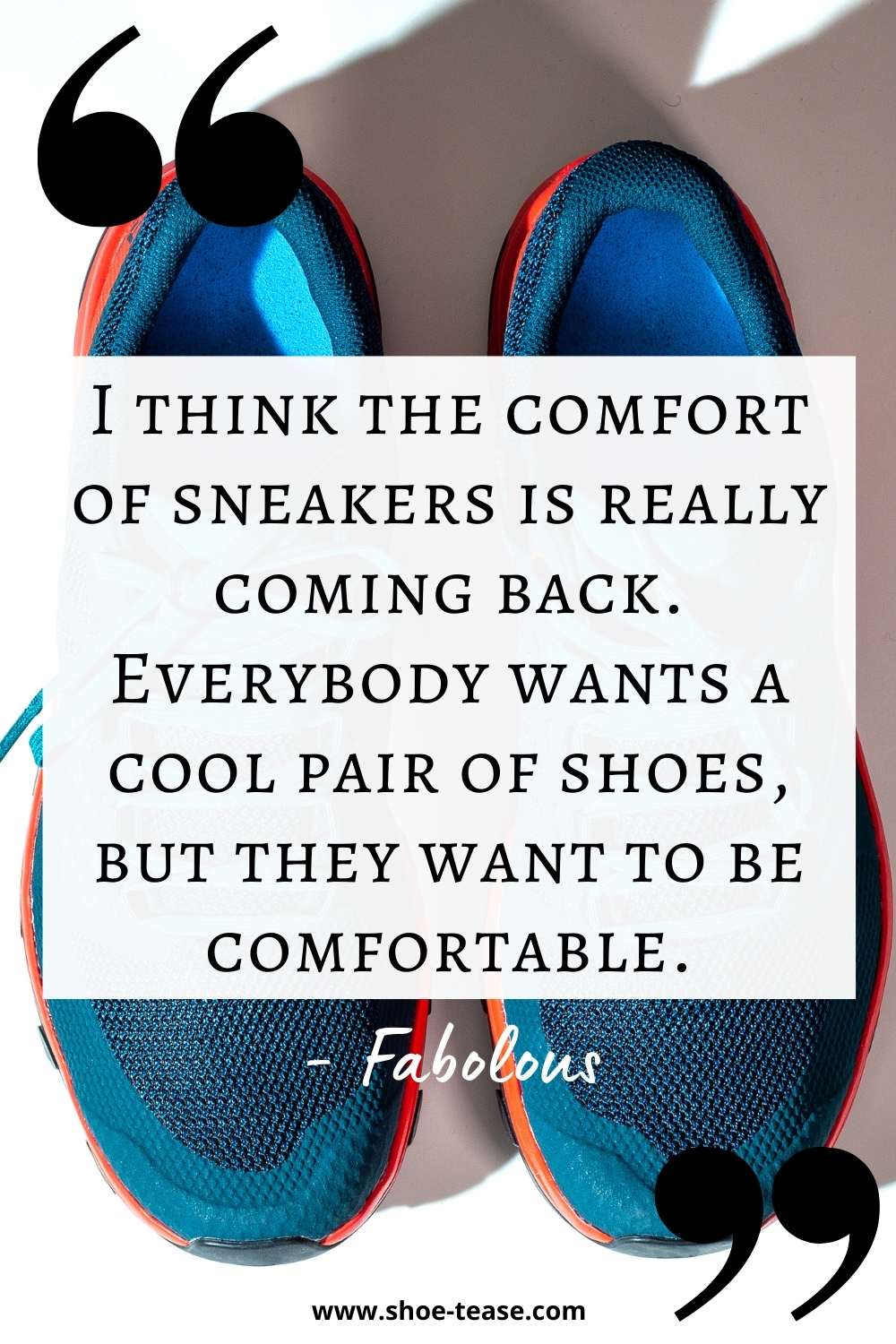 I think the comfort of sneakers is really coming back. Everybody wants a cool pair of shoes, but they want to be comfortable." – Fabolous
"Take your summer style up to fall with these shoes that hit the sweet spot between sneakers and colorful."
"One of the most effortless ways to dress up a casual look is with a sharp leather sneaker.
"The only thing I change mainly is my sneakers. I love sneakers. But everything's sort of black or jeans. Jeans, always." – Idris Elba
"I'm obsessed with neon sneakers."- Rob Kardashian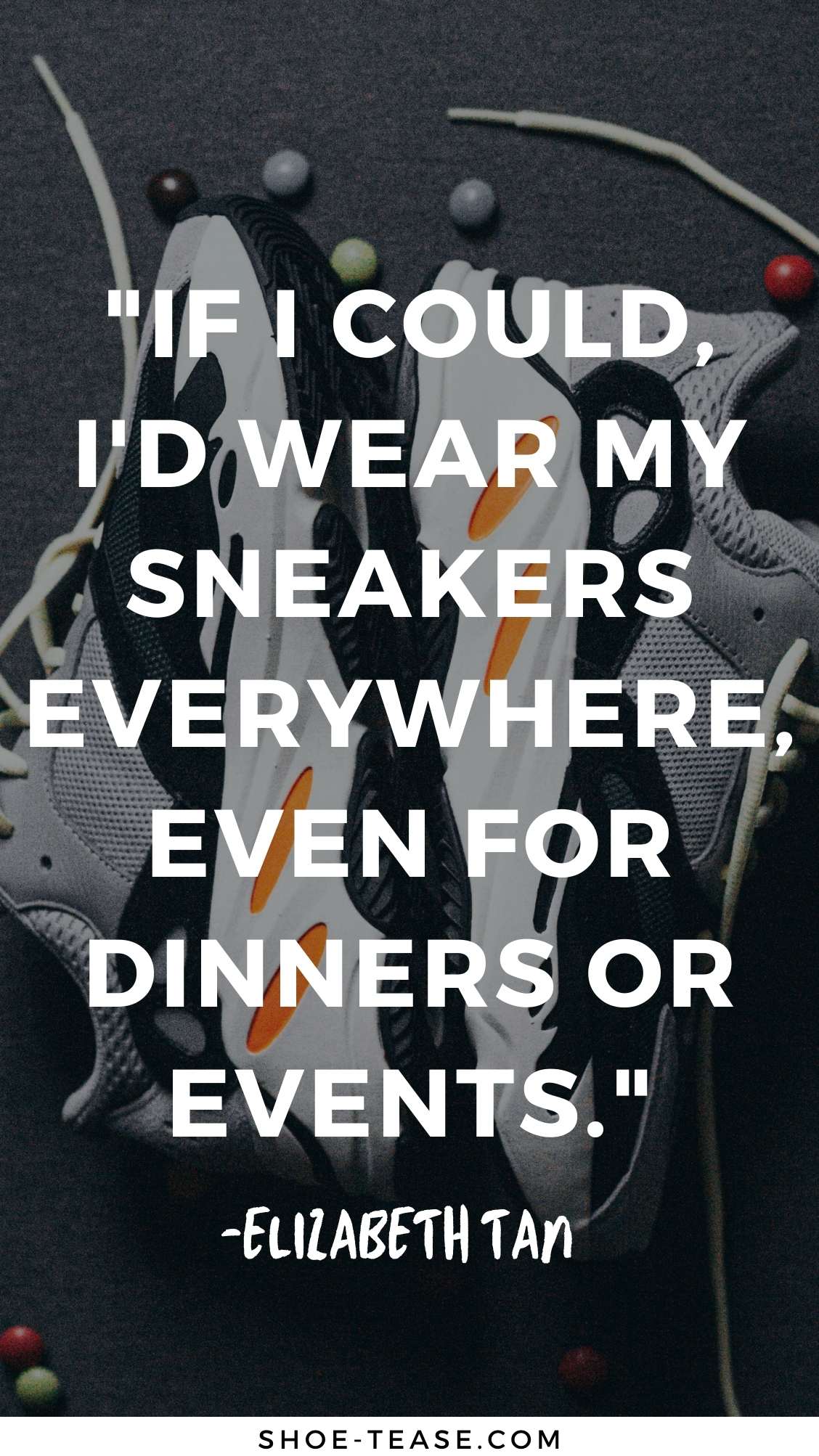 "If I could, I'd wear my sneakers everywhere, even for dinners or events." – Elizabeth Tan
"When I was fourteen and first started going out, I always wanted to be the opposite of everyone else. So I would go to the club in a polo T-shirt and pants and sneakers and a hat on backward, just so I would not be dressed like other girls." – Rihanna
"I'm more of the sneaker-wearing, computer geek type." – Jared Polis
"On my own I generally have very messy hair, wear jeans and sneakers." – Jewel
"My style is pretty clean, classic, and elegant, with some elements to make it a little funkier. If you see me on a normal day, I'm usually in a T-shirt and jeans, maybe with some cool sneakers, but I'm pretty basic." – John Legend
"I like wet hair and sweatpants. I like sneakers and ponytails." – Chris Evans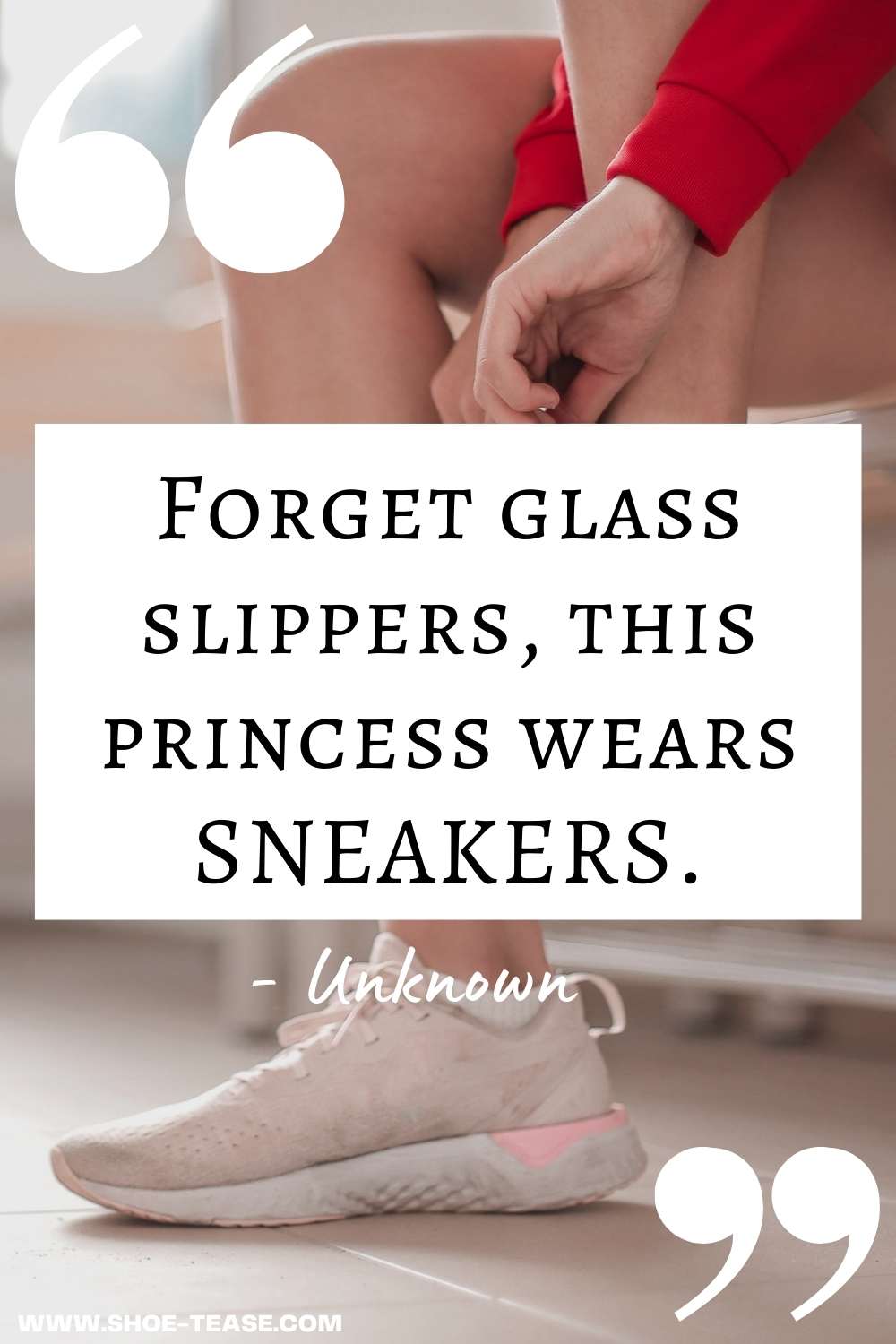 "Forget glass slippers, this princess wears SNEAKERS."
"I have always loved sneakers and sweaters, and I wear a lot of them. And a good t-shirt or a pair of jeans can make you feel so good." – Garance Dore
"The classic white sneaker. Plus, the shoes are so practical. They fit in my suitcase when I'm traveling. That is kind of perfect for summertime – something that you can wear in many ways, different outfits."
"I hate wearing trousers and shoes. I wear jeans and sneakers most of the time." – Mark Webber
"On a normal day, I love a shift dress with flats and a little cropped jacket. That, for me, is my travel wear if it's not too chilly – you can throw a scarf over your legs if it's cold on the plane!" – Meghan Markle
"I love chilling in a cute sweatsuit and wedge sandals or sneakers." – Vivica A. Fox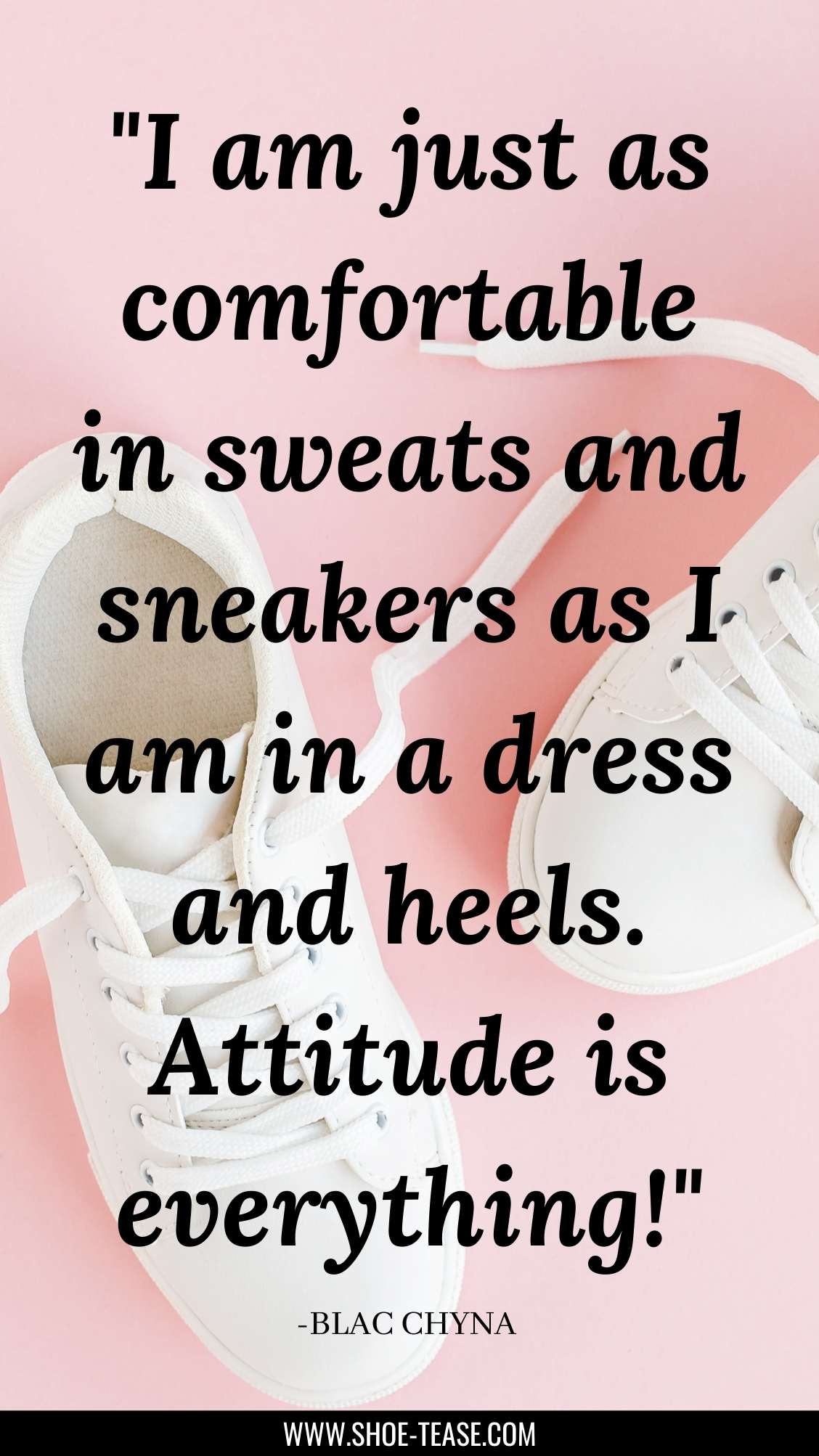 "I am just as comfortable in sweats and sneakers as I am in a dress and heels. Attitude is everything!" – Blac Chyna
"I really like a lot of Tom Ford. His leather sneakers are my most worn shoes." – P. J. Tucker
"Glasses, earrings, rings, sneakers. I love every little accessory." – J. Balvin
"I don't have any elaborate uniforms; I come to the ring in a T-shirt, a pair of sneakers and some shorts." – John Cena
"Republicans buy sneakers, too." – Michael Jordan
Final Thoughts about Sneaker Quotes & Captions
Sneaker culture is a big part of our lives, whether you're a full-on sneakerhead or an occasional wearer. From the moment we lace up our first pair of sneakers, they become an integral part of who we are.
We wear sneakers to make statements about ourselves, to show off our style, and to express our individuality. Or to simply add some comfort to our lives!
That's why there are so many sneaker quotes. These capture the essence of what it means to be a sneakerhead, sneaker lover or admirer.
I hope you enjoyed my favorite sneaker quotes and sneaker captions today! Don't forget to share your sneaker captions for Instagram in the comments, in case I forgot any 🙂
xo ShoeTease