Clogs may have fallen out of favor with many sartorialists, but they've returned and been favorited by many of the fashion elite. So if you're looking for tips on how to wear clogs outfits in a fashionable & contemporary way, this post is for you!
From classic wooden-bottomed clogs to clogs designed by Birkenstock & Crocs, clogs outfits are everywhere. Spotted on both the concrete runway & red carpet alike, clogs are a shoe trend that embodies a laid-back and wholesome country appeal.
These versatile shoes are comfortable and easy to slip on and off. They also add an exciting element to your ensemble, making them an excellent choice for transitioning into summer and fall.
And what's more, these types of shoes for women have undergone a modern-day makeover, thanks to rubber materials, unusual colors and cozy textures, by both high-end and fast fashion brands alike.
Today on shoe-tease.com, I will walk you through the most trendy clogs styles and how to wear clogs. I'll help you choose the best pieces of clothing to style your clogs to create both casual to more elevated looks.
That way, you'll never wonder what to wear with clogs ever again!
Top 5 Trendy Clogs for Women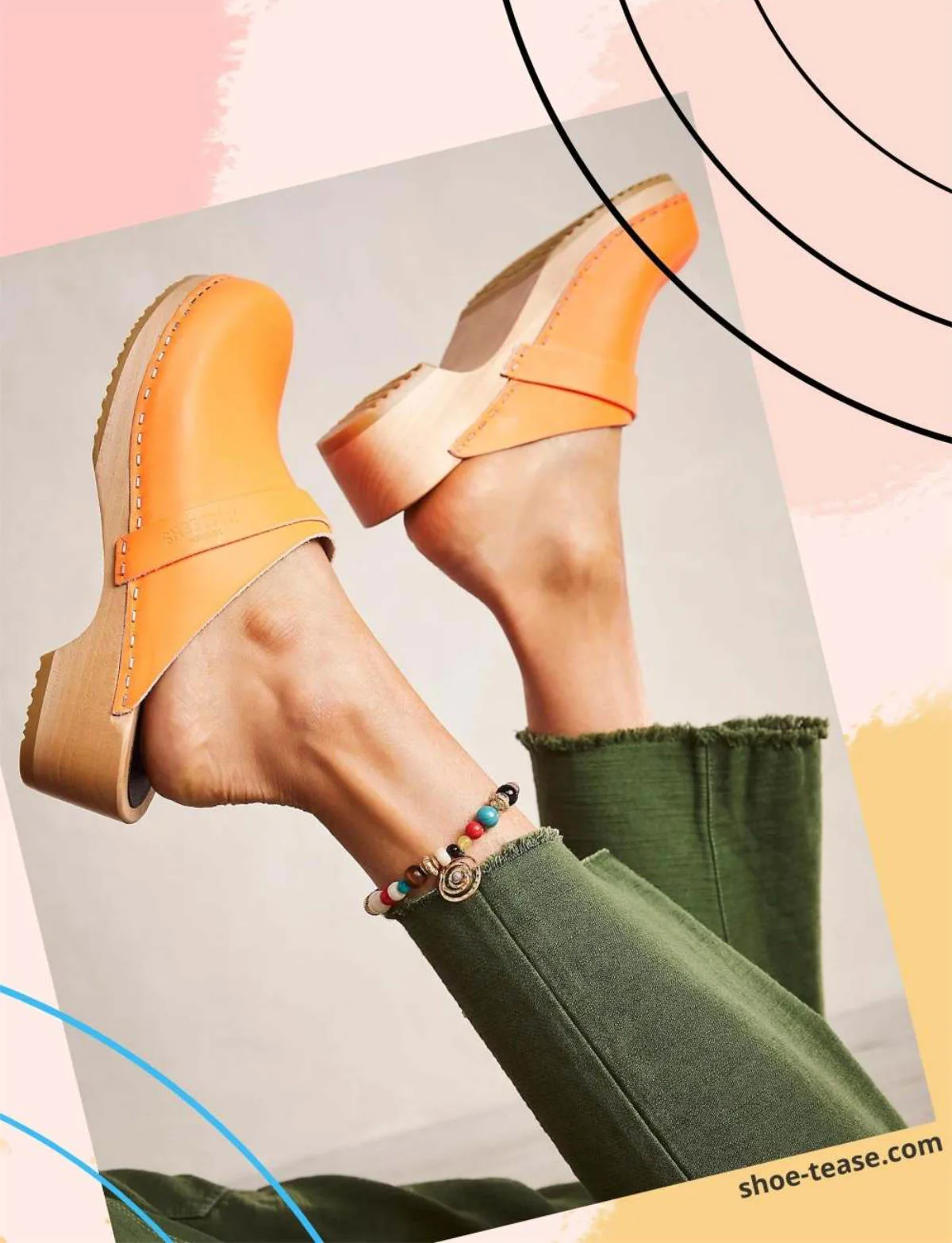 The first clogs were made entirely of wood and date back to the 1300s. They were prevalent in Holland, where they remain an essential part of Dutch culture today.
The clog as a shoe type has regained high fashion status in recent seasons. Brands like Crocs and Birkenstock have released several styles that are sure to become a staple in your wardrobe. They also make great closed toe summer shoes!
Even though we're used to seeing classic slip-on clogs with tan uppers and wooden heels, these now come in a variety of colors and styles. Swedish Hasbeens make a wide assortment of clogs from sandals, and mainstay mules to classics with a twist.
I've taken note, as I see more retailers carrying them, and street style fashionistas and influencers wearing them. From this, I've deciphered the top 5 trendy clogs for women, below:
Classic Clog Mules: these are the classic backless clog with wooden heels. Some will have studs holding the upper material to the outsole, while some will not.
Birkenstock Clogs: More designers have taken style inspo from Birkenstock's Boston clog mules. They have a classic Birkenstock orthopedic base with no heel or platform and are covered by fabric or leather, with a small buckle across the vamp. Great to wear with cozy socks for cooler months. Also available in plastic: the Birki.
Dr. Scholl's Clog Slides: Easy breezy wooden-based clog with one strap across the foot with an adjustable buckle. Comes in a slew of colors and materials. I love the minimal appeal that works with many spring/summer outfits. Shop them from Zappos, here.
Crocs Clogs: No introduction is necessary to this one. The "ugly" clog has become a staple for many. High fashion brands have been seen collaborating with the shoe company, while many are creating clogs of a similar plastic + vamp holes aesthetic.
Platform Clogs: Usually with a block heel and extra tall wooden platform, these are reminiscent of the 70s and can be found on different types of clogs, including mules, sandals and clog booties.
Shop Trendy and Classic Clogs From:
How to Wear Clogs Outfits – Styling Tips for Women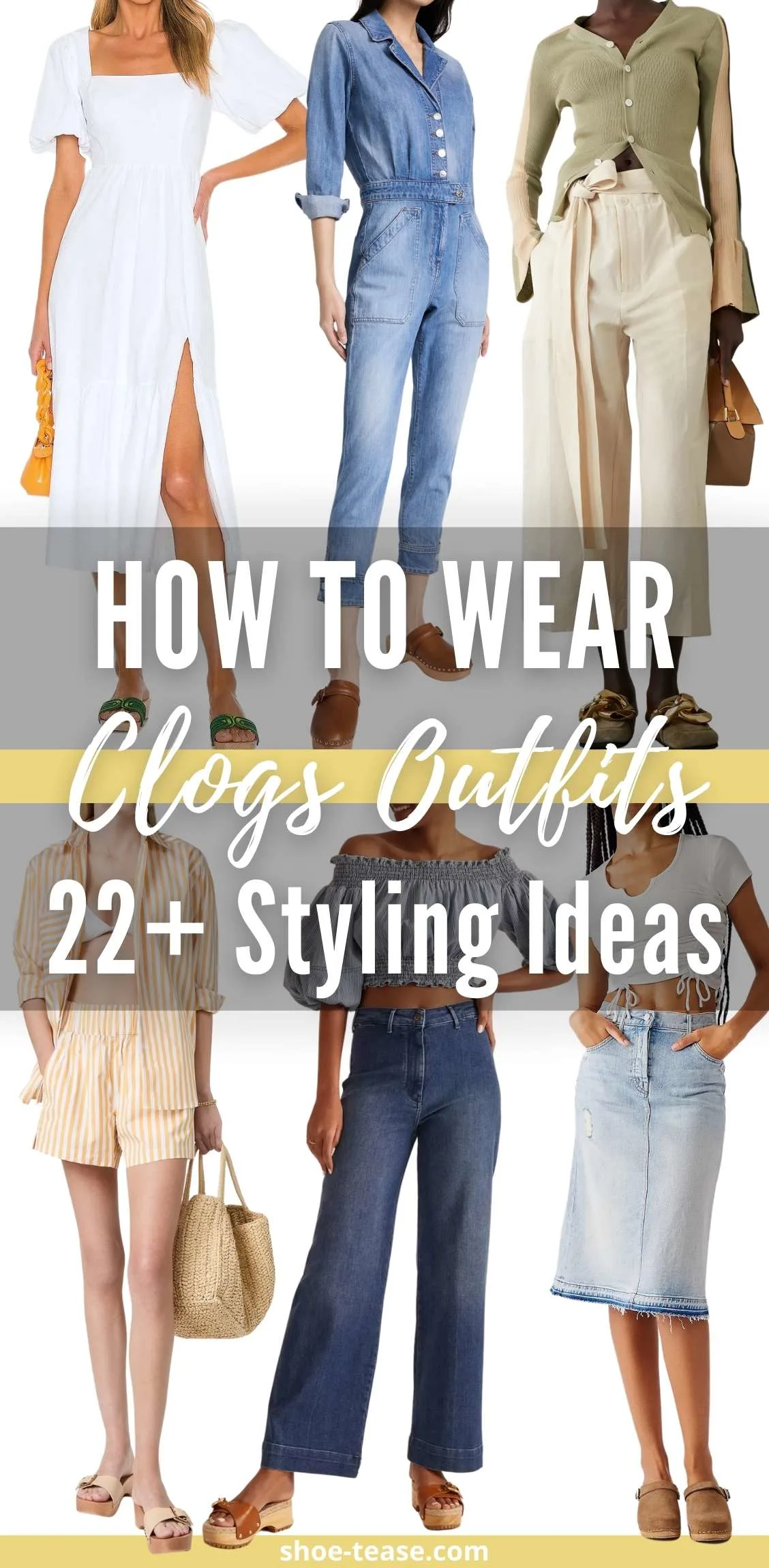 1. Clogs with Jeans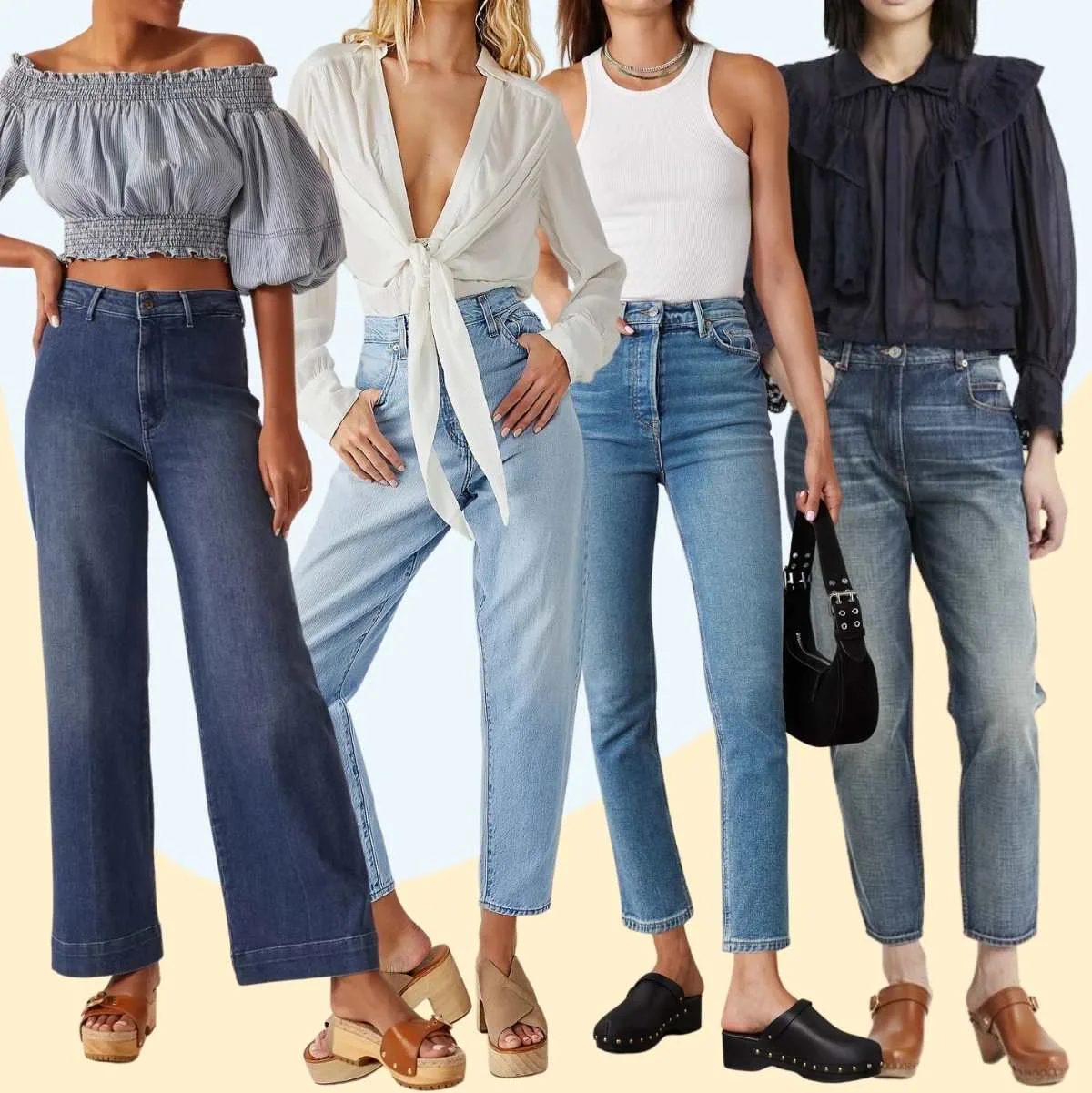 In today's fashion-conscious era, clogs can easily be paired with jeans – any jeans style! From straight leg jeans to wider hems, clogs will work well.
However, wearing wide-leg jeans and long or cropped culottes is a great way to show off your clogs. It doesn't hurt that these larger-legged denim pants are trending for women too!
How to Wear Clogs with Jeans
Straight leg Jeans: Anywhere from a looser to slimmer fit, straight leg jeans will do. Avoid too-tight jeans if your shoe size makes your clogs look disproportionate.
Wide leg & baggy jeans: Of course, it's a great aesthetic with a clog that will even out the look of the shoes. Add a tight bodysuit or cropped tank with a high-waisted pair for contrast. Or keep things laid-back with a boyfriend t-shirt partially tucked into your jeans and a loose cardigan.
Flare Jeans: A 70s classic and a perfect pairing of any platform or mid to high heel clog. You can play up the 70s era with long dark flares and autumn-toned top and clogs (think yellows and oranges) and contrast with a dark tee. Or give the whole look an edge with kick-flare black jeans, studded black or silver clogs and a grey rocker tee.
Denim on Denim: And let's not forget a full-denim look. Denim on denim is not only a cool combo; it will never go out of style. Hello, Canadian tuxedo with brown classic or black studded clogs for spring or fall!
2. Clogs with Dresses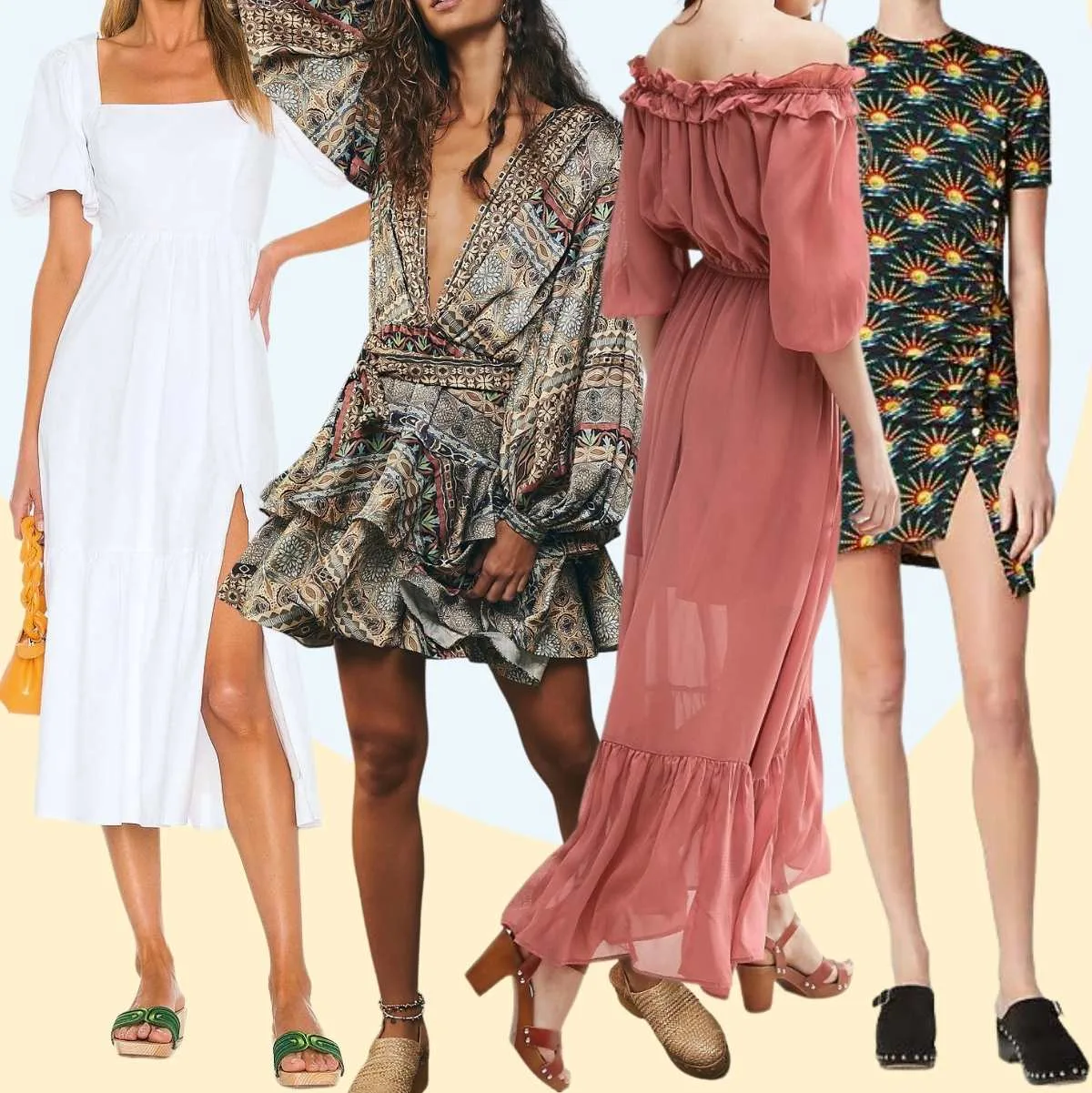 If you're wondering how to wear clogs with dresses in the next few seasons, there's good news! Fashion and classic clogs are great shoes to wear with dresses in a slew of cute styles.
And this season, you'll be able to find clogs in lighter materials, new colors, and even with heels! In fact, faux fur clogs are becoming increasingly most popular, so keep that in mind when planning your next fall clogs outfit.
How to Wear Clogs with Dresses
Maxi Dress: There's something about mixing clogs with maxi dresses that never gets old & looks fiercely stylish! It gives a long dress a 70s feel that's so popular now. I love a tired dress for a boho look, but a long white or black dress with a contrasting pair of clog mules or sandals work great too! More shoes to wear with a long dress, here if you're interested!
Mini Dress: Although a tighter mini dress can work, I love a fuller dress to balance the bulkier look of the shoes. Think baby doll dresses or wide t-shirts or tiered dresses.
Midi Dress: a floral or minimal-colored linen dress with a pair of clog mules is a great combo. A t-shirt or sweater midi dress works well, too, and is great for layering a soft sweater or denim jacket.
Shirt Dress: I find that classic shoes and shirt dresses often take themselves too seriously, so adding a pair of classic or whimsical clogs can add a bit of a laid-back vibe. Add a crochet or canvas tote bag and some wooden dangly earrings to add to the look.
Sweater dress: If comfort paired with comfort is what you're after, clogs are great shoes to wear with sweater dresses – from snugger maxi-length sweater dresses to looser knee-length ones.
3. Clogs with Shorts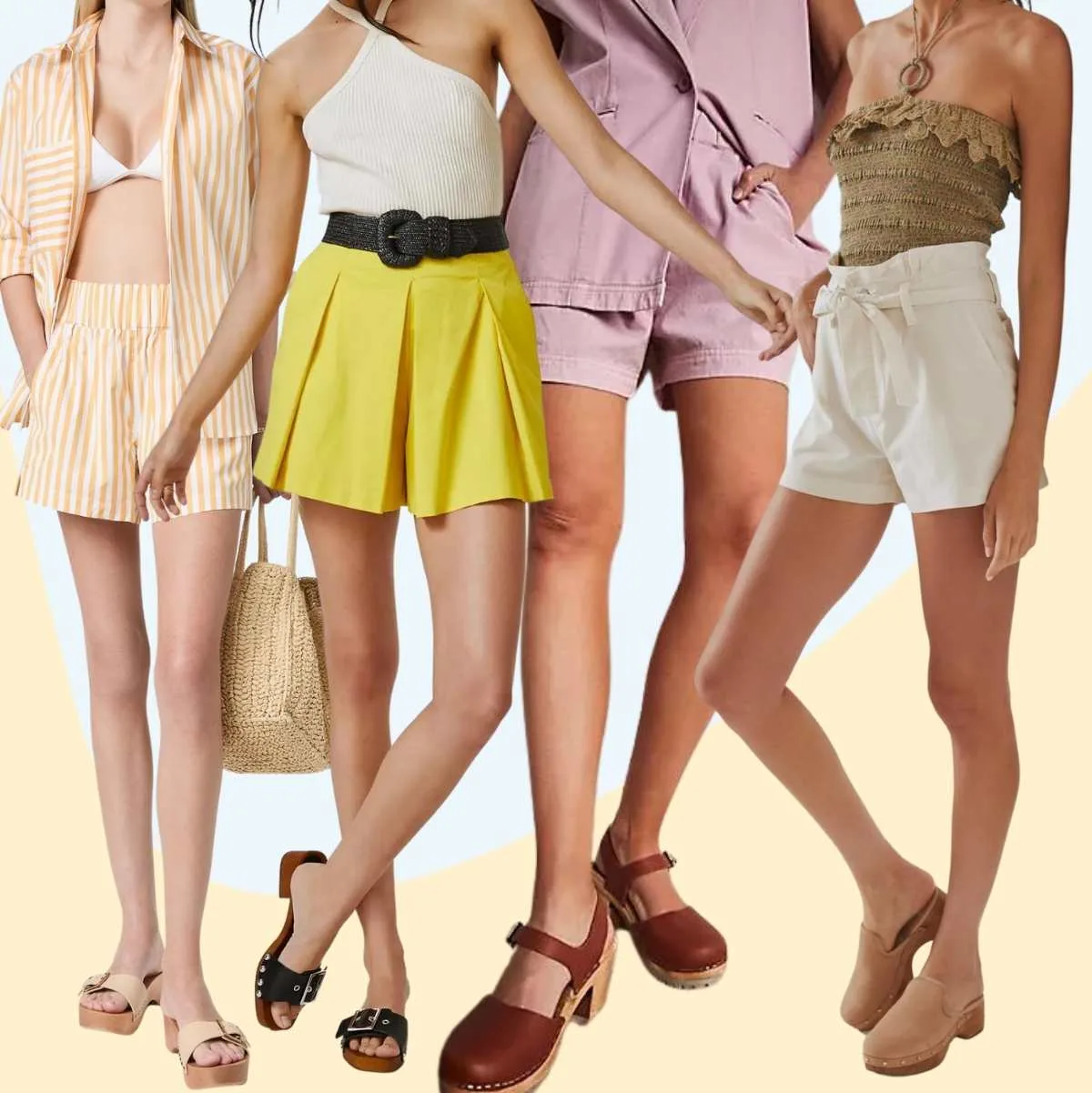 When choosing the appropriate footwear, the season will dictate what you wear (most often!). So shorts – perfect for warmer days – are an ideal fit for summery days.
I suggest wearing a pair of sandal-style leather clogs with loose-fitting tucked-in tees or a fitted tank into your shorts.
These are an easy (and breathable) way to accessorize your outfit with a different type of sandal. But this isn't the only clogs with shorts styling option! So read on to learn how:
How to Wear Clogs with Shorts
Denim Shorts: Cut-off or frayed jean shorts are your best for laid-back looks. Add a simple white tee and a coordinating denim jacket, or add a colorful oversized blazer if you want to play it up.
Leather Shorts: I love playing matchy with leather shorts and clogs. The clogs can match the hue of the shorts, or you can match them with your top to bring it all together. Wear black leather paperback or structured shorts and studded black or metallic clog heels for edgy looks.
Tailored Shorts: Add a pair of clogs to quirk up a sophisticated outfit with tailored pants and a classic white dress shirt. Choose any traditional clogs from Birkis to JW Anderson oversize chain clogs. These will make your quasi-preppy look fresh, especially when paired with a classic belt and matching designer handbag.
Leather Shorts: I love the look of faux or leather and they look fun with clogs, especially with paper-bag waist shorts. These laid-back but edgy shorts paired with a slim tucked-in tee, a black purse and slick shades do best with black, contrast color, or metallic clogs.
Bike Shorts: We can thank Kim & Kanye for this, but I like it! Bike shorts are flattering, easy to style pieces that look fab with leather clog, simple t-shirt, sweater or oversized blazer. Just don't knock it 'till you try it!
Winter clogs outfits with shorts: wear a pair of soft denim shorts the relaxed way in winter with a closed-toe pair of clogs and some soft socks. You can also add a pair of textured tight or layer a pair of socks over them. Tuck in a soft plaid shirt and layer over a long cardigan to complete the look.
4. Clogs with Dress Pants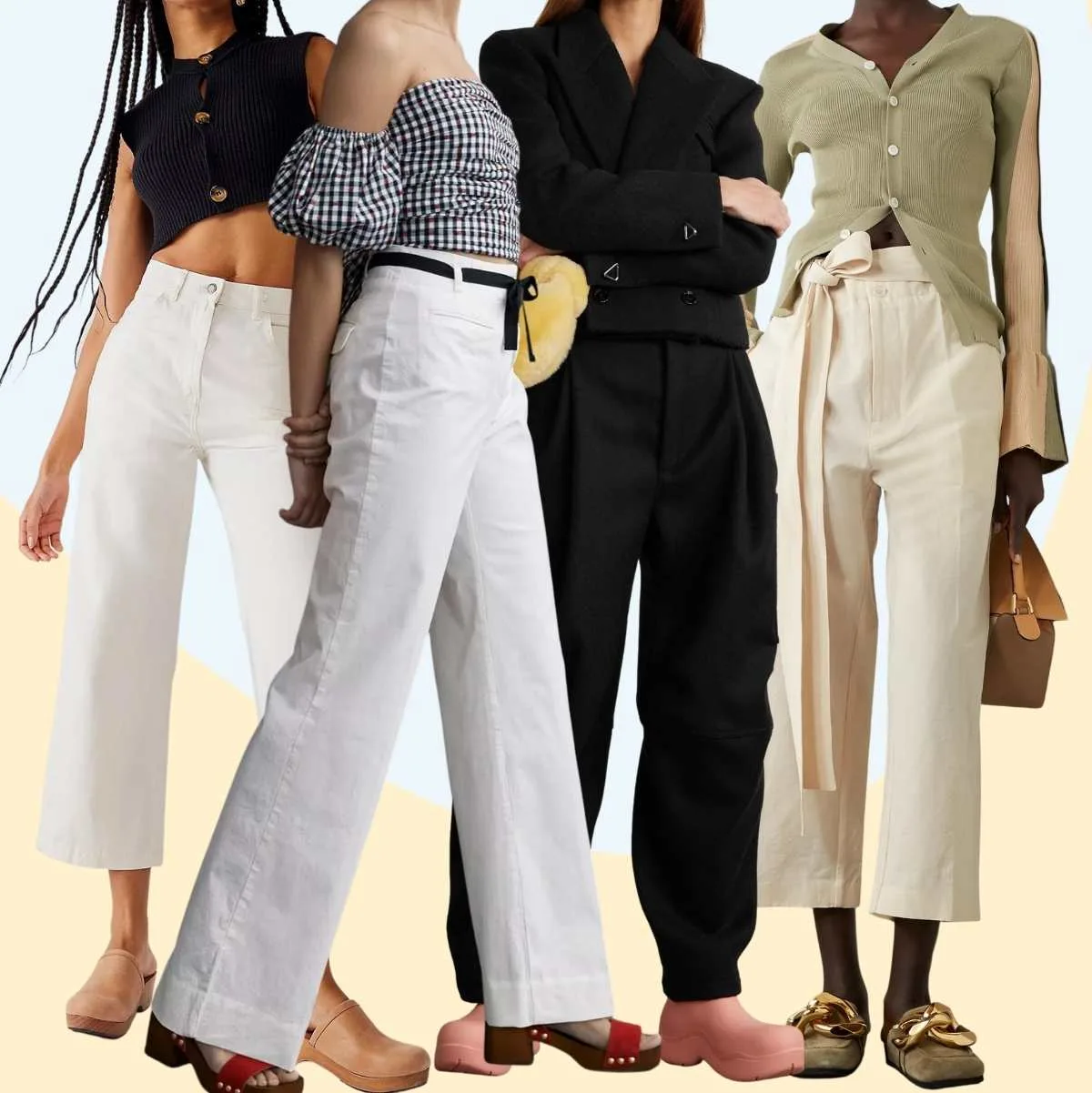 Clogs are great for a casual look. They pair incredibly well with wide-leg dress pants and linen trousers due to the heftier nature of the shoes. But cropped dress pants or slimmer styles can also look great with clogs, with the right styling!
How to Wear Clogs with Dress Pants:
Minimalist Look: For a clean, overall look, you can choose a pair of clogs in a color that matches or is in a similar tone to your outfit. I'm a fan of all-black outfits with clogs in a contrasting black material with studs! For a softer look, go for brown/beige shades with a crisp white shirt.
Pantsuits: If you wear a lightweight beige suit, white or tan clogs will look perfect. To keep the look proportionate, wear wide leg dress pants or culottes. With black pantsuits you can play around with different colors and clog textures.
Leather Pants: leather dress pants with clogs look great, whether straight leg, wide leg or
Culottes: Culottes are fun, flirty pants to wear with clogs. I love a pair of linen or flowy black or white ones with a tight tee and cropped jacket.
Cargo Pants: I love the utilitarian look of a cargo pant! And the rustic nature of a clog – especially a classic clog – gives the a fab touch. Try an army green pair of cargos with a caramel brown suede clog mules or boots and a white or grey rocker tee. Add a moto jacket or beige trench. Or reach for beige cargo pants with black leather clogs, black tee and oversized in-tone plaid blazer.
I would avoid thin, skin-tight dress pants. Unless you have tiny feet and wearing minimalist clog-inspired, these heftier shoes will look out of place, especially with fancier dress pants.
Check out my posts on the best shoes to wear with wide-leg dress pants and shoes for cropped pants for more shoe styling insight!
5. Clogs with Rompers & Jumpsuits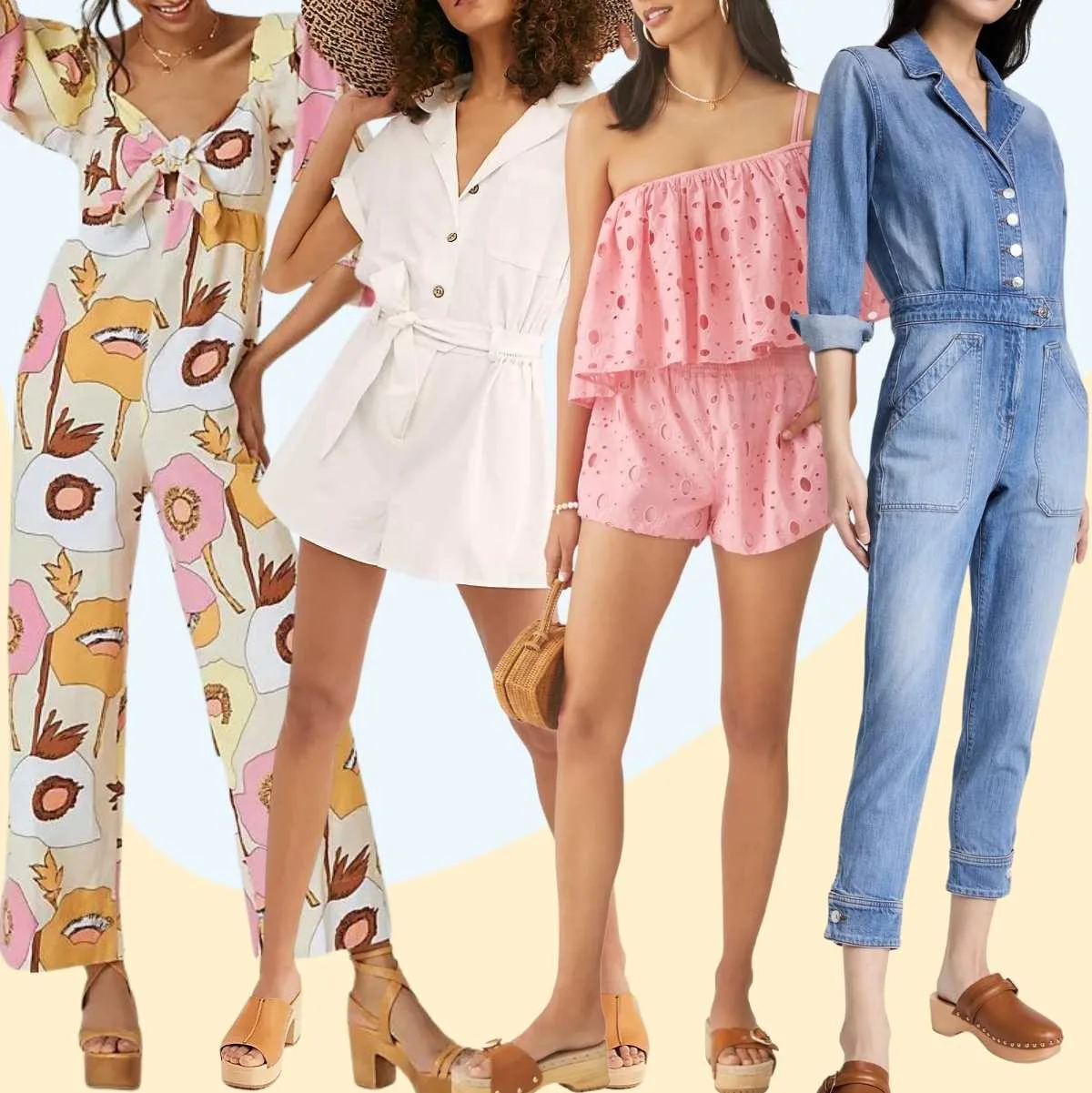 Rompers are a hot trend this summer, and they can be worn in various ways. And clogs are some of the best shoes to style with rompers and shoes to wear with jumpsuits this summer! For both summer and winter, jumpsuits can be just as fun a garment to solve your 'what to wear with clogs' dilemma.
You can pair them with a simple monochromatic aesthetic or opt for a contrasting or colorful pair for a more daring look.
How to Wear Clogs with Rompers
For a Boho Look: roomy, printed, or whimsical rompers or jumpsuits will look great with classic wooden-bottom clogs. They bring a boho feel, especially when paired with a straw or canvas bag and a western-inspired hat. Reach for warm-toned clogs with gold studs to play up the look.
For a Night Out: add a touch of glamour with a pair of patent clog sandals or mules, or reach for a sky-high pair of platform clogs. A black tailored romper or jumpsuit with a couple of black studded clogs or a white romper with a pair of metallic clogs are all fab combos!
Casual Outfits: but want to keep things casual? A simple Dr. Scholl's clogs slide, or a classic rugged clog style is the way to go. I love this mix with a denim or utility romper, or cropped jumpsuit style.
6. Clogs with Skirts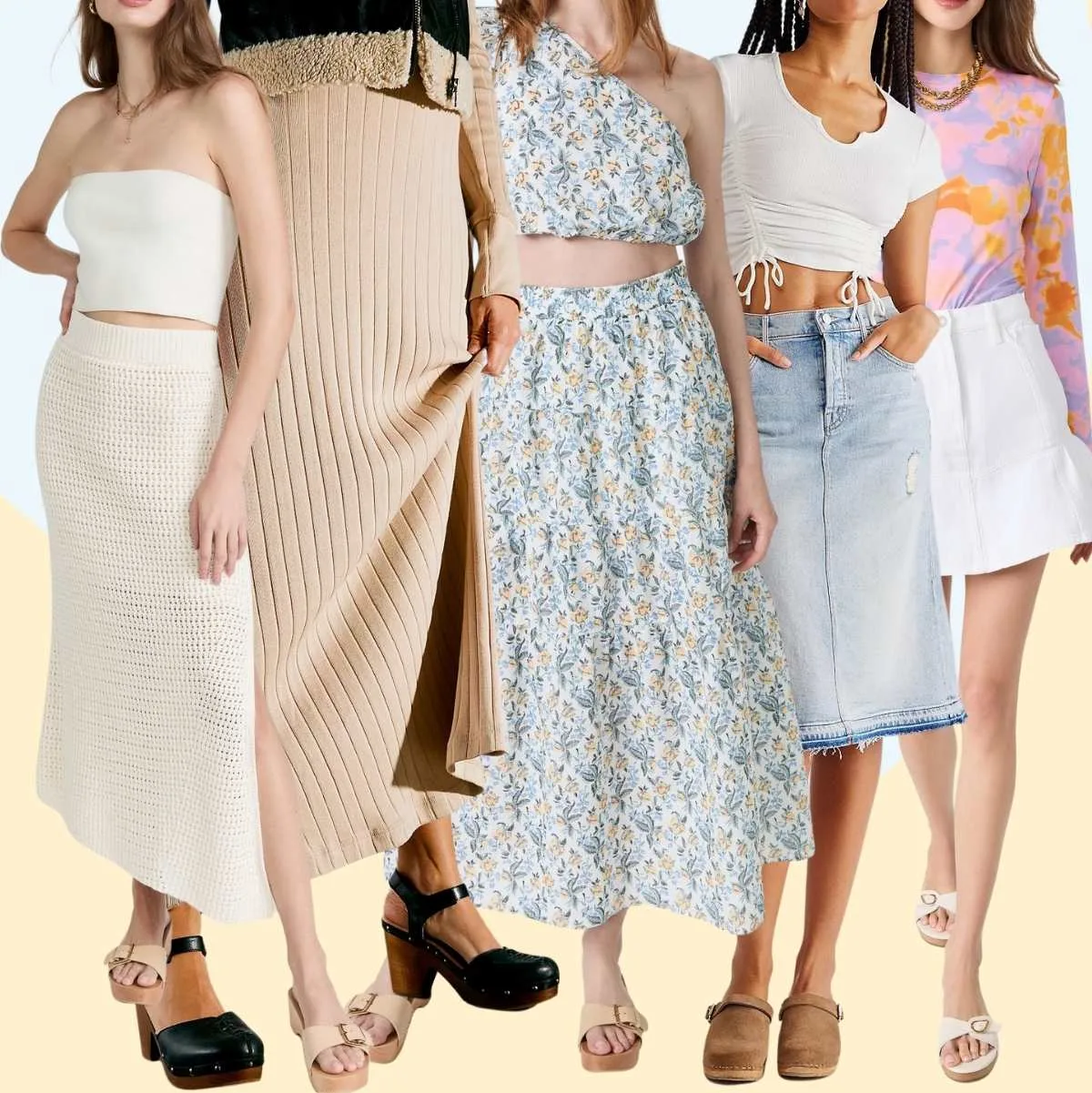 The versatile clogs and all type of skirts will allow you to make a slew of great fashion pairings with skirts! Along with slide sandals, I believe clogs are one of the best shoes to wear with skirts for cozy to chic outfits!
You can wear the clogs with a tiered maxi skirt, a 70s button-front flared mini skirt, or a front-slit denim midi. You can make the look fun with an oversized tucked-in tee and a brightly colored tote bag.
How to Wear Clogs with Skirts
You look both elegant and ladylike when you pair them with a skirt. These shoes look perfect with flirty skirts and can be worn for work and casual outings . In addition, you can use these shoes to add a little edge to any outfit.
Maxi Skirts: Loose, tired, or flouncy long skirts are fab to wear with your clogs for a full-on boho clogs outfit. You can tuck in a tight top or a billowy blouse. A straw hat and a fringe crossbody purse will add to the bohemian flare.
Mini Skirts: I love minis, especially flared, full or tiered minis with clogs. If you're feeling adventurous, try a pair of faux-fur clogs and warm-toned tights that harken back to the 70s. Or, you can pair cute strappy clog sandals with slinky mini-skirt and a tucked-in loose-fitting top for a flirty look.
Knit Skirt: I love me a high-waisted knit skirt with classic or platform clogs. Add a loose tee or voluminous sweater for the ultimate cozy chic look for fall. Add some printed tights to keep warm and add to the outfit's charm.
Flared Skirt: Wear a black clog with a leather flared skirt to make the look more sophisticated. Either shorter or longer, this skirt style looks polished and can suit a variety of occasions. Clogs will keep your outfit in proportion.
7. Clogs with Socks + Tights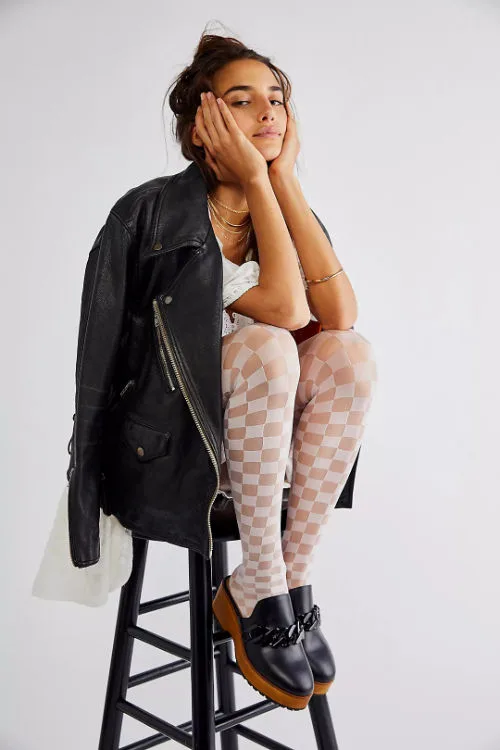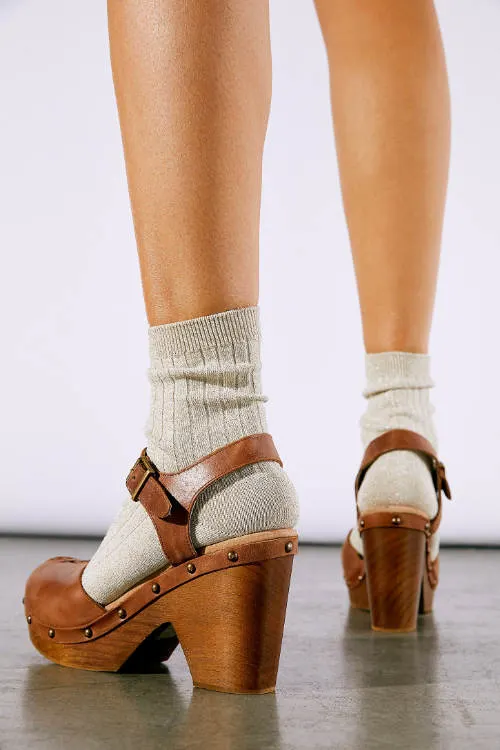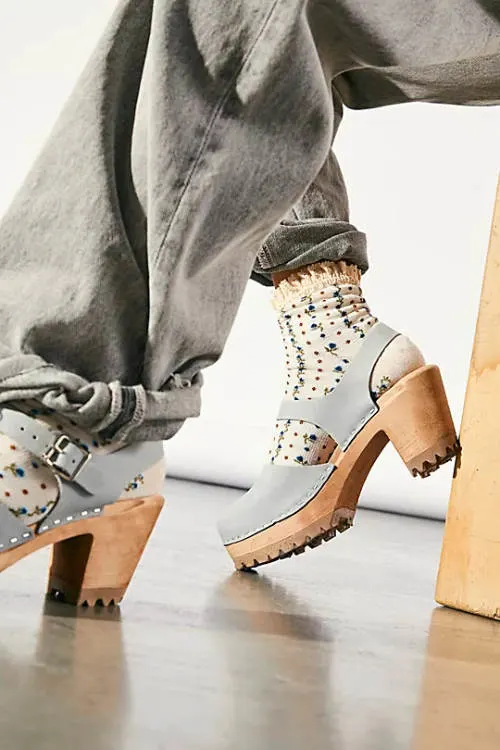 Clogs with socks or tights are a great way to add a touch of warmth and style to your outfit without sacrificing comfort. I love thick knit of ribbed socks with Birkenstock clogs and frilly and daintily printed socks with classic clogs.
The best part about clogs with socks is that they can be worn with various women's clothing items. Here are some tips on how to style clogs with socks and tights this fall and winter:
How to Style Clogs with Socks
Pair clogs with socks and cuffed jeans or dress pants for a casual, comfortable look that is perfect for running errands.
Pair clogs with white ankle socks and a printed dress for a more put-together look. This is an excellent option for work or any other time you need to add a little quirk to your clogs outfit!
Clogs with socks also look great with skirts! Pair classic or furry lined clogs with soft, slouched-down knee socks, adding a mini or midi denim skirt and a chunky sweater. A perfect casual but stylish combo perfect for cooler weather.
Whatever your style, clogs with socks are sure to keep your feet warm and your outfit looking chic this fall and winter.
8. How to Wear Clogs in Winter & Fall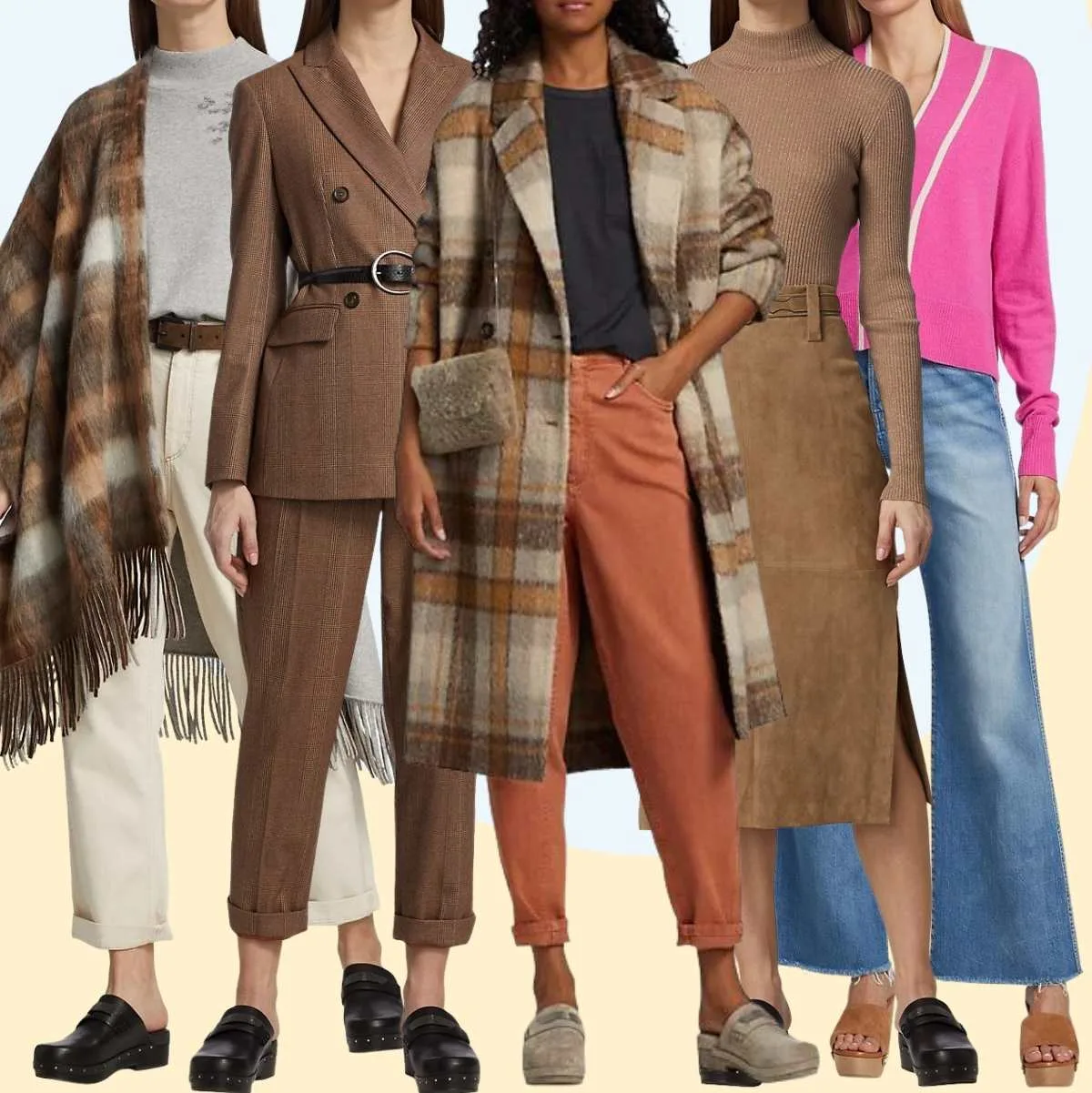 As winter approaches, you may be wondering how to wear your clogs with different fall and winter outfits. While clogs are typically associated with warmer weather, there are many ways to style them for the colder months.
They also add a personality to your outfit, depending on which clogs you choose. Birkenstocks offer shearling-lined styles, as do many designers who focus on wood-bottom style clogs.
You can pair your clogs with a chunky sweater and thick-knit leggings for a cozy yet chic look.
Rock your shearling-lined clogs with loose cuffed jeans and a leather jacket. A pair of studded or chain-detail clogs would look great here!]
A thin-belted sweater dress is a great item to pair clogs too. Add a peacoat or puffer jacket and matching tights to add some warmth.
And as mentioned previously, don't forget socks! Socks or tight will add a warm and casual feel to your clogs outfit while keeping you warm.
No matter how you decide to style them, clogs are a great way to add a touch of personality to any winter outfit!
Final Thoughts on How to Wear Clogs Outfits
So, there you have it – everything you need to know about how to wear clogs outfits. From the different types of clogs available, to how to style them for any occasion, I hope you feel prepared to style your clogs from summer to winter!
I mean, what's not to love about styling outfits with clogs? These shoes are versatile, comfortable and stylish. They can take your look from day-to-night with ease and add an exciting element to any ensemble.
With so many different styles and finishes to choose from, it's easy to find a pair of clogs that reflect your personal style. Be sure to experiment with different looks and find what works best for you!
This season, give clogs a try. You might just fall in love! How will you be wearing your clogs this season?
xo ShoeTease