Noticing discolored scratch-like marks on your favorite shoes? You may be seeing them on shoes you wear most often, dampening the allure of your pretty shoes and heels.
These are probably scuff marks and I'm talking about how to remove scuff marks from shoes in today's post.
What are scuff marks?
These scuff marks are commonly caused by bumping or YOUR rubbing your shoes on something. Little, unnoticeable marks are hardly an issue. But when you see visible discoloration and marks, especially on your favorite pair, as it can ruin their – and your! – aesthetic.
But don't worry – you can turn your shoes back to their (almost) brand new, pristine state with common household items. In this guide, I'm going to share hacks on how to remove scuff marks from shoes so that you can flaunt them confidently once again.
Be it patent leather shoes, suede boots, canvas sneakers – even Melissa Shoes – I'm here to help you get that polished, non-scuffed look back!
How to Remove Scuff Marks from Shoes – 7 Tips for Leather & Other Fabrics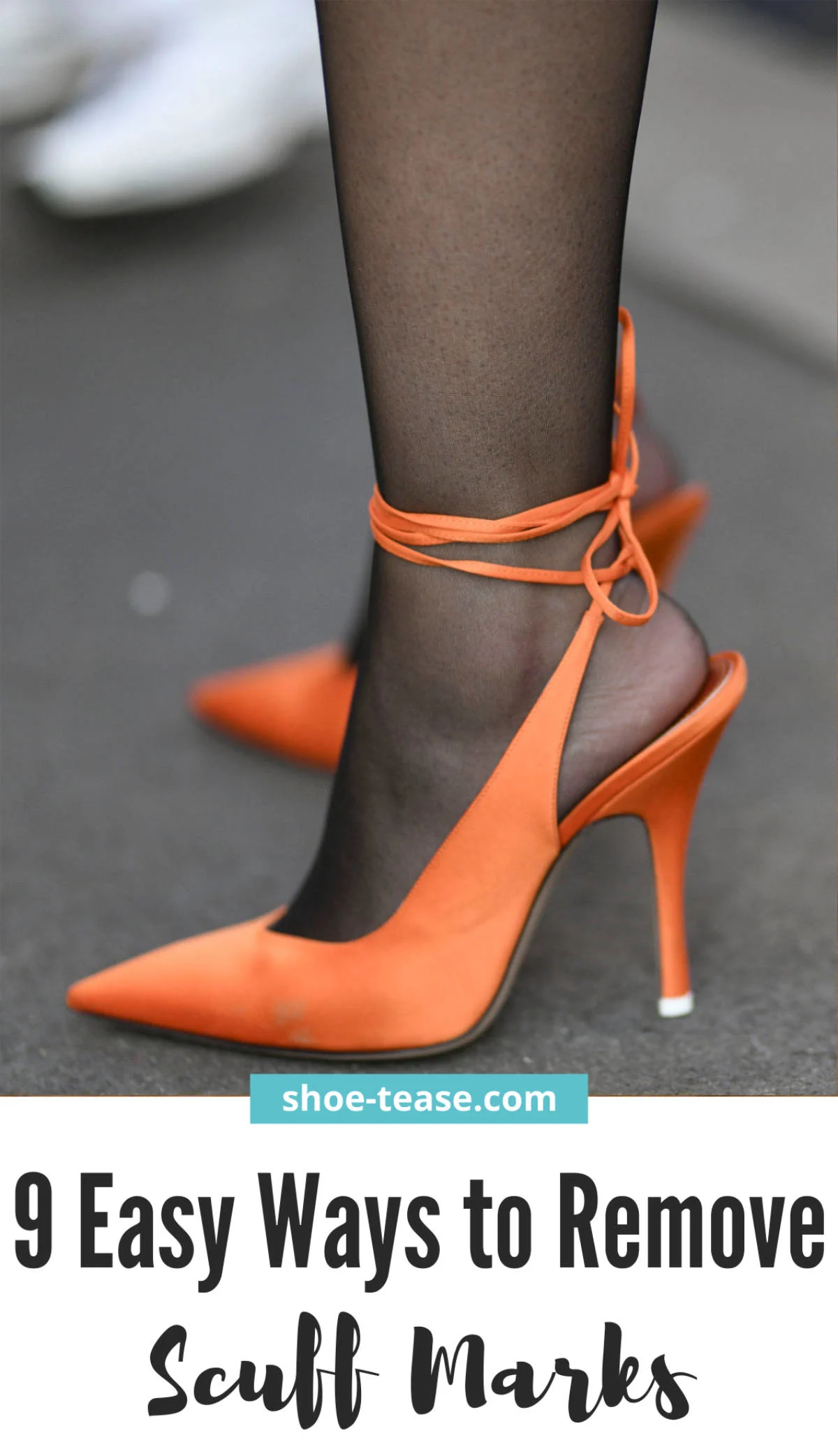 Before removing scuff marks on shoes, no matter the material, make sure to always clean your shoes first. That way, they are free of dirt and dust for optimal scuff mark maintenance.
You can also follow the cleaning instructions on your shoe material. For leather, patent leather, or vegan leather, a damp cloth with or without a mild detergent should help.
For nubuck or suede shoes, clean these with a suede brush or follow other instructions on my post about how to clean suede shoes. For those delicate bridal shoes, see my post on how to clean satin shoes.
Want your shoes extra shiny after un-scuffing them? Check out the post all about how to shine leather shoes.
And before removing scuff marks on visible portions of your shoes, it's always best to test out any cleaner or solvent on a less noticeable part of your shoe. Such as the interior section.
That way, you can make sure the scuff removing solution you've chosen is the right one for that particular pair of shoes.
1. Use Classic Go-to Cleaners
The easiest go-to remedy to remove scuff marks is to use cleaners such as laundry or dish detergents. Just mix a few drops of detergent with lukewarm water, use a cloth to dab the mixture on your shoes. Then let the shoes air dry.
These cleaners can remove the discoloration on your clothes just like how they can clean stains off your clothes. Stay away from detergents that contain bleach or bleach alternatives as they can bleach the color off your shoes – and this is far worse than scuff marks!
It's best to use mild detergents with no bleaching ingredients and to test the mixture on less conspicuous parts of the shoe beforehand.
Best for: leathers and canvas materials
Not recommended for: dry-clean only materials, fabrics that require special care and suede shoes.
2. Use a Rubber Eraser
Wondering how to remove scuff marks from nubuck shoes and suede, but also works for patent leather and vinyl? A rubber eraser may just be the answer!
Just like how it can erase pencil marks, a rubber eraser can also perform scuff mark damage control. How to use an eraser to remove a scuff mark on shoes?
Rub a white rubber eraser gently in circles onto the shoe until the scuff marks are erased. Then, lightly brush off any eraser debris. Use a white eraser to avoid the pinkish residue you get from colored erasers. Also, white erasers generally leave less debris after use.
Also remember to clean your shoes first! Rubbing the dirt on your shoes may cause the dirt to spread and the discoloration to worsen.
3. Baking Soda Can Help
Ah, the wonders of baking soda! Baking soda is the go-to home remedy for almost anything, including eliminating shoe odor! Thankfully baking soda also helps to remove scuff marks from materials such as canvas and leather shoes.
Use it by mixing 1 to 2 tablespoons of baking soda with warm water, scrub the paste over the shoes, and wipe with a clean damp cloth before allowing to air dry.
Worried that your white canvas sneakers are not looking very white anymore? Baking soda is a great cleaner for canvas sneakers to return to their pristine condition, but it also works well on leather materials, but always perform a test spot prior to use.
4. Try Nail Polish Remover
Another common household item, nail polish remover does not only remove nail polish. It can also help remove scuff marks from leather shoes.
Apply a small amount of nail polish remover on a cotton ball or cloth and polish the scuff marks in small, circular motions. The particular solvents that remove nail polish can oddly also help remove discoloration on your shoes.
Since nail polish removers contain harsher ingredients, you may want to avoid using them on your suede shoes as they may damage the material.
For that same reason, it's best to test the solution on less visible portions of the shoe before proceeding with cleaning the front portion. This is true for any product that you use on any valued item!
5. Apply Rubbing Alcohol
Rubbing alcohol can greatly help remove scuff marks from patent leather shoes. Just apply a small amount to a shoe cloth or rag and polish the scuff marks gently.
Remember to be careful with not oversoaking the rag, as too much alcohol may also damage your shoes. Unlike water, rubbing alcohol is safer to use on suede. Just be sure to test first to see if there are drastic reactions.
You can also use window cleaners containing alcohol as an alternative if you suddenly run out of rubbing alcohol. The elder characters of My Big Fat Greek Wedding would be so proud!
6. Give Toothpaste a Try
A bathroom staple, toothpaste can also help remove scuff marks from canvas, leather, and faux leather shoes.
Apply a small amount of non-gel toothpaste to a brush and gently scrub off the scuff marks. The abrasions on the brush will help scrub the dirt off and remove the discoloration. Wipe with a damp cloth afterward and leave to air dry.
Please note that you should keep away from whitening toothpaste, gel toothpaste, or those that contain special ingredients as these may further damage your shoes.
How to Remove Scuff Marks from Patent Leather Shoes? Try these Tricks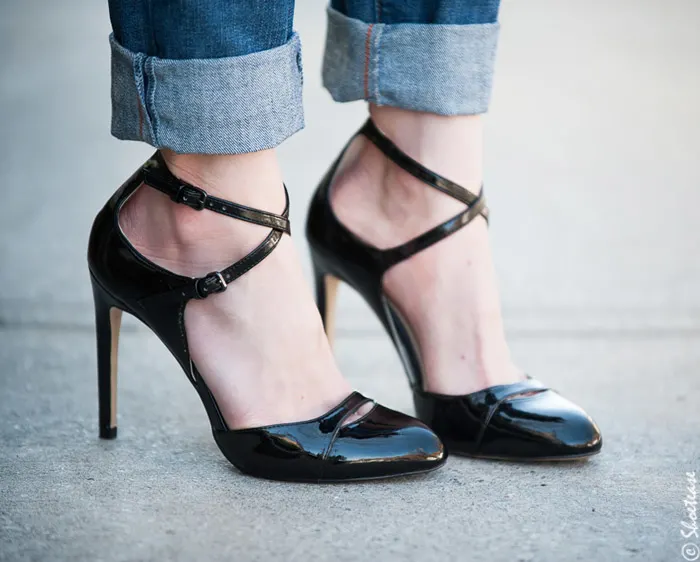 Patent leather shoes surely make a whole look more polished. But when scuff marks start to appear, they can get extremely noticeable against those shiny leather shoes!
Good thing, there are household staples that you can use to bring back that shiny finish. Of course, as already mentioned a rubber eraser and rubbing alcohol can both help remove scruff marks on patent leather shoes.
Below are more solutions to your question on how to remove scuff marks from patent leather shoes:
7. Use Petroleum Jelly
Try applying petroleum jelly on a piece of cloth and rubbing it on your patent leather shoes. Wipe off after a few minutes and you should see the discoloration wiped off as well.
Petroleum jelly is great for both patent leather and leather shoes as it helps preserve the leather finish. Not only that, but it also helps soften leather shoes and prevents cracking. Plus, it can help make your shoes waterproof!
7b. Nail Polish Remover
Nail polish remover also does wonders in removing discoloration from patent leather shoes. Just apply a small amount on a cotton ball and gently polish the shoes.
Remember to be careful not to over-apply nail polish remover as this can affect the glossy finish of your shoes. Always test the product on less visible portions of the shoe before using it on the visible parts.
How to Remove Scuff Marks from Melissa Shoes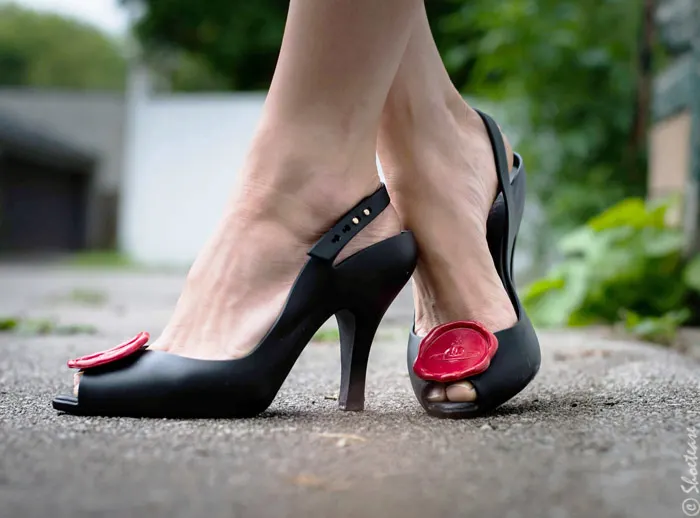 Melissa shoes are made of a unique patented material called Melfex®. The bad news is that scuff marks on Melissa Shoes are here to stay, so removing them completely will be impossible.
I have personal experience with this and it's a bummer. Yep, those are my Vivienne Westwood X Melissa Shoes, featured above! That being said, the following cleaning tips can help reduce the mark and keep your Melissa shoes looking their best.
Whichever way you choose to remove scuff marks from Melissa Shoes, make sure you do it gently. Rubbing too hard may damage the plastic material of the shoes.
Polish Them with a Cloth
Using a smooth, microfiber cloth can help your Melissa shoes stay pristine. Rub the parts of the shoes with scuff marks gently and polish the rest to keep the glossy finish of the shoes intact.
This should lessen the discoloration caused by scuff marks and keep your shoes looking great.
Use a Face Wipe
If you usually carry face wipes with you, these can perform on-the-go damage control. Having the handy will be great if you accidentally rub your Melissa shoes onto something, and unsightly scuff marks appear.
How to use these face wipes? Well, just like with a cloth! Gently rub your shoes using fragrance-free wipes only – very important! – until the discoloration starts to fade.
Make sure to use fragrance-free/alcohol-free wipes as chemicals from added fragrance may damage the shoes. Also, double check that you're using wipes with no exfoliants so as not to scratch your Melissa shoes.
Try Eucalyptus Oil
Eucalyptus oil is a natural antibacterial and disinfectant, and it can also help reduce visible marks on your Melissa shoes. Just rub a small amount of eucalyptus oil on the scuff marks and the marks may begin to fade.
Be careful when rubbing the shoes so as not to damage the glossy finish. Also, make sure to rub small amounts of oil at a time as too much may also damage the shine.
Final Thoughts on How to Remove Scuff Marks from Shoes
Scuff marks on shoes can get frustrating especially when they're visible from afar. They can surely ruin your look and make you seem less put together.
You won't have to worry about that anymore now that you know these hacks on how to remove scuff marks from shoes using everyday household items.
Be fashionable with your brand-new-looking patent leather shoes or your flawlessly white canvas sneakers once again!
Feel free to share these hacks with your friends to help keep their shoes looking pristine. If you know other methods on how to remove scuff marks from shoes, let me know below. Check out more shoe care posts from the blog!
Disclaimer: Attempting any of the above methods to remove scuff marks from shoes may cause irreparable damage to your beloved shoes & boots. ShoeTease and its partners are not liable for any damages to persons or property arising from any of the advice given in this post. Please follow the advice listed at your own risk. For best results, take your beloved footwear to a shoe professional specializing in cleaning shoes. This is especially recommended for all your pricey Louboutins & designer shoes!
xo ShoeTease
Cristina is the chief editor, fashion & shoe expert here at ShoeTease. As a seasoned stylist and women's fashion & shoe designer, she boasts over 20 years of experience in the fashion industry. She loves crafting effortless outfits for ladies both online and off and believes that styling advice should be accessible to everyone. Whether you're a styling pro or just starting out, Cristina's here to guide you on your fashion journey! Learn more.