If there is one torn or tattered fashion item that brings me down, it's a case of a broken shoe. Which is why I'm going to talk to you about the best glue for shoes and how to find the right shoe glue for your needs!
Whether you require a shoe repair glue to act as a shoe sole adhesive for a peeling outsole, or to glue on part of, or entire heel, you will be much relieved to find that there are plenty of products to quickly fix your shoes. DIY shoe repair has never been easier!
Looking for the best glue for sneakers? You will have great adhesive choices to sneaker repair after reading this post.
Thankfully, not only will a good glue for shoes help put your shoes back together, they are made easy to apply and budget friendly! What more could a shoe lover ask for?
Just one word of warning: watch those fingers while you repair your shoes! And if you accidentally spill super shoe glue on unintended parts, read about how to remove shoe glue, at the end of the post.
RELATED POSTS:
What to Look for in an Effective Shoe Glue
Shoe glue is an adhesive that is used to hold shoe parts together. Shoe makers use it, along with nails, to secure heels to shoes and shoe parts together. However, not all shoe glue is created equal!
When looking for the best shoe glue, we should be more selective and pay attention to factors such as color, waterproof capability, temperature resistance and durability.
Here are some of the factors you should consider when selecting a shoe glue:
Flexible bond: this allows the shoe parts to maintain their flexibility and keep being wearable, so it doesn't harden stiffly. A flexible drying shoe glue also means your seal will last much longer.
Easy Application: a thicker formula and easy to use applicator, such as a brush will prevent glue from oozing onto parts of the shoe and ruining them.
Durability: Of course, if the shoe glue is only able to bond temporarily, it would not be effective. You want to make sure you can keep wearing those repaired shoes. Even in the toughest of conditions, such as salty, snowy roads or the dance floor!
Waterproof Formula: If you're looking to repair broken winter boots, rain boots or any shoe that need to resist the elements, a waterproof shoe glue is a must. Especially if you're using the shoe repair glue as a shoe sole glue!
Now that you've got a better idea on what you should be looking for in an strong shoe glue, here are 9 of the top rated, best glue for shoes on the market today:
Best Glue for Shoes and Boots – 9 Greats!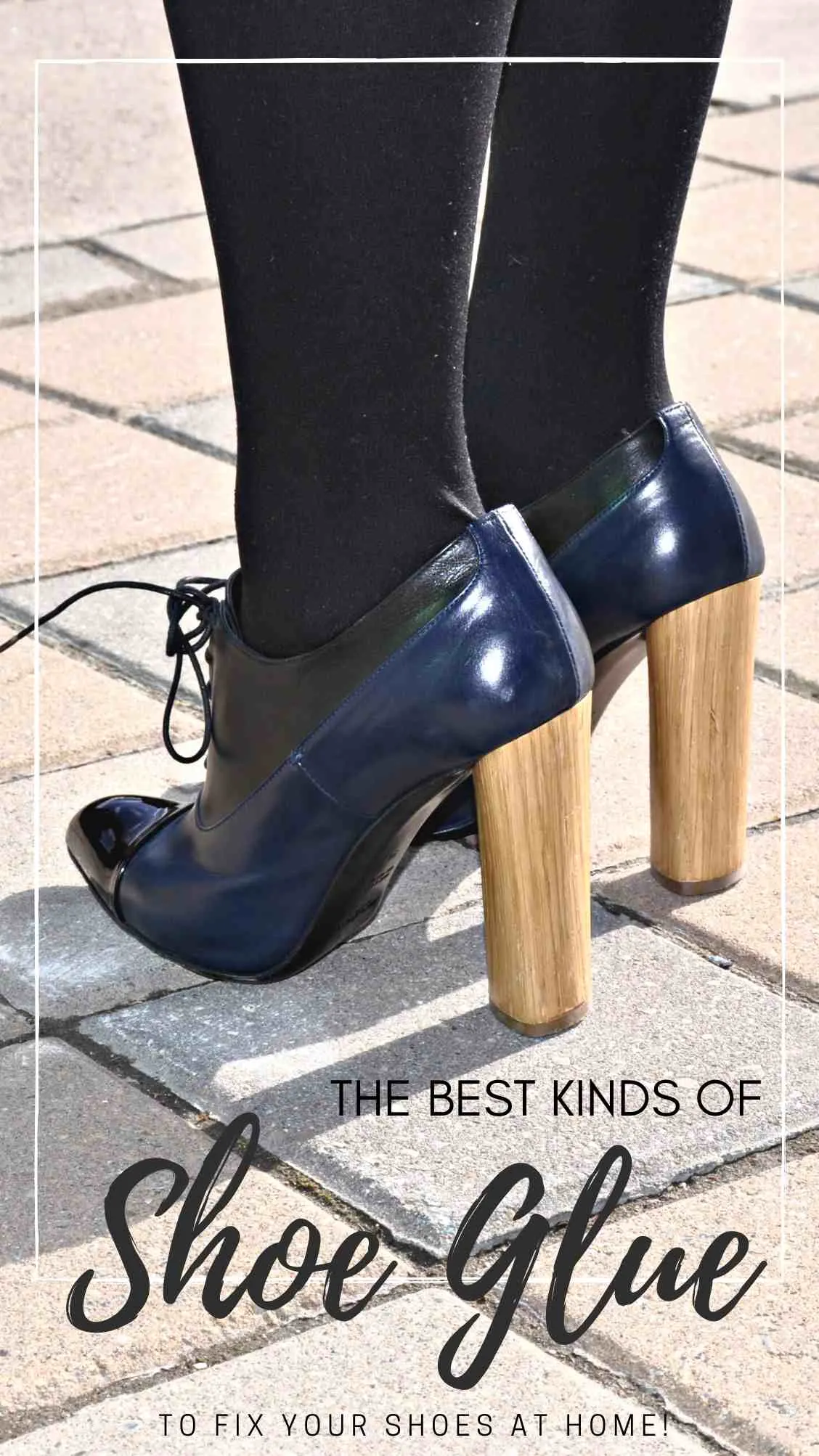 1. Shoe Goo Repair Glue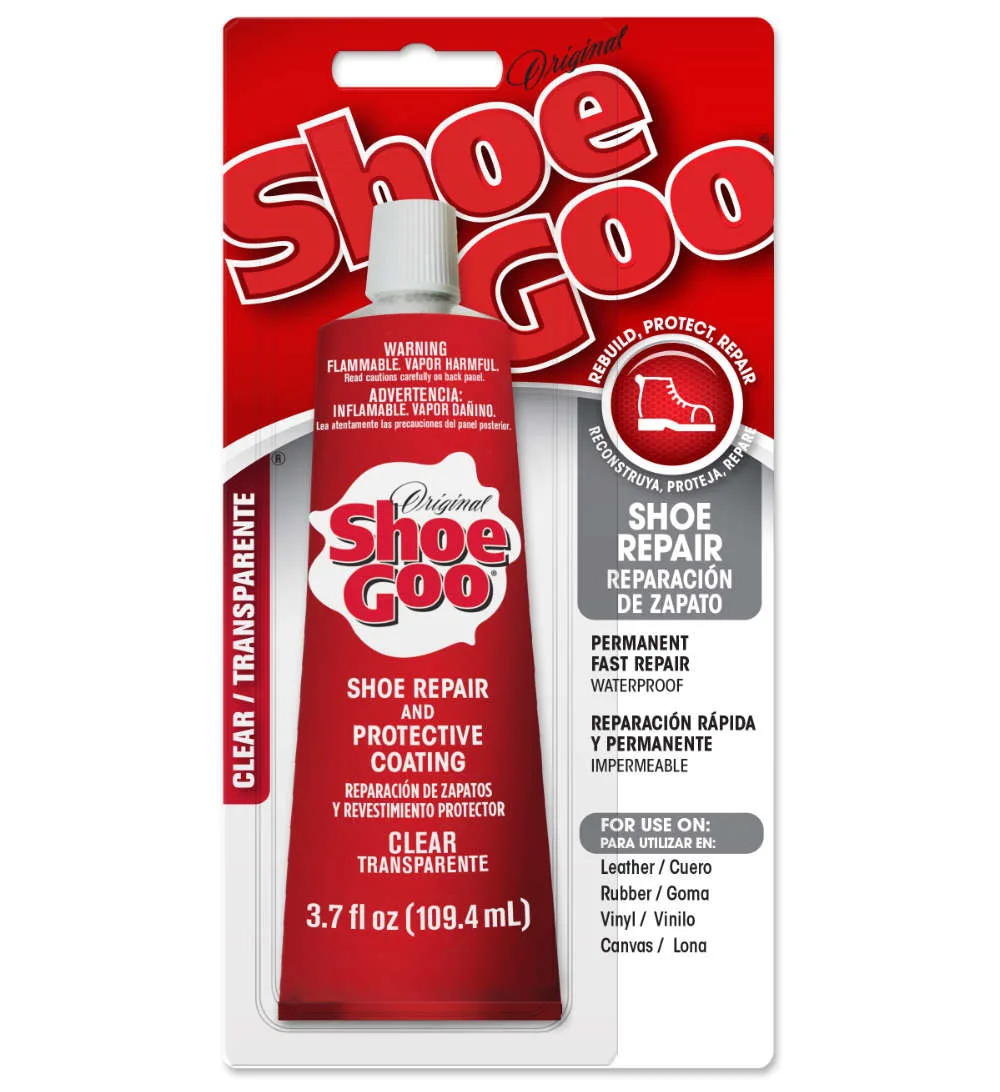 When you think about shoe repair and/or shoe glue, Shoe Goo is the first brand to come to mind. And not only because it's widely available in drugstores and repair shops!
Known as "rubber" cement, Shoe Goo shoe glue is THE leading shoe repair adhesive and is well suited as a shoe sole adhesive. It's made especially for shoes and footwear of all kinds. It will work wonders on broken heels, peeling outsoles and more!
It ticks all the boxes of what a super glue for shoes should be, including strength, and extremely high flexibility. It can be used on leather, rubber vinyl and canvas.
Shoe Goo comes in clear a colorless formula that dries clear. The brand also offers a black shoe glue option too. I've used it as a shoe sole glue and successfully glued together a wedge heel, so I know it works!
2. Gorilla Super Glue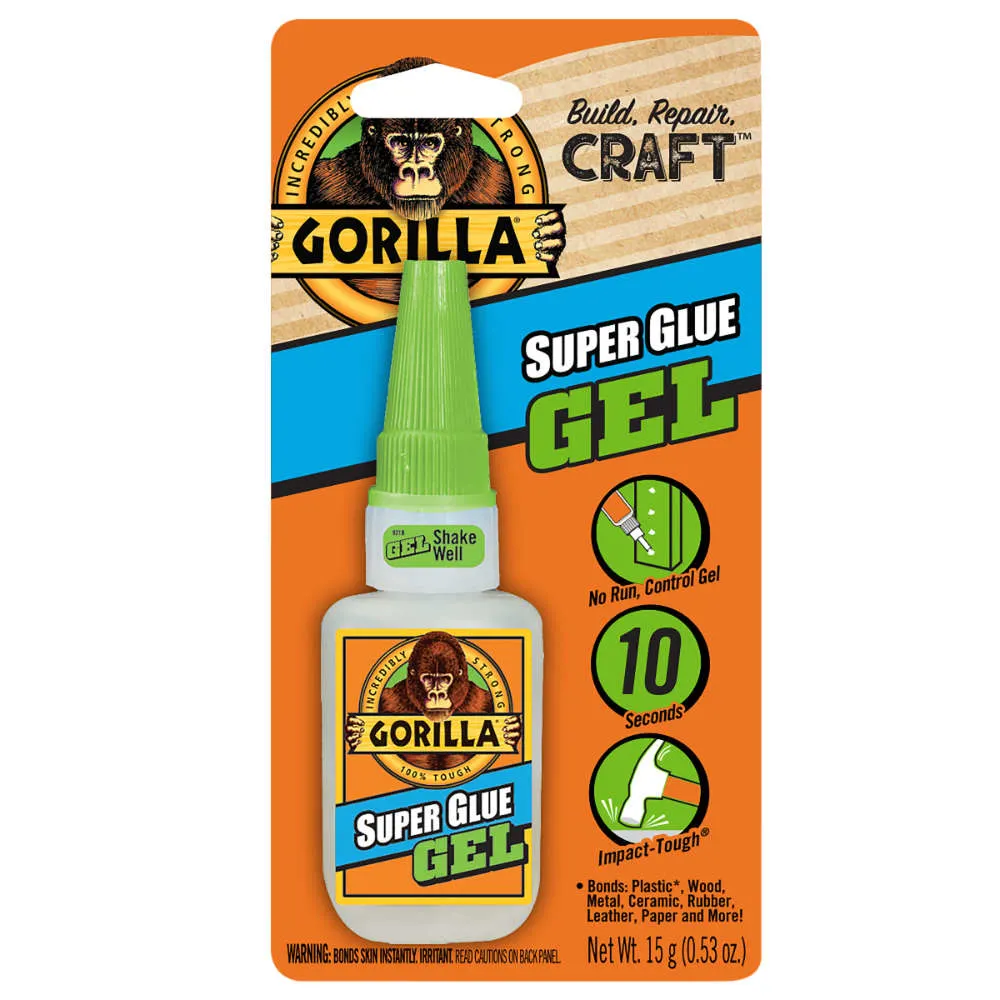 Gorilla glue for shoes, you ask? Why yes! This super all purpose glue from Gorilla brand is a staple glue in my house, and not just for shoes.
If Gorilla super glue does a great job at adhering metal, wood and ceramic pieces together, it's definitely going to help repair your toughest boots, shoes and heels. This makes it an extremely effective shoe sole glue.
Durable and safe for most materials, it can easily help bond parts of your shoes together including leather, pleather, rubber and even tougher materials.
Gorilla glue dries clear and fills even the smallest gap. Did you know that outsole gaps not only water to seep into your shoes more easily, but can also cause shoes to squeak? As such, super glue such as this one, is one great way to solve your how to stop shoes from squeaking issue!
Gorilla Glue is designed to withstand moisture and various temperatures, and even is flexible upon drying, which makes it a great choice as a shoe glue even for hiking boots! Also a great shoe glue choice as a solution to squeaky shoes! Shop Gorilla Glue here.
3. Loctite Shoe Glue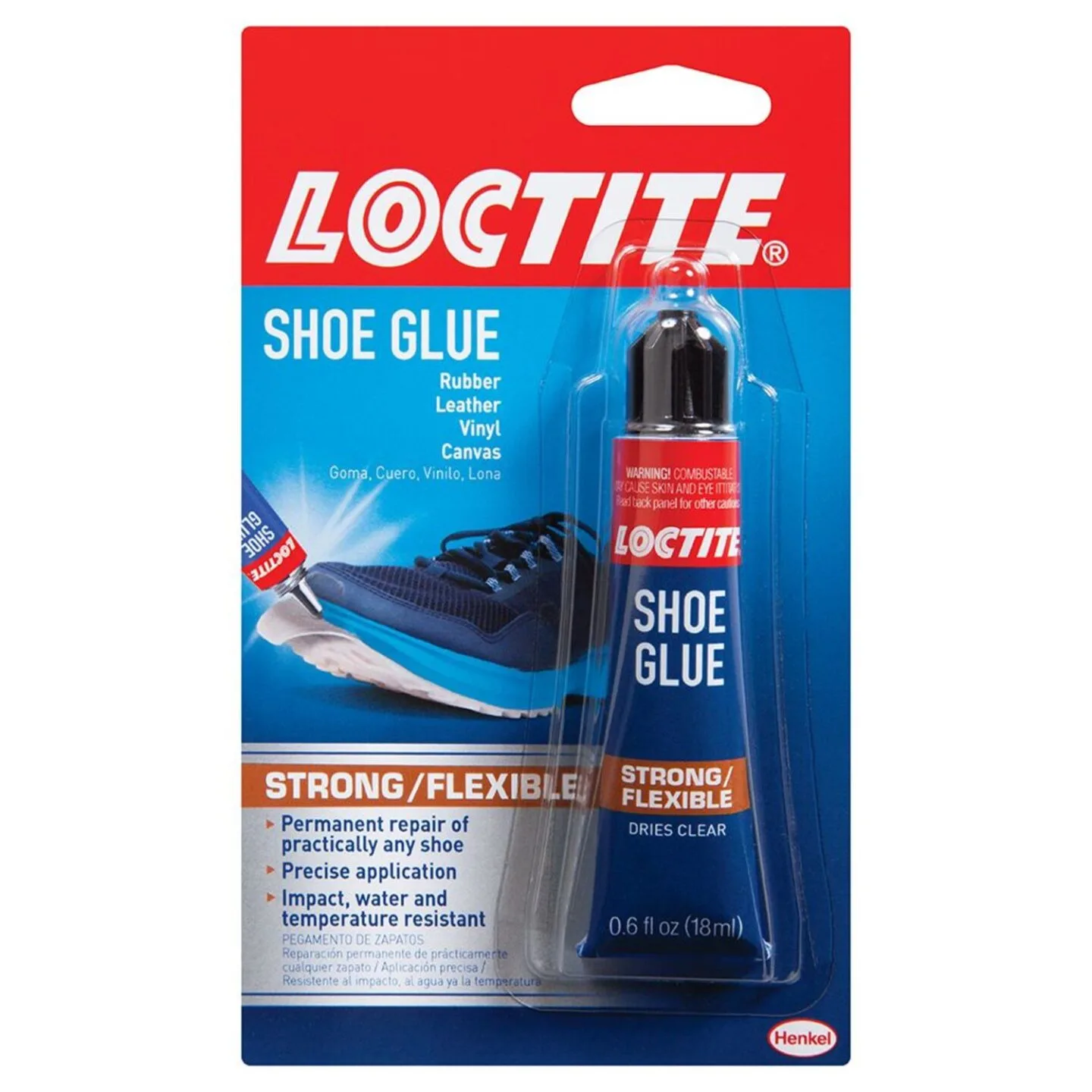 Another super glue that has been specially formulated to fix shoes is Loctite Shoe Glue, as it is extremely flexible. Loctite Shoe Glue is also water resistant so it won't get washed off in rain or snow, and is great for filling gaps and small holes.
It is impact resistant and can hold its own against shock, vibrations and extreme temperatures (from – 58°F to 248°F). Loctite Super Glue is versatile and can be used as a shoe glue on leather, rubber, cloth, vinyl, reinforced polyester and more materials. It dries clear.
4. Gear Aid Aquaseal Shoe and Boot Repair Adhesive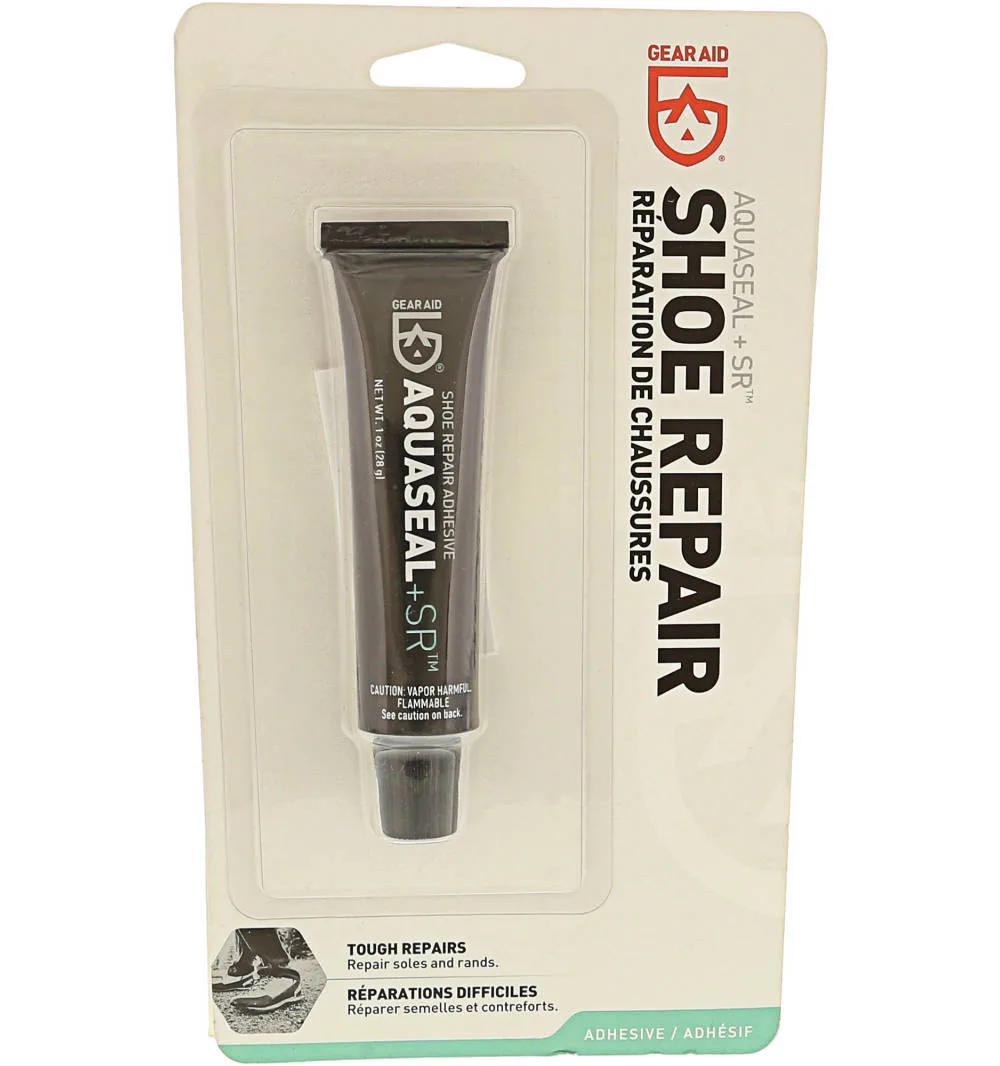 Gear Aid Aquaseal Shoe and Boot Repair is specially formulated as a footwear glue. It is waterproof, dries as a solid rubber and is unaffected by hot and cold temperatures. That makes it perfect for work boots, hiking boots and more.
Best used for reattaching bigger shoe and boot elements such as heels, soles and steel toe caps. It bonds to leather, suede, GORE-TEX and other technical materials, making it a great glue for athletic shoes too.
5. Krazy Glue Super Glue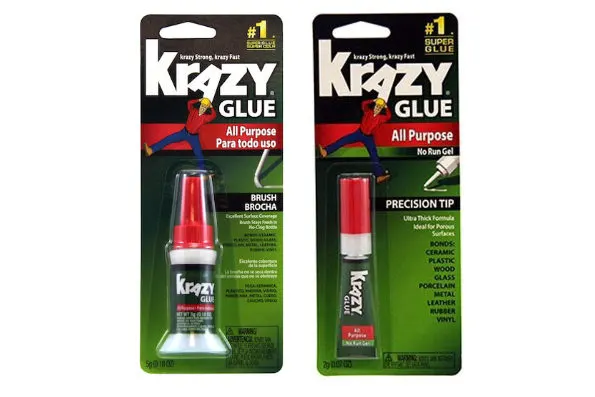 Krazy Glue Super Glue is one of the most famous multi-purpose super glues out there. And thankfully it works greatl for shoes too! Krazy glue provides a quick and easy solution to all your shoe repair problems: from sneaker sole repair or fixing that hole in your favorite boots.
You can buy Krazy glue with different tips, such as this brush tip version, or in gel form with this precision tip, to make application easier. Krazy glue super glue will stick to plastic, vinyl, leather and more, and can be found pretty much anywhere, like here at Walmart.
6. Tuff Toe Waterproof Shoe Repair Glue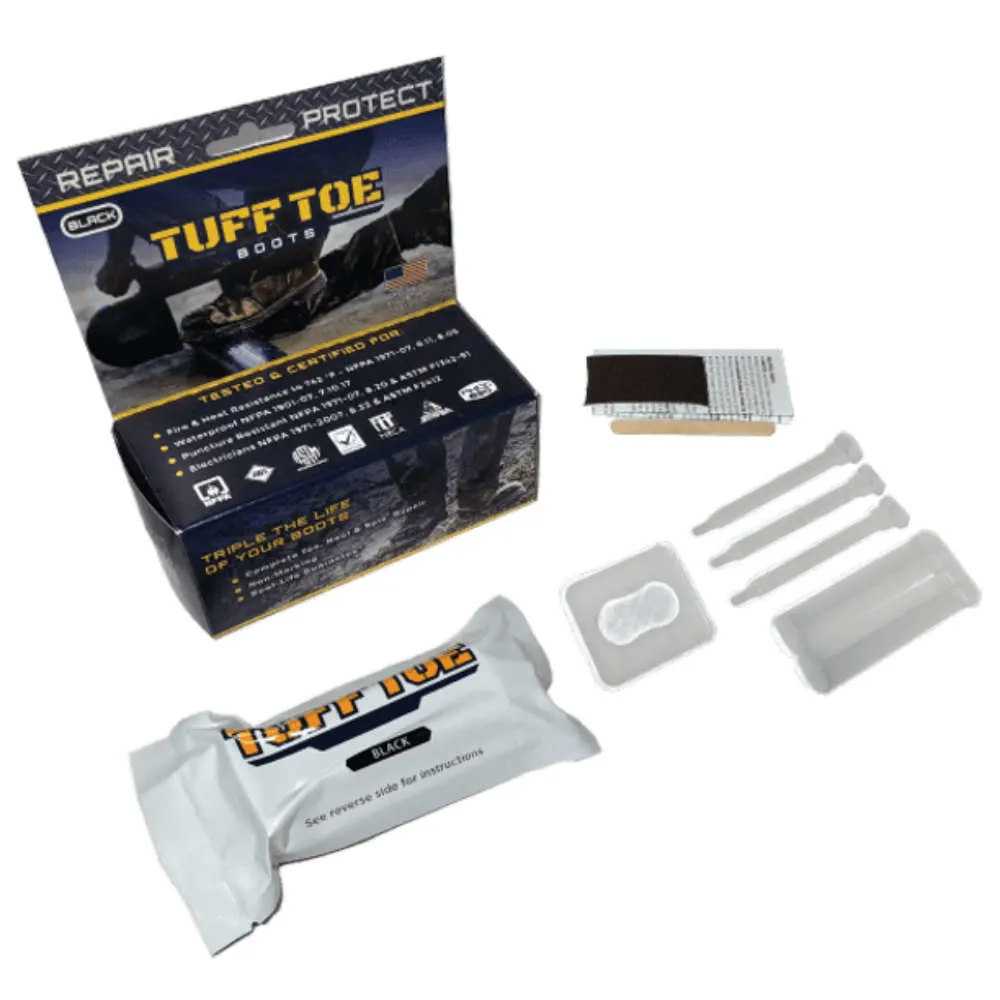 One of the most heavy duty shoe glues in this post! Tuff Toe Waterproof Shoe Repair Glue is great for hiking and work boots in particular, as it is VERY strong. How strong, you ask? It offers the same strength of binding agent used my NASA, is more flexible and is more resistant than most consumer grade product on the market.
It's also waterproof, fire resistant and non-conductive qualities make it a go-to shoe glue for tradesmen and firefighters. So you know it's going to work for your winter boots, heels and flip-flops!
Tuff Toe Waterproof Shoe Repair Glue bonds with leather, rubber, vinyl, steel, cloth, canvas, cork, wood and much more. Best used as a toe cap and shoe sole adhesive.
7. Shoe Goo Boot Adhesive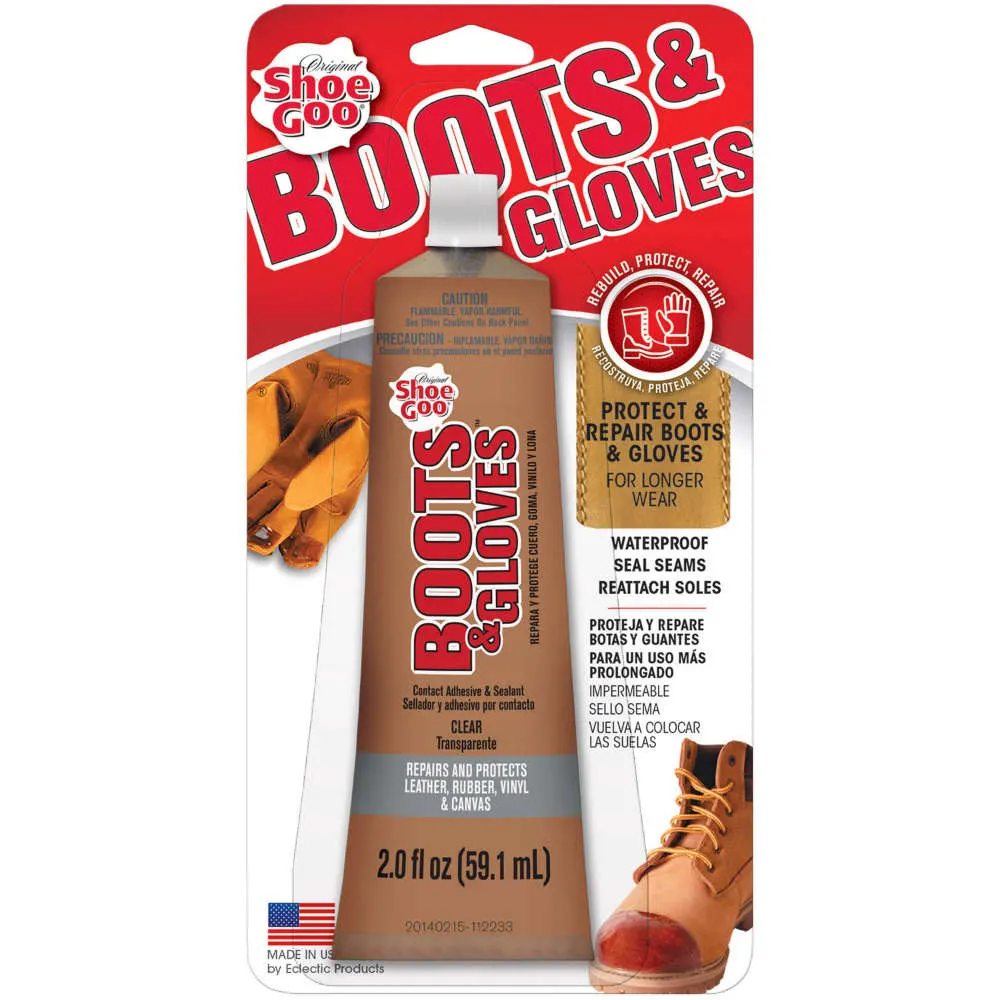 Yup, Shoe Goo is so good that I'm mentioning it twice! But not all Shoe Goo products are alike. Shoe Goo Boot Adhesive was created to repair worn and torn boots and gloves. It provides a thick protective coating to make your boots, shoes and gloves last longer and dries clear.
Shoe Goo Boot Adhesive attaches to leather, rubber, canvas and many and most other materials. Best used for sealing holes and rips. Works great as a shoe sole glue!
8. Amazing Goop 2 Max Adhesive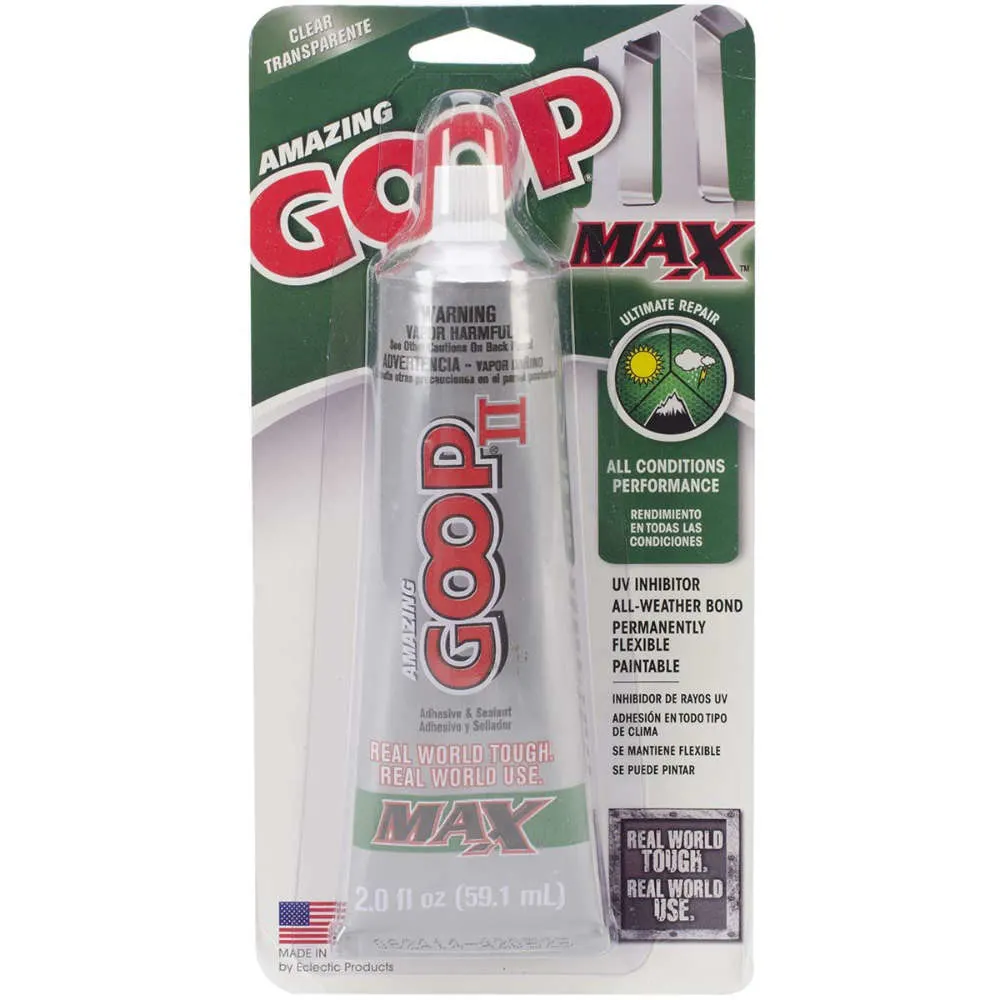 Amazing Goop 2 Max Adhesive is a multi purpose extremely tough adhesive that can be readily used as a glue for shoes. It's waterproof has maximum impact resistance and flexibility.
It has an all weather bond for extreme weather conditions, along with UV inhibitors to protect your shoes from sun damage such as color fading, yellowing & cracking in the sun. You can even paint over it after 24hrs! Amazing Goop 2 Max bonds to most materials, including metal and glass.

9. Barge All-Purpose TF Cement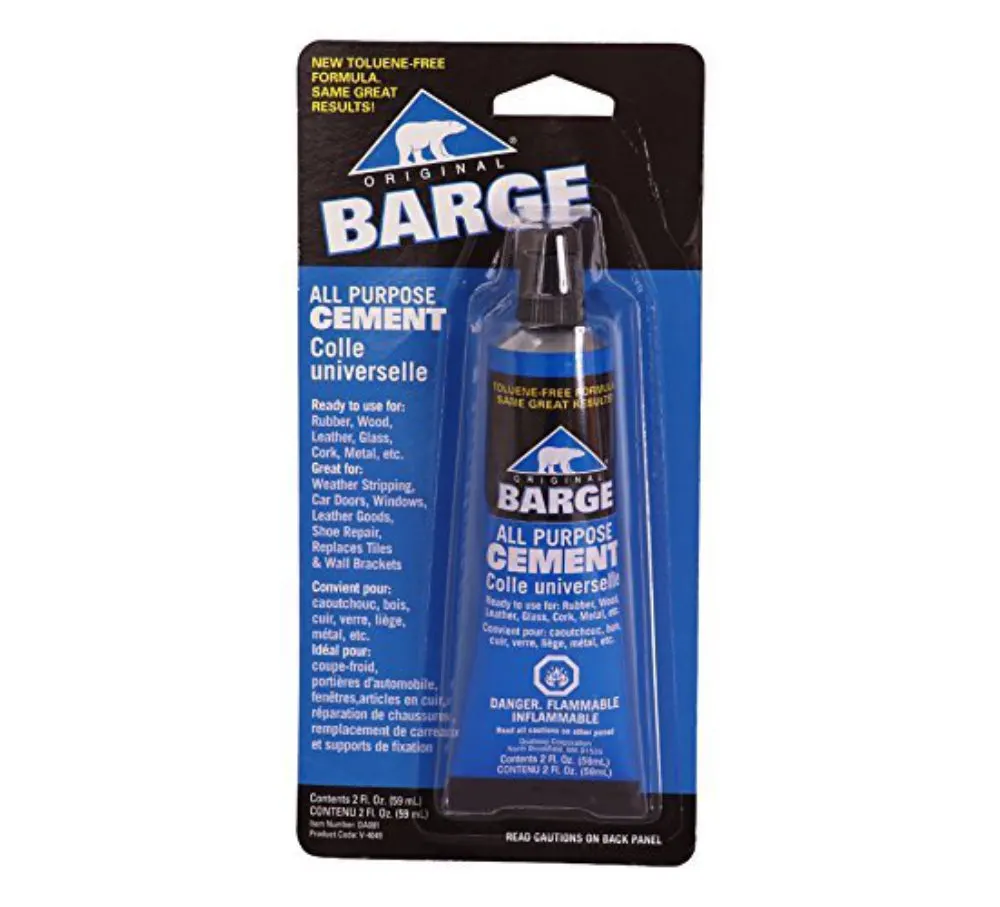 Barge All-Purpose TF Cement neoprene based product is formulated to create flexible bond with waterproof resistant, which makes it a great use for shoes. Better yet, it has a speedy dry time of 10-15 mins!
Barge All-Purpose TF Cement adheres to rubber, cement, wood, leather, glass, metal and more.
---
Shop All Best Glue for Shoes:

---
How to Remove Glue From Shoes
Trying to learn now to remove super glue from leather shoes from a botched shoe gluing attempt? Sadly the fast-drying properties that make super glue so great, makes it a huge annoyance when it accidentally spills on places – like on our leather shoes – where it shouldn't.
How to Remove Super Glue Using Glue Remover
Thankfully there are many glue removers out there that can help remove glue residue from leather materials quickly. Most of these removers involve lightly covering the glue stain with the chosen product, covering it with a folded piece of tissue paper overnight. Afterwards, you can remove the tissue, which should most of the glue should have attached on, and wiping clean.
Simply use it to lightly cover the glue stain, then place a folded piece of kitchen roll or tissue on top, or both sides for fabric stains. Leave for several hours, or preferably overnight, then remove the kitchen roll or tissue along with the glue and wipe clean.
Don't want to use a glue remover? Here are the DIY steps for removing super glue from your shoes at home:
How to Get Super Glue off Leather Shoes:
Make sure the glue has fully dried. Soak a cotton ball or pad, with an acetone-based nail polish removed (yes, the stinky one!). Rub over the hard glue stain gently until it loosens. You'll want to test this out on an interior portion of the shoe (like the hidden part of the tongue) to make sure the polish remover doesn't discolor or ruin the leather material.
Gently blot the area the glue has stained, using a folded tissue, napkin or absorbent rag to slowly remove it.
With a cloth or sponge soaked in some warm water, gently wipe the area where you've cleaned off the the glue stain to get rid of any residue.
If the affected area has dried fully and there is no more glue visible, congrats! If not, repeat steps 1-3 until you get the desired result, then let the shoes air dry.
How to Remove Super Glue from Suede Shoes:
Make sure the glue has fully dried, using a fine grit pieces of sandpaper or nail file, and file off the glue very gently, making sure you don't damage the suede.
Use a few drops of acetone-based nail polish remover on top of the glue stain and wait a couple of minutes while it penetrates the glue. As always, you'll want to test this out on an interior portion of the shoe (like the hidden part of the tongue) to make sure the polish remover doesn't discolor or ruin the suede material.
With a cloth or sponge damp with water, gently blot the affected area to get the stain out. Repeat until the glue stain has been removed.
Using a non liquid stain remover on a cloth or paper towel, press onto the affected area to remove the acetone-based polish remover. Let it air out naturally until the wet area dries off.
Final Thoughts on the Best Shoe Glue
I hope you found my post about the best shoe glue in order to fix your ripped, cracked or breaking shoes, helpful. I also hope I have given you the confidence to try a little shoe repair at home! However, please make sure you follow the shoe cleaning prep and all subsequent instructions to glue your shoes back together.
The great thing about a strong shoe glue, is that as soon as the shoe parts have bonded, they will likely never come apart again! Especially when using the toughest shoes glues. These offer protection against extreme temperatures, are impact resistant, waterproof and extremely flexible.
As you've noticed, some of the best glue for shoes – like multi-purpose super glues – are better suited for smaller hole repairs. Leave the extra flexible, temperature resistant products for shoe sole glue jobs and for taking on broken heels.
Many of the above glue for shoes, are a multi-purpose solutions. That means you can use them to fix more than shoes and boots. Many recommended shoe glues are actually super glues that work wonders in and around the house, so when you're done repairing your shoes, they can be useful for other things!
Now that you've learned which are the best shoe glues and how to use them, don't forget about waterproofing! See my post about the best waterproof spray for shoes to see why sealing your footwear uppers from moisture and dirt will protect and and keep them lasting longer!
Doubting your shoe repair abilities? You can always take your precious shoes to a cobbler instead. Especially if your shoes are on the more expensive side. Check out more shoe repair posts, here!
Have you ever used shoe glue to fix your shoes? Any others you would reccomend?
Disclaimer:
Attempting any of the above methods to fix shoes with shoe glue yourself may cause irreparable damage to your beloved heels & boots. ShoeTease and its partners are not liable for any damages to persons or property arising from any of the advice given in this post. Please Follow advice at your own risk. For best results, take your precious footwear to a professional who specializes in shoe repair. This is highly recommended for your pricey Louboutins & Blahniks!
xo ShoeTease