Gold & White Loafers with Green Vertical Striped Maxi Dress
It's a little embarrassing to admit that this is my very first maxi dress. I've never been drawn to buy one, mostly because as pretty as they are, they can be rather impractical: all that fabric & the likely need to hem them (I'm 5'5″ but they make 'em so long!).
And most importantly, they cover up your shoes.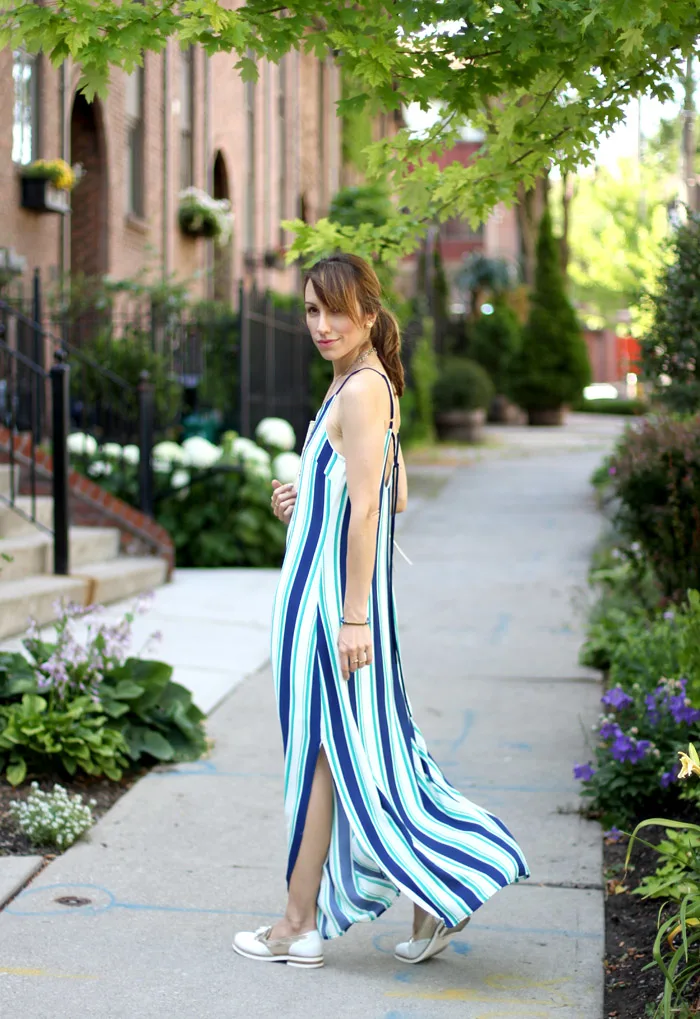 White/Gold Loafers: ShoesinItaly, Stripe Maxi Dress: Design Lab. Bead Bracelet c/o Psihii. Fringe Purse & Necklace: Winners (old)

But something changed when I saw this vertical striped maxi dress at Hudson's Bay the other day on clearance (with extra 30% off, mind you!). I couldn't resist. Especially because I'd immediately imagined styling them with my new gold & white loafers. Yes, as the silly shoe blogger that I am, I'm always thinking from the shoes up!
Both these white leather tassel loafers & striped maxi dress are so versatile. This is one of the types of loafers that look great with so many outfits! I love them together not only because I love both a green & navy blue dress with gold shoes, but they're an unlikely pairing as well.
When you think maxi dress, most people think of wearing gladiator sandals, casual slides, or a simple thong sandal. But something a little more sporty, yet sophisticated can look great too. Especially when each piece has a bit of prep in them, like a classic loafers with a twist & a maxi dress with a nautical-feel from its stripes.
The primarily white shoes & dress also exude summer & the tailored, yet breezy nature of the dress perfectly catches the wind enough to reveal the shoes you're wearing through each knee-high side slit. So you'd better be wearing good ones 🙂
And best of all, this floor-length dress has vertical stripes. Yes, vertical stripes! Now, can someone tell me why they don't design more of these? Maxi dresses can make you look short, especially if you're wearing flats like I am. And stout, if the stripes are happening horizontally.
But add some colorful vertical stripes to the mix & you've got yourself a perfectly lengthening (not to mention slimming) ensemble that works to elongate you, even if you're petite!
xo Cristina
Cristina is the chief editor, fashion & shoe expert here at ShoeTease. As a seasoned stylist and women's fashion & shoe designer, she boasts over 20 years of experience in the fashion industry. She loves crafting effortless outfits for ladies both online and off and believes that styling advice should be accessible to everyone. Whether you're a styling pro or just starting out, Cristina's here to guide you on your fashion journey! Learn more.