Styled: Embroidered Pink Platform Espadrilles, Made in Spain
Espadrilles are, hands-down a dominant shoe trend for Summer 2016. Many designers, high & low are crafting these lovely jute rope-soled shoes, but not all of them are authentic espadrilles made in Spain – their actual country of origin (even if they were once known solely as peasant shoes!).
But I found a pair of espadrilles (and matching purse!) that are not only hand crafted in the North of Spain, but made out of original Torero capes. And you can't get any more authentic than that!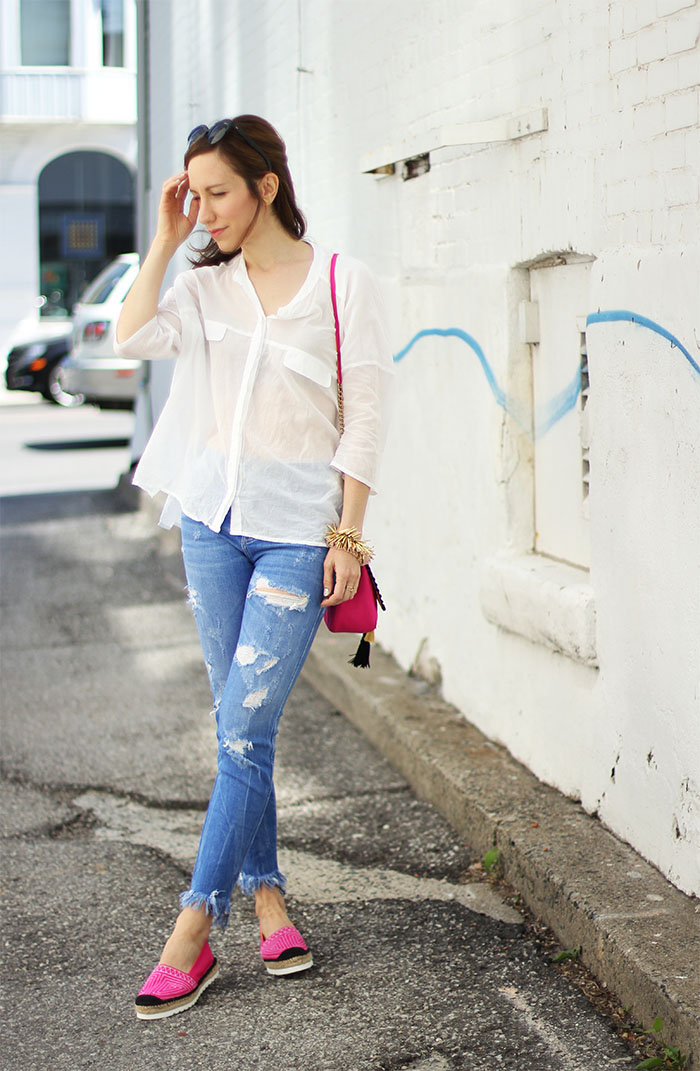 Platform Espadrilles & Purse: ℅ Atelier Costà. Ripped Jeans: Zara (Spring 2016). Mani: "Jewelry Box" ℅ Jamberry Nail Wraps. Bracelet: J.Crew. Rings: Vintage & Shop for Jayu.
---
Shop Similar Items:

---
You read right: the hand sewn & embroidered pink platform espadrilles from Atelier Costà are made out of a real bullfighter's cape: a beautiful, sturdy fabric that is only made by one person. Yes, there is only one person in all of Spain who still produces the Torero's capes!
The savvy female designer behind the brand is Spanish born & French design trained Valérie de Costa. She is committed to creating traditional espadrilles with artisanal Spanish craftsmanship, combining classic styles with new materials & contemporary designs.
But what makes these hot pink Costà platform espadrilles & handbag so exclusive is their trademark use of bullfighter's capes. You won't find anyone else making them. So if you're looking for espadrilles shoes that are almost literally "strong as bull", you've got to grab these from Costà!
The "Carmen" purse is Costà's first purse introduced into their collection & is also made out a stunning fuchsia pink, to match the platform espadrilles. These will soon be available in many more hues, sizes & fabrics, including leather. Pictures do not do either the embroidered tassel purse or pink espadrilles justice!
My recollection of espadrilles is them being flimsy & poorly made (then again, the last time espadrilles were as trendy as this season, I was a pre-teen!). These espadrilles are anything but.
The uppers are made with a sturdy material, double lined (with a stunning gold satin) to prevent toes ripping at the front of the shoes (another distant memory I have of espadrilles!). The outsole is strong, but flexible to walk in & the padded footbed gives added comfort. These shoes do fit excessively small, so I'd recommend ordering up 2 sizes!
I personally love the look of these Spanish-made platform espadrilles, not only because of the fun colours & platform, but also because of the white track sole at the bottom. Such a trendy (and practical!) touch to a popular shoe type. A footwear hybrid fan I truly am, so these were a shoe crush at first sight. It also makes them look like a lovely layered cake. And we all know how much I love cake 😉
Although these are brightly coloured accessories, they're not at all difficult to style, especially if you're pairing them with basics. And I'm usually not one to go al matchy mathy with my shoes & handbags. But I made an exception this time around because but I loved both hot pink pieces too much to choose just one. And why not? Sometimes it's fun to do things a little differently! Especially when wearing shoes made of a bullfighter's cape. Olé!
Shop the whole Costà collection (Women's & Men's espadrilles and purses) over at costashoponline.com. They offer special sizing if you're in need of a bigger or smaller size!
xo Cristina