Last month I collaborated with EverNew Melbourne to feature a full party look on Instagram. And I was so surprised with the quality of the products that I thought I would share my shopping experience & review the products for you!
EverNew — Australian brand Forever New's Canadian sister brand — came to Canada in 2015. It wasn't until late last year that I got the chance to experience the products first hand.
I've seen a few of my favorite bloggers post about the brand on social media & always thought the pieces looked lovely.
But as none of them have gone into specific detail about the actual quality & feel of the products, I thought I would speak about that today.
EverNew Canada Clothing Review

Photos by: Bruna Rico Photography
When it comes to fashion these days, I don't expect much in terms of clothing quality. However, Ever New Canada really surprised me in the quality department, exceeding my expectations for the price point (the shoes average the $70 mark and dresses are around $140 CAD).
A Look at the Evernew Canada Website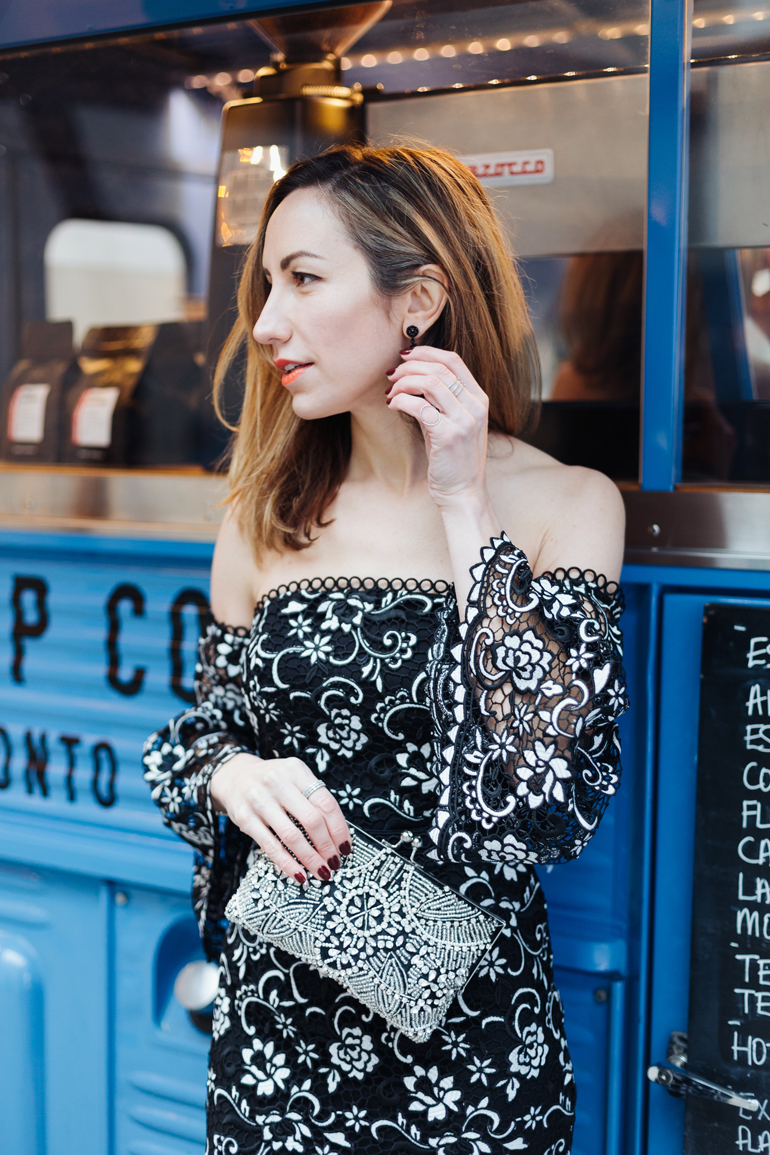 I like the simple, no non-sense website that Ever New offers, where you can refine your search by category, sub category, size, color, price for the clothing section. They have a solid list of image result per page, which makes scrolling easier.
That's also because Ever New has a small yet perfectly curated selection of products. That means, you don't have to scroll through pages & pages of similar styles that end up leaving you confused with the endless, often very similar, possibilities.
This was especially true when selecting a dress & purse: great, diverse choices, but not so many to get overwhelmed!
In terms of the shoes, the assortment in the footwear category is small, but the styles are on point & stylish. I would love for them to add a few more styles, like higher boots & flats. I am a bit of a shoe gal, if you've been able to tell 😉
In addition, I would love for the exact heel height to be mentioned in product descriptions, as a half inch of height can really make a difference!
The only section I found difficult to navigate was the jewelry (back in December they had an enormous collection!) which can't be searched by specific product type. Such as chandelier vs stud earrings.
I also wish that each piece of jewelry was pictured on a model to get a better idea of dimensions, as the black earrings featured in this post, although lovely, were far smaller that I had anticipated.
Evernew Canada Products & Fit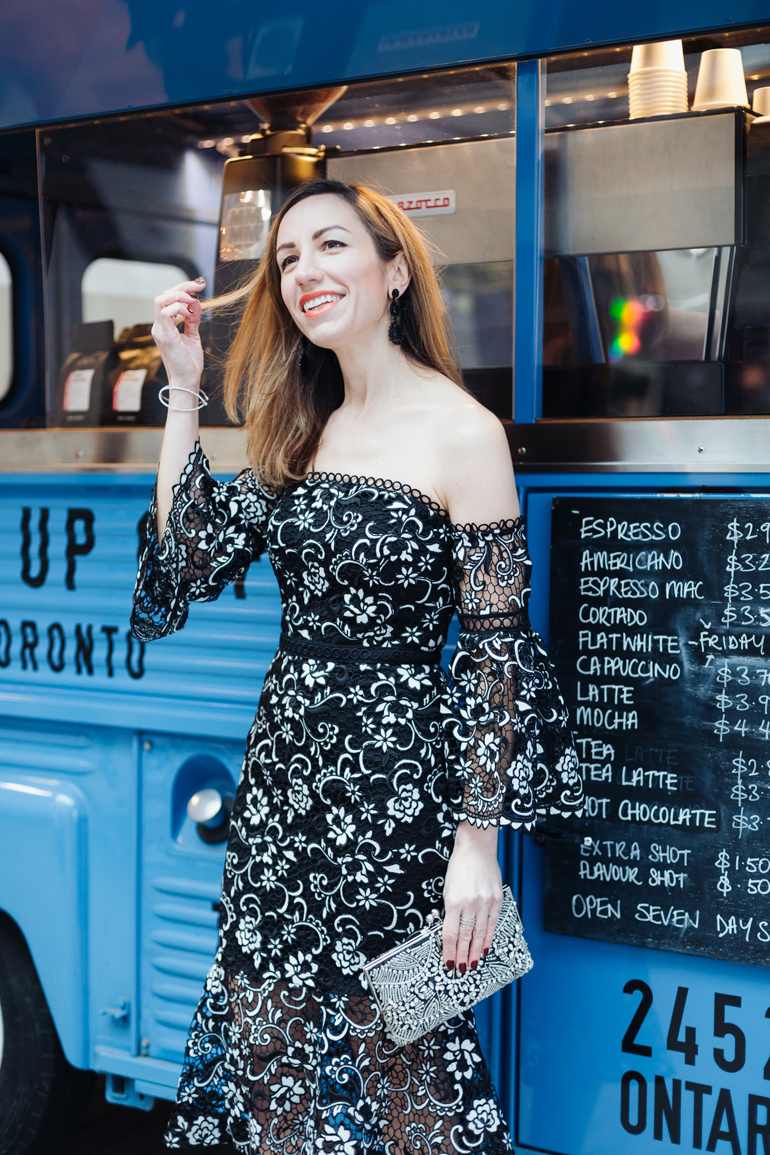 I can't speak for every product that I received, but I can definitely talk about the ones I did 🙂
The Dress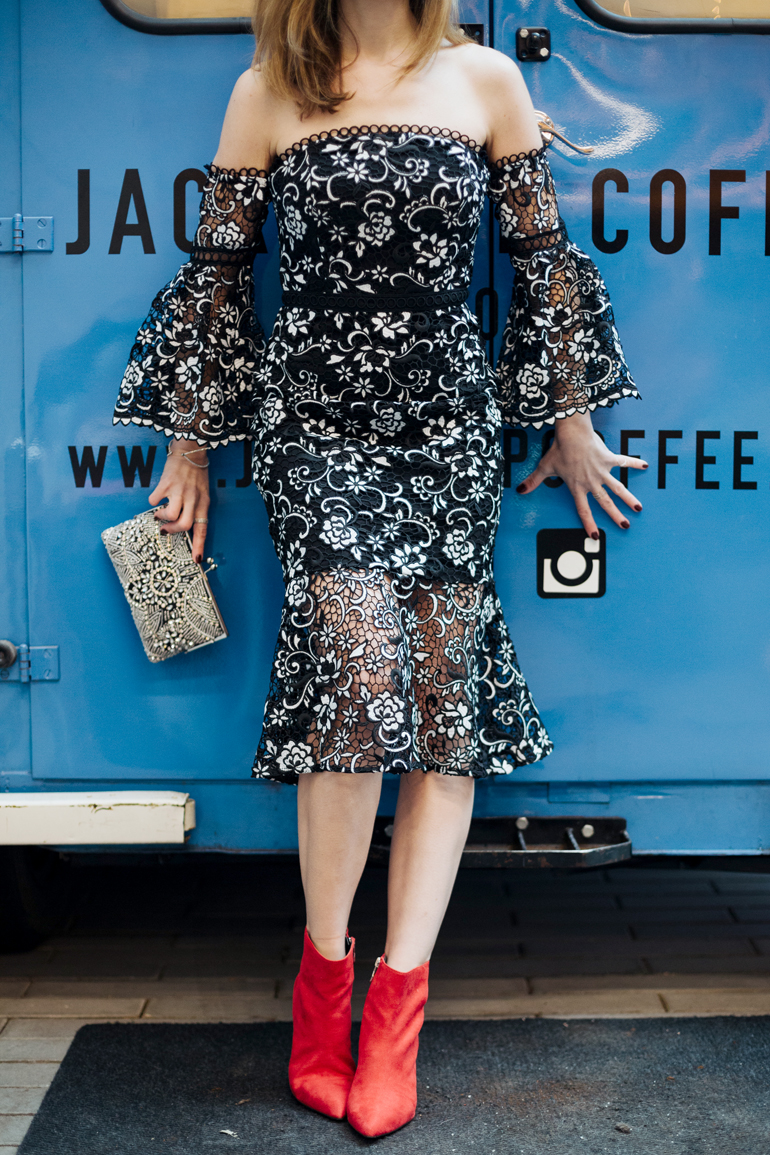 What prompted me to write this post was the amazing quality of the dress featured in this post. What you get is much more than what you see! The fabric is thick & 3 dimensional and just as intricate as you see in these photos.
The dress is sturdily constructed and lined throughout the body & has a surprising amount of padding & boning (corset-like internal structure) within the bodice.
As I was nervous about sizing, I went to EverNew Canada's size guide to get a better idea of how their clothing fits. Although I consider myself a relatively proportioned female, the measurements I took of myself aligned with a different size suggestion in all of bust, waist & hips (a 2, 6 and 4 respectively).
So I figured that picking the middle size 4 would be best. Turns out my dress size from Ever New is closer to a 2, as the 4 was too large. As I wear anything from a 0-2 dress size, I would say that picking your actual dress size (size up if in between) is your best option vs. taking their size guide literally!
Thankfully they have a 14 day return policy both in store & online for unworn, tagged items, making swapping to a different size, stress free.
The Boots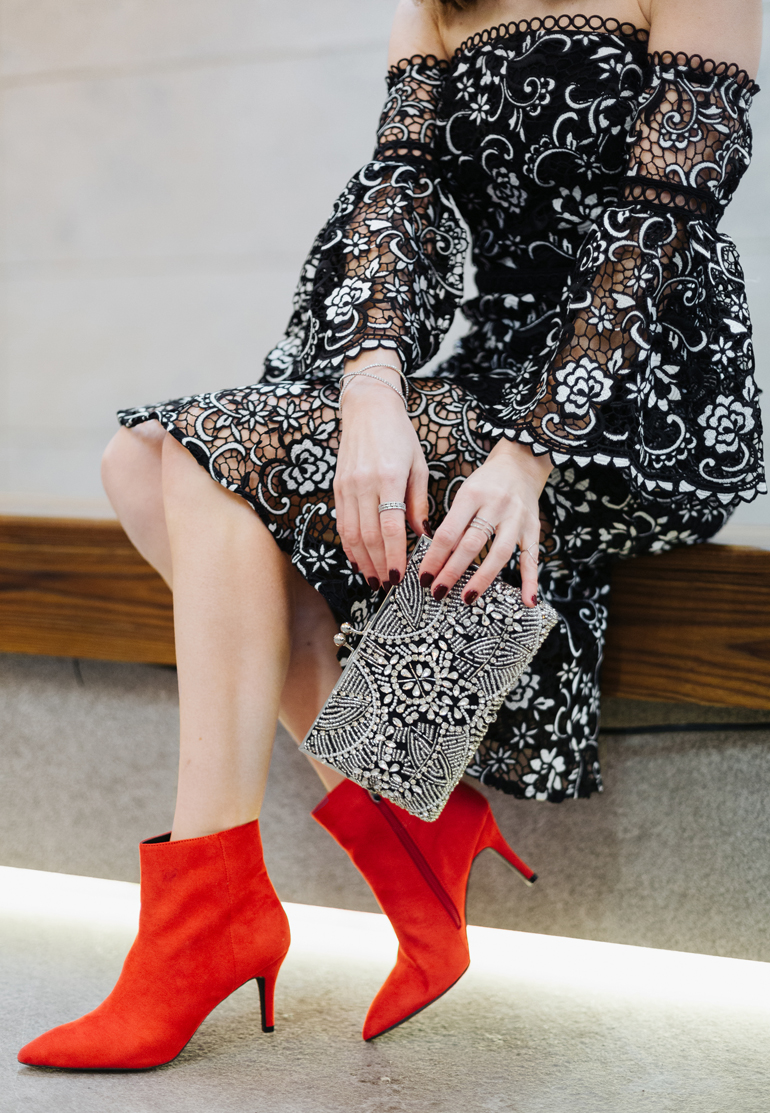 The Brenda boots are made of a lovely faux suede & the color is a beautiful vibrant red. The heel, even though looks higher, is an approximate 2.5″ height.
The boot itself feels sturdy, is comfortable (even around the pointed toe!), which doesn't constrain my toes as many similar style do. The upper part, especially the edge is fairly rigid. So wearing them without breaking them in, bothered my legs as I walked.
As per the fit, these shoes fit me true to size, as the size 8 boots were a perfect fit in length. I would say that the width is an average medium.
The Purse
The jeweled purse is just as intricate & sparkly as seen in my photos! I have to thank Bruna, my photographer, for gently pressuring me to snag this one (vs. another one I was contemplating). It's now become my go-to statement clutch for parties & formal functions.
The Jewelry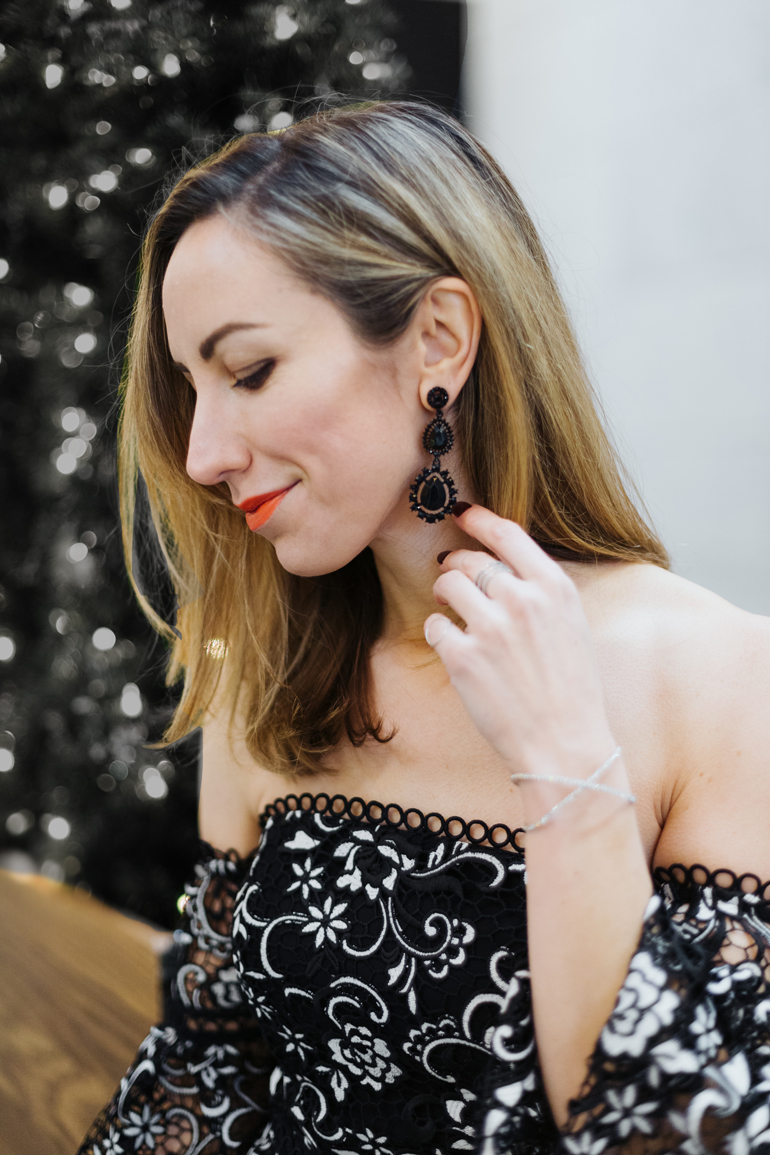 The criss-cross diamond effect bracelet I ordered is light & dainty. It bends easily to put on & take off. Although the material used for these black drop earrings pictured here felt strong & durable, one did sadly break in two when I packed them on my recent vacation, sniff. The other two earrings styles, not pictured here, are going strong.
Ever New Canada Shipping:
Shipping was extremely fast. Especially for the smaller sized second dress that I ended up ordering & swapping for the first, too large one. It arrived the next day, woot.
Generally, standard shipping from Ever New Canada takes 1-7 business days depending on location (if you're in the Vancouver area it's closer to 1 day) & costs $9.95 on orders under $100. Orders over $100 is free. Express delivery (1-2 days) has a flat rate of $14.95 per order, no matter the order amount.
It's worth noting that because I didn't go through the regular shopping process, but rather a blogger collaboration, my shopping experience wasn't likely identical to the customer shipping process. So please keep this in mind.
Final Thoughts on my Evernew Canada Review
I would definitely recommend buying clothing & shoes from Ever New Canada. What you see is what you get, so no unfortunate surprises when your shoes & clothing arrive. The pieces themselves are classic with a trendy twist, but most importantly, look amazing on!
You can shop Ever New clothing & accessories online & in various retail locations around the country. One of is right here in Toronto at the Eaton Centre!
Have you purchased anything from Ever New in Canada?
xo ShoeTeae