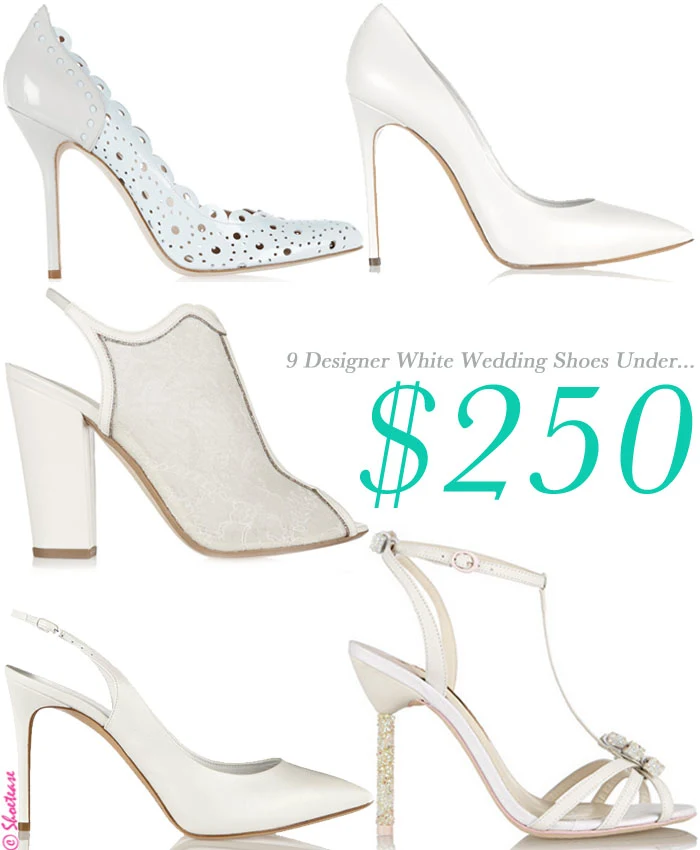 So you spent a fortune on your fancy wedding dress, but still want, or shall we say need a pair of designer bridal heels to go with it? Here are 9 designer white wedding shoes under $250 that'll do just that! Trust me, at least one of these will surely be a contender!
All respectively on clearance, this is your one-off opportunity to quench your designer bridal shoe thirst with bright while styles to suit any stylish lady's fancy. Heck, even if you're not in the market for a pair of heels to walk down the aisle, any of these 9 shoes would look amazing with jean & a simple tee or a pretty little cocktail dress! I'm loving Nicholas Kirkwood's peep-toe bootie with lace & glitter trim! Even if it does have a 4 inch heel, the chunky heels of these sandals will make them so much more comfortable!
But who can resist a classic white pointed toe high heel made of leather? With towering 4.5 inch heels Casadei presently has a fabulously shaped pump on sale, as well as a similar shoe with a sling-back & a heel of 4″. Pure white wedding shoes are best to match with similarly toned dresses as well as colorful or even black wedding dresses! How amazing would a bright shoe look, peeping out from under a black frock? Your shoes would definitely make quite the entrance!
White Wedding Shoes Under $250
Shop the Designer Wedding Shoes, below

If you're looking for a more minimal shoe in sandal form, take a look at the wedding shoes Solange Knowles decided to wear under her wedding. They're kind of fabulous!
xo Cristina M.