Ah, what becomes of roses & chocolates when we are gifted a pair of our very own heart shoes?! Meagre gifts that mean little & last even less, if you ask me! Yes, I'm talking about Valentine's Day & the perfect gifts for that terribly special (yet, shoes with hearts!), or for some, just terribly plain, love holiday.
Not that I don't love me some little cocoa treats & sweet smelling stems, but I just don't see why people don't smarten up already & buy their loved ones a pair of fabulous shoes with hearts for Valentine's Day! As a shoe blogger, I must insist! Whether slippers, flats, sneakers or high heels, there is no shortage of shoe love in the form of hearts currently available for purchase. Seems like the right way to enjoy them would be to wear them this V-Day. And many, many days afterwards, of course!
Even those who deem shoes with hearts to be a little tacky, there is hope for your subtle tastes as well! Christian Louboutin made great heart-motif Valentine shoes, as I featured on a celebrity style post last season. Currently, Loubie has an array of heart pumps in different colors to tickle your heart, well, pink!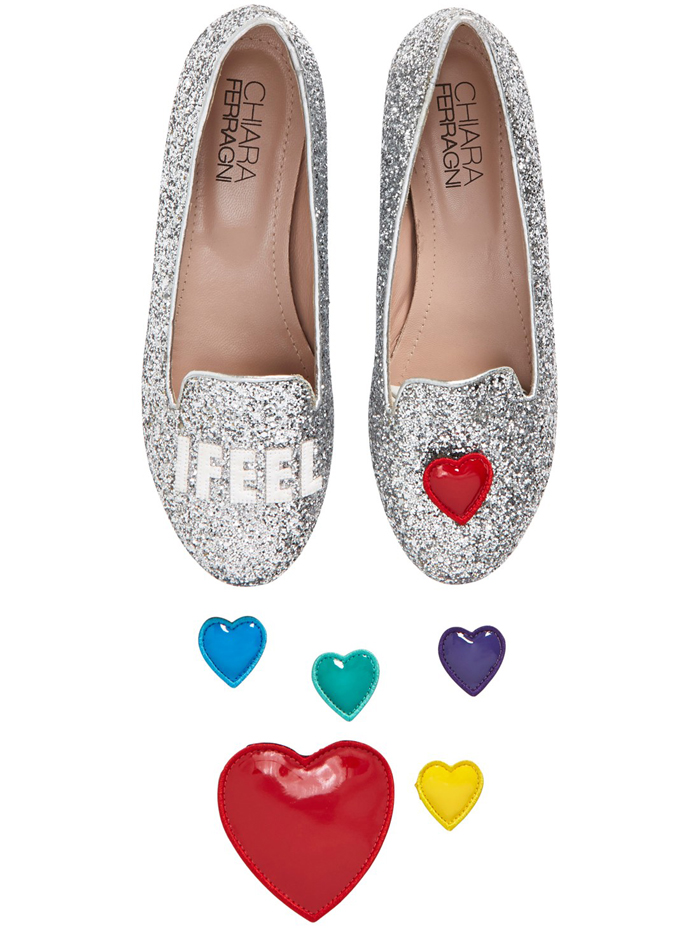 My favorite heart shoe of all are surely Chiara Ferragni's sparkly "I Feel" flats with interchangeable multi-colored hearts to suit your mood for the day (or hour!). Yep, click onto your shoe whichever colored heart conveys your momentary feelings best. Most sizes available in this design right now & can be found at Nordstrom.
Of course, Charlotte Olympia's Dolly full-of-hearts-pumps are a staple & dominant heart shoe that can be found all year round (but a perfect Valentine's shoe too!). These come in both shades of dark red/pinks & blush pinks.
Not a fan of high heels & want a more comfortable alternative? There are quite a few styles of sneakers, both high & low from Comme Des Garcons & other designers to more than suit your shoe-hearted fancy.
Or maybe bedroom slippers are more your thing (winky wink!)? Well, there's a shoe for you too! Stubb & Wootton for J. Crew designed a fun pair of black slipper-style loafers with a heart on the right shoe & a "U" on the left. Too cute & extremely cheesy, right?! Well, that comes with the Valentine's Day territory!
Here below, are my favourite heart shoes pairs from the February 2016 online collections. Enjoy!
And remember: these aren't a bad gift for yourself, either 😉
---

---
xo Cristina