High heels are a fashion staple and look fabulous with any outfit. But they can also be uncomfortable and difficult to break in.
Blisters and pain that heels, especially those that new high heels can cause, is no laughing matter. This is why today I'd like you to learn how to break in heels and avoid all of that!
I mean, walking in high heels can be challenging enough, without adding too tight heels to the mix!
There are various methods & tips for breaking in high heel shoes that I will get into right here, on shoe-tease.com! Some might be surprising, like using a potato (not joking!) to blowdry your shoes!
These tricks, along with more conventional methods actually work to break in heels and make them more comfortable!
Read on to find out how to break in heels overnight or more quickly. These tricks will work with leather heels, suede satin and more high heel materials. Even patent leather will give somewhat, although minimally, such as few millimeters.
How to Break in Heels Overnight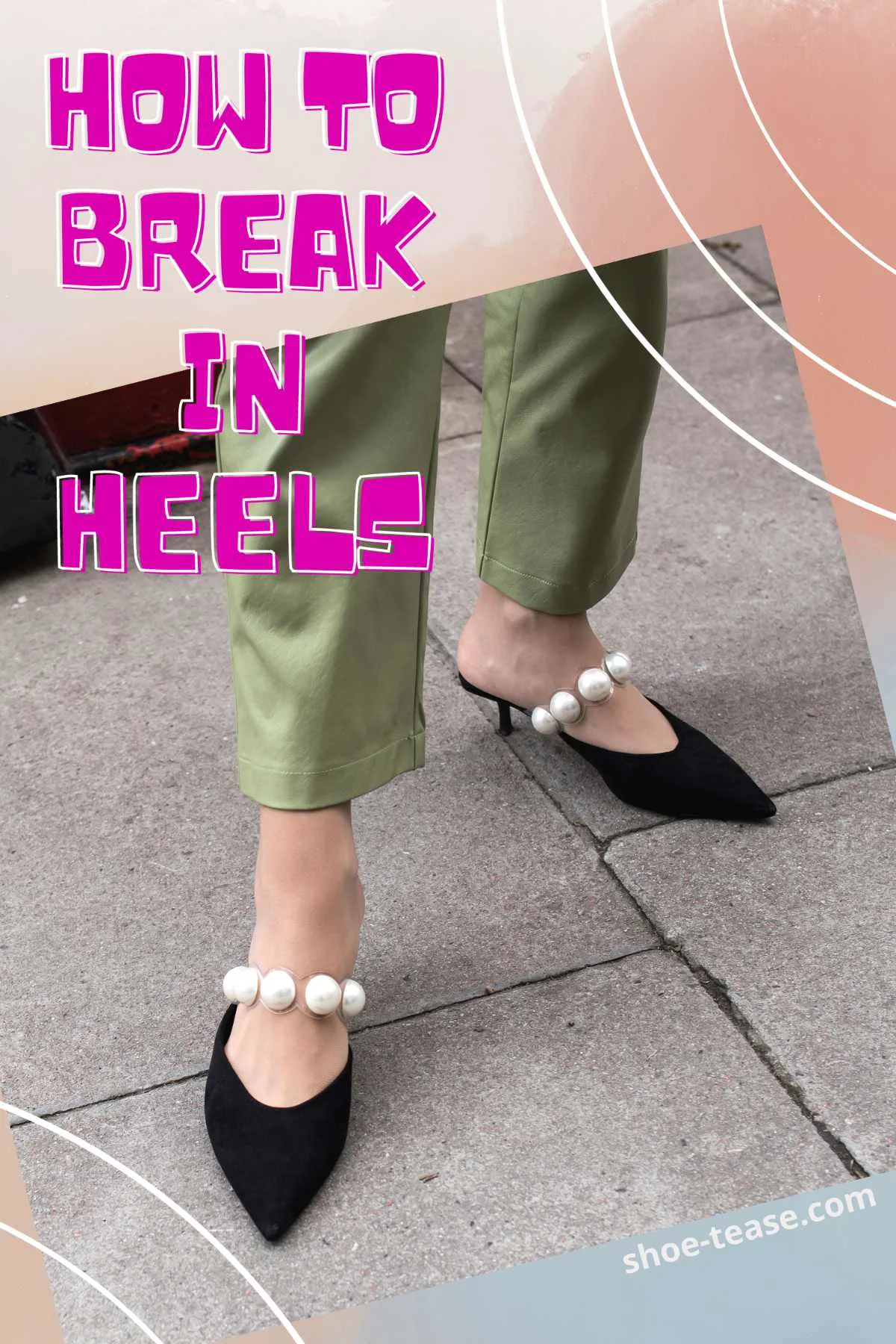 Breaking in heels, even overnight is a process that can be done in a few different ways. Some methods are quicker, some take a long time, while some other methods take just the right time – while you sleep!
Of course, many methods to break in heels require some stretching to loosen still areas of the shoe causing issues. I would avoid trying to break them in more than a half to 1 size bigger as you'll risk damaging them.
1. Use a Shoe Stretcher to Break in Heels
A shoe stretcher is a tool designed to help stretch your shoes in width and length. It's a semi-professional way to break in heels. Shoe stretchers can be used on any type of shoe, including high heels.
This is a great device to have at home if you have particularly wide or differently shaped feet. If you seem to need extra time and effort to break in your footwear and heels, it will save you time.
Stretchers can be made of metal, wood or plastic. Of course, the wood and plastic ones tend to be more durable. There are shoe stretchers made specifically for women's shoe and high heels, so that they fit better inside the opening.
There are even mini-shoe stretchers that look like larger cufflinks that are used to widen the toe-box area of the heels.
Using a Shoe Stretcher to Break in Heels:
Spray shoe stretching spray to the inside of the shoes for optimal results
Add any plugs that come with the stretcher to areas that need more breaking in
Insert the shoe stretcher into each of your high heel shoes
Turn the knob until you feel the tension required to break in the heels
Keep the stretchers inside for approximately 6-8 hrs or overnight
Try them on and if they didn't stretch enough, repeat the process
A shoe stretcher can be very strong in terms of breaking in shoes, so please stretch them out slowly to avoid overstretching the heeled shoes.
2. Put Heels in the Freezer
One of the most underrated methods to break in heels is to put them in the freezer overnight. But there's much more too it than that!
The freezer bag method to break in heels is one of the easiest ways to break in your shoes. All you need are some sealable plastic bags like Ziplock bags and water.
Fill up the bags with water and place them inside your heels where they need stretching. Then place the heels in a cloth or plastic bag to isolate them from teh contents of the freezer.
Put them into the freezer overnight. Then take them out and wear them around for a bit to make sure they've broken in enough.
3. Use a Potato to Break in Heels
I'd never have thought of breaking in heels with a potato, but here we are! Find a couple of potatoes big larger than your shoes and peel them and place them inside your shoes.
Leave the potatoes in your heels overnight. In the morning, take the potatoes out and wipe the inside of your shoes and let them air dry.
How does the potato method work? The moisture from the potato will soften up the leather or shoe material, making it easier to break in your heels.
How to Break in Heels – 6 More Methods
4. Wear Your Heels at Home
I rarely ever wear new heels to an event right away. It's just not worth the risk! This is true for almost all of my shoes.
There are many ways to break in your high heels so that they fit better and feel more comfortable. One way is to wear them for short periods of time around the house each day until they start to feel better on your feet.
Doing this in the evenings is best, as everyone's feet swell during the day. And bigger feet break in heels much better!
5. Wear Socks with Heels
The process of breaking in heels with socks is simple and one of my favorite methods. It's cheap, effective and you can do it at home!
Put on your new heels with socks and walk around and wear them for few hours, or for 10 minutes on and off throughout the day.
The extra padding added by the socks will push at the shoes to break in the heels faster. Double up your socks to further break in your heels.
To break in the toes and heel parts of your shoes, specifically , try a pair of double padded no-show Skinnys Socks that I personally use and love!
6. Use Shoe Stretching Spray
Breaking in heels can be made easier with the help of shoe stretching spray. The shoe stretching spray will make the leather more pliable and will also help to break in the heel faster/
If you're looking to break in heels quickly, you can use shoe stretching spray in combination with other methods, like wearing them in the house, with socks or when using a shoe stretcher.
The best way to use this product is by spraying it inside the shoe area which requires it most and wearing them. Repeat the process until your heels feel like they've broken in enough to your liking.
No shoe stretching spray at home? You can DIY one that is just as effective by mixing 50/50 rubbing alcohol and water. Use a cotton pad or spray bottle to apply.
7. Bend your Heels to Break them in
This is a great way to break in new heels without having to wear them for hours on end. You can do this by twisting the middle of the outsole back and forth, like you would when walking. This will make the material more flexible and easier to walk in.
Twist or bend your shoes gently, so you don't damage or weaken the areas that should be stiffer. Worth noting that some shoe soles don't bend. I don't recommend these types of heels, as they are most likey to hurt your feet.
8. Blow Dry Your Heels
There are many ways to break in heels and in this section I'll teach you how to break in shoes and stretch them out with a blowdryer.
1. Put the heel of your shoe on a towel and hold it in place with your hand. Or alternatively, you can put your heels on with a pair of thicker socks.
2. Turn on the blowdryer on medium or hot settings and point it at the section of the high heels you'd like to loosen up. Do this for no more than 10 seconds, holding the blowdryer about 1 foot away. Be careful not to overheat the shoe and ruin the material.
3. Repeat this process until you feel that the heel has stretched enough to fit into the heels without socks, comfortably. This should help break in most shoes that rub your heel and cause blisters.
9. Take Your Heels to a Professional
I always end my shoe care posts with a section about going to a professional. A local cobbler with a good reputation will know how to handle your delicate high heels in a way that we don't.
It will cost a bit more and you will have to wait about a week – depending on how busy the cobbler is.
But it's the safest way to break in heels and completely hands-off for those who prefer to avoid DIY options, or don't have the time.
How to Keep Heels Comfortable after Breaking in
Use padded Inserts: from ball of foot cushions, to heel liners to full high heel insoles, these will add padding to take pressure off certain parts of the foot and reduce pain. See all your options in my make shoes smaller post.
Try bandages and moleskin: if no amount of breaking in heels can avoid blisters in some spots, your best bet is to bandage the area. Do this before wearing the heels to prevent issues.
Use anti-blister sticks or deodorant: friction can play a large part in blisters forming on feet when wearing heels. You can use anti-blister sticks or even deodorant to prevent friction and feet sliding in heels.
Store heels well: Use newspaper or silica packets to prevent the leather from shrinking. Keep the shoes in a shoe bag and in a designated shoe box.
Buy the right size heels: like with bras, some women don't really know their shoe size. Have them measured at a footwear store to get the right measurement.
Buy comfortable heels: not all brands are like others. High quality heels are made of soft materials, a bendable outsole and some even offer cushioning.
Choose lower heels: not all short heels are comfortable, but aim for a lower heel height that is best for your stride. I do well with 3.5 heels myself!
Check out my post all about how to make heels more comfortable for more tips and in-depth info.
Final Words on How to Break in Heels
I hope my post has given you insight on how to break in heels. If I can prevent you from high heel discomfort or blisters, my job here is done!
There are so many methods to breaking in heels. I'd love to hear the methods you prefer or any that I might have missed. I always resort to wearing them around the house first, then adding socks if they need some extra give!
Of course, it does help to buy the right size heels. However, learning how to walk in heels also makes a difference, so check out that post for more insight!
Disclaimer: The methods listed in this article about how to break in heels should be used with caution. ShoeTease and its partners are not liable for any damages to property or persons arising from any of the advice given in this post. Follow this advice at your own risk. For best results, go to your local cobbler to get your heels and shoes stretched and broken in.
More Shoe Care Tips for High Heels:
xo ShoeTease