If you own lots of footwear, chances are you've had your heels slip out of shoes before. Most of us will look for affordable, great-looking shoes with excellent foot support when shoe shopping.
But sometimes, once you start wearing them, the shoes start slipping off the heels. This is annoying and can hurt your feet, even risking injury if you trip or fall.
If you've ever experienced heel slipping in shoes while walking, take solace in the fact that you're not alone!
This is a common issue with shoes that are brand new, too large, or ill-fitting. Whatever the reason, it is frustrating when it happens too often.
How to Keep Heels from Slipping out of Shoes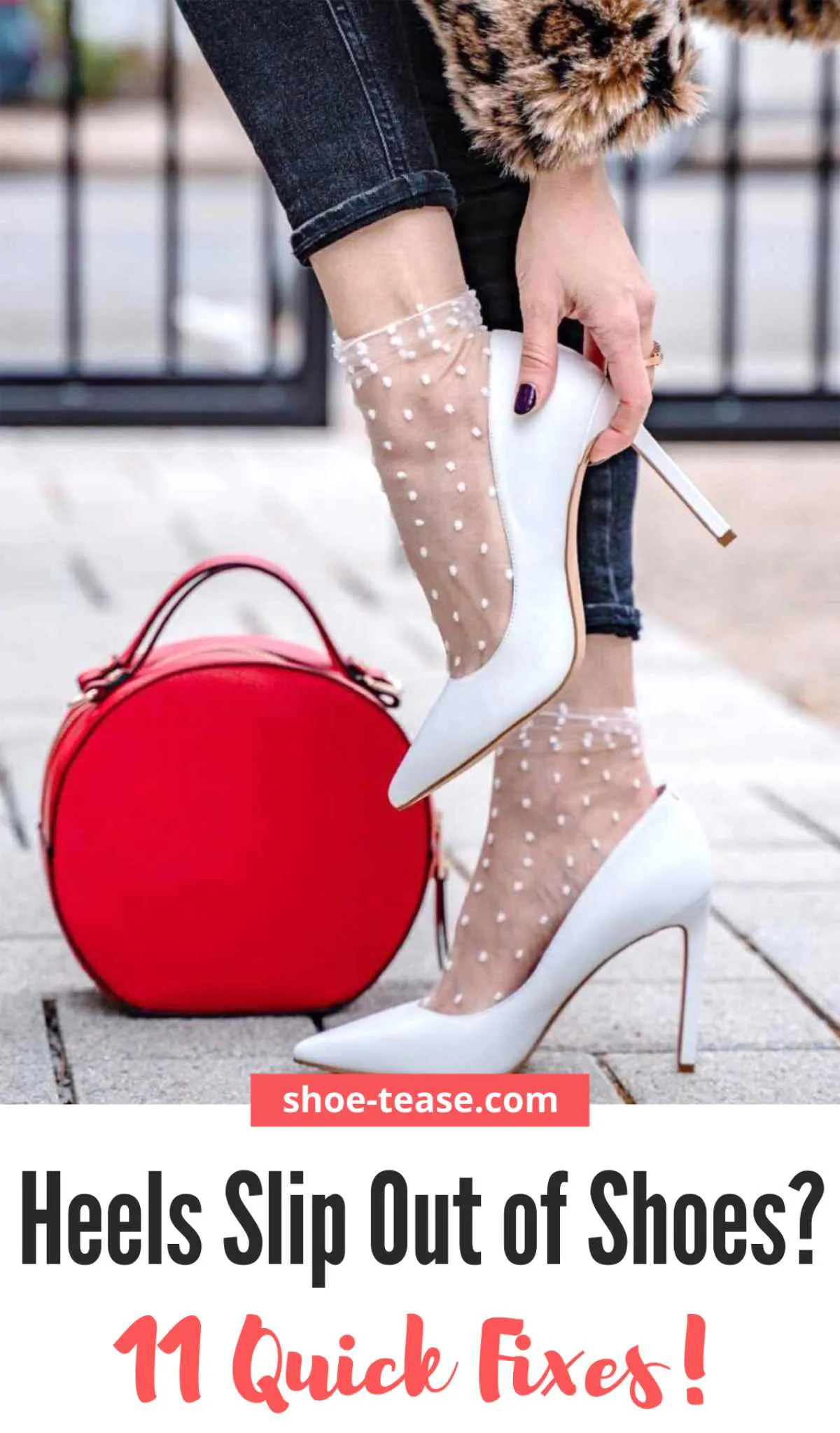 If you're here to find quick hacks and easy-to-use products on how to keep heels from slipping out of shoes, you're in the right place. I will walk you through some tried and trusted ways to prevent this from happening.
But first, I'll go through 4 reasons why this might be happening. If you're not interested in reasons why your heels might slip out of your shoes, jump right to the top 11 shoes slipping off heel hacks!
These will come in handy anytime you encounter this pesky issue (I do so many times with heels and slip-on flats!).
Why does my heel slip out of my shoe? Although heel slippage is common, there is more than one reason why your heels might slip out of your shoes. More on that down below.
How Much Heel Slip is Normal?
Heel slippage up to ½ inch is typical; if it gets over ¾, it means the slippage is excessive, and you need to fix it to stop it from happening. In brief: if it makes it uncomfortable for you to walk, it's not normal!
4 Reasons your Heels are Slipping out of Shoes
1. Your Shoes Don't Fit Properly
The #1 reason for heel slippage in shoes is poorly fitting shoes. Shoes can fit incorrectly in 3 ways: when the shoe is too big, too wide or too long.
If your shoe shape does not align with the shape of your foot, it won't make a difference which size shoe you purchase – just chalk it up to the wrong shoe for you and look for another.
Narrow heels of the foot, in particular, can slip out of shoes more often. How do you know whether you have narrow heels? You will see that your heels are a whole lot slimmer, from toe to heel, looking like a triangle shape from heel to toe.
If your foot's arch height is to blame – such as when having flatter feet – this can cause a gap at the top of the shoe that can contribute to heel slippage.
Finding shoes that fit snugly enough will usually prevent heels from slipping out of shoes. However, make sure the shoes you buy aren't too small, as you can get blisters.
Worth mentioning how shoes that fit incorrectly can also cause cramped toes and offer poor foot support.
Be sure to read my post about solutions for when your shoes are too tight! Finding the right shoe for you, especially if you have an irregularly shaped heel or foot, might take some trial and error (more shoe shopping anyone!?).
2. Your Shoes Are Too Stiff
Brand new shoes can be relatively stiff. Until your shoes are all worn-in and you might experience your heels popping out of the shoes.
However, many will only soften after repeated wear. And not to worry, I have a post on how to break in new shoes, so be sure to check that out!
3. Your Shoes Aren't Properly Laced-Up
This may seem insignificant, but not lacing up your shoes properly to fit snugly enough, can cause heel slippage issues.
Make sure to push your heel all the way into the back of the shoe before lacing. If your foot is loose within your shoes, you're bound to slip around in there!
4. Your Feet are Getting Sweaty in Your Shoes
If your feet tend to get all hot and sweaty in certain shoes, you can expect them to slide around and your heel to pop out of your shoe.
With open-toed shoes with a smooth insole, your toes may slide out, increasing the gap at the heel. And yes, that means more heel slippage!
How to Keep Heels from Slipping out of Shoes – 11 Hacks
Don't be put off if your heels keep popping out of your shoes. It happens to the best of us! Below you will get answers and easy-to-follow hacks on how to stop shoes slipping at the heel.
1. Wear the Correct Size Shoes (or Size Down a Half Size)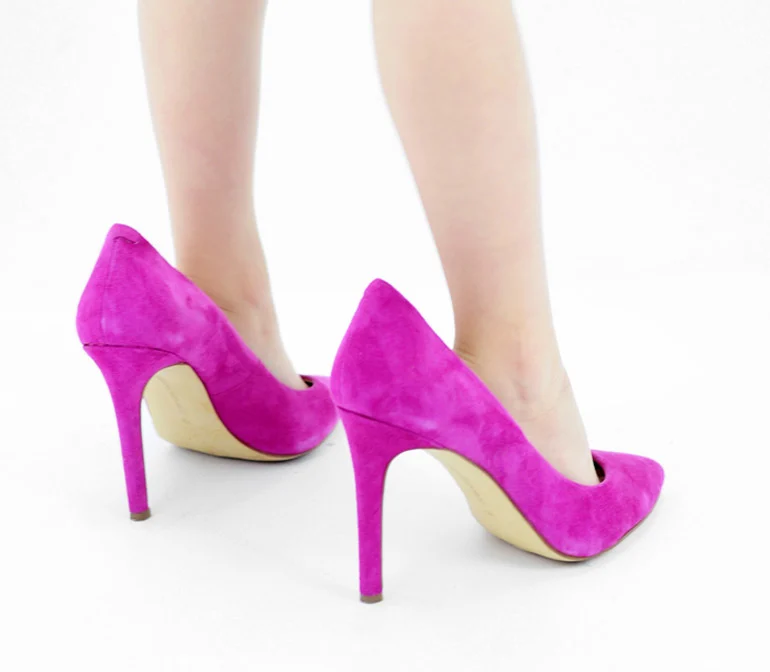 When your heels pop out of your shoes, it's an indication that they are too wide or too big or they don't fit properly.Before purchasing a new pair of shoes, flats, or heels, know your correct foot size.
Different brands come with different shoe sizes, so try out various brands to figure out which is the best fit for you (and your feet!).Also, people wear different sizes of flats vs heels, so keep that in mind when you go footwear shopping.
Your foot length and width matter when it comes to determining the shoe fit. If you find your heel slipping out of shoes, you can try sizing down a half size to see if that helps.
Keep in mind that feet tend to swell later on in the day, so don't go too tight. Thankfully there are ways to make shrink shoes by even a half size, which I've outlined in my dedicated post all about how to make shoes smaller.
2. Wear Closed-Toe Shoes
As already discussed, sweat and moisture can lead to heel slippage. Wearing open toed shoes can allow some air to keep your feet dry.
However, it can also be a lose-lose situation because wearing open-toe shoes – especially those that don't fit well – means your feet will slide forward.
As the day progresses, sweat, moisture, and gravity will cause the toes to stick out as there is nothing to hold them in. This will leave unwanted space around your heel.
I recommend close-toe shoes so that there will be no need to constantly adjust your feet to make sure they don't slide around and stay put.
3. Use Heel Liners in your Shoes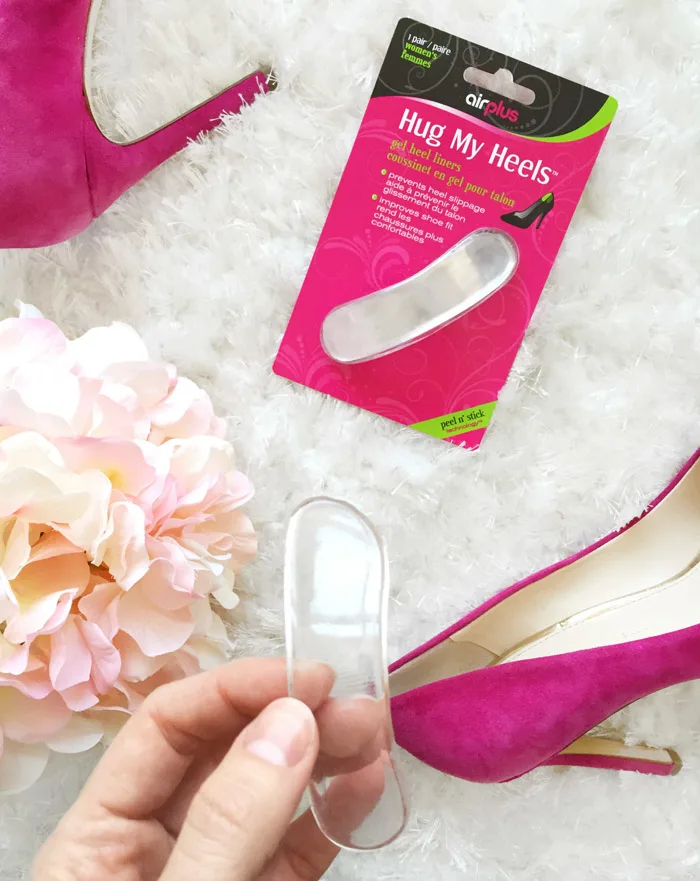 Does your shoe slip off the back? Heel grips are an effective solution to prevent just that. These are crescent-shaped adhesive patches that stick onto the back of shoes, right above the heel area.
They fill any gap between shoe and feet while adding comfy cushioning.Heel grips are affordable, but don't last too long and need to be replaced every few wears.
However, they do the job well and are a worthwhile purchase for heel slippage issues. They work great in high heels too! Shop many types of heel lines from Walmart.
4. Try Shoe Insoles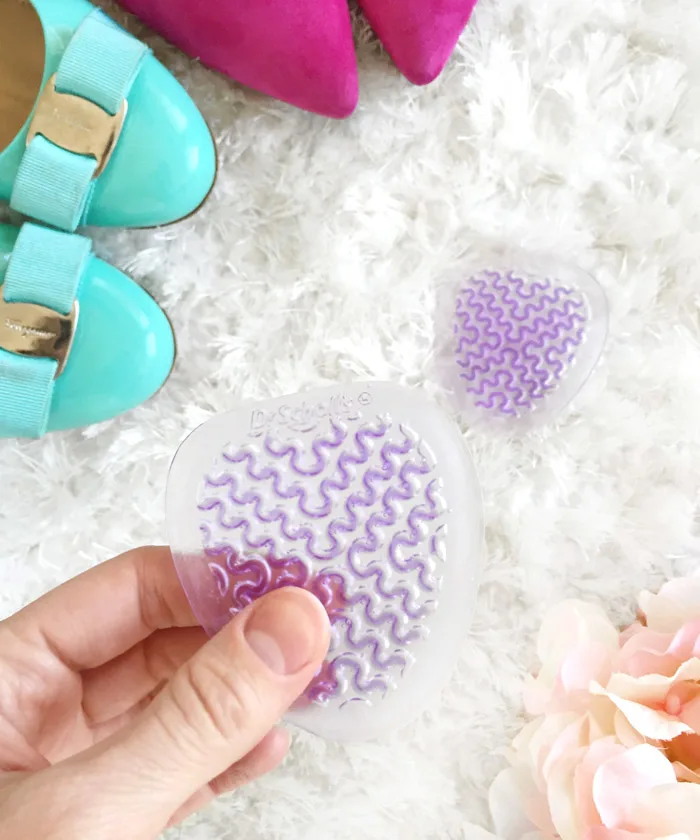 As an alternative to heel liner, you can add an insole or half insole, or ball-of-foot cushions into your shoes (like the ones from Dr. Scholl's holding above). Just like heel grips, these can prevent heels slips.
How? Well, they make the shoes just that much smaller, by adding cushioning to secure the foot and prevent any excessive movement such as sliding.
They can also help make shoes a bit smaller if the shoes fit a bit loose. Certain liners are also double – or triple! – duty to help absorb foot moisture and even decrease foot odor. Take a look at all the best insoles that are tested and true!
5. Use Double-Sided Shoe Tape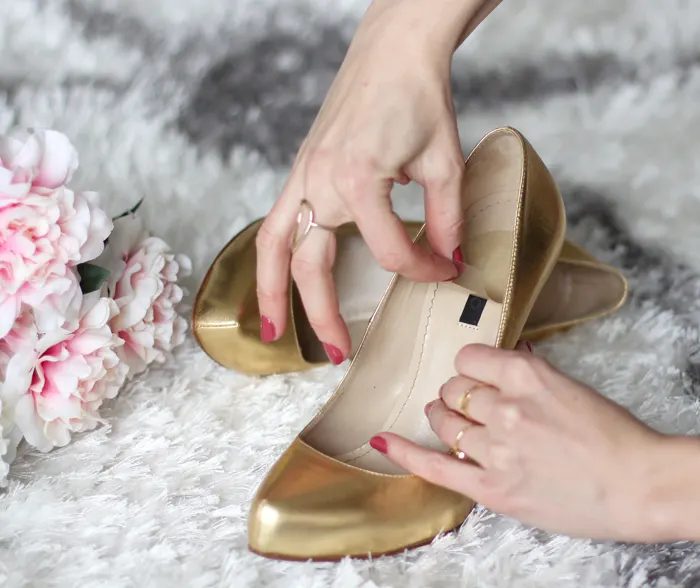 Celebrity stylists often use double-sided tape to help their shoes stick to the bottom of their feet. This technique is not only popular, but it works great too!
You can stick a 1 to 2-inch piece of double-sided tape on the heel of your foot before you put on your shoes.
The stickiness of the tape on both your foot and shoes allows for it to secure your heel bottoms to the shoes, adding grip.
One drawback is that the tape may scrunch up and fall off. Moreover, if you are prone to sweat a lot, the stickiness will wear off quickly. Check out my post about specifically designed double-sided shoe tape!
6. Use Hairspray Inside your Shoes
If you are looking for a more discreet hack, a hairspray will work great. Hairspray is naturally tacky.
This will help the bottom of your heels and feet stick to the insole of your shoes, preventing your feet from moving forwards and slipping out.
Tackling shoe slippage with hairspray is easy and quick, but the stickiness will wear out after a couple of hours. So it's a good idea to take a small spray along with you, if you plan on going out longer than that.
7. Use Shoe Fillers in the Front of your Shoes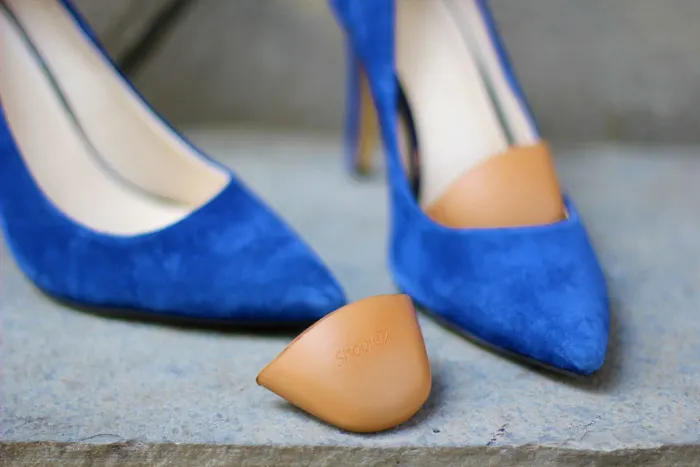 If your shoes are too long and your feet are prone to slip into the extra toe space, try shoe fillers. These are cushioned pieces specially designed to fit into the toe box of your shoes.
Your foot will not slide forward or lift up with every step, when the front of the shoe is filled. Obviously you can't use shoe fillers in open-toe pumps or sandals. Check out my posts about shoe fillers and my Sizers review.
8. Add Tongue Pads
Similar to heel liners, tongue pads are also adhesive patches, which you can secure under the tongue of your shoe. If you are unsure of what that is, it is a strip located right under the laces.
Tongue pads will help push your foot back into the cup of the heels. Especially helpful if you have flatter feet and there's extra room at the top of the shoe.
Keep in mind that tongue pads will not work for shoes with super narrow heels, low front shoes or those that are unpadded. You can buy tongue pads from Walmart.
9. Add a Removable Ankle Strap for Heels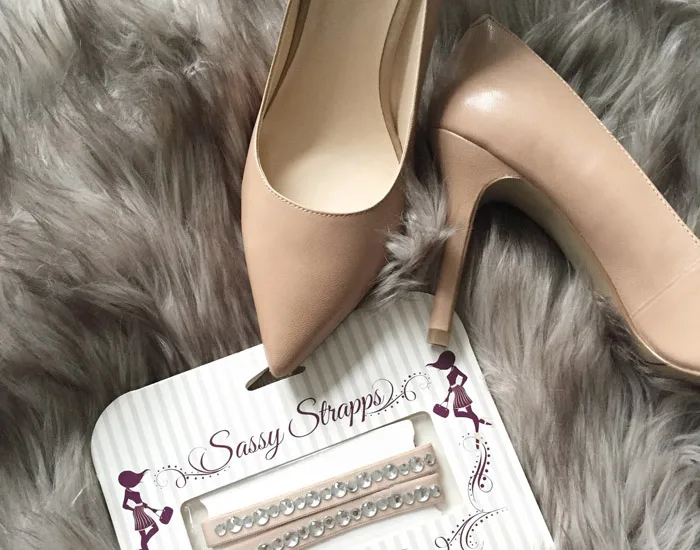 You can rely on detachable ankle straps to keep your heels in place. Some are built like a harness, some are buckled, while others are elasticized like the ones from Sassy Strapps, featured above.
Removable ankle straps not only prevent heels from slipping and help your feet stay put, but also make wearing shoes a lot comfier – even stylish!
10. Wear Socks, Footies or Tights with Build-in Sticky Pads
During chillier weather, tights can keep feet warm and cozy. But I find that they do more than that. They can help to keep feet in place and prevent heel slippage.
Tights with sticky pads built-in will hold your heel bottoms firmly in place. No-show socks with or without grips can help your feet and heels in place.
These are a good option because they are discreet, and can also heal soak up excess sweat and moisture. All this means virtually no heel slippage!
11. Keep Your Feet Dry to Avoid Slipping
This brings me to my final hack on how to keep heels from slipping out of shoes – keeping your feet dry. It all starts with making sure your feet are dry the moment they slip into the shoes.
Avoid Moisturizing feet: moisturizers with oils and even lotions can cause slippery feet, meaning that your feel will more than likely slip out of those. It will also cause friction, increase your changes of blisters, yikes!
Use Talcum Powder: if you're prone to sweaty feet, add a sprinkle of talcum powder to the insoles of your shoes to help keep moisture out. Also a great hack to keep shoes from squeaking. Don't forget to brush off the extra powder, though!
Use a moisture-wicking insole or socks to keep feet dry: as mentioned earlier, insoles made with charcoal or wearing socks can help wick away any sweat and moisture and keep your feet nice and dry.
Wear breathable shoes: if your feet are kept cool and dry with a well-ventilated shoe, this will reduce the chances of sweaty feet and heels slipping in and out of shoes.
Final Words on How to Prevent Heel Slips from out of Shoes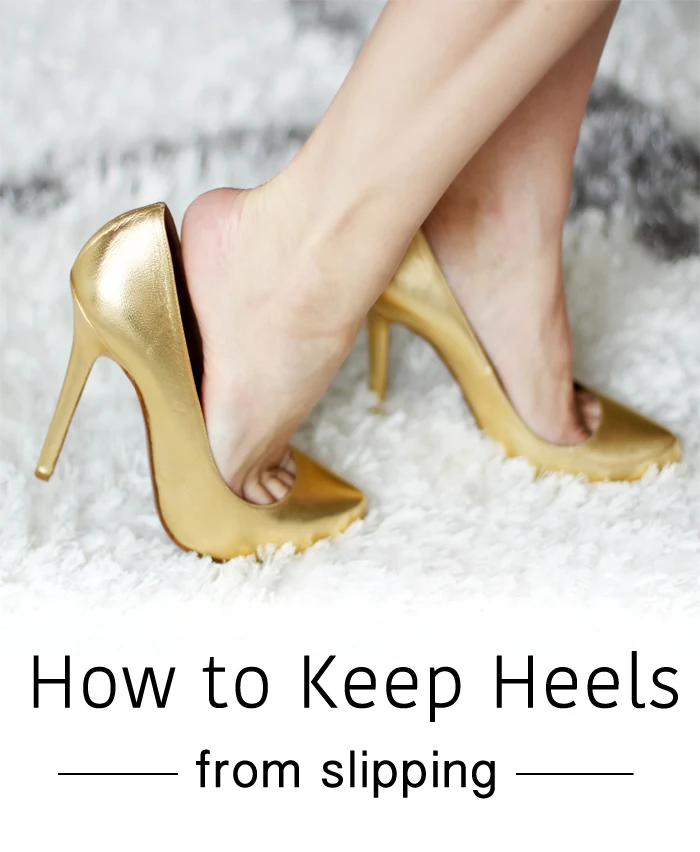 Now that you've read over the reasons why heels slip out of shoes and how to prevent it from happening, I hope you're able to wear shoes with more ease!
Shoes are lovely, but if they're ill-fitting or are causing pain or difficulty walking, the allure quickly vanishes. As I always recommend in my shoe care posts, do make sure you're wearing the right shoe size and that the style you're wearing is a good fit for your foot shape!
I'd love to hear if you've tried any of the above shoe slipping off heels hacks. If you have any more ideas that I can add, please let me know in the comments below!
Disclaimer: Attempting any of the above methods to prevent heels from slipping out of shoes yourself may cause irreparable damage to your beloved heels & boots. ShoeTease and its partners are not liable for any damages to persons or property arising from any of the advice given in this post. Please follow advice at your own risk. For best results, take your precious footwear to a professional specializing in shoe alterations.
xo ShoeTease