Many of us have splurged on fabulous, buttery leather shoes. Some even more so than others (you know who you are!!).
Yet we often forget about shoe care & shoe repair basics. I mean, how many of us really know how to shine shoes properly?!
Probably less of us women, who tend to own more suede shoes than leather ones. It is the current shoe & accessory trend after all! Or maybe we just have too many pairs & they never dull out. Or many of us are possibly lazy!
I am a prime example of most of the above, because the last time I wore a pair of leather shoes, it wasn't until I'd left the house that I looked down at my shoes and thought. Sh#t.
I blame it on being an absent-minded mom of an active toddler with a penchant for leather. What's your excuse?!
But I'm slowly changing my ways, and hoping that I can change yours too. Having nice, clean, shiny leather shoes is definitely one of them.
And by the way, the "leather" I'm referring to here is nappa leather: the textured to smooth leather variety. Not suede. Not nubuk. Please, please, please don't shine your suede or nubuk!
"Why should I shine my shoes," you ask? Well, it has less to do with appearance & more to do with protecting the actual leather.
By shining your shoes you are also conditioning them it only increases their longevity & reduces the signs of wear.
It also prevents the leather from drying & cracking. And once cleaned, don't forget the importance of a good waterproof spray for shoes too! Once the leather has cracked & torn, there's nothing left to salvage the damage.
How often should you shine your shoes? As a rule of thumb, once a week should do the trick. Much less if your shoes are on heavy rotation.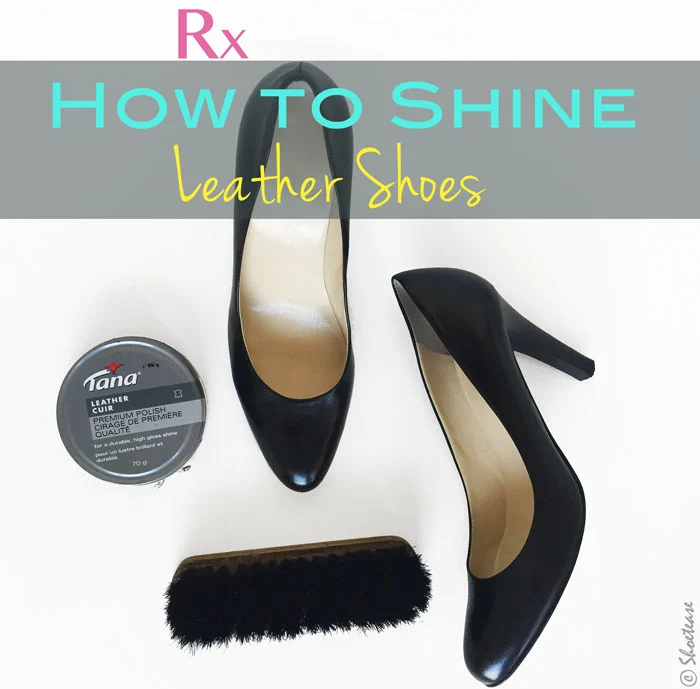 The Basics Leather Shoe-Shine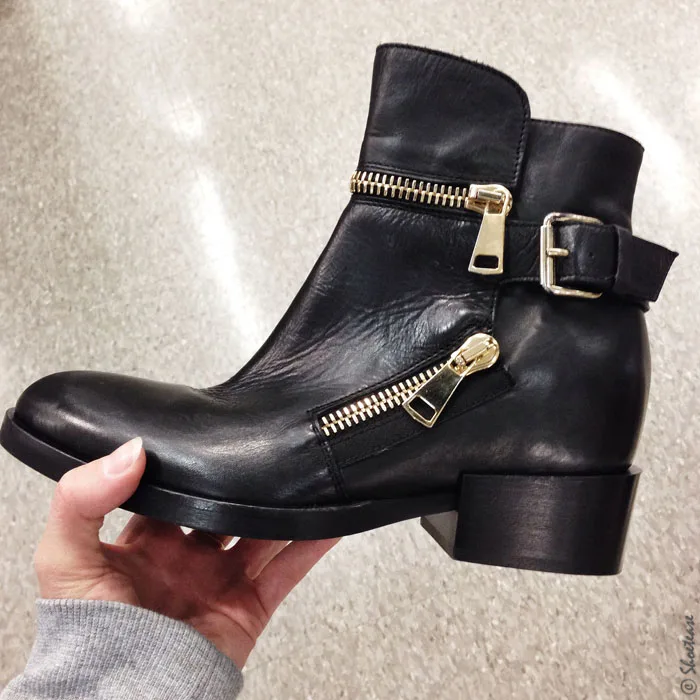 Shoe Shine Tools:
Newspaper
Soft rag or cloth. Old T-Shirts work especially well. Special buffing cloths are sold, but not necessary.
Good quality shoe brush
Shoe polish (close or exact match to shoe color)
---
Shop Shoe Polish & Wax

---
A Note on Shoe Brushes
Brushes with natural fibres (horse hair etc) will not damage your shoes. Many man-made bristles more likely than not, will.
I suggest that higher the cost of the shoe shoes, the more thought you give to the products you choose to clean them with.
Horse hair brushes remain relatively inexpensive (5-10 dollars). I recommend using a different brush for every shoe color if you want to maintain the coloring.
A Word about Shoe Polish
Cream polish, wax polish or both? Well, some say we need both, some say we need one more than the other. Leather shoes soak up cream polishes well, which help maintain their color (or non color if you're dealing with black or grey!).
Wax polish on the other hand, polishes the surface, coating & thus protecting the material. It also allows for a higher shine.
So if you're going to be picky about your shoe shining, I'd have one of each & alternate between them each time you shine your shoes.
How to Shine Shoes in 8 Steps
Place an old newspaper on the area dedicated to shining your shoes. Protect it well, as shoe polish stains are very difficult to remove.
Place a shoe tree, crumpled papers/newspapers or rags into the front portion of the shoe, so to create an even leather surface. This is most important for men's dress shoes.
If your shoes have laces, now's a good time to take them off.
Remove any residual dirt that may already be on your shoes. You want to start with a clean shoe 'canvas' so to speak. If the shoe is especially dirty, brush off the dust/dirt with a shoe brush, followed by a damp cloth. Otherwise, start with a damp cloth. If you're particularly OCD, you can wash the shoes with a leather shampoo. OCD or not about how to shine shoes, let the shoes dry before moving on!
Now it's time for the polish. Using a clean rag, dab it into the polish. Apply it sparingly (especially around edges, stitching, perforations) in small circular motions, using small amounts of polish for each area. Don't forget to polish your heels if they're leather wrapped!
Using your shoe brush, brush side to side, removing any extra polish. A good shoe brush won't ruin your shoe, so don't be afraid to brush vigorously. The harder you brush, the brighter the leather will shine.
Use the softest (dry) cloth you can find to buff the shoe.
If you're aiming for that high-octave mirror shine, either breathe heavily onto the shoe and continue buffing. Or if that's too dainty for ya, spit on it! Yep, that's how they do it in the military (and they know a thing or two about keeping those boots shining!). Repeat until you're satisfied.
How to Shine Shoes – A Quick DIY Guide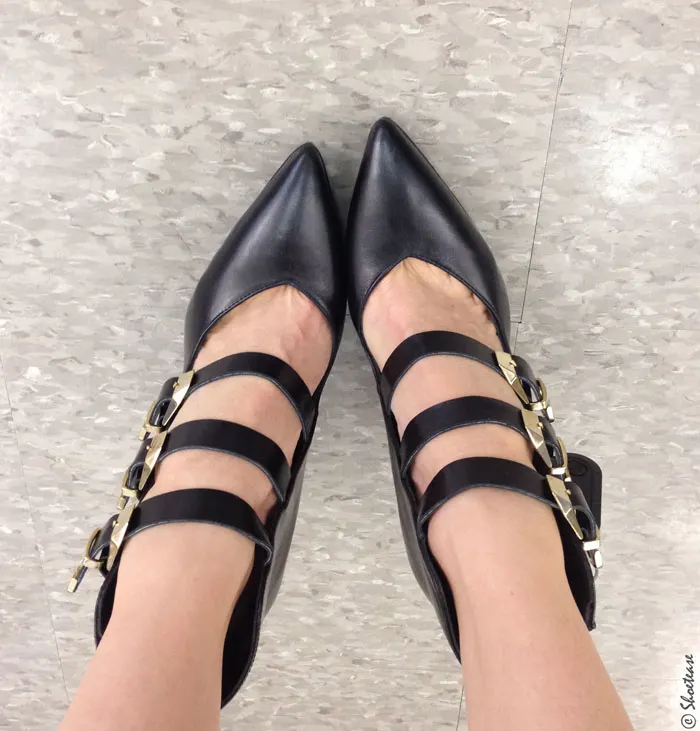 Place your hand into the shoe (if your shoe's got straps like the one above, stick your hand/arm into an old sock before putting it into the shoe, so you don't get stained)
Remove any dirty/dust/grime with a soft cloth
Using a neutral shoe shine sponge, wipe it lightly over the surface of the shoe
There, done! And no buffing needed 🙂 That's how to shine shoes in only 3 steps! Shoe sponges are great for travel or to keep at the office.
The clear non-colored ones are particularly good to use on two-tone leather shoes. These handy shine sponges are also available in black & brown. Happy shiny shoes to you!
Shop Shoe Sponges from Walmart
Best Shoe Shine Kits from Walmart
Disclaimer: Closely follow the instructions on your shoe shine product. Attempting to clean & shine your leather shoes yourself may cause irreparable damage to your beloved heels & boots. It's usually safer to take your footwear to a shoe-shining professional. Just saying!
xo ShoeTease
Sources: The Shoe Snob Blog, My Grandma
Cristina is the chief editor, fashion & shoe expert here at ShoeTease. As a seasoned stylist and women's fashion & shoe designer, she boasts over 20 years of experience in the fashion industry. She loves crafting effortless outfits for ladies both online and off and believes that styling advice should be accessible to everyone. Whether you're a styling pro or just starting out, Cristina's here to guide you on your fashion journey! Learn more.