Hello sock lovers! Are you in search of perfect socks quotes that express your deep love of shoes? Or looking for the best Instagram caption for socks, or for your colorful socks-obsessed audience?
If so, you'll certainly find least a couple of great socks quotes you can pull from favorite quotes about socks, here at shoe-tease.com!
I've selected what are the best socks and even hosiery quotes for you: from funny quotes about socks, to popular sock quotes from movies & personalities. I've also sprinkled in sock quotes that have been made into many memes.
These include the famous Harry Potter Dobby sock quote, and Dr. Seuss Fox in Socks quotes to name a few. Hopefully this will inspire you on your sock loving journey!
Looking for a shoe-detailed quotes post? Check out my posts that specifically cover shoes quotes, high heels quotes, sneakers quotes and boots quotes!
All the Best Socks Quotes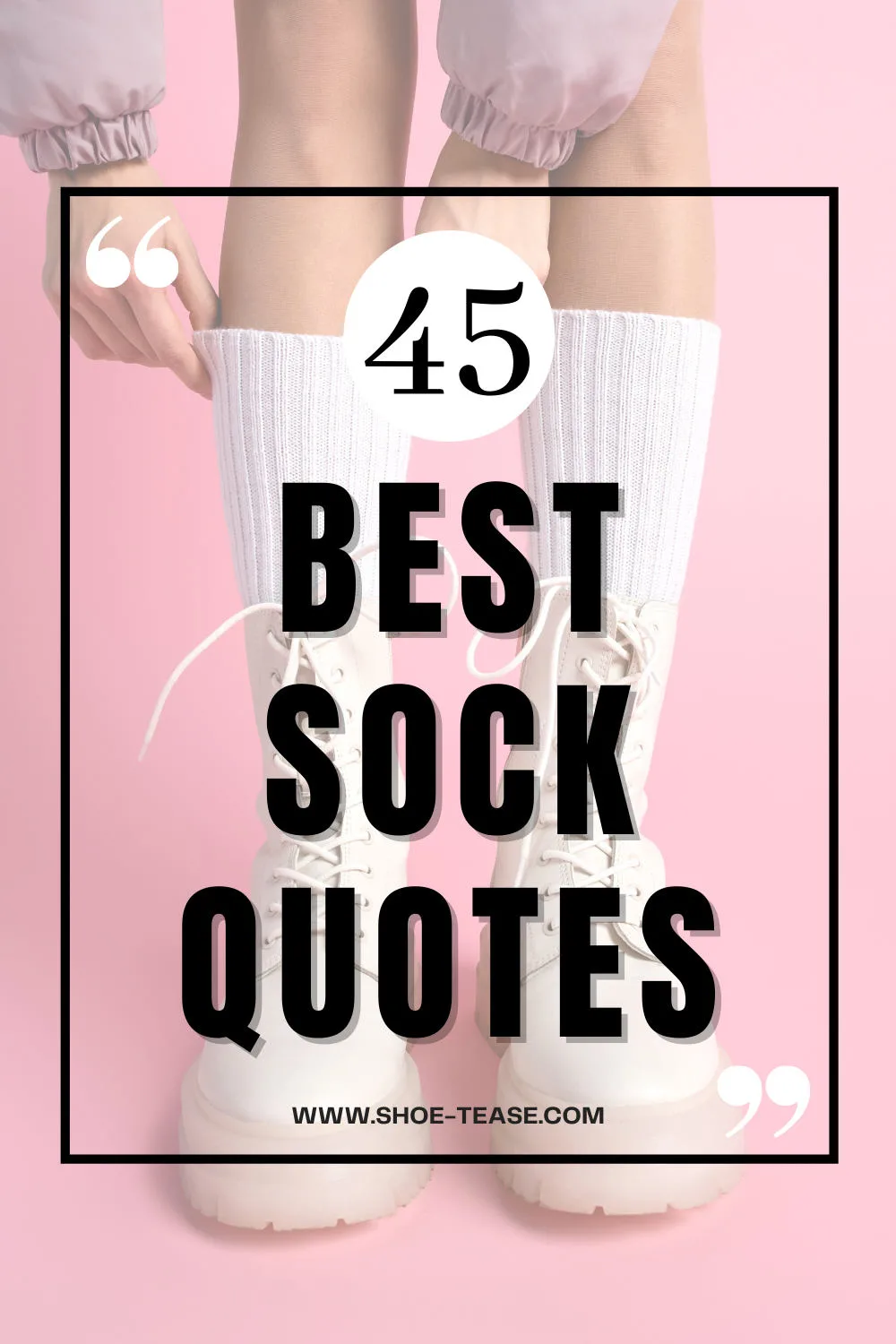 "Life's too short to worry about matching socks." – Unknown
"Some socks are loners. They can't live in pairs." – Wendy Cope
"True love is like a pair of socks: you gotta have two and they've gotta match." -Erich Fromm
"All I want is a fresh coffee and warm socks." – Uknown
"I don't clean, I don't make the bed. I spend my salary. I worry a lot. I just don't worry about socks on the floor." – Amanda Peet
"Every heel deserves a sock." – Uknown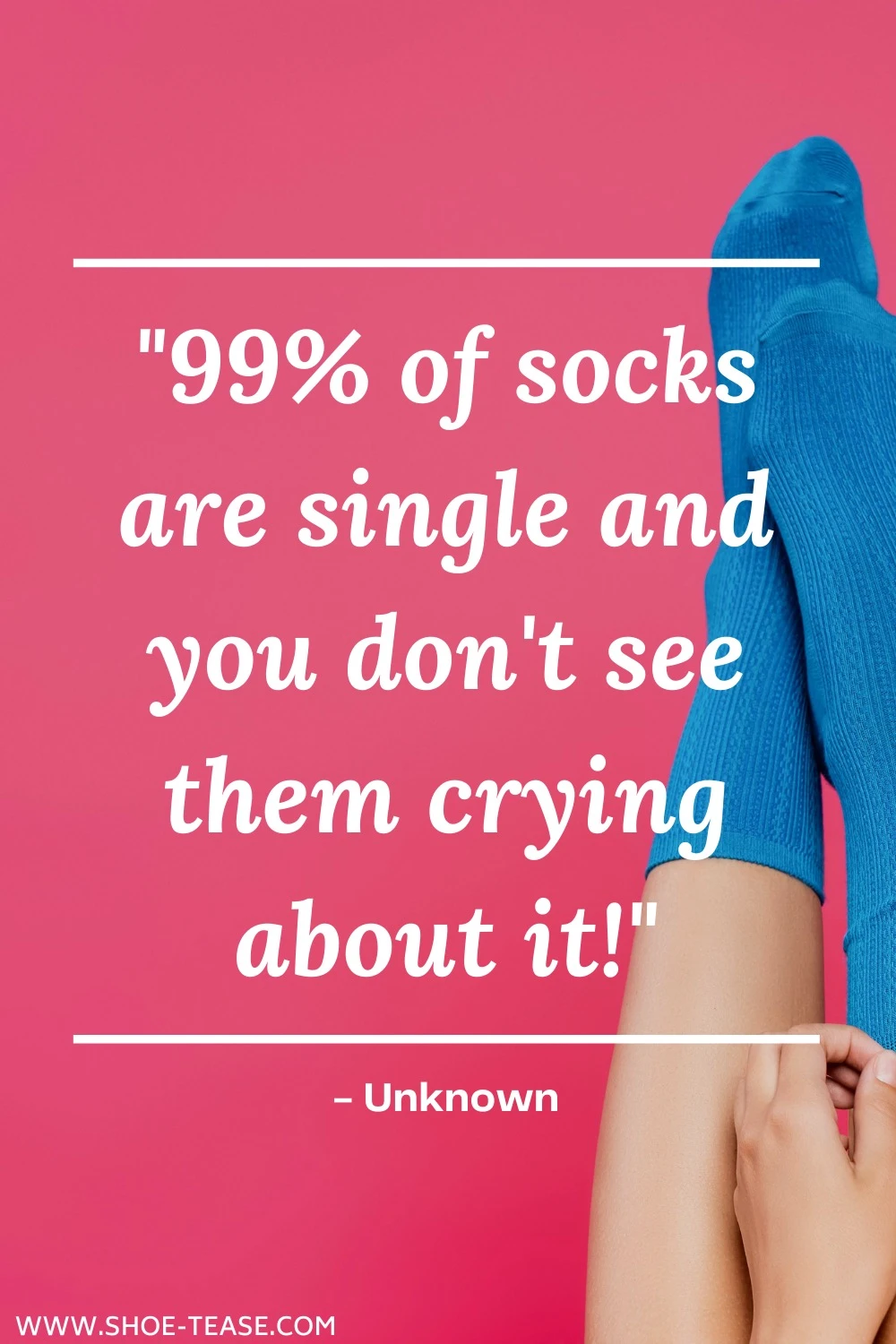 "99% of socks are single and you don't see them crying about it!" – Unknown
"Whether it's chocolate or socks, the rule is the same; the darker the better." -Pseudonymous Bosch
"Master Has Given Dobby A Sock. Master Has Presented Dobby With Clothes! Dobby Is Free!" – Dobby, Harry Potter And The Chamber Of Secrets
"Don't be quick to discard old socks because you receive new ones." – Charmaine J. Forde
"I am convinced that every time a sock goes missing from the dryer, it comes back as an extra Tupperware lid." – Uknown
"Knox in box. Fox in socks." – Dr Seuss, Fox in Socks
"Fox in socks, our game is done sir. Than you for a lot of fun, sir." – Dr Seuss, Fox in Socks
"When a fox is in the bottle where to tweetle beetles battle with their paddles in a puddle on a noodle-eating poodle, this is what they call a – a tweetle bottle noodle poodle bottled paddle muddles duddled fuddled wuddled fox in socks, sir." – Dr Seuss, Fox in Socks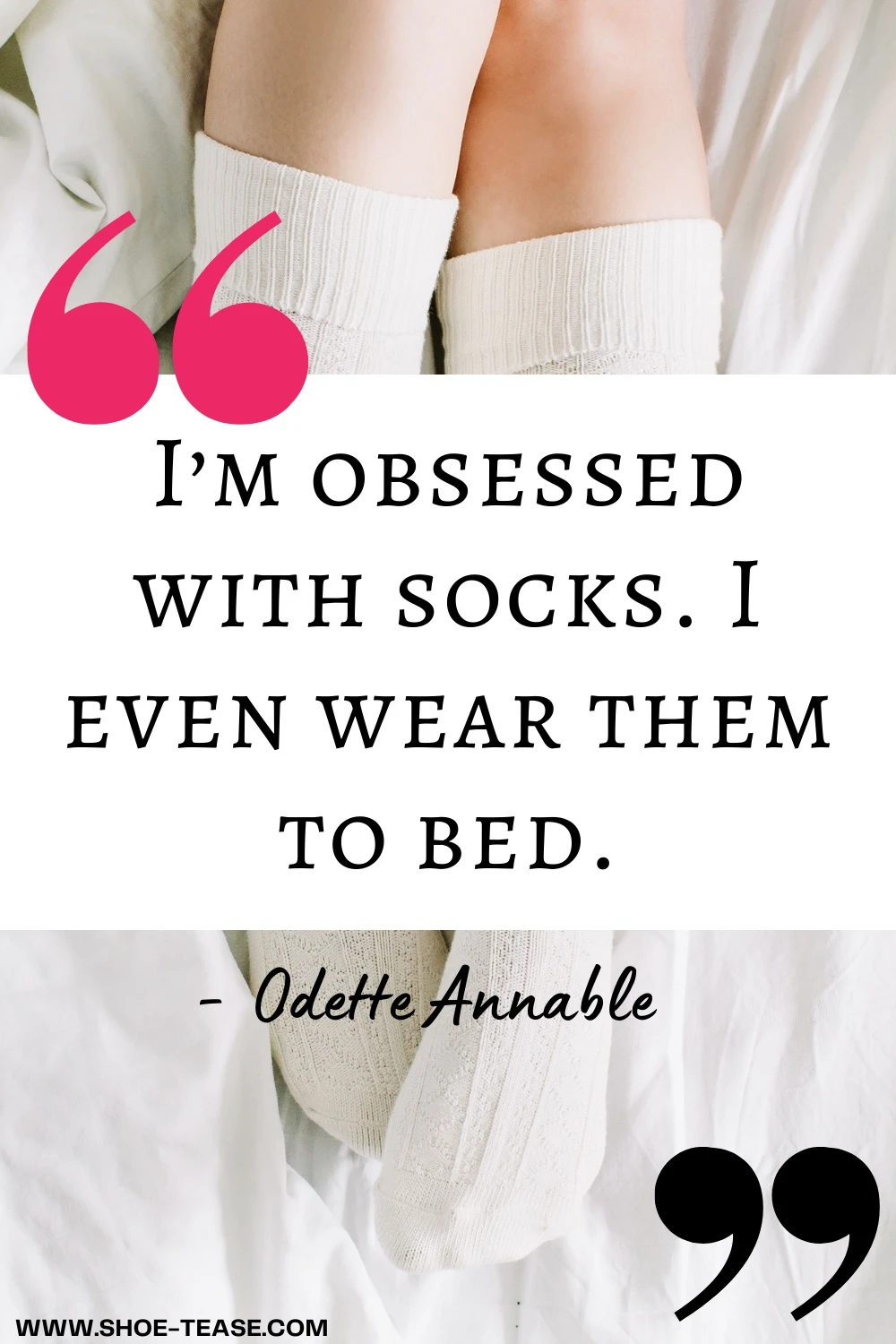 "I'm obsessed with socks. I even wear them to bed." – Odette Annable
"I never leave home without a nice pair of socks." – Benjamin Franklin
"Not everyone can find a cure for cancer. Someone has to make the dinners and sort the socks." – Marian Keyes
"All men look nerdy in black socks and sandals." – Rita Rudner
"Perhaps it's a good time to reconsider pleasure at its roots. Changing out of wet shoes and socks for instance." -Barbara Holland
"A well-wearing sock will hold snug to your foot, minimizing any slippage in the shoe, so that foot, sock, and shoe can move as one." – Clara Parkes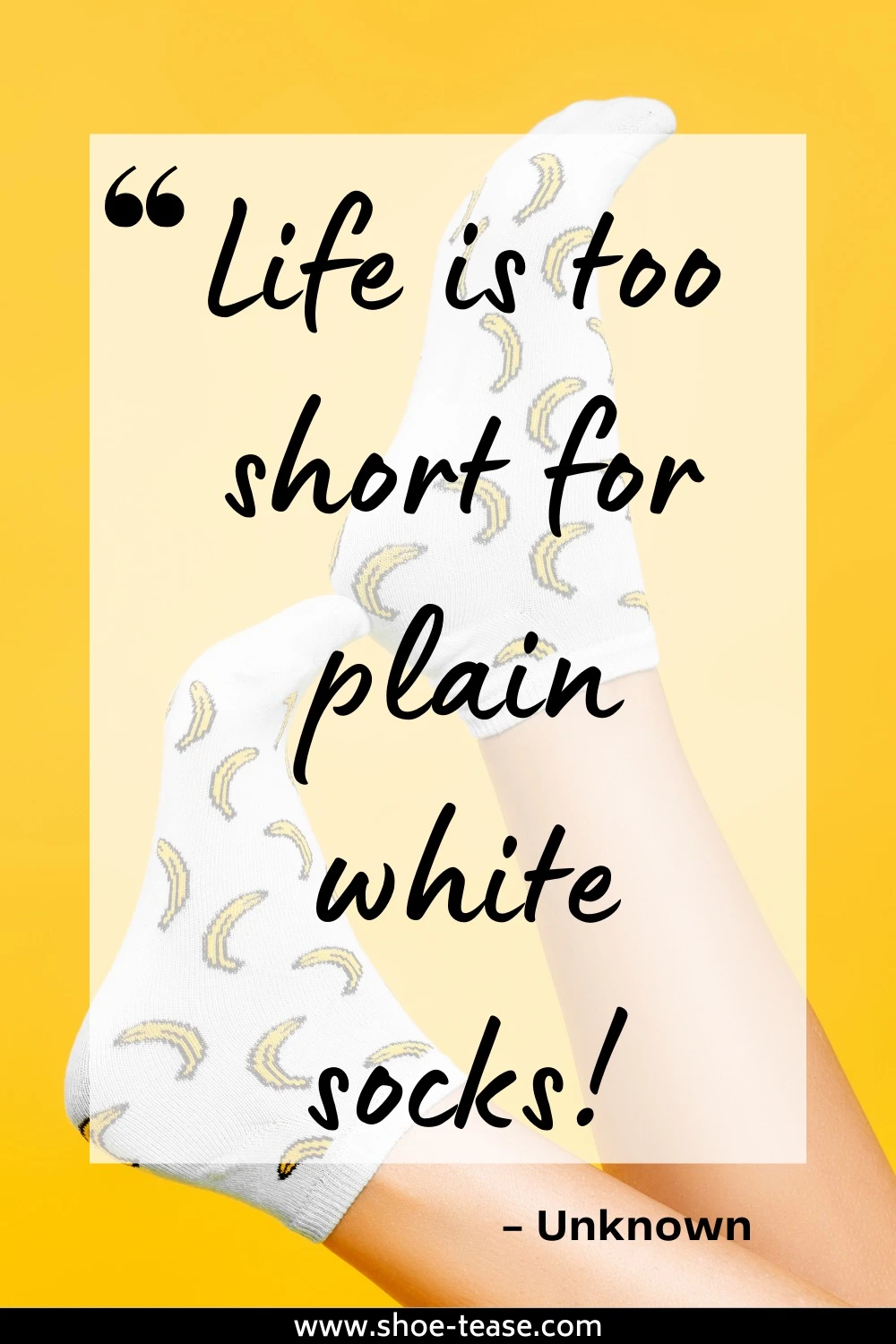 "Life is too short for plain white socks." – Unknown
"When exhausted and feeling sorry for yourself, at least change your socks."- Norman McClean
"Socks are the breakfast of our knitting diet, a physical and metaphorical underpinning to our day. They get us off to a new start, send us out into the world, and give a good indication of how the day will go."- Clara Parkes
"I'm not very materialistic – I don't have a whole lot of stuff. But I do always like a pair of really weird socks." – Taylor Kinney
"Guys will take one pair of jeans, five T-shirts and three pairs of socks and that'll get you by for 10 weeks."- Jon Bon Jovi
"I'm also a fan of ridiculously colored and patterned socks."- Daniel Radcliffe
"Isn't it awful that cold feet make for a cold imagination and that a pair of woolen socks induce good thoughts!" – Franz Grillparzer
"When I was young, I found out that the big toe always ends up making a big hole in the sock. So I stopped wearing socks." – Albert Einstein
"I'll tell you one thing you can't do: you can't put your shoes on, then your socks on. – Author." Flavor Flav
"My socks DO match. They're the same thickness." – Steven Wright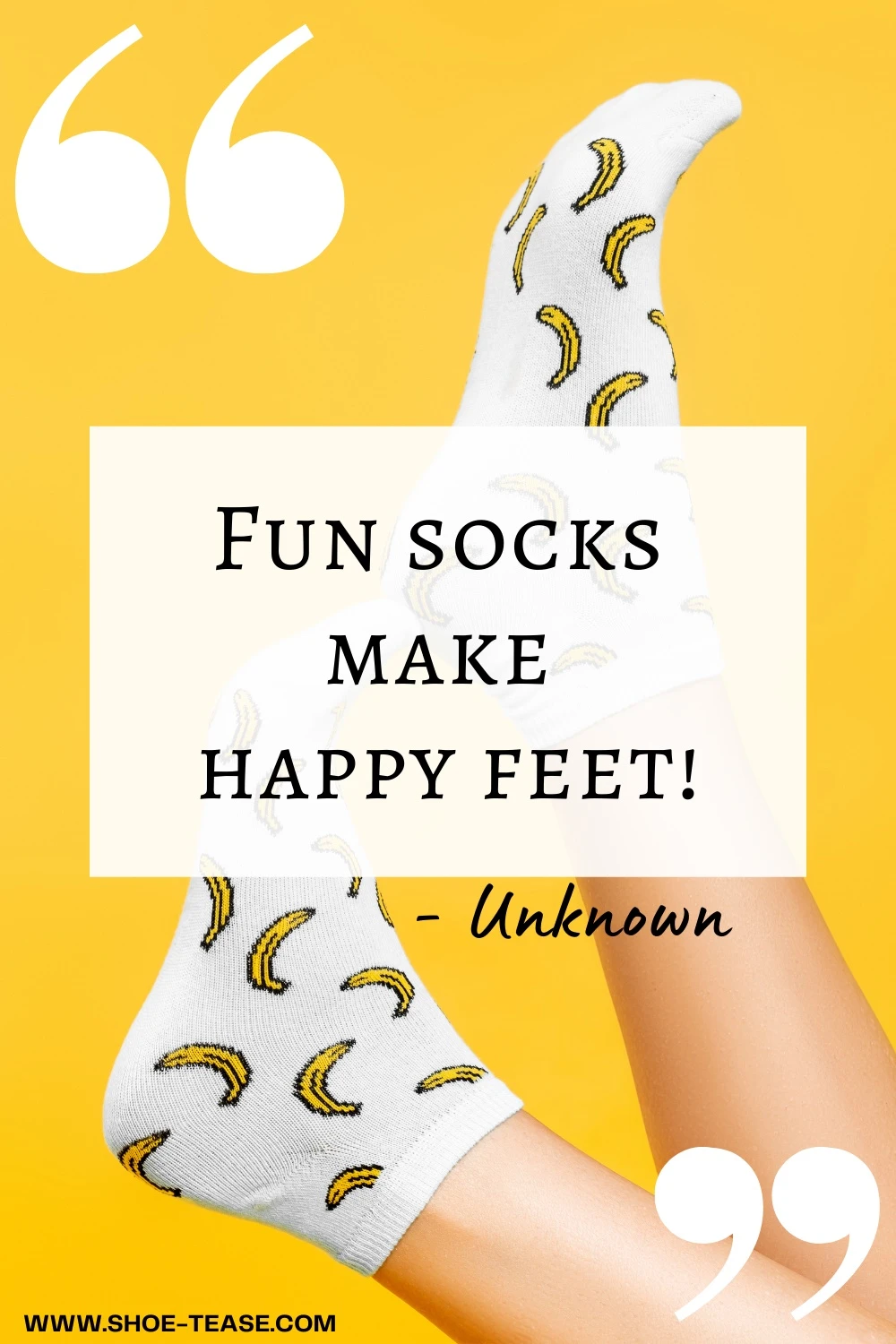 "Fun socks make happy feet!" – Unknown
"Six days shalt thou paddle and pack, but on the seventh thou shall wash thy socks."- Aldo Leopold
"Granny always said finding justice was as tough as putting socks on a rooster." – Jessica Maria Tuccelli
"I wish I could change my mind as easily as I change socks. But then I don't change socks so easily." – Francesca Woodman
"Husbands and wives are so irritating. But without them, who would we blame for misplacing our socks?" – Janet Periat
"No article of human apparel has been more taken for granted than the sock".- Nancy Bush
"One can never have enough socks." – Unknown
"I'm not wearing any socks and I have the panties to match." Unknown
Fun & Funny Stocking & Pantyhose Quotes
Of course, it wouldn't be fair only to list quotes about shoes, when there are many pantyhose and stocking quotes! Plus, tights and hosiery have become even more fashionable as of late!
I even wrote a post about the best shoes with tights, so these quotes might be useful to include in any upcoming Instagram posts about stockings! Do you recognize any from below?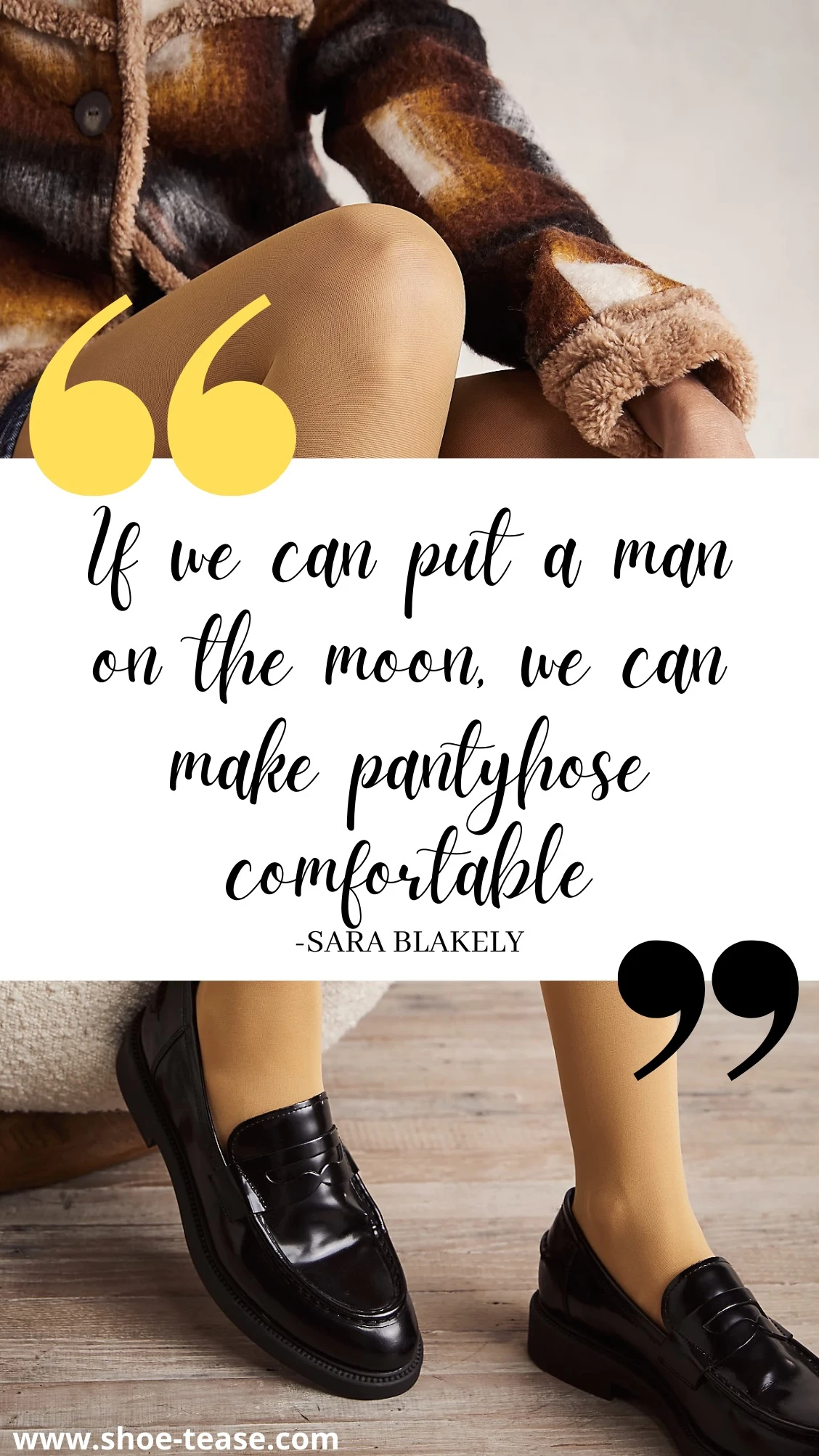 "If we can put a man on the moon, we can make pantyhose comfortable." – Sara Blakely
"Women want men, careers, money, children, friends, luxury, comfort, independence, freedom, respect, love, and a three-dollar pantyhose that won't run." – Phyllis Diller
"I love the whole lingerie outfit – you know, thigh-high tights and garters." – Jodi Lyn O'Keefe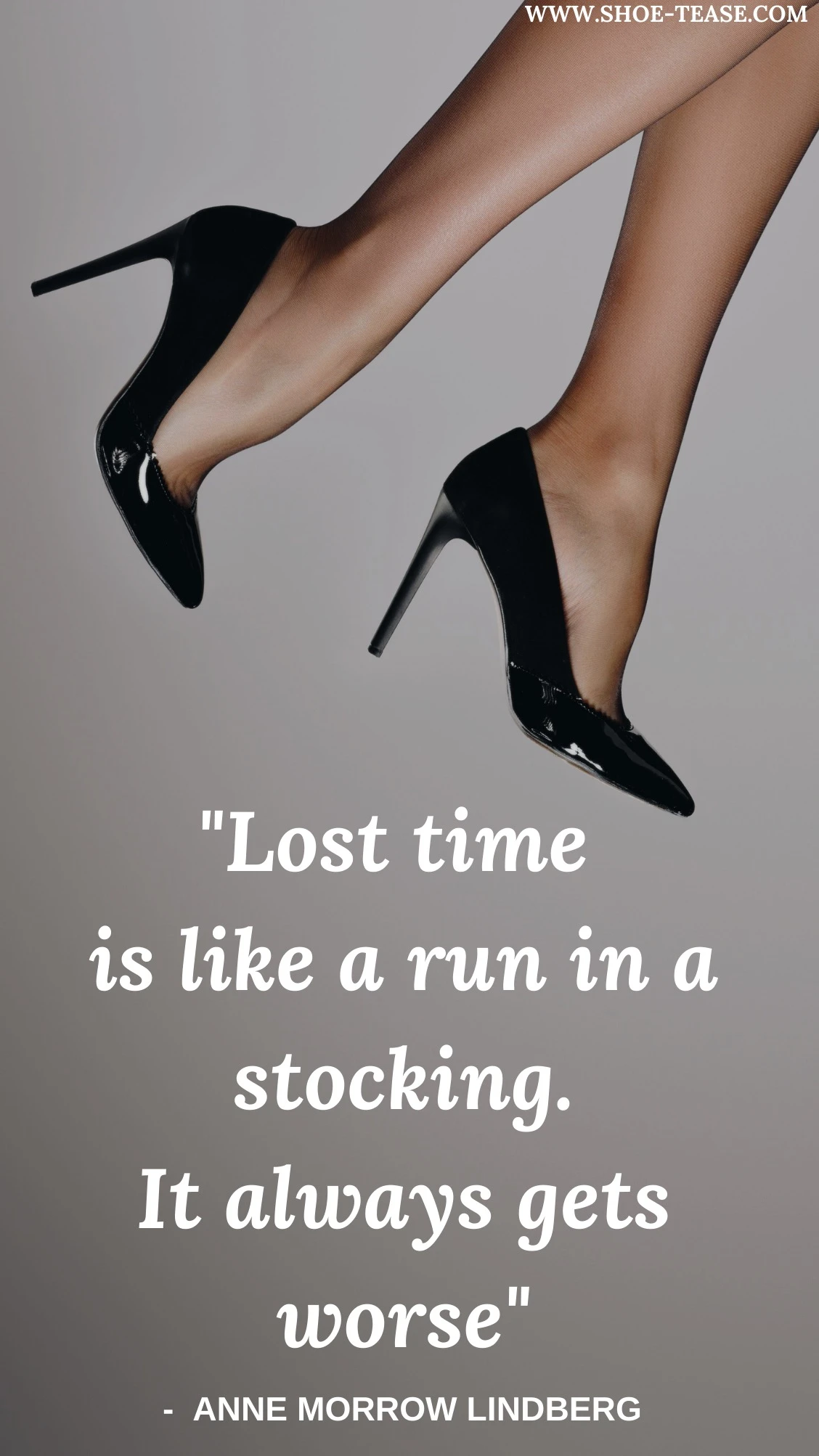 "Lost time is like a run in a stocking. It always gets worse." – Anne Morrow Lindberg
"A woman's education consists of two lessons: never leave the house without stockings, never go out without a hat." – Coco Chanel
"I love intimate details like lingerie, something like gorgeous silk stockings or exquisite slippers." – Austin Scarlett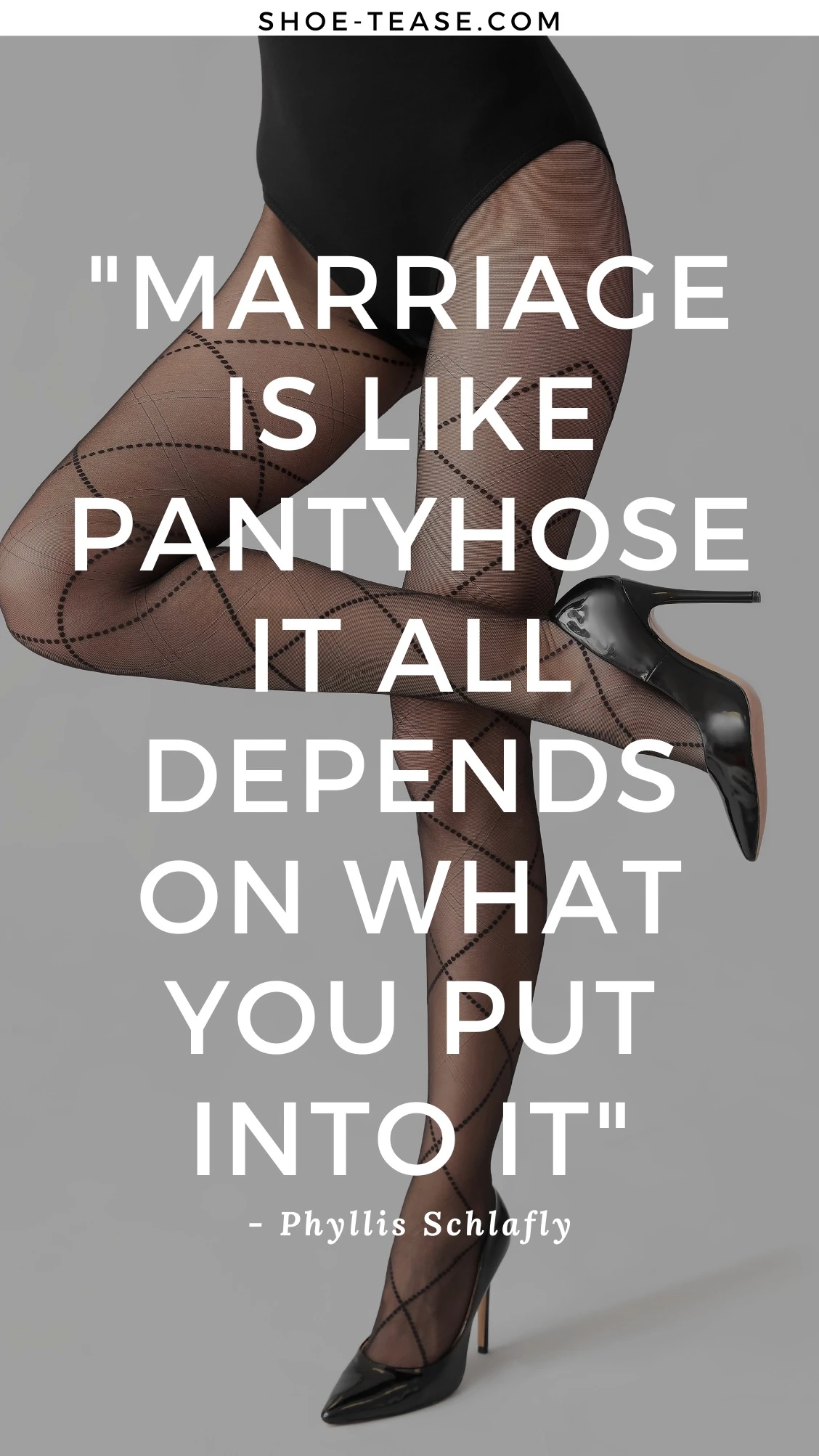 "Marriage is like pantyhose. It all depends on what you put into it." – Phyllis Schlafly
"In America the word 'revolutionary' is used to sell pantyhose." Rita Mae Brown
"I couldn't wait until I frew up. I used to look at my mom's stockings and put them on with her high heels and mess with my hair." – Florence Griffith Joyner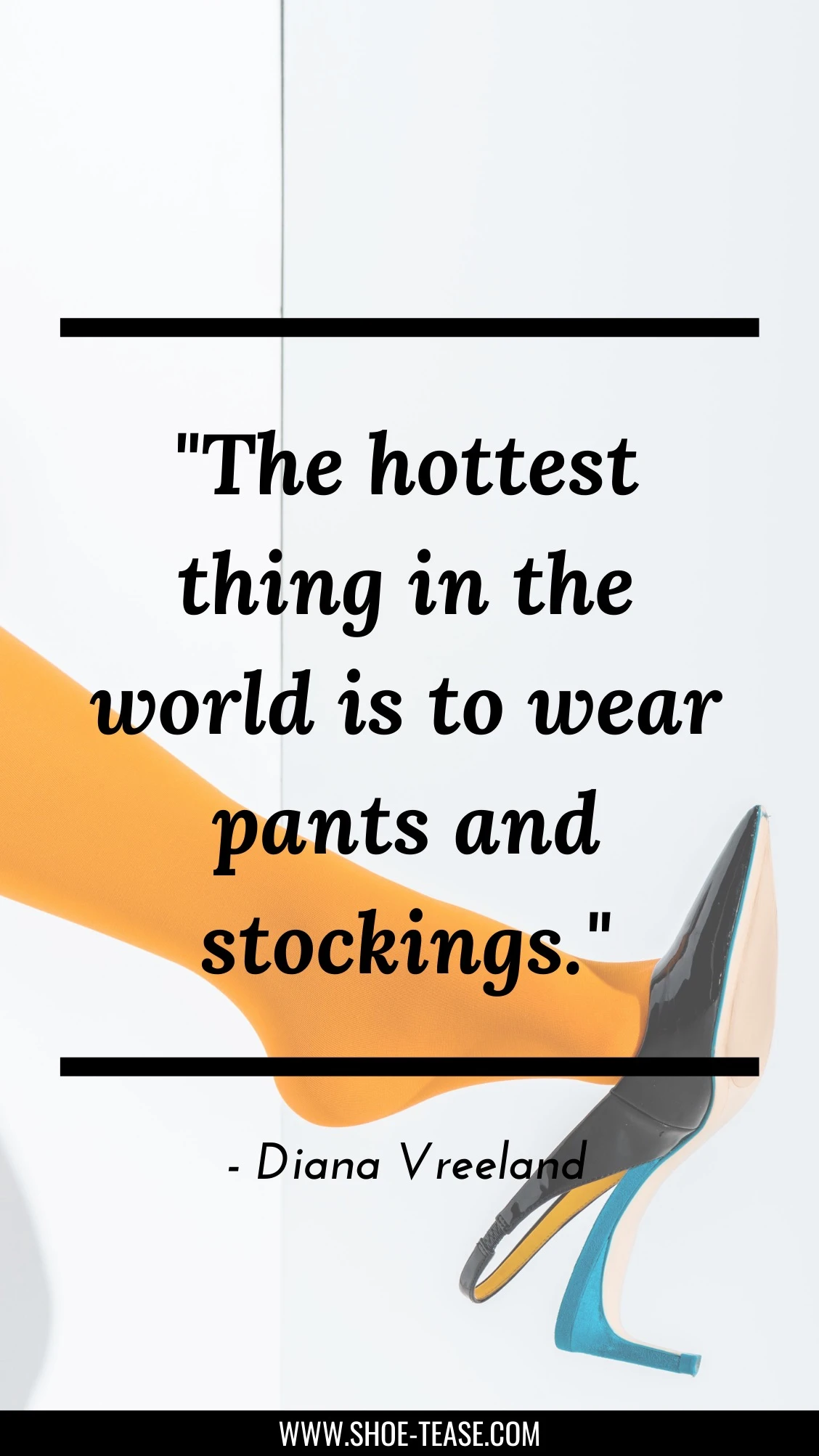 "The hottest thing in the world is to wear pants and stockings." – Diana Vreeland
"Men are like party hose: some of them run, some of them cling, and some of them just don't fit right in the crotch." – Unknown
"Imagine a country that flies into space, launches Sputniks, creates such a defense system and it cannot resolve the problem of women's pantyhose. There's no toothpaste, no soap powder, not the basic necessities of life. It was incredible and humiliating to work in such a government." – Mikhail Gorbachev
Final Thoughts on Socks Quotes & Pantyhose Quotes
I hope you had fun ready the many quotes about socks and pantyhose that I've assembled for you here in this post! I've done my best to find the author of each socks quote.
If any are attributed to "Unknown" and you know the person or character who spoke those words, please let me know!
Looking for even more shoe and sock fun in literature and visuals? Have a look at my review of the fabulous coffee table book "It's All About Shoes,". It features many gorgeous street style shots of shoes – and socks & pantyhose – to elevate your love for shoes and hosiery.
You know, if that's even possible! And have a look at my new guide outlining all the types of shoes for Women.
But before you go, let me know which are your favorite quotes about socks? And if I've missed any socks quotes that I should add to this list, leave me a comment, below!
xo ShoeTease