I get it, wearing socks with sandals, heels or flats can be a style choice. Yet sometimes when we opt for the opposite look, keeping our socks neatly tucked into our shoes can be problematic.
What drives me bonkers are supposedly no show socks for flats and heels that peek out from the edges of your shoes.
This is an unsightly look & a serious fashion faux pas in my books. Heck, I write a shoe blog; things like this can't happen to me!
These kinda socks also tend to slip off the heels too, driving me insane. You know, that phenomenon when your shoes "eat" your socks (can you tell I sweat the little things, lol?)!
Thankfully I've found a solution that is better than simple footies socks & for more reasons than you'd think!
Hidden Socks?! Fab No-Show Socks for Flats & Heels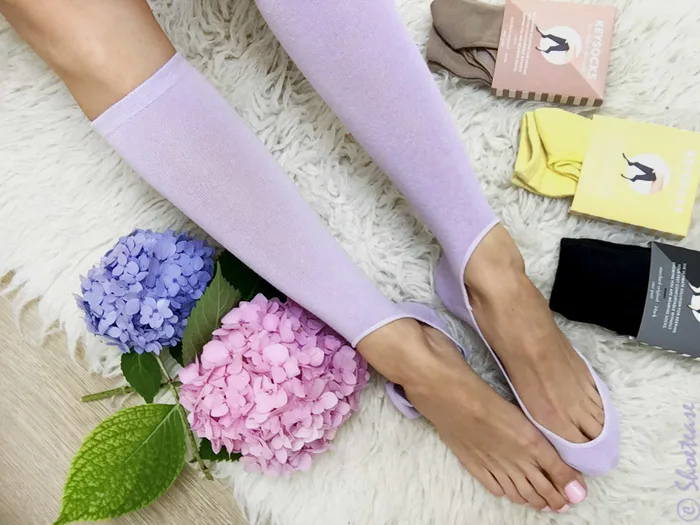 Keysocks are great, albeit strange looking socks, that do much more than your regular old tube socks or footies socks could!
These knee-high socks with strategic, patent-pending "key" hole placement are the perfect socks to wear with pants, when you want to bare the upper part on your foot in ballerina flats & high heels. And we've all been there, right?
Trying to get that little foot sock on & keeping it in place. And hidden socks that play peek-a-boo are anything but hidden or subtle!
Not to mention trying to find those little suckers in the wash. They're also a great hidden sock to wear if you want to make shoes smaller. Pssst: you can get them from Amazon.
Sold in a vast array of classic & fashionable colors, Keysocks also come in 2 weights:
The Original Keysocks – These are the thicker of the no show socks for flats and heels. Ideal for cold offices & icy temperatures, they are made of a moisture-wicking blend of Coolmax® polyester & form fitting Lycra® spandex. Not only will these hidden socks suck away moisture from your skin, but your feet will be able to breathe efficiently & dry fast. Meaning they'll also get less stinky. Yes, I said "stinky".
Keysocks Light Socks – Made from a patented material that converts coffee residue into an eco-friendly, light-as-can-be fiber. Yeah, I had to read that one twice myself too!! The lighter of these no show socks for flats and heels are a great buy for Spring/Summer. They will keep your feet dry so you don't slosh inside your sweaty shoes!
I just love how this useful shoe accessory's first prototype was created out of spontaneous necessity.
Wanting to wear a pair of low-profile flats to a Fall season football game, inventor Shelby Mckee took a pair of her husband's knee-high dress socks & imply cut holes in them. And voilà, Keysocks was born!
Keysocks Review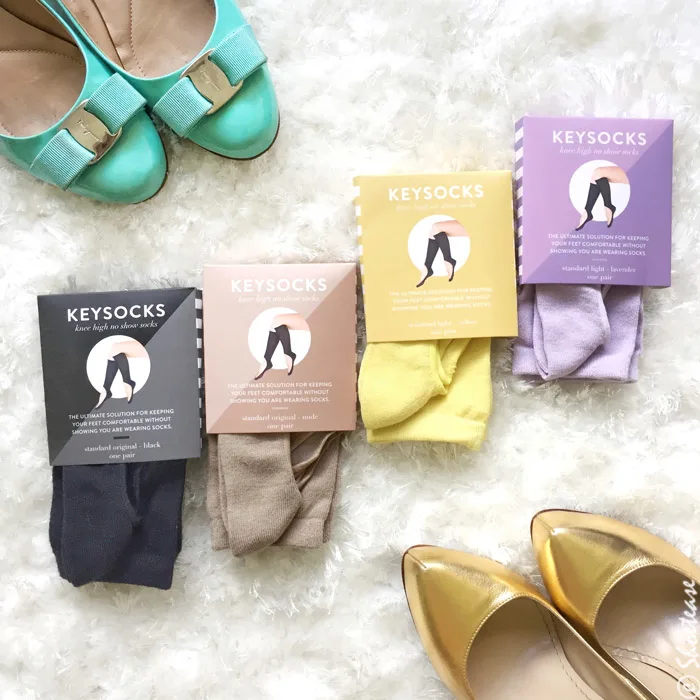 I was lucky enough to get to review both types of Keysocks c/o the brand. I found them both comfortable, soft & stable. The elastic on the leg & upper foot holes are strong & sturdy.
When worn with either a flat shoe or high heel, these no show socks for women STAY ON. And they're ridiculously stretchy, so they won't cut off your circulation. I mean blue toes…none of us wants that, right?!
Instead of rambling along in run-on sentences about hidden socks, let's take a look at the 5 main factors that make Keysocks so much better than classic footies.
But just so that you can evaluate my comments better, I have a size very narrow size 8 foot & small calves.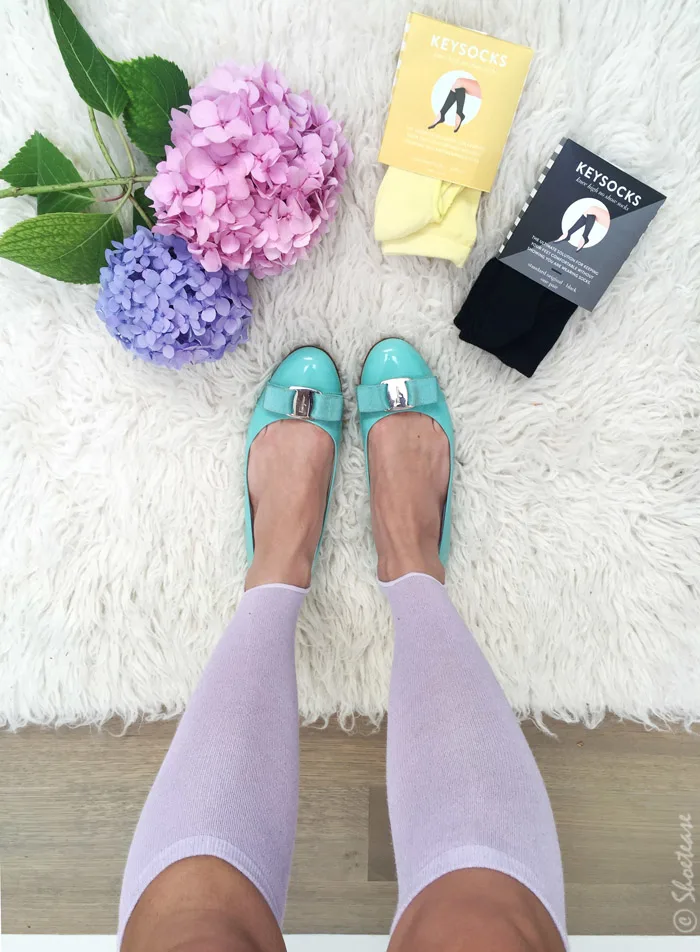 5 Reason to wear Keysocks: no show socks for flats & heels
These stay in place; no more scrunched up socks after barely walking one block!
Prevent your bare foot from chafing against the inside of your shoes, preventing blisters
Keep your feet & legs warm & dry in cooler temperatures
They act as padding for a heel or flat that is a too big, or needs time to break in
100% hassle free guarantee: love 'em or send them back. No questiosns asked!
Ok, this point is, in fact, #6! But totally worth mentioning that if you sign up for their newsletter over at www.keysocks.com, you'll get 20% off your first order! Some of the styles are also presently on sale 🙂
Yet even a great product sometimes comes with some cons. These are a few observations:
Keysocks only come in one foot size, so if you have a small foot (say, 6 or smaller) these socks are going to fit rather large. I am a size 8 & there was a bit of wiggle room. They do, however, come in both a regular & wider size to fit 17″ calves.
These no show socks worked well & stayed hidden in flats. But when wearing heels, the socks did peek out from the sides. As I have a very narrow foot, I had a couple friends with regular to wide feet try them on with heels & they remained hidden perfectly. Hence, if you have a narrow foot, there will be extra fabric that may show around the outer edges of the toes & feet.
Unless you're partial to unconventional dressing (especially with respect to your socks!) Keysocks no show socks for flats and heels will only work with long pants. Good news is that the brand is in the midst of developing a shorter sock, so hang in there!
All in all this is a fabulous, innovative product that will fit 99% of foot sizes and both slim & wider legs. They come in pretty summer shades & classic colors such as brown, black & nude/beige.
They retail for $11.95 for 1 pair & are right now on sale at $38.85 for a pack of 4. Are no show socks for flats and heels something you'd find useful & wear? Let me know in the comments below 🙂
Check out more socks and hosiery, and shoe accessories posts from the blog!
More Posts about Socks & Hose:
xo ShoeTease
Cristina is the chief editor, fashion & shoe expert here at ShoeTease. As a seasoned stylist and women's fashion & shoe designer, she boasts over 20 years of experience in the fashion industry. She loves crafting effortless outfits for ladies both online and off and believes that styling advice should be accessible to everyone. Whether you're a styling pro or just starting out, Cristina's here to guide you on your fashion journey! Learn more.