Crocs – the ugly but lovable shoes, have become a pop-culture phenomenon. And people have started to come up with some great, funny, and even inspirational quotes about Crocs!
Thanks to celebrities and athletes, Crocs continuously makes a controversial splash, season after season. Especially with all the designer collaborations coming and going!
But what makes Crocs so unique, you ask? Their clunky look, whimsical cut-out and funky colors, vs the more sleek shoe counterparts. You can say what you want, but these types of shoes are extremely polarizing!
So if you have a less loving relationship with Crocs, don't worry! In addition to positive quotes about Crocs, I've also collected quotes that aren't so happy-top-Croc-ey.
These include quotes from and for those who have felt personally offended by them. Of course, these are probably some of the funniest Crocs quotes!
Today on shoe-tease.com, I will share over 45 of the best Crocs shoes quotes with you. Many of which will make great Crocs captions for Instagram.
So show off your love (or possible hatred!) of Crocs using one of these many quotes below:
All the Best Crocs Quotes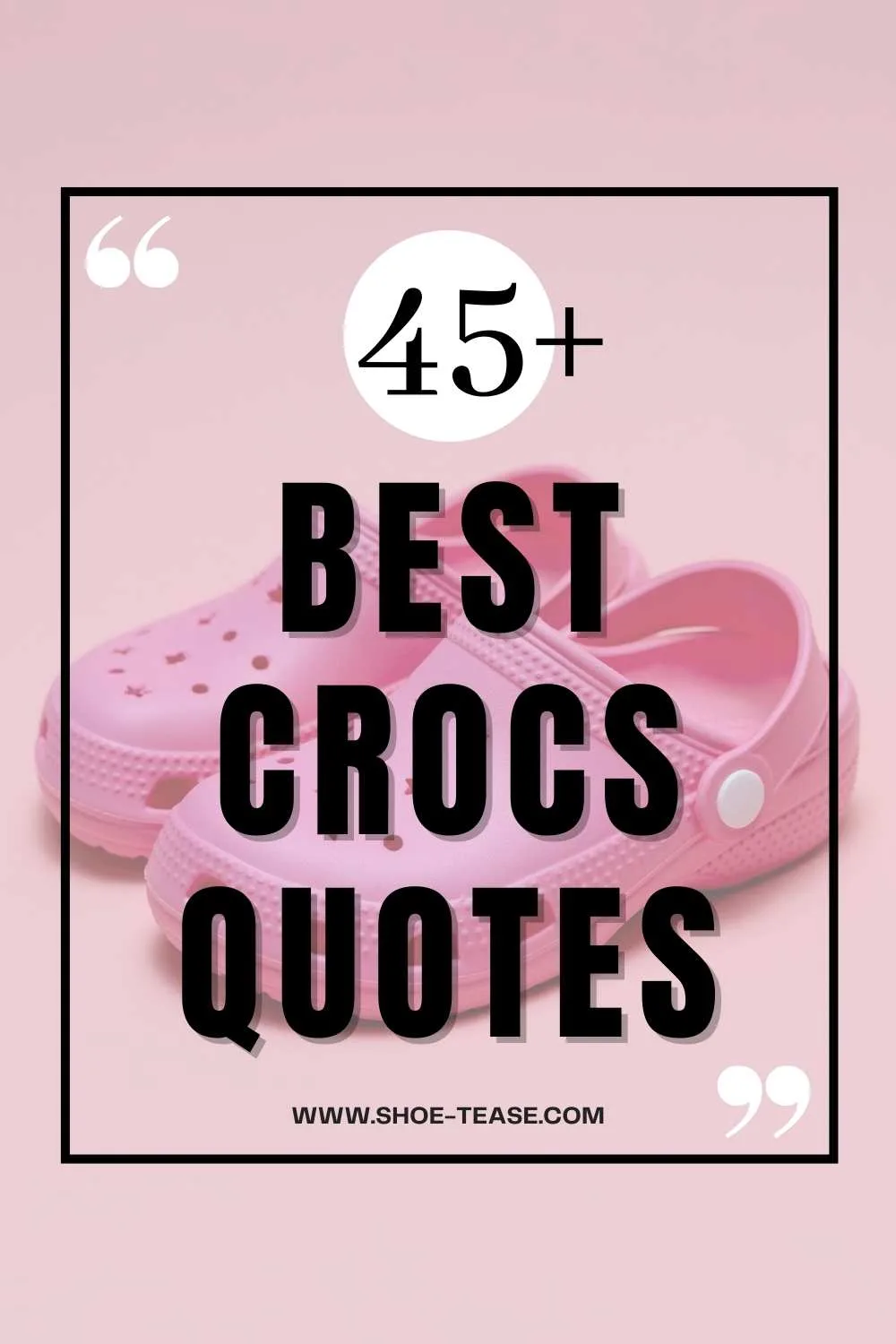 Positive & Inspirational Crocs Quotes
Some people love Crocs. And I mean, they love Crocs A LOT. I mean, once I commented "yikes" on a particularly hideous design on Instagram and the Crocs lovers were after virtual blood!
For all those that swear by Crocs are the epitome of great footwear (or at least great leisure footwear), below are the best positive Crocs quotes to inspire your love of this unconventional footwear: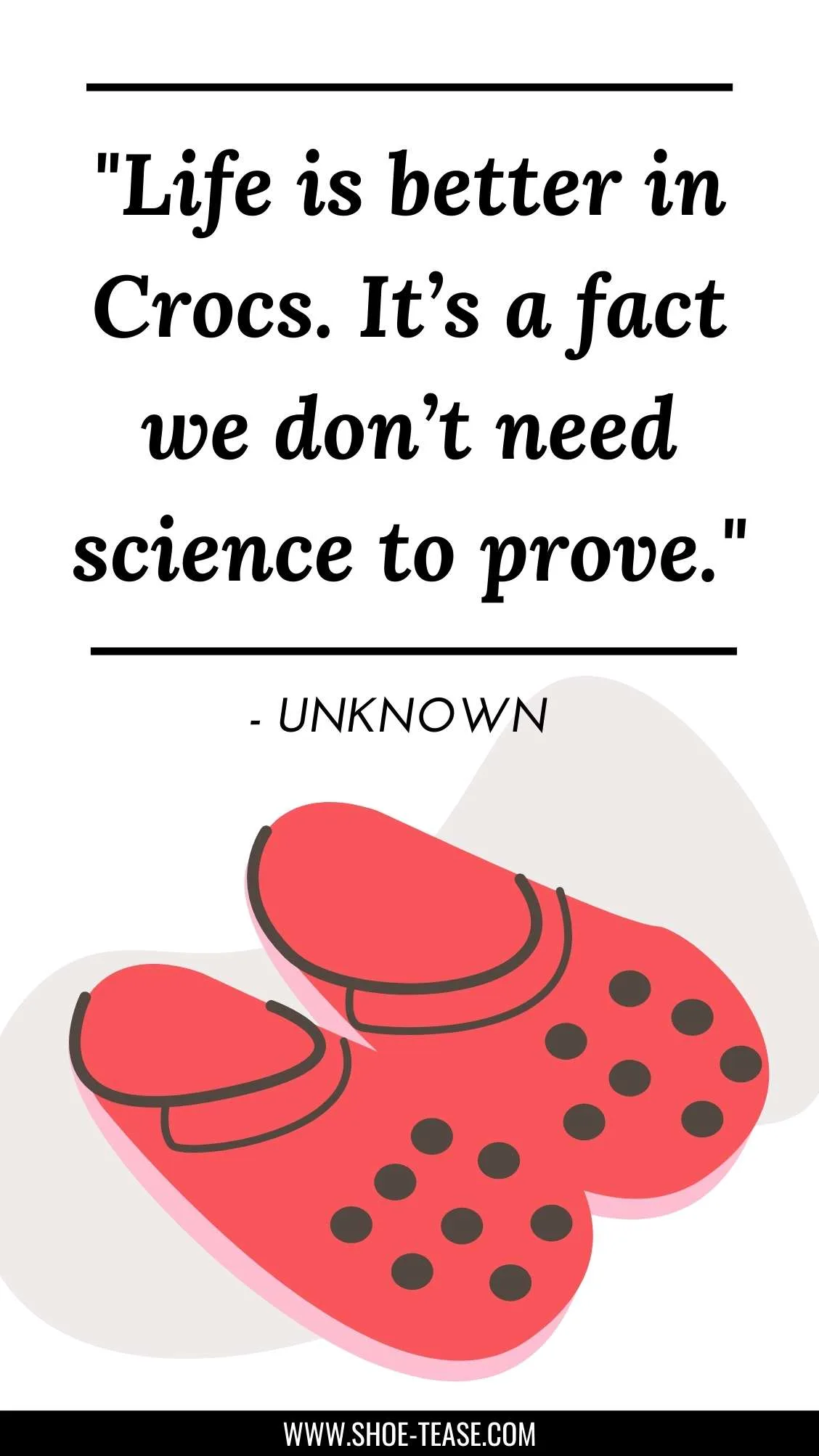 "Life is better in Crocs. It's a fact we don't need science to provef."
"The only shoes that look futuristic are Crocs, but they would be terrible to use in a futuristic movie."- Olivier Theyskens
"My uniform is sweatpants, so crusted over with dried paint that they're as hard as a table. I wear T-shirts that are also covered in paint, and Crocs."-Caio Fonseca
"If I can't wear my Crocs, I'm not going."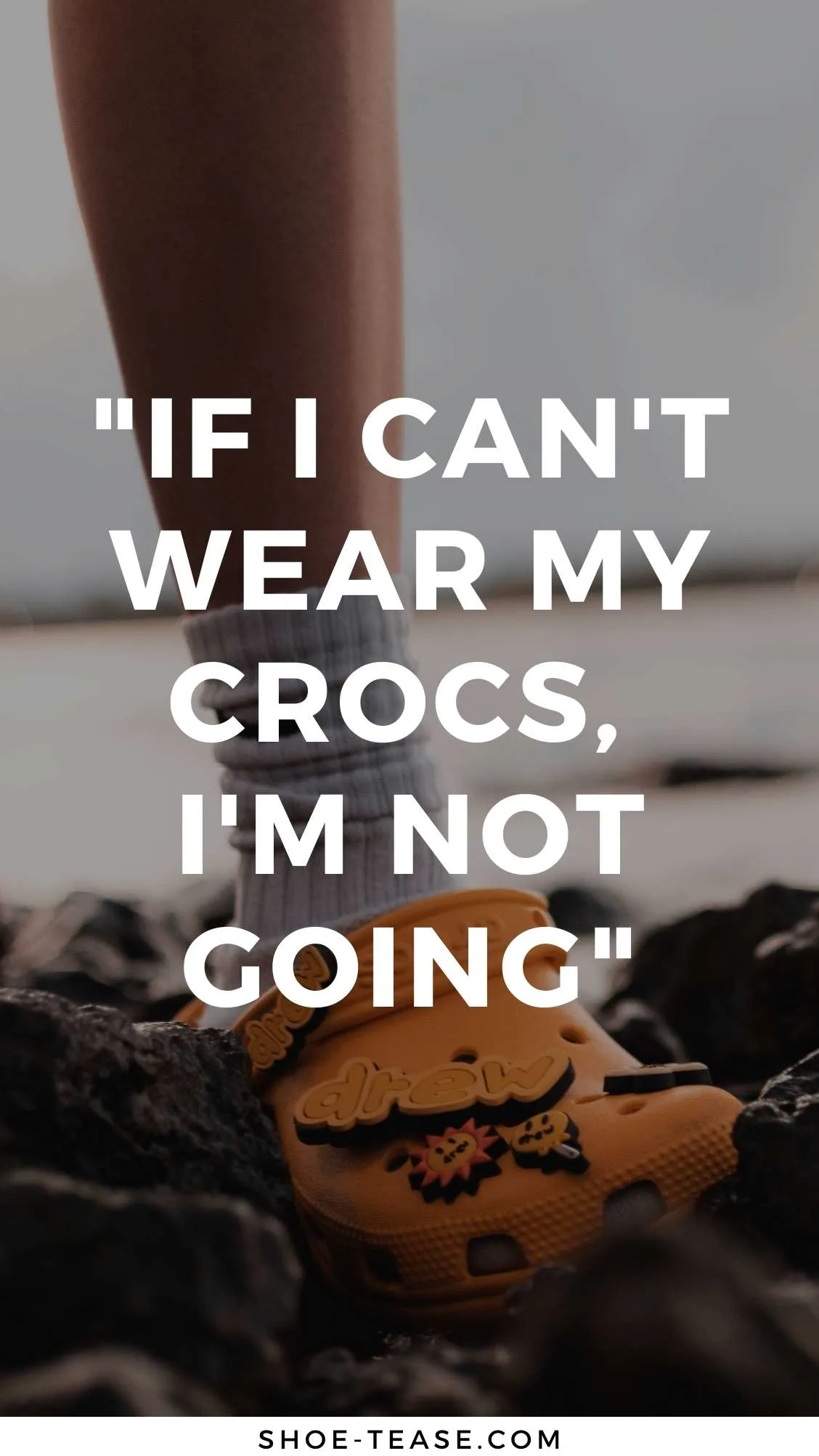 "A Croc is like a back hug: always available when you need it most!"
"Just bought my first pair of Crocs. Very excited to wear them to work!"
"I'm taking it back to my roots. Those roots? A pair of Crocs Classic Clogs."
"Life's short. Wear Crocs."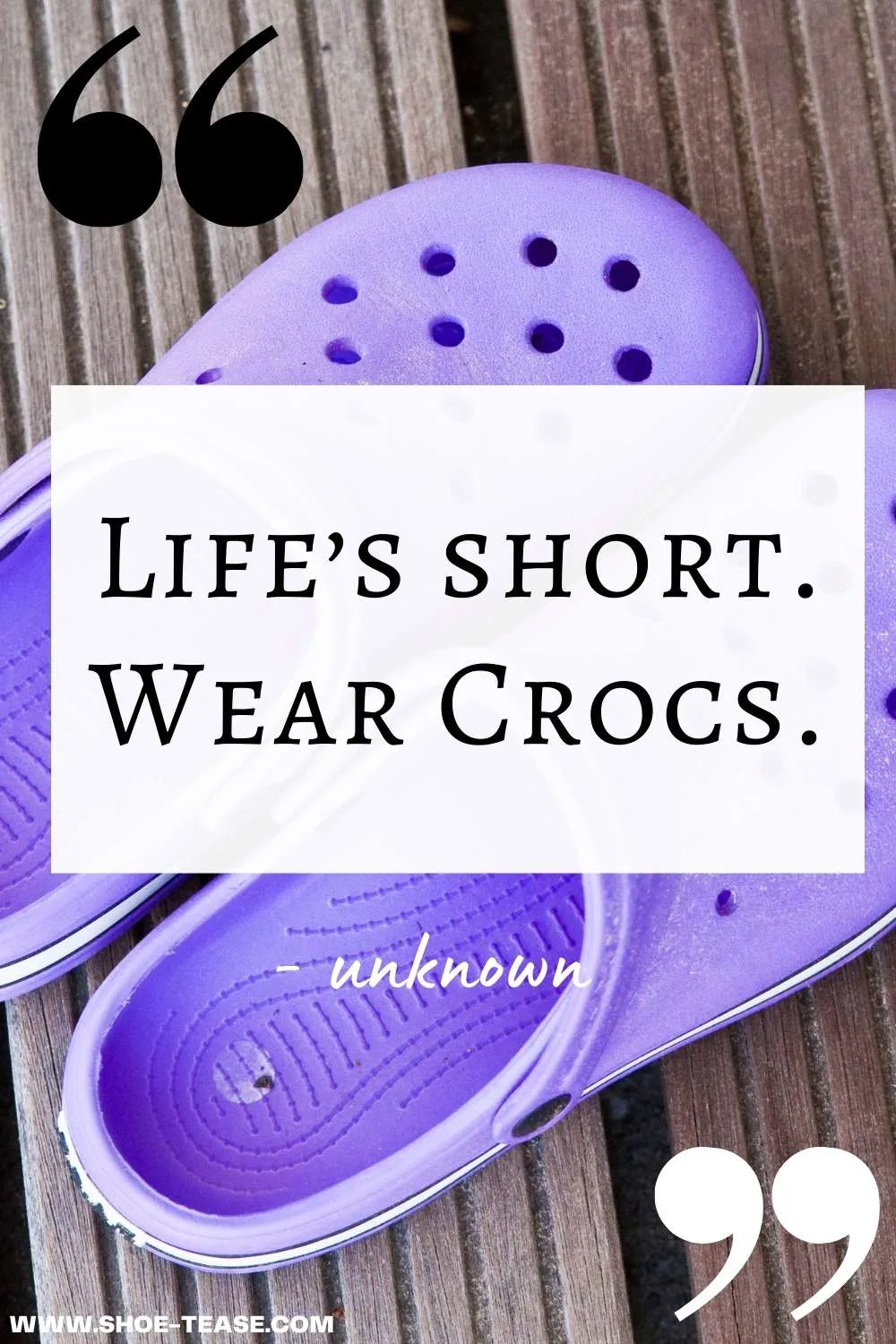 "Once upon a time, there was an extraordinary, stylish little shoe company called Crocs that made shoes that were fun. Clever. Hip. And then the world changed. Crocs changed."
"You Croc my world."
"Crocs are the first step to adventure."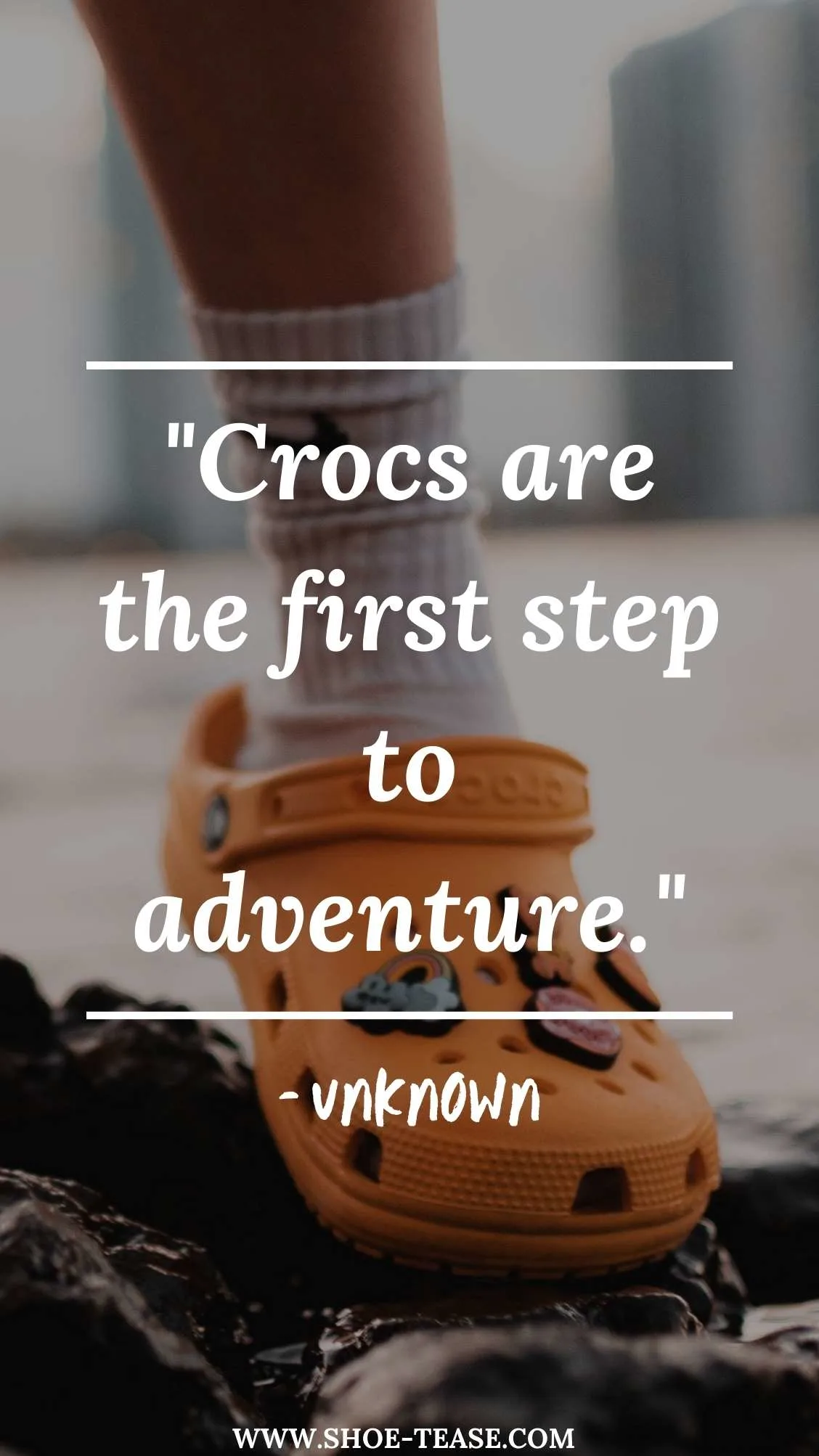 "You don't have to wait until the weekend to break out your best kicks. The more you wear your Crocs, the more comfortable they get – so you just might walk in comfort all week long."
"Crocs – Shoes you can wear all day, to rediscover your world in comfort and style."
"Everywhere you want to be, there are #Crocs. What are you doing today?"
"Wearing Crocs with a suit."
"If you aren't Crockin' you aren't rockin'."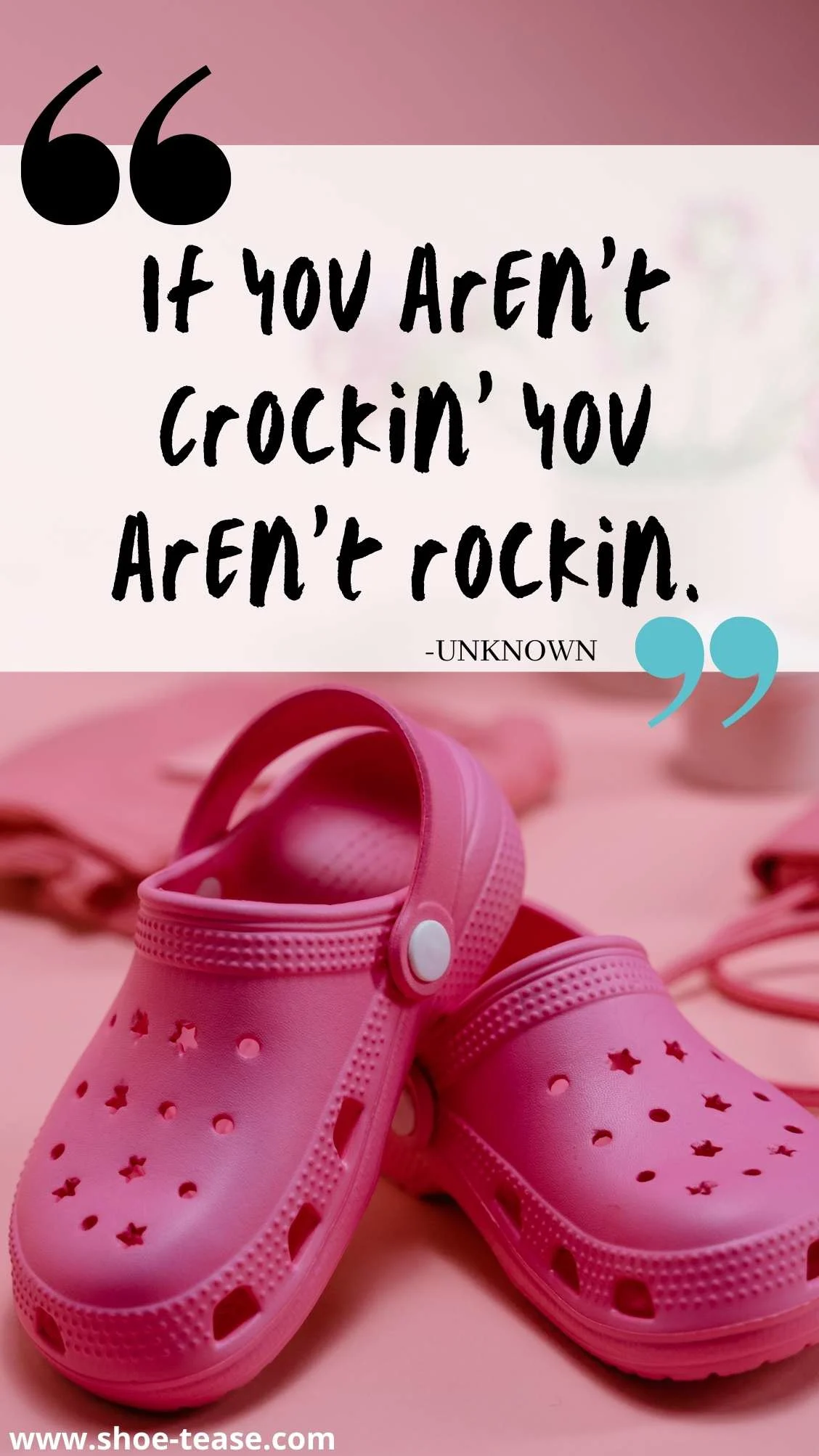 "There's no wrong way to wear Crocs—just make it your own."
"Who doesn't love a good all-rounder? Come on girls, tell me you have Crocs in your closet. You know you do."
"Treat your feet. Happy spring from Crocs."
"There is no wrong way to wear Crocs—we like them with socks and everything! An unstructured, unapologetically comfy shoe that looks as good as it feels."
"Hi there, friend. I'm Crocs footwear. I love feeling the sand on my toes, peace, liberty, and freedom!"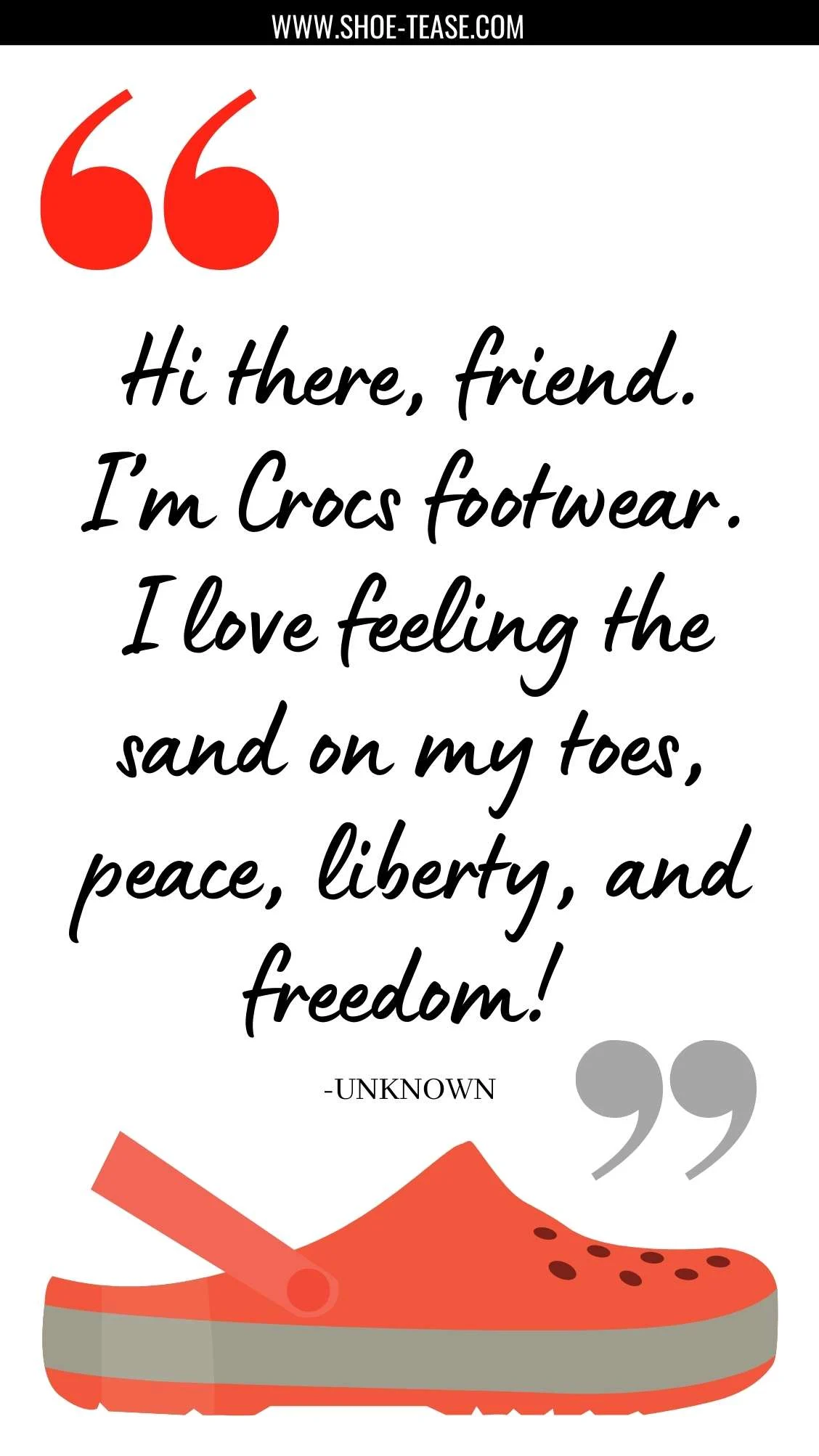 "When the chill in the air makes everything feel fresh and crisp, you can still tote around this pair of Crocs to get things done."
"Crocs are like shoes, but better."
"Shoes should be as comfortable as your favorite pair of Crocs clogs."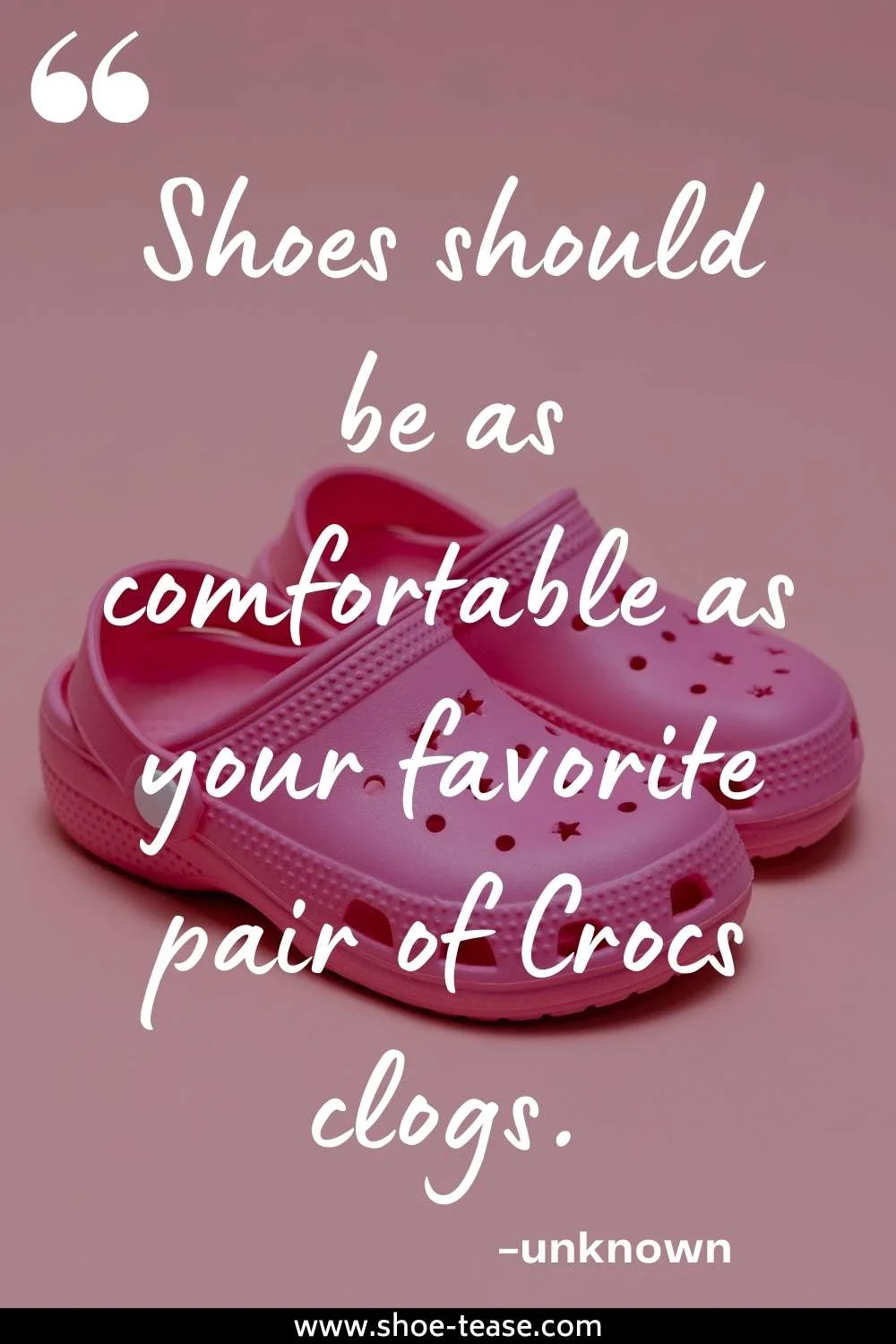 "I don't know why it took me this long to jump on the Crocs bandwagon, but I finally understand the appeal."
"Crocs take you places."
"Simple days. happy days. cozy days. wonderful days. Days that require you to put on your favorite pair of Crocs.— 'cause there's nothing better than that light, cushy feel!"
"Keep your feet in the sand, in the sunshine, or under the stars in these cool new Crocs."
"Crocs have been a longtime customer favorite for their comfort, style, and versatility."
"Forget glass slippers. This Princess wears Crocs!"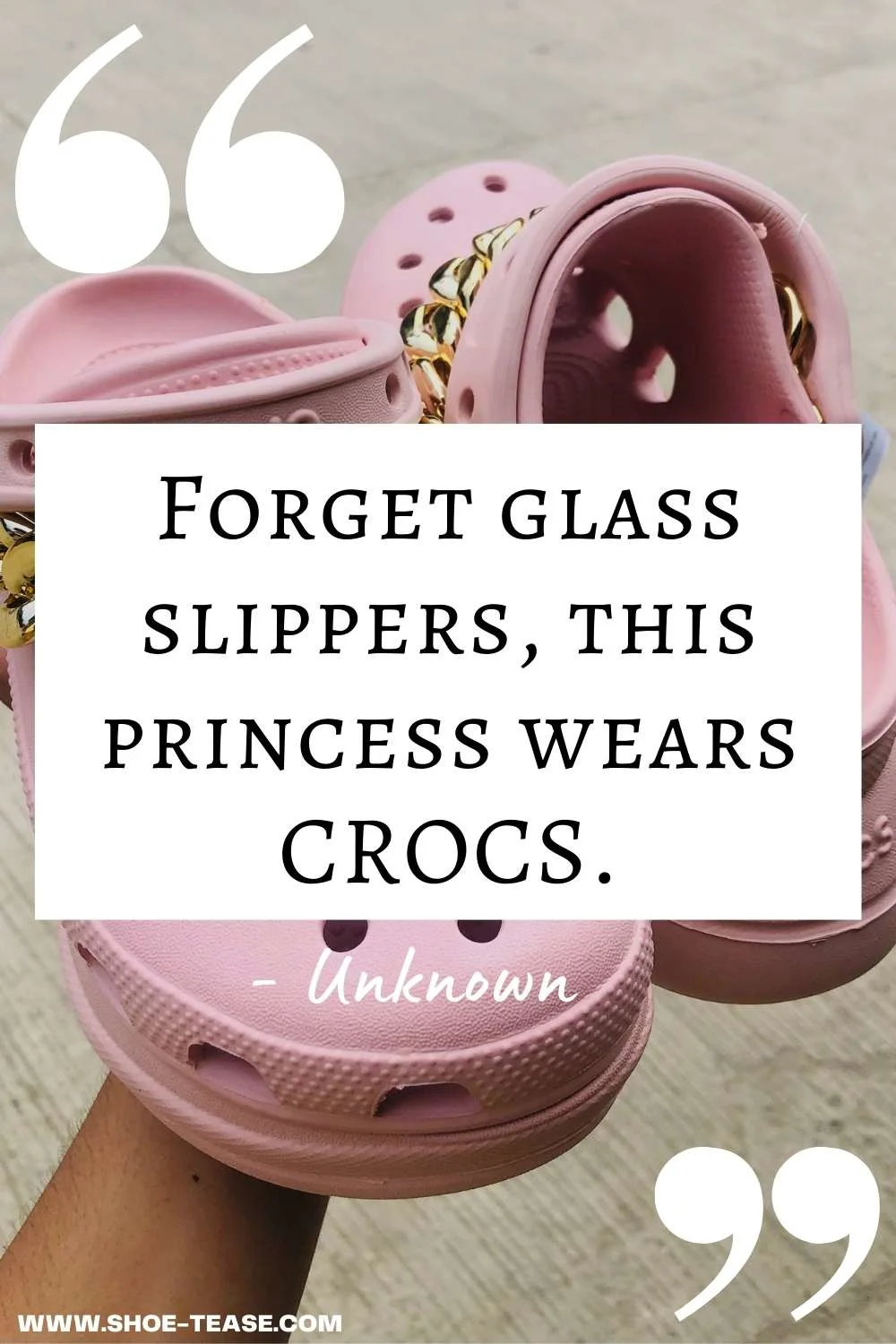 "Have you met the Crocs yet? This is a seriously stylish shoe with a flexible base and creative design."
"It's time to take your kicks to the next level. Introducing Crocs footwear for men and women, with a high-end twist.
"Let's face it: Crocs make you feel like you can conquer the world."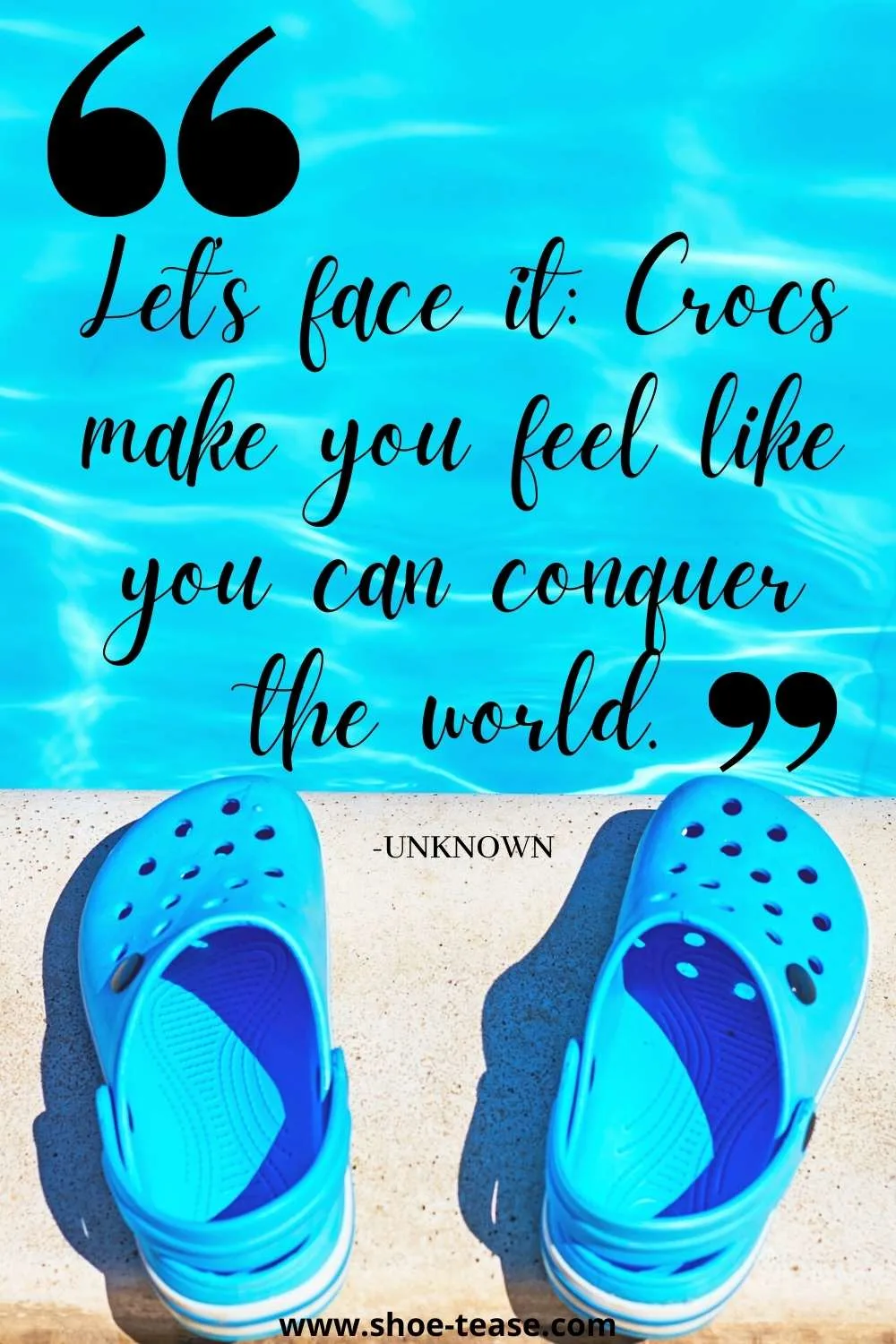 "When you're comfortable and confident, all that matters is what's on your mind, not what's on your feet. I found my 'voice' when I found Crocs."
"Crocs are like a warm blanket on a cold night – you may not want to admit it, but they're comforting."
12 Crocs Quotes for the Non-Lovers
Are you a Crocs hater? Below are some negative quotes about Crocs for your to share your disdain of this polarizing footwear!
From Tim Gunn's famous quote about Crocs, to lesser known Crocs quotes. Also included are some quotes I've created myself 😉 Have your pick from the following 12!
"May I respond by merely saying, "I hate Crocs. May they please go away." – Tim Gunn
"If you want to look like a clown, wear Crocs."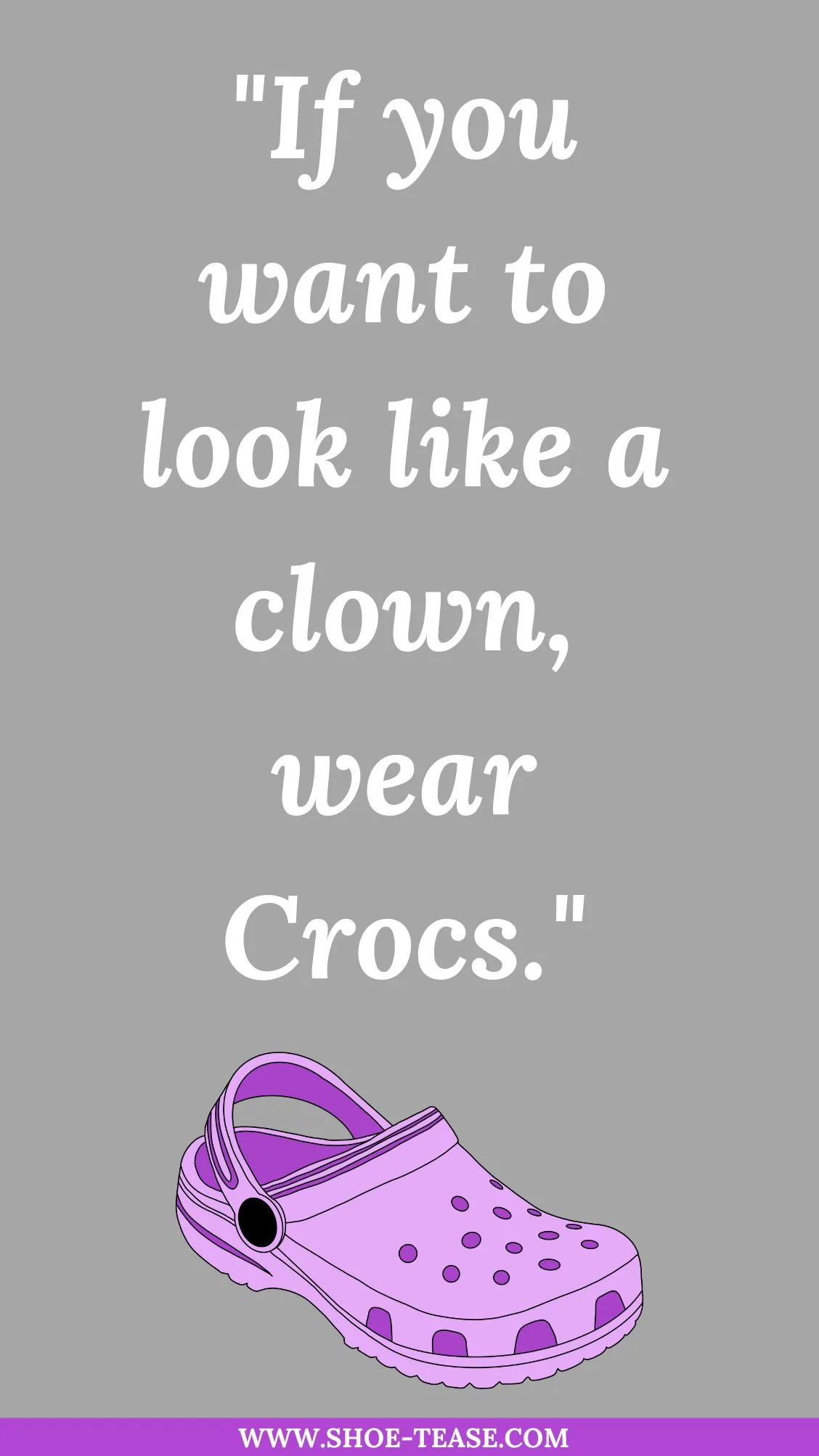 "Crocs embody everything that is wrong with fashion today."
"Crocs will never go out of style… because they never came into style."
"Crocs are the perfect shoes for lazy people."
"WOW, those Crocs are Awesome! Where can I get some? Said no one. EVER."
"Crocs are the perfect combination of ugly and comfortable."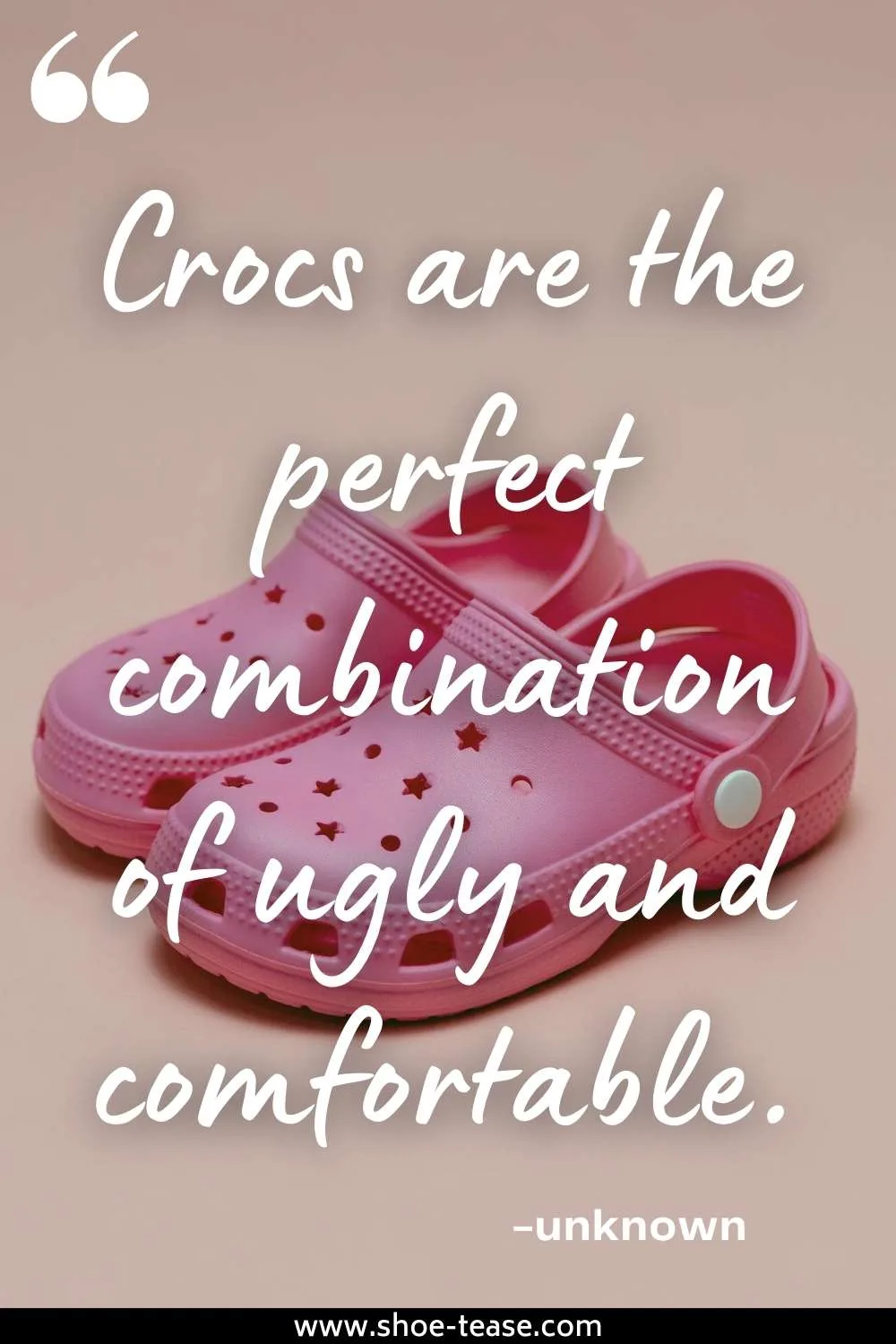 "Crocs are the perfect shoes for people who hate their feet."
"Crocs are ugly and uncomfortable."
"Crocs give you blisters and make your feet sweat."
"See those little holes [in your Crocs]? That's where your dignity leaks out."
"If you wear Crocs and she still goes out with you, she really loves you!"
Final Thoughts about Crocs Quotes & Captions
So there you have it, 45+ of the best Crocs quotes out there! Love them or hate them, they've heavily influenced the ugly shoes trend that has been ongoing still today.
I hope you've found a few great quotes about Crocs to use in your Instagram or social media captions. Or to inspire your love – or disgust – of these shoes. If the latter is your case, and you want to start or add to your collection, you can shop Crocs shoes from Zappos, Walmart, DSW and directly from the Crocs website.
Did your favorite Crocs quotes make the list? Let me know in the comments! Also, if you have any great quotes about these funny shoes that I haven't added, or if I've not made a correct attribution, please give me a heads up.
Love Crocs and don't know what to wear them with? Then check out my post about how to wear clogs!
xo ShoeTease
Cristina is the chief editor, fashion & shoe expert here at ShoeTease. As a seasoned stylist and women's fashion & shoe designer, she boasts over 20 years of experience in the fashion industry. She loves crafting effortless outfits for ladies both online and off and believes that styling advice should be accessible to everyone. Whether you're a styling pro or just starting out, Cristina's here to guide you on your fashion journey! Learn more.