After the holiday chill this year, I decided I had to get away from the cold ASAP! I mean, Canadian winters are hard to manage without breaking them up a little. So I packed up my brand new Nine West Canada shoes, grabbed my son & headed for a last minute all inclusive vacation at the Hotel Paradisus Varadero Family Concierge resort in Cuba.
Hotel Paradisus Varadero Family Concierge Review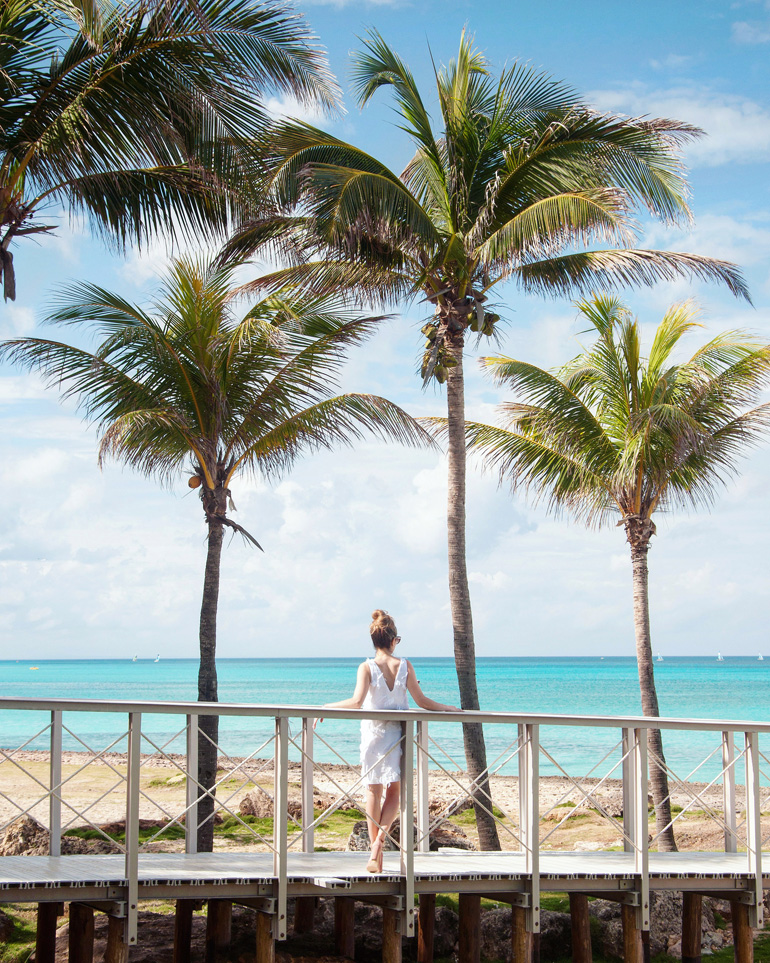 I had already experienced both the Paradisus & Paradisus Reserve at the Melia-owned Punta Cana locations in the Dominican Republic & loved them. I thought I'd switch things up this year & go to Paradisus' Cuban resort in Varadero. The off season sale they had going on was definitely a deciding factor 😉 I booked through Air Transat, but Sunwing also has packages available. You can also book via Hotels.com & Expedia.
The Family Concierge by Paradisus is a higher category, when comparing it to the main Hotel Paradisus resort. I mean, you get your own area, newer rooms, first dibs on a la carte restaurants and…your own butler. Yep, you read right! And it was $100 per person to upgrade from the Paradisus, and boy was it worth it!
Just a note that we stayed at the Paradisus in Varadero the second week of January, the week school started back after the holidays. The low season didn't just reflex in the pricing, but was also reflected in the low volume of people staying at the hotel. If felt like my son & I were one of the only guests. It was blissfully peaceful; my kind of vacation!
Junior Suite Rooms- Paradisus Varadero Family Concierge
Ok, so when you go to a beach destination, your room won't be your main lounging area, but a clean, bright & spacious room is always great to have & quite frankly expected at a 5 star hotel. And the Family concierge rooms did not disappoint.
Our room was virtually spotless, the towels plentiful (including 3 beach towels) & the amenities considerable. Especially for the kiddies! Had I known they would provide a toothbrush, toothpaste, bubble bath, loofah, bug spray (you will NEED this!), body lotion, beach toys & much more, I would have packed much less! I loved the soaker tub, the separate rainfall shower & ample space all around.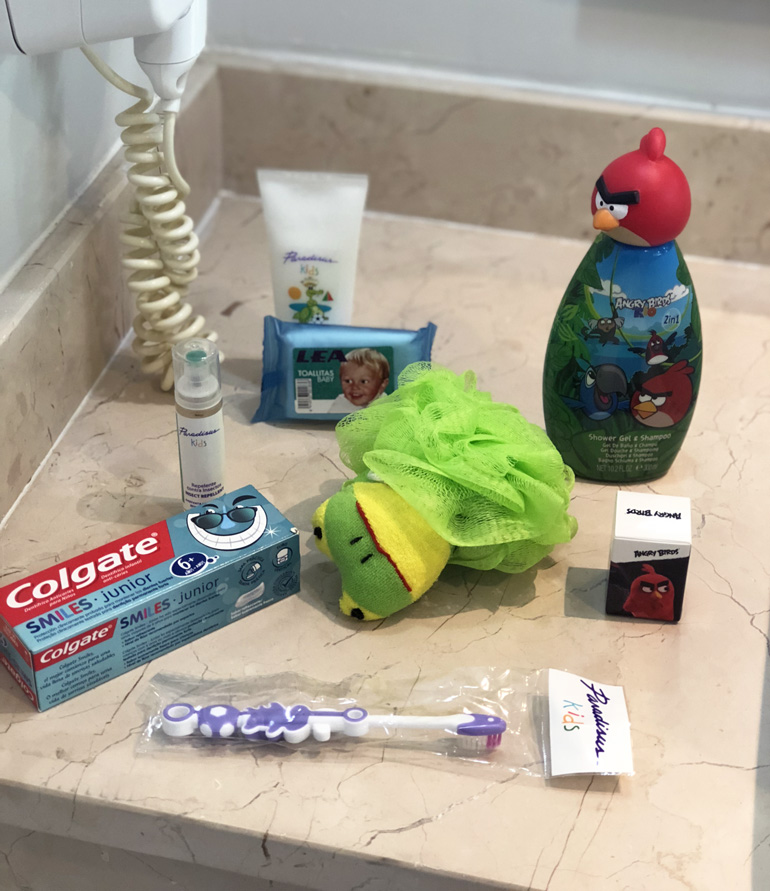 We stayed in the Junior Suite on the second floor & this room category at the Family Concierge looks just like this. The ground floor rooms are upgraded junior swim up suites (a narrow pool runs along in front of these suite, like below). But other than having a small pool outside your door vs a balcony at almost double the price, there isn't much of a difference. Aside, from less bugs (and why I prefer top floors!). Speaking of bugs, don't leave any food out, or the critters will come out too!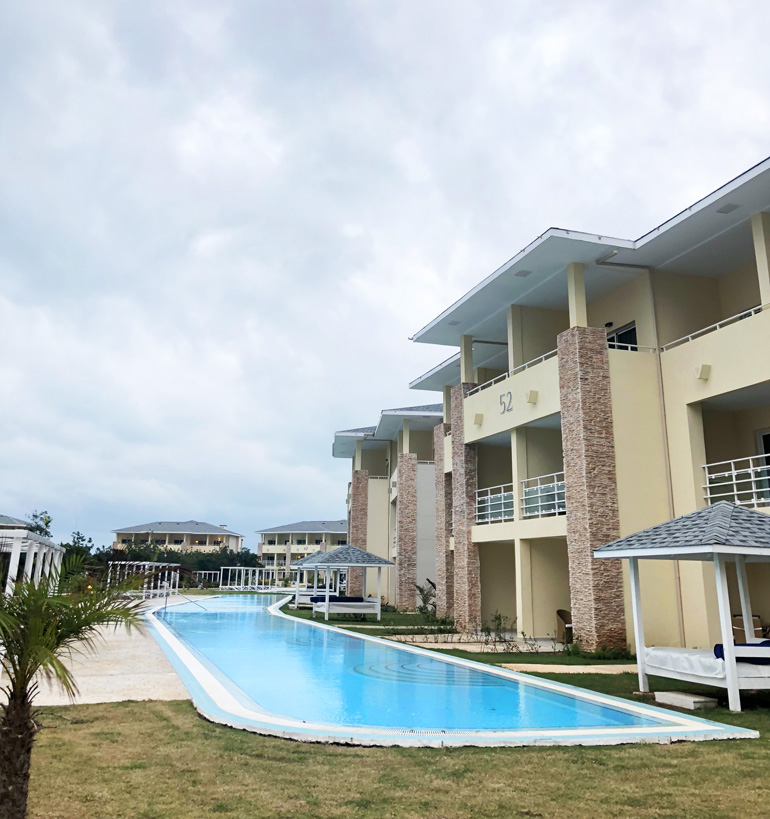 The beds were firm, but surprisingly comfortable. I slept really well in each of them as my little & I often played musical beds. Speaking of beds, it's worth nothing that both the Paradisus Varadero & Air Transat websites mention turndown service with milk & cookies for the kids as part of the Family Concierge perks. There is no turndown service, nor milk & cookies at night, so don't get your kiddies excited about this part (myself & another couple did so, oops!).
Check out my quick room tour video, below:
The Beach at the Paradisus in Varadero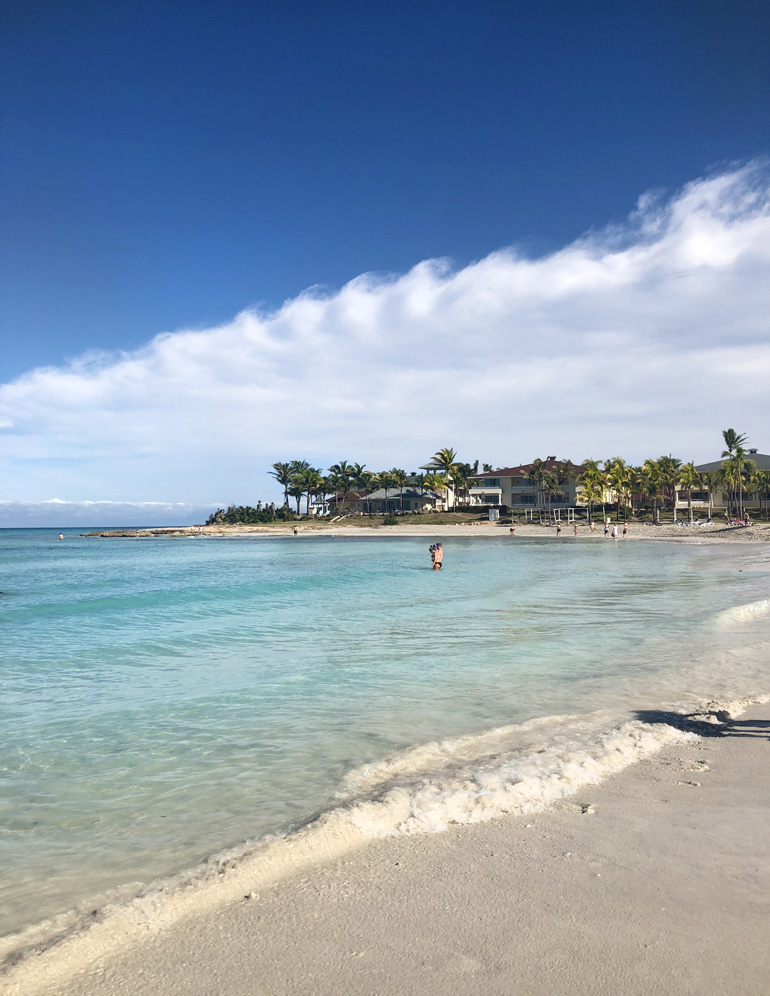 The Paradisus beach is at the end of the Cuban Varadero strip and yes, the last hotel stop from the airport! It is spacious with lots of shaded & unshaded areas equipped with ample amounts of lounge chairs.
At this resort the beach doesn't discriminate: all of the main Paradisus resort, Family Concierge & Royal Service share it. Of course, being low season & with cooler temps averaging 24 degrees Celsius, we didn't have to "towel" reserve our beach beds. But the beach is so large that I bet even in full swing, space would not be an issue.
There is only one beach bar, but the service is great, so you don't have to get off your lazy bum if you don't feel like it! We didn't try the water sports (they were often closed due to high winds), but there are a variety of free activities, on & off the water that people were enjoying.
The warmer days of the week, we took a dip in the water. Although it's very cold in January, it's an amazing spot to bring the kids (as many beaches in Cuba are) as the waters are calm & you can walk for what feels like miles out from the shore & still be in knee deep water! And I can't forget to mention shells, lots of shells!
The walk to the beach from the Family Concierge area was about an 8 minute walk, but trolleys were frequently available to drop you to & fro. It is much closer to the main Paradisus resort. Would have been nice to have a bathroom closer to the beach, though!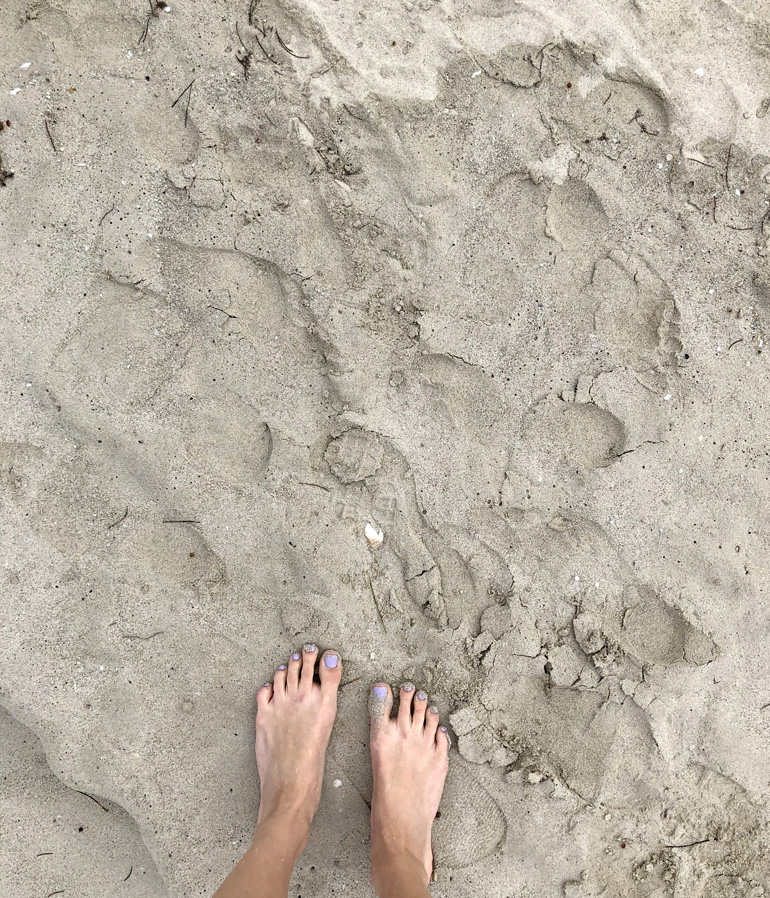 I would HIGHLY suggest packing some water shoes for the whole family, as the sand is not powdery smooth, but rather coarse & rocky in and out of the water.
Food: Restaurants, Buffet & Room Service
Ok, so let's be frank: Cuba is not known for their resort food. And it's not because Cubans can't cook, but mostly due to the limited imports into the country. A lot of people exaggerate how bad the Cuba food actually is. In every resort I've ever been to, fresh fish & produce are always available to be grilled for you at the lunch & dinner buffets.
Here at the Paradisus they have a beach grill at lunch that's pretty tasty! Yes, the vegetables are bland & the pasta sauces didn't taste as expected (I'm Italian & particular!), but there are many stews, meats & grilled eggplant that are delicious & snack bars that serve deep fried goodness.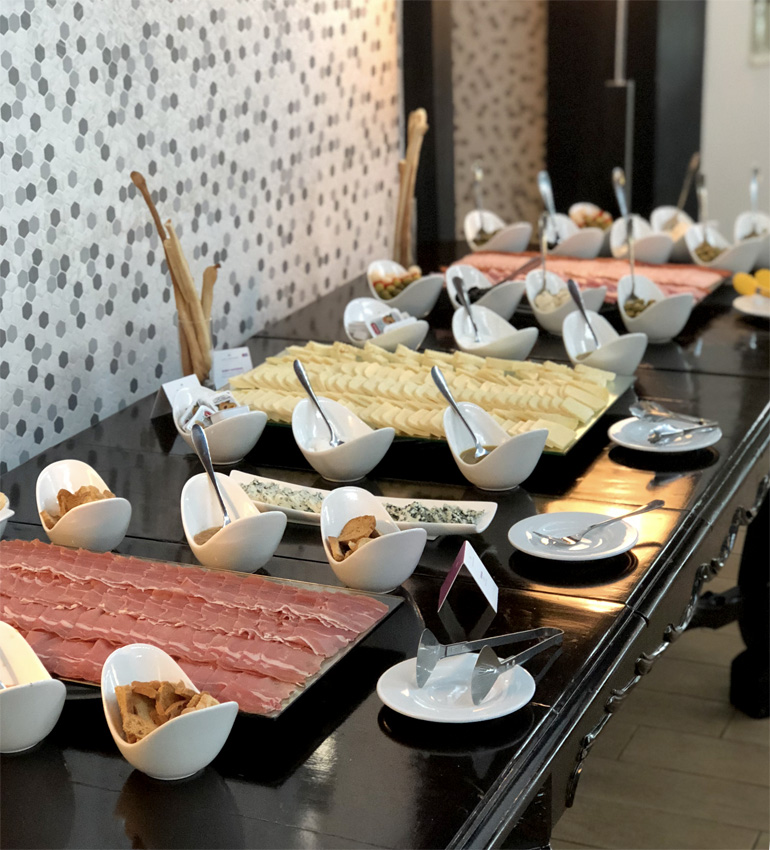 This is my third trip to a resort in Cuba & it was my best culinary experience thus far. Also helps that the Family Concierge buffet is indoors, making me forget the days of sweaty cheese & cold cuts that were so prominent in the other hotels I had previously stayed at.
Yes, the choice is limited and yes the buffet is repetitive, but the à la carte restaurants were surprisingly tasty & the chefs certainly did quite a good job with the ingredients they had & often surprised in the manner in which they blended spices & flavours.
For lunch we preferred the snack bar by the Sunset Grill at the Family Concierge pool (open most of the day), that aside from burgers & fries and surprisingly good pizza, cooked up a mean Milaneisa (pork Schnitzel), amazing mozzarella sticks & a fabulous shrimp salad (my fave!).
Keep in mind, they didn't always have all items on the menu everyday, which was a bit of a bummer, since it wasn't apparent until you ordered.
One of the perks of being part of the Family Concierge section is being able eat in a sit-down restaurant every night c/o your butler's efforts. It's much easier than making back & forth trips from table to buffet for myself & my little.
And to be quite frank, allows me to enjoy a big glass of red without interruption! My favourite restaurants included Vento (Mediterranean food), Bana & Sakura (Japanese Teppenyaki, so fun for kids & where the apps & lobster with Ponzu sauce were delicious). Fuego was tasty as well.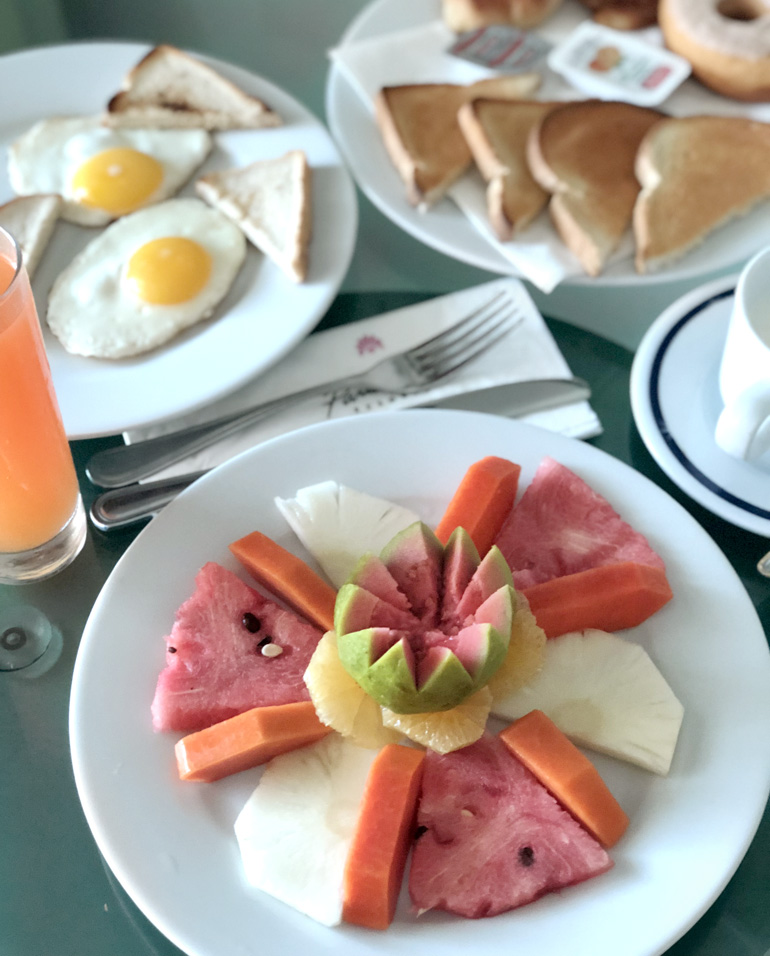 It unfortunate that the Family Concierge buffet didn't make fresh omelettes for breakfast (the main section of the hotel did). So, much to my son's pleasure, we ordered room service for breakfast twice during our stay.
There are only 2 breakfast options available, but what's written on the menu is more of a suggestion. Many items listed didn't actually arrive & they got our omelette order wrong. The fresh fruit, eggs & flaky pastries were the definite winners, though. I may have eaten my weight in mini croissants 😉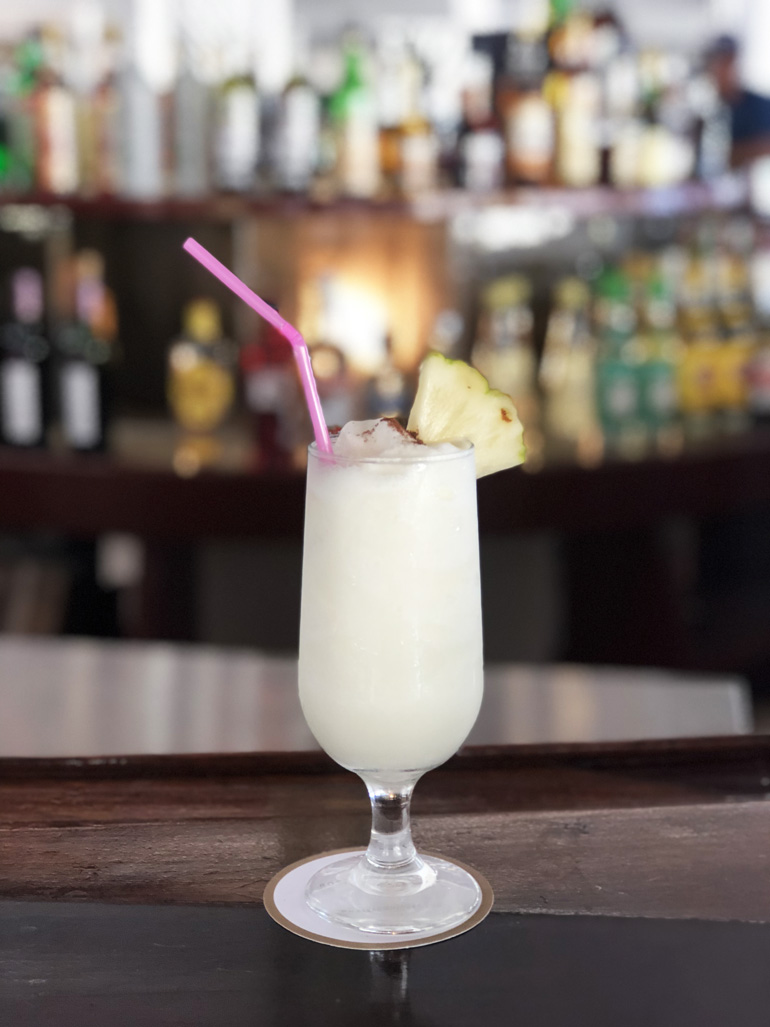 And the drinks & cocktails (I may have had many!) were far superior to the ones I have experienced in Cuba. You can have your drinks in a big glass vs. small plastic cup (a big pet peeve for me) most of the time, as long as you're not directly by the pool.
When made right, the Piña coladas were frothy & tasty, the mojitos minty & satisfying. Hands down, the best & most elaborate drinks were served at the Family Concierge's main lobby bar, Luna – pictured below – where the wifi was strongest too 😉 The house red was never disappointing (I have high brow taste in wine, so that says a lot!) & the Cava was always refreshing.
Paradisus Varadero Family Concierge – Service
Staff & Service
One of the best aspects about our stay the the Family Concierge at the Paradisus was the service. It really outshone even the one at the Paradisus Punta Cana & quite frankly, amy inclusive resort I've ever been to.
The staff was polite & friendly, but not overbearing or nosy. I wasn't asked – not even once! – where my "husband" was, and it liberating! No one bothered us even the slightest for tips, which is always appreciated though.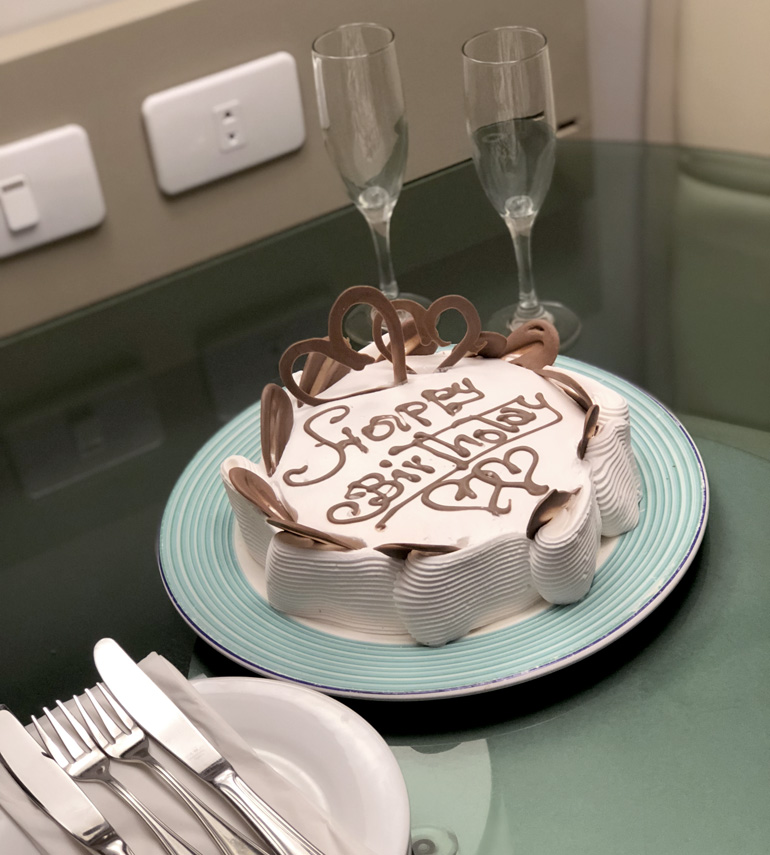 Of course, the best aspect of the service was our personal butler Andy, who was extremely helpful & efficient. If something wasn't right, or something in the room needed fixing, he would get in done within the hour. In addition to making all of our restaurant reservations, organizing trips & spa appointments if we wished, he also prepped a bubble bath complete with flowers & water balloons for my son.
And knowing it was going to be his birthday right after we left, had a special cake and bubbly (for me!) brought special to our room. He really did an amazing job at making our stay comfortable, helping us in any way possible.
The Internet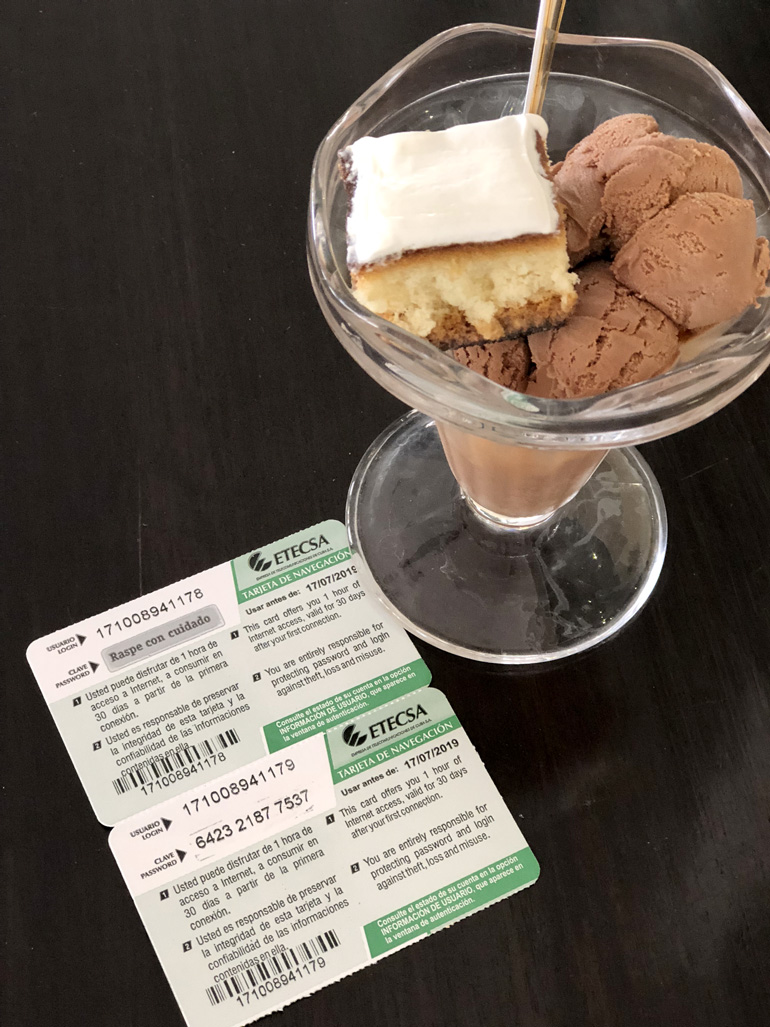 I can't talk about services without including the internet, since Cuba isn't knows for having the best access. I have to say since the last time I went to Cuba 2 years ago it's improve exponentially. To access the internet here, you're given scratch cards for 1 hour use. At the resort you would connect to the Paradisus wifi & outside of the resort, connect to the main Cuban Wifi Etecsa using the passcode. So yes, keep any extras with you to help that 4 hour wait at the airport go by faster!
Sometimes it would have trouble connecting at first & depending when you were in the resort, could easily disconnect. The wifi signal was strongest in & around the main Paradisus receptions & Family Concierge lobby and I found it to be a very good speed. Connecting from your room, especially if you were farther away from the main area like we were, was virtually non existent.
Internet cards are free & unlimited for Family Concierge & Royal Service area guests & at a minimum charge for Paradisus guests. Because of our free access to cards, many of the Kid's club staff would ask me to give them internet cards.
Paradisus Varadero Kid's Club
For any parent wanting some RnR, let's face it, the kid's have got to go! Whether you're travelling as a couple or alone with your child like me, I can't fathom spending a small fortune on a vacation & end up with no time to lounge, read or drink a Piña Colada in peace.
So before I travel I always make sure there's a kids club that a) that accepts kids my child's age, and b) can be dropped off and picked up at will. I wasn't sure what to expect from the Paradisus Varadero's Kids Club, but I was absolutely thrilled that my son enjoyed going & all the daily activities that this particular Paradisus offered. The staff at the club for the older kids were great, very engaged, warm, friendly & fun. Parents were always welcome to stay too.
Daytime activities were not just confined to the kid's club area. Some days the staff would escort the littles to the beach, kid's pool & Sky Bar stage area. Some of the activities we partook in were a pirate party on the main beach, a birthday party celebration — just 'cause — complete with hilarious clown, an enormous cake, refreshment & dance party for the whole family, and a mini spa set up for kids with massages, mini soaker tubs, manicures & face painting. The cutest thing ever!
The only annoying thing? Some of the staff at the kid's club were very adamant in their ask of me giving them internet cards. One in particular (who I had never met, nor had ever looked after my son) was pretty aggressive about it, constantly following, which that made me all kinds of uncomfortable.
The kid's club at the Paradisus in Varadero is open to all families, so even those not staying in the Family Concierge section, have access. Here are some of the perks:
Hours: Open from 9-1 with supervisions, 1-3 open without supervision, 3-7 with supervision (after hours babysitting was available at an additional charge)
Baby/Toddler room & main lounge room for older kids including board games, a video game room & always stocked mini buffet with drinks, fruit, food & various snacks for the kids. Also has a gated outdoor play area.
There are after hours activities such as mini disco & dance parties at 8:30pm in the Family Concierge stage & sometimes performances by the kids held at the main resort area. We didn't experience these, because…bedtime!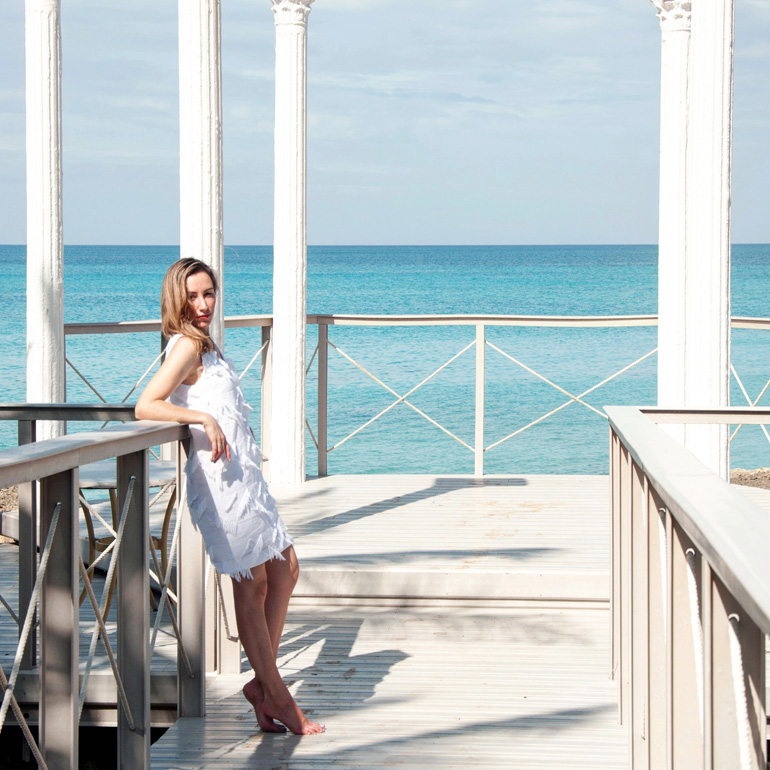 There haven't been many all inclusive hotels that I've wanted to go back to, but the Family Concierge by Paradisus in Varadero, Cuba is one that I can't wait to visit again. The great service, ample amenities for adults & children (can someone say "kid's club" lol), large beach & decent food and drink are definite factors. It just ticked all the boxes!
This definitely a great place to unwind, relax & get some "me time" in even if you bring the kids. The proof is in my relaxed resting face in the photo above 😉 Next time, though, I'll try to book my stay a couple months into the year, so we can enjoy warmer weather & more beach time.
Have you ever been to the hotel Paradisus in Varadero or any of the Paradisus resorts by Melia?
xo Cristina