Some women might love the sound of their high heels clicking away along office hallways & mall corridors. Others, however, do not. I am one of the latter.
But how to stop heels from clicking & garnering unwanted attention at work or in a quiet environment, you ask? Well, with the help of "magical" high heel protectors, of course!
Chances are, your the heels you're wearing plus the surface you're walking on will cause the clicking noises. However, there is a chance that it's partially do to your walk. If so, read all about how to walk in heels properly!
How to Stop Heels from Clicking?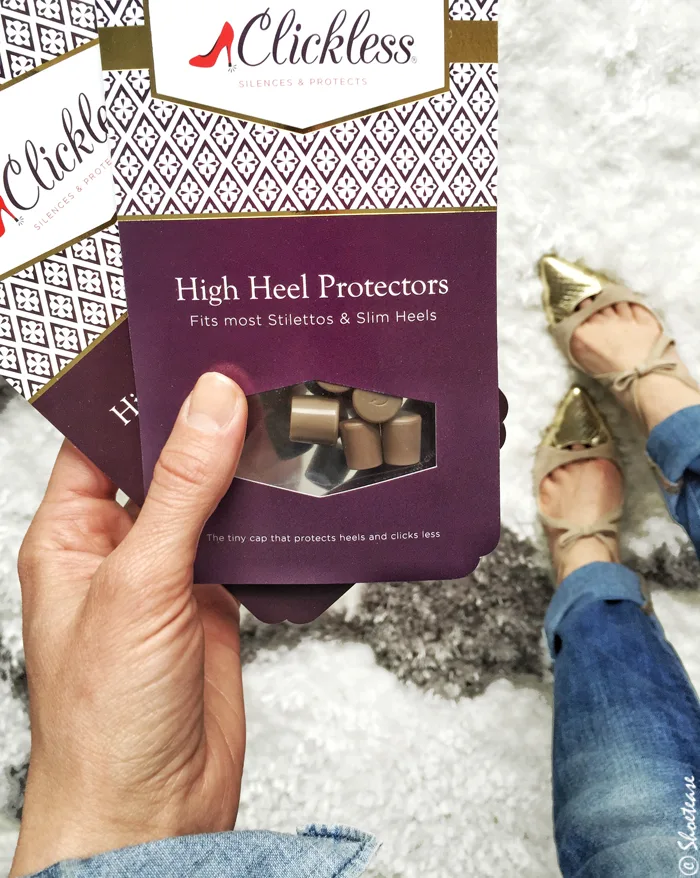 Noisy heels can be distracting in a more conservative environment or certain business situations. If you like the sounds of clicking heels, then knock-knock yourselves out, but wouldn't it be nice to have a choice in the matter? Enter Clickless instant heel protectors.
Ok, so they don't actually have otherwordly "magical" properties (if we're gonna be a stickler for details here!) but they're an interesting & innovative shoe care and shoe accessory product worth placing on your radar.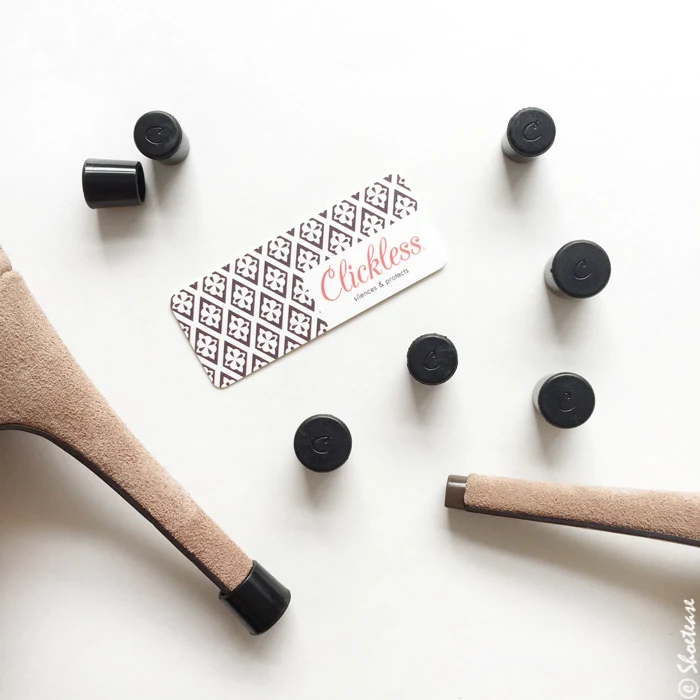 ---
Shop all 3 Sizers colors from Amazon, below:

Wondering what these little nuggets are exactly? Well, they're high heels caps that discreetly protect the base of your stilettos while minimizing that annoying reverberating click-clacking sound.
Just click them on & you're ready to go! So yeah, click on to click less 😉 They're conveniently available in 3 colors: brown, black & neutral, come 4 sizes to a pack and fit most slim to stiletto heels.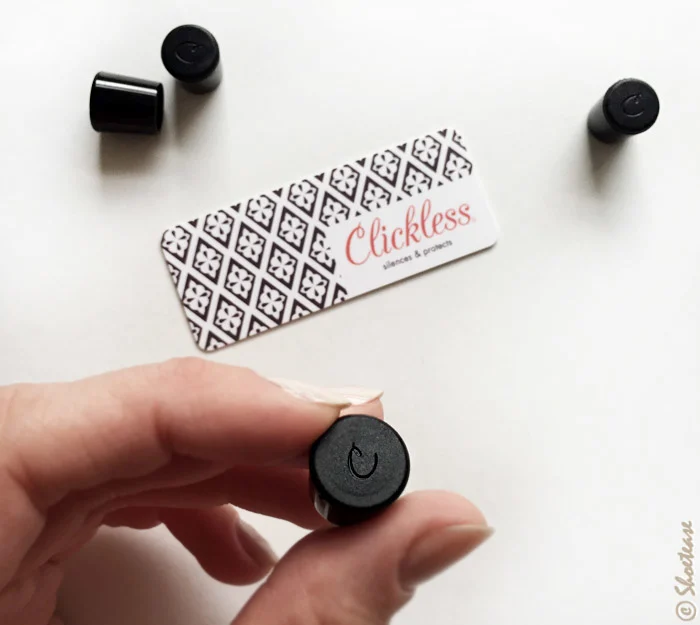 Clickless Heel Protectors – Review
But do these noise-reducing heel protectors really work? Well, Clickless sent me 2 packs of their product: 1 black & 1 neutral toned, so I'd be able to test the heel caps out. Here are 5 observations:
They're easy to use: just click on the right size shoe cap to your heel. That's it! No pushing or hammering required. Just as easy to remove.
They're very discreet because of their small, tapered design. The branded bottom is a nice touch! Take a look at my pink heels with & without the heel caps, below.
Great to mask and prevent dings & scrapes at the base of your heels.
Because of the extra "padding" created by the heel cap + the fact that the cap has a larger surface area than the shoe's actual heel tip, I felt more at ease walking with, rather than without them.
Although these heel caps won't completely stop heels from clicking as you're walking in high heels (what will, thought, really?!) there are 2 notable differences in terms of sound when wearing them & when not:

You know what sound of a heel click that starts when your heel hits the ground & embarrassingly resonates throughout the room or hall? Well, what happens when you use on Clickless caps is that the sound generated by heel-to-floor contact stops at the contact itself. That is, you will hear the heel tap onto the ground, but the sound virtually ends there, rather than vibrating strongly through your body, floor & room.
So, no, the sound won't disappear but will be lower in tone & volume. The closest I can come to describing it in words is by saying that the the sound difference with the heel caps on, is about an octave lower than without: less high pitched & softer.
Wearing Clickless Heel Caps (neutral color)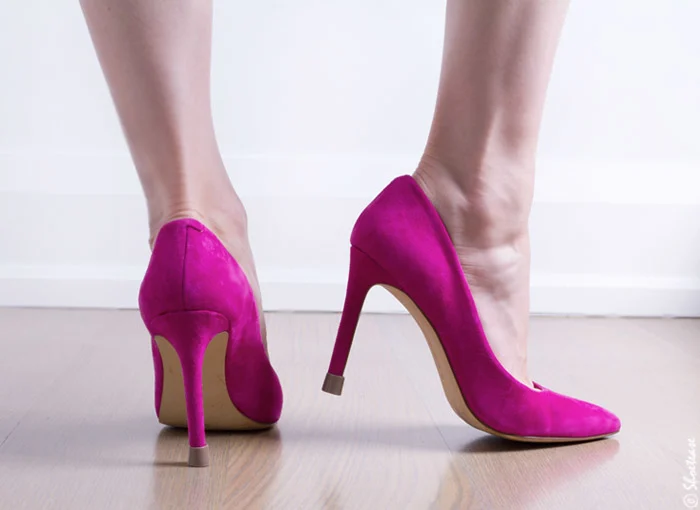 Without Clickless Heel Caps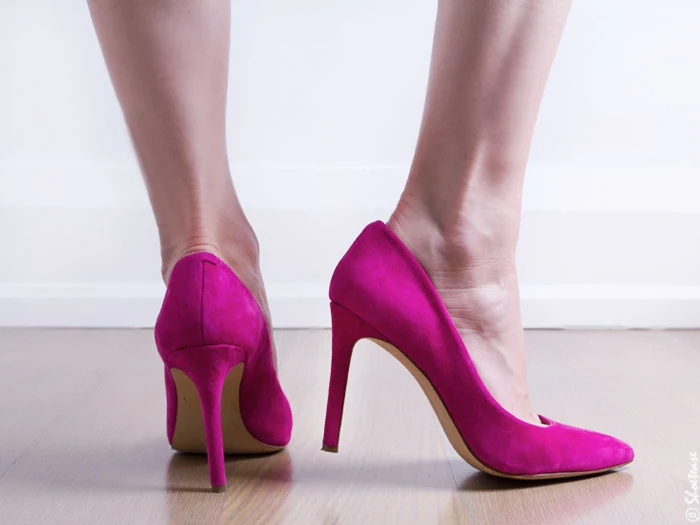 Final Words on How to Make Heels Quieter
In conclusion, Clickless noise-reducing heel protectors do just that: protect the tip of the shoe's heel, while reducing the amount of noise "naked" clicking heels make.
From trying them onto a few shoes made of either suede or leather, the heel caps were easy to use & didn't leave any permanent markings.
So although there is no magic solution to the pressing question of how to stop heels from clicking completely, Clickless is as close as it's gonna get! Or until, you know, magic 😉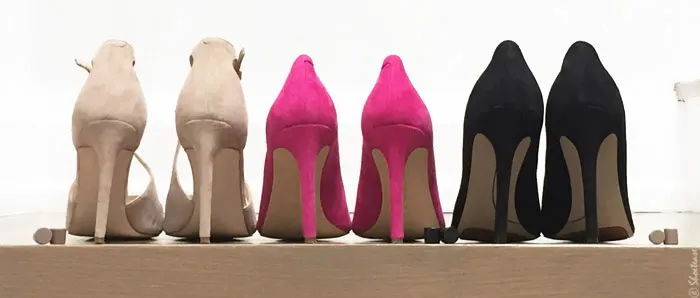 You can shop Clickless heel protectors from beclickless.com.
xo ShoeTease
Photos 4 & 5: Conrad Collaco Photography
**This post is brought to you in collaboration with Clickless high heel protectors. All opinions expressed are my own**
Cristina is the chief editor, fashion & shoe expert here at ShoeTease. As a seasoned stylist and women's fashion & shoe designer, she boasts over 20 years of experience in the fashion industry. She loves crafting effortless outfits for ladies both online and off and believes that styling advice should be accessible to everyone. Whether you're a styling pro or just starting out, Cristina's here to guide you on your fashion journey! Learn more.