If you're a woman wondering what to wear with loafers or how to put together outfits with loafers, you're not alone. Depending on the loafer type, especially lug sole loafers, these can feel tricky to style.
Women's loafers are most often made of leather, suede or ornate fabrics such as brocade that slip on the feet. Most loafers, even those chunky styles are much easier to style than most people tend to believe.
You can even wear socks with loafers to give them an extra dose of je-ne-sais-quoi!
Loafers pair great with a variety of outfits, including dresses, dress pants, jeans and skirts. They can easily be dressed up or down with the right clothing and accessories. That's why they make a perfect addition to any capsule shoe wardrobe!
In fact, loafers are one of my top choices listed in my recent post about styles of shoes that go with everything!
Today on shoe-tease.com I'll show you how to wear loafers with all the right outfits. Including, but not limited to, how to wear penny loafers and how to style casual loafer outfits for women.
But don't worry, there will also be styling tips on how to elevate your loafer outfits for a fancier event. I will guide you so that you can confidently step into a variety of different loafer styles and outfit options!
If you're asking yourself whether loafer shoes are in style for 2022, the answer is yes! Loafers such as Gucci's Horsebit and even loafer slides have become a classic at this point.
Very trendy at the moment are platform, lug sole or chunky loafers. Even Prada has resurrected their triangle logo loafers. These have become widely popular among the fashion elite.
So let's start your eye-catching ensemble from the ground up with a pair of loafers. If you're ready to learn how to wear loafers with a slew of outfits and complete the look with the right accessories, keep scrolling down!
Shop stylish Loafers from these fave retailers:
How to Wear Loafers | 12+ Women's Outfits with Loafers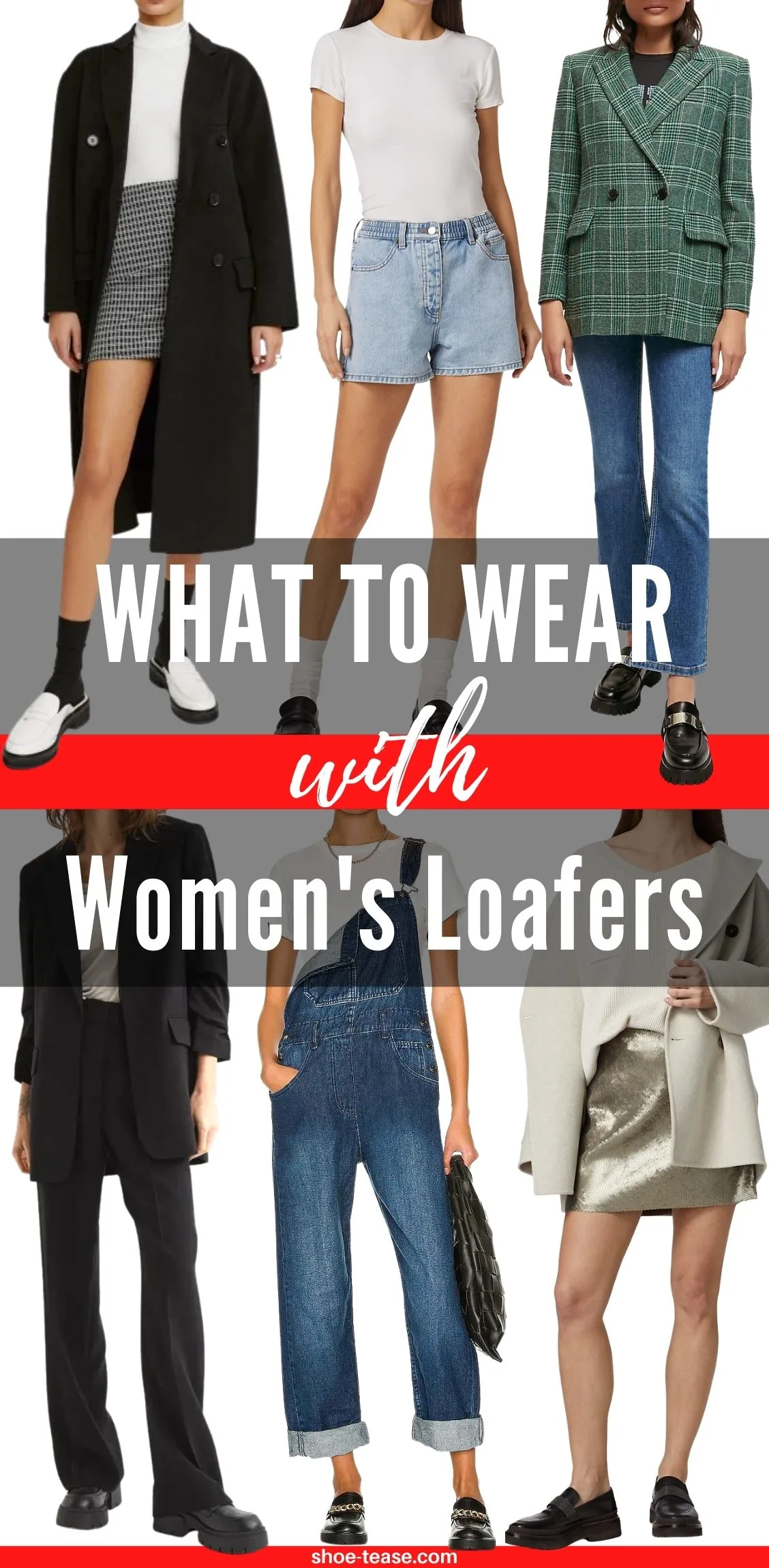 1. Loafers with Jeans Outfits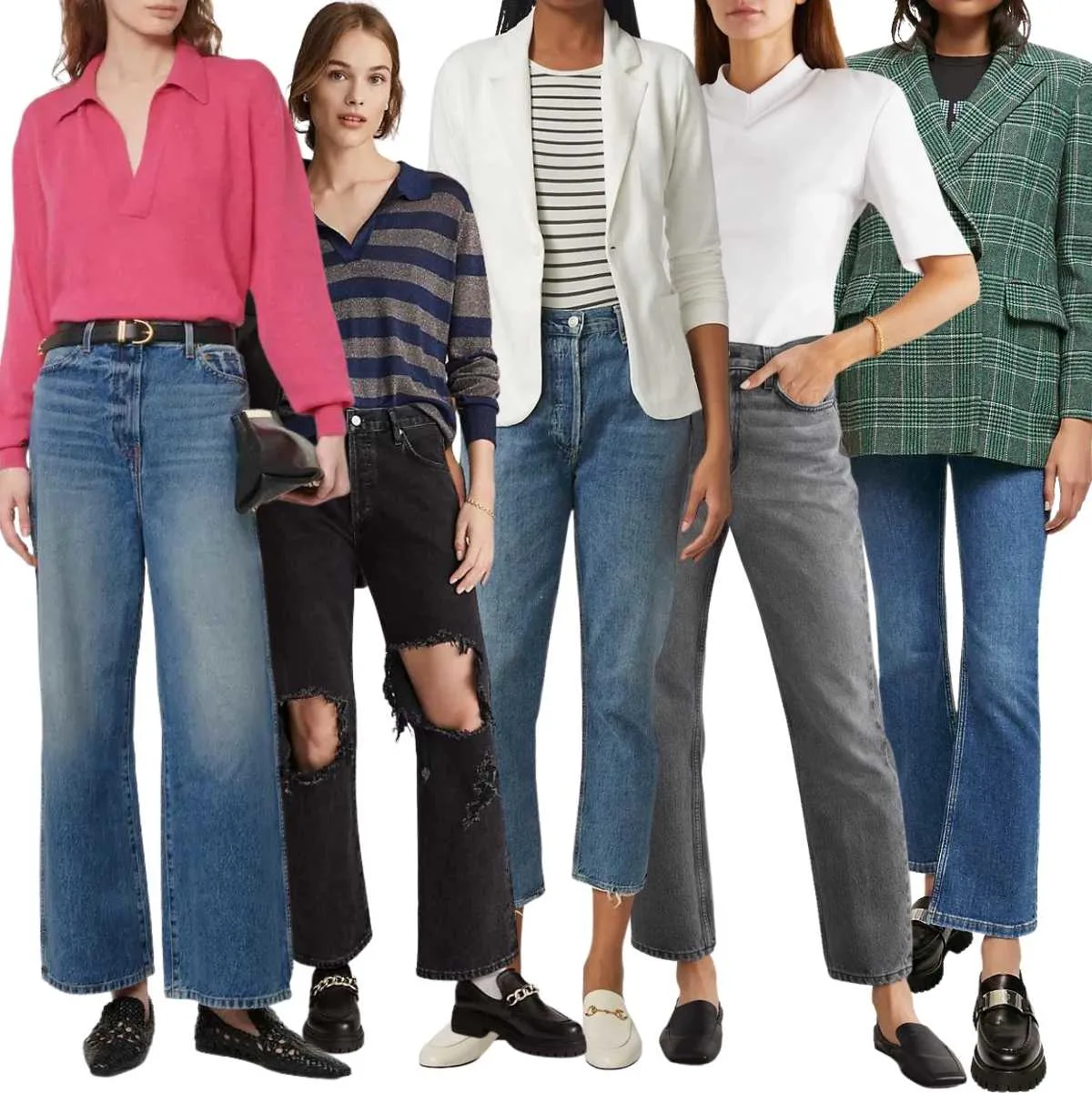 loafers with jeans is a timeless and effortlessly chic style combination. Here are a few tips on how to wear loafers with jeans, like a fashion insider.
Although loafers with jeans are often seen as a more casual look, there are ways to elevate the outfit for a more polished aesthetic.
How to Wear Loafers with Jeans
For a casual vibe, pair loafers with cuffed ripped boyfriend jeans or mom jeans, a basic white tee, and a cozy sweater.
For an even more laid-back take on loafers with jeans, opt for cropped jeans or relaxed-fit denim with a baggy top and simple loafers. This look is perfect for running errands or grabbing a quick coffee with friends.
In case you're wondering what the younger kids are wearing, Gen Z is loving their chunky black loafers with high waisted baggy jeans, a crop top and a casual jacket.
For a more elevated, put-together look, try tucking a button-down shirt into skinny jeans or straight leg jeans and slipping on some loafers. Choose loafers in a neutral hue, like black, brown or tan.
Add an oversized blazer and minimal gold jewelry and you have the perfect chic loafer outfit for client meetings. I love lug sole loafers with this look in particular!
If you're feeling daring, try a pair of loafers mules or chunky loafers with distressed denim. And don't forget to add a touch of personal style with accessories, like a printed scarf or statement earrings. With these tips in mind, you'll be ready to rock loafers with jeans like a pro!
2. Loafers with Dresses Outfits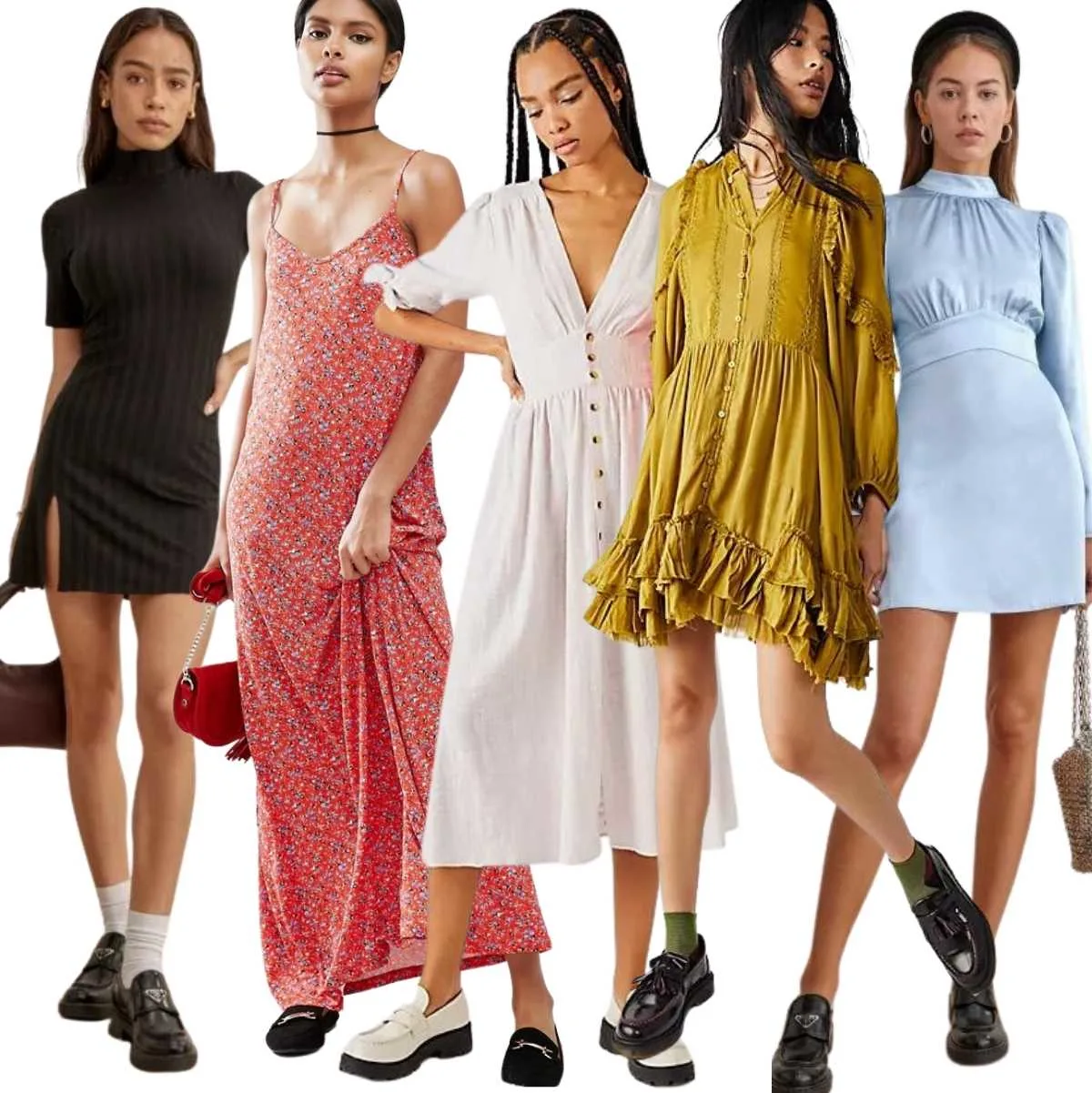 Loafers are a versatile type of shoes to wear with dresses. Loafers will add a touch of sophistication to a casual dress, or they'll give a touch of schoolgirl chic to a more structured frock.
There are a few key things to keep in mind when pairing loafers with a dress. One of which is the dress style, and especially the dress length, the second is the loafer design.
How to Wear Loafers with a Short Dress
A mini dress is conducive to many styles of loafers, such as classic slip-on loafers, penny loafers and even chunky lug-sole loafers that all the fashionistas are wearing right now.
Add a pair of white ankle socks with your black or dark colored loafers to play into the loafer styling trend. You can pick a neutral loafer color or opt for bright white or pastel shade.
Complete the look with any type of short dress with loafers with a cropped jacket, trench or blazer that suits the dress style and current season.
Keep your purse casual with a leather crossbody, or canvas shopper. Or to elevate your look further, choose a small handbag or clutch.
How to Wear Loafers with a Midi or Maxi Dress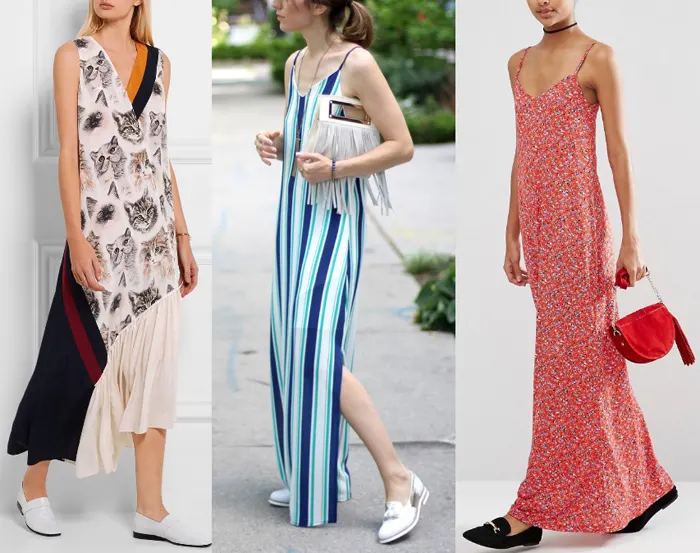 As with shorter dress styles, most loafers will look fabulous with calf length or longer dresses, including loafer mules. In fact, loafers are some of the best shoes to wear with midi dresses to create a put-together look.
Loafers are great with midi or maxi dresses on mild days in fall or spring, topped with a cropped jacket or classic trench. You can wear black, white or burgundy loafers with a midi shirt dress, or a front button sweater or knit dress for work.
However, I do love light-colored loafers like Horsebit Gucci loafers or similar styles paired with a feminine floral or flouncy midi to a maxi dress. Wear no-show socks to keep the look more subtle, or make a statement in a midi dress with lace socks or any other trendy socks for loafers.
If you're a petite woman, be mindful of wearing a midi that hits the largest part of the calf with loafers, as this can make you and your legs appear shorter.
How to Wear Loafers with a Sweater Dress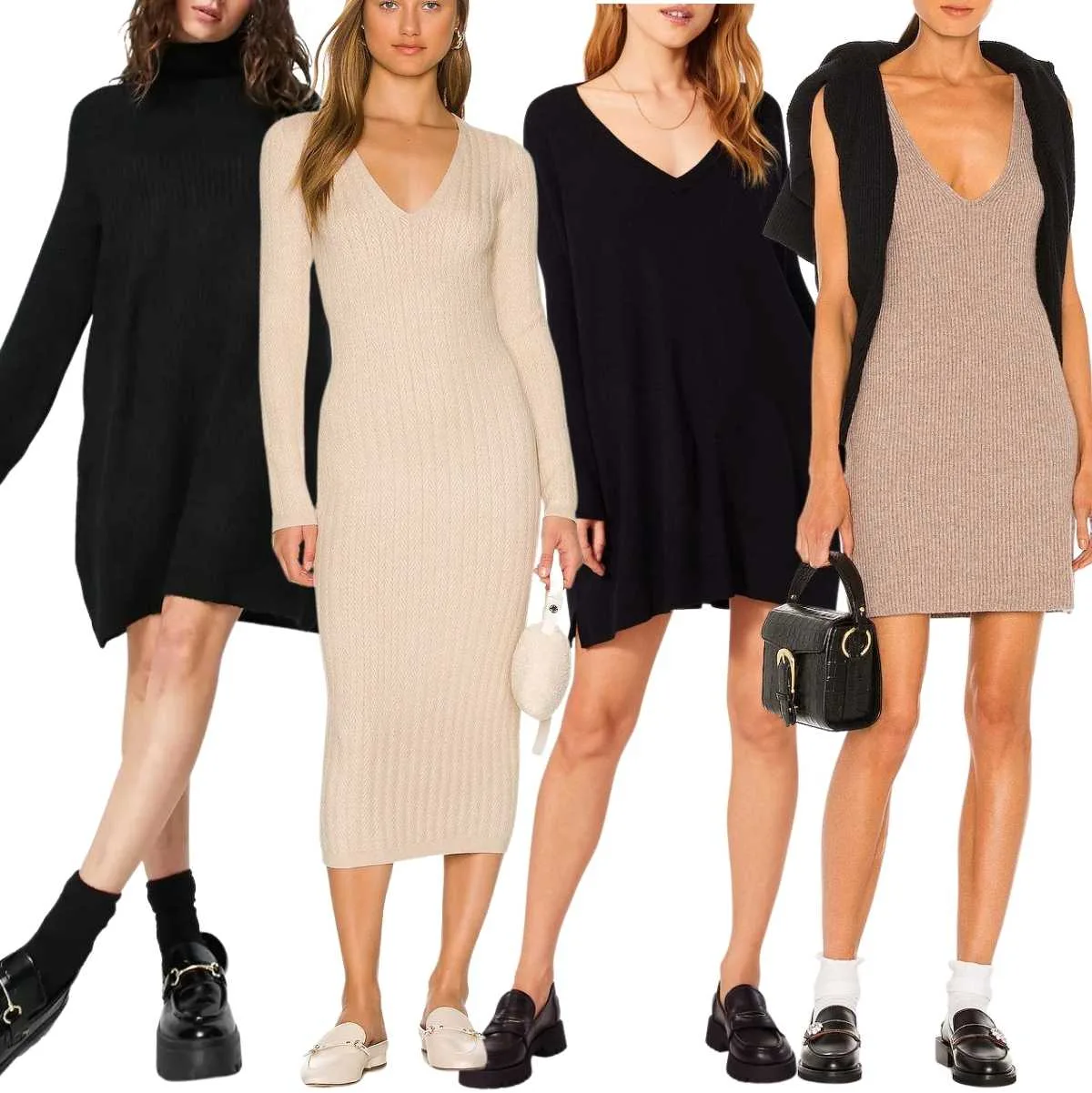 Thanks to Gucci, loafers and loafer mules have been a popular fashion choice for a few seasons now. You can find them in many different styles, colors, and materials, but I love them in black or white. This is a great outfit with loafers look for work. Just add a structured handbag & you're good to go.
Loafers and loafer mules of all sorts can be dressed up or down and worn with all types of sweater dresses for a comfortable and stylish look. Add a pair of ankle socks or semi-opaque tights for cooler days.
Complete the look with a peacoat, trench or denim jacket for those early Fall days. Check out my post for more shoes to wear with sweater dresses.
How to Wear Loafers with a Slip Dress
If you want to add contrast, you can wear black chunky lug-sole loafers with a satin midi slip dress, or even with a flirty summer frock. Top with a moto jacket, or thick knit sweater to add some softness to the look.
When wearing loafers with a dress, always consider the overall aesthetic of the outfit. Loafers tend to have a classic look, so they pair well with dresses that have vintage-inspired silhouettes. However, loafers can also look great with more modern styles of dresses.
To achieve this look, try pairing loafers with a dress that has clean lines and minimalist details such as a jacket dress if you want to elevate the look. Top it with a beige or grey trench or oversized plaid blazer and your favorite structured handbag.
3. Loafers with Dress Pants Outfits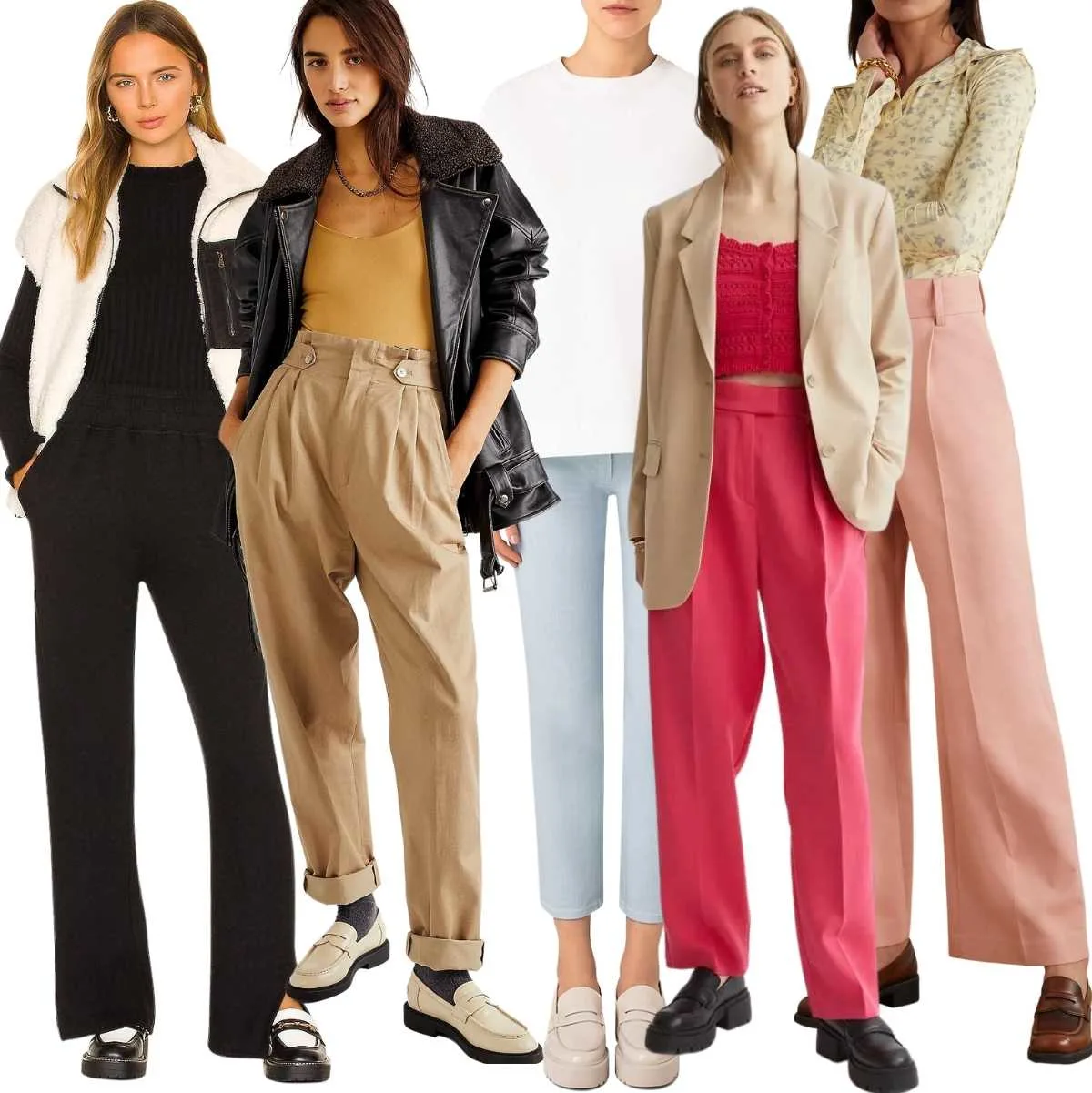 Loafers style easily with all types of dress pants, including cropped, long, baggy or narrow pant designs. Trousers with patterns, including plaid styles can look fun and fresh with lug soled or simple penny loafers.
I absolutely love a front pleat or paper bag style leather pants with loafers of any style. Learn more about how to wear loafers with dress pants of different pant lengths and widths, below.
How to Wear Loafers with Straight Leg Dress Pants
Women's loafers can be a great option when paired with straight leg dress pants. They offer a polished look while still being comfortable and practical.
Consider the style of the loafers. When wearing dress pants, it's best to choose a classic or tassel loafer style. Simple low-key loafers like Gucci's Horsebit loafers or penny loafers are great. If your pants are on the slimmer, tread lightly with chunky lug sole loafers.
Choose a pair of loafers that complement the color of your pants. Black loafers go well with black and all color of dress pants. Black chunky loafers like Prada's popular Spazzolato give off an edgy vibe.
If your pants have a print, keep the rest of your look fairly simple so as not to overwhelm your outfit. Stick to solid colors and simple silhouettes up top.
Let the pant hem graze the top of the shoe or cropped at the ankle. These will give you the most polished look. Play up the look with white crew socks, or have fun with a polka dot or a patterned pair. These are great socks for loafers! Learn all about pairing shoes with cropped dress pants and capris in my other post.
How to Wear Loafers Wide Leg Dress Pants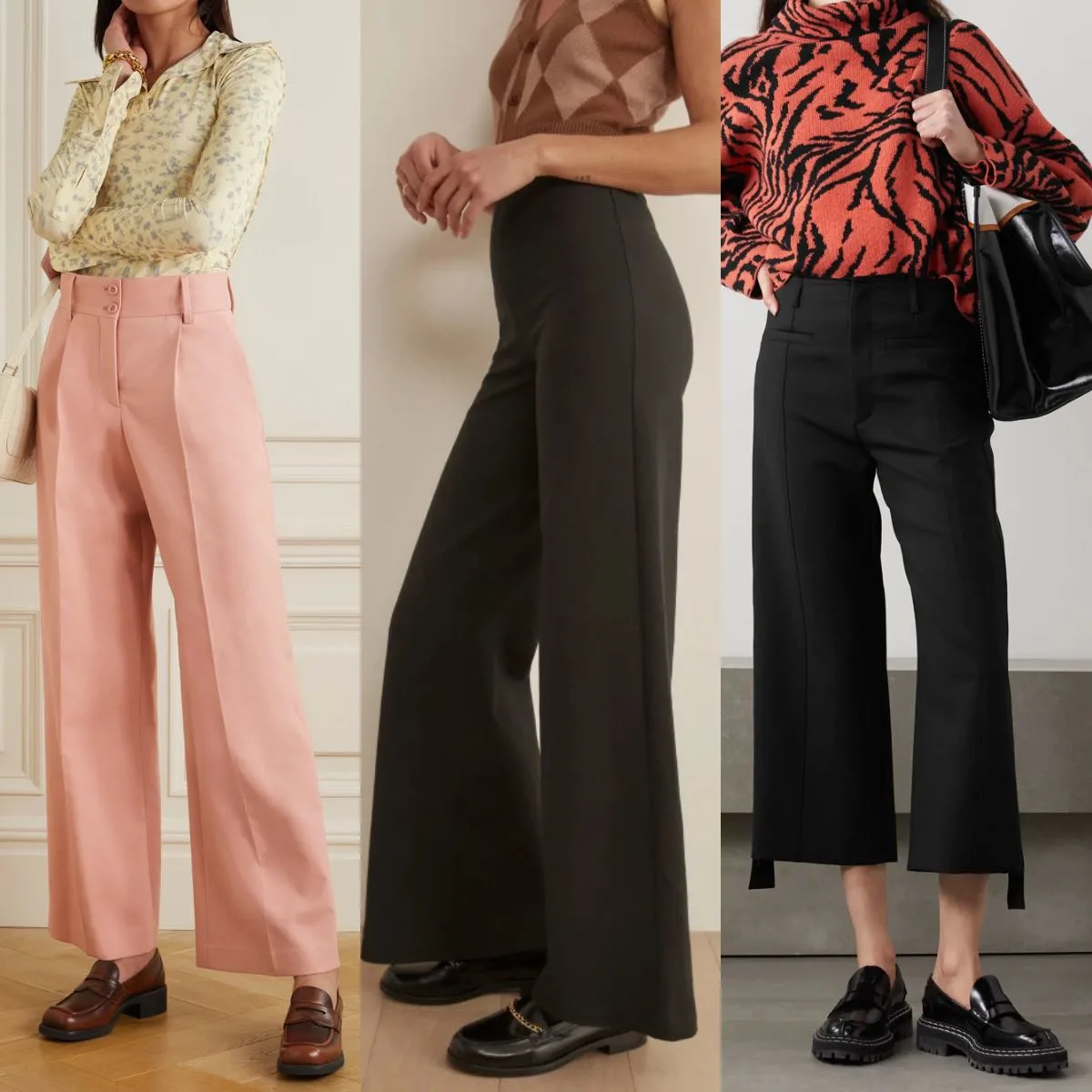 Chunky loafers are popular right now, as are wide leg dress pants. You can wear them with ankle or cropped wide-leg pants to show off your statement black or white loafers. Did anyone say Prada?
Pair your lug sole loafers with flowy wide pants a crips tee and a tailored blazer and you're set for the office. For an edgier look wear long black wide-leg pants with a tight white bodysuit, cropped moto jacket, or classic beige trench.
Slick your hair back to show off some bold gold earrings. Check out my other post for more info on how to wear shoes to wear with wide leg pants for women.
4. Loafers with Leggings Outfits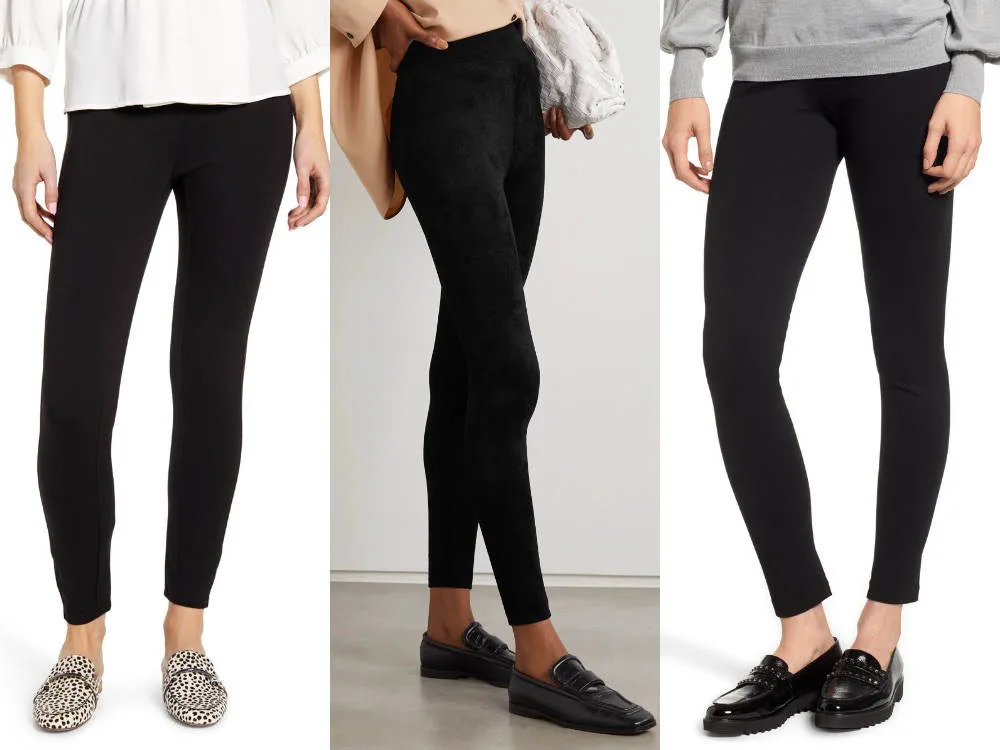 Loafers with leggings can be both comfortable and chic, making them a great choice for everyday wear. Of course, the key is choosing the right style of leggings!
How to Wear Loafers with Leggings
A black pair of leggings will go with all kinds of loafer styles and colors. However, I prefer a more minimal, low-soled loafers like a slipper loafer with these tights pants.
Keep your leggings in even-toned, thick cotton, suede or leather-like material. Stay away from contrast printed, sheer or sporty leggings. And yes, you can wear stirrup leggings with a chic pair of in-tone loafers for a funky look. I love black on black!
Choose a metallic loafer to elevate your thick Ponte-knit leggings look with a black blazer and bodysuit. Or pick a neutral-toned chunky Prada loafer for a casual work chic look with a cozy sweater. Complete the look with a leather satchel, crossbody or backpack.
Learn more on how to wear the right shoes with leggings in my dedicated post!
5. Loafers with Jumpsuits Outfits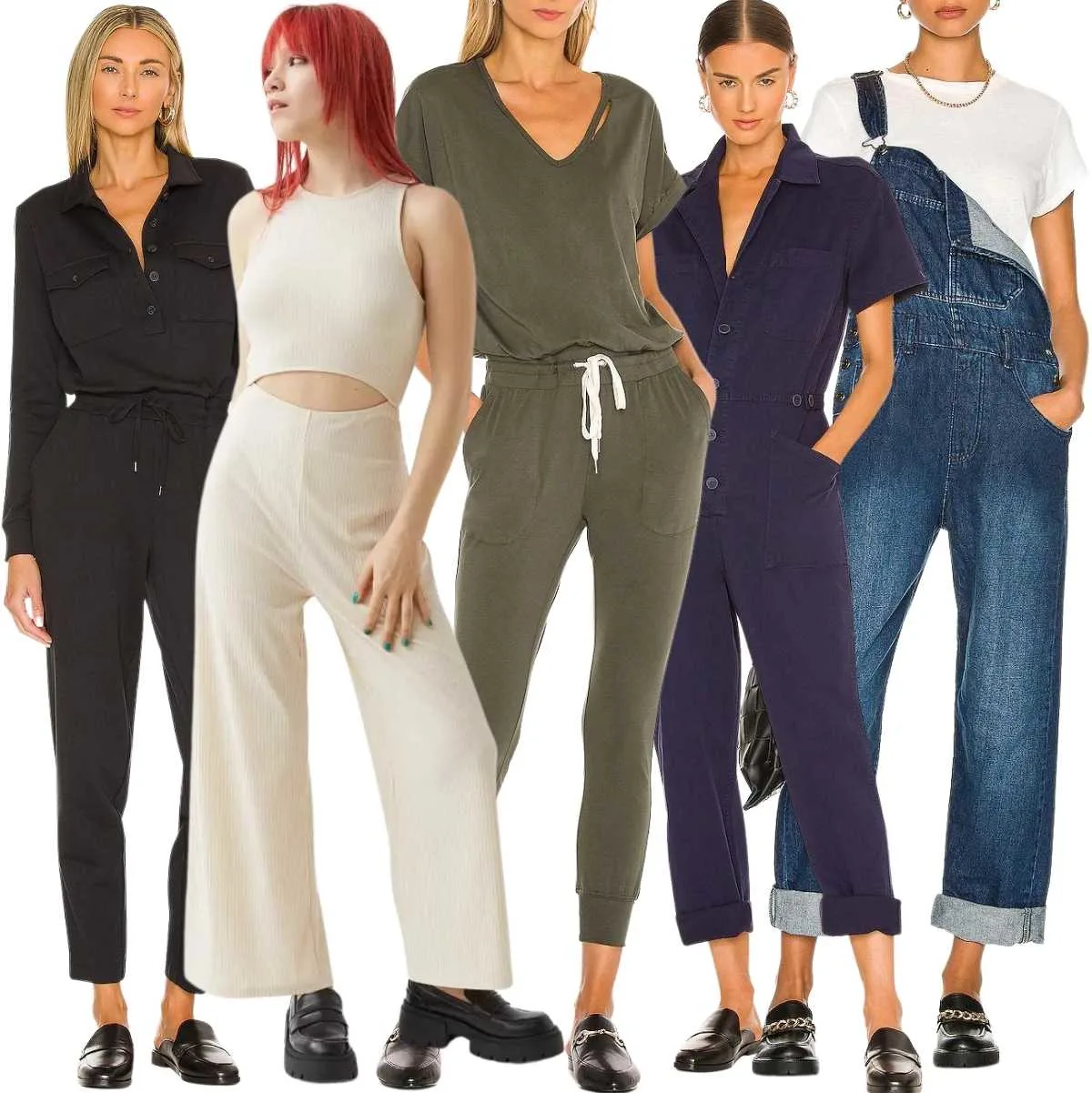 Jumpsuit styles are many, and certain ones will look better with loafers than others. And certain combinations of loafers and jumpsuits will be more suited for certain occasions.
How to Wear Loafers with a Jumpsuit
Pick a structured jumpsuit with a classic or play up the look with chunky black loafers.
I love the look of black loafers with black jumpsuits, but you can also opt for a contrasting white or metallic loafer. With an oversized blazer or trench and a leather purse, you are office ready!
With a more relaxed jumpsuit with a jogger feel, pick a minimal leather loafer such as a loafer mule. Add a denim or utility jacket and shopper bag to keep things more casual, or add a black blazer for a high-low contrast.
Check out my post for more shoes to wear with a jumpsuit that you can even wear to a wedding!
6. Loafers with a Pantsuit Outfits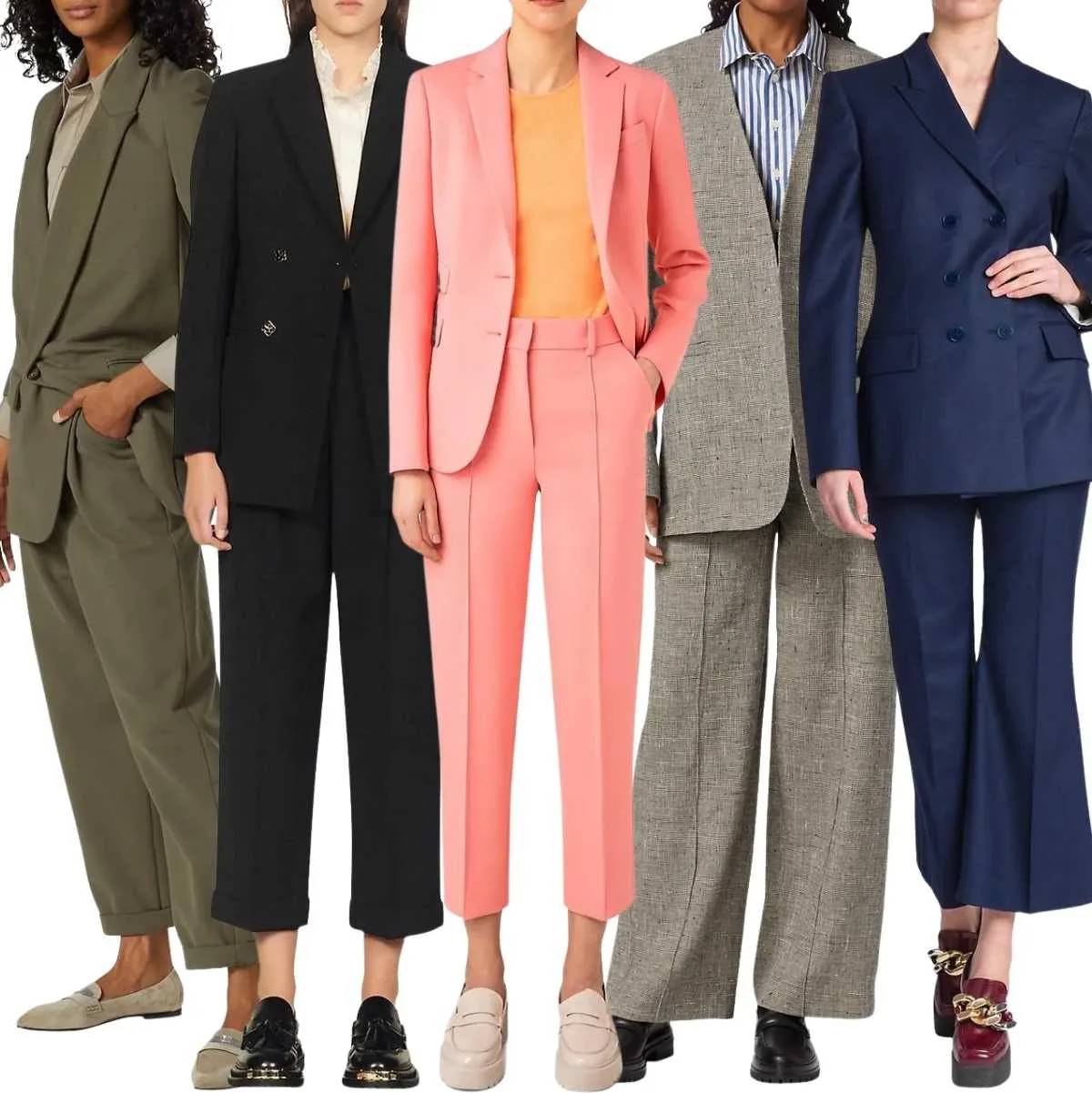 Wearing women's loafers with a pantsuit can be a great way to create a sophisticated and stylish look. However, it's important to know how to wear them correctly in order to avoid looking frumpy or dated.
How to Wear Loafers with a Suit
Choose the right style of loafer for the pantsuit. Whether cropped or ankle length, a simple classic loafer style will look best with a slimmer pantsuit. That being said, you can opt for a contrasting color to play with your look.
Wearing a baggier or wide-leg pantsuit? Lug-sole loafers will look super trendy and will not bulk up your look as with a slimmer, suit. Wear them with a bodysuit and a structured leather handbag, or a chain strap cross-body purse to elevate the loafers outfit.
If your loafers have any metallic or chain at the front, have your pants sit right above or under the ankles to show off the detailing.
Following these guidelines will help you achieve a chic and put-together look when pairing loafers with a pantsuit!
7. Loafers with Skirts Outfits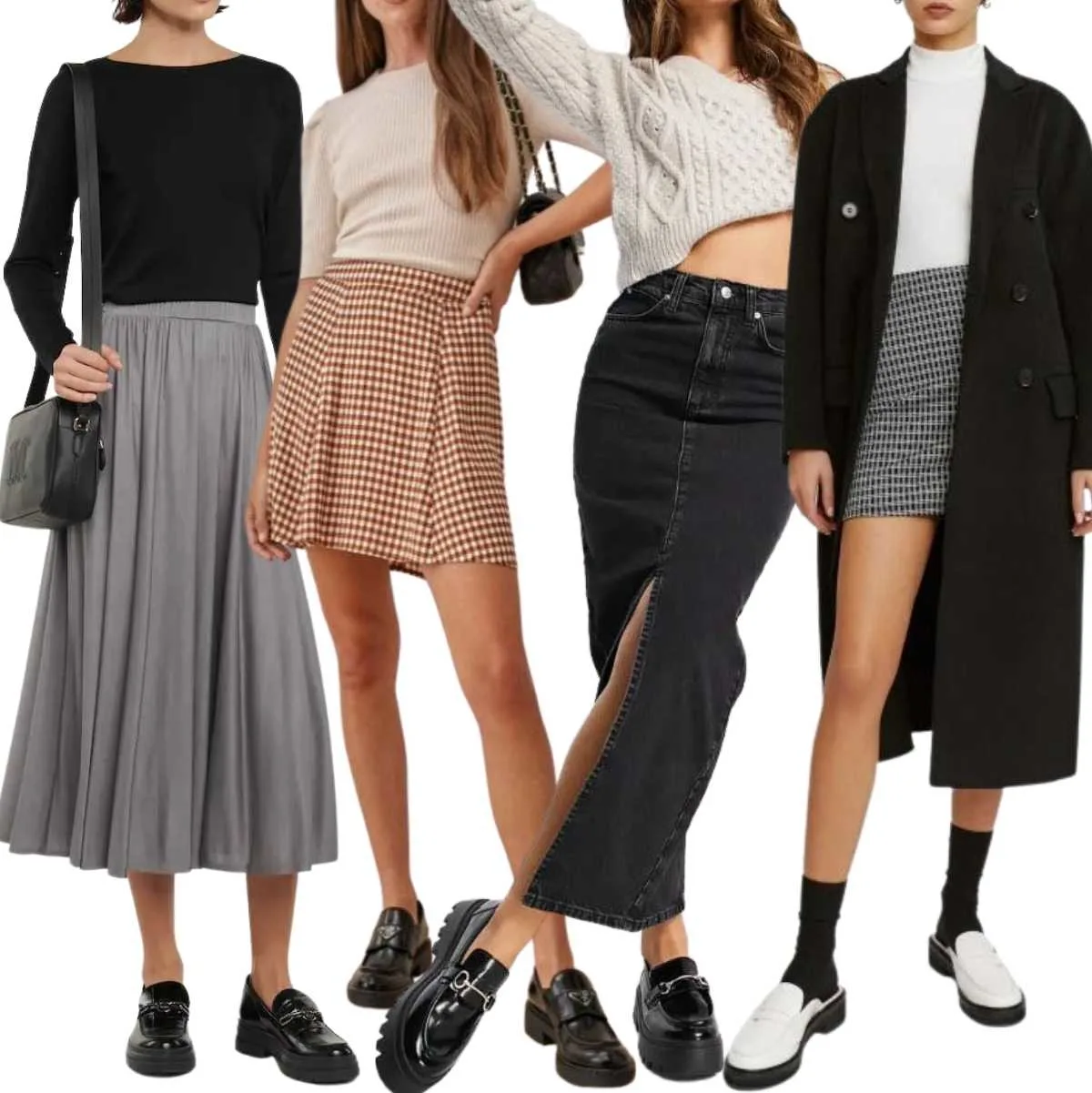 So many shoes to wear with skirts, and loafers are great! Wear them with a skirt suit, a flowy summer skirt or a pleated skirt to give a chic edge to your outfit.
How to Wear Loafers with Skirts
A classic pair of loafers will never go out of style. You can choose a plain leather or patent pair. Or add some pizazz with metallic details. A checkered mini skirt will complete the look, but any short or midi skirt will do!
Chunky or tread soled loafers are so on-trend right now. You can wear them to look more casual or give an edge to your skirt outfit, especially paired with white or fishnet socks. I love them with shorter structured denim, leather or ruffled skirts.
Remember when everyone was wearing their Gucci's loafer slides? Well, this loafer style hasn't lost its appeal. Try a tight side slit midi skirt with loafer slides, or a flared mini with a half tucked tee or bodysuit and blazer.
I love a mini skirt with loafers and fun matte or opaque to sheer black hose. Knee socks with loafers will also play up a mismatched skirt suit, when paired with a turtleneck for a preppy vibe.
8. Loafers with Joggers & Sweatpants Outfits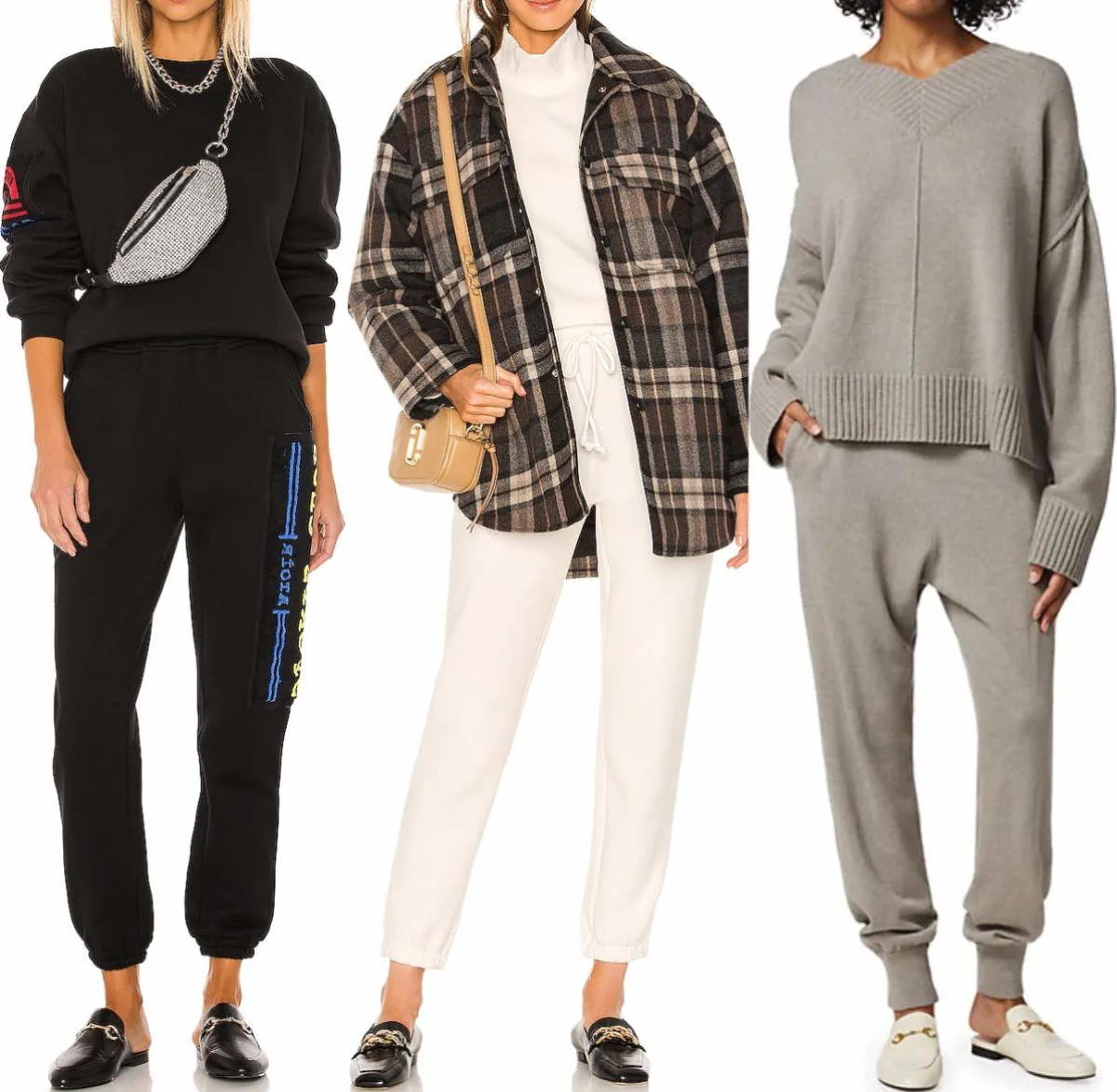 Slip-on loafers and classic loafers look fabulous with joggers. Want to try wearing the fashionable lug-sole loafers? You can with thicker, baggier sweatpants.
For a dressier look, pair a sleek pair of white or black loafers with a simple pair of joggers, a shirt or tee, and moto jacket. Add some gold jewelry and a structured handbag to complete the outfit.
You can also wear a full-on sweatsuit – matching sweatshirt and joggers – with loafers. I love a simple leather loafer and designer-looking handbag paired with this look to contrast and elevate the uber casual outfit.
See more style tips on how to wear women's joggers with shoes in my post all about styling sweats and joggers with shoes and boots.
9. Loafers with Shorts Outfits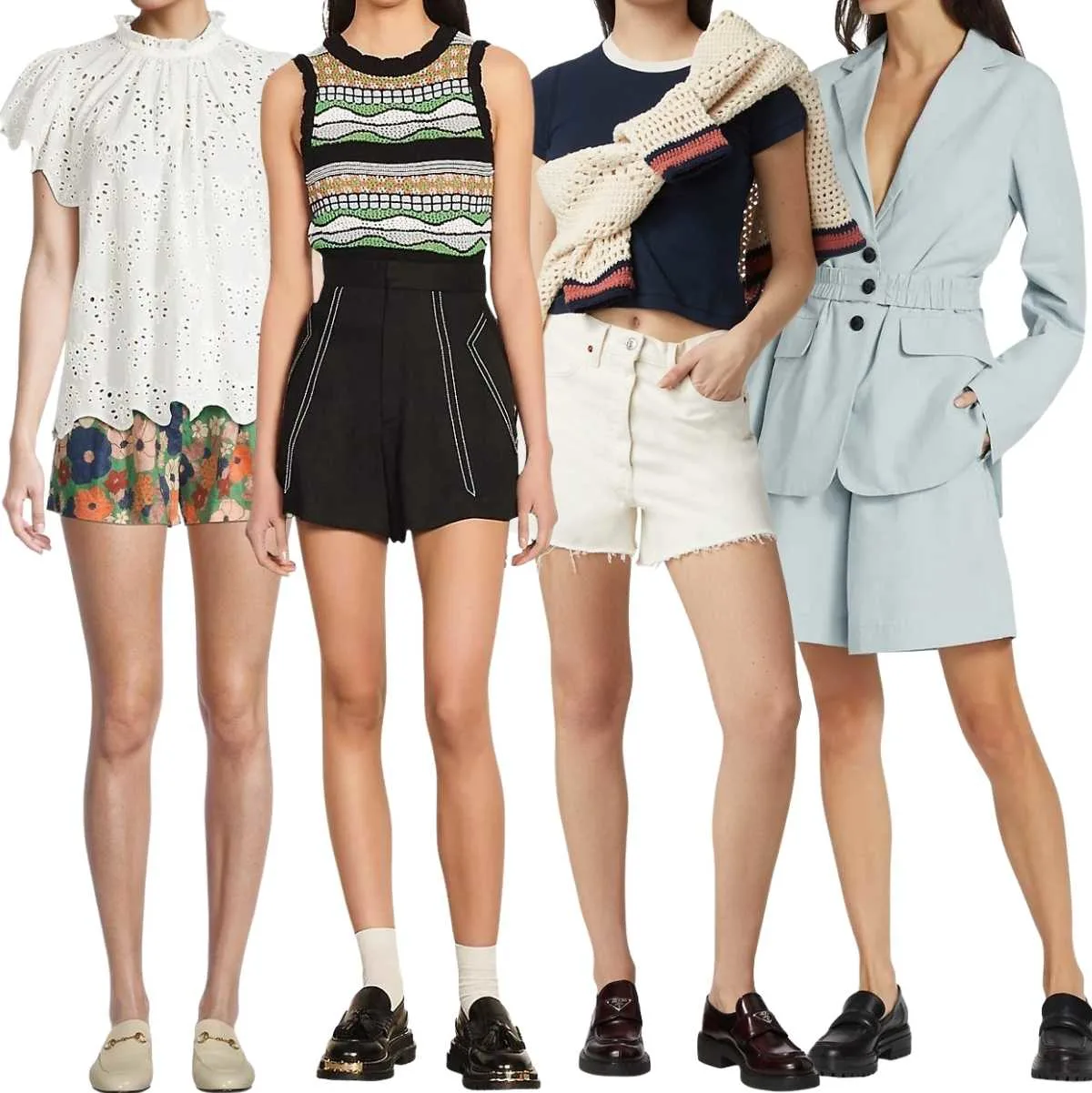 Loafers with shorts are a great way to wear shorts for the spring or fall on crisper days. Adding ankle socks, tights (or layering both!) is up to you.
The key to wearing loafers with shorts and looking stylish is choosing the right kind of shorts. Currently on trend are roomier high waisted shorts or straight leg denim shorts. Paperbag shorts are also not going away anytime soon!
How to Wear Loafers with Shorts
For spring outfits, pair a classic pair of black loafers or loafer mules with a wider leg pastel dress short, simple white tee, blazer or denim jacket. Add white ankle socks if you're feeling cheeky.
Of course, black shorts work with all kinds of loafers! You can pair longer, front pleat shorts with a chunky loafer, white smaller and slimmer black shorts pair well with more classic loafers like penny loafers. Leather short are great with a simple white tee, semi-sheer tights and loafers.
Turn your shorts and loafers outfit casual with a rocker tee and cross-body purse. Or alternatively, turn it into a chic professional look with a crisp or flowy tucked-in blouse and structured handbag. Match your longer linen shorts with a jacket for an even more put-together spring/summer office outfit.
For cooler fall days, choose plaid, tweed or leather shorts with a tucked frilly blouse or half tucked-in crips white shirt. Add semi-sheer stockings with a heeled or lug sole loafer and a cozy cardigan and/or peacoat for a polished look.
10. Loafers with Socks & Tights
Loafers look great with or without socks, but for fall, I love them with tights. Loafers are one of the best shoes to wear with tights right now, as far as fashion is concerned!
How to Wear Loafers with Tights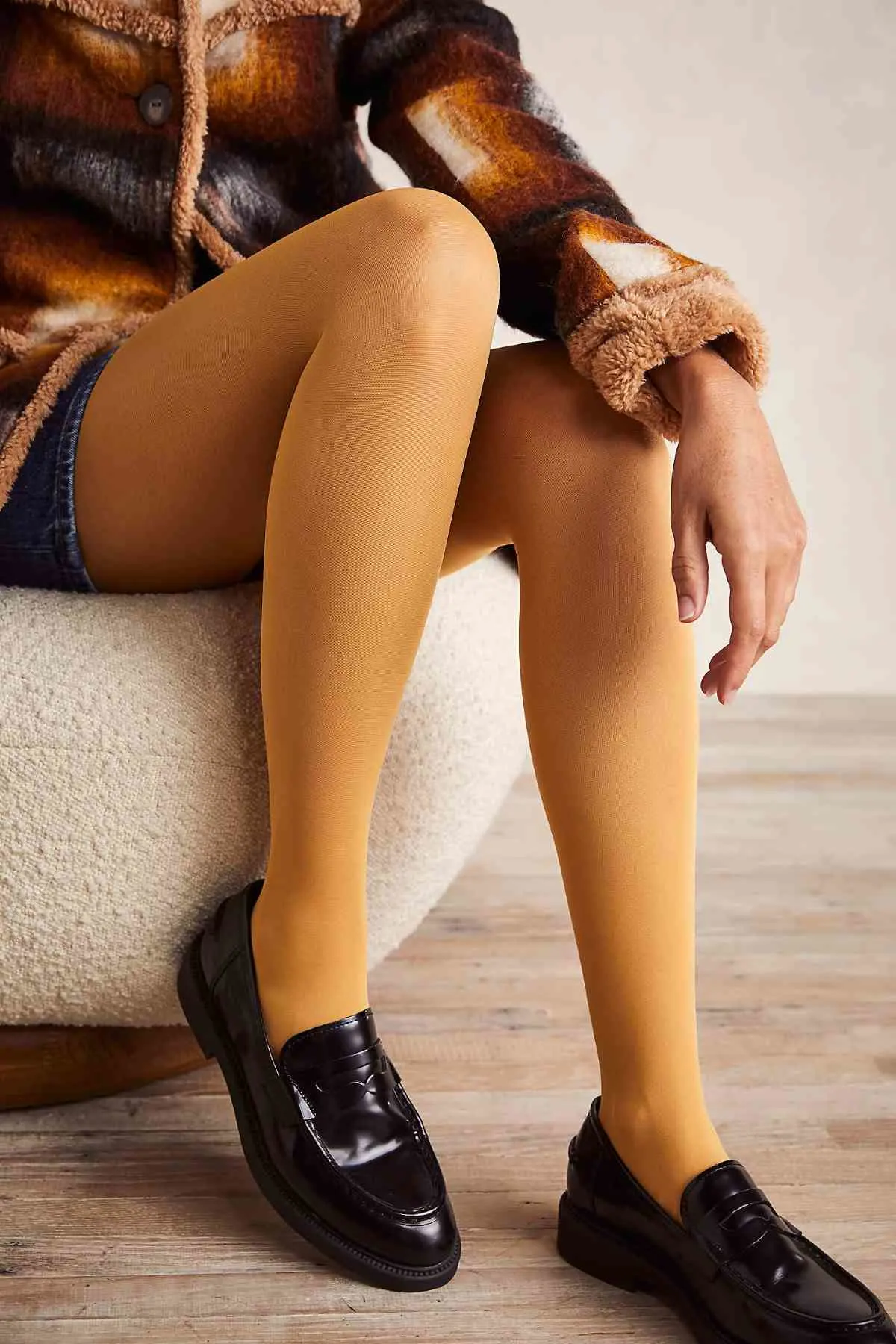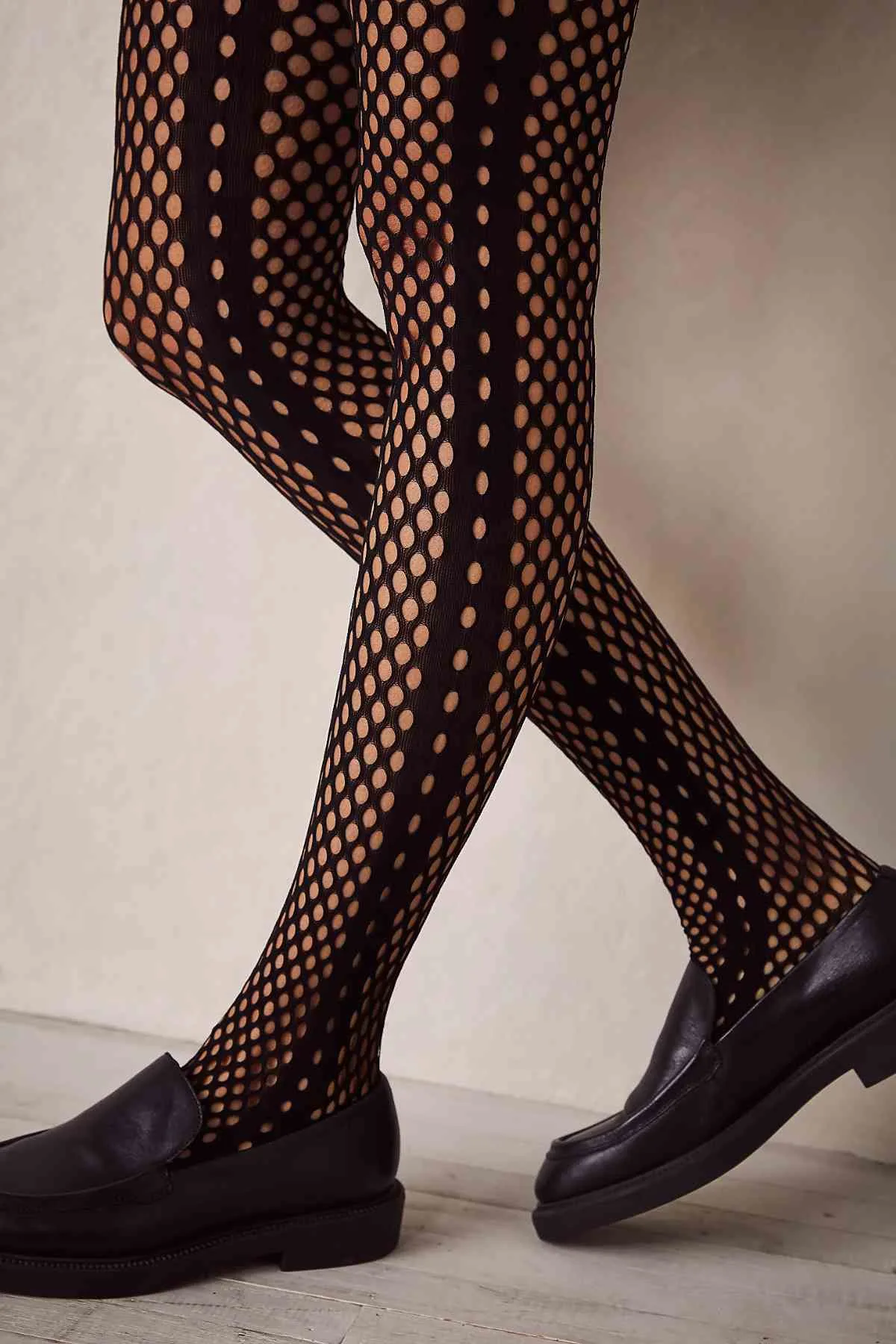 Try a pair of chunky black loafers of any style with semi-sheer black tights. You can also wear black fishnets with chunkier loafers to add some edge to an LBD or black shorts and rocker tee outfit.
A current trend is layering white ankle socks over sheer tights and loafers. Also trendy is matching your Gucci Horsebit loafers with a matching pair of Gucci monogram lace tights for a legs-to-toe designer look.
Colorful opaque tights are also fun with black loafers in jewel tones for fall, especially with a short skirt or structured skirt suit.
How to Wear Loafers with Socks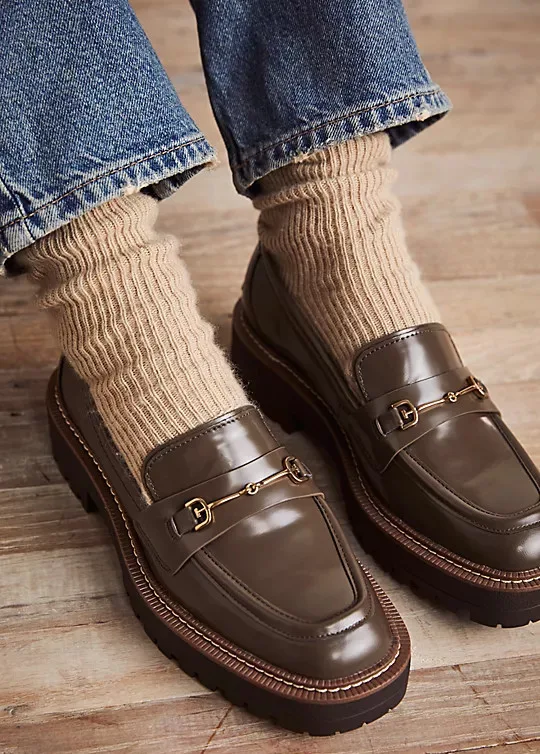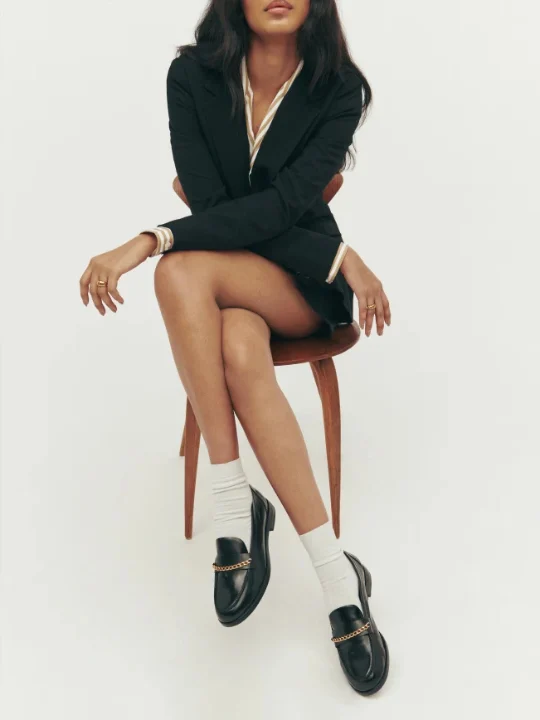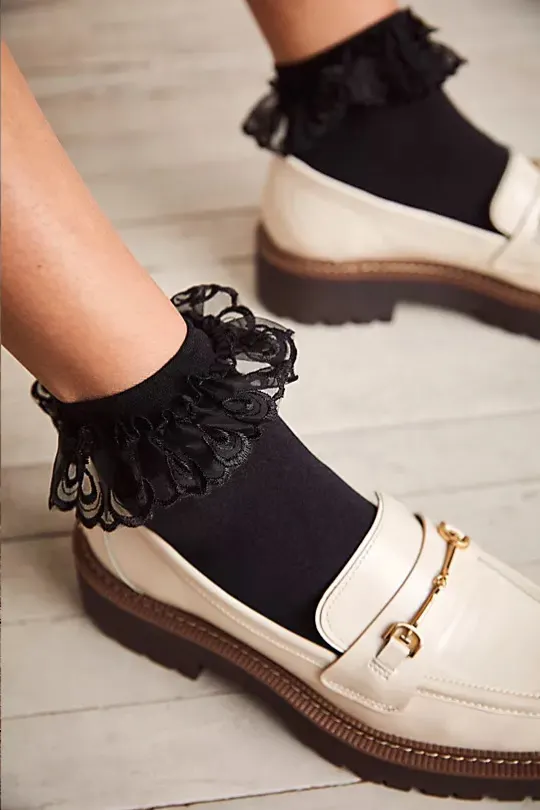 Yes, I have a whole post written about all the best socks for loafers, but here's a recap:
As mentioned in this post, loafers with socks can add a quirky and trendy appeal. The most popular type of socks to wear with loafers at the moment are ankle or crew socks.
You can choose a plain white sock, monogrammed crew socks, or you can get creative and choose a patterned or polka dot sock.
Another popular trend is to layer two types of socks- ankle socks over sheer tights. You can either match your sock color to your loafers or contrast it with a colorful, black or white pair.
Feeling cheeky? Choose frilly or lace socks. Feeling a bit punk-rock? Try a pair of fishnet ankle socks.
Tall or over-the-knee socks are a cozy alternative to tights, while no-show socks are perfect for those who don't want to complicate their minimal look.
FAQs about How to Wear Loafers (Women's)
Wearing Loafers to Work – Business Casual Attire
Loafers along with oxfords are pretty and give off a corporate chic look, making them the perfect shoes for business casual attire.
Pair your loafer with a straight or slim leg trouser, a plaid pantsuit, or a structured knee-length dress. On more casual days at work, pair your loafers with a pair of cuffed mom jeans, a simple white tee and a minimal blazer.
A structured leather bag and fine gold jewelry will add refined chic to your business casual look.
How to Wear Penny Loafers
How to Wear Penny Loafers – The Classic American Shoe Originally designed for men, the penny loafer has become a staple in many women's wardrobes.
And it's easy to see why – they're versatile, comfortable, and perfect for both work and play. But how do you style them so that they look chic and not clichéd?
Pair your penny loafers with cropped pants, mini or midi dresses. I love them with feminine and patterned dresses.
Go for a sleek, streamlined look by pairing minimal loafers with a pair of skinny jeans or leggings. Add a button-down shirt or cardigan for a preppy touch.
Look for loafers with interesting details like tassels or patent leather. These add just enough personality to make them stand out. Although you can't go wrong with a classic pair of leather burgundy penny loafers!
As seen in this post, wearing socks with your loafers is perfectly acceptable – in fact, it's practically required in some fashion circles!
How to Wear Lug Sole Loafers
Women's chunky lug sole loafers are a great way to add a touch of edge to any outfit. Here are some tips:
Pair your chunky loafers with wide leg jeans, or looser straight leg jeans and a blazer for a chic look.
Wear them with a flowing wrap skirt and tucked in tee for a bohemian meets funky outfit.
Throw on a pair of denim shorts and a loose tank for a casual and comfortable look
Wear them with a silky side-slit slip dress with a moto jacket for a contrasting take
Pair them with a short skirt suit, and a rocker tee for a cool office vibe
For a more edgy look, pair your loafers with a mini dress or skirt, adding a pair of sheer or black fishnet tights
Final Words on How to Wear Loafers Outfits
Ultimately, learning how to wear loafers is as easy as slipping into a chic pair. Whether you're a dress, pantsuit or joggers kind of gal, there are plenty of loafer outfit options to consider.
One thing is for sure: no matter how you wear your outfits with loafers, you'll add a touch of preppy class to your look. And who doesn't love that!?
If you're not feeling confident about what to wear with loafers, try just adding your loafers to a simple pair of jeans and tee outfit or with a minimal structured dress. Top with a classic overcoat and you'll pull off a great loafers look.
And don't forget when loafer shopping to choose a comfy pair! If you need to learn how to break then in, check out my guide on how to break in shoes.
Either way, I do hope I helped answer your question about what to wear with loafers! Any favorite pieces to wear with loafers? Let me know in the comments, below.
xo ShoeTease