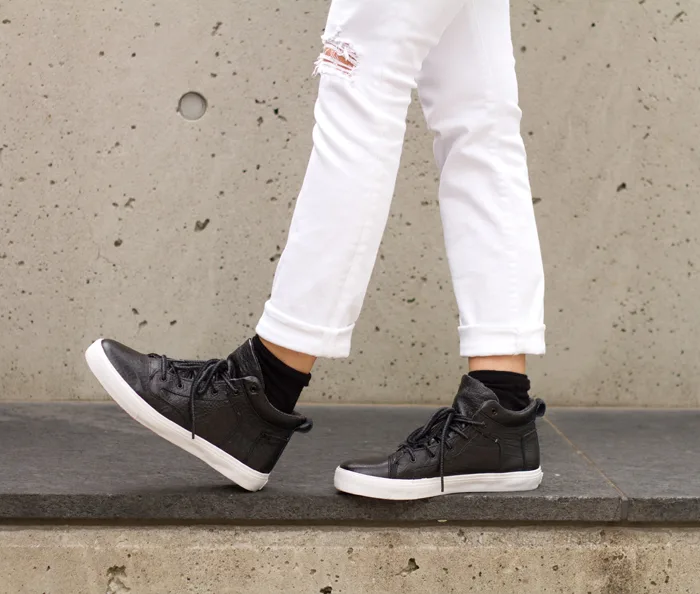 TOMS Shoes, famous for giving one pair of shoes to children in need for every pair sold, has come a long way in the design department since its initial slip-on phase.
Yes, the now dubbed TOMS "classics" are still a best-selling item, but they have not only expanded their shoe selection, but have also ventured into other accessory deparments. Namely bags & eyewear.
I'm pretty stocked & pleasantly surprised by the Fall 2015 line-up of TOMS sneakers & Women's shoes. Find out why, below…
RELATED POSTS: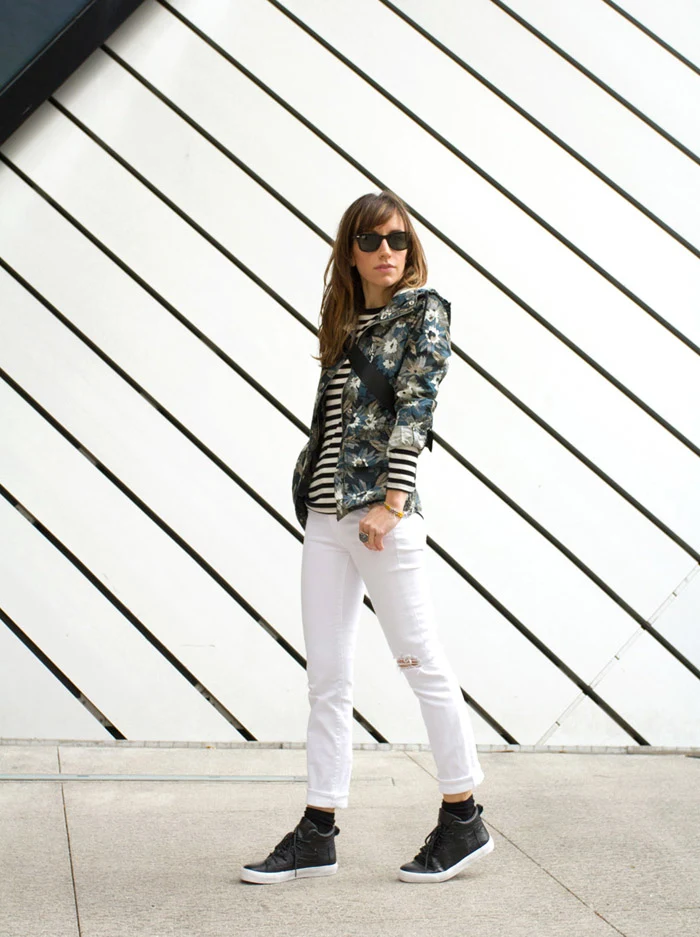 Sneakers: c/o TOMS. Pants & Jacket: Gap. Canvas bag: c/0 YNOT Made. Striped Tee: Joe Fresh. Sunglasses: Rayban Wayfarers
These TOMS "Camila" croc-embossed leather high tops are a great addition to my ever expanding sneaker collection. And I'm so happy with how TOMS has included edgier styles to their usually bohemian(ish) repertoire.
These leather sneakers are my current go-to shoe & here's why:
It's come to a point where I rarely wear heels on a regular basis. They're just not practical for most (of my) life situations.
I need to feel comfortable when I run errands & engage in less than glamorous endeavours around the city. But that doesn't mean that my footwear should at all look frumpy!
For the cooler Fall months & surly frigid temperatures coming our way, it's great to slip into something a little more chic for comfortable occasions.
The quality printed leather, thick two tone laces, printed gross grain pull tab & contrasting white outsole make this pair of TOMS sneakers easy to wear & coordinate with different outfits.
I do wish they had a side zipper, though, so I wouldn't have to keep lacing/unlacing them! Maybe I'm too used to children's shoes now & have lost perspective 😉
These specific sneakers are presently in store & you can even score a vegan version in both black & brown for under $50 right now! See the sneakers from TOMS Fall 2015 collection on display above & my fave styles from their general collection by scrolling down…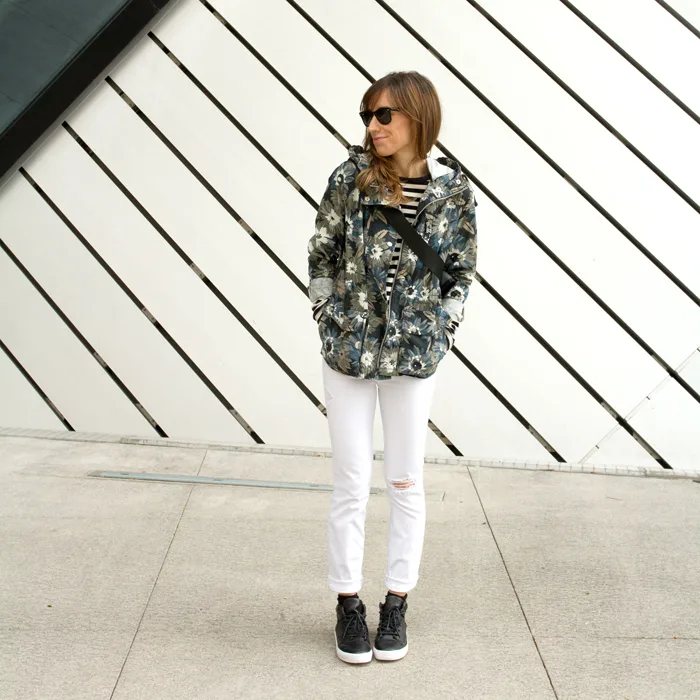 I've styled these hi tops with ridiculously stretchy distressed white jeans, dubbed my "magic pants", because considering they're a white pant, they give the best jean bum ever.
Seriously, not to toot my own horn, but how great does my butt look in them jean, below lol!? And I'm loving my new Toronto-based YNOT magnetic series cross-body.
Made in their shop on Queen St. West, it's a slick & stylish unisex bag to havea round when you need to be hands free. The magnetic closure opens in a specific way that makes it hard for others (read: pick pockets) to crack it open. So perfect for travel too!
These stylish sneakers are not the only covetable TOMS Shoes from their Fall 2015 collection. They have simple, chic & functional flats, slip-ons, oxfords & booties that are both on brand & subtly aligned with this seasons trends.
The ankle boots are probably my close second favorite shoe type from the entire line-up, with their chunky & sensible heel heights and suede & mix material uppers.
I've linked to the best non-sneaker shoes from the TOMS Fall/Winter Women's line at the bottom of the post!
Photography by Conrad Collaco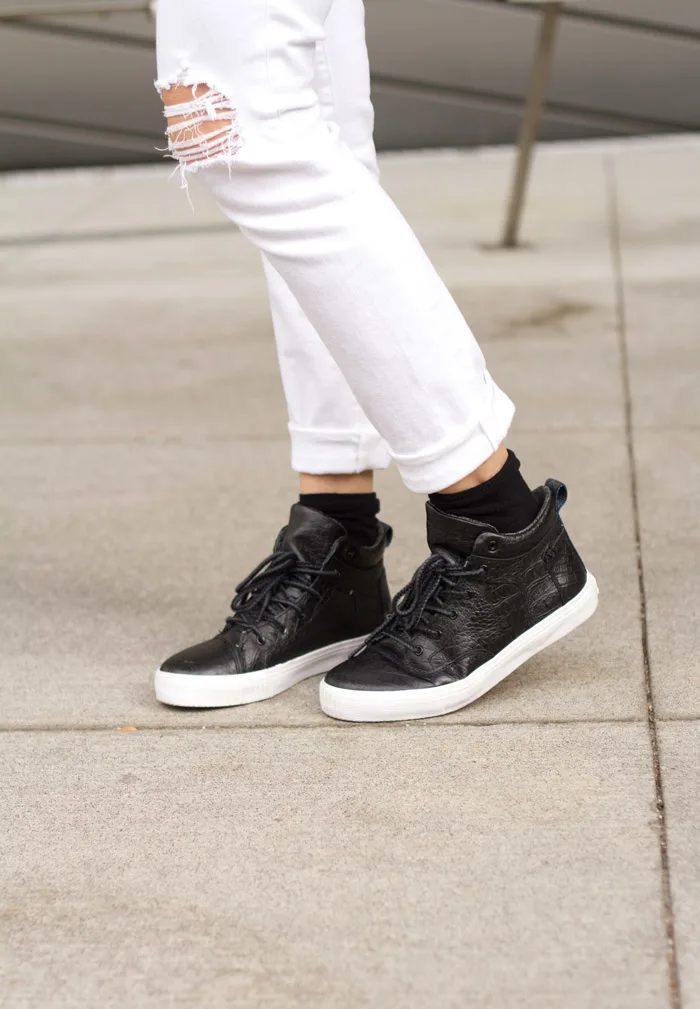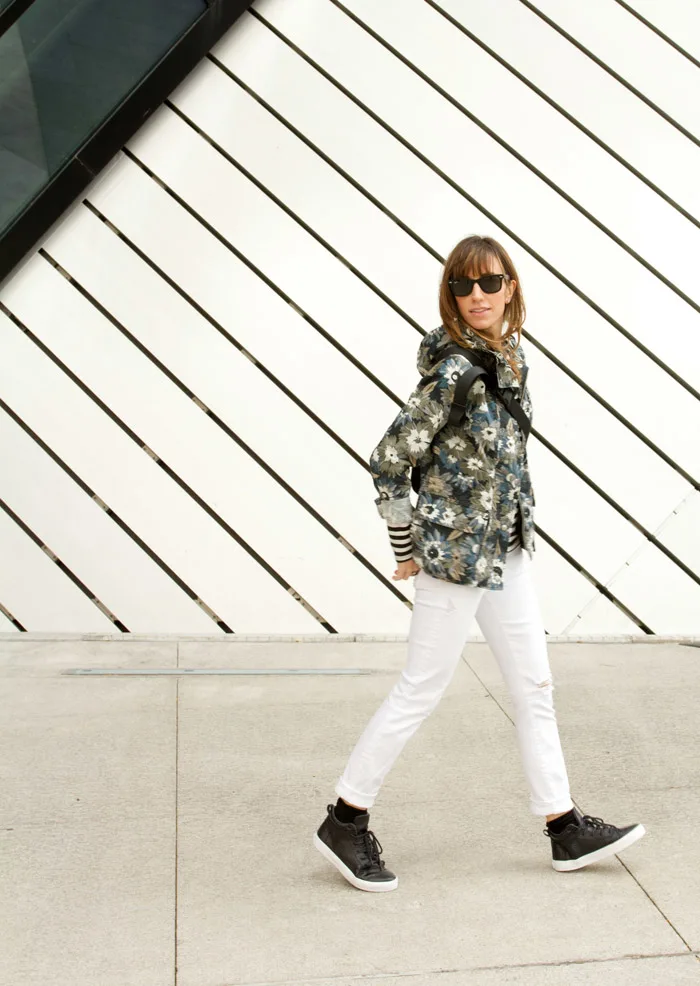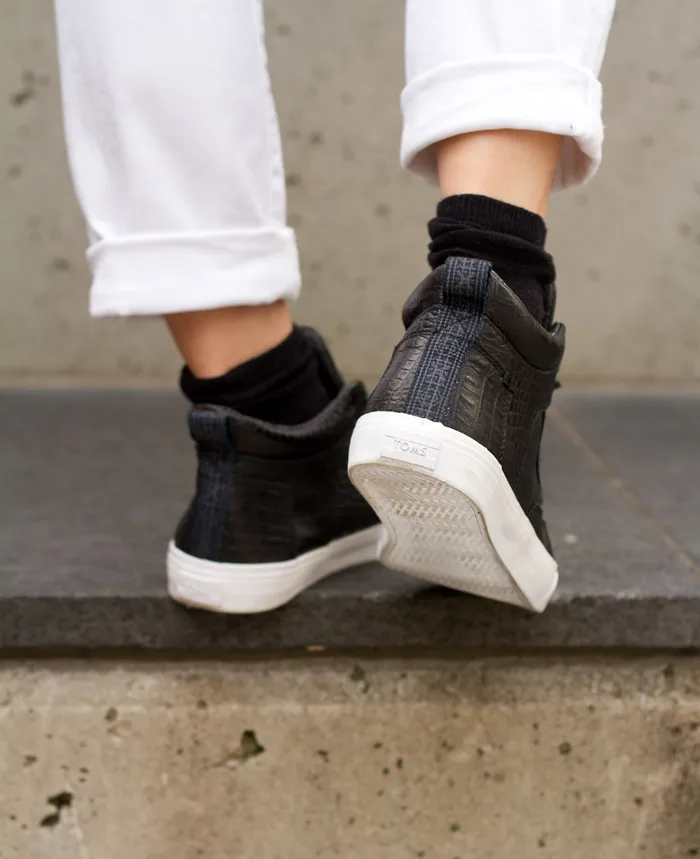 Hope you liked these Fall 2015 hi top TOMS Sneakers as much as I do! Check out more outfits & fashion and street style by clicking on the links 🙂
xo ShoeTease
Cristina is the chief editor, fashion & shoe expert here at ShoeTease. As a seasoned stylist and women's fashion & shoe designer, she boasts over 20 years of experience in the fashion industry. She loves crafting effortless outfits for ladies both online and off and believes that styling advice should be accessible to everyone. Whether you're a styling pro or just starting out, Cristina's here to guide you on your fashion journey! Learn more.