When Fall in Canada arrives – with its fickle weather and bursts of rain & chill – sneakers are not usually your best option. And let's not even talk about white sneakers!
So when I stepped into Toronto's GEOX flagship store at Yorkdale to pick up a pair of shoes to review, I immediately gravitated towards these Amphibiox sneakers. Because they're not as simple as they appear!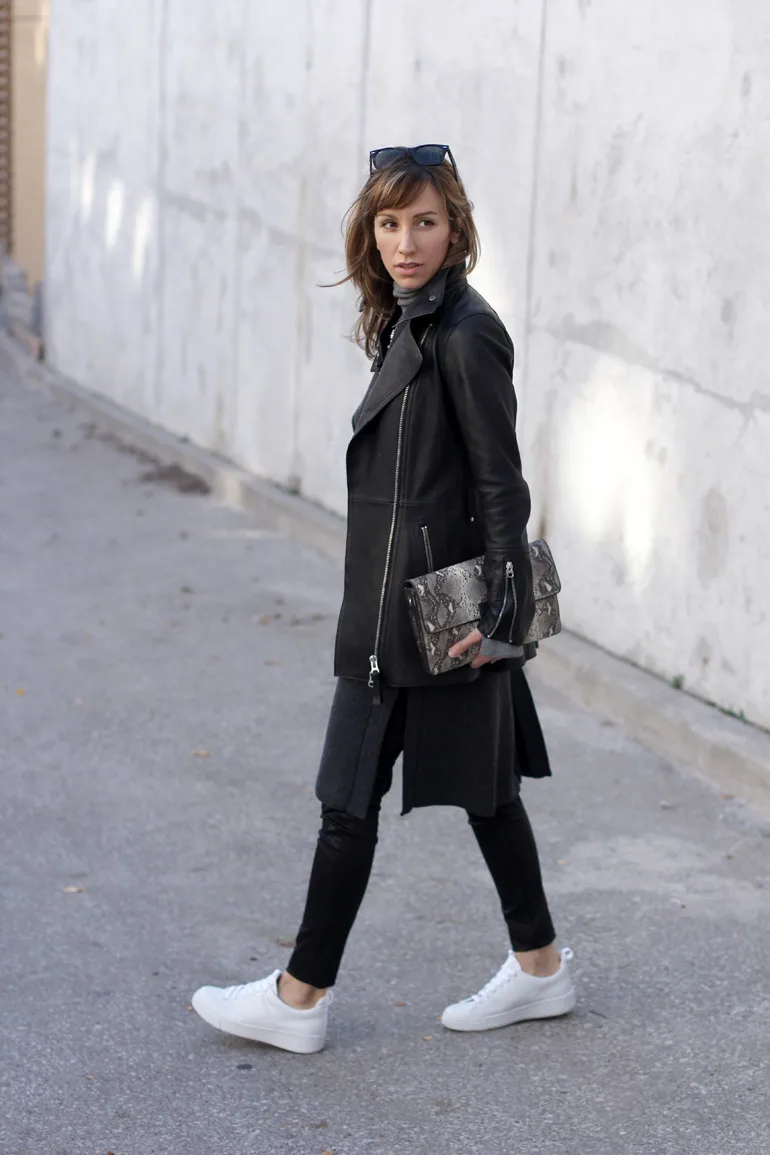 Sneakers: Geox Amphibiox c/o ON SALE. Leather Jacket: Mackage. Waxed Leggings: H&M. Turtleneck: Zara. Knit Vest: Aritzia. Sunglasses: Rayban Wayfarers. Bib Necklace: Happiness Boutique c/o. Snake Clutch: Zara (old).
---

---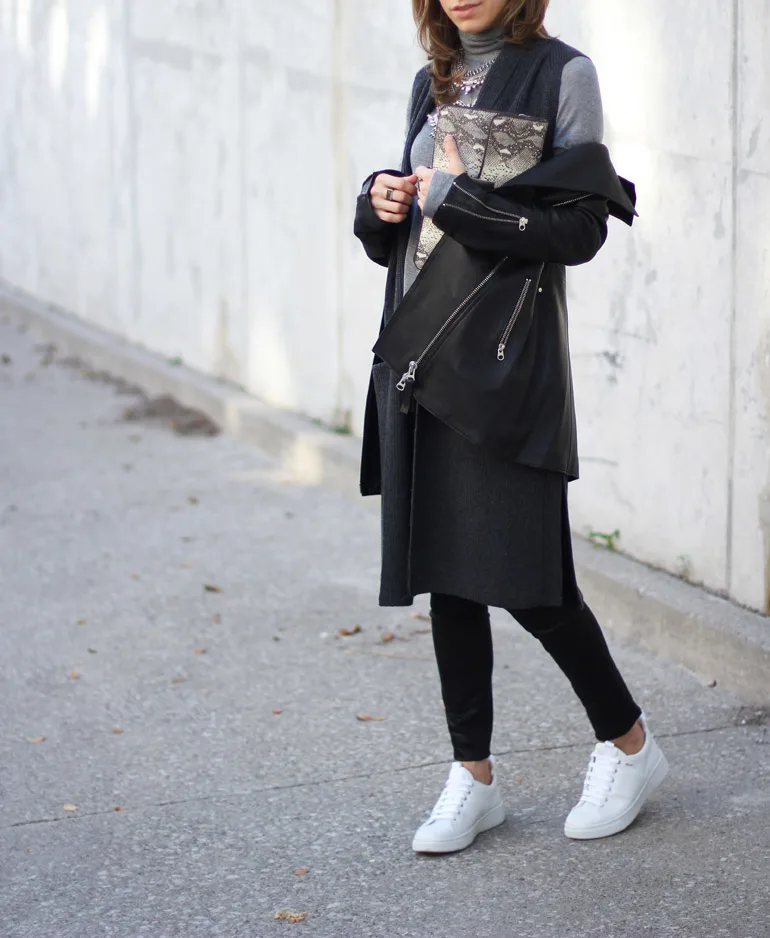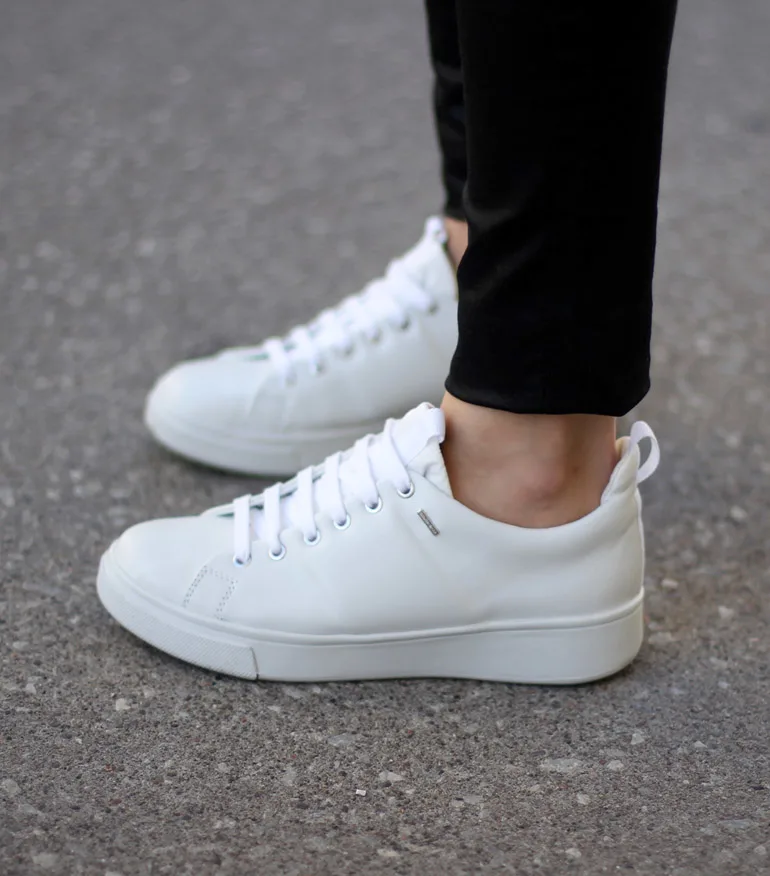 RELATED POSTS:
I'm almost embarrassed to admit that this is my first pair of fully white sneakers. I've always loved the versatile look, but the thought of how dirty they would get in my hands – err, feet – made me reluctant.
Can you imagine stepping inside a puddle wearing fully white shoes? Wait, I think I've done that! That's why my white shoes tend to stay at the back of the closet, safely stored in their respective shoe boxes…
The great features about these GEOX Mayrah Amphibiox white sneakers is that's they're slightly off-white, for starters. With their thick but smooth leather exterior, they're also easy to wipe clean.
Not to mention that they're treated with patented technology that repels water, and keeps your feet warm! And lastly, what differentiates GEOX from other shoe brands: their outsoles are breathable.
Yep, nothing goes in, but air goes out. I still don't know how they do it, but I'm glad they do!
This isn't my first pair of GEOX and my son lives in them, so I can attest to their comfort & durability. These white sneakers in particular are solid on the outside, yet soft & cozy on the inside.
I love their unique look most of all, making them a nice deviation from that other far too ubiquitous striped sneaker brand 😉
If you're looking for more coverage during the winter months, these GEOX sneakers come in a fabulous hi-top puffer version in both white & black.
I'm crushing on the black ones for winter too! Love the low version? You can still find the white version in store & via Nordstrom. The burgundy and black sneakers you can find on & offline.
And what makes a light sneaker an easy go-to is that they style well with virtually everything. Seriously, check out my white sneaker styling post for proof!
I love the look of a good sneaker with a moto jacket, myself. But I'm biased. I just nabbed this amazing leather trench from Holt Renfrew last month and I'm obsessed with it.
It's definitely an investment piece, though, so I've linked above to some more mildly priced jackets too. It's great that it's so different from the other short biker jackets out there & has thus far served me well for Fall.
Especially when paired with my new weatherproof sneakers! Because isn't it great to find quality classics, with an interesting twist?
Would you normally wear white sneakers in the Fall or Winter months?
If you want to waterproof your sneakers, take a look at my posts about the best waterproof shoe sprays and the many ways to make shoes waterproof!
More Review Posts:
xo ShoeTease
Cristina is the chief editor, fashion & shoe expert here at ShoeTease. As a seasoned stylist and women's fashion & shoe designer, she boasts over 20 years of experience in the fashion industry. She loves crafting effortless outfits for ladies both online and off and believes that styling advice should be accessible to everyone. Whether you're a styling pro or just starting out, Cristina's here to guide you on your fashion journey! Learn more.