If you're searching for inspiring ideas on how to wear khaki dresses with the right shoes & accessories, you've found the place on shoe-tease.com!
In this dress styling guide, I will show you what color shoes to wear with khaki dress outfits and army green dresses. I'll refer you to the perfect accessories, purses & jewelry to complete the look.
Khaki is a medium to dark taupe-green, that is slightly less vibrant than olive green, albeit extremely similar. So if you're also looking for what color shoes to wear with an olive dress, the choices in this post will work well
Khaki is often used interchangeably with army or military green. It is a subtle shade that looks lovely on all skin tones and makes for great summer dresses and winter outfits.
Khaki hues are quasi-neutral shades, appropriate for sleek business casual, like a khaki shirt dress, to informal outings in a khaki t-shirt dress. But in the right shade and sheen, khaki can make for lovely cocktail & bridesmaid dresses.
I've previously blogged about the best color shoes for mint green dresses and what color shoes to wear with a green dress. But as khaki green dresses are such a unique color, I decided that they require their separate styling post.
Hopefully, you'll walk away – in the right shoes! – inspired with a slew of khaki dress outfit ideas!
Looking to shop for khaki dresses this season? Check out both casual, formal and all dress styles in between from Saks Fifth Avenue, My Theresa, Revolve, LuisaViaRoma and Nordstrom.
What Color Shoes To Wear With A Khaki Dress Outfit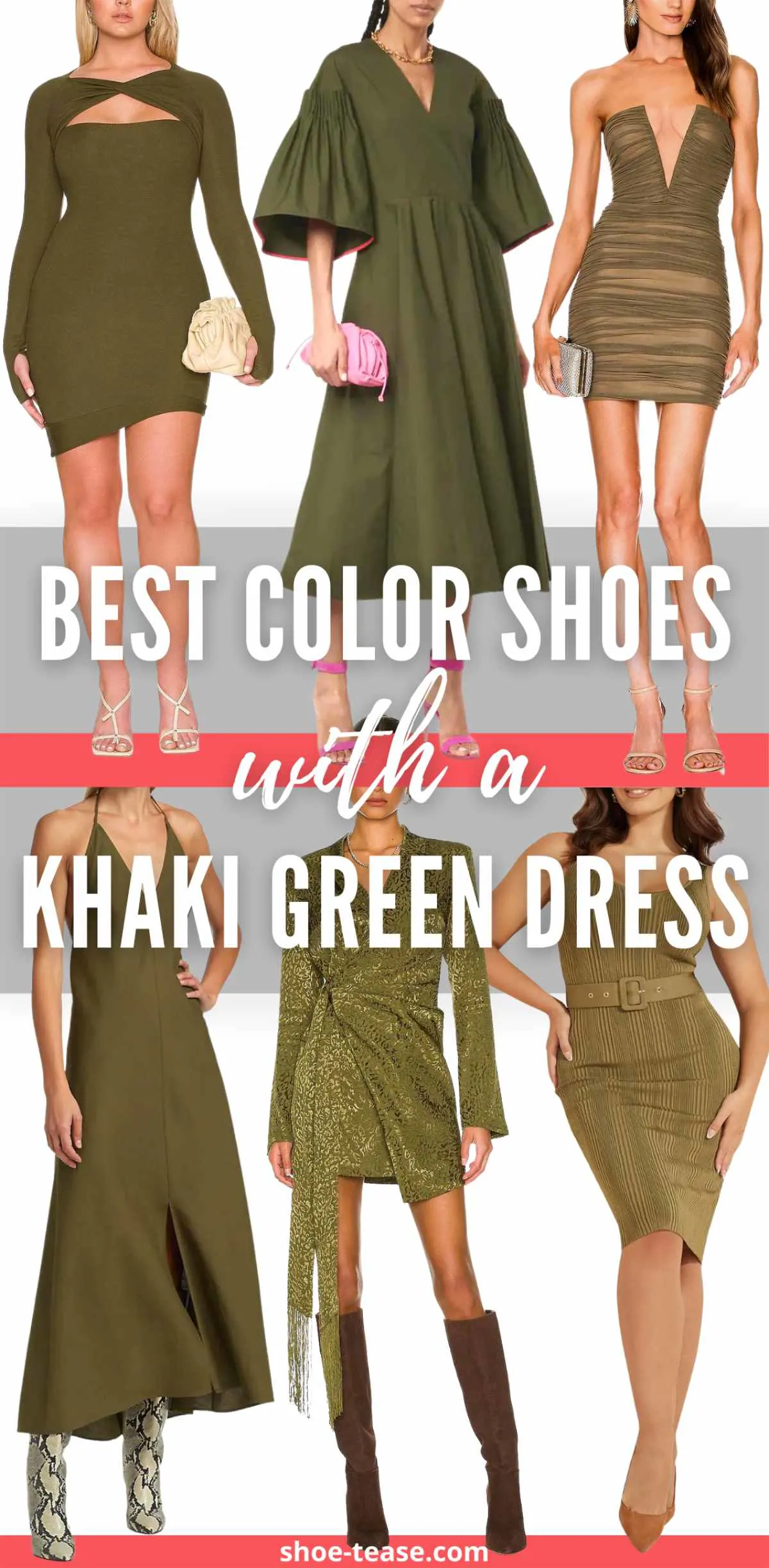 1. Beige Shoes with Khaki Dresses
As beige is a lighter neutral than khaki, beige shoes will offer a subtle contrast with a khaki green dress. This, whether the shoes match your skin tone or not.
Choose a suede bootie, pumps or mules for a more casual khaki dress such as a khaki shirt dress or sweater dress. Opt for patent heels, slides or strappy sandals with a khaki sequin, slip dress or cocktail dress.
Purse Styling & Jewelry Tips: White, gold or a black purse for contrast will look fab with your beige shoe and khaki dress outfit. Pick jewels in gold or rose gold to complement the warm tone of the beige shoes.
2. Black Shoes
Black shoes are usually bold choices, but with a khaki dress – a more somber green, it is not. However, it is still a classic and go-to shoe color.
Black shoes with khaki outfits are great for an office-appropriate or everyday look. This color combination can look even more formal with heels in a patent finish or rhinestone embellishments. Try a military chic look with patent combat boots with a utility-style khaki dress.
Accessory & Jewelry Styling Tips: I would choose white, silver or gold for a purse to remain neutral. But you can easily contrast it with a yellow, coral or bright green clutch or handbag.
In terms of jewelry, anything goes – from warm metallics to cool-toned silver jewelry. Match metallic to purse if applicable.
3. Gold Shoes with a Khaki Dress
Gold is one of the loveliest metallic shoes with khaki or army green dresses. Gold's opulence elevates any khaki dress or outfit.
Gold shoes with khaki work for more than just formal events, paired with a khaki gown or Hervé Léger-style bodycon dress outfit.
Think matte gold booties with a button-down knit dress or shiny gold slides with a khaki shirt dress or summer frock.
Purse Styling & Jewelry Tips: pick a black, beige or smaller coral purse to add a colorful contrast. Warm metallics such as gold or rose gold work well in terms of jewelry.
Or you can add a playful variance with silver jewels, which works because khaki is a cooler tone.
4. Blush Shoes
Blush pink shoes to wear with a khaki dress add a subtle color pop while remaining a neutral hue. This is the great strength of blush shoes! Patent pumps, slides or even booties will add some shine to a matte khaki outfit.
Accessory & Jewelry Styling Tips: I love purses that are white, off-white, beige or silver for this khaki dress outfit combo. Unless you've decided upon a silver purse, jewels in warm color metallics such as gold or rose gold will complement the look.
5. Brown Shoes with a Khaki Dress Outfit
As is usual with wearing brown shoes with dresses, these hues will make khaki that much more casual than it even is. Especially so, when paired with a khaki shirt dress or t-shirt or sweatshirt dress.
If you're keen on wearing brown shoes with a more formal dress, have them match your skin tone. This will create a 'nude' shoe to show off the dress. Alternatively, choose brown shoes in a patent espresso brown to add some shine.
Purse Styling & Jewelry Tips: Gold, silver, or even a white or yellow contrast purse will be a good combination.
Match your brown shoes with a brown or contrasting brown purse for a casual khaki dress outfit. Keep jewelry tones in gold to match the warmth of the shoes.
6. White and Off-White Shoes
Shop White Shoes & Heels: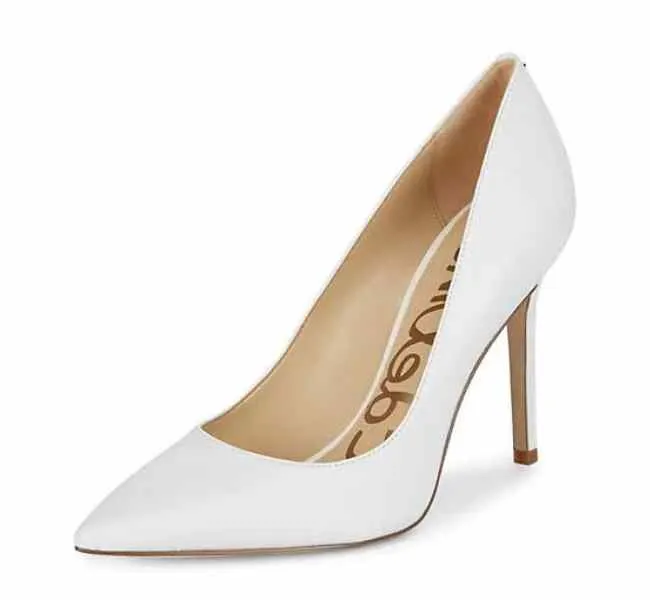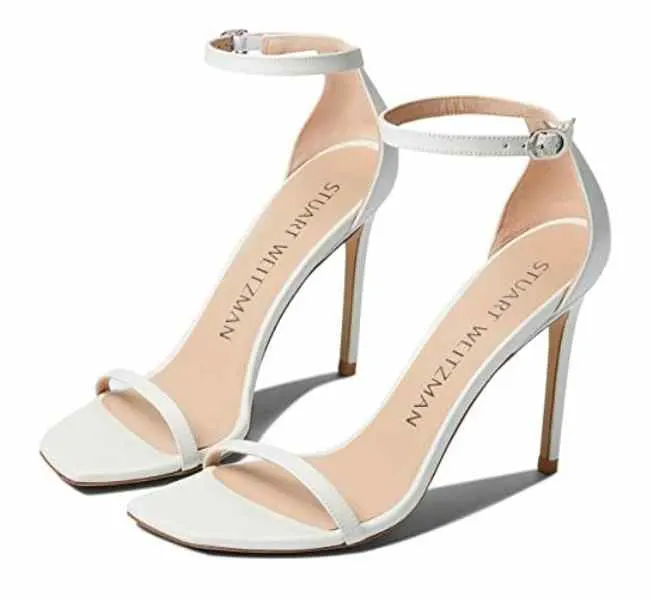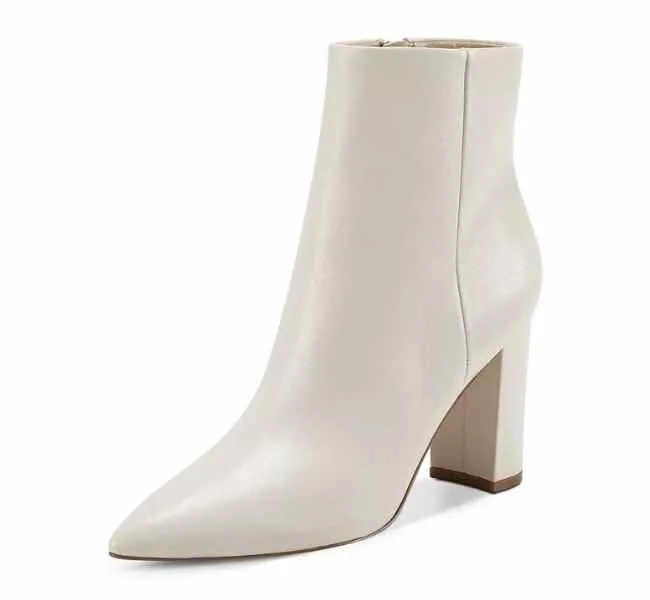 I love the bright contrast that optic white shoes bring to a darker hue like khaki or army green. However, I also adore off-white shoes for khaki dresses!
Off-white looks fabulous in tall suede or leather boots with a sweater dress for fall or thicker strapped leather sandals for spring/summer.
Bright white, especially in a patent finish make for fancier shoe choices to elevate your khaki dress outfit for an occasion that calls for it.
Accessory & Jewelry Styling Tips: A silver, gold, black or matching white purse will work well. Jewelry in all tones can look great, but preferably to match a metallic purse if you've opted for one.
7. Silver Shoes
Shop Silver Shoes & Heels: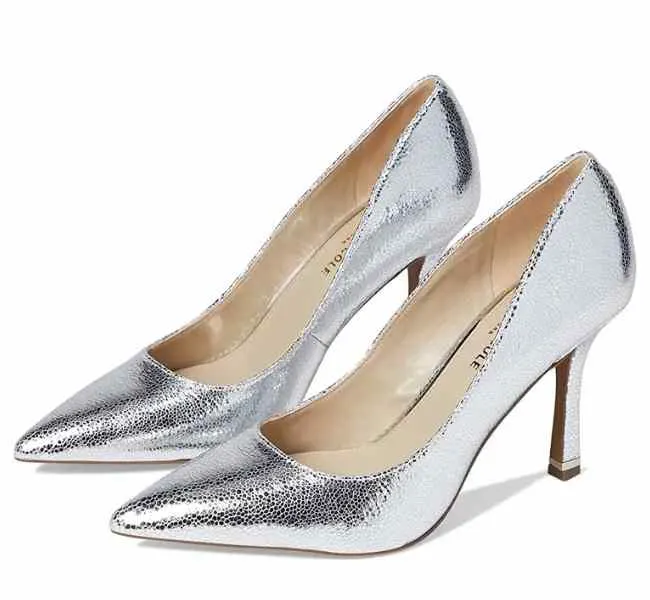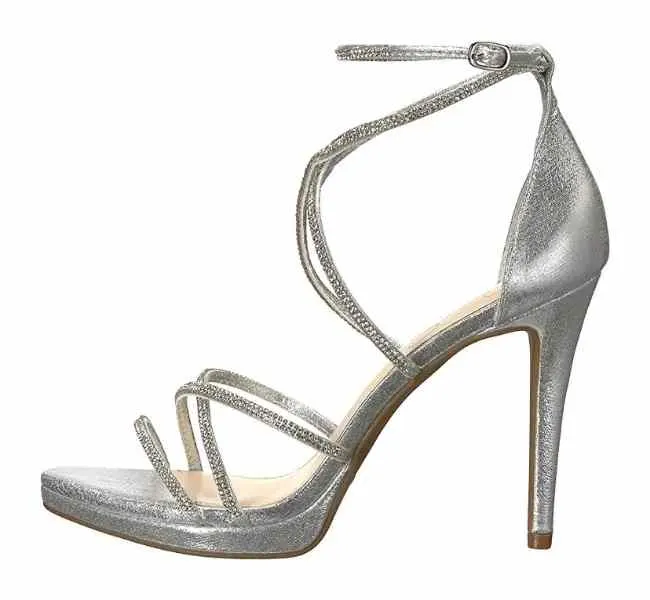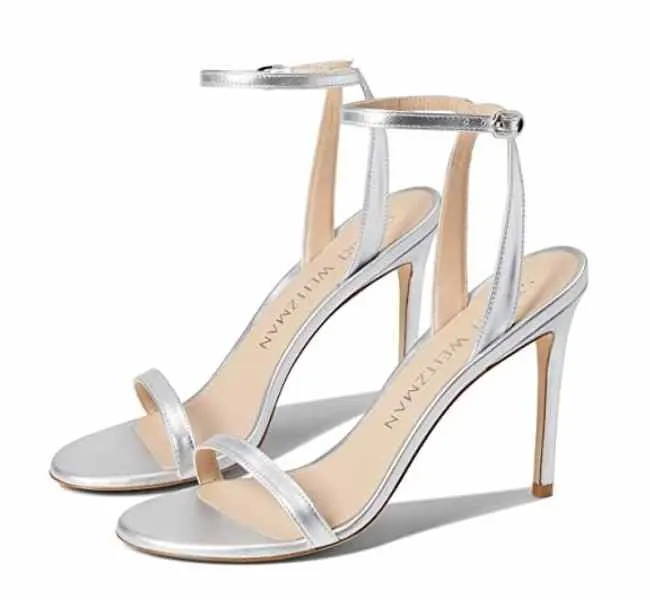 When thinking about what color shoes to wear with a khaki dress for festive occasions, silver shoes come to mind! Silver shoes are bright, shiny and make a fun addition to any army green or khaki dress – contrasting the more somber dress color.
Purse Styling & Jewelry Tips: there are a few purse options when accessorizing a khaki green dress :
Pick a white or black purse.
Add a colorful contrast with a smaller coral handbag, or choose a contemporary clear clutch with silver trim to tie in with the shoes.
Match a silver purse with your shoes for a formal khaki dress outfit.
As per jewelry, keep it silver as the shoes, but add some silver jewels that sparkle with diamonds or similar gemstones if the event calls for it.
8. Coral Shoes with Khaki Dresses
When you're in doubt about what color shoes to wear with khaki dress outfits, coral shoes are a great choice. I mean, as will salmon, peach or similarly-hued shoes.
These colorful shoes will give a fun contrast to any khaki dress outfit. Bright bubblegum and lighters pinks will also work. However, coral is less stark and I believe it compliments khaki outfits somewhat more.
Accessory & Jewelry Styling Tips: Select a purse in white, silver, black or gold tones. A dark brown purse for more casual khaki dress outfits will work. As per jewelry, any tone will do. Try gold, rose gold or silver for a lively contrast.
9. Yellow Shoes
Nothing will brighten and liven up a khaki dress or outfit like yellow can! Opt for a sunny yellow or more demure mustard yellow, which is a favorite for army or khaki greens.
Yellow suede shoes or embossed snake print boots will look lovely for more casual events. For a fancy affair such as a summer garden party, choose minimal patent yellow shoe styles with a patent sheen or embellishments to add to the occasion.
Purse Styling & Jewelry Tips: Add a white, gold, coral, or bright green for a fun combo. Perfect for a cheerful summer wedding! Pick minimal gold jewelry or contrast with silver tones.
10. Contrast Green Shoes with Khaki
I'm not a fan of playing matchy-matchy with any dress and shoes, which is also true for a khaki dress. Unless, of course, you're in a bridal party or similar event.
Even so, it's not a favorite combination because there are so many better shoe color options with army green dresses! Think apple green, emerald green, darkest green or neon green, just to mention a few.
The brighter green shades especially will play against the darker green tones of the khaki, making for a well-thought-out outfit. I may be biased as I love outfits with green shoes!
Purse Styling & Jewelry Tips: Almost all tones with this khaki-on-green combination will work. My personal choice is gold, white or a pop of yellow. Avoid adding more green to the look – that means no green purse for you!
Your jewelry can match the purse, or you can opt for silver or pewter with any other purse color choice.
11. Clear Shoes & Heels
Shop Clear Heels for Women: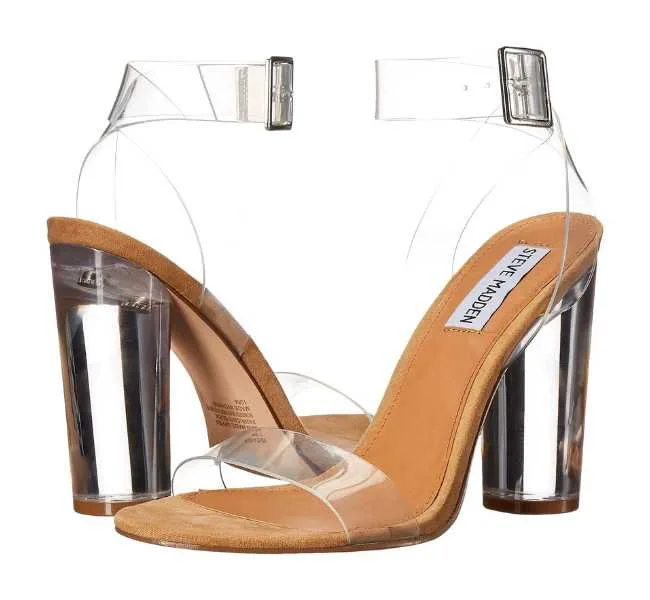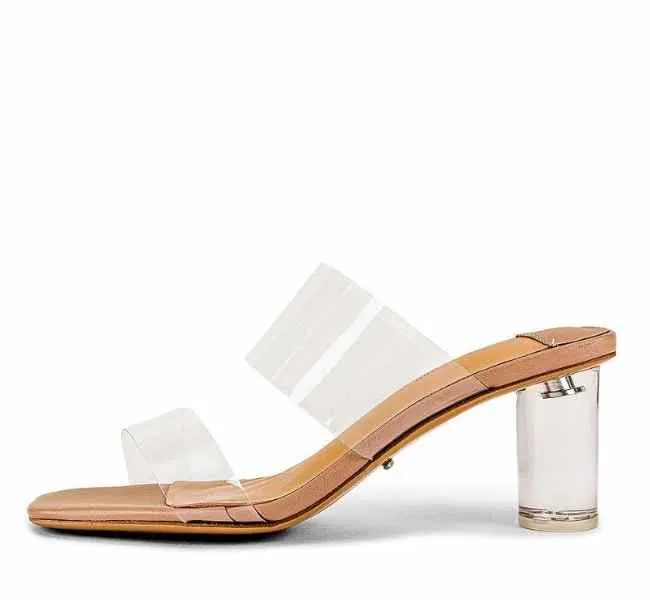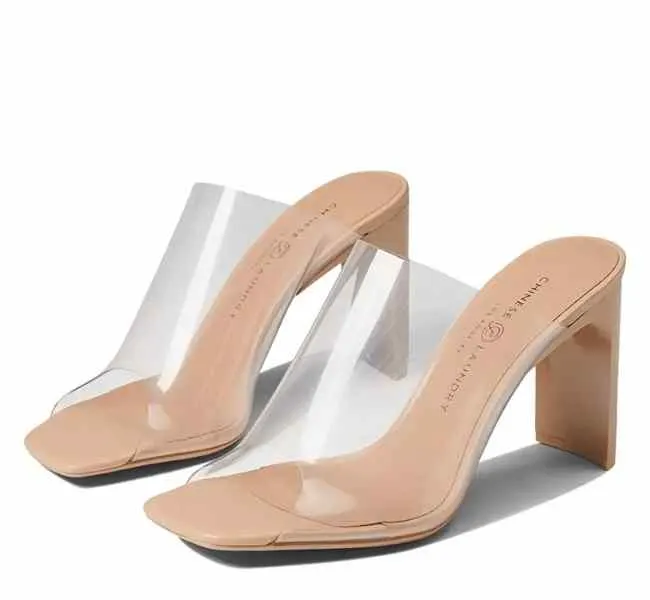 The most trendy shoes to wear with a khaki dress outfit are clear heels with transparent straps. These are a great and most contemporary footwear choice.
Although transparent flats exist for all kinds of outfits, even casual ones, clear pumps, slingbacks or slides or strappy sandals are the clear shoes of choice to elevate a flouncy floral khaki dress, or any kind of formal slipdress or gown.
Accessory & Jewelry Styling Tips: With this combo, a silver, gold, white or clear purse will work. Or contrast with a black, coral or blush clutch. If the clear heels have a colored base (usually white, beige or black) match your purse to it.
Jewelry can be kept to silver tones with a silver purse, or choose rose gold or gold metallics when paired with a blush, gold or coral purse.
12. Snake Print Shoes
In neutral, preferably lighter beige-tan tones, snake print shoes will look fabulous with a khaki dress. Snake print isn't going to make a khaki dress formal, but it's going to add an IT factor that comes along snake print shoes -especially boots!
Wear a snake bootie with a short dress or snake leather knee boots with a flouncy midi-dress. And you can't beat a cable knit sweater dress with such fun boots in cooler months. For office-appropriate wear, choose a khaki shirt dress with a pair of snake print pumps.
Accessory & Jewelry Styling Tips: Pick a shade from the snake boots and wear that as a purse. Make sure that the color contrasts enough with the khaki dress so that it doesn't clash.
With respect to jewels, anything goes – silver, gold, rose gold, or colorful custom jewelry will look fab.
Final Words on What Color Shoes with Khaki Dresses
After reading my post, I hope you have a better idea of what color shoes to wear with a khaki dress. Of course, style is a personal choice, so the colors and shoe styles listed in this post are friendly suggestions.
You may want to wear different color shoes with your khaki green dress, like grey shoes and that's ok! If you feel great with what you're wearing and the outfit has a good flow, then go for it.
The only shoe colors that don't particularly suit Khaki dresses or outfits are burgundy, dark grey, or navy hues. There's simply not enough contrast for those darker colors to play well together.
Now that you've got a clearer idea of what shoes to wear with khaki dresses, you can check out more shoe pairings in my other dress styling posts.
Then pick your preferred shoes for khaki dresses from the shoe styles I've outlined in my post about shoes that go with everything!
So, tell me: what color shoes do you like to wear with a khaki dress or similar shades, such as army or military green? My choice is silver pumps or sandals, for a formal event, or snake print or coral shoes for a more casual khaki dress outfit!
See More Dress Styling Guides:
xo ShoeTease