We've all seen the top Spring 2015 shoe trends by now, & it's pretty hard to miss one particular shoe styling trend: statement hosiery.
Whether socks and sandals, or socks with heels, many high-end designers thought it an important enough aesthetic to showcase on their Spring/Summer runways for the upcoming season. And let me tell you: these aren't your run-of-the-mill tube socks!
The most notable socks + shoes trend involved not only ornate shoes, but stylized socks as well. Designers featured metallic socks & hose, two to three tone socks with intricate detailing, lacey knee-highs and more.
Whether you'll be buying into the pairing or not, it's definitely worth checking out these haute looks with socks + sandals, socks + heels & pretty much every shoe type for the warmer seasons!
Here are the 5 designers who opted for this original pairing in almost every one of their Spring looks.
Socks and Sandals – Spring 2015 Runways
Prada – Intense Sock Styling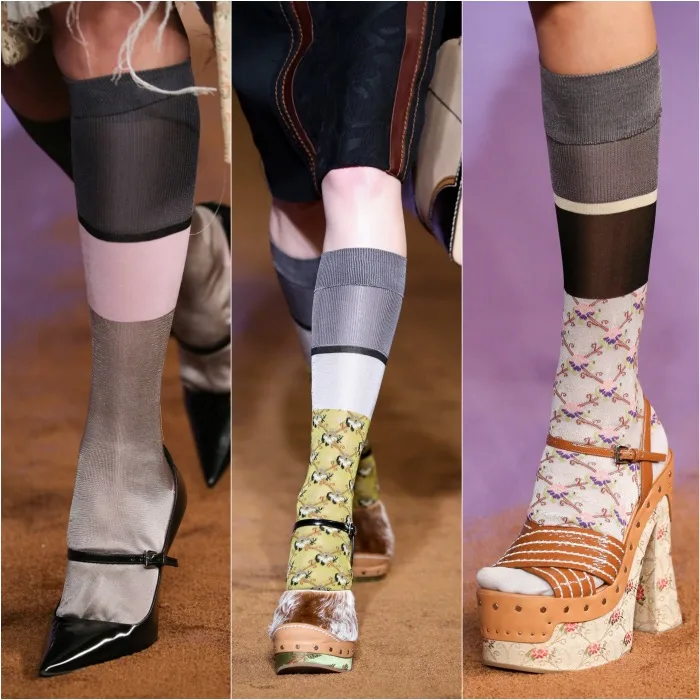 Prada had the most original socks & heels look for Spring '15. Not only were some of them metallic, but they were also full of funky patterns, stripes & colors, bringing sock styling to quirky new heights!
I love how they showcased their fun socks with a more basic pointed pump as well. Probably a good way to ease into this very particular trend.
Anna Sui – Disco Ball Glitter Socks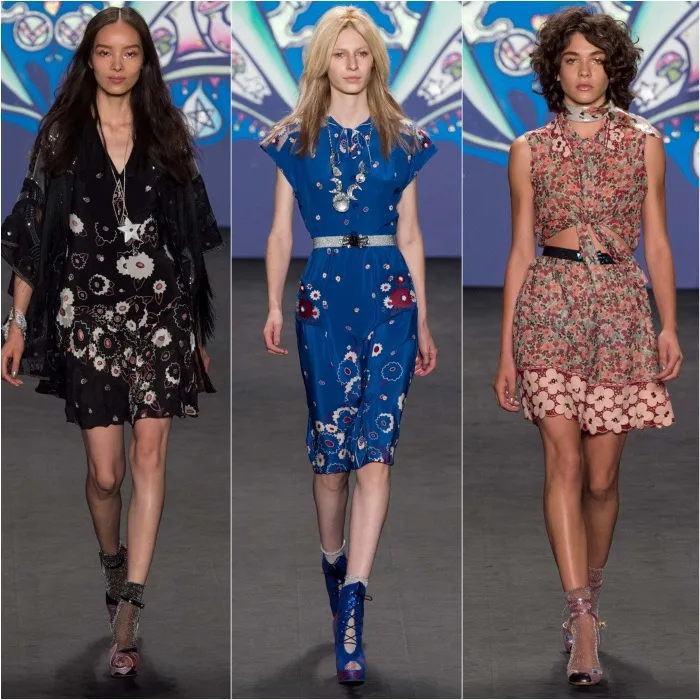 Anna Sui had some fun with her socks and shoes, showcasing her various sandals, boots & flats with glittery ankle socks in grey, blush & charcoal tones.
This is a great type of sock if you want to dip your toes into the trend but don't want to get too wet, so to speak! Great socks to wear in the summer too!
Rochas – Varsity Pom Pom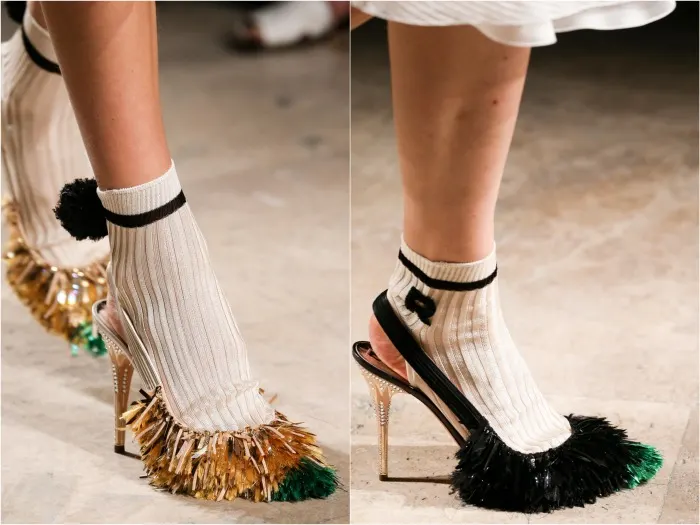 Rochas continued on their tradition of over-the-top shoes with cheerleader pompom-inspired slingbacks & sporty socks. These shoes, with their mop-sweeping properties (like these funny mop flip flops!), are fairly unwearable in real life, but so quirky & original that I can see how they'd be difficult to resist.
But on top of their out there heels, there was an added touch: varsity-emblazoned ribbed ankle socks with heel cut-outs, some even with added pom poms for that extra cray!
Vivienne Westwood – Net & Hose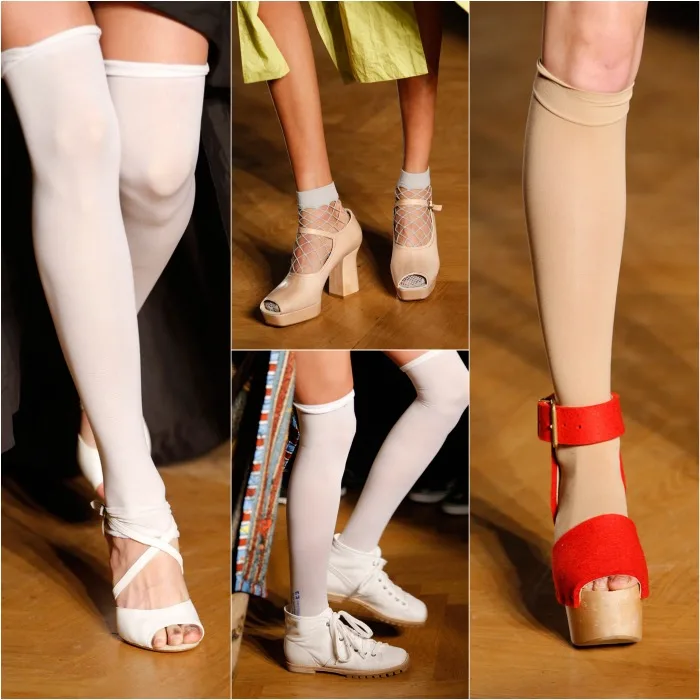 Westwood didn't hold back when it came to hose for this coming season; she added leg-warmer-meets-grandmas-stockings to each & every shoe style, including flatform sandals!
And when she didn't, she opted for large fishnet ankle socks. I'm rather partial to the white dance-inspired stockings styled messily with the criss-cross sandals.
To me, this is a perfect, almost effortless way to wear socks with sandals when transitioning seasons & particularly great for keeping your stems warm. Perfect styling for those that don't want to look like they've tried to hard to put themselves together!
Dolce&Gabbana – Black Lace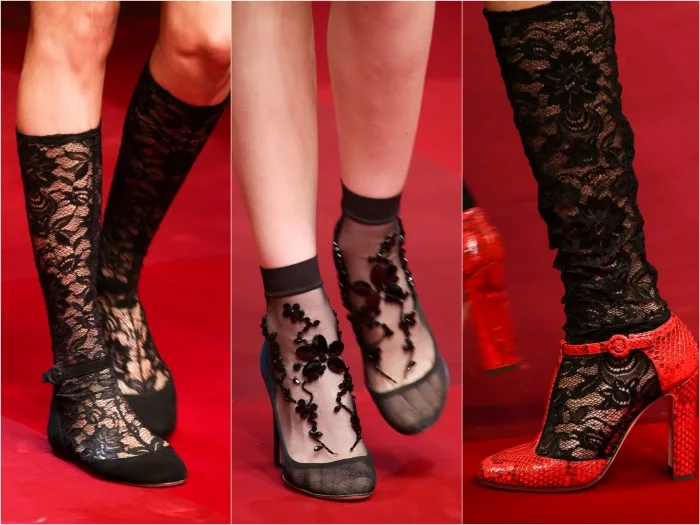 And then there was lace! Dolce&Gabbana had fun with lacey black ankle & knee socks in their sandals. Some of their footwear even seemed like a hybrid: one can't really tell if the socks were actually socks or whether it was simply a part of the shoe itself.
Full-on shoe or not, the bedazzled heels mesh with rhinestones & beads are gorgeous!
So what's your view? Will you be attempting to wear some funky socks and sandals or hose with your flats, sandals & high heels this Spring? I'm not too sure if I could pull this look off myself, but I think I oughta give it a try!
xo ShoeTease
Cristina is the chief editor, fashion & shoe expert here at ShoeTease. As a seasoned stylist and women's fashion & shoe designer, she boasts over 20 years of experience in the fashion industry. She loves crafting effortless outfits for ladies both online and off and believes that styling advice should be accessible to everyone. Whether you're a styling pro or just starting out, Cristina's here to guide you on your fashion journey! Learn more.