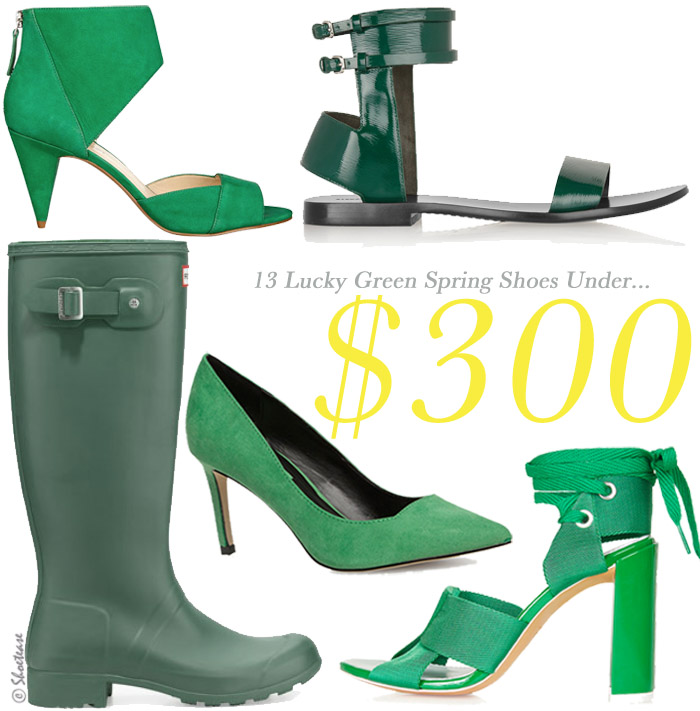 Are you a fan of good luck charms? Well, I don't know about you, but I like to wear my charms where I can clearly see them: on my feet! In the spirit of Friday the 13th as well as the upcoming "holiday" that is St. Patrick's Day (& all of its simplified green glory!) here are 13 green shoes under 300 USD to add an extra colorful bounce to your step this Spring.
Whether high fashion or simply high street, this Spring 2015 season features a vast array of green shoe shades, including emerald, forest & extremely popular SS2015 choice: khaki green. And the best part is that you can find so many shades of green in various shoe types such as flats, rainboots, sandals & more! Ah, gotta love some great affordable shoes!
The featured ones in the above picture are my favorites of these St. Patty's green-themed shoes. Here's the rundown of the 5 pairs, from top left & clockwise:
1. Nine West "LilDarlin"
These reverse cone heeled sandals are the perfect vibrant green! With the upper made of genuine suede & it's reverse and lesser high heel, this is a perfect shoe to walk you to the office or a fun night out! A best of all, the price of these heels is $110 US.
2. Alexander Wang "Alek"
On sale at TheOutnet.com for barely over $200 (a huge steal for Alexander Wang shoe fans!), these patent emerald green sandals are minimal, strappy, but edgy all at the same time. I can see these with a fun little summer dress, slouchy khakis, or a feminine boyfriend jean.
3. TopShop Unique Folded Sandal
I absolutely adore the strappy chunky heels in sandal form. These come in at just under $300, but are definitely originals with their thick rivet adorned ankle strap & basic laces. Love the grosgrain material used for the upper as well. The perfect sandals for Spring/Summer to me!
4. Dorothy Perkins Court Shoe
Pointed toe pumps with a stiletto heel have become a classic. So why not add a little twist by having your basic pumps in a very non-basic color such as Apple green. And if you get too tired of the shade too soon, you can replace them. It's not the biggest when you're only paying $39 for the shoes! Yep, this one's the cheapest of these 13 green shoes under $300.
5. Hunter Boots Original
And of course, with rainy season coming along, why not invest in classic Hunter boots in the most classic color of them all: forest green! I love how the ones I've featured in the picture above are a matter rubber rather than a glossy rubber that have become really popular now. If you're going to splurge on $200 rain boots, then these are the ones to get as they will still be on-trend for seasons to come. As long as you don't wear these shoes in the snow or the blistering cold, where they will likely crack. Yikes!
So if you're out looking for some lucky green shoes for Spring, then you've come to the right place! See the shopping links to the above 5 in addition to the final 8 picks of these 13 green shoes under 300 US Dollars, below. I hope it inspires you to green-ify your shoe closet (and get you a great pair of shoes to wear for St. Patrick's Day too!).
Any favorite green shoes?

xo Cristina M.
Photo Credits: google.com, nordstrom.com, theoutnet.com, ninewest.com, topshop.com