Looking for the best shoes to wear with mom jeans, from sneakers, heels, boots and more? Today's shoe styling post on shoe-tease.com is to help you exactly with that!
I'll also give you tips on how to wear and complete these often-hard-to-style jeans look casually and with sophistication, so keep reading!
What are mom jeans? Named for the looser high waisted jean cut that moms wore in the 70s, jeans referred to as "mom jeans" are somewhat different than they were in the past.
Although they are still high waisted, the term "mom jeans" in the 2020s refers mainly to a high waist and looser fit than, say, a skinny jean.
Mom jeans can be more or less relaxed in fit and either have a tapered leg or straight leg.
Check out my post if you're looking for more info on how to wear straight leg jeans with the right shoes, boots & more! Are your moms jeans roomy? Also peek at my post about shoes to wear with baggy jeans.
Current mom jeans are sleeker with a more flattering cut than their rather baggy-around-the-hips 1980s and 90s counterparts. Thankfully that means that they look great with a variety of shoes!
Are mom jeans in fashion right now? Yes, and even more so since they've shapeshifted into many a variation worn by many models, fashionistas, celebrities and everyday moms – like myself! – alike.
I personally love them because of their more relaxed look and roomier feel.
You can find them ripped, distressed and of any denim color or wash. I can't say there is a mom jean that's not in style at the moment, especially when the rest of the outfit is just right!
What will make or break your look is getting your feet into the right shoes to wear with mom jeans.
So wearing the right boots, heels and even sneakers with mom jeans – and how to cuff or roll them up accordingly – is what we're going to discuss below. I want you to look fabulous, not frumpy, in winter and summer!
22+ Stylish Shoes to Wear with Mom Jeans!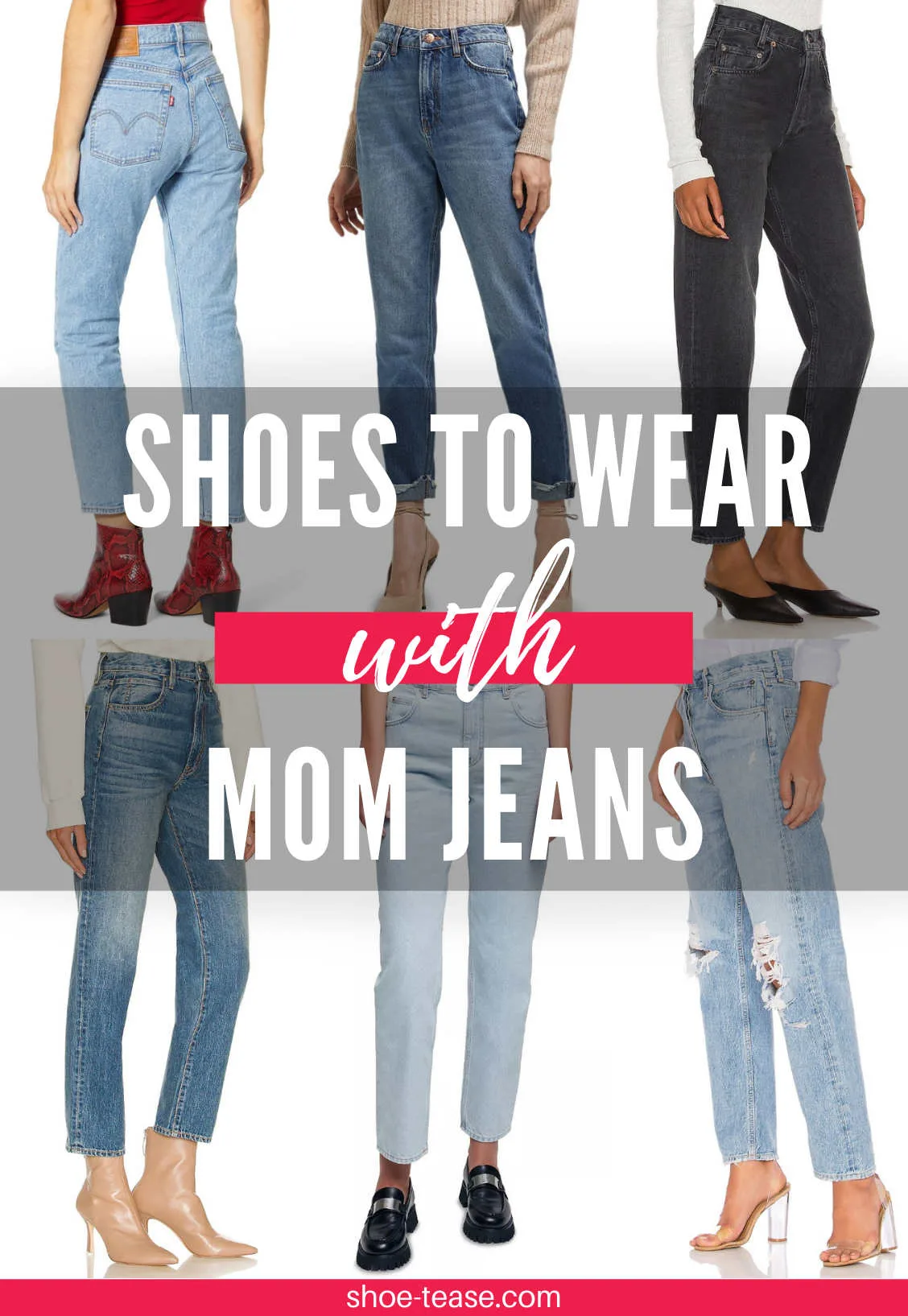 Casual Shoes to Wear with Mom Jeans
If you're a mom — like me — you know how important casual shoes are. They can take you everywhere you need to go. From the grocery store to school pick-up, the dog park, library and beyond.
And even if you're not a mom, these outfits can look just as fabulous!
Mules
Depending on how high of a heel your mules have, they may or may not be for everyday wear. The lower the heel, the longer you can walk around.
And in comfort, too! If you're heading for a night out, heeled mules are great shoes for mom jeans.
Flat Sandals
Doing a lot of walking? Try flat sandals. From a charcuterie date in the park to taking your pup for a stroll, this type of shoe looks great with all varieties of mom jeans.
A tucked-in cotton T-shirt or tank top will look fantastic. Beauty tip: make sure your pedicure is on point.
Loafers
For a touch of sophistication, loafers will do the trick. A slightly cropped pant leg or rolled cuff will help showcase your loafers too! Choose a pair with tassels, chains, or a statement buckle for extra style.
In the winter, add a chunky pair of socks to your loafers, or add a pair of no-show socks to keep your feet and legs secretly warm!
Finish your outfit with a wool trench coat in a deep shade of navy or forest green for added sophistication. See my loafers-specific post for info on how to wear loafers with all kinds of jeans and clothing!
Sleek Leather Slides
Style and comfort? Yes, please! Slee leather slides are some of the best shoes to wear with mom jeans. Why? Well, for starters they can be easily dressed up or down!
These shoes will take you from morning to night without a hitch. Shrug on a leather jacket to complete your on-trend style.
Birkenstocks
If shoe trends at the playground are any indication for moms, then Birkenstock outfits with jeans – including mom jeans – are the epitome of casual fashion!
Try on a Big Buckle Birk sandal with your favorite high-waisted mom jeans, a cropped tee and utility jacket. Needs to be office to pick-up ready? Tuck in a crisp white blouse, add an oversized blazer and opt for a slick leather Birkenstock in black, white or silver.
Oxfords
Channel your best collegiate style with a pair of sleek Oxfords. One celeb who has nailed this look is Katie Holmes.
Take a cue from her casual-cool style and team your mom jeans with a wool coat and knit sweater on top and Oxfords on the bottom.
Mom Jeans with Boots
If you're wondering what boots to wear with mom jeans, I've got you covered. From ankle boots to combat boots, there's hardly a pair that wouldn't look great with mom jeans.
Just throw on your boots and head out the door!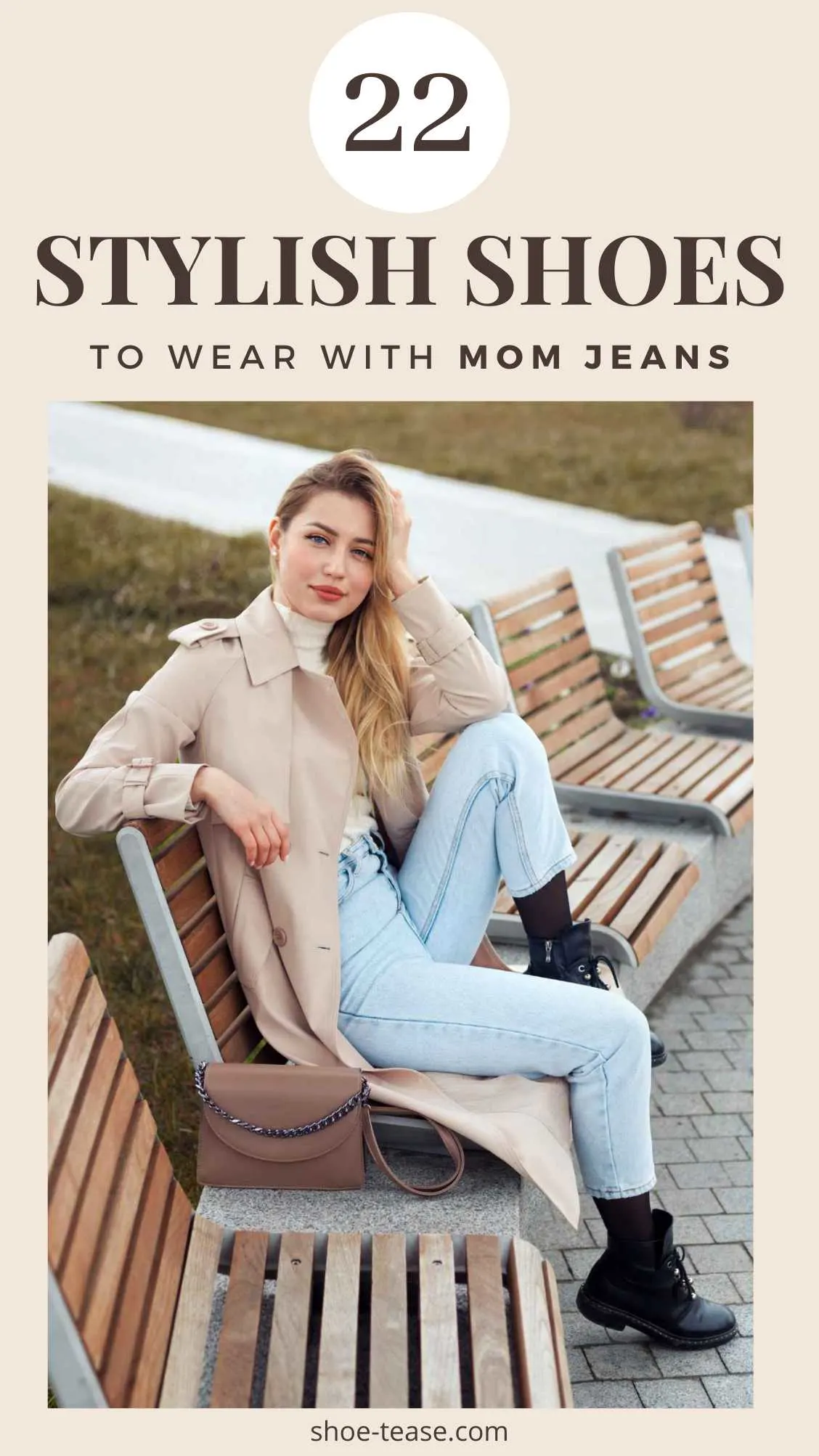 Combat Boots with Mom Jeans
Combat boots with mom jeans are a total go-to option. They're comfortable enough that you can chase after your kids—or a good deal at the mall—and still look perfectly on-trend.
The most fashionable combat boots have chunky outsoles at the moment, which will add a cool edge to your look.
If you want your boots more timeless, pick a classic pair from a high quality boot company such as Taos, Frye or Rockport. In the summer, opt for a light wash jeans with perforated leather or canvas combat boots to keep cool.
In the winter, choose a darker mom jeans wash with waterproof combat boots to keep you dry. Both washes of mom jeans will look great with any type of boots! Check out my post on what to wear with combat boots for more inspiration!
Combat Boots We Love:
Minimal Ankle Boots with Mom Jeans
The longer the hem on your mom jeans, the better for boots. Your mom jeans will slip right over the top of your boots, giving just a peek of your footwear.
Sleek and always on-trend, minimal ankle boots will suit any occasion. Wear them with confidence knowing you look amazing!
Since ankle boots with jeans outfits can be a bit confusing, check out my in-depth guide on how to style them with various types of jeans.
Ankle Boots We Love:
Snake Print Ankle Boots
Snake print ankle boots help elevate any outfit. And mom jeans are no exception! These are a great option for dressier occasions.
Maybe you're meeting friends for drinks or heading out on a casual date night. Try rolling up the hem on your mom jeans to really show off your boots.
Western Ankle boots
Channel your inner cowgirl with western ankle boots. A distressed jean can look fantastic with this kind of boot. Try an oversized button-down or graphic tee on top.
If you go for a higher silhouette, you could even tuck your mom jeans into your boots!
Chunky Lug Sole Chelsea Boots
THESE are the perfect shoes to wear with mom jeans in winter if you want to be uber trendy! Not only are they comfy and warm, but they have good traction on slippery sidewalks.
Complete the look with a warm puffer jacket and chunky knit socks with your chunky chelsea boots outfits and mom jeans!
Chelsea Boots We Love:
Knee High Boots
So when I initially wrote this post, I didn't include knee high boots. But since the trend tides have changed, and knee high boots are back with a vengeance, I must include them now!
Knee high boots and mom jeans look best with the jeans tucked into them. Since most mom jeans are tapered or have a slimmer straight leg, they will look great inside a pair of knee boots.
Yes, they will not be skin-tight like skinny jeans, but having a bit of slouch above your boots is the appeal! The duo will allow for a laid-back feel that is perfect for more casual mom jeans outfits!
Check out all the ways to wear knee high boots with jeans in my dedicated post!
Mom Jeans with Sneakers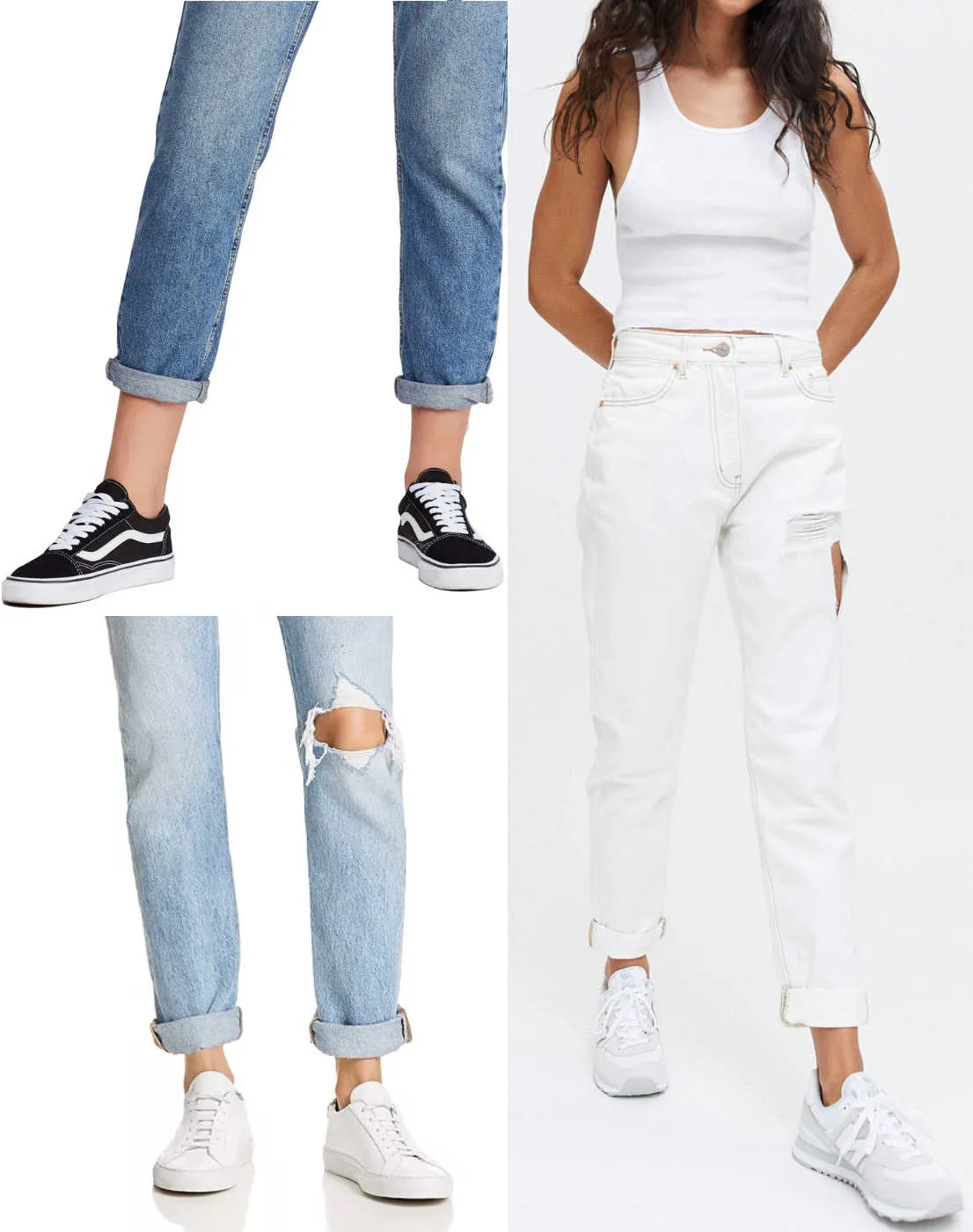 There are so many different sneakers to wear with mom jeans! For starters: retro, platform, sporty, high-top.
For casual days and beyond, sneakers and mom jeans are sure to be your everyday go-to. Remember: style and comfort can go hand-in-hand.
Casual White Sneakers
Casual white sneakers and mom jeans go together like aged cheddar and sauvignon blanc. Or peanut butter and jelly!
A plain white T-shirt and jeans with a frayed hem will look chic and casual with your white sneakers.
Sometimes, simple basics are best. There's a reason why I consider white sneakers to be the ultimate shoes that go with everything!
Retro Sneakers
I'm such a fan of retro sneakers styling that I've included them in my sneakers to wear with skinny jeans guide! Give a subtle nod to the mom jeans history with retro sneakers.
This mom jeans and sneakers combo works well with a hem that drapes right over the top of your shoes. Try a collegiate sweater, blazer and canvas tote bag to complete the look.
Mom Jeans with Vans
Vans are truly a type of sneaker that truly pairs with everything. From summer dresses to, you guessed it, mom jeans!
Layer a blazer on top of a graphic tee to lend polish to your mom jeans and Vans look. You'll be ready to hit the mall, go for coffee, or simply take a walk in the neighborhood.
Mom Jeans with Nike Air Force 1
Does it get any more classic than Nike Air Force 1s? A white tank top or oversized blouse can tuck into your mom jeans when worn with your white sneakers.
Slip on a leather shirt jacket on top for a smart, classic look. Or add some edge with a moto jacket.
High Top Sneakers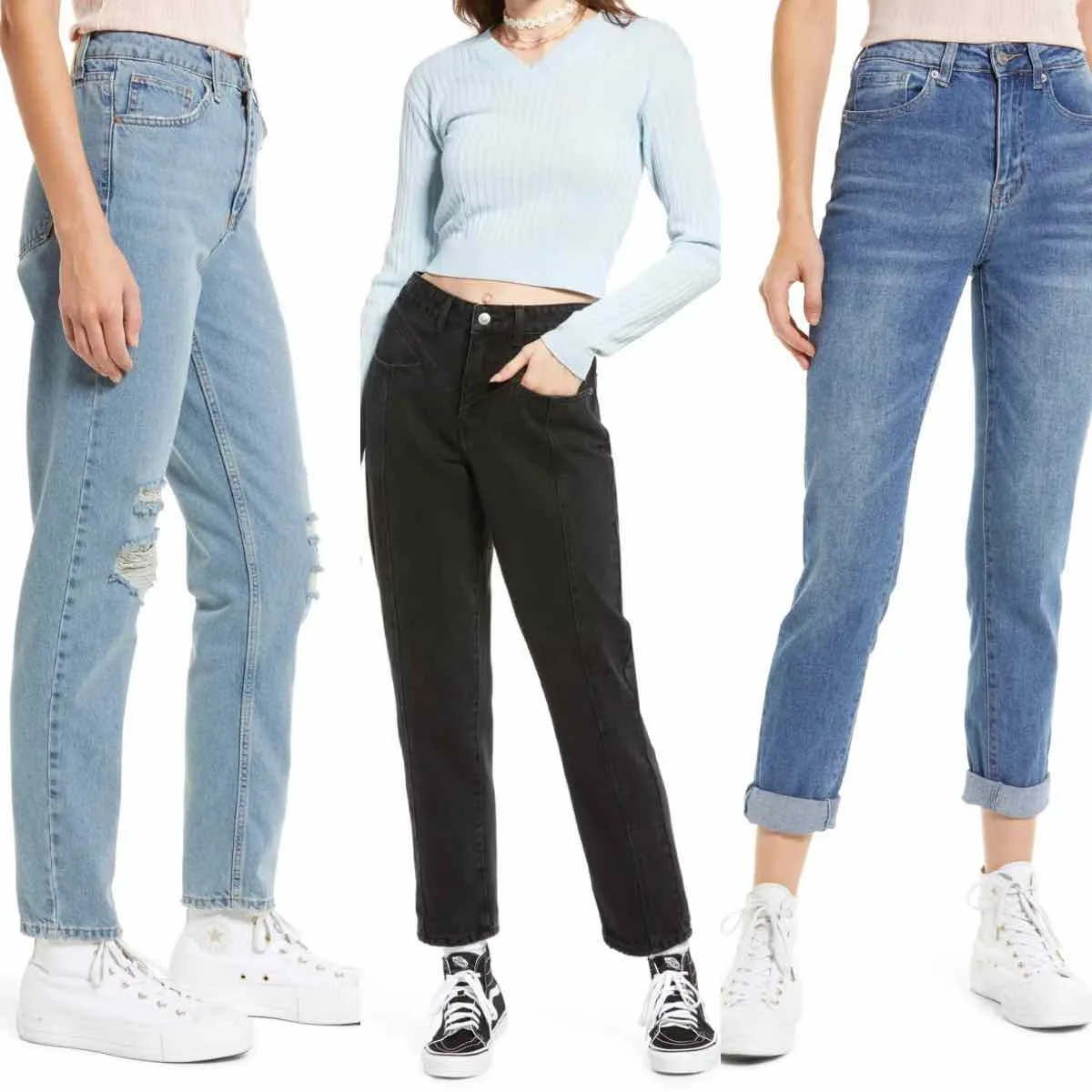 You can roll up the hems of your mom jeans to show off your high top sneakers. Finish your high top sneakers and mom jeans look with a basic hoodie and wool overcoat. Or try a stretchy crop top in the summer.
Chunky Sneakers
Chunky sneakers and mom jeans are a stylish pairing that adds a punch of youth to your look. On-trend and eye-catching, chunky sneakers are a Gen X favorite that other generations can also enjoy!
Add a timeless touch to your outfit with a beige trench coat and leather handbag.
Platform Sneakers
Platform sneakers add a youthful vibe to your mom jeans. Plus, they'll give you some extra height. Your legs will look a mile long when coupled with the high-waisted silhouette of mom jeans.
Wear a simple black tank and leather jacket to keep things casual-cool.
Heels to Wear with Mom jeans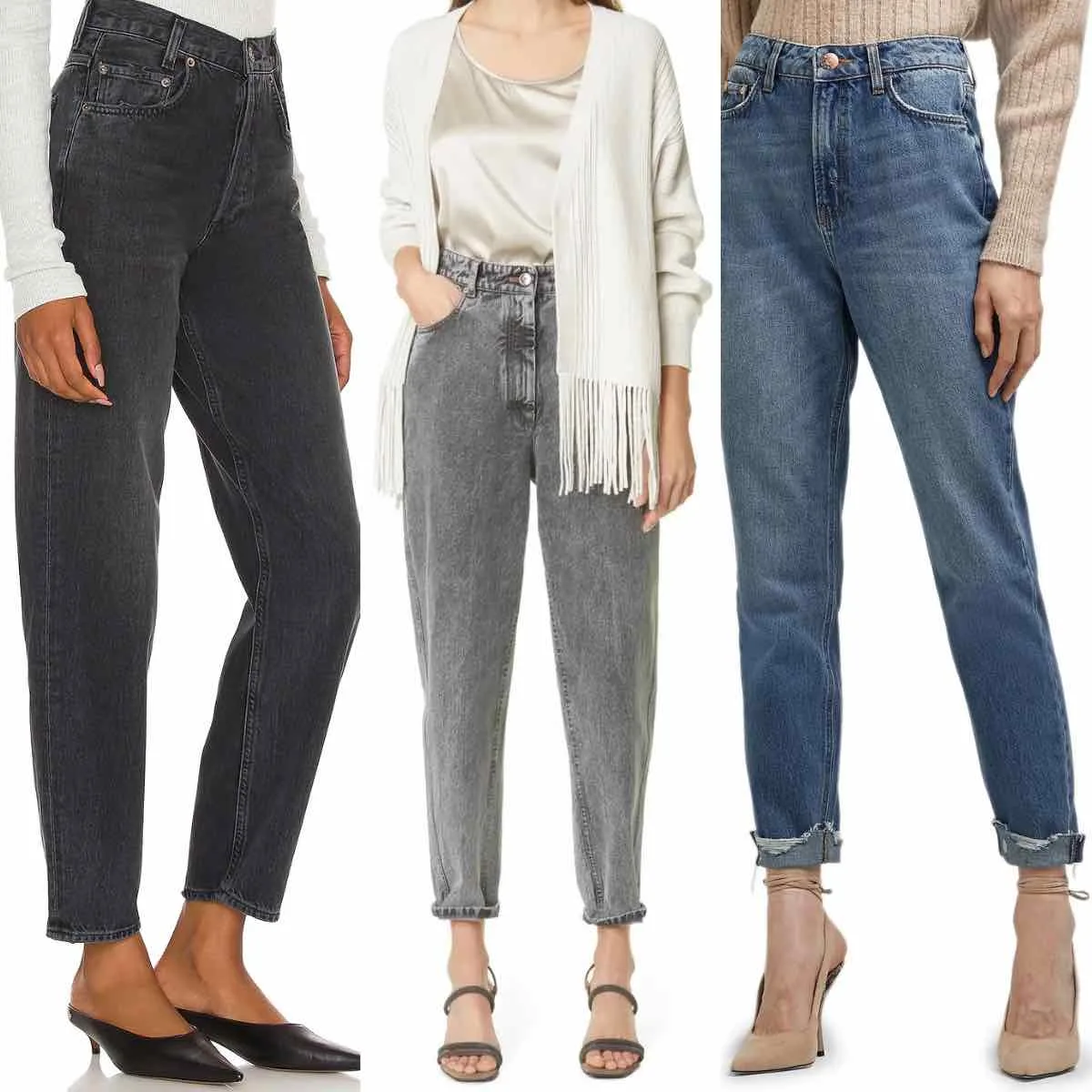 Kitten Heels
From slip-ons to slingbacks, kitten heels make a statement no matter how you wear them. And if you're looking for the trendiest heels to wear with mom jeans, these are it!
With their dainty yet powerful silhouette, they will add a feminine edge to your mom jeans.
Stick with the sophisticated vibe that kitten-heeled slingbacks show off with a crisp white T-shirt and blazer à la Victoria Beckham.
You could even choose a pair of kitten heels in a bold hue to make them stand out even more. Try red patent pumps peeking out from your deep blue jeans.
Stiletto Pumps
Stiletto pumps are a great choice when you want to wear your mom jeans after dark. Whether you're going to an event, on a date, or to the movies, pumps are your best friend.
They'll take you from regular mom to "cool" mom in a heartbeat. With varying heights and heel shapes, you have plenty of choices.
You can also choose whether you have an ankle strap or not. Pointed toe is always best!
Cuff your mom jeans or go for a cropped pair to show off your sleek shoes.
I love pairing my mom jeans and stiletto pumps with a simple tee with a slightly oversized blazer and gold jewelry for a relaxed but refined look.
Strappy Sandals
Strappy sandals are a total summertime go-to! There are super minimal styles that will keep your mom jeans looking nice and chic. Then, there are super strappy versions that are a lot of fun to wear.
And fun to look at too! And let's not forget about very trendy square toe strappy sandals.
Button up a feminine blouse on top and grab a small leather handbag. If the weather is cooler, throw on a shawl or blazer.
Clear Heels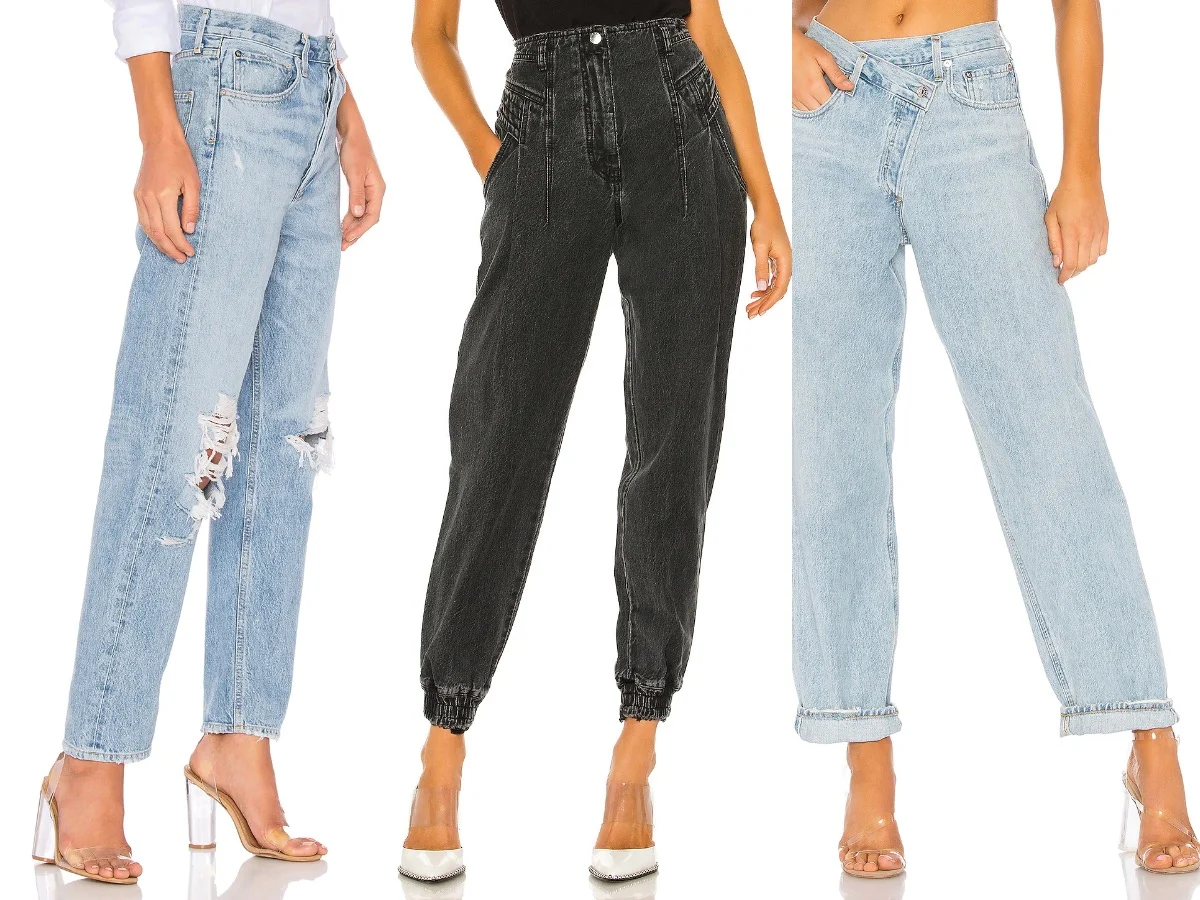 With their "barely there" vibe, clear sandals will elongate your legs to new lengths and add some sexy to mom jeans outfits! And they're also super on-trend.
And since their straps are transparent, they will essentially pair with any type of mom jeans in your closet. From dark wash to baby blue!
Why not try a printed blouse on top, tucked or half-tucked into your denim? Slick on a red lip, grab your leather bag and you'll be ready to hit the town in style.
Favorite Clear Heels:
Final Thoughts on What Shoes to Wear With Mom Jeans
As you can see, if you're looking for shoes to wear with mom jeans, there is no shortage of timeless classics and trendy styles you can pair with your jeans.
Whether you're looking to wear these cool jeans to go to a party, a smart casual lunch or on a date, there will be a boot, sneaker and heel style to fit the bill!
What kind of outfits and shoes with mom jeans do you like to wear most? For me, it's stiletto heels, in either strappy sandal or pump form!
If I've missed one of your preferred footwear types, let me know in the comments below and I'll do my best to include it in the list!
xo ShoeTease