Are you looking for stylish ways to wear plum colored dresses and outfits with the right shoes and accessories? Then this dress style guide on shoe-tease.com is for you!
Today I'm excited to show you what color shoes to wear with plum dresses, along with the perfect purse, jewelry & small accessories to complete your look!
Yes, I have already discussed what color shoes to wear with purple dresses, shoes for burgundy dresses, and what color shoes for brown dresses, but plum is such a distinctive color, that it deserves its own post!
Plum is a color that takes its name from the plum fruit, but is sometimes referred to as black currant. It is a mix between dark red and purple, with a drop of greyish brown.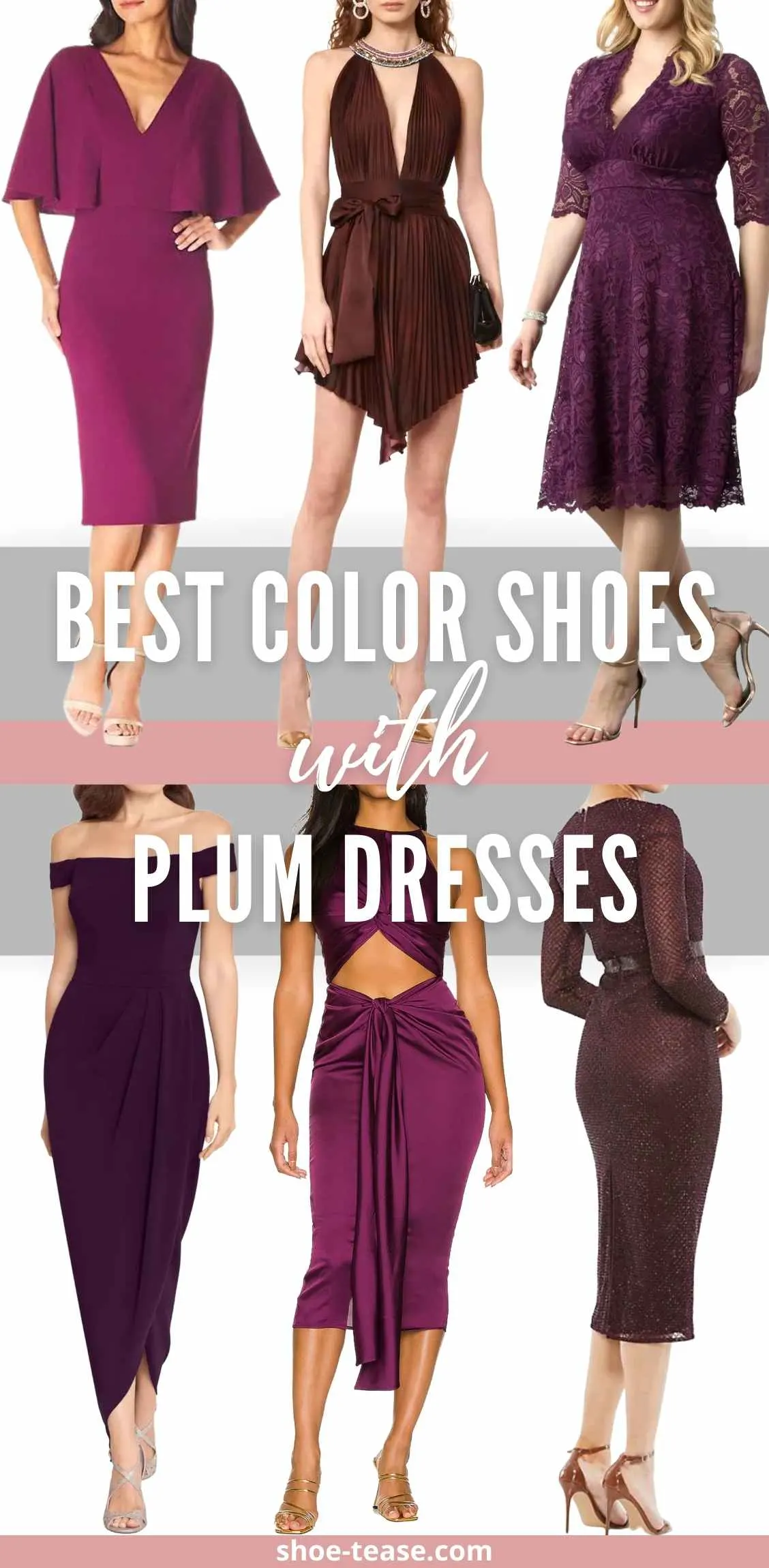 Plum hues will absolutely dazzle with the right shoe and accessories colors. Especially in the fall/winter months!
You will find bridesmaid dresses, cocktail dresses, shirt dresses, even sweater dresses in a variation of plum colors. Obviously, the shoe style choice is important as the color, as it will reflect if the plum dress outfit will be suitable for a formal or more casual occasion.
By the end of the post, I hope you are inspired with a lot of plum dress outfit ideas!
Shop lovely plum dresses from Saks Fifth Avenue, Zappos, My Theresa, Revolve, LuisaViaRoma, Reformation and Nordstrom.
What Color Shoes for Plum Dresses & Outfits
1. Plum Dress with Black Shoes
Most people want to know what color shoes to wear with plum dresses. When you're working with such a deep color, neutral colors can work.
Black shoes are a top neutral shoe color choice for an all-over darker outfit and are a great combo for formal evenings or casual events. You can choose from different styles of black shoes based on where you're going and what you're doing.
Minimal sandals with stiletto heels are one of the different types of heels that look great for formal and casual chic outfits. You can opt for kitten heel slingbacks for a more trendy look.
Purse & Jewelry Styling Tips: Metallics are always a great option when wearing plum in the evening. The metallic color of your purse stands out while adding that extra oomph that you might want and need.
If you don't want to have something that stands out, black is a great choice. And, beige and brown are great for a more office-style or casual look when you're trying to keep things simple.
When pairing jewelry with your dress and purse, make sure to match with the metallics or select warm gold tones that compliment the gorgeous plum color.
Favorite Black Shoes & Heels:
2. Blush Pink Shoes
If you'd like to keep it simple while continuing to show off your sense of style and fashion, blush pink shoes can add a splash of color to your plum dress outfit.
If you want full glam, go for patent or sparkly blush shoes that are great to wear for weddings, cocktail parties, and other special events. You can keep it simple with open-toe or closed-toe heels or more relaxed with a pair of flats.
Purse & Jewelry Styling Tips: A white or off-white purse would go great with the plum dress and blush pink shoes. You could also go with another basic shade, such as beige.
If you want your purse to stand out and add even more color, go for gold, especially if you're holding a smaller purse.
Once you've selected your purse, pair it with warm-colored metallics, such as gold or rose gold. The rose gold would definitely be a perfect match for the blush pink shoes.
3. Gold Shoes with Plum Dresses
Brighten your outfit up a bit by wearing gold, sparkly shoes with your plum dress. The gold color shines bright and pairs perfectly with the deep purple plum shade of the dress you're wearing.
Glitter chunky heels with ankle straps would look absolutely amazing with any plum dress! You can choose the length of the heel, selecting a style that you feel most comfortable wearing based on how often you normally wear heels.
Purse & Jewelry Styling Tips: While sticking with the gold for shoes, consider matching your purse and jewelry. The hints of gold throughout your outfit will stand out in a good way, completing the overall look and feel while enhancing your aesthetic.
If you don't have a gold purse, feel free to use beige or black, both of which will effortlessly match the shoes and the dress.
4. Beige Shoes
Beige shoes are a bit more neutral than blush shoes, especially when they have a matte finish. This makes it an excellent choice if you want to play it safe with a plum dress.
Beige is also a good choice if it looks good with your skin tone. If you've worn beige shoes before and liked the way they looked on you, this is a great option.
It allows the rich plum color of the dress to stand out when these shoes are more of a nude for you based on your skin tone. Beige-toned snake prints are another great option for all outfits, depending on the specific type of shoe worn.
Purse & Jewelry Styling Tips: When wearing beige shoes with plum dress, go with off white, gold, or black purses for contrast.
You should also wear some gold jewelry to complement the warmer tone of the beige shoes. A gold pair of earrings with a matching necklace and bracelet would be all you need to complete the look.
Favorite Beige Shoes & Heels:
5. Silver Shoes with a Plum Dress
You can't go wrong with silver shoes. The elegant color adds a special touch and pop of brightness to the deeper, darker color of any plum dress, whether you're wearing a mini dress, maxi dress, or something in between.
Choose stylish silver shoes, such as chunky heels that show off your toes or a pair of modern flats for a simple, less extravagant and more relaxed appearance.
Purse & Jewelry Styling Tips: When styling a plum dress worn with silver shoes, go with a white or clear purse. The clear color is neat and will pair well with your dress and shoes.
If you don't have a white or clear purse, go with a black or silver option, with silver matching the shoes perfectly. Don't forget to pair your jewelry to your shoes, selecting silver, sparkly options instead of gold jewelry.
Favorite Silver Shoes & Heels:
6. White Shoes with Plum Dress Outfits
White shoes are good to wear with a plum dress when attending different events. If you're trying to keep it casual, go with white leather for both plum dresses and plum outfits.
If the event is more formal, choose white or of white shoes with a patent finish or some sparkles, such as glitter and/or rhinestones to add a touch of elegance to your look.
Purse & Jewelry Styling Tips: Style your plum dress and white shoes with a silver, gold, black, or clear purse. You can also match the shoes by carrying a white purse with you, which will add a touch of brightness to the outfit, along with your shoes.
Keeping it casual? A brown handbag is a great choice, too. When selecting your jewelry, go with a gold or rose gold color when carrying a gold or brown purse. However, When selecting black or silver, choose dark silver jewels that will complement these pieces.
Favorite White Shoes & Boots:
7. Light Brown Shoes
Light brown is one color that can absolutely work when paired with plum. Light brown, including shades of tan and caramel, are known to complement the plum color. However, they're not always great to use.
If they match your skin tone and make the shoes nude, it's best to use them with casual outfits, such as knee boots worn with a plum sweater dress.
Of course, you can also wear caramel-colored pumps with a plum-colored suit for an office casual look that kills! Want to add something extra to a smart casual outfit?
Light to medium brown leopard print shoes, such as loafers, pumps, or even booties, are a great addition!
Purse & Jewelry Styling Tips: A white purse is great to wear with these darker shoes. You can also select a matching brown or black, but keep in mind that those darker shades are best to use when you're trying to keep a casual look going.
You can pair this look with gold or rose gold tones that will match the warmth of the brown shoes you've selected.
8. Navy & Blue Shoes with a Plum Dress
Some may wonder how the navy would match with plum dresses and outfits. Navy gives a cool but deep contrast to the plum dress color.
If you're wondering what color shoes to wear with a blum dress, this is an option. It's great for fashionistas who aren't afraid to be different. When you're going for a bold look and don't want to play it safe, you can select a shade of navy or blue.
Purse & Jewelry Styling Tips: Avoid black purses when wearing navy or blue shoes with a plum dress or outfit because it's just too similar yet not the same. It's best to pick a purse in a metallic or blush shade.
Wear gold jewelry to match the gold tones and complement your blush purse. If you're wearing a darker purse, metallic jewelry would look best with it.
9. Clear Heels with a Plum Dress
Colorless and goes well with all dress colors. It's easily the best way to play it safe, but it's also one of the most trendy shoe choices available. It's a great way to give the outfit an edge.
Clear heels have quickly become such a popular choice and are perfect to wear with lots of dresses, including ones in the deep shade of plum.
Purse & Jewelry Styling Tips: Both silver and white purses will look great with plum dresses and clear heels. You can contrast with a black or blush clutch.
Consider trying to match with the base color of the clear heels, especially if that base color is prominent.
When selecting your jewelry, go with silver tones when using a black or silver purse. However, if you're using a blush or coral purse, pick gold metallics that will enhance the look.
Favorite Clear Heels:
Final Words on Color Shoes to Wear with Plum Dresses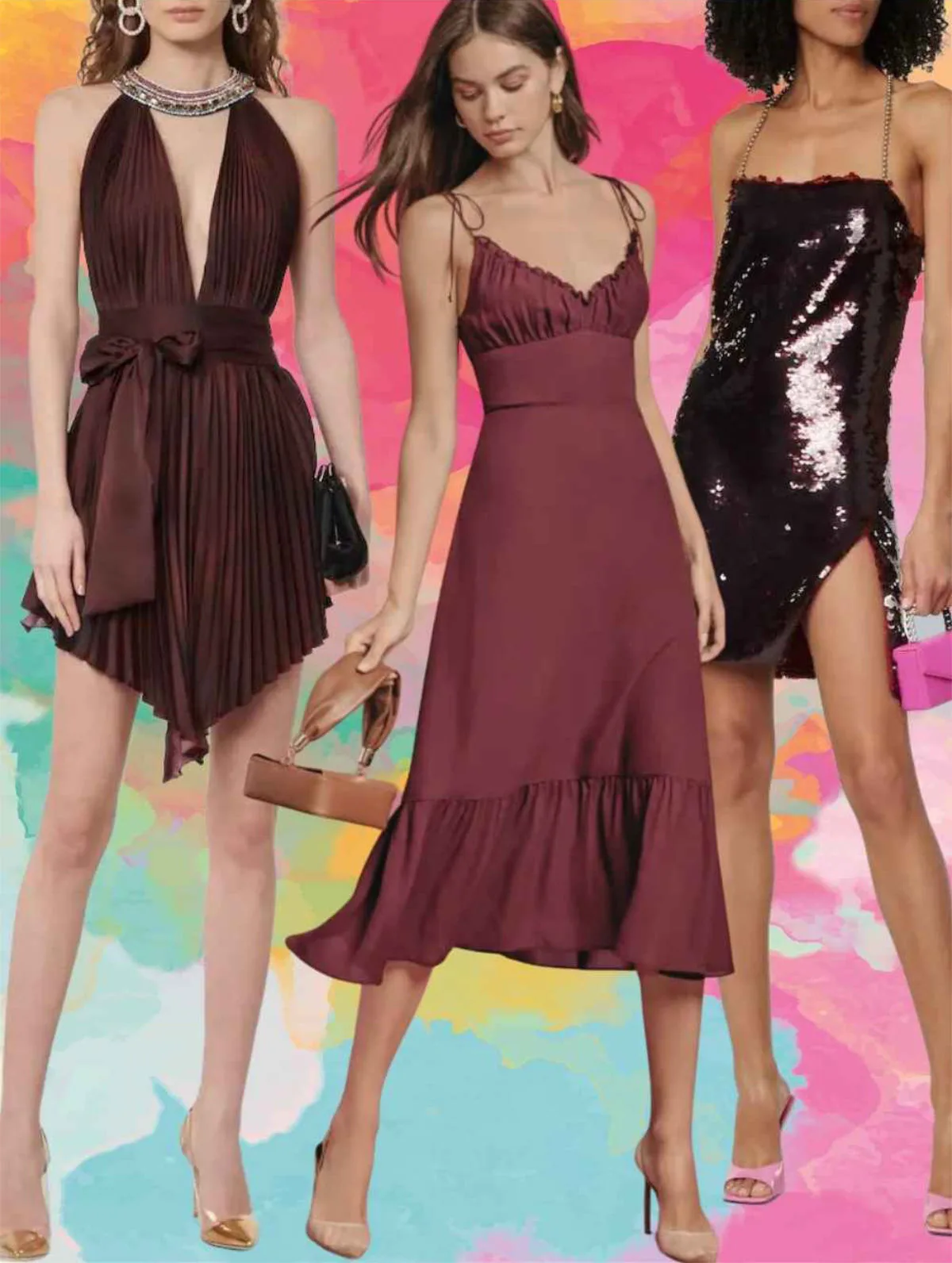 From a plum dress with black shoes to clear shoes, and a variation of purses & accessories, I hope I've given you lots to think about when putting together plum dress outfits.
Because looking for what color shoes to wear with plum dresses shouldn't be harder than it needs to be!
Of course, there are other shoe and purse colors that go with a plum dress, if the look and occasion calls for it. Like bright turquoise heels, or even mustard yellow shoes.
Even combos like blush/black shoes or gold/navy shoes if you're so inclined! Style is relative, so these tips are guidelines that you can choose to follow – or not!
Now that I've shown you what shoes to wear with plum dresses, feel free to check out more shoe & accessory pairings in my various other dress styling posts.
These contain every dress type and color dress and outfit you could possibly want to pair. Such as shoes to wear with a maxi dress, boots for a mini dress, to what shoes to wear with a black dress and what shoes go with a white dress.
Pick your favorite shoes for a plum dress outfit from the selection of shoe styles I've outlined in my post about shoes that go with everything!
What's your shoe color of shoes with a plum dress? I absolutely love gold for a fancy occasion or light caramel brown for sweater or t-shirt dresses.
If there are any other shoe colors I've missed that you love to pair with plum outfits, let me know in the comments, below!
xo ShoeTease
Check Out More Dress Styling Guides:
Best Color Shoes with a Fuchsia Dress
What Color Shoes to Wear with a Blush Pink Dress
Best Shoes to Wear with Dresses