This post was most recently updated on October 10th, 2019
What color shoes to wear with purple dress es or outfits you ask? Since purple & lavender dresses are about to surpass blush pink outfits in popularity, it's about time that I answer this question!
What color shoes to wear with a dark purple dress, light purple dress, eggplant, lavender purple or dark plum dress, you ask?
Well, I'm leaving no shoe color unturned in this post about what colour shoes to wear with a purple dress. I'll be chatting about any purple hue or shade that you can pair with shoes!
And for added info on how to style a purple dress, I'm giving you the rundown on which purse color to pair with which purple dress + shoe color.
And if you're looking for shoe color pairings for a purple bridesmaids dress, you'll find many a choice to suit any bridal party (and bride's!) taste.
---
Shop Purple Dresses from Net-A-Porter or Nordstrom, below:

---
What Color Shoes to Wear with a Purple Dress
Purple Dress Black Shoes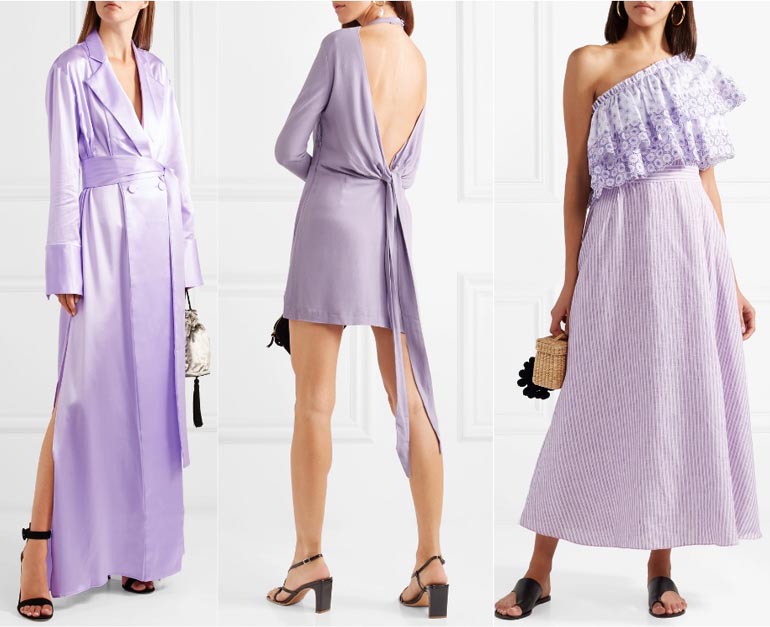 ---
Shop Black Shoes:

---
Chances are you already have a black pair of shoes in your closet. The most chic of staple, black shoes are the perfect choice when faced with a what color shoes with purple dress conundrum!
If you're wearing a purple bridesmaids dress, a strappy shoe or peep-toe pump is a good shoe type to opt for!
I'm partial to Stuart Weitzman's NudistSong strappy sandals (available here at Nordstrom). Or if you're looking for a lower price, Steve Madden makes a nice minimal sandal called Stecy that you can also buy here.
Sam Edelman makes a great, simple but comfy pointed pump called the Hazel. It comes in many colors & you can take it from ballroom to boardroom to the bar!
Purse Styling Tip: If you're willing to have fun with your look, choose a bright orange or yellow clutch. If not, a white purse will look amazing & if you're keeping it simple, you can pair your purple dress black shoes outfit with a black handbag.
Purple Dress Silver Shoes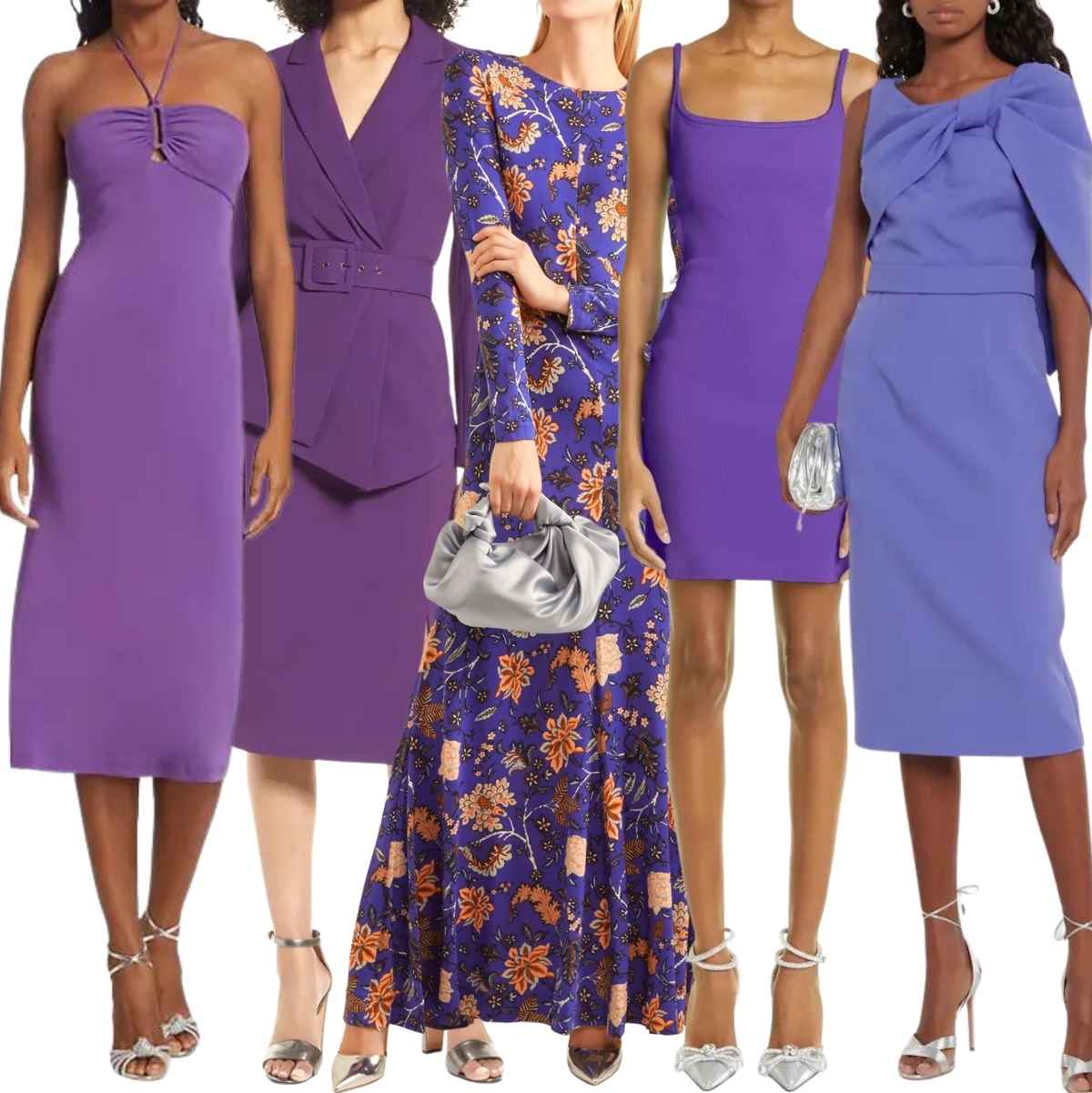 ---
Shop Silver Shoes:

---
Silver shoes with purple dresses or outfits are SO FUN! So shiny & interesting, yet still pretty neutral, so you can wear silver shoe with any shade of purple!
High metallic silver shoes are perfect to wear with your purple dress for a cocktail party or to pair with your bridesmaids dress. A perfect shoe color to wear with pale pink dresses too!
The little stilleto'd strappy number by Chinese Laundry from Nordstrom has been favourite of my reader's this season & is unbeatably priced for under $100!
Also featured in the silver shoes, above. J. Renée's Maressa metallic silver pointy pump is also a great find!
Purse Styling Tip: White, black or beige would all work well.
Purple Dress with White Shoes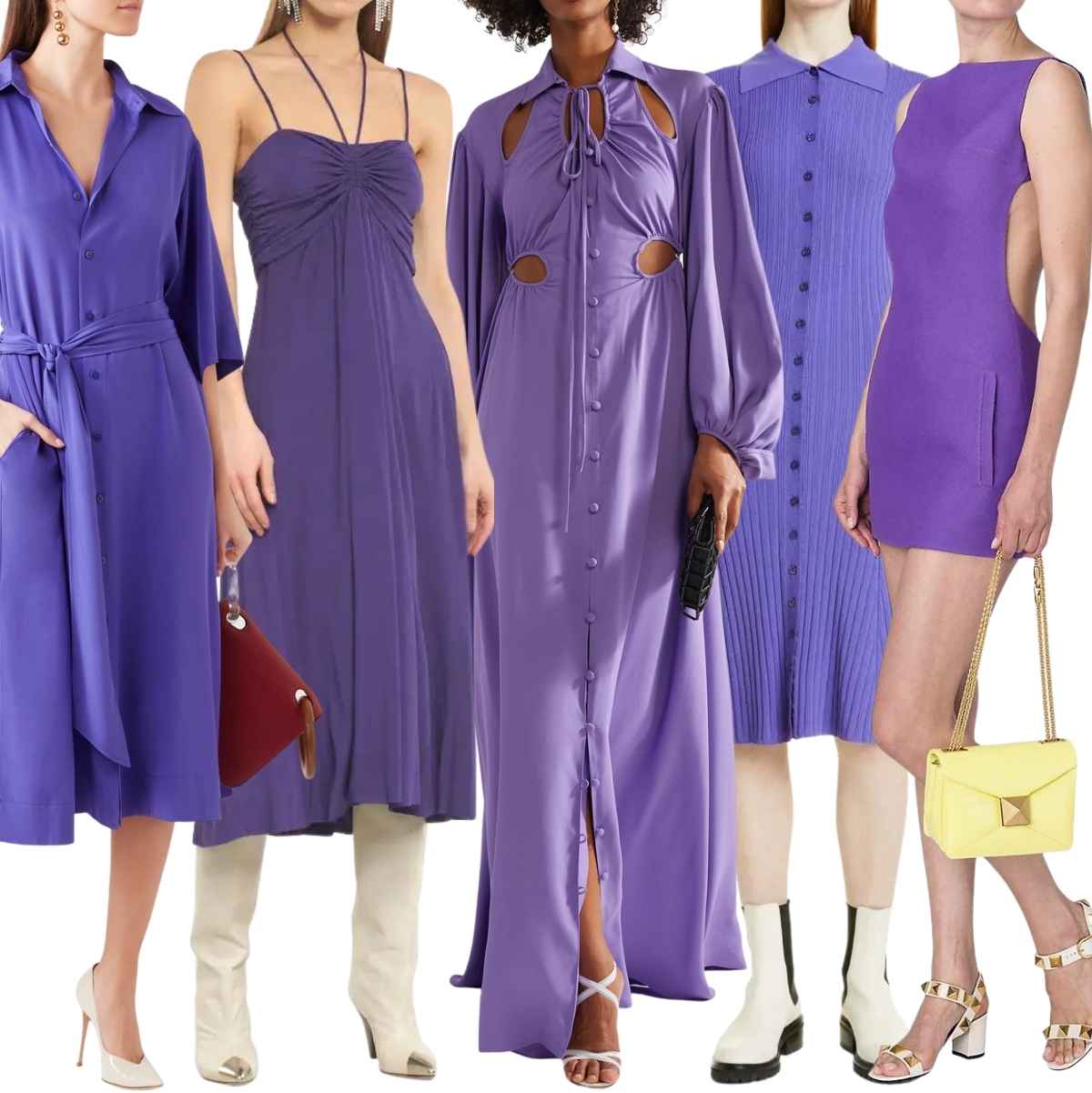 ---
Shop White Shoes:

---
I really love white shoes with purple dresses. And white shoes with any colour outfit, really. Although yes, they will get dirtiest fastest, a matte white shoes adds a je-ne-sais-quoi to an all purple ensemble!
Purse Styling Tip: You can pair a silver, gold, beige, black or contrast color purse with your purple dress white shoes outfit. I am partial to a contrast color such as orange or yellow, but that all depends how bold you want to be!
Purple Dress Beige Shoes, Blush Shoes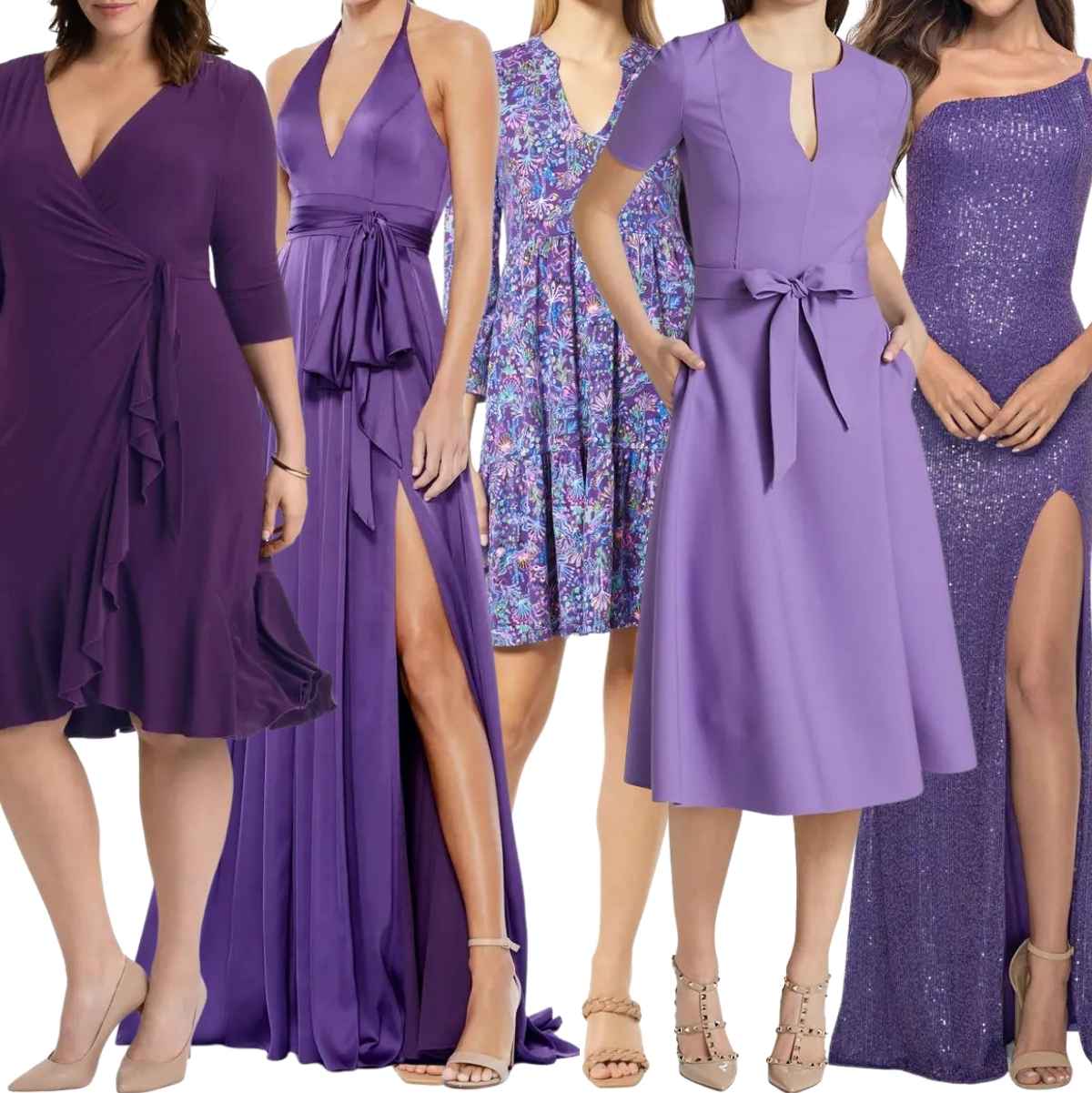 ---
Shop Beige/Blush Shoes:

---
Ah, beige shoes…a neutral favorite! And one of the best shoe colors to wear with a purple dress. I love a blush shoe with a purple dress as well. And if you're looking to be matchy with your skin tone, a nude shoe will also work wonders with your outfit.
One of my fave of the beige shoes out there right now is Stuart Weitzman's nudist sandal in beige, which very well be your shade of nude (I know it is mine). The lower heeled NudistSong is a great strappy sandal too and way easier to walk in!
But I love a good beige shoe or blush shoe with any skin tone. And beige shoes are the perfect shoe you likely already have in your closet! It's by far one of my fave hues to suggest when asked the what color shoes to wear with purple dress (or virtually any dress!), question.
Purse Styling Tip: I would opt for black or white purses with a purple dress beige shoes combo.

Purple Dress Gold Shoes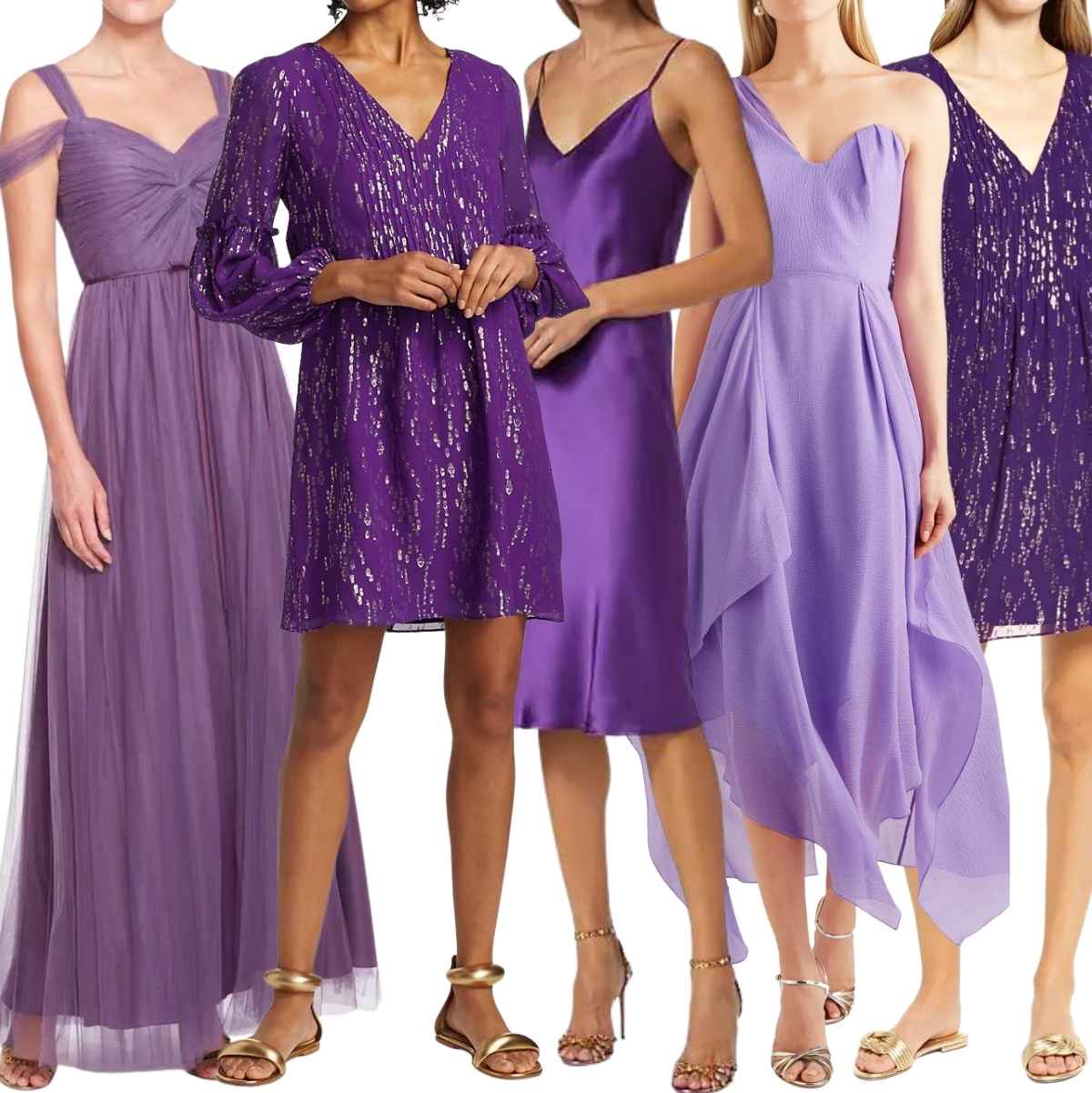 ---
Shop Gold Shoes:

---
Purple outfits with gold shoes are a great neutral look, but add more glam than simple beige or nude. They shine, but definitely let the purple of the dress, shine.
Gold shoes are a great addition to anyone's closet, because as you will learn in my dress styling posts, it is one metallic shade that look fabulous with a vast array of dress & outfit colors.
Some seasonal faves? Sam Edelman's Yaro sandal! Out for a pump? Vince Camuto's Gabe pump is a great contender. Looking for a more casual flat? Check out these gold Gucci-inspired loafers, which are amazing!
Purse Styling Tip: I would keep things simple with a white or beige clutch with this purple dress and gold shoes combo.
Purple Dress Red Shoes/Burgundy Shoes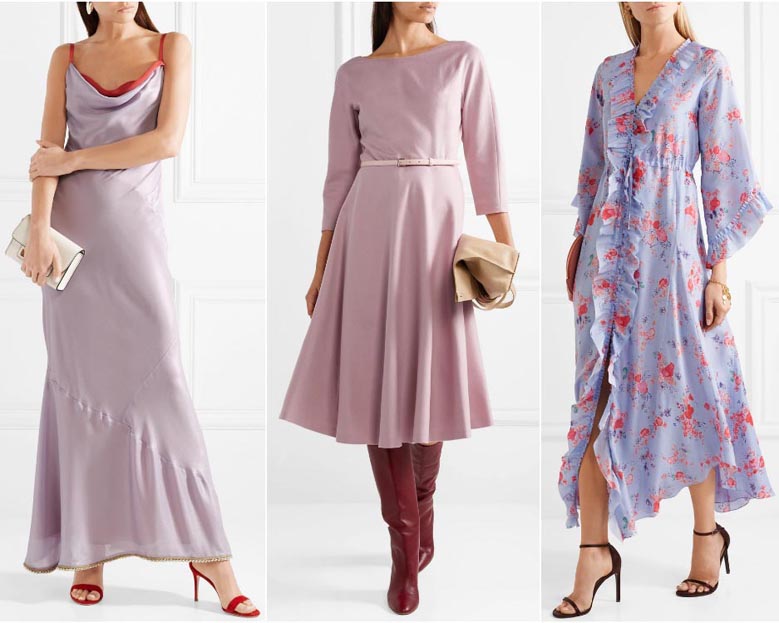 ---
Shop Red & Burgundy Shoes:

---
Just as I've suggested in my what shoes to wear with a blush dress post, adding red to any shade between blush pink to purple to lilac is such a fabulous idea. Not for all, but it does add an unexpected twist to the ensemble.
If you're hesitant about pairing your purple dress with bright red shoes, you can always opt for burgundy shoes with a purple dress. More subtle & pretty perfect for any season!
Purse Styling Tip: Try a black or beige purse with a purple dress red shoes combo. A gold clutch could also look amazing if paired with the right purple outfit! Or you can also get a handbag color that matches a different color in your purple dress. Say, like a hot pink or blush, like in the floral purple dress that is featured above, on the right.
Purple Dress Blue Shoes
And last but definitely not least, if you're looking to inject some color into your purple dress outfit, look no further than blue shoes. A purple dress blue shoes combo is, as with red shoes, unexpected & can look absolutely stunning. For optimum contrast, the deeper the purple color of the dress, the brighter the shade of blue.
---
Shop Blue & Navy Shoes:

---
Check out more shoe and dress styling tips!
xo Cristina
Photo Credit: Net-a-Porter.com