If you're looking for ideas on how to wear lavender dresses with the right shoes & accessories, you've found the right place at shoe-tease.com!
In this dress styling guide, I will show you what color shoes to wear with a lavender dress outfit. I will also give advice on the perfect purse, small accessories and jewelry to complete the look.
Often used to describe a range of light purple shades, the color lavender is a light to medium purple hue with a tinge of pink – just like the flower.
It is a deeper and brighter color compared to mauve, but the shoe colors listed below will pair well with light to mid-range lavender and shades of mauve as well.
Lavender is a beautiful feminine spring/summer color that dazzles as a bridesmaid dress, cocktail dress, prom dress and more. Lavender dresses can also look great for more casual occasions, in t-shirt dress or sweater dress form.
Hopefully, you'll walk away inspired with a slew of accessories and shoes to match lavender outfits!
Looking for new lavender dresses for the upcoming season? Shop the best styles from Free People, Zappos, Saks Fifth Avenue, Bloomindale's, Revolve, My Theresa and Net-A-Porter.
RELATED POSTS:
What Color Shoes with a Lavender Dress & Outfit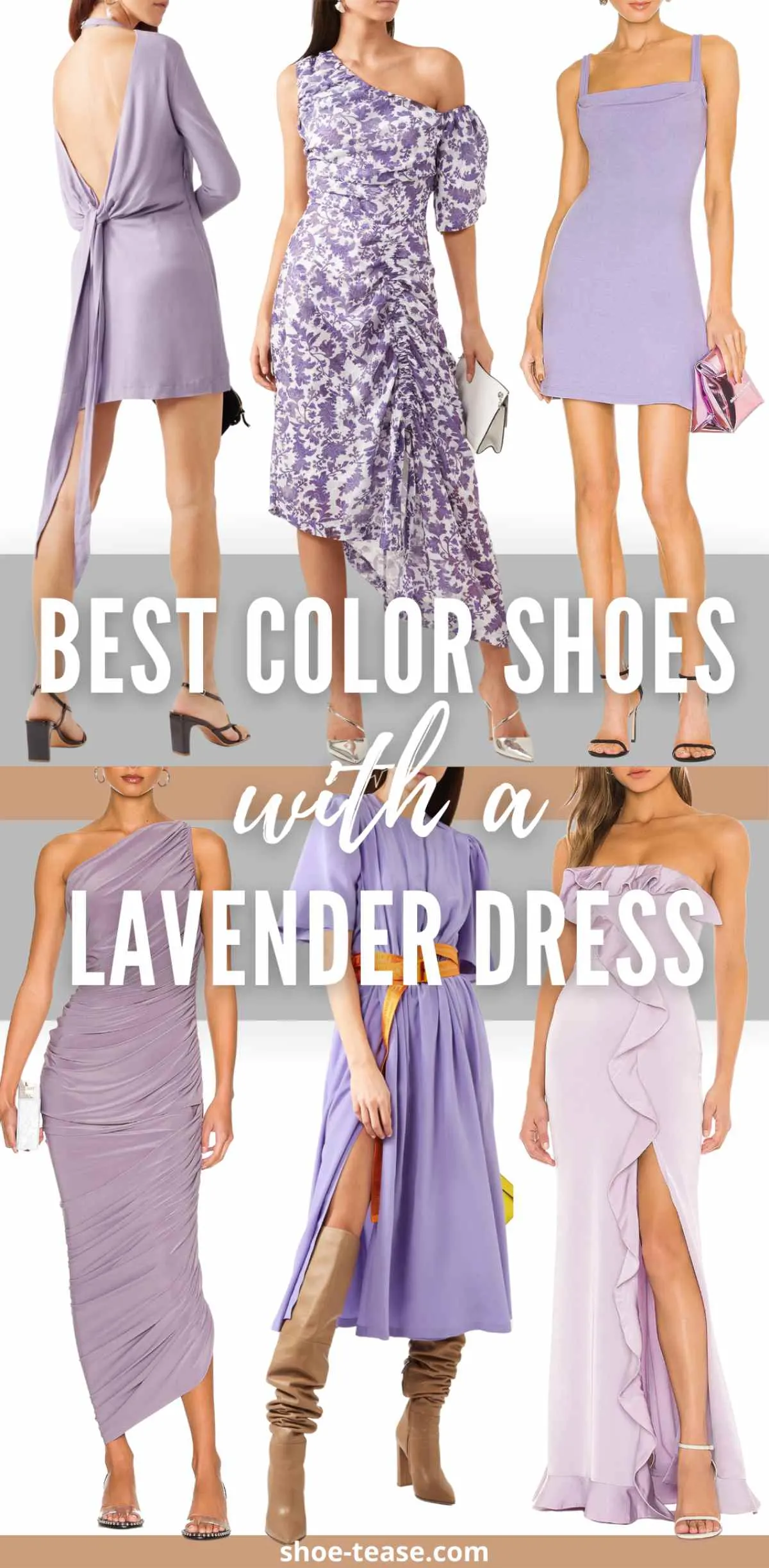 1. Beige Shoes with a Lavender Dress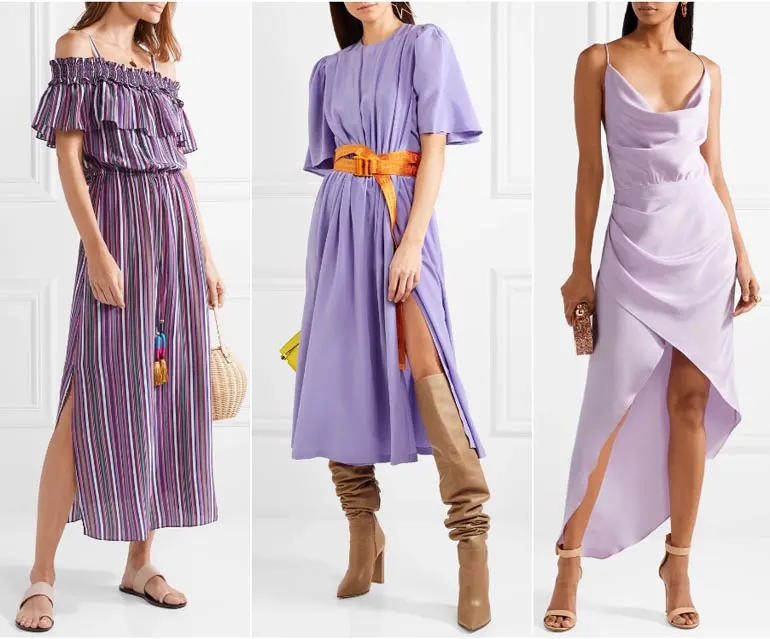 Since beige shoes are neutral, they will look great with a lavender dress. If they match your skin tone they will act as a nude shoe. However, if they offer a contrast, that will work just as well!
A minimal strappy sandal or pointed toe pump looks great in beige. With knit or chunky lavender dresses, you can reach for a knee high suede tan boot for a cozy fall/winter look.
Purse & Jewelry Styling Tips: Choose a white, off white, matching beige bag. Black or burgundy purses work for contrast. Gold or rose gold jewelry will complete the look with a similarly warm tone to the beige shoes.
Shop Beige Shoes & Heels: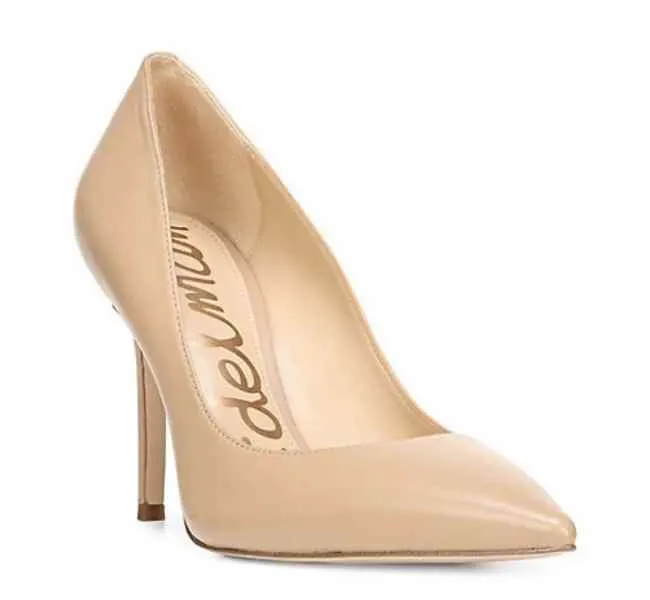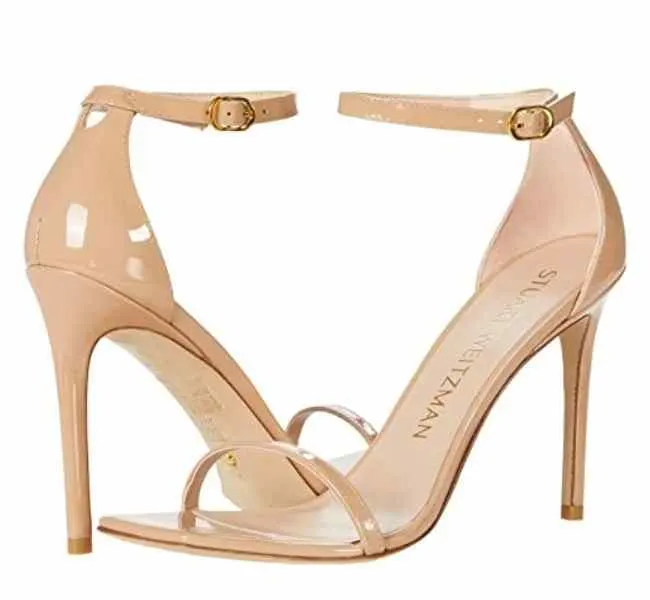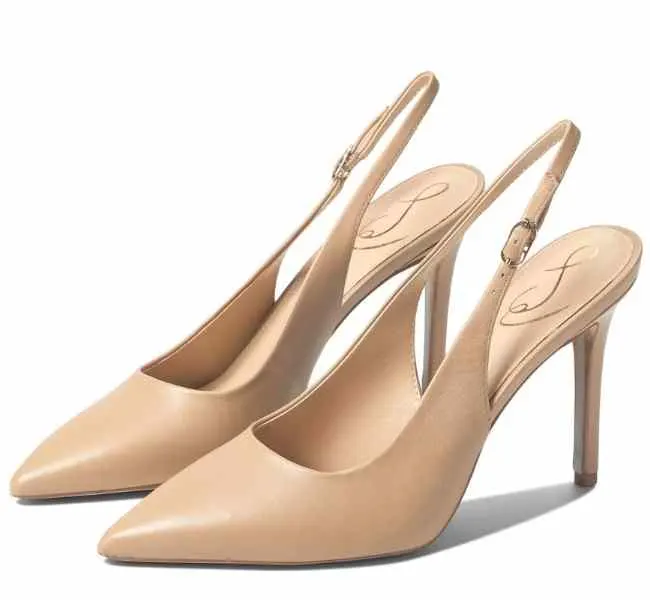 2. Off-White & White Shoes with Mauve & Lavender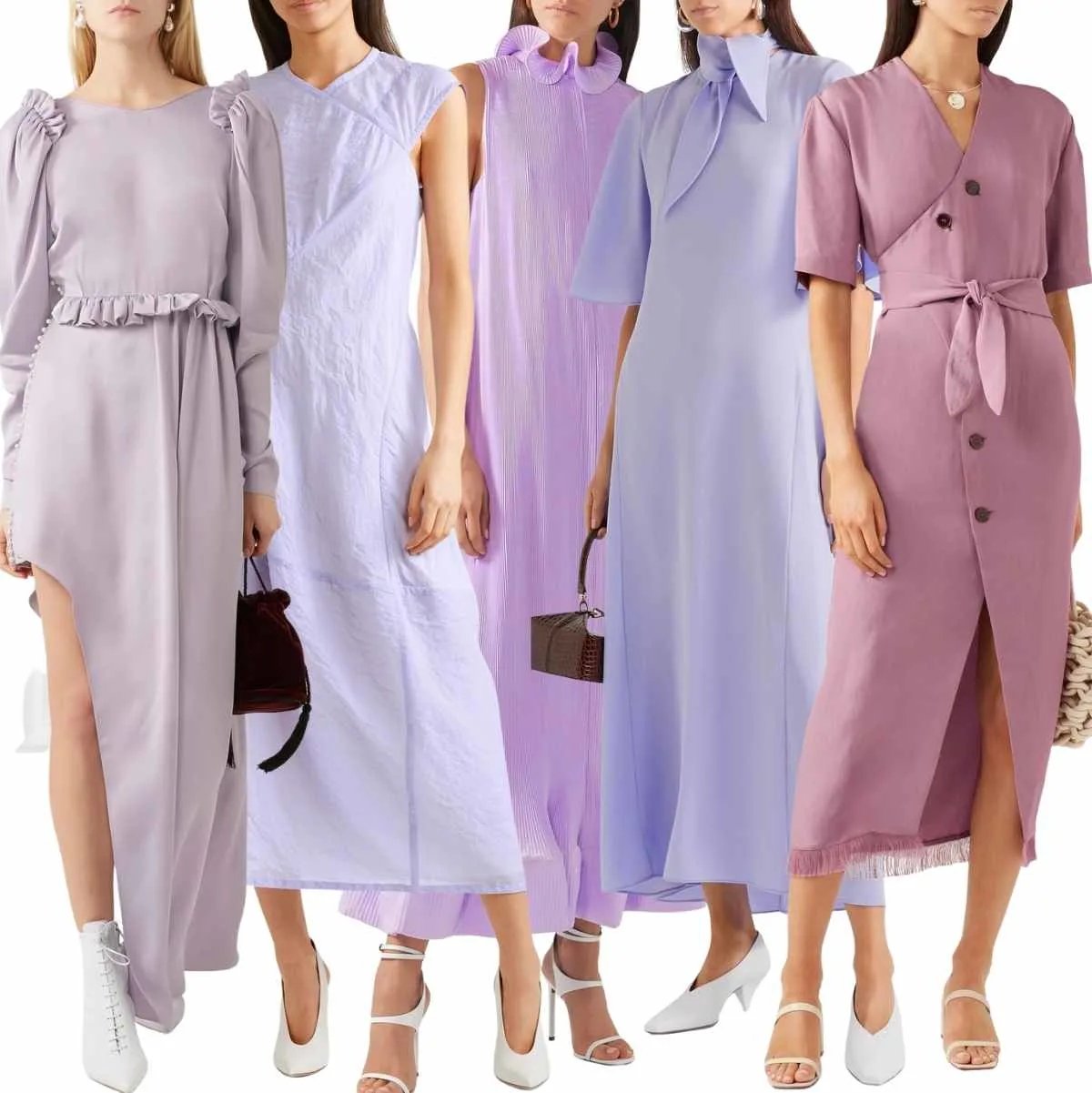 The brightest combo of shoes with lavender dresses is surely white! And it's a favorite color shoe to pair with light purple outfits of all kinds.
I love minimal white leather shoe styles such as strappy sandals, mules, pumps or booties. Patent and sparkly shoes will liven up the light purple outfit even more. Either a bright optic white or off-white color will look fabulous with lavender.
Purse & Jewelry Styling Tips: silver, gold, beige or matching white are great neutral purse color choices. Dark brown or navy handbags would offer more contrast.
Choose jewels gold or rose gold, or opt for dark silver jewelry if wearing a silver purse.
Shop White Shoes & Heels: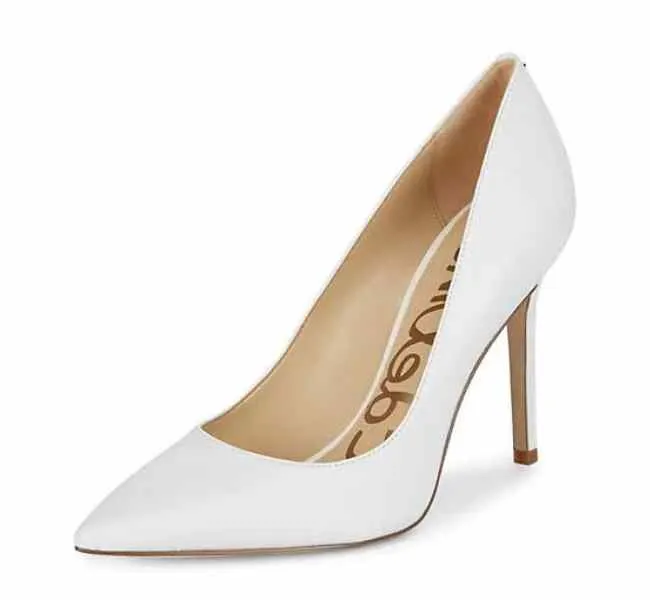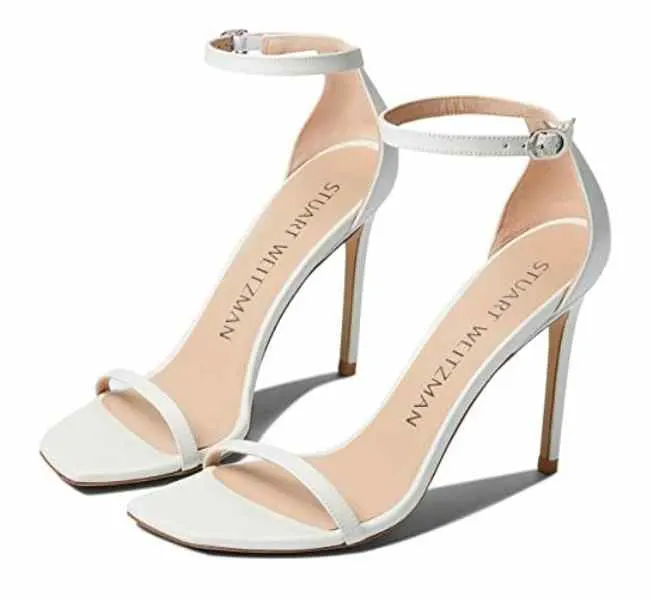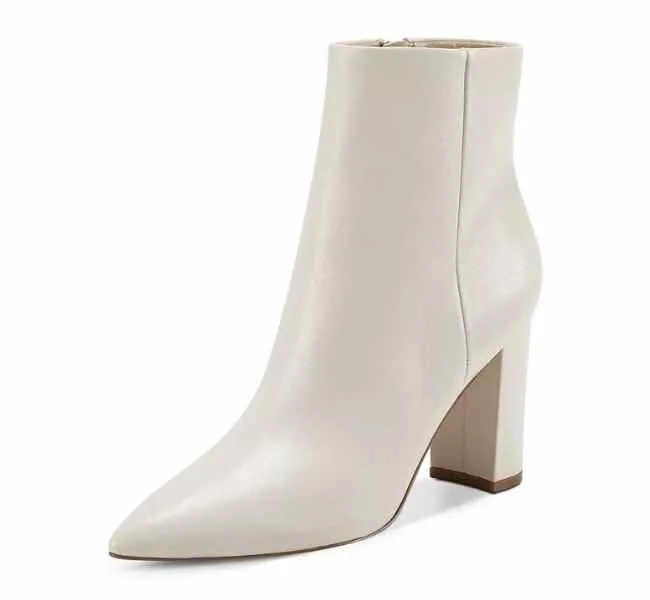 3. Gold Shoes with a Lavender Dress
Currently, the most popular metallic footwear hue for formal events is gold. And gold happens to go well with lavender dresses too! Gold offers a warm contrast to the cool light purple colored outfit.
Gold stiletto heels offer a lovely touch of shoe color to lavender dresses, while ankle boots or western-inspired boots can be fun for the right lavender outfits.
You can choose a slick high-shine metallic gold (my favorite!) with or without a snake embossing, or opt for a semi-matte gold.
Purse & Jewelry Styling Tips: Try white or beige purses to keep things simple. Opt for black or navy purses to add contrast. Choose matching gold jewelry to your shoes.
4. Blush Pink Shoes with Mauve Dresses
To add a subtle hue to your lavender dress, try blush pink shoes. For some, they might be skin tone color while for others they will give a bright contrast to your feet.
Pick a strappy pair of blush pink shoes or pumps. Try a patent material to add a bit of shine to the lavender outfit for a fun soirée.
Purse & Jewelry Styling Tips: Try a white, off-white, or beige purse. Add a bit of dazzle to your lavender dress outfit with a gold, silver or rose gold clutch.
Pick your jewel tones to match your purse, or opt for some fine rose gold accessories to bring out the pink tones of the shoes.
5. Black Shoes with Lavender Dresses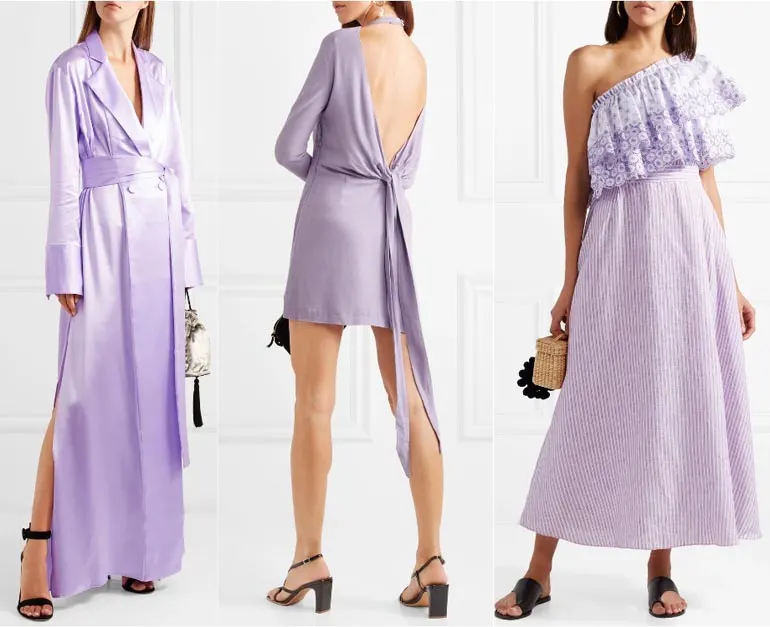 Always a bold choice, black shoes go with a lavender dress if high contrast is what you're after. Black shoes, no matter how minimal, will still make a statement with light purple!
Unless you're wearing a heavier, fall material lavender dress or outfit, pick a fine pair of minimal shoes, like a stiletto pump or dainty barely-there sandal. Black sock booties and tall boots can be worn with lavender sweater dresses for winter outfits.
Purse & Jewelry Styling Tips: Contrast further with a white, silver or gold purse. With jewelry, the choice is up to you!
I would match them to my metallic shoes, but if your purse is white, opt for silver jewels instead.
Shop Black Shoes & Heels: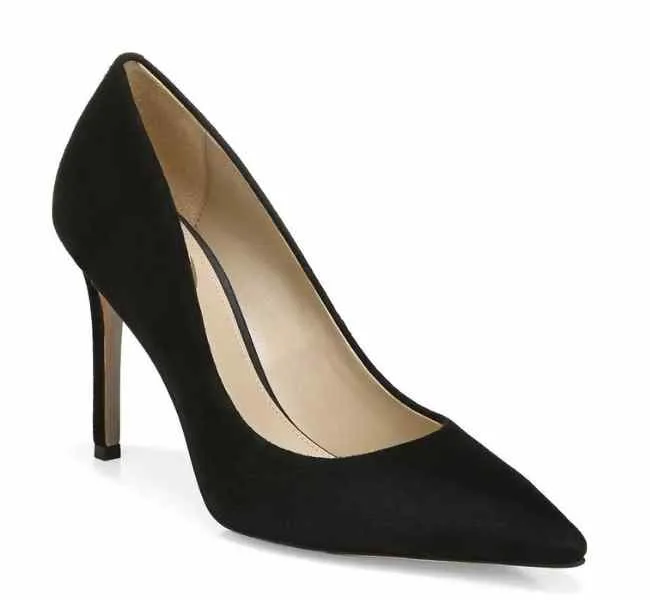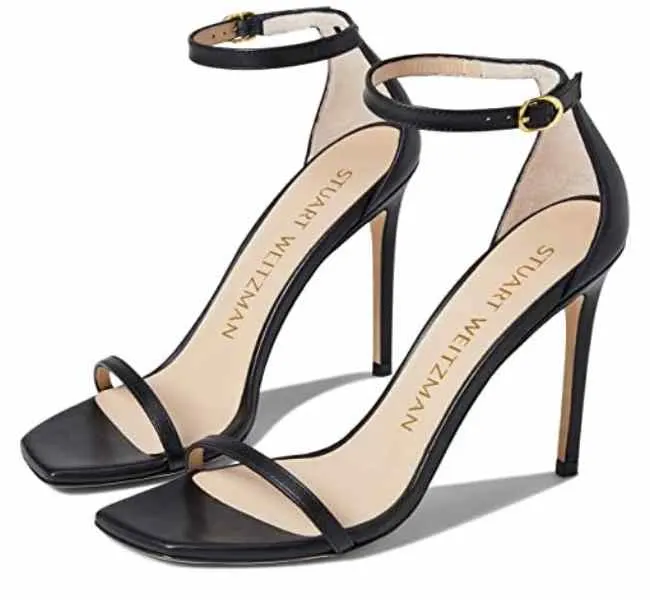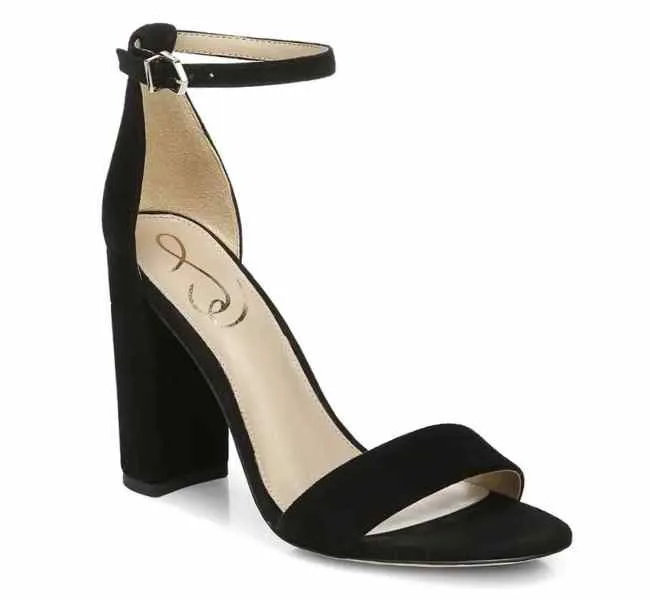 6. Silver Shoes with Lavender Dress Outfits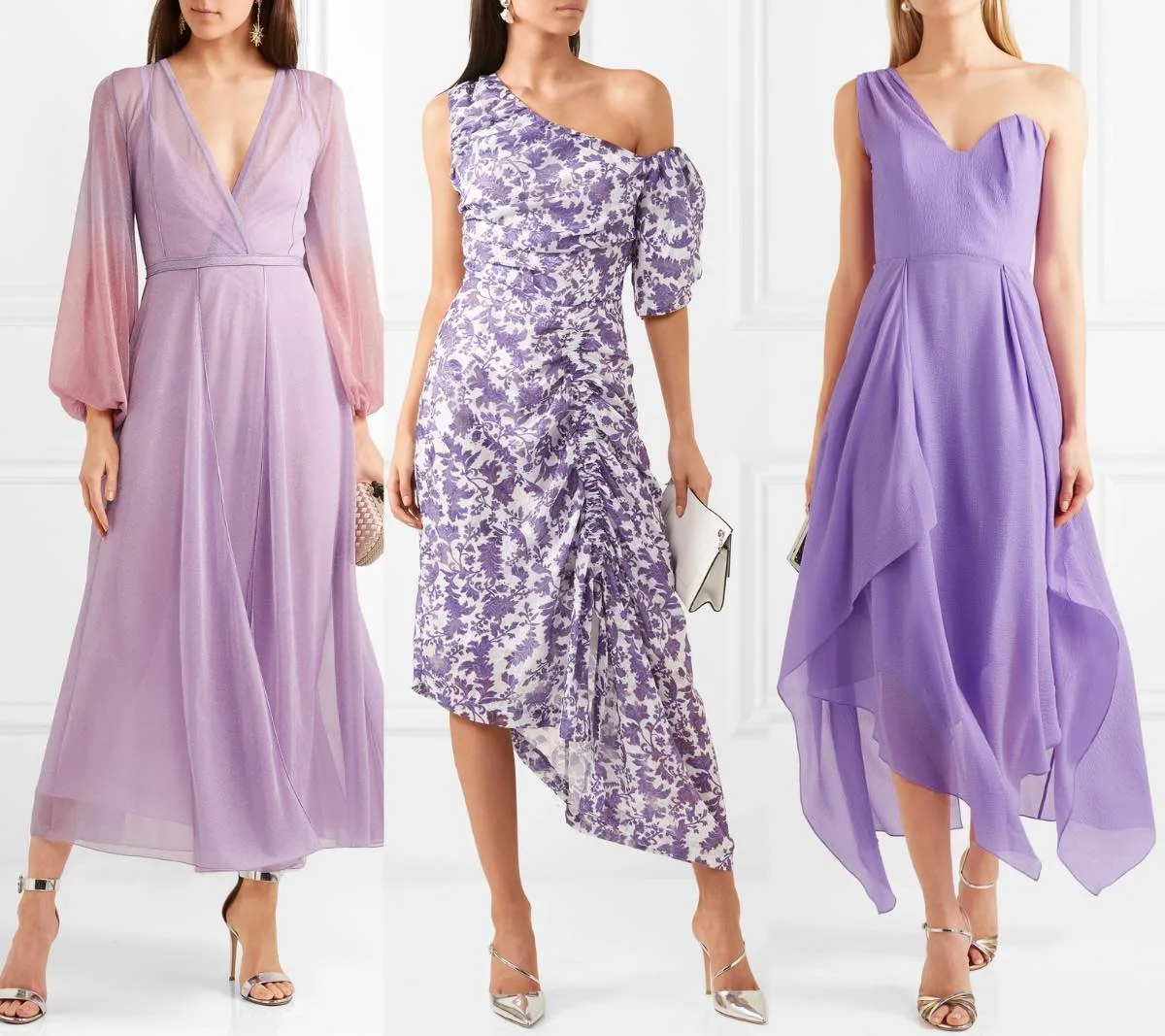 Silver shoes with a lavender dress are a lovely choice for keeping the outfit in a cooler tone. I love this pairing for both winter and summer.
Choose platform silver sandals or booties to make a statement. For a formal affair or wedding, go with a sleek pair of mirror-metallic pumps or sleek sandals with ankle straps.
Purse & Jewelry Styling Tips: Silver shoes and lavender dress outfits look great with a white, black or clear purse. You can be both bold and discreet with a navy or burgundy handbag.
Match your silver jewels with your silver shoes and add some sparkle if it's an extra fancy affair – or if you just feel like it!
Shop Silver Shoes & Heels: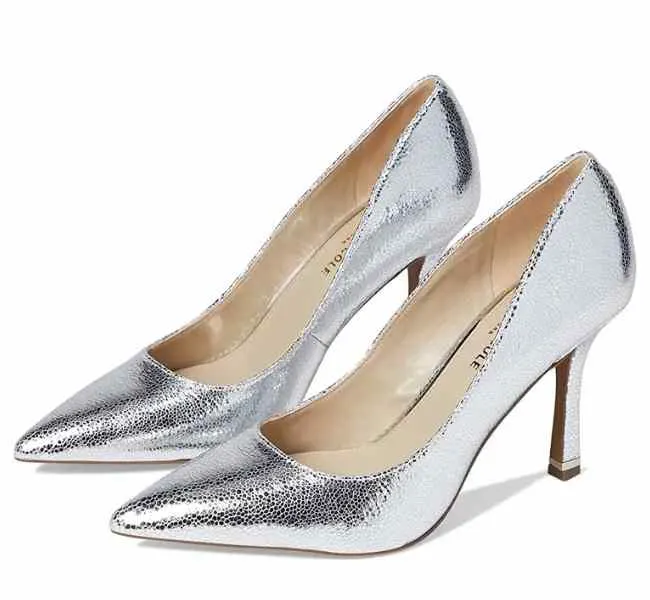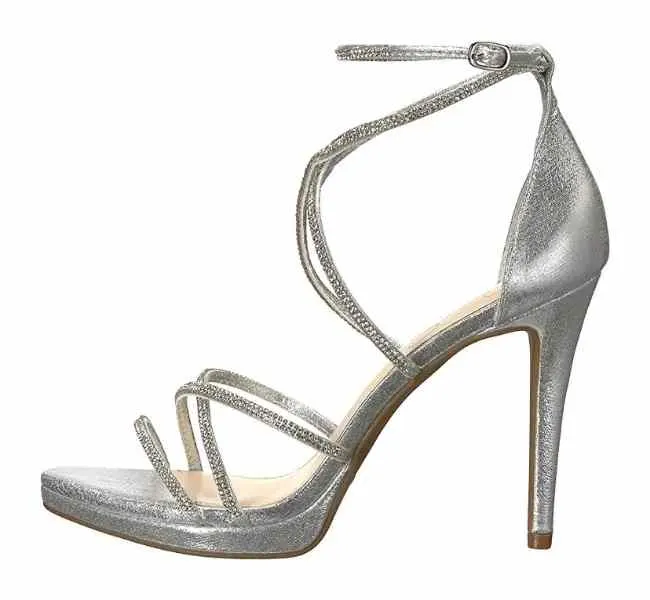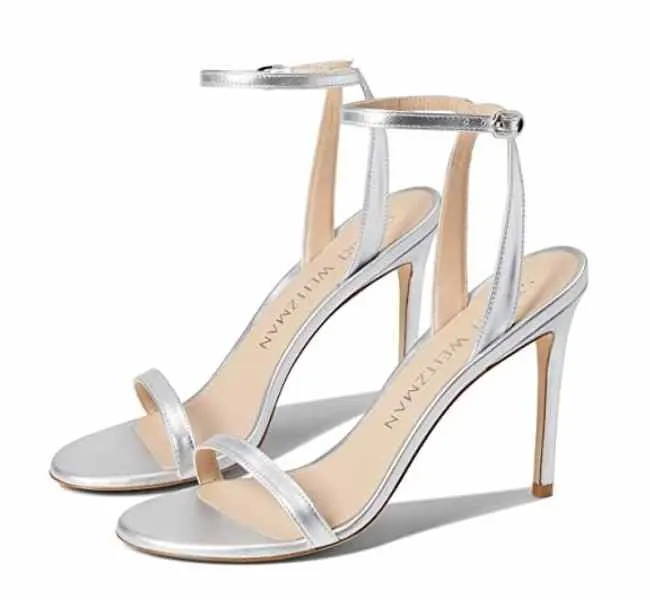 7. Burgundy Shoes with Lavender Dresses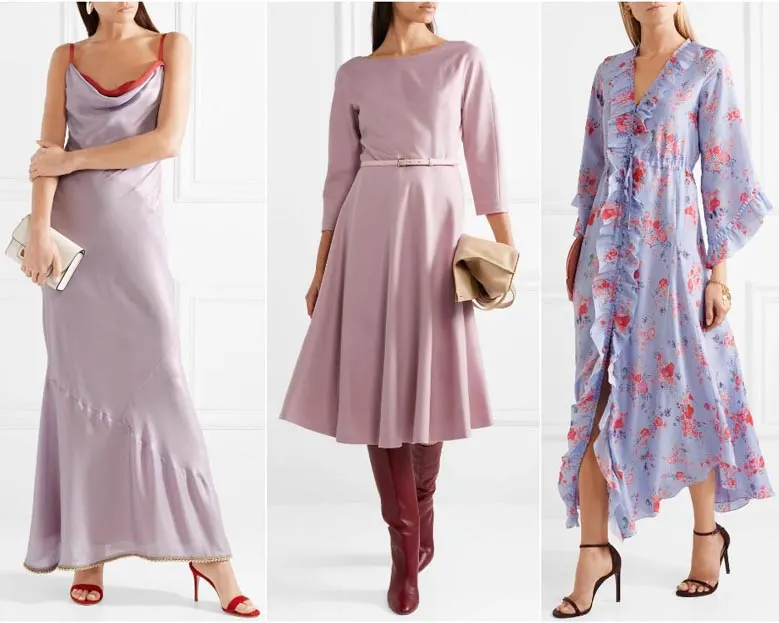 Contrasting a lavender with burgundy, or my favorite – plum colored – shoes is a spectacular and unexpected pairing. This is a great bridesmaid combo, as it is for a cocktail affair or chic casual outfit.
Pick a pair of suede or snake print embossed deep wine boots or burgundy loafer slides with a sweater dress in fall/winter. You can also dare to pair your lavender dress with a blood-red shoe!
A pump, slim sandal or heeled mule would be fabulous for a chic date. Make sure that the shade of burgundy or plum plays well with your specific lavender dress color.
Purse & Jewelry Styling Tips: Pick a metallic silver, gold or even rose gold purse. Or keep things more somber with a black or dark brown purse.
Jewels would look best in a gold or rose gold base, with vibrant gemstone colors.
8. Navy Shoes with Mauve Dresses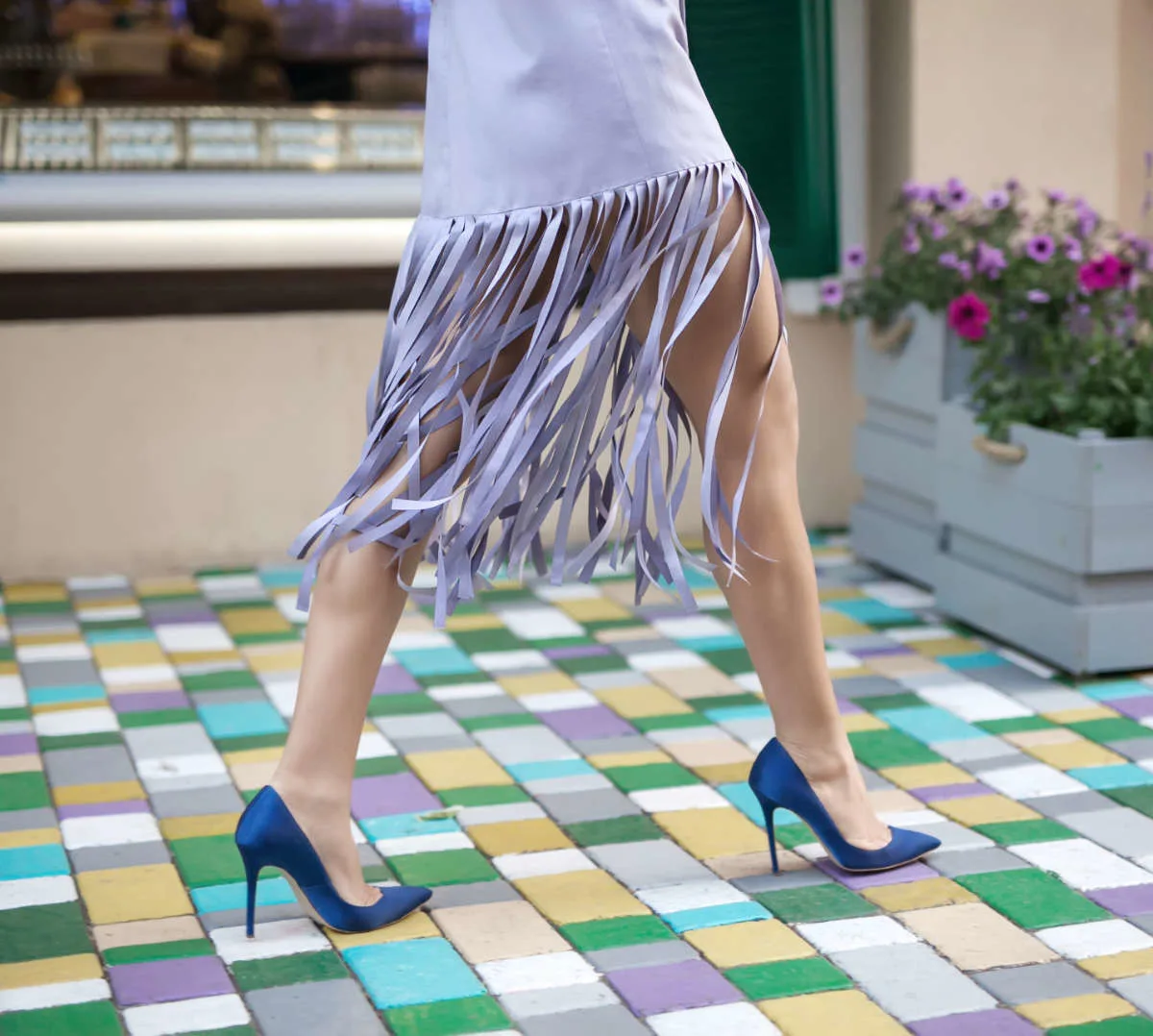 If black is too boring, but you're looking for darker shoes, navy shoes with a lavender dress are the way to go. Like Burgundy, the mix is unexpected but slightly less daring.
Navy suede or velvet shoes are my favorites, especially if the mauve or lavender dress has a satin sheen. Pick a rich pair of slouchy navy calf boots with a loose mini or midi lavender floral dress.
You can also opt for a blue shade between navy and cobalt blue, like the stilettos pictured above.
Purse & Jewelry Styling Tips: Choose a silver or black clutch with this combination. A dark purse in black or brown also works for more casual outfits with lavender dresses. Keep your jewels in cool tones like silver or contrast with gold detailing.
9. Brown Shoes with Lavender Dresses
Dark brown shoe hues such as espresso, chocolate and coffee, go well with lighter lavender and moss dresses.
I love this combination for spring functions, where lavender summer dresses are paired with sleek heeled slides and sandals.
Caramel shoe color look best with deeper shades of lavender, but darker brown shoes will work well too. Think lavender tuxedo dresses with brown leather knee boots or moss sweatshirt dresses with brown chunky Chelsea boots or loafers.
Brown shoes tend to work best for less fancy affairs, as they make the outfit more casual. This, unless the brown shoe matches your skin tone, creating a personalized 'nude' shoe.
Purse & Jewelry Styling Tips: Match a silver, black, beige or white mini purse. Matching brown shoes to your purse outfits for work or a casual vibe. I love jewelry in gold and rose gold tones to match the warmth of shoes.
10. Clear Heels with Mauve or Lavender Dresses
The last answer to your 'what color shoes with a lavender dress' is not even a color at all! If you want your shoes to be virtually invisible, you can trust clear heels with transparent straps to do just that.
I love the contemporary vibe these trendy heels give a lavender dress.
Clear heels come in pumps, sandals and strappy slides of varying heel heights and types. These shoes with a lavender dress work well for formal or elevated casual lavender outfits.
Purse & Jewelry Styling Tips: choose a silver, white, blush or matching transparent purse, or match the shoe base color. You can also opt for a black clutch to contrast a formal look.
I love silver tones with this combo to keep the tones cool, but you can also opt for minimal rose gold jewelry to add a hint of color. I like to match the jewelry tone to that of the metallic purse.
Shop Clear Heels for Women: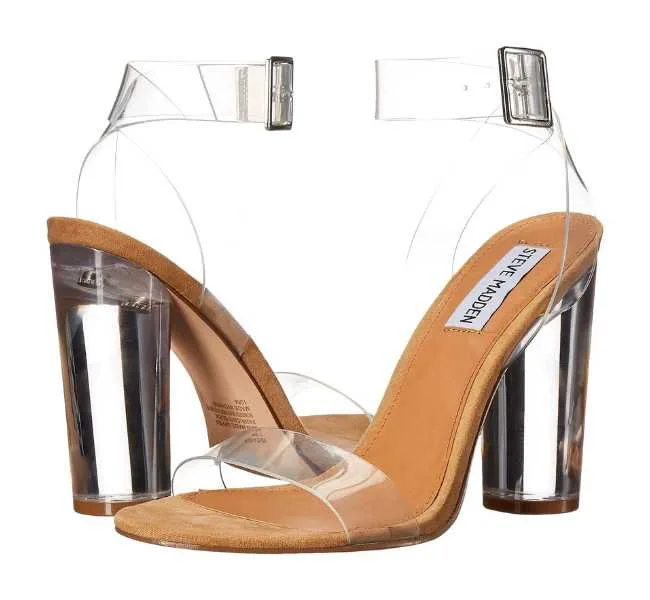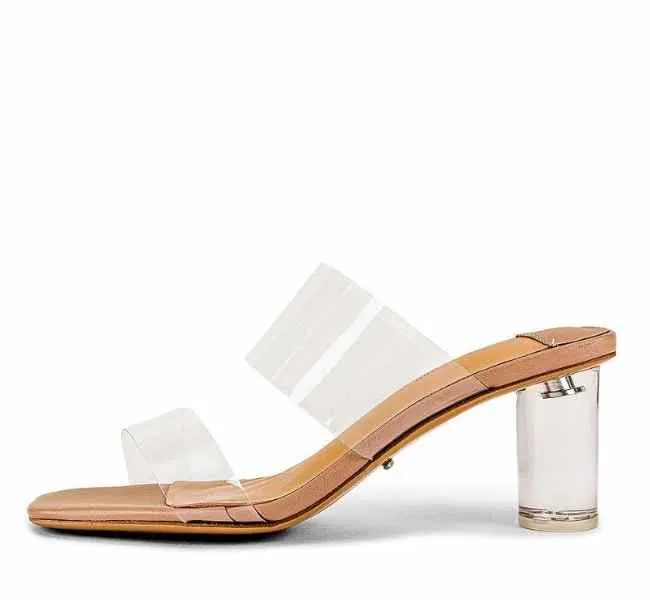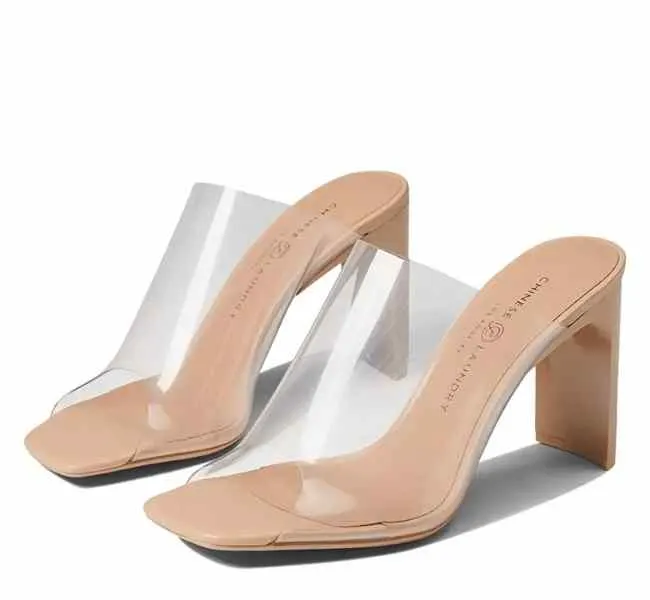 Final Words on What Color Shoes with a Lavender Dress
Personal style is different for everyone. You might want to wear a pair of varying color shoes with a lavender dress, like dark grey, pewter or neon yellow shoes – and that's ok!
If you love the look and you feel amazing wearing it, have fun with your lavender dress outfit. There are many shoes to match lavender dresses, as long as you pick the right shade for the frock. S
o don't feel limited by the 'safer' colors listed in this post!
Once you've figured out your shoe color, it's time to choose your favorite style of shoes for a lavender dress. Pick from my selection of shoes that go with everything!
The only shoe colors that don't particularly suit lavender outfits are bright or neon green hues. I'm not a fan of matching the dress to the shoes unless you're part of a lavender-filled bridal party.
If you want to choose a light purple shade of lavender shoes, opt for a stark contrasting shade or match the dress exactly.
What are your fave color shoes to wear with lavender dresses? My choice is silver or white, as they're bright and happy hues!
xo ShoeTease