If you've ever wondered what color shoes go with a light blue dress, you've come to the right place! ShoeTease is the destination for all that is shoe and dress styling, after all 😉
In previous posts, I've covered a slew of purse, shoe and dress combos. These include posts about what color shoes to wear with navy dresses and what color shoes for blue dresses go best.
But today, let's focus on what color shoes work best with a light blue, powder blue, baby blue, ice blue or sky blue dress. Or whatever color the kids are calling it these days!!
I'll be handing out helpful tips on how to choose accessories for your light blue dress with the right shoes, jewelry & purses for all sorts of occasions, including bridesmaid styling!
Light blue dresses make picture-perfect bridesmaid dresses, look fab for cocktail parties & are the perfect tea party look!
There are so many types of baby blue dresses to choose from. From satin dresses, to floral numbers to pretty lace frocks and more.
And which shoe color to choose when putting together your pastel blue dress outfit is a combo of 2 things: a mix of personal preference & which occasion you'll be wearing it too. Wearing a light jean dress? See my post outlining what shoes to wear with denim dresses.
RELATED POSTS:
What Color Shoes To Wear with a Light Blue Dress
You can find some great designer light blue dress styles from Zappos, Saks Fifth Avenue, Nordstrom,My Theresa & Revolve.
1. Light Blue Dress with Silver Shoes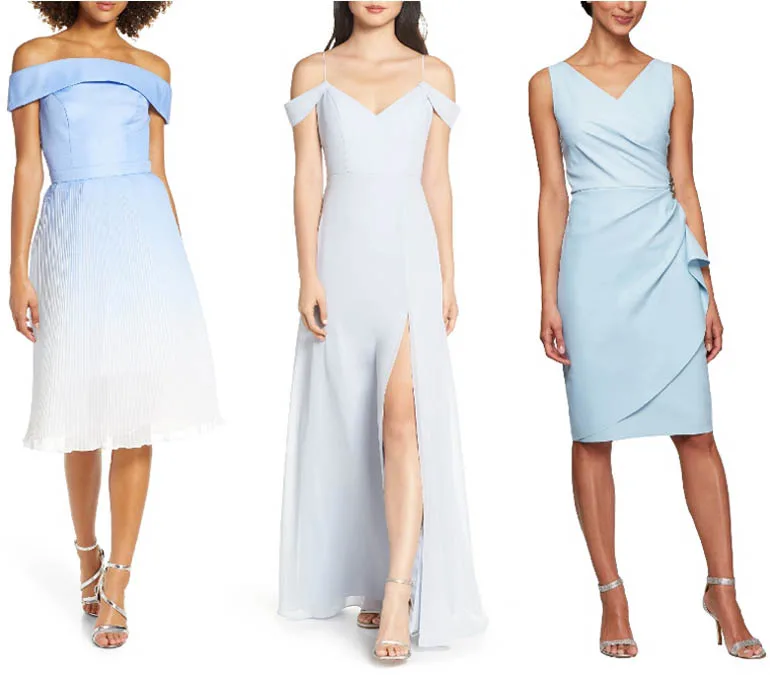 A light blue dress with silver shoes is one of my fave dress-to-shoe combinations. The cool tones in the shoes match perfectly with the cool hue of the pastel blue dress. It creates a breezy, effortless look that's anything but boring.
You can choose matte or shiny metallic silver shoes with your baby blue dress. A shiny silver shoe will be more glam in addition to making more of a fashion statement!
The great thing about pairing a silver pair of shoes with a light blue dress? You've not got one of the most versatile shoe colors to dress up any other dress color, including a navy dress!
Purse & Jewelery Styling Tips: I would match my silver shoes with silver jewelry. As a purse choice, I would opt for white, black or purple if you're feeling la-di-da!
A yellow clutch could look really fun too, if pops of color are your thing!
Shop Silver Shoes & Heels:
2. Light Blue Dress and Gold Shoes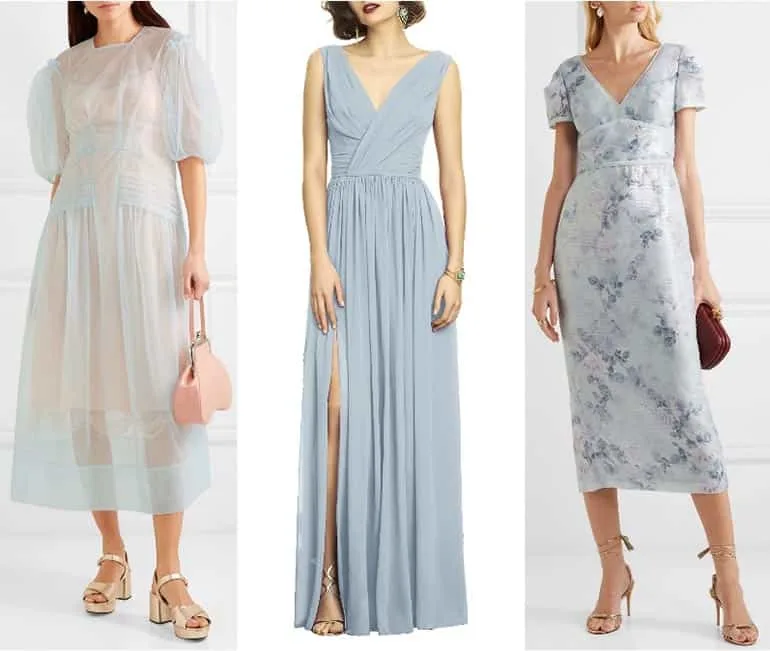 Not necessarily the first shoe hue that would pop into your head when asking yourself what color shoes with light blue dresses to wear, but it's a great choice!
If you're wanting a shoe color to light blue dress combo that is in tune with the most popular metallic as of late, you can opt for a gold shoe. Or even a rose gold shoe, if you're feeling up to it!
A light blue dress and gold shoes works great for a wedding or cocktail party look. Gold or rose gold shoes also bring out any warm tones that your dress might have, if it has a warm colored pattern. Rose gold shoes makes the look that much more flirty.
Purse & Jewelery Styling Tips: I would match my gold or rose shoes with the same shade in jewelry to keep things coordinated.
As for a purse, as with a silver shoe, I would opt for either a white or black bag, but even a beige one would work well with this dress & shoe color pairing.
3. Beige Shoes with Pastel Blue Dress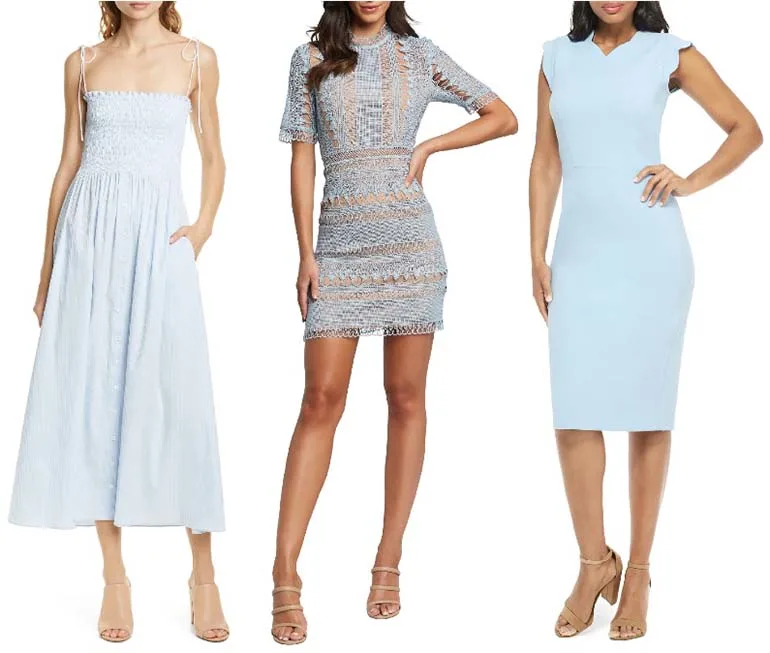 Beige shoes with a pastel blue dress? Yes, please! You can never go wrong with beige or blush shoes, on any skin tone. And blush or beige shoes with a pastel blue dress are no exception.
Understated & elegant, a great pair of beige shoes is what every gal needs in her closet.
Whether it's a closed-toe pump like Sam Edelman's Hazel pump or a classic strappy stiletto like one of Stuart Weitzman's Nudist sandals. These are some of the best shoes to wear with dresses!
Purse & Jewelry Styling Tips: Since your nude or blush shoes have some warm tones to them, I would match them with either gold or rose gold jewelry.
For a purse color, you can opt for full-on glam with a rose gold purse or keep it more understated with a navy, black or white clutch.
Shop Beige Shoes & Heels:
4. White Shoes with Light Blue Dress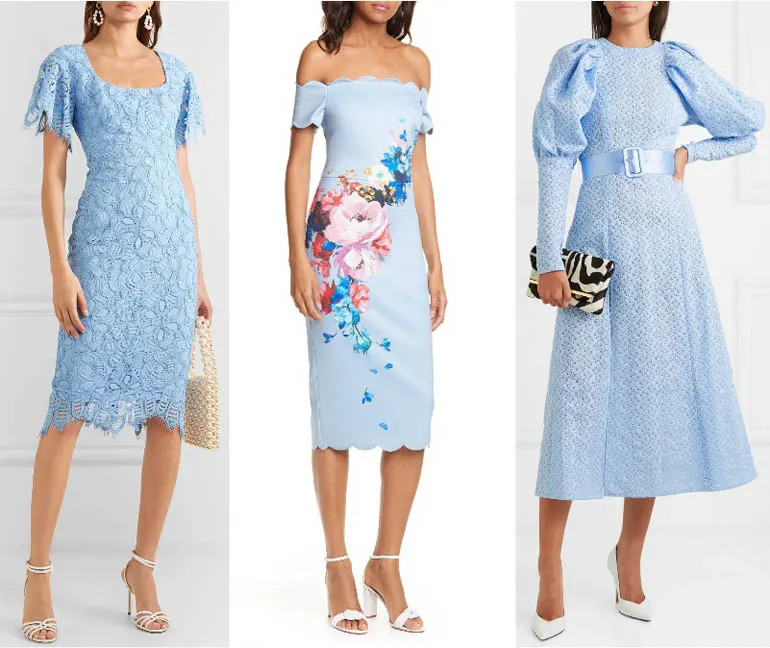 White shoes with a light blue dress will give a simple elegance to your outfit. You can't go wrong with a white strappy sandal (love this one!), simple pointed pump (this one's very popular) or even a sleek ankle boot for this pale blue shoe combo.
Purse & Jewelry Styling Tips: Because the pairing is simple, any minimal jewelry type will work well. As for purses, yellow or pink would be a fun choice (especially for a celebratory occasion) but you won't go wrong with silver or black.
Shop White Shoes & Heels:
5. Black Shoes with Baby Blue Dress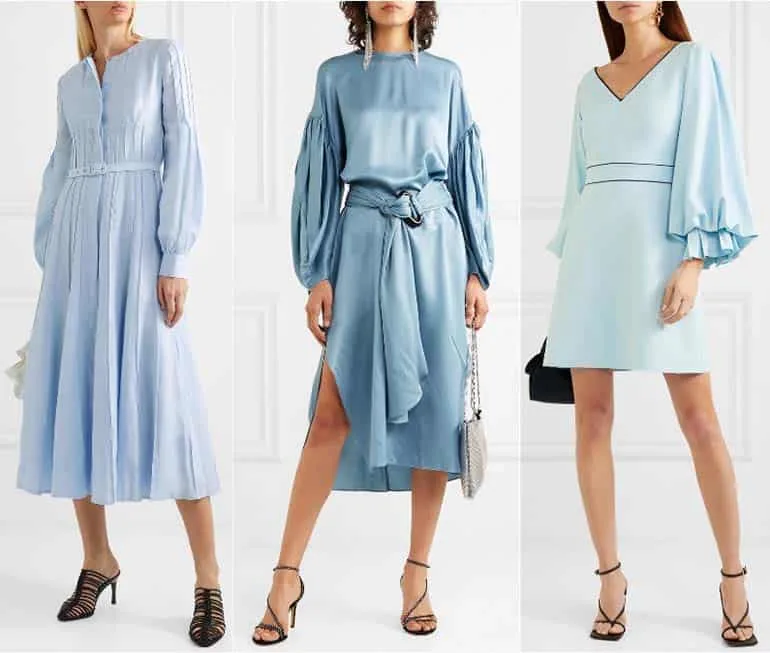 The great thing about wearing black shoes with baby blue dresses is that you most likely have a pair in your shoe closet already!
If you're going to a cocktail function, I would opt for strappy sandals. This stiletto style from Zappos is gorgeous!
This way, your black shoes will contrast well with your pale blue dress, but not too much. If you're looking for a more casual shoe option, a black boot or pump would also look lovely.
Purse & Jewelery Styling Tips: I personally love silver jewelry with this light blue dress combo, but any metallic hue will do.
My first purse color choice would definitely be white, but you can also pair a black or beige clutch with your outfit as well. Even a bright yellow or pink one if you're feeling bold!
Shop Black Shoes & Heels:
6. Light Blue Dress with Brown Shoes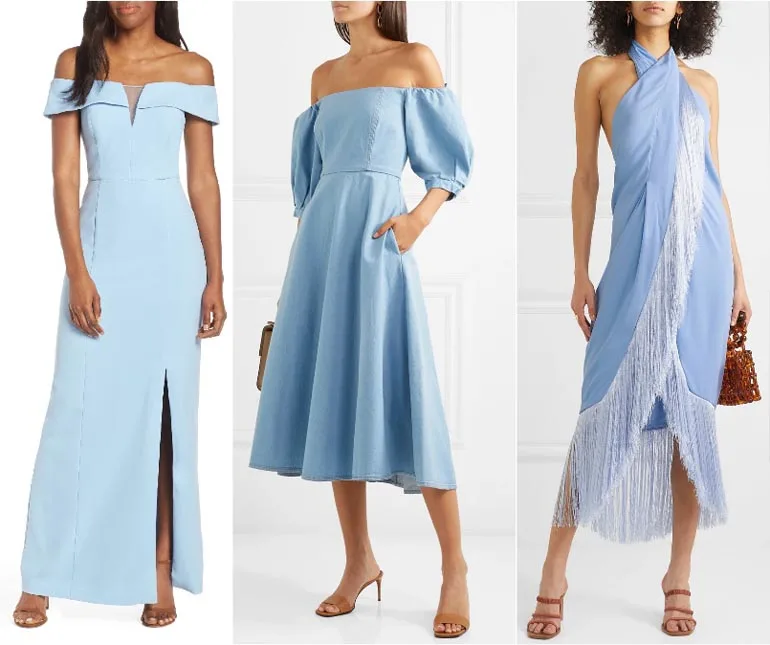 If you're going to a more casual (read: not cocktail or formal) event, the shoes for a light blue dress this time around could very well be brown shoes.
Brown, dark tan, caramel or whichever descriptive you'd like to use is a great pairing with a powder blue dress.
If they match your skin tone, they'll elongate your legs too! Brown shoes with a light blue dress is the perfect combo for a garden party or work outfit.
If you want to wear brown shoes with your dress, but make it a bit more formal, you can opt for a pair of bronze shoes too!
Purse & Jewelry Styling Tips: Any type of jewelry would work with this combo, so you can reach for gold, silver or even pewter. As per a purse color selection, you can match with your shoes or opt for a beige, white or black bag.
7. Purple and Contrast Blue Shoes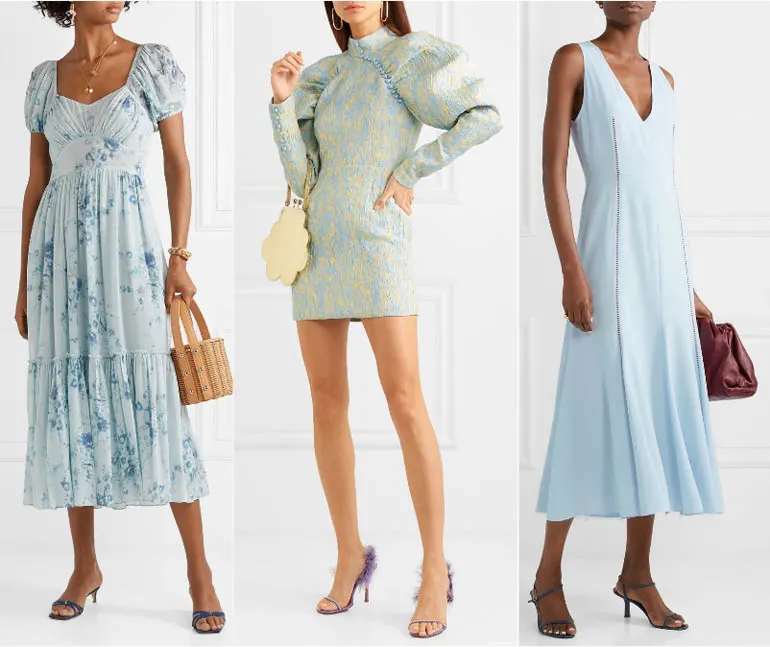 If you're looking to push your light blue dress styling to a whole new level, navy blue or purple shoes are where it's at.
Unexpected and fun, you can't go wrong with accessorizing your pastel blue dress with these similar, but still well suited shades. I would choose a darker navy shoe color or a darker purple heel with this combo.
Of course, if you're looking to style a pastel blue dress outfit for an elegant event or a bridesmaid look, you can easily pair it with light blue heels.
Purse & Jewelry Styling Tips: With this combo, I would keep purse colors simple: either black, white or beige. Silver jewelry would keep the tones cool, while gold jewelry will add some warmth to your look.
It's really up to you what jewelry metal type you'd like to style your pale blue dress and blue/purple shoes with!
Other Color Shoes to Wear with a Light Blue Dress
8. Matching Light Blue Shoes
Matching your pale blue dress to your shoes will give you an elegant head-to-toe look for that wedding or cocktail party. And if you're wanting to be very bold, you can style your light blue dress with some fur colors too. These include:
9.
Coral Colored Shoes
Coral is an unexpected shoe color that goes with many dresses, including light blue dresses. It's a fun combo, but be careful that the shade of pastel blue doesn't clash the coral hue of the shoes.
10. Yellow Shoes
All yellow shoes with a light blue dress look great. However, mustard yellow is a personal favorite, but even a sunny yellow can look fabulous.
11. Pastel Pink Shoes
Perfect for a garden party, tea party or bridesmaid in a wedding with pastel colors! If you think this is too much, you're better off sticking with blush pink, to keep the colors more subtle.
Final Words on Shoes for a Light Blue Dress
I hope this article helped to shed light on what shoes to wear with a light blue dresses and pastel blue dresses. As you can see, there are many shoe color choices that can work.
Some are more daring than others, but whatever is best for the occasion and your mood is what I would choose!
Any questions? Feel free to ask them below.
See More Dress Style Guides:
Best Color Shoes with a Fuchsia Dress
How to Wear Short Dresses with Boots
xo ShoeTease