It's no secret that I love Cougar Shoes, and especially adore their winter boots. The new Women's Cougar Winter Boots collection is no exception!
I've not only tested & loved a slew of their snow boots. But I've also included Cougar boots in my popular roundup post of the Best Canadian Winter Boots. And not many brands make the cut!
This season's Cougar winter boot styles for women are exceptional. So they definitely merit their own post. And I'm not the only one who loves them!
I've even included a fave style from the collection in my current post about womens waterproof combat boots!
Readers have clicked on my blog links & bought more of their winter boots this year (especially at Nordstrom), than ever before.
Cougar has definitely stepped up their winter boot repertoire with new styles. Including retro wedges, hip platform boot & perfected their previous styles. And as always, they pass the the Shoes to Wear in the Snow test!
On top of the fab new styles, I love the new color additions to this year's winter collection with pops of navy blue & burgundy for those who want to stray from neutral shades.
But fret not, loads of classic colors, including grey, caramel & chocolate browns, sand & beiges are still prevalent. That being said, there is literally a winter boot for every taste & lifestyle. Go through this post & tell me I'm wrong (I dare you!).
The common thread in the collection is the high quality construction that is always waterproof & cosy warm. Most come with a temperature rating of -24°C/-11°F, some even more. Cougar's non-slip outsole technology is also worth noting.
This means that down to those cold, cold temps, you can expect your feet to be protected from the cold.
Listed below you will find a hefty amount of my favorite Women's Cougar winter boots for the current season. You can find most of the 2019 Women's Cougar Boots collection from Nordstrom.
Listed below you will find a hefty amount of my favorite Women's Cougar winter boots for the current season. You can find most of the 2019 Women's Cougar Boots collection from Nordstrom.
First photo by Bruna Rico Photography
Shop New Cougar Winter Boots 2022/23 Collection: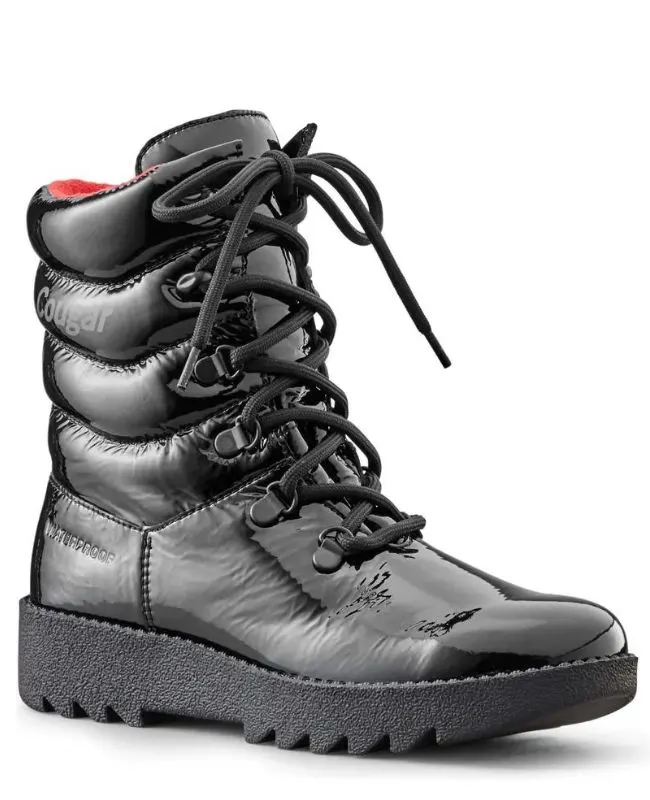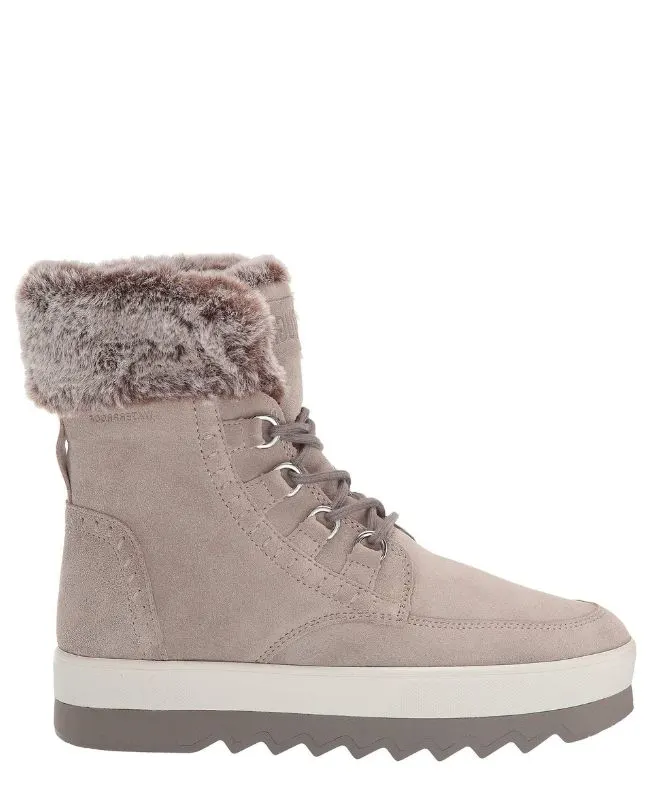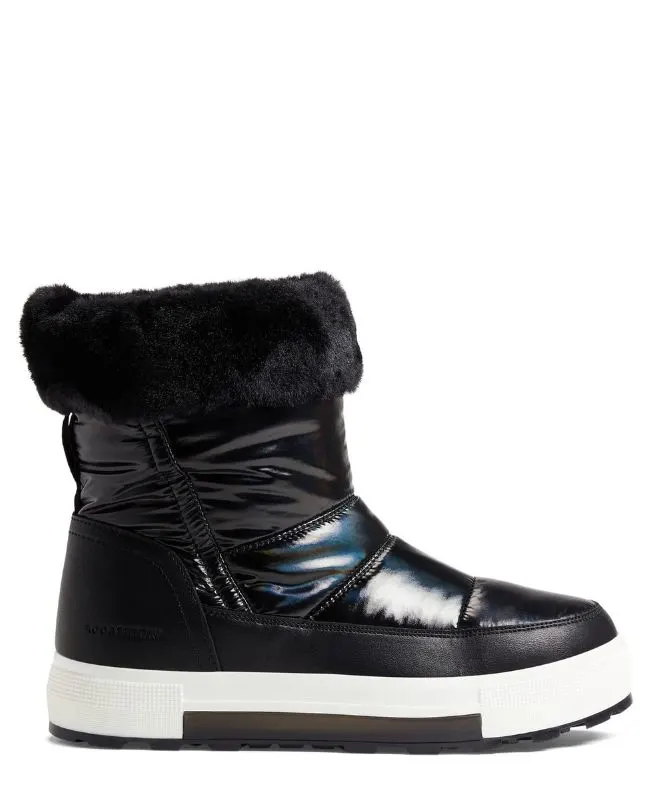 Women's Cougar Winter Boots – 2019 Collection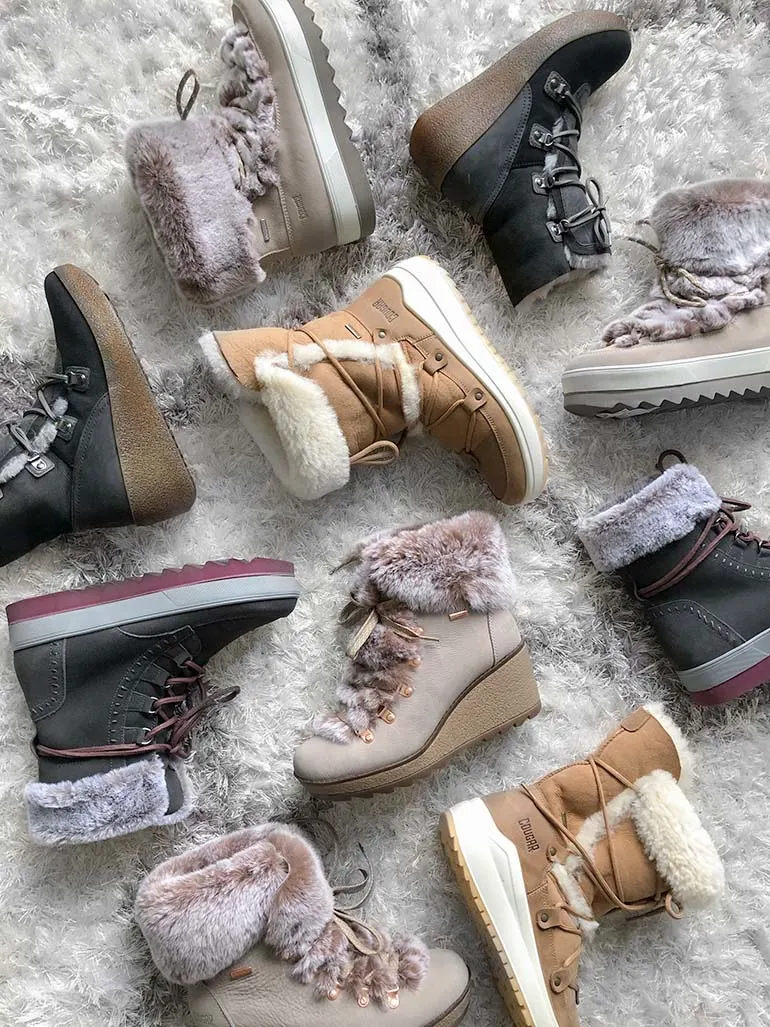 Dylan Cougar Boots with Wedge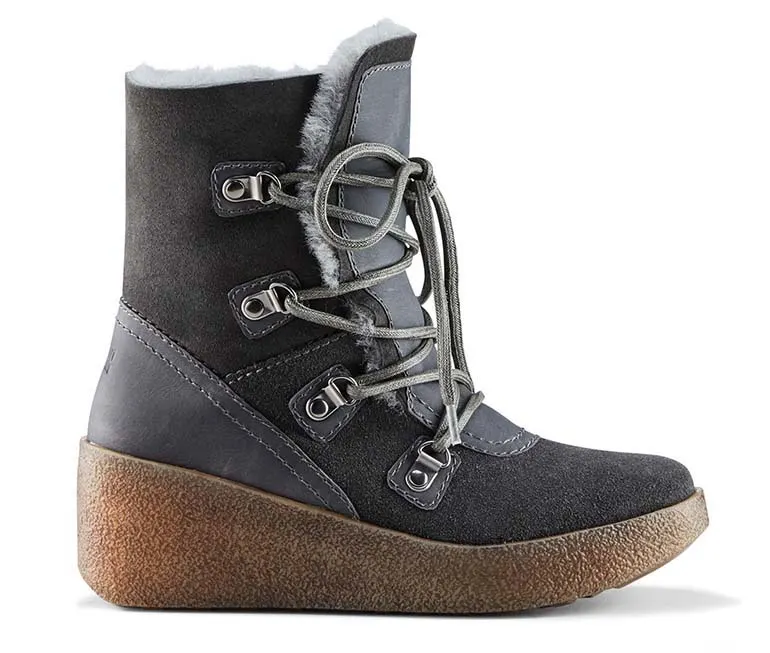 Let me start with the Dylan winter boot from Cougar. It's not only a completely new style, but I own this one too!
This waterproof leather/suede boot has a beautifully streamlined almond toe & a fabulous 1980s retro look with it's a very comfortable wedge outsole.
The Dylan — and it's non-laced counterpart the Devlin — is winter boot waterproof with a steep temperature rating of -24°C/-11°F.
The outsole is also anti-slip. I can't wait to it test out, as it's very different from the deeply grooved versions seen on some of their other boots (Vail, Vanetta & Vivian), featured below.
But what makes the Dylan style extra special is it's double faced shearling, which will keep your feet extra warm this winter! Both come in draft (a caramel hue) & pewter colors (pictured above).
The Dylan style was even featured as Footwear News' shoe of the week, which it most surely deserves! Shop them below:
Cougar "Vail" Winter Boot with Platform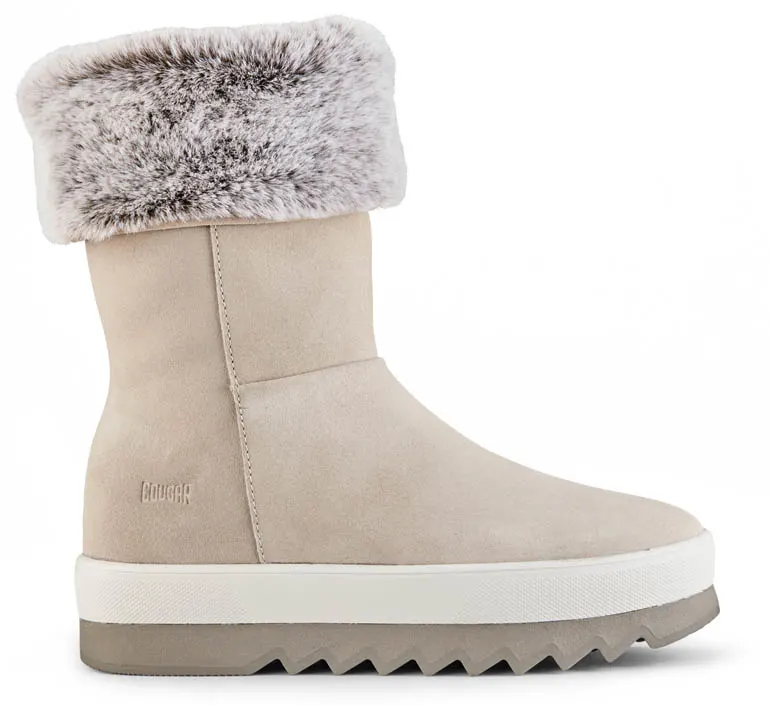 Cougar's Vail boot may not have a brand new outsole like the Dylan, but the boots that have adopted it in this year's style are ah-mazing! The Vail is the simpler of Cougar's platform winter boots, yet can be worn in 2 ways.
Simple & reminiscent of other classic shearling boots, this style comes in 4 colors: black, indigo, mushroom & black, and is lined in a plush polar fabric.
What I love most about this outsole, aside from the added height, is the deep grooved tread. I have tested out this outsole in one of Cougar's style from a few years back (it is still available here at Nordstrom) and the grip on snow is phenomenal!
As all of Cougar's winter boots, the Vail is fully waterproof & has a removable moulded foam insole & the specific boots's temp rating is -24°C/-11°F.
You can also grab this style in a slipper/slip-on version. Yep, the Pronya, below is also available this season, made of genuine shearling & suede. The Pronya is not temperature rated, however.
Cougar "Vanetta" Lace-Up Boots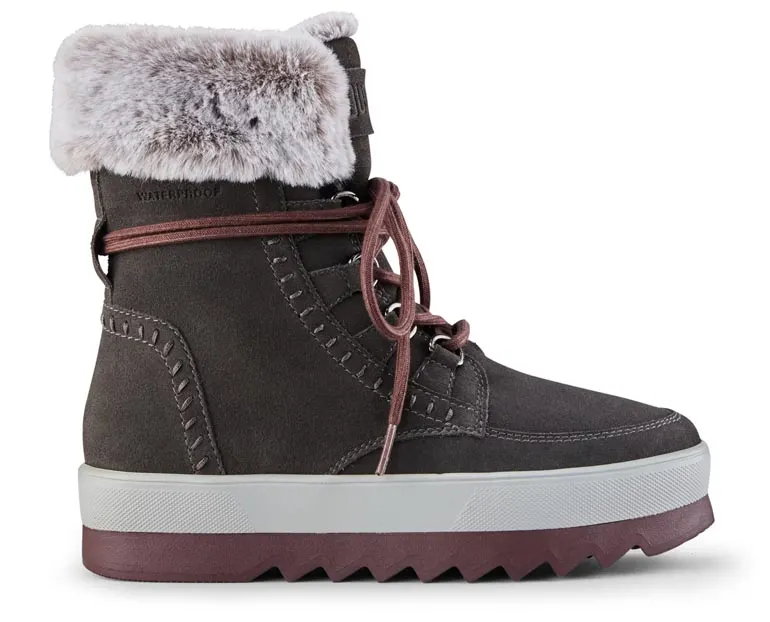 Another one of my fave styles is the Vanetta boot. It has the same base construction & specifications as the Vail, above, with a lot more detailing. This includes added faux-fur trim, laces & some nifty stitching.
The Vanetta winter boot comes in some fun & classic colors such as mushroom (tan), pewter (dark grey) & black/blue.
Cougar "Vanora" Plush Boots
If you're looking for a furry statement, Cougar's Vanora boots should be on your winter boot list! It's so cute, I almost bought one for myself (but alas, too many boots, too little storage space!).
Made of a fur collar & upper, (that looks like you're wearing fluffy little shoe animals!) this winter boot is also has the max Cougar temperature rating of -24°C/-11°F. It comes in black, pewter and hazel (warm light brown) & is PVC free.
Cougar Hiker Styles: Delson, Donna, Dayton
Looking for a rugged hiker style boot with all the functional elements of a winter boot? Cougar has you covered! The Delson boot is my fave with their laces (love my laces!). I own this style in black & can attest to its comfort & warmth.
I've included the Delson combat boot style boot in my post on Women's Waterproof Combat Boots, if you want to check it out!
And since these 3 styles are constructed with the same base & outsole, I can imagine them all being equally great! The Donna boot, is the slip-on Chelsea boot version of the 3 & is reminiscent of the classic Blundstone all-weather boot.
If zippers are more your thing, you can opt for the Dayton version of this platform hiker. Oh, and each of these also made of durable, full grain cask leather & have a steep temperature rating of -24°C/-11°F.
Cougar "Speedy" Hiker for Women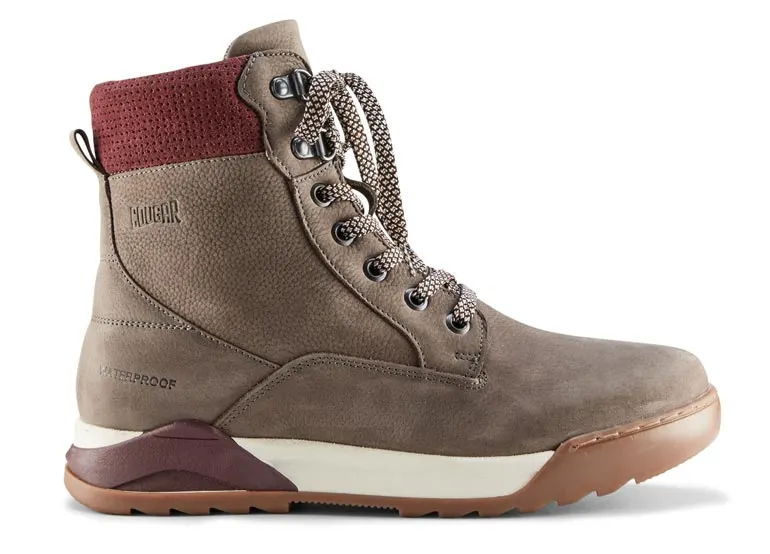 Cougar's Speedy boot is a great winter boot take on the hiker style. The perfect choice for someone looking for an understated boot that will carry you from Fall to Spring.

But don't let the aesthetics fool you! This attractive sporty ankle boot is fully leather and waterproof with a temperature rating of -10°C/14°F. It has a high traction outsole & just to be extra fancy, it is made in Italy.
The Speedy style comes in black & taupe (my fave and pictured above), while & it's the lesser tall counterpart the Swerve (see below) comes in additional 2 colours: camel + navy as has the same temp rating.
The Swerve has two-tone laces that I find to be a nice touch!
Cougar "Durand" Tall Leather Winter Boots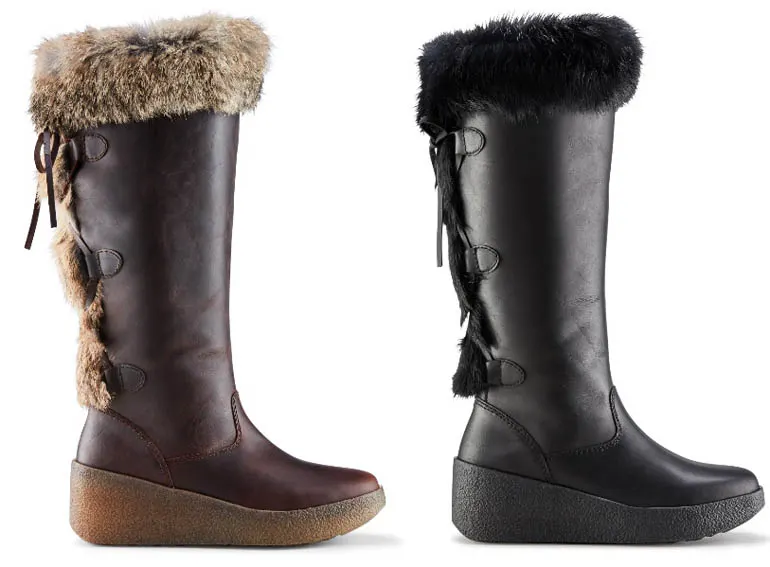 Another brand new style to grace Cougar Shoes' 2019 collection is the Durand tall leather boot.
And it's turning out to be a favorite of Canadian fashion bloggers & my own readers alike (lots of clicks on it from my Canadian Winter Boots post!).
It offers a rare combination of a higher, yet stylish winter boot. Which is necessarily, especially for those living outside of urban centres.
We have seen the same wedge on the Dylan boot, but the style is much less sporty. It has an incredible fur trim that lines the crisscrossed boot back & is available in dark brown (cask, per Cougar) + black. The temperature rating is also -24°C/-11°F.

The Duncan is a similar style to the Durand, but with toggle buttons & braided fabric detail. Shop both, below:
Cougar "Penelope" Furry Wedge Boots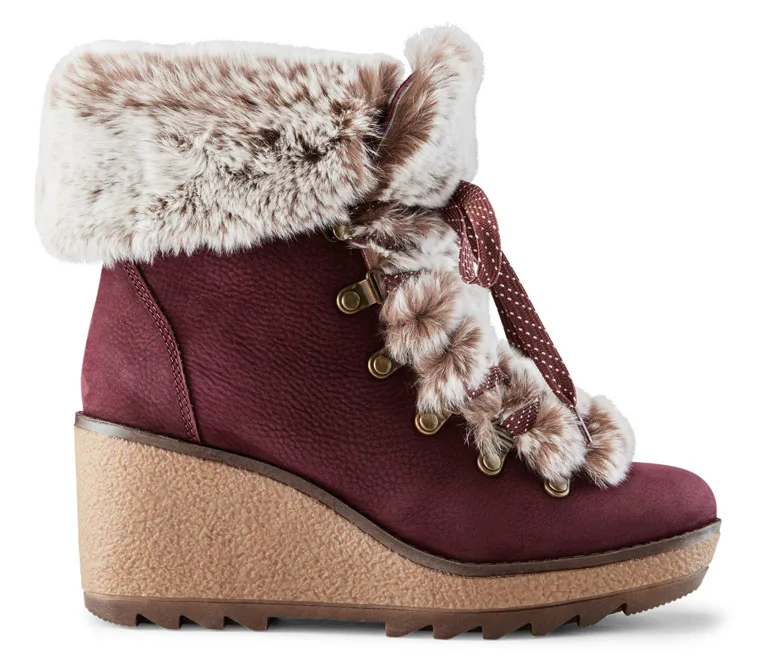 Speaking of wedge winter boots, how do you like the suede "Penelope" winter boot? Definitely a show stopper with it's ample boot-topped fur & high wedge, especially in the maroon version!
Not one for the faint of heart, but if you're living in cold climates where waterproof, -24°C/-11°F temp rated boots are a perfect option for those of us who want sophistication even during the cold cold winter months.
This style can be worn up or down & comes in 4 pretty colors.
Cougar "Tacoma" Shearling Winter Boot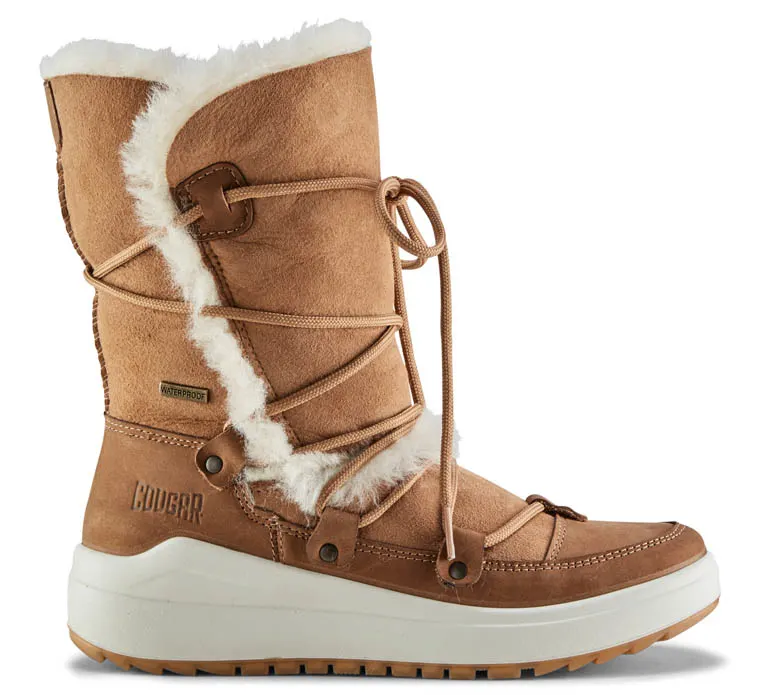 Cougar's "Tacoma" style is definitely going to be a best seller! It's both sophisticated with its soften suede & shearling lining, but also sporty with its lacing & more rugged outsole.

The specification of the Tacoma boot is similar to the others, in that it has a temp rating of -24°C/-11°F, waterproof, but also designed in Italy with a high tech anti-slip outsole.
Comes in a soft grey, black & light brown. Get it directly from Cougar's site.
Cougar "Dublin" Winter Sneaker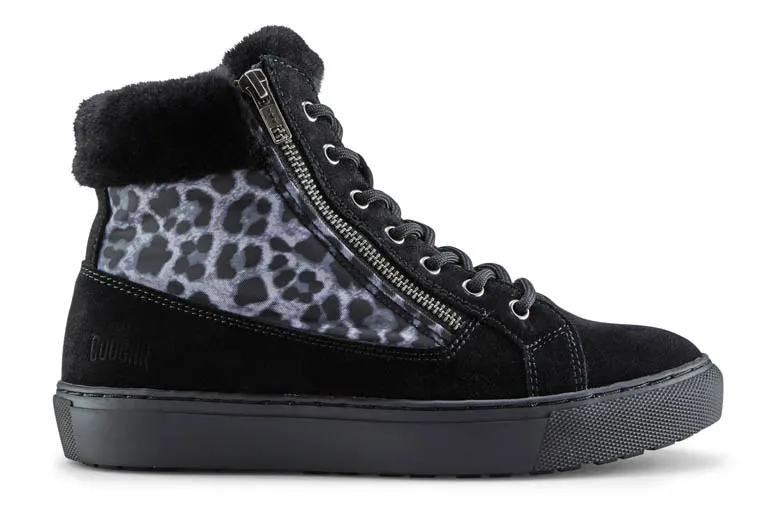 If Cougar hadn't already outdone themselves with the above styles, check out the perfect winter boot alternative for the fan of stylish sporty fashion: the Dublin.

Available in 4 colours (2 with leopard print) & considering it's sneaker aesthetic, has a surprisingly high temperature rating of -24°C/-11°F.
Cougar "Pillow" Winter boots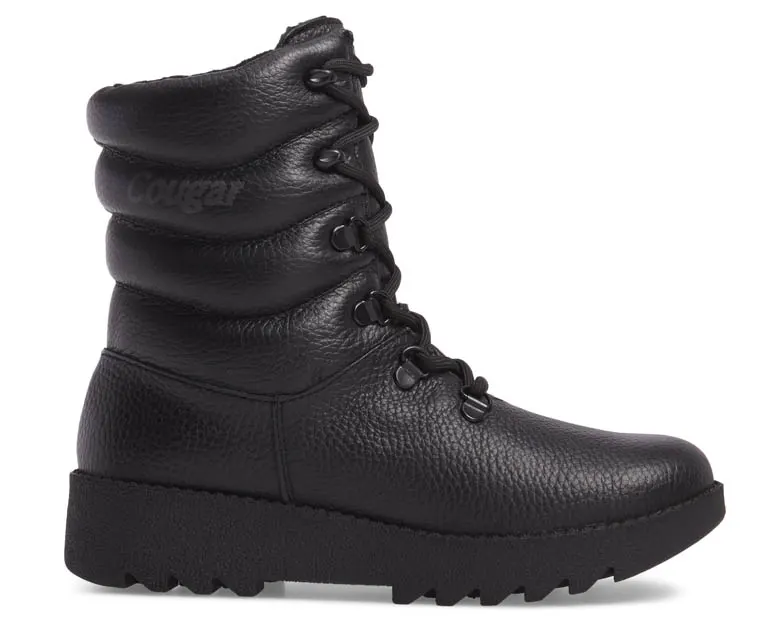 Ok, not a new style for Cougar at all, but definitely worth mentioning, is their revamped classic Pillow boots. Part of Cougar's Heritage Collection, it is exceptional in the Blackout leather version.

It is fully black, including laces & outsole, it has become a sleek, timeless favorite. I have the Original Pillow boot in tan, which also comes in black, brown & red too.

This style is also the absolute warmest of Cougar's collection, with a whopping temperature rating of -30°C/-22°F! And I can attest to this claim: they are VERY warm & my go-to for the chilliest days!

An alternative to the Pillow boot is the Paige leather ankle boot, which also has a retro feel, but has more of a hiker vibe, with the same specs.
In sum, I hope my post listing some amazing new Women's Cougar winter boots from the 2019 Collection, has inspired you in the winter boot department. I love how Cougar reminds us that we can be both fashionable & functional during the cold winter months!
This is especially true for us Canadians who are subjected to a whopping 5 months of winter per year. Or more, depending on where in Canada you live, yikes!
So having a few pairs of cosy, comfy & warm winter boots that also make you smile is a must!
You can purchase all of the styles above via the links & widgets above, via Nordstrom in many countries & straight from Cougar Shoes' website.
Please note that some styles available at US retailers are not currently available in Canada & vice-versa.
What's your favorite Women's Cougar Winter boot style for the 2019 Fall/Winter season?
xo Cristina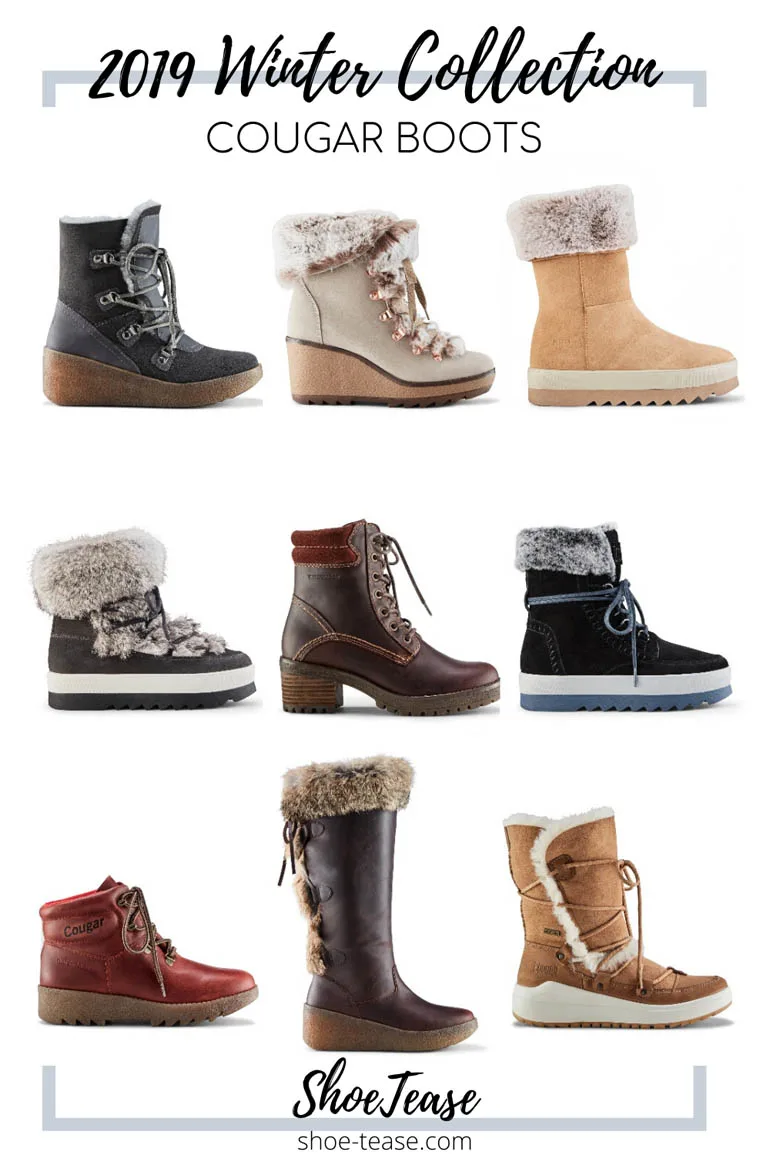 Cristina is the chief editor, fashion & shoe expert here at ShoeTease. As a seasoned stylist and women's fashion & shoe designer, she boasts over 20 years of experience in the fashion industry. She loves crafting effortless outfits for ladies both online and off and believes that styling advice should be accessible to everyone. Whether you're a styling pro or just starting out, Cristina's here to guide you on your fashion journey! Learn more.