If you're looking for answers on how to store winter boots and shoes away for summer, there are a few simple key steps to follow.
Storing boots for summer is much more than simply putting them away. You must ensure they are properly cleaned, deodorized, and packaged properly.
That way, they'll be good to go once the colder, wetter (and yes, snowier) days come back to haunt us!
How to Store Winter Boots and Shoes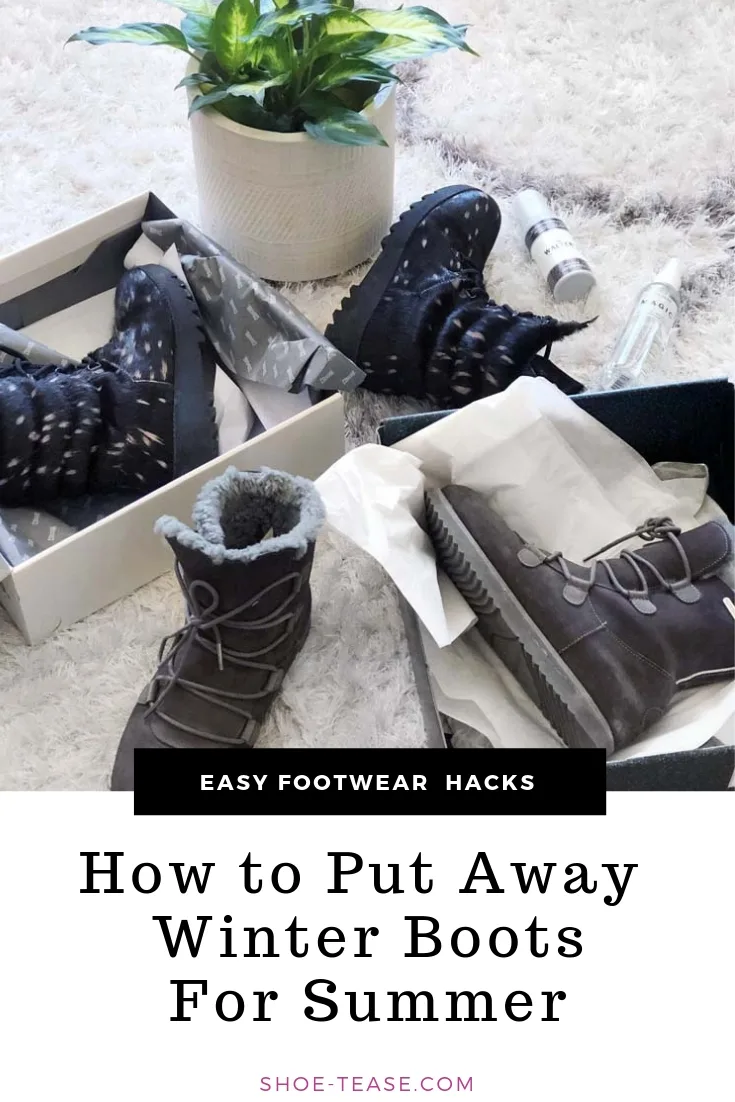 1. Clean Your Winter Boots from Dirt and Stains
Of course, before you put your winter boots and shoes away for the spring/summer months, you'll want to make sure they're clean & dry. Wet boots? Learn how to dry out boots in my dedicated post.
You should actually be regularly cleaning your winter boots. However, if you live in an area where the winter months last for most of the year, like here in Canada, this can be a huge time-consuming hassle.
An absolutely essential time to give your winter boots and winter shoes a proper rubdown is before you put them away.
Cleaning winter boots isn't the same for every boot type, though. Suede, leather, rubbers and specially treated materials are going to vary in care. That's why it's a good idea to keep the care instructions around.
I've written specific posts about how to clean UGG boots, how to clean suede shoes, and how to clean and shine leather shoes if you're wanting more specific how-tos.
However, if your winter boots and shoes are waterproof (as shoes to wear in the snow should be!), you'll want to follow the steps below:
To Remove Dirt from Boots:
The first thing you'll want to do, especially if your winter boots have caked on mud or dirt on them, is get it off stat. But before you do, stuff your boots with newspaper, clean rags or a shoe tree.
To clean the uppers, use a damp cloth to remove dirt & grime. For suedes & pony hair, use a suede brush & brush following the grain.
To clean your outsoles, I suggest putting 1-2 inches of water in a wide bucket & placing your boots inside for a few minutes or until the dirt, rocks & general filth loosens & comes off.
Make sure that only the soles are being soaked. Dry with a rag or let drip dry.
To Remove Salt Stains:
Once your boots are dirt-free, it's time to clear out those pesky salt stains. This is actually quite easy. You can do it the lazy way, by using specialized shoe wipes, such as Boot Rescue, which are my favorite.
These shoe wipes are non toxic, idiot-proof & you can shop them here in the US or here in Canada.
You can also DIY a salt-eliminating solution by mixing 2 parts water + 1 part vinegar and gently dabbing this mixture onto the salt stains with a rag.
2. Treat & Condition your Boots
Storing boots for summer also means giving them proper care before you pack them away. Leather requires the most amount of care & there are a slew of great products to maintain your leather shoes.
And all winter boot materials, including leather, can use a good all-over shoe spray! Check out some of the best waterproof sprays for shoes or learn how to waterproof boots and shoes in my dedicated posts.
These shoe sealants create a water, dust and grime repelling shield for all materials, which is helpful when you are storing boots away for summer.
---
Shop shoe shielding sprays, below:

---
3. Get Your Winter Boots Repaired
If you notice rips on the upper material of your boots or the heels starting to thin out, get them repaired at your neighborhood cobbler.
The outsoles are the most important element, because, after a certain amount of wear/tear, you won't be able to salvage them.
If you're handy or and would like a DIY solution, my post about the best glue for shoes can help! You can use ShoeGoo or Aqua Seal for a decent fix for upper materials & even outsole repair.
4. Deodorize Your Winter Boots and Shoes
Because who wants to store a pair of stinky shoes? Not, me! So here are a few tips:
Start with the insoles & take these out. If washable, follow instructions from the manufacturer. If they're consumed & weathered you'll want to replace them.
Check with the boot brand website to purchase replacement insoles or buy a similar ones online. You can find an amazing variety of insoles from Walmart.
If airing out your winter shoes and boots hasn't helped in the stink department, you'll want to take extra streps. You can find a wide variety of products to eliminate odor from shoe inserts, to shoe sprays & powders.
I've written a whole post about how to get rid of smelly shoes which includes different products & DIY options.
If your boots are really stinky, it's time to take out the big guns & use a contraption such as StinkBoss or similar. I've reviewed this specific ozone shoe deodorizer, here.
---
Shop my fave shoe deodorizers & freshners, below:

---
5. How to Store Your Winter Boots
Now that your boots are clean & smelling fresh, it's time to store them away for a few months. Do not underestimate this process!
Firstly, you'll want to make sure your winter shoes and boots will keep their shape. You can do this with minimal cost using tissue paper or crumpled blank paper.
But better yet, if you can afford to spend a bit, these top rated & easy to use boot shapers are fab. Or you can also opt for a more solid boot forms, which are inserts to put inside your boots to keep their shape.
---

---
6. Where to Store Your Winter Boots
I personally keep all of my shoe boxes + dust bags, which = the perfect storage solution. However, if you don't have either, cover your boots with either cotton cloth or place them in clean plastic bags.
This will protect them from dust. You can also buy shoe & boot bags, like these nifty ones.
You'll want to then find boxes to store them in. I don't recommend putting them all in a big bin, where they will weigh on each other & potentially alter their shape.
Boxes allow you to store them easily in your closet, under your bed, or wherever.
Make sure you store your winter boots for summer in a cool, dry place and in a container where they can breathe (read: don't seal them airtight). The last thing you want to do is store them in a damp basement & risk mold.
Another alternative is putting away your winter boots for summer by storing them in your closet with boot hangers. Yes, this is a thing, and paired with appropriate boot bags, they work wonders.
I even wrote a whole blog post on the subject of this hanging boot holder system for your closet!
If all these boot storage solutions aren't enough to store all your winter shoes & boots away, then maybe it's time to declutter your shoes!
---
Shop winter boot & shoe storage solutions:

---
Final Thoughts on How to Store Winter Boots
Yes, going through the motions of how to store winter boots & shoes can be tedious, but it's worth it.
Not only will properly maintained & stored footwear keep your favorite shoes around longer, they will also keep you warmer & dryer!
But before reading the next post, tell me: how do you usually store your winter boots & shoes?
Disclaimer: Closely follow the instructions that your winter boots and shoes come with. This includes important information on shoe cleaning, deodorizing and storing footwear. Attempting to clean & fix your own winter boots may cause irreparable damage to your beloved boots. ShoeTease and its partners are not liable for any damages to persons or property arising from any of the advice given in this post. Follow advice at your own risk. The safest option is always to take your beloved footwear to a shoe professional!
xo ShoeTease