I adore Golden Goose outfits with sneakers! In my humble shoe blogger option, Golden Goose sneakers are stylish shoes that go with everything. Especially if you're looking at styling white or off-white GG sneakers.
Golden Goose sneakers are a closet staple for many a fashion-savvy gal. The sneakers are comfortable, stylish, and versatile. Not to mention how durable they are!
The question is: how do you wear them?
Today on shoe-tease.com, I'm going to give you a visual rundown on how to wear Golden Goose sneakers for casual dressing, office looks and more elevated occasions.
So if you're looking for some Golden Goose outfit inspiration, you've come to the right place!
How to Wear Golden Goose Sneaker Outfits for Women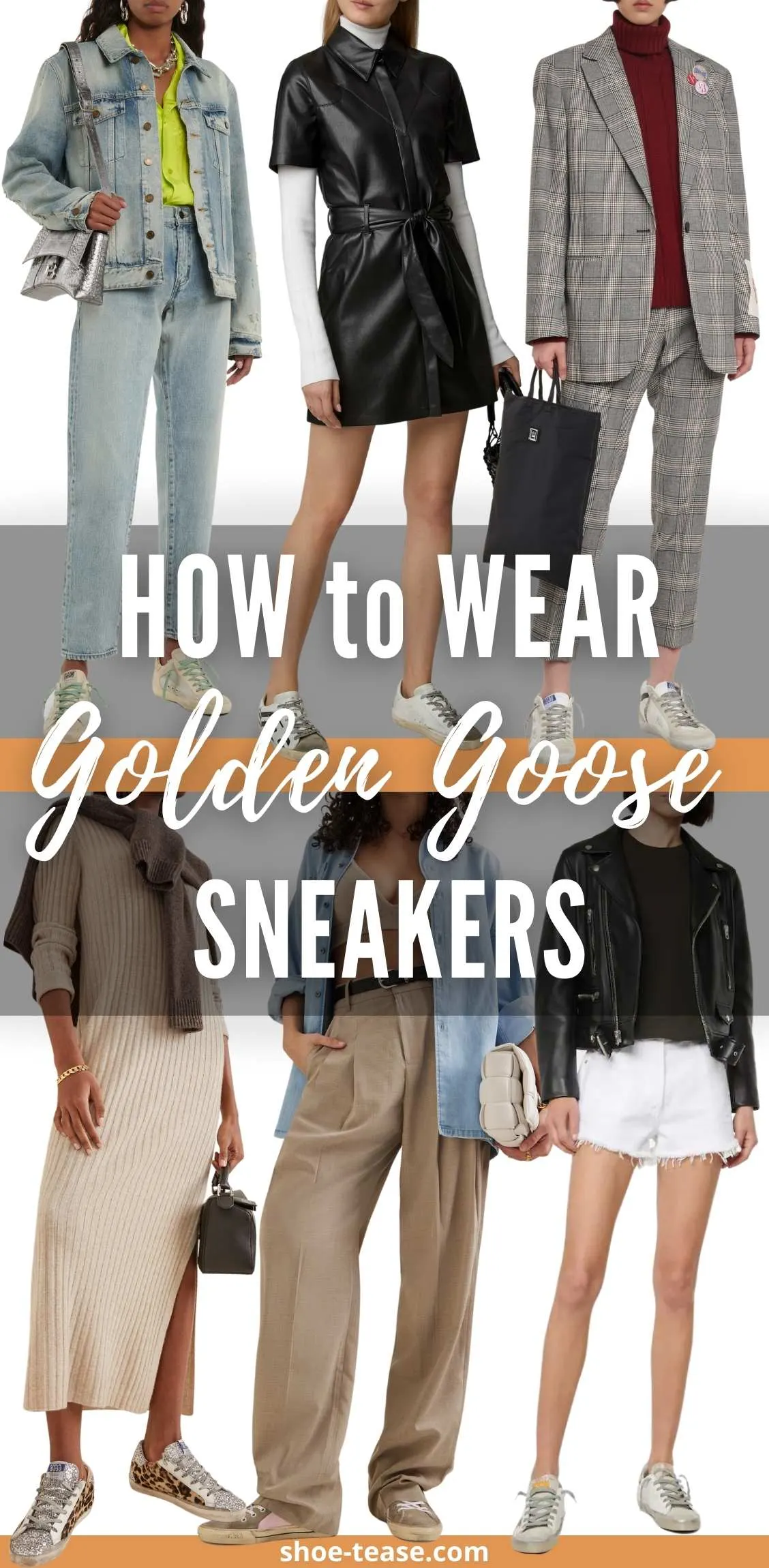 1. Golden Goose Sneaker Outfits with Denim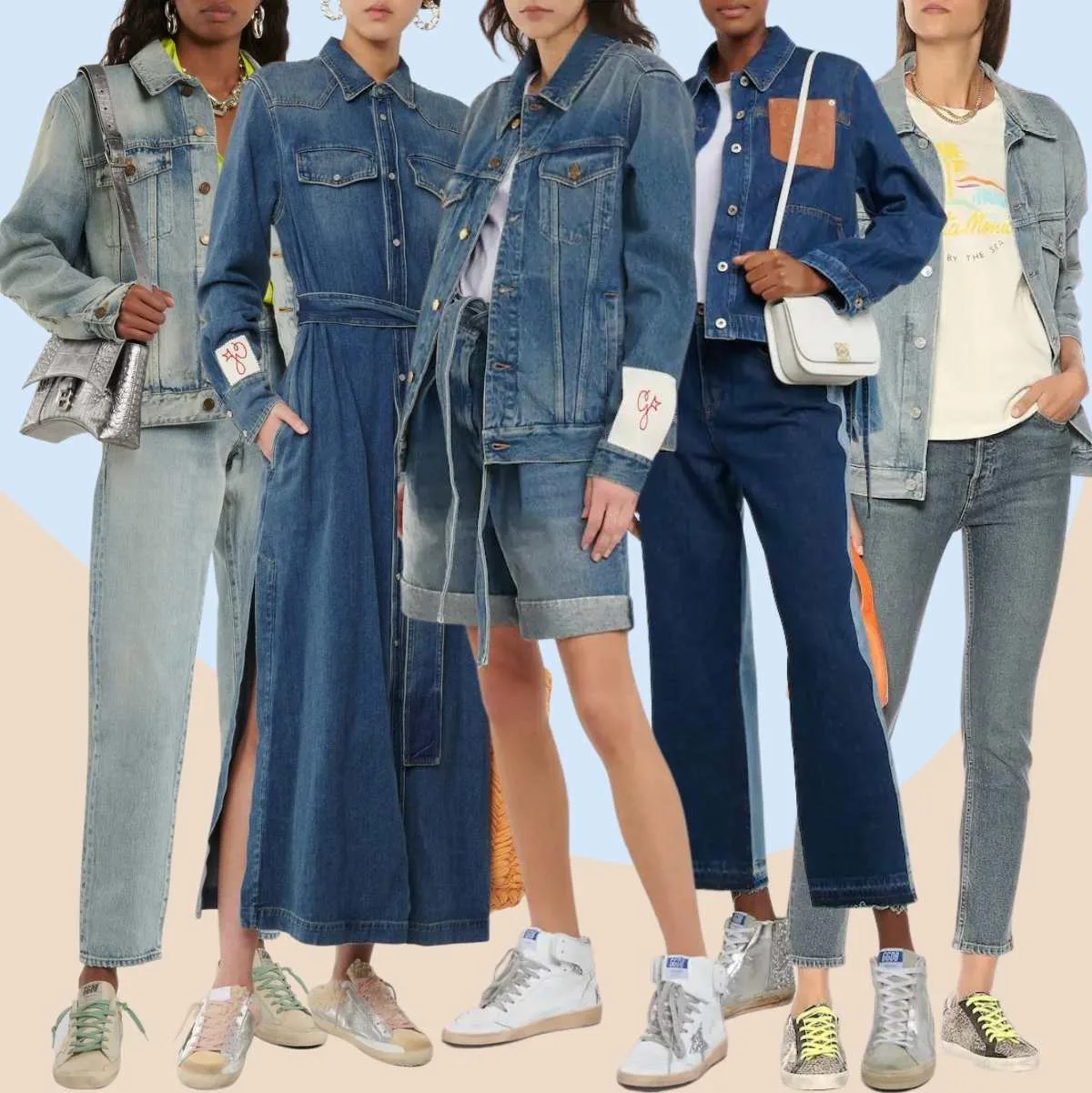 Any GG sneakers will look great with denim. A denim dress, a denim jumpsuit, a Canadian tuxedo? Yep, all fabulous!
How to Wear Golden Goose Sneakers Outfits with Denim:
Since denim is such a great outfit base – especially in classic blue or distressed hues – you can get away with a lot! This means leopard print or sparkly Golden Goose sneakers will feel right as much at home as more subdued styles.
Add a sporty vibe with high-top GGs with jeans, a denim jacket, and a white tee. For a night out, pair a dark grey or black denim jumpsuit with a sparkly silver pair.
Give any denim outfit chill vibes by slipping into a pair of GG shearling-lined sabot. Top the look off with a warm wool coat!
2. Golden Goose Outfits with Leather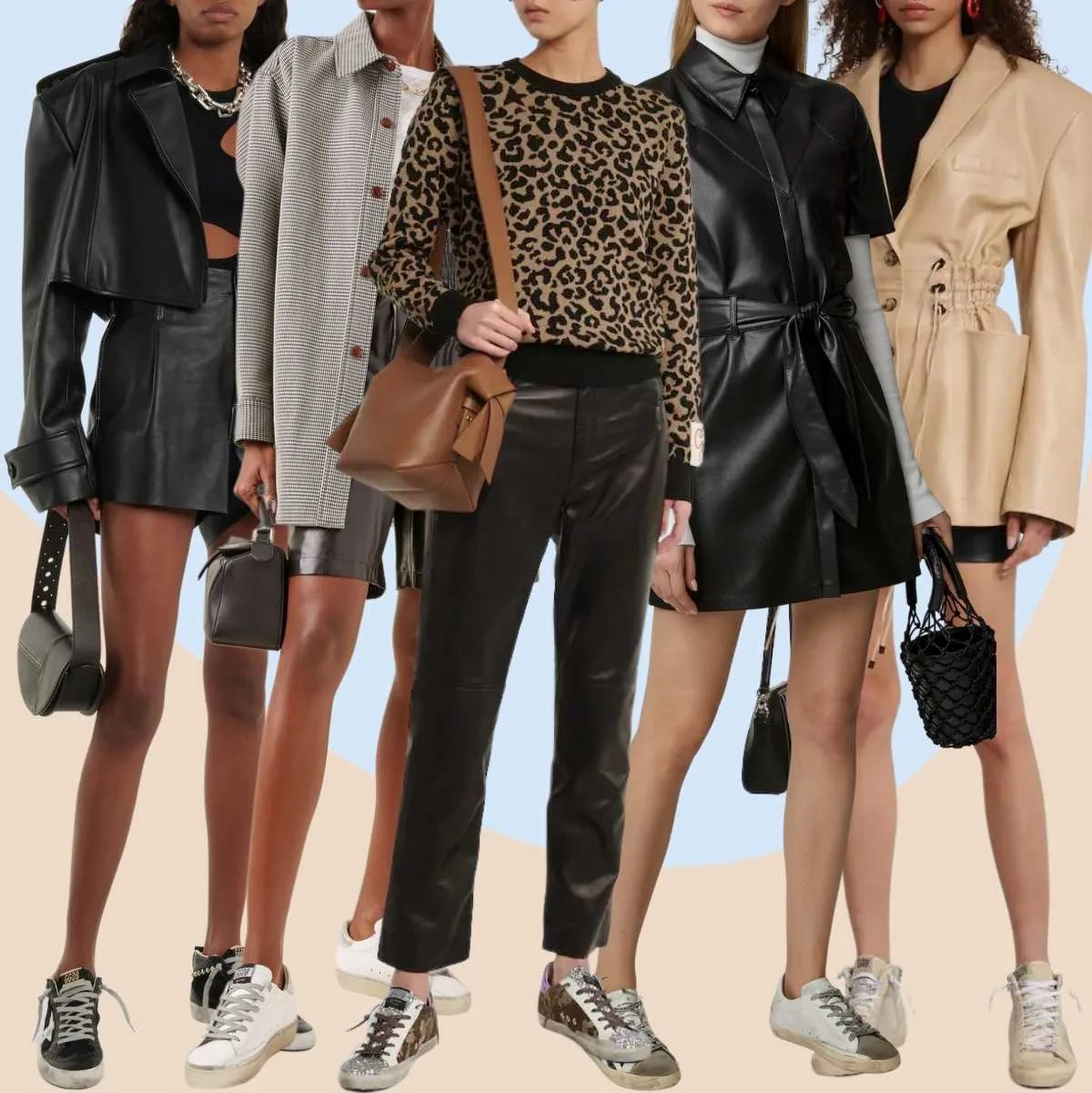 A leather or faux leather outfit and with Golden Goose sneakers!? Chef's kiss!
How to Style Golden Goose Sneakers with Leather Outfits:
Choose a head-to-toe leather look with a contrasting white GG sneaker, or stay in tone with black on black. Or take it up a notch with a sparkly or metallic pair.
One of my faves with black or espresso leather looks? The leopard print Superstar!
Full leather looks not your thing? Try a pair of leather leggings, pants, a black leather mini, or a fabulous pair of leather shorts.
Add a basic t-shirt and some GG sneakers to play up the cool sporty look. Or add an animal print for a fully fierce look!
3. Golden Goose Sneakers Outfits with Jeans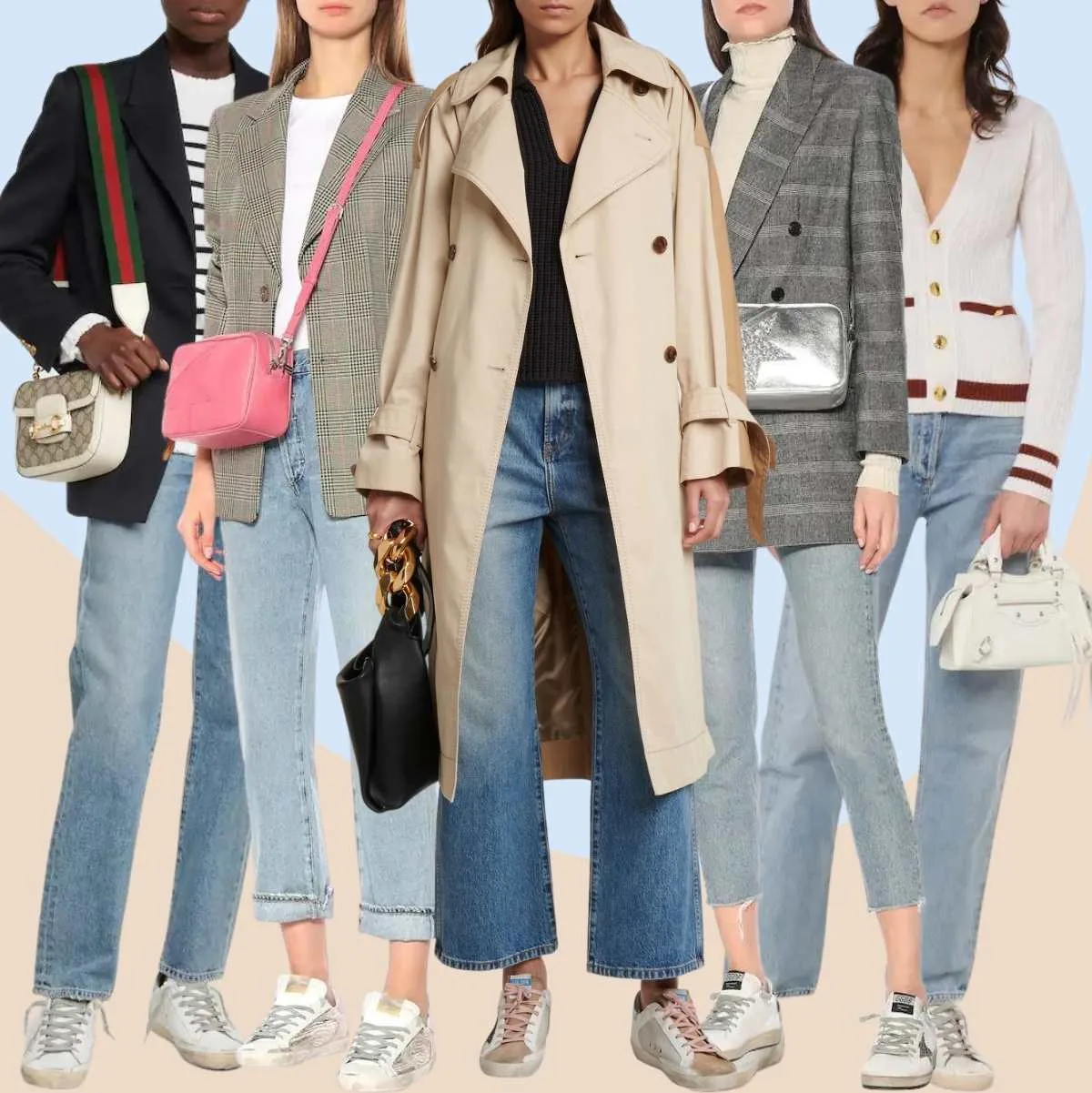 Jeans are a wardrobe staple, as are a pair of solid sneakers, like Golden Goose. Depending on which GG Sneaker you choose to wear with your jeans and how you complete your outfit, you can dress it up or down as you like.
How to Wear Golden Goose Sneakers with Jeans:
For a casual look, pair your Golden Goose high top sneakers with a pair of ripped jeans and a rocker tee or graphic sweatshirt.
If you're looking to dress things up a little, opt for a pair of dark wash straight leg jeans and a blouse with a dark or sparkly pair of kicks.
Looking to wear your Golden Goose sneakers outfit to work? Try a pair of straight or wide-leg indigo jeans, a crisp shirt or tee, an oversized blazer and a pair of classic GG sneaks.
GGs are also great sneakers to wear with skinny jeans, as they're sleeker sneakers that won't throw off the proportions of a slimmer jean.
4. Golden Goose Outfits with Dresses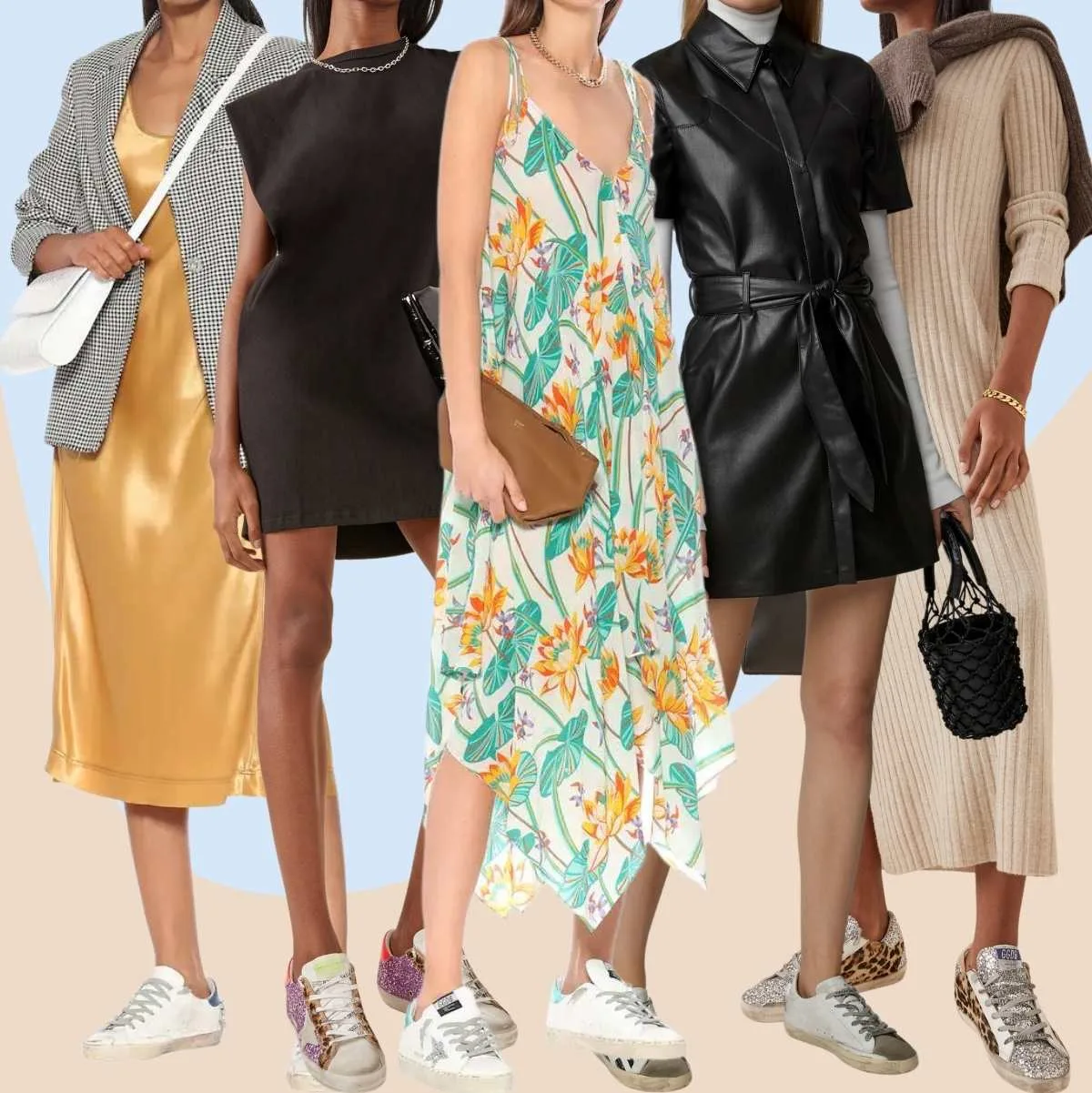 One of my favorite ways to style Golden Goose outfits with dresses. From casual to elegant dresses, there is a way to incorporate your GG sneakers to make a hit combo with any frock!
How to Style Golden Goose Sneakers with Dresses:
Wearing them with a sporty dress and t-shirt dress is a given which will always work! However, these make great sneakers to elevate a printed sundress or sweater dress.
But a fun way to style Golden Goose sneakers is with fancier dresses. Think silky slip dresses, leather dresses, or even cocktail dresses! Golden Goose sneakers will dress down these fancy frocks, giving them a cool edge.
You can even wear this pairing to work with an oversize blazer and structured handbag. However, if you choose a sparkly pair of Superstars or Hi Stars with a little black dress and a matching shiny clutch. You will look like the cool lady at a chic function. That is if the dress code allows for it!
Either way, you'll be sure to turn heads when you step out in your Golden Goose sneakers -especially if you opt for a statement pair!
Confused about which type of sneaker to wear with your dress? Check out my post about all the cute sneakers for dresses and how to wear them with all dress styles.
5. Golden Goose Sneakers Outfits with Dress Pants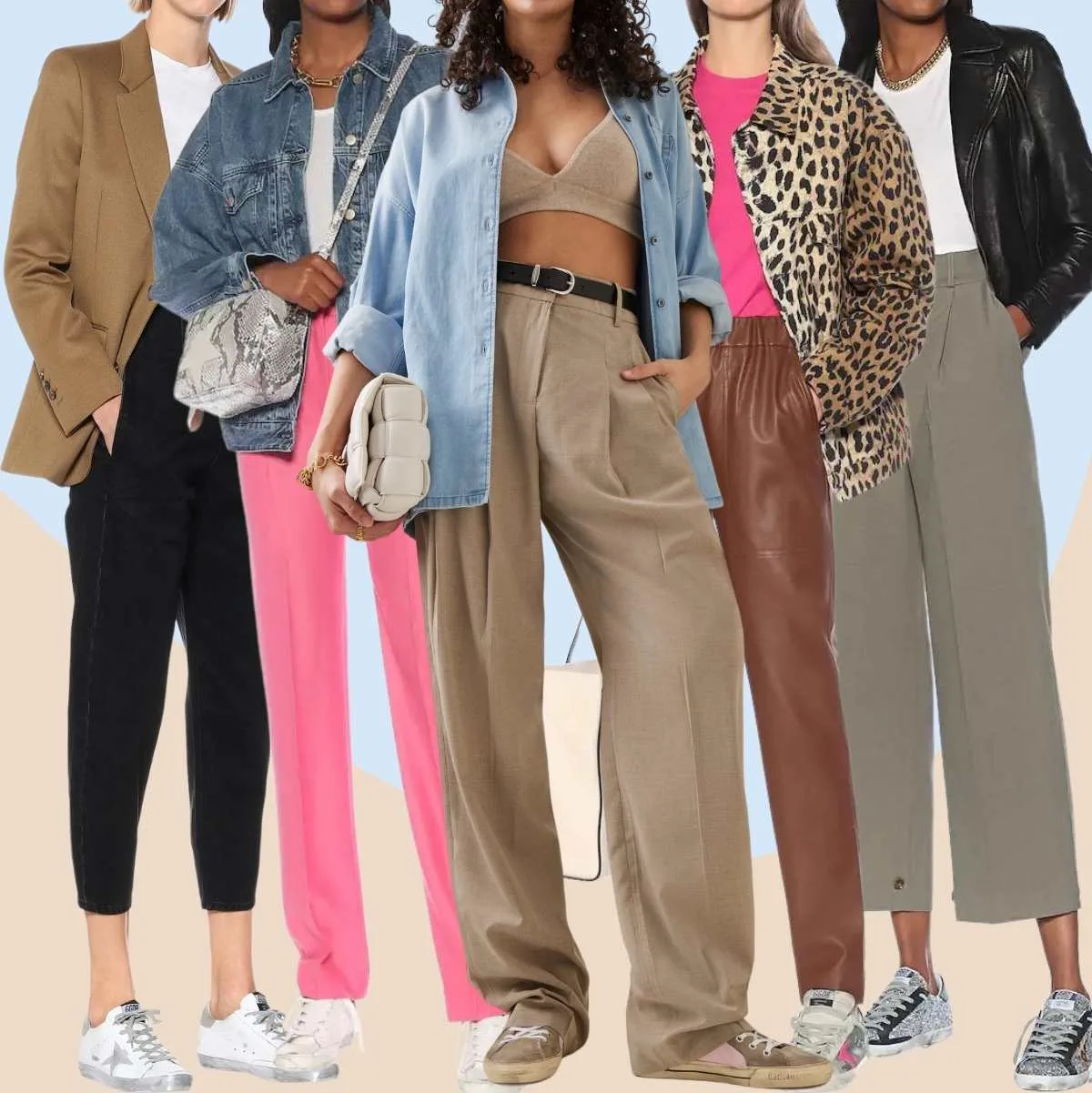 There are so many great pants, both tailored and casual, to wear with Golden Goose sneakers. So let's start with more tailored trousers, shall we?
These can be dressed up or down to suit many occasions, but ultimately depends on how you finish off the look. Even legging with GG sneakers can look chic!
How to Wear Golden Goose Sneakers with Dress Pants:
Leather pants: As mentioned earlier, leather pants look fabulous with Golden Goose sneakers! You can choose a cropped culotte style for a flirty look or a slimmer pair to dress up for work or a night out.
Wide leg pants: Trendy and fab, these look fab with a cropped top or simple tee, but can easily be elevated with a slick jacket or blazer. With longer wide leg pants, go for a platform Hi Star style.
Leggings: don't ever discount leggings when striking up an outfit with Golden Goose sneakers. You can choose an everyday black Ponte legging with subdued GG sneakers for work-appropriate looks. Or reach for a leather pair for a cool spin or even a sequin pair with sneakers for fun nights out!
6. Golden Goose Outfits with a Pantsuit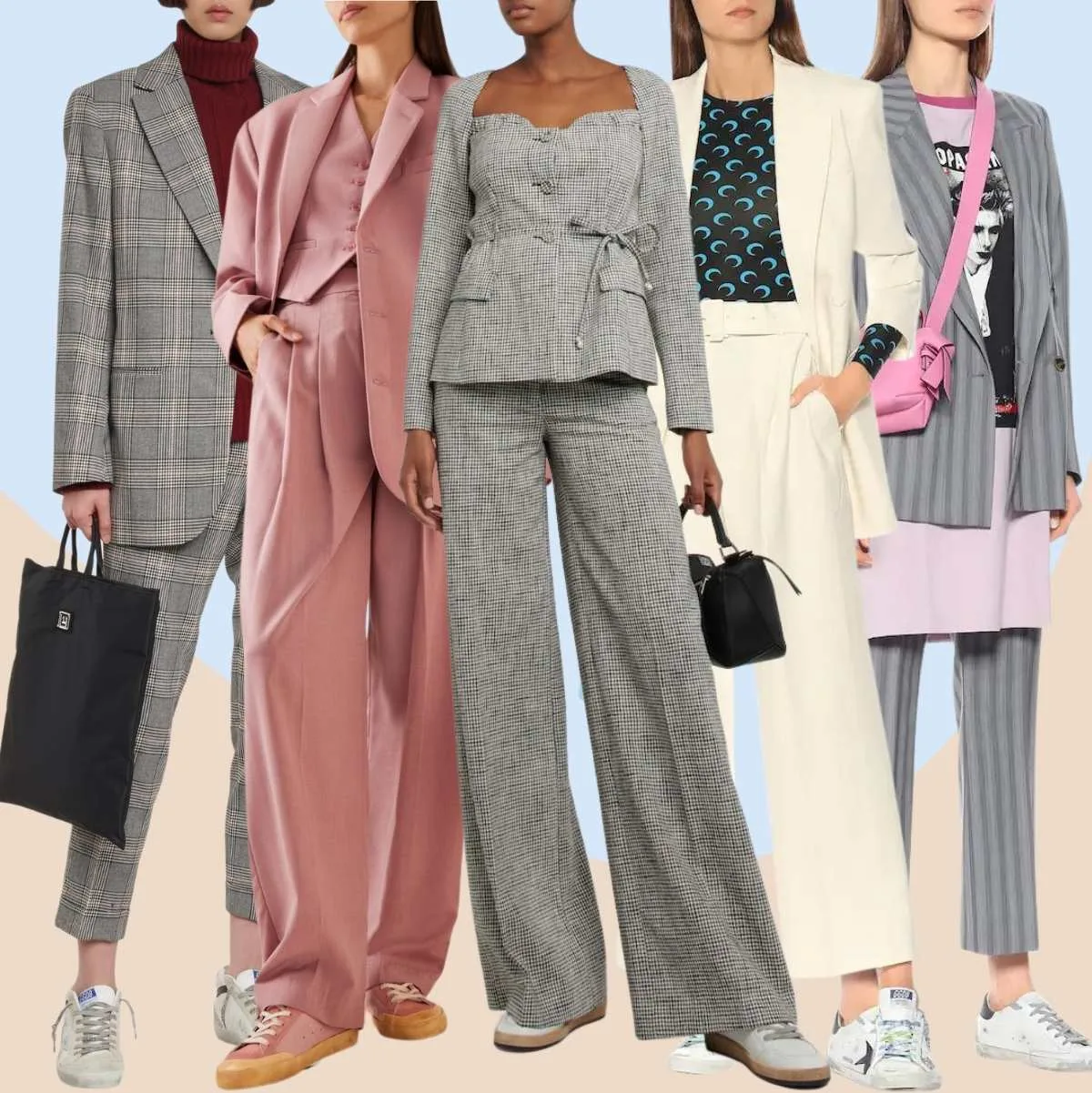 The ultimate cool-gal way to style Golden Goose outfits is to wear them with a pantsuit. And so many pantsuits with work well with your suit, I promise!
How to Wear Golden Goose Sneakers with Pants:
I love a wide-legged trouser with a matching blazer. Straight or slim leg pants also work well. Add a printed top, simple tee, or luxe turtleneck to complete the look.
However, why not spice things up with a fitted feminine jacket or three-piece suit? GG sneakers will elevate the casual cool look of your suit.
You can wear a suit with an oversized blazer over a graphic tee. This will give the outfit everyday appeal.
The neutral nature of Golden Goose sneakers will allow them to go with most suits. I love a contrasting shade, but you can match your pantsuit hue for a head-to-toe colorful look!
7. Golden Goose Sneaker Outfits with Joggers & Sweats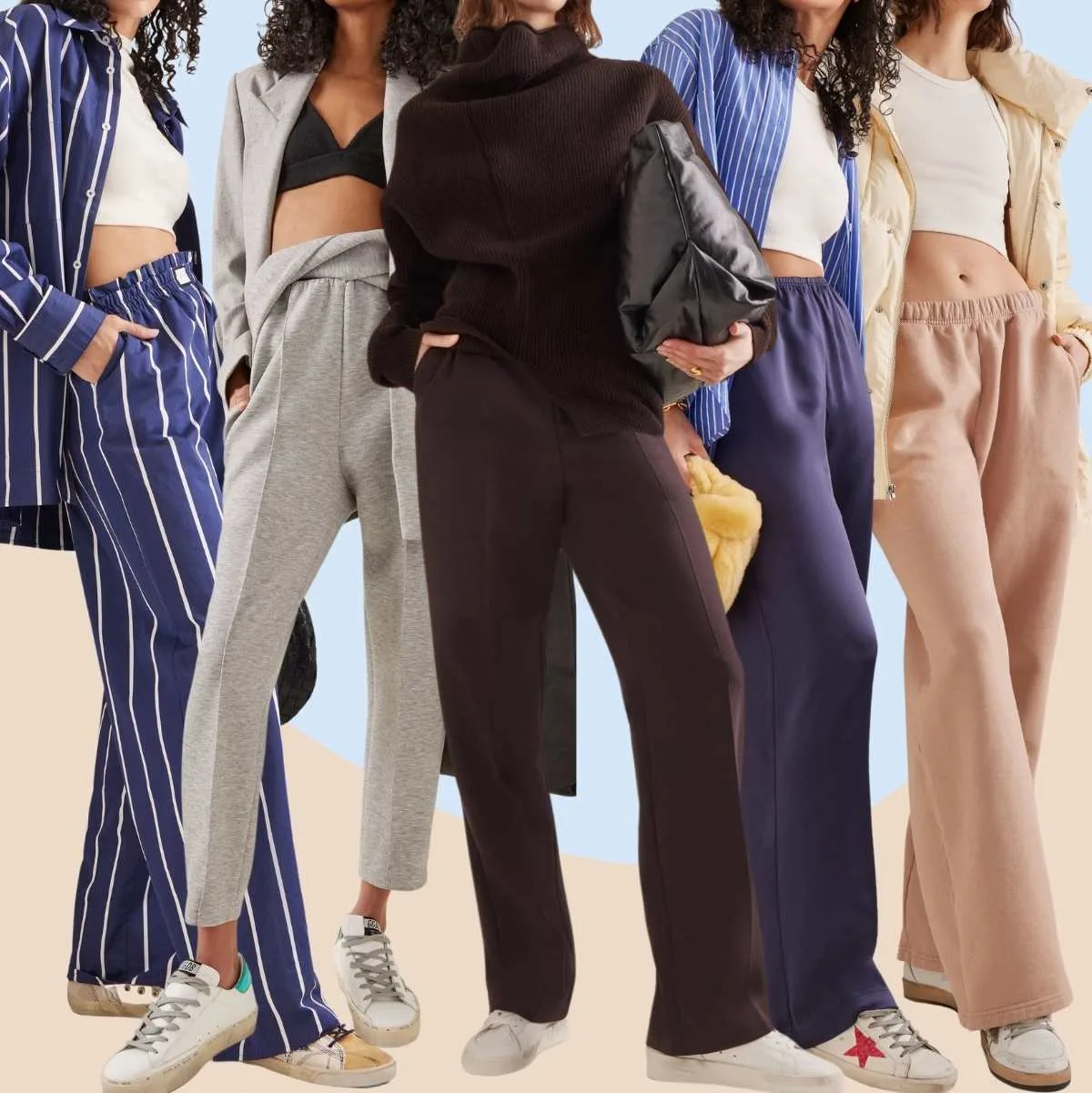 Of all the casual shoes to wear with joggers, sweats and drawstring pants, sneakers just make sense. So why not? I just love the look of Golden Goose styling with lounge pants and I'm sure you will too!
Golden Goose sneakers go with casual sweats as they do with fancier jogger styles. Like with any casual shoe, you can add to the look with a slick hairdo, small gold jewelry accents and a chic leather purse.
GG sneakers look great with a matching sweatsuit for a very casual outing. Add a pair of Golden Goose sneakers for a luxe element to your laid-back look.
How to Wear Golden Goose Sneakers with Joggers & More:
Loose sweatpants look great with a chunkier GG Sneaker like the Hi Star or fluffy Super Star Sabot. Thicker sweats that tighten above the ankle also look great with high-top sneakers.
Add a matching sweatshirt and a cute leather crossbody and elevate your sweats by 100%!
Thinner pants or joggers that cinch at the ankle look great with all GG sneakers. However, I prefer lower profile styles like the Superstar, Ball Star and similar. Lounge pants and Super-Star Sabots will take laid-back to a new level!
8. Golden Goose Outfits with Skirts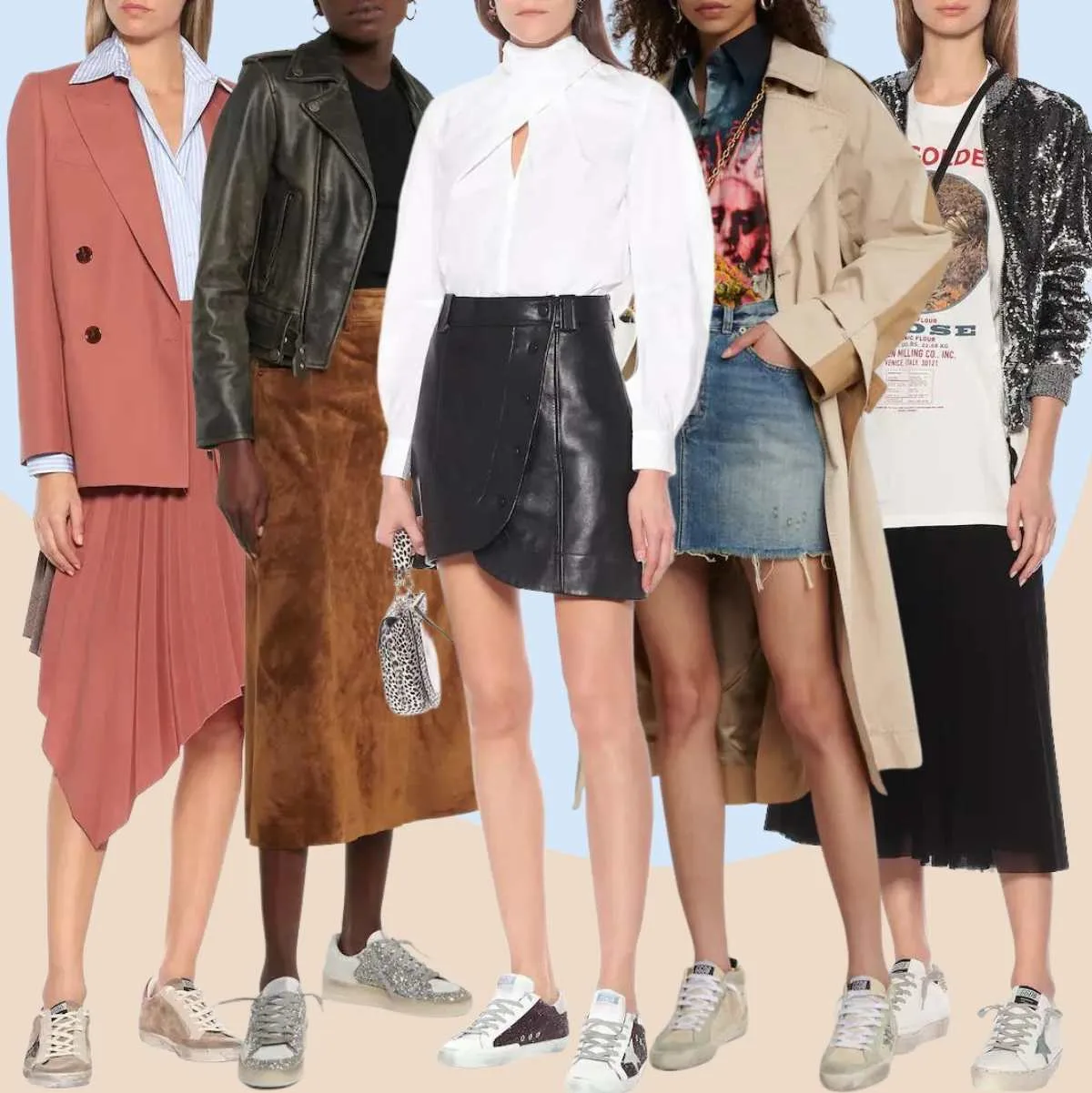 How to wear Golden Goose sneakers with skirts is similar to wearing them with dresses. Yes, skirt length matters, but what you wear on top is also essential.
Luckily, no matter how minimal or busy your skirt outfit is, most GG sneaks will look fab!
How to Wear Golden Goose Sneakers with Skirts:
As with a pantsuit, you can downplay the rigidness of a skirt suit with a pair of GG sneakers. I love a suede or simple white leather pair for most suit colors, but black can work well too.
Leather and suede skirts will look fab in all lengths with a low-profile Golden Goose. Avoid high tops with midi skirts, which could make your legs look shorter.
Of course, you cannot go wrong with a denim mini, either! Add a fun printed tee along with any style of Golden Goose sneakers. Top the look with a moto jacket or play up the chic factor with a classic trench.
Check out my dedicated post all about the best shoes to wear with skirts!
9. Golden Goose Outfits with Shorts & Rompers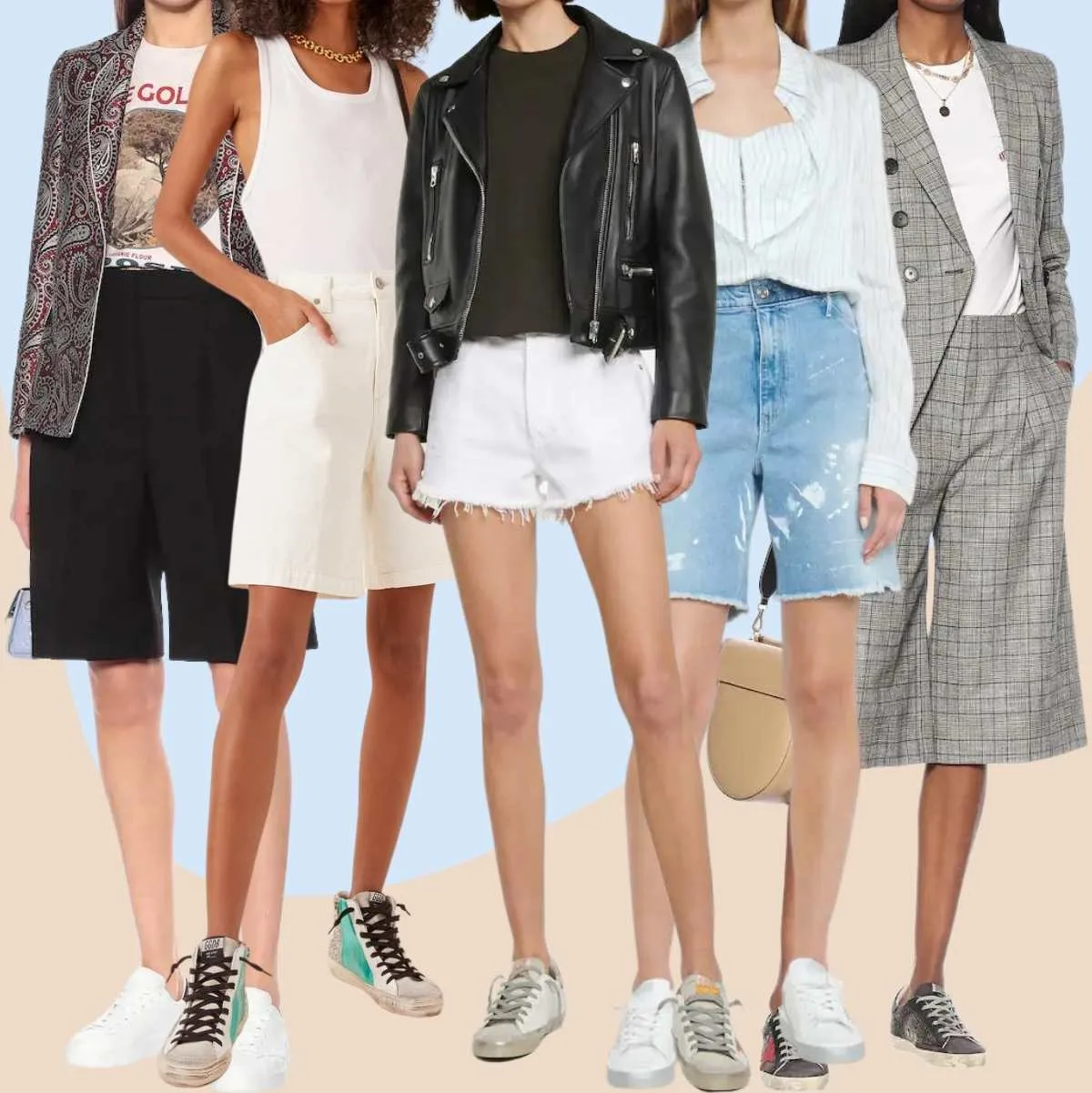 My fave combo in summer is wearing my Golden Goose sneakers outfit with shorts. So many styles of shorts, tailored, Bermuda, denim mini shorts and more will work. A trendy spin is to wear them with a cute romper!
This section doesn't require too much styling advice, but here are my fave ways to wear Golden Goose sneakers outfits with shorts:
How to Wear Golden Goose Sneakers with Shorts & Rompers
Denim shorts: I love a pair of distressed or live-edged denim shorts in short or super short heights. Have fun with a sparkly pair in the sun (so much shimmer!) and a tank or channel a sporty edge with a high top pair and a rugged tee.
Leather shorts: black paperbag shorts and a white tee with black or white Golden Goose sneakers to complete the outfit look so fab. You can even dress the outfit up with high-shine GGs and a sleek bodysuit.
Tailored shorts: whether leather, linen, or any material in between Bermuda-length shorts, these style well too. Add a crisp shirt, white GG Superstars, and an oversized blazer for a casual chic look.
Shorts Suit: I can't discount the fun look of a matching suit with a tailored jacket and culottes! A darker pair of low-profile GGs will look fab. Just add a chic leather purse and dainty jewelry to complete the look.
10. How to Wear Winter Golden Goose Outfits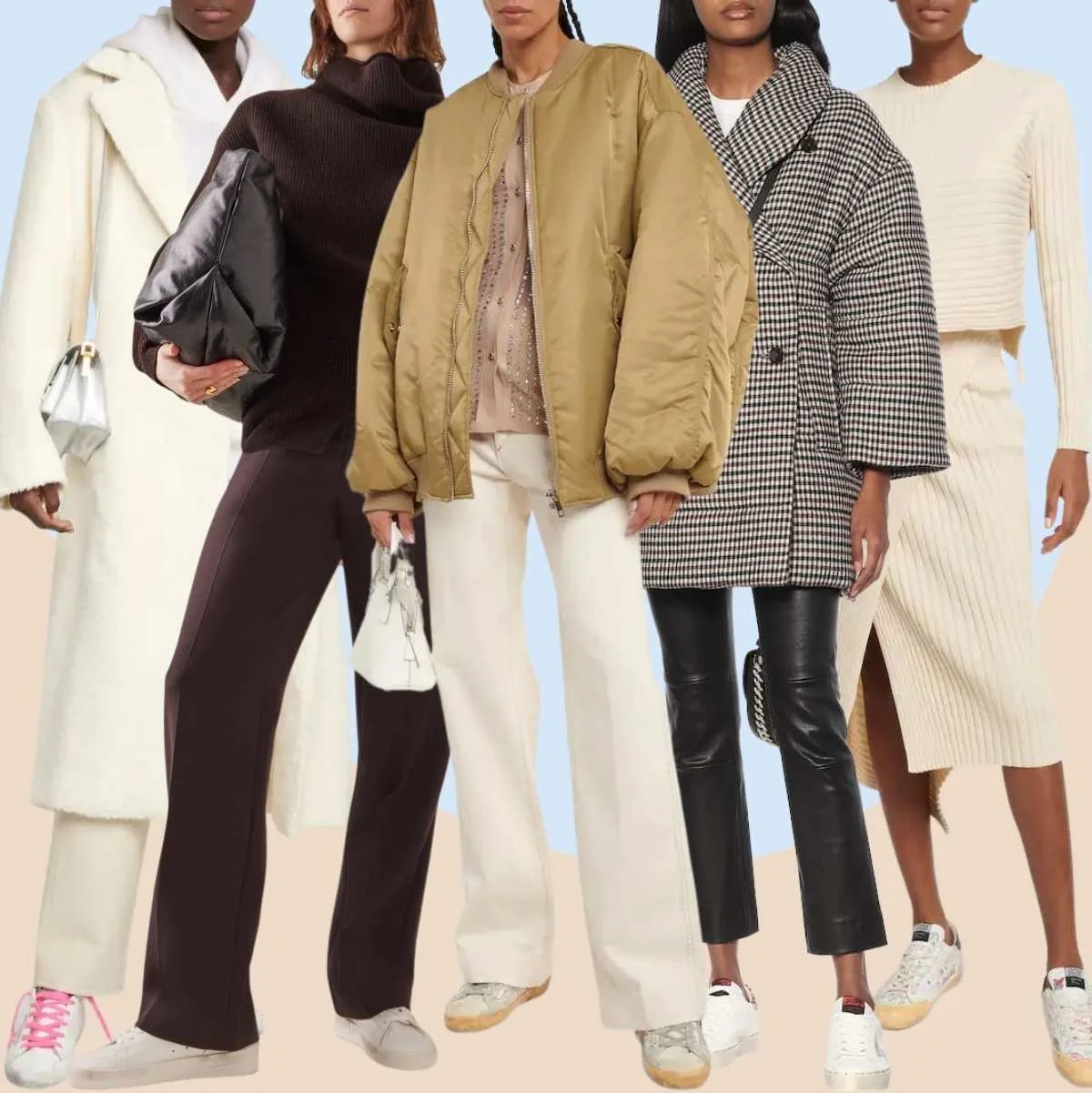 Many people wonder how to wear Golden Goose sneakers in winter. Luckily, along with their classic Superstar styles, you can find a slew of sheepskin-lined styles to keep you cozy and warm all season long!
For a casual Golden Goose styling, pair your GGss with jeans and a cozy sweater topped with a warm wool coat. This is the perfect outfit for running errands or meeting friends for coffee.
For a more casual look, try Golden Goose sneakers with thermal leggings and an oversized sweater under a puffer. Warm thigh high socks will add warmth to shorter hemlines like dresses, skirts or even shorts!
If you're looking to dress things up a bit, try pairing golden goose sneakers with a soft sweater dress or a black mini dress and tights. This is a perfect outfit for a night out or for holiday parties.
And for a truly glamorous look, pair your sparkliest golden goose sneakers with a lush faux-fur coat and accessorize with statement jewelry.
This is the perfect outfit for making a chic entrance at any event. No matter how you style your winter outfits, golden goose sneakers are sure to add some luxury to your winter wardrobe.
Just make sure not to wear them in the snow. Or at least give the sneakers a good dose of waterproof shoe spray beforehand!
Final Words on How to Wear Golden Goose Sneakers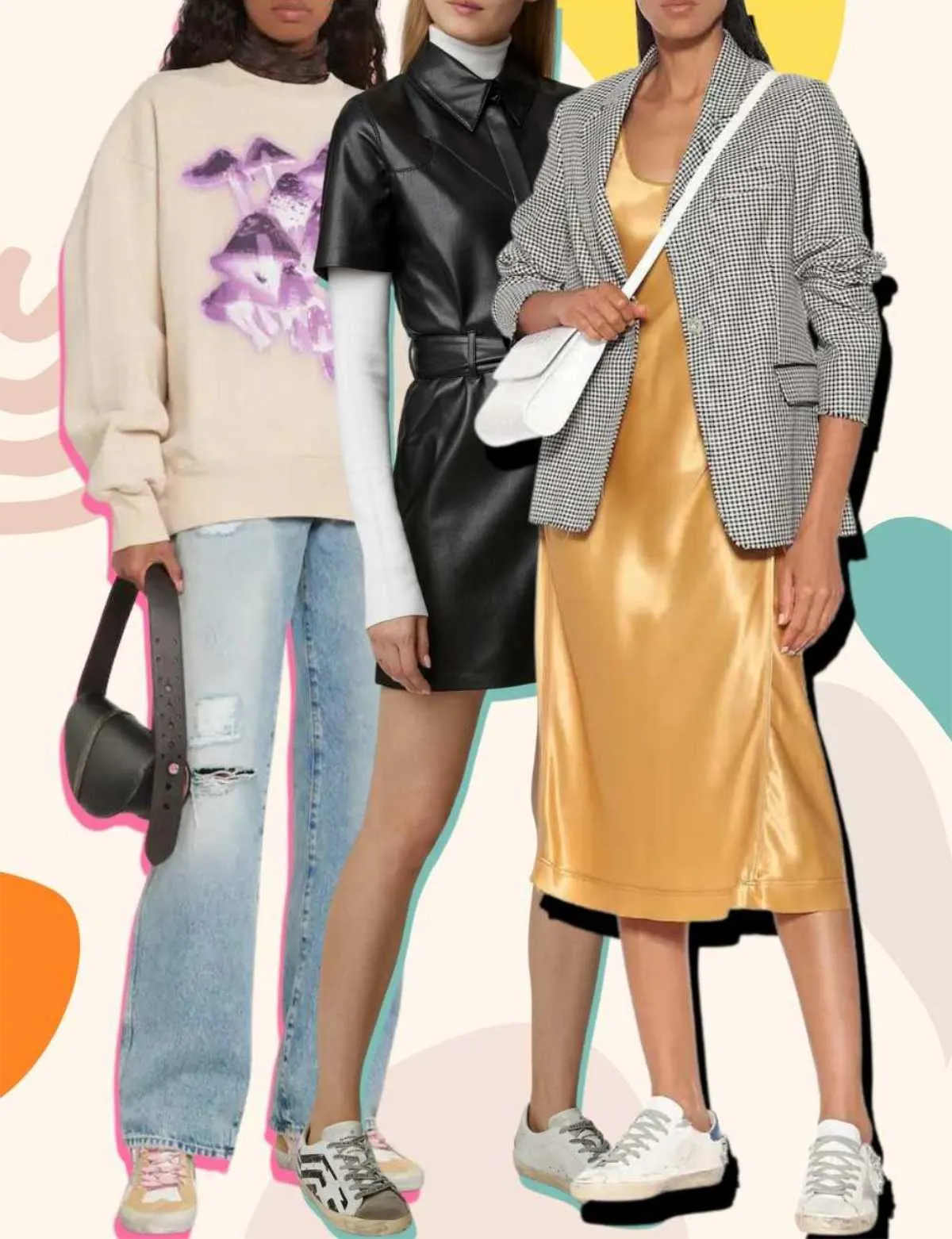 Regardless of where you're going, Golden Goose sneakers can be dressed up or down to suit your everyday and even more elevated styling needs!
With so many ways to style Golden Goose sneakers, there's no reason not to add a pair (or two!) of these trendy shoes to your wardrobe! Unless, of course, the cost is an issue. Which is fair enough, given how pricey these are.
So if GG sneakers aren't in your budget, no problem! Take a look at my post about the many fabulous Golden Goose Dupes. Many styles are just as glam as the originals!
Shop for Golden Goose Sneakers online at these retailers:
xo ShoeTease