Looking for what color shoes to wear with purple dresses and outfits? Since eggplant and purple dresses are about to surpass blush pink outfits in popularity, it's about time that I answer this question!
Whether you're wondering what color shoes to wear with a dark purple dress to the brightest of purples, this post has rich purple-hued outfits covered!
From styling a bright purple dress, to an eggplant-hued dress, or lilac purple outfit, I got you! I'll be leaving no shoe color pairing unturned in this post, either. So you will really have your pick of shoe colors!
I've added more advice on how to style a purple dress by giving you the rundown of which purse color to pair with various purple dress and shoe color combinations.
Looking specifically for shoe and color pairings for a purple bridesmaid's dress? You'll find many a choice to suit any bridal party (and bride's!) taste. However, if you're looking for shoe pairings for purple office or less formal outfits, you'll get accessory suggestions for those too!
Below are my favorite shoe color picks to go with a purple dress:
What Color Shoes with Purple Dress

Outfits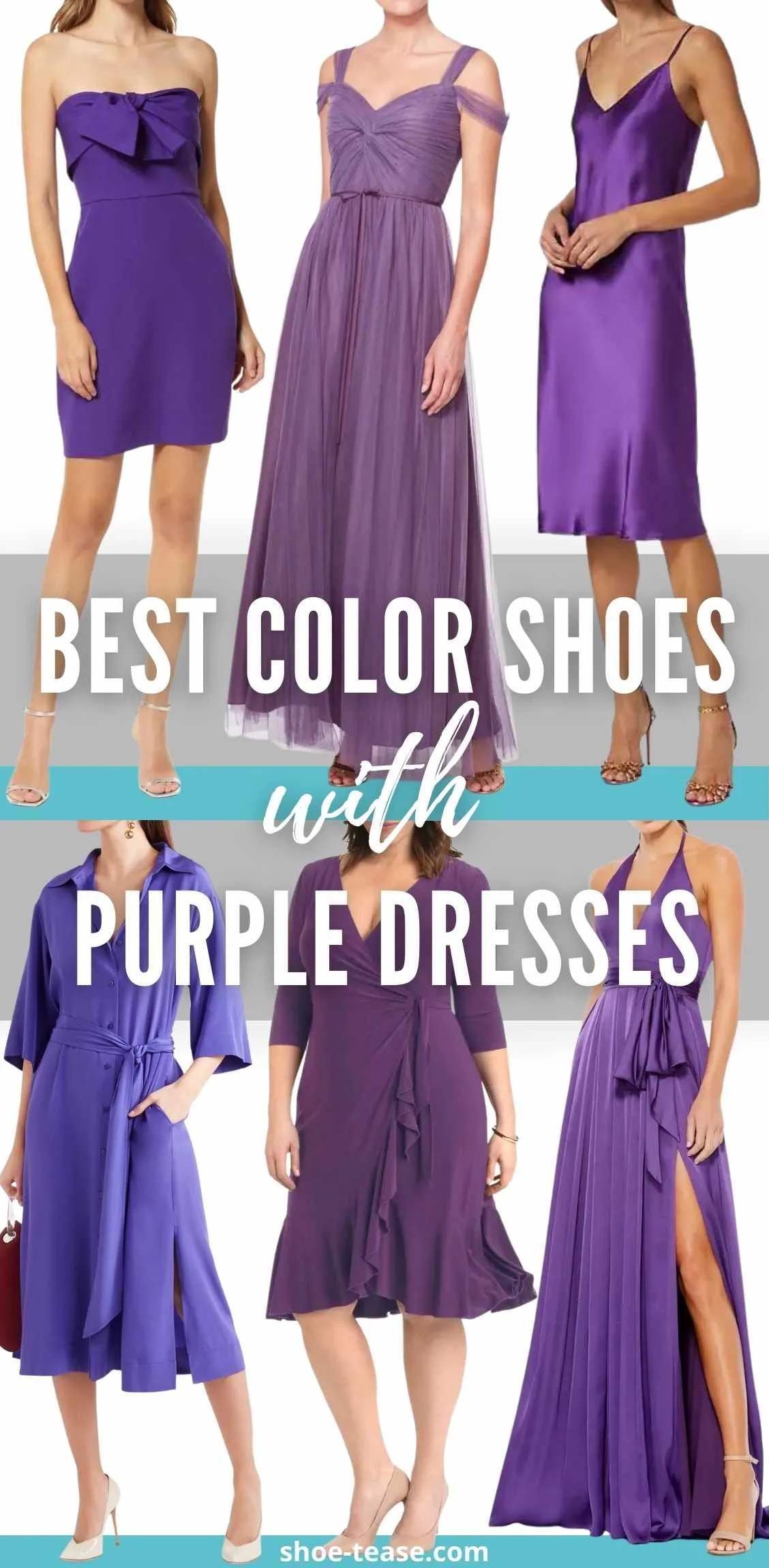 1. Purple Dress with Black Shoes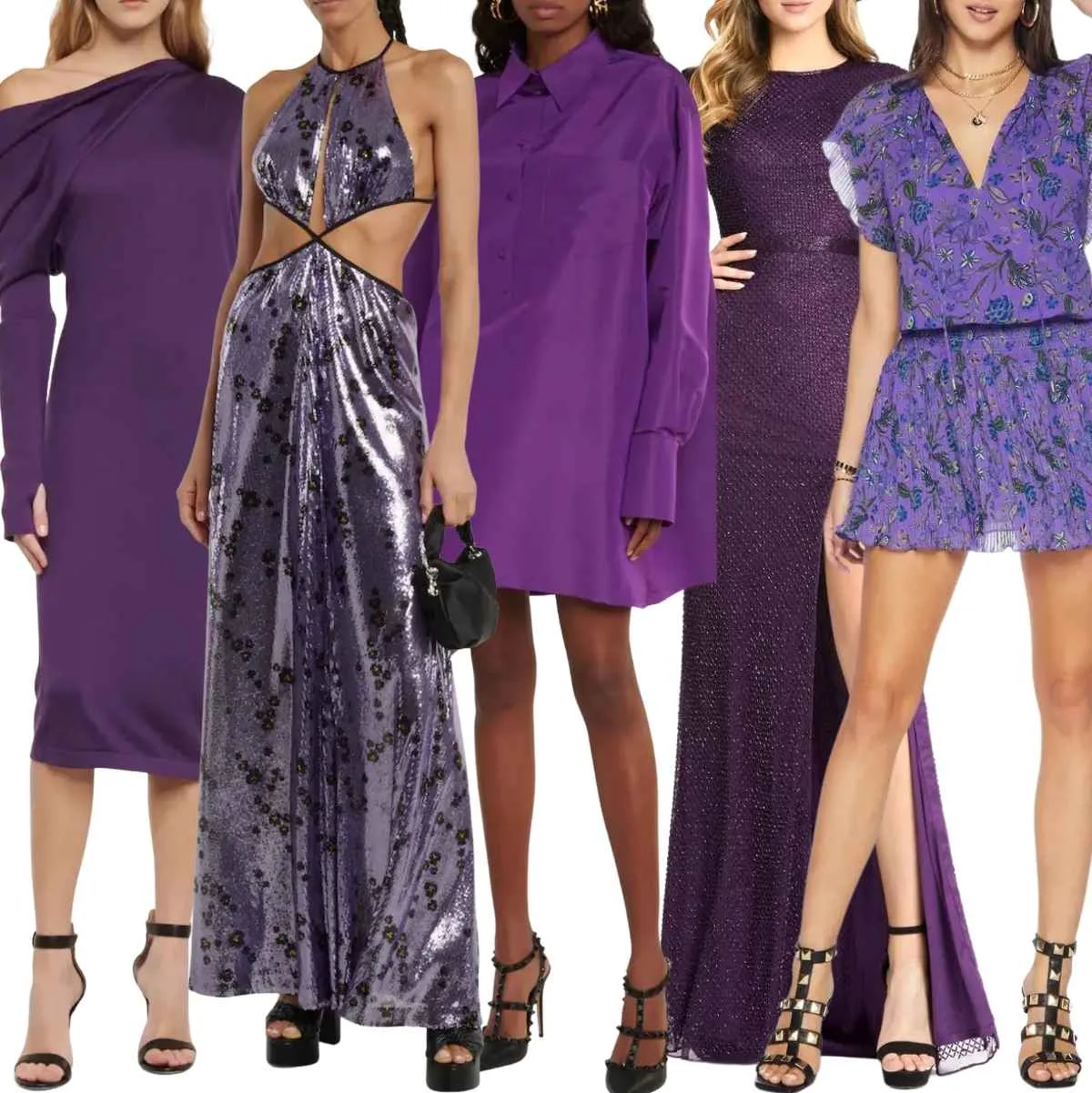 Chances are you already have a black pair of shoes in your closet. The chicest of staples, black shoes are the perfect choice when faced with the what-color-shoes-with-a-purple-dress conundrum!
If you're wearing a purple bridesmaid dress, a strappy shoe or peep-toe pump is a good shoe type to opt for! I'm partial to Stuart Weitzman's NudistSong strappy sandals (available here at Nordstrom).
Or if you're looking for a lower price, Steve Madden makes a nice minimal sandal called Stecy that you can also buy here.
Sam Edelman makes a great, simple but comfy pointed pump called the Hazel. It comes in many colors & you can take it from ballroom to boardroom to the bar!
Purse & Accessories Styling Tip: If you're willing to have fun with your look, choose a bright orange or yellow clutch. If not, a white purse will look amazing & if you're keeping it simple, you can pair your purple dress and black shoes outfit with a black handbag, or silver, beige or gold.
With jewelry, you can go a warm gold or rose gold route if you've chosen any beige, blush or have similar hardware on your outfit. Choose silver jewels – with or without sparle – if you've selected a silver clutch.
Favorite Black Shoes & Heels:
2. Purple Dress with Beige or Blush Shoes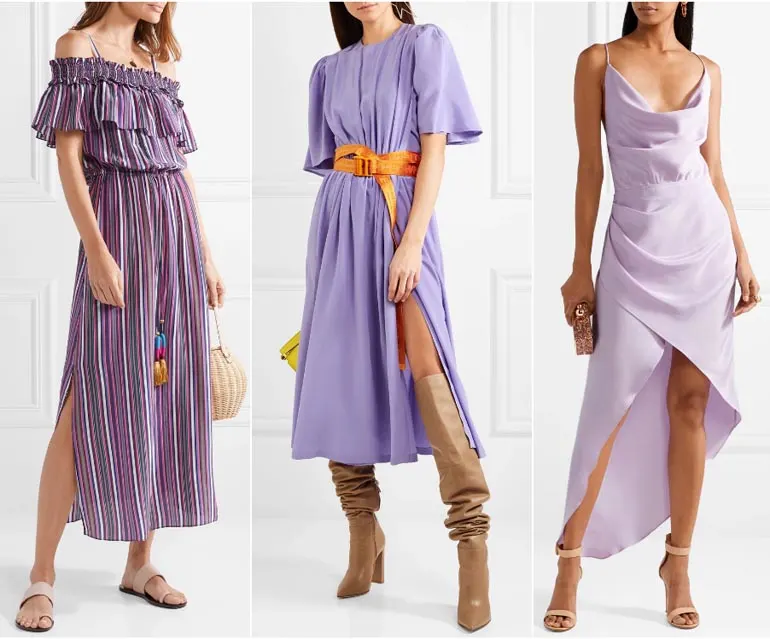 Ah, beige shoes…a neutral favorite! And one of the best shoe colors to wear with a purple dress. I love a blush shoe with a purple dress as well. And if you're looking to be matchy with your skin tone, a nude shoe will also work wonders with your outfit and elongate your legs if your dress is shorter in length.
One of my fave beige shoes out there right now is Stuart Weitzman's Nudist sandal in beige, which very well be your shade of nude (I know it is mine). The lower-heeled NudistSong is a great strappy sandal too and way easier to walk in!
But I love a good beige shoe or blush shoe with any skin tone. And beige shoes are the perfect shoe you likely already have in your closet! It's by far one of my fave hues to suggest when I'm asked what color shoes to wear with purple dress (or virtually any dress!).
Purse & Accessories Styling Tips: I would opt for black or white purses with a purple-dress-beige-shoes combo. However, any rose gold or gold hue will work too. Match your warm-toned shoes with similar jewelry tones.
Favorite Beige Shoes & Heels:
3. Purple Dress with Silver Shoes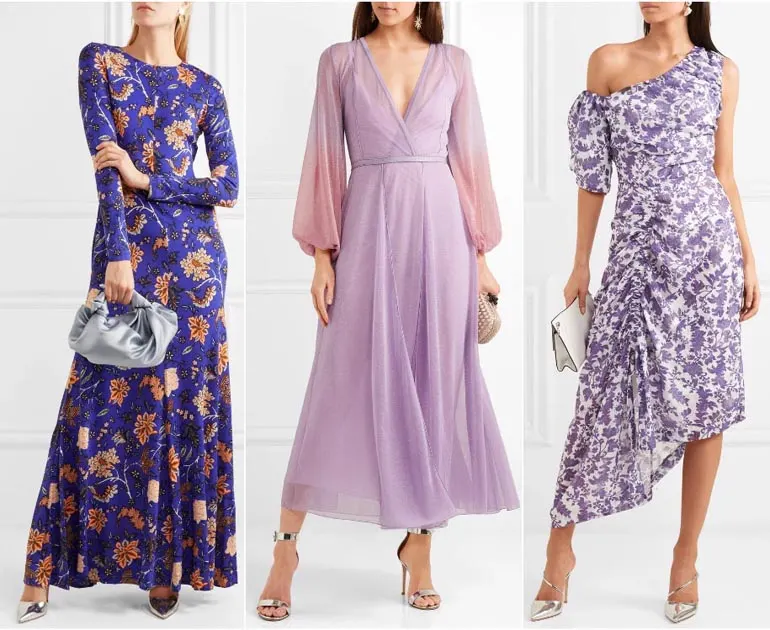 Silver shoes with purple dresses or outfits are SO FUN! So shiny & interesting, yet still pretty neutral, so you can wear silver shoes with any shade of purple!
High metallic silver shoes are perfect to wear with your purple dress for a cocktail party or to pair with your bridesmaid's dress. A perfect shoe color to wear with pale pink dresses too!
The little stilleto'd strappy number by Chinese Laundry from Nordstrom has been favorite of my readers this season & is unbeatably priced for under $100!
Also featured in the silver shoes, above. J. Renée's Maressa metallic silver pointy pump is also a great find!
Purse & Accessories Styling Tips: White, black, beige, or silver purse will work well. Match your jewels to the same tone of silver as your shoes. I also love pearls for this purple dress combination!
Favorite Silver Shoes & Heels:
4. Purple Dress with White Shoes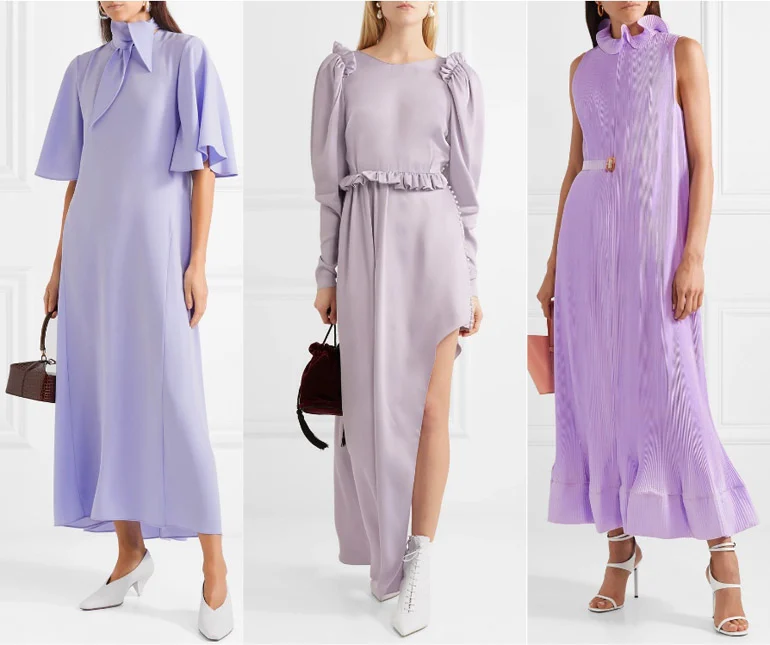 I really love white shoes with purple dresses. And white shoes with any color outfit, really. Although yes, they will get dirtiest fastest, matte white shoes add a je-ne-sais-quoi to an all-purple ensemble!
Choose optic white shoes for maximum brightness for all seasons, or choose a more muted, off-white shade. I love strappy stilettos for a formal affair.
Purse & Accessories Styling Tips: You can pair a silver, gold, beige, black or contrast color purse with your purple dress white shoes outfit. I am partial to a contrasting color such as orange or yellow, but that all depends on how bold you want to be!
Any gold, rose gold or silver jewels will work. Since white is so neutral, most gemstone colors will work well in any jewelry item you wish you wear.
Favorite White Shoes & Boots:
5. Purple Dress Gold Shoes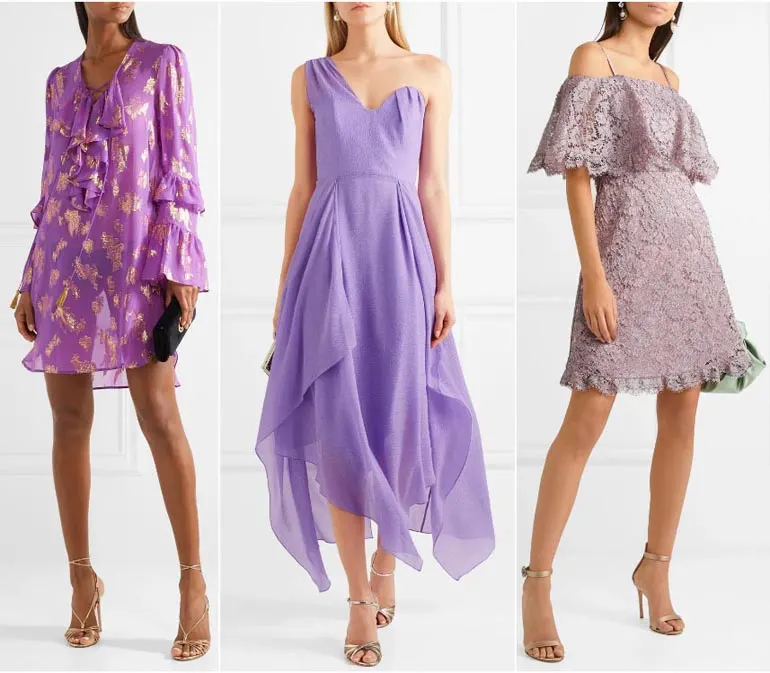 Purple outfits with gold shoes are a great neutral look, but add more glam than simple beige or nude. They shine, but definitely let the purple of the dress, shine.
Gold shoes are a great addition to anyone's closet – and as you will learn in my dress styling posts – it is one metallic shade that looks fabulous with a vast array of dress & outfit colors.
Some seasonal faves? Sam Edelman's Yaro sandal! Out for a pump? Vince Camuto's Gabe pump is a great contender. Looking for a more casual flat? Check out these gold Gucci-inspired loafers, which are amazing!
Purse & Accessories Styling Tips: I would keep things simple with a white or beige clutch with this purple dress and gold shoe combo. Match your jewel metallics with a similar gold of the shoes.
6. Purple Dress Red Shoes or Burgundy Shoes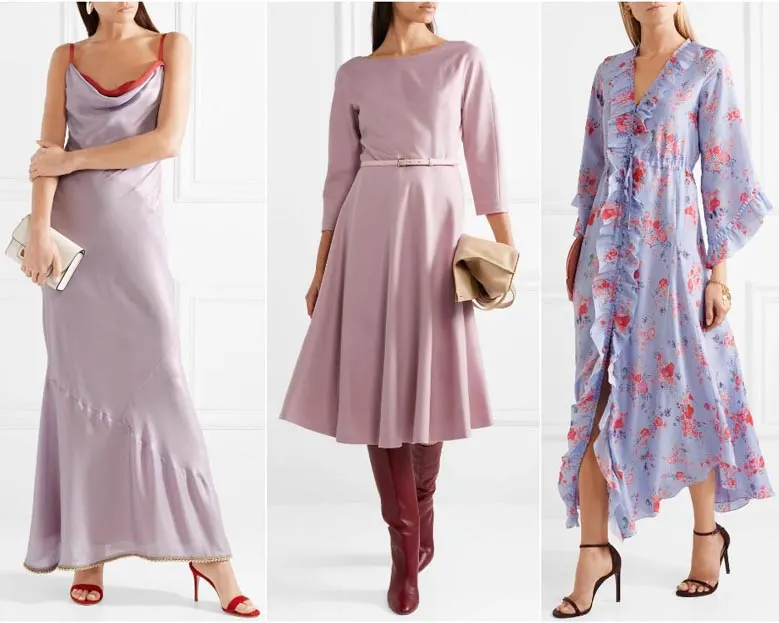 Just as I've suggested in my what shoes to wear with a blush dress post, adding red to any shade between blush pink to purple to lilac is such a fabulous idea. Not for all, but it does add an unexpected twist to the ensemble.
If you're hesitant about pairing your purple dress with bright red shoes, you can always opt for burgundy shoes with a purple dress. More subtle & pretty perfect for any season!
Purse & Accessories Styling Tips: Try a black or beige purse with a purple dress red shoe combo. A gold clutch could also look amazing if paired with the right purple outfit!
Or you can also get a handbag color that matches a different color in your purple dress. Say, like a hot pink or blush, like in the floral purple dress that is featured above, on the right.
I love gold or rose gold jewels with these hues, but silver will also work in a more contrasting manner.
Favorite Red Shoes & Heels :
7. Purple Dress with Clear Heels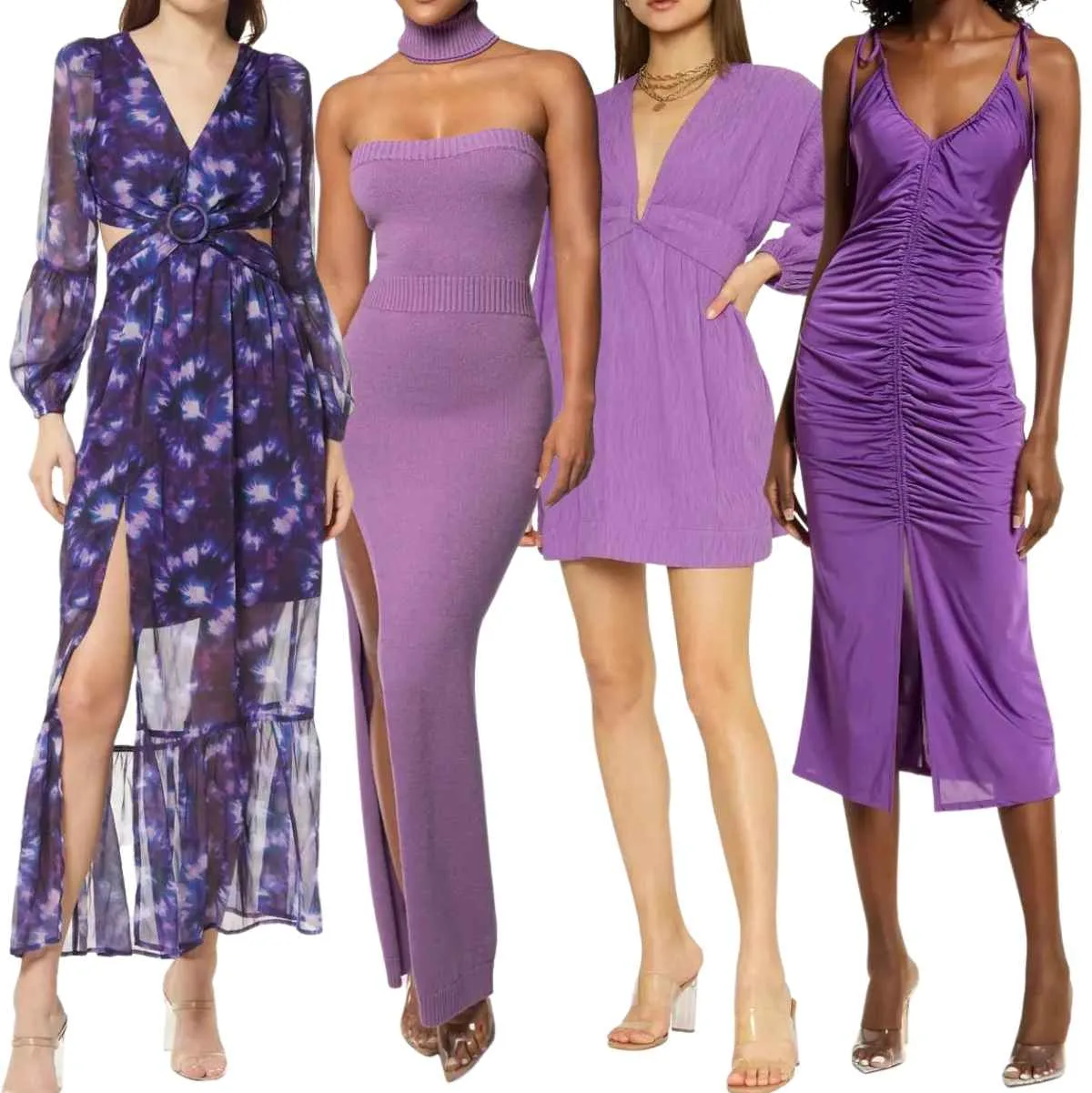 Colorless, transparent shoes and heels are a trendy and fun choice of shoes for purple dresses. Great for smart casual to formal events, clear heels pair well with both sleek minimal purple dresses and feminine, frilly dresses, as the ones pictured above.
You can find transparent pumps, mules and sandals with a variety of block heels or thinner heel choices. Many are also sold with encrusted rhinestones, pearls, bows and studs if you're looking for more ornate shoes.
Purse & Accessories Styling Tips: Wear your purple dress with clear heels with a matching transparent clutch or any fun colored or neutral shade.
Silver, beige, blush or black purses are my top choices. Keep jewelry matching to any purse metallic you choose, or opt for silver.
Favorite Clear Heels:
8. Purple Dresses with Blue Shoes
And last but definitely not least, if you're looking to inject some color into your purple dress outfit, look no further than blue shoes. A purple-dress-blue-shoes combo is, as with red shoes, unexpected & can look absolutely stunning.
For optimum contrast, the deeper the purple color of the dress, the brighter the shade of blue. I do love navy with a light to a medium shade of purple too! But don't discount shades of turquoise or light teal blue, either!
Purse & Accessories Styling Tips: For maximum contrast, try a white, beige or blush purse. For more contrast, opt for a black purse. A metallic clutch in silver would look fab too, as the whole outfit would be in cool tones.
Any jewelry tone will work well. I like to match mine to any metallic accessory or hardware, if there is any, in my outfit.
Shop the prettiest of purple dresses from Zappos, Saks Fifth Avenue, Bloomingdale's, My Theresa, Net-A-Porter, or Free People if you want to add a little boho to your life!
Final Words on Color Shoes to Wear with a Purple Dress
I hope this post helped clarify what color shoes to wear with a purple dress, from medium tones like eggplant to light purples. I also hope you've come out with your questions about how to accessorize a purple dress with the right purse color and jewelry!
How to style shoes with purple dresses might seem a bit daunting, but as you can see, any variation of the color is not as difficult to style as you might think.
You can opt for shoes and accessories that offer a more daring contrast with purple color dresses. Like yellow, pink, white or burgundy. Or contrarily, you can choose a neutral pairing of shoes with purple dresses, like brown, beige, nude or brown.
Of course, fashion is always subjective. If you like a certain color pairing and you feel great wearing it, then do it! Sometimes we need to think outside the box 🙂
For more even dress color outfit ideas, peek at all the shoe and dress styling posts, here. Feel free to ask questions about shoe colors that go with purple clothes & dresses in the comments, below.
Read More Dress Styling Guides:
xo ShoeTease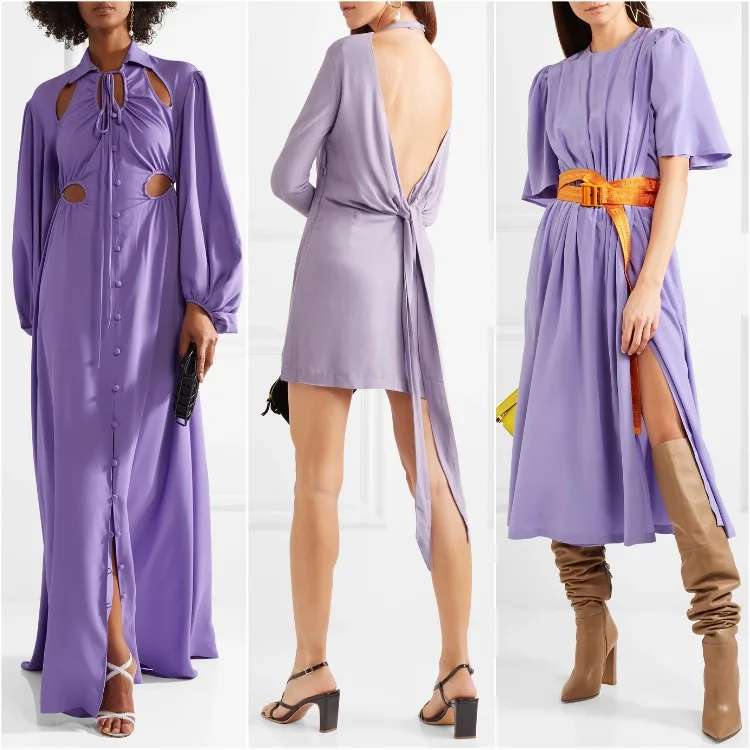 Cristina is the chief editor, fashion & shoe expert here at ShoeTease. As a seasoned stylist and women's fashion & shoe designer, she boasts over 20 years of experience in the fashion industry. She loves crafting effortless outfits for ladies both online and off and believes that styling advice should be accessible to everyone. Whether you're a styling pro or just starting out, Cristina's here to guide you on your fashion journey! Learn more.