So here in The North, all Nine West Canada shoes fans were pretty distraught when the brand filed for bankruptcy in the US. And subsequently shut their doors in Canada.After this happened, many asked themselves where they would ever find pumps, sandals & the occasional über trendy shoe of similar quality, comfort & fit, going forward.
Fret not, my friends! Let me give you a few great Nine West shoe brand alternatives from which you can buy your new shoes 🙂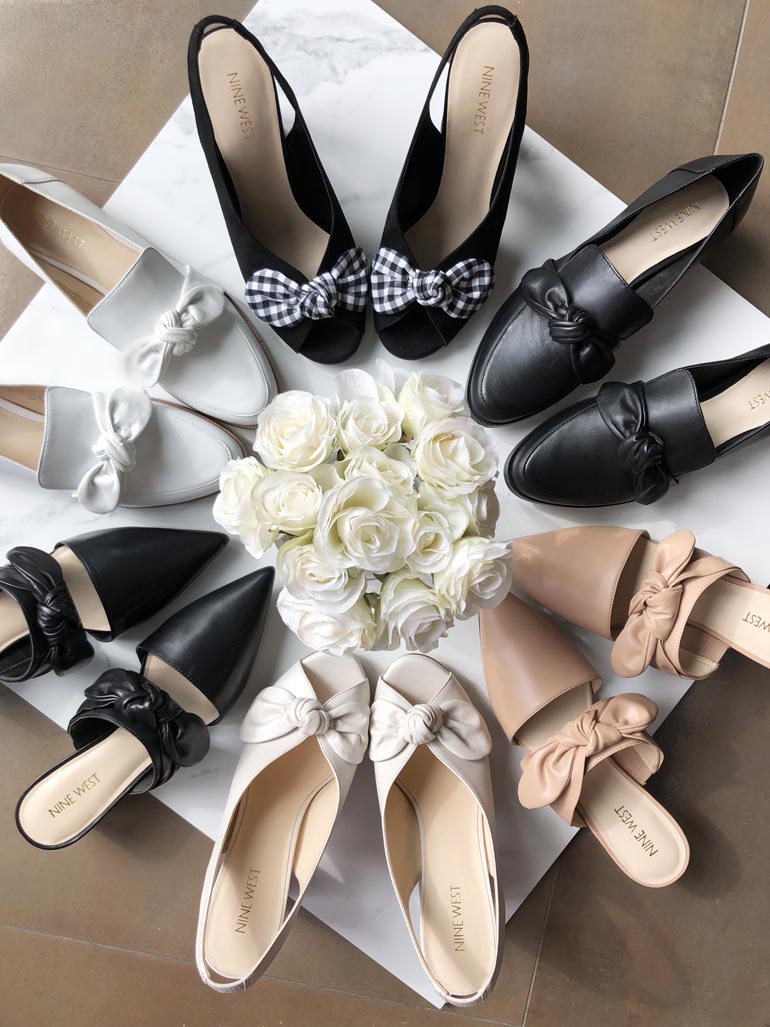 Of course, if you're in the US, even though Nine West in America was also supposed to shut down, their social media channels are rolling out their Fall 2018 styles with a vengeance. And if you're a Canadian in America, I would highly suggest ordering some new shoes from the Fall/Winter collection, while you still can (if you still can!).
The great thing about Nine West shoes was the price vs comfort vs quality factor(s). Many loved the brand for it's perfectly sculpted pumps & sandals & it's effortless way of knocking-off designer styles.
I really adored the extra ornate styles they were selling in the past 2 years. They had really upped their game & is one of the many reasons why it still makes me so sad to think that they're no longer among retailers in our country.
Nine West Canada Shoe Shopping Alternatives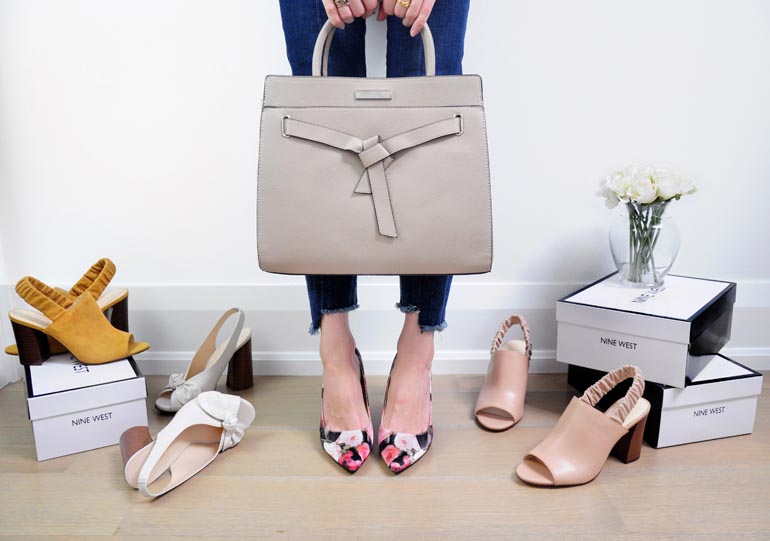 So to cope, let's look at some brands that a rather comparable, both in quality & design to that which was Nine West. Below you will see some familiar fashion & shoe brands that you may even own (I know I do!).
All of the shoe brands mentioned can be found in Canada, US & beyond. I've linked in-post & via shoppable widgets, to direct you where to specific styles and brands. I've also highlighted a few styles that are comparable to popular Nine West ones.
Sam Edelman Womens Shoes
I've owned a few Sam Edelman shoes & I've always found them to be on-trend & made of sturdy materials. The few styles I've bought from them fit my narrow foot well, just like my Nine West ones.
Sam Edelman's current Fall/Winter collection is full of gems, many reminiscent of past Nine West styles as well as those that were to be coming in store in Canada for Fall 2018.
You will find basic pointed toe pumps in a ton of colors and materials, leopard print designs and similar booties that you'd expect from the now defunct brand. There are also a few quirky styles that Nine West had gotten so good at creating. And the price point is pretty much bang on to what NW used to be priced at!
Current Sam Edelman collection shoe highlights include the scallopped Odila sandal, Gucci-inspired Lior Loafers (tons of prints, fabrics & colors!) & the Hazel pointy pump which looks almost identical to the beloved NW Martina pump. And lots more of course!
---
Shop Sam Edelman's Fall/Winter 2018 Collection:

---
Vince Camuto
I also have personal experience with Vince Camuto women's shoes. They've been around for a long time and their styles are both classic & up to date while often offering more trendy styles.
---
Shop Vince Camuto Shoes:

---
Franco Sarto
Funny enough, my first pair of shoes bought from Nine West were Franco Sarto shoes. They used to carry the brand and they're a good sturdy one with a great many shoe types to choose from.
The Franco Sarto and Sarto by Franco Sarto brands have some fun loafers, basic pumps, classic booties & a few feathery styles that remind me of last year's NW holiday collection!
---
Shop Franco Sarto + Sarto by Franco Sarto Shoes:

---
MICHAEL Michael Kors
The more affordable MICHAEL Michael Kors line is a great contender as well. You will definitely find your suede or leather pointed pumps, leather boot basics & more from this powerhouse brand. They also have some cute sneaker styles.
Prices are similar, sometimes higher to that of Nine West, however, cost can vary quite dramatically between styles.
---
Shop Michael Michael Kors Shoes:

---
Chinese Laundry
I have a few Chinese Laundry shoes and I'm particularly smitten with their Kristen Cavallari designed line. The pricing of the regular Chinese Laundry is roughly 20% less than what Nine West used to be, mostly because they often use imitation leathers/suedes in the uppers.
---
Shop Chinese Laundry Shoes:

---
The Kristin Cavallari X Chinese Laundry is more expensive. You can find both casual & dressy/sexy shoe styles from each of the lines. I've linked to my current faves from the brand, below.
---
Shop Kristin Cavallari X Chinese Laundry:

---
Halogen
Almost identical pricing as that of NW, Halogen offers a great number of styles similar to the 9 West brand choices. Some solid suede staples, along with streamlined loafers & a variety of leopard print and studded shoe options are offered.
---
Shop Halogen Shoes at Nordstrom:

---
Dolce Vita
With a slightly higher price point & with more country vibes, Dolce Vita makes fabulous looking shoes. With a focus on mules, studs & western styles with does of rock 'n roll this season, they're a slight departure from styles in the Nine West vein. However still a viable shoe brand alternative if you're looking for something a little different. Because chance can sometimes be a good thing!
---
Shop Dolce Vita Shoes & Boots:

---
Steve Madden
A direct competitor to NW that's been around for a lifetime is Steve Madden. The shoe brand most notable for its designer copycats supplies both classic heel with statement shoes. Nordstrom carries a slew of the brand's styles every season.
Almost the exact price as Nine West was, although depends really on the style. you will definitely like the Daisy pointy-toe pump (so many colours, prints & textures!), Soph minimal stiletto sandals & the chunky heeled Carrson sandals!
---
Shop Steve Madden Shoes for Women:

---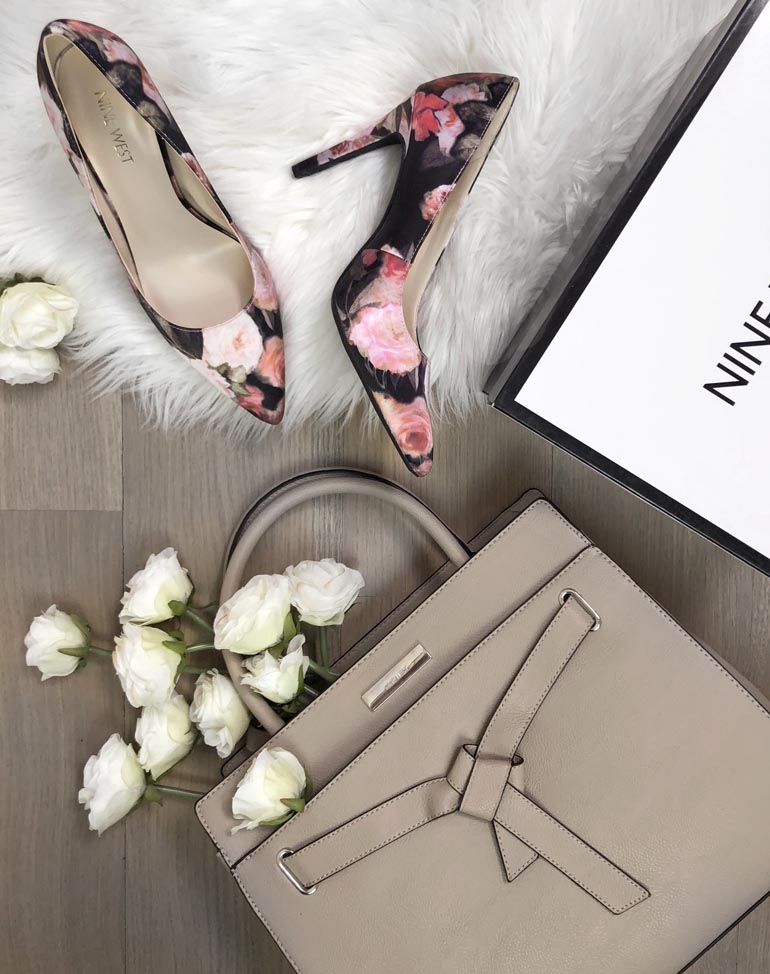 I hope these few brands listed above will satisfy your shoe related urges for the next season (or 10!). Although our beloved 9W will be missed, there are plenty of amazing shoe brands out there for basic pumps & booties.
Maybe a few more fashion-forward ones will convince you to try something a little different. Nothing wrong with a little style evolution!
Are there any fashion shoe brands that you'd recommend in lieu of Nine West that I may have missed?
xo Cristina