Silver is pretty much a neutral in my eye, so how to accessorize a silver dress with the right color shoes can be easily done right. And not unlike figuring out what shoes to wear with grey outfits (which I also love!).
However in the end, it all depends if you're looking for a stark contrast with your silver dress & outfit, or a less of one. Let's explore…
What Color Shoes with Silver Dresses
For the purposes of this post, I'm spelling out what I believe are the best colour shoes to wear with silver dresses or outfits. And by "silver" I'm including anything from the lightest metallic to the deepest pewter.
So essentially, silver both light & dark. I just love me a good silver dress, whether laminate materials or a silver sequins & knowing how to compliment it is key.
If you're also wondering what type of shoe to wear with a silver outfit, I can quickly answer that: a sleek & classic style such as a high heeled pump, pointed toe flat & peep toe sandal.
However, even strappy versions of a classic shoe can go really well with silver, as you will see in the images below.
I hope you find this post helpful in choosing the perfect shoes to go with silver dress or outfit! Especially if you're wanting to know how to style a cocktail dress with the right shoes 🙂
You can find great silver dresses for all occasions at Saks and Bloomingdale's!
---
1 – Silver Dress Black Shoes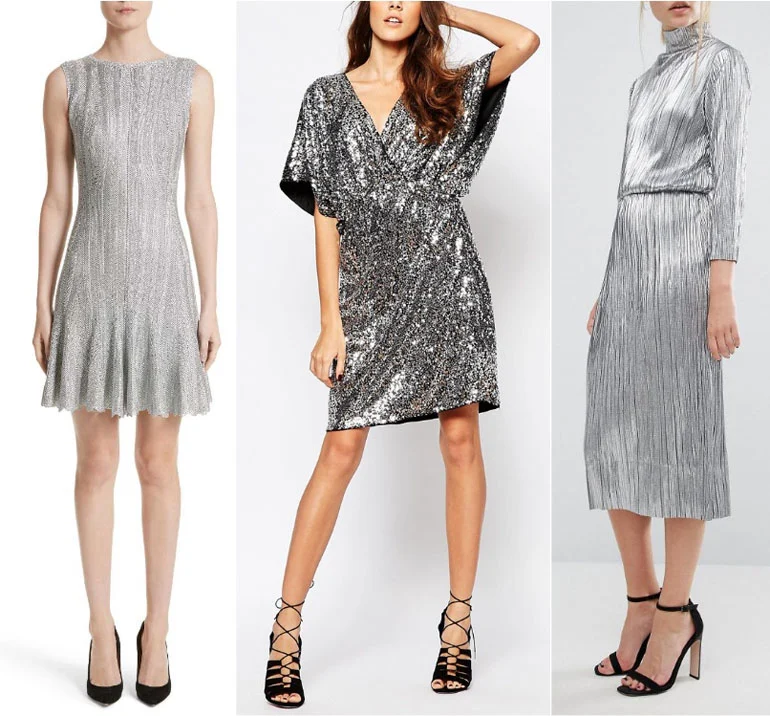 Black shoes with a silver dress? Well, before you say anything, black isn't "basic". It's a classic that stuns with most color dresses, but offers a particularly stark & very glam contrast to a silver dress.
I would stick with a matte black shoe if your dress is very shiny or has lots of sequins, opting for the likes of velvet, suedes or matte.
In the winter, a silver dress with black tights & shoes can look amazing! Just take a look at how well the combo looks in my shoes to wear with a sequin dress post!
Purse styling tip: White, blush pink or a bright colored purse would work best. You could also have fun with a pewter (dark silver) clutch for a night out.
Shop Black Shoes & Heels:
2 – Silver Dress with Silver or White Shoes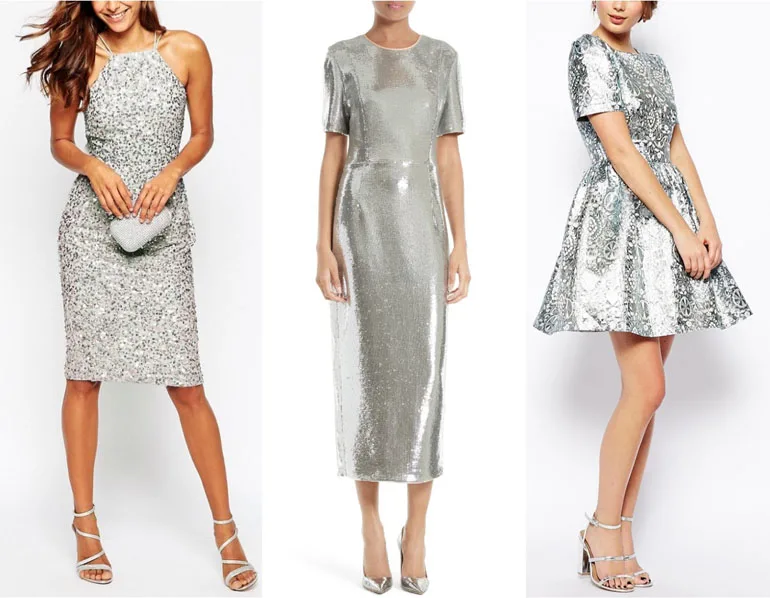 You'd think that styling a silver dress with silver shoes would be too much, but it's a surprisingly good pairing.
Whether you choose to match your metallic shade to that of your shoes or go for a contrast is up to you. My rule of thumb is the fancier the event, the more you can get away with matching your shoes to your dress.
If you're not into pairing a silver outfit with silver shoes, you can always opt for white (which is pretty much the non-reflective version of a light silver color anyways!).
Purse styling tip: White, black or contrasting color would look fab!
Shop Silver Shoes & Heels:
Shop White Shoes & Heels:
3 – Silver Dress with Nude or Gold Shoes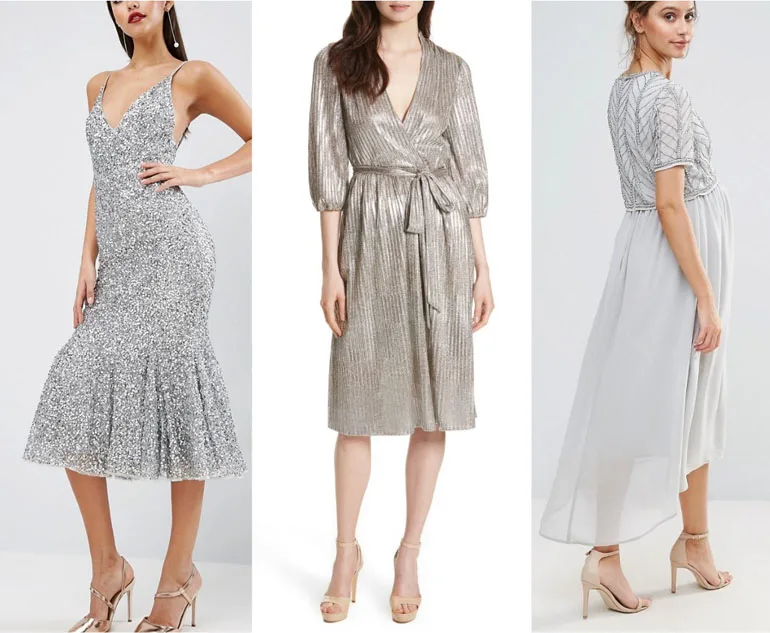 I'm actually on the fence with this color shoe with a silver dress. Yes, it's a neutral, but so is silver so that's why I'm hesitant.
But in the end, it really depends on how well the "nude" matches your skin tone (the closer to it, the better!).
Flesh tone shoes (whatever your "flesh tone" may be) are one of the tamest shoe color choices to pair with silver, especially if you're already feeling flashy in silver & want to play it down.
And they will make your legs look longer, so it's definitely an option worth the mention! Also, neutral shoes do pair well with any other color, so it's likely a shoe color that you already have in your closet.
I'm more of a fan of gold shoes, myself, which can look really fun with silver. Just check out the above outfit on the left. Yes, it's rose gold which also looks unexpected & fun too!
Purse styling tip: If you're vying for a silver outfit with metallic gold shoes, go with a black matte purse. If opting for a matte nude skin-tone shoe color I think a white clutch would look really good.
Shop Nude Heels – Each Style is Available in Various Tones:
4 – Red & Colorful Shoes with a Silver Dress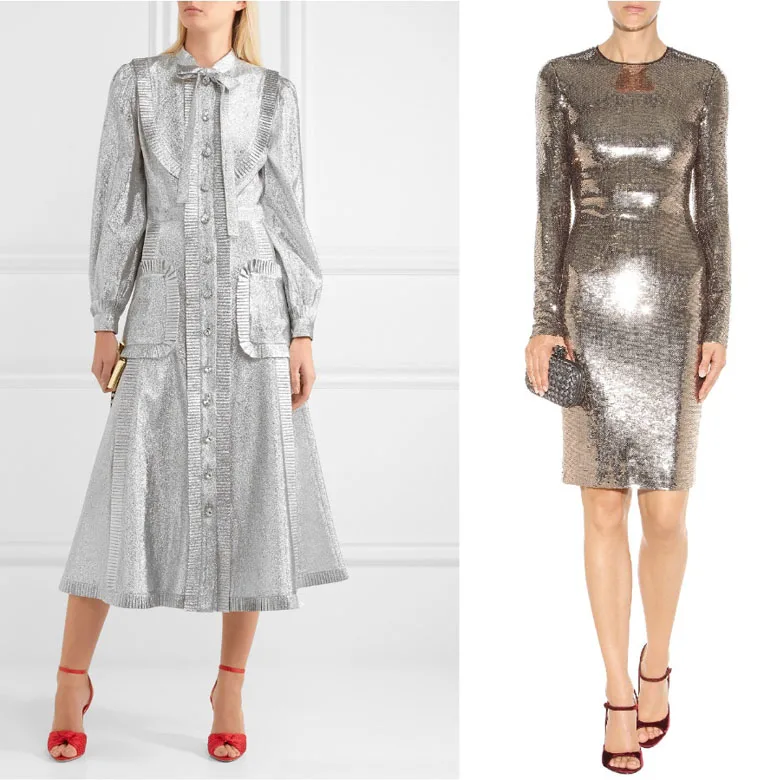 Red shoes are a really fun, alternative choice to accessorizing your silver dress with! As you can see in the styling above, I'm a fan of a bright red, even orange shoe with a light silver dress & a deeper burgundy hued shoe with a darker silver/pewter dress.
Take a look at the post I wrote about what to wear with red shoes, for more ideas! And if you're wondering, yes there are other shoe shades that will really pop & look fab with silver.
These include cobalt blue shoes, bright pink heels, emerald green shoes (although very festive looking, so beware) & citrus yellow (this one's a goodie for summer!).
Of course, if there's already a contrast color within your silver dress, that would be the perfect color to match to your shoes!
Purse styling tip: If you're contrasting your silver outfit with colored shoes, I would stick to a white or black purse. Maybe even gold depending on the dress & shoes.
If you're feeling la-di-da you can also choose a contrasting hue for your purse. This is a little trickier stylistically, but can have amazing results. For instance, a silver dress + fuchsia shoes + lemon yellow clutch!
Shop Red Shoes & Heels :
---
In conclusion: the above silver dress & shoe combos are some of my personal favorites. No need to discount other fine pairings, because fashion & style is so subjective.
Rule of thumb: if you feel good in what you're wearing, then just go for it! That's what's most important in the end 🙂
If you'd like any more info or style tips on how to accessorize a silver dress with the right shoes, feel free to leave me a note below in the comments section.
xo ShoeTease