As a shoe blogger, I receive a decent amount of shoes on a regular basis. Yeah, I know, poor me, right?! Shoe gloating aside, it's been a while since I've been this silly excited about the overall amazingness of a particular shoe.

Enter these fab womens tassel loafers. This pair of ShoesinItaly menswear-inspired flats are really something else. And it's not only because they're oh-so pretty (& a surprisingly easy shoe to incorporate into a chic street style outfit!).
I'm not usually into menswear type footwear, but these types of loafers are so charming! But as this is my year to switch up my look a little, I knew as soon as I spotted these shoes flash across my computer screen, that they were the ones that I had to add to my ever-expanding shoe closet. So I hit Enter…
Photography by Justin Boucher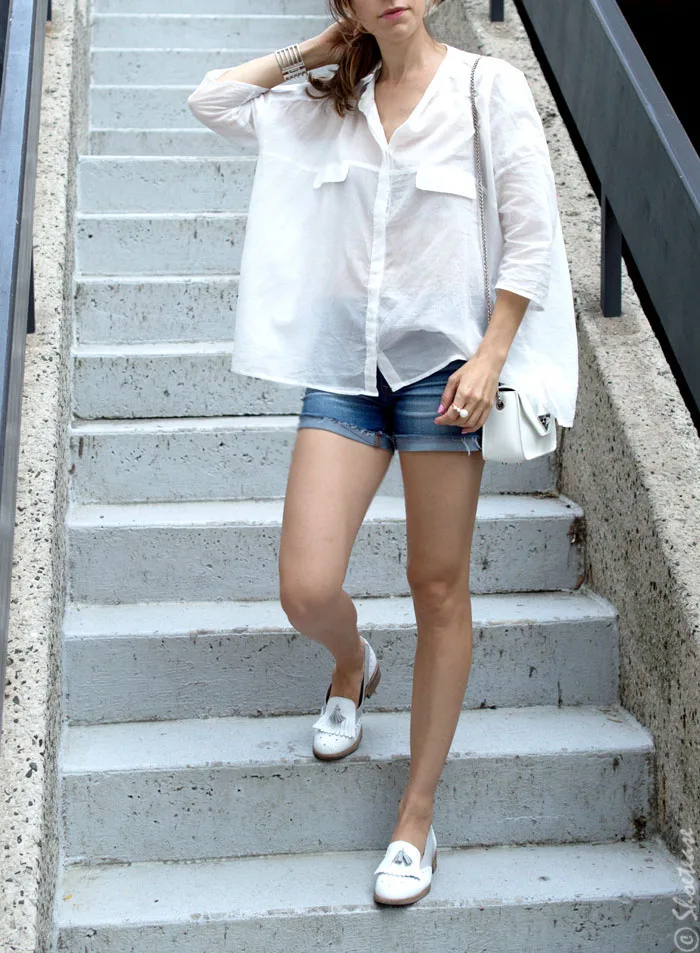 But first, let's digress a little bit & talk about shoe shopping experiences, shall we?
What I've sadly become used to these days is trying to find a solid, high quality ALL leather shoe that is comfortable, aesthetically pleasing AND affordable! Affordable shoes are easy enough to come by these days, thanks to many fast fashion retailers & budget friendly designer fashion lines. BUT one thing I've noticed with respect to almost all shoes under the $130 price range is a lack of comfort and/or a serious downgrade in quality. Both of these components usually go hand-in-hand. The latter includes the likes of plasticky man-made insoles, lining & sometimes even (hold onto your hats for this one!) a fake leather upper. Sadly, these are the things my champagne taste-radar quickly notices. Working in the shoe industry has also made me über observant in the shoe detail department!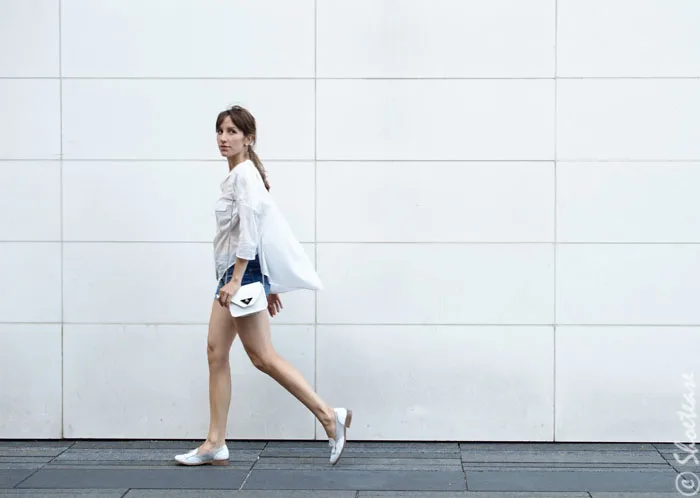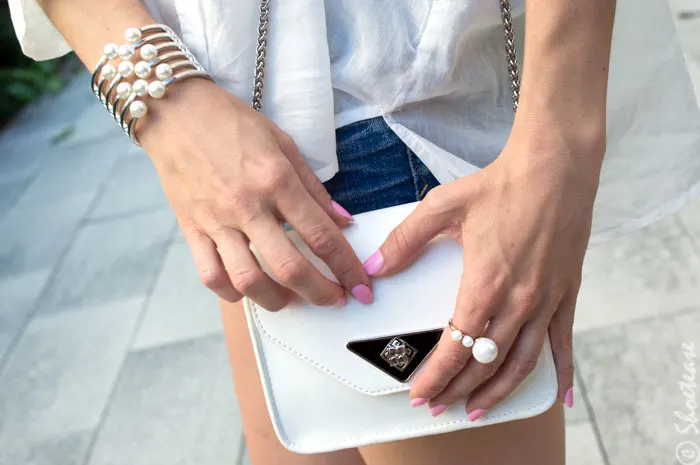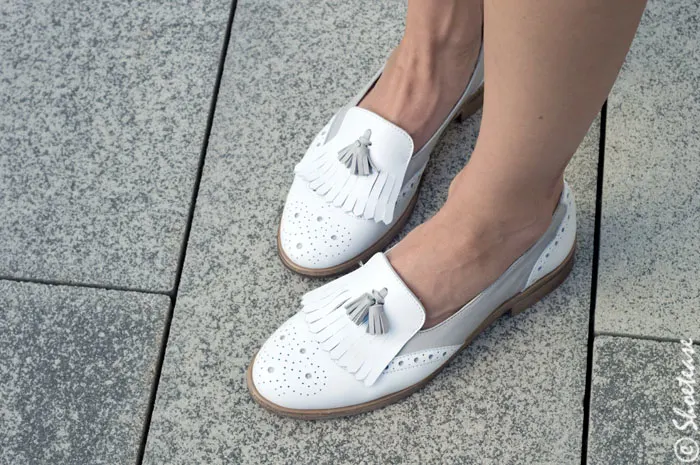 So back to these golf-inspired tassel loafers from Shoesinitaly. This new, Italian husband & wife teamed company might be US-based, but gets its shoes & heels made right in Italy. And it has a lot more to offer than solely attractive shoes (pun intended, yes indeed!). Because, for the shoe snob, 'pretty' on its lonesome is just not enough, am I right?!
Shoes in Italy Women's Tassel Loafers:
Quality:
Aside from the outer most layer of the outsole, these shoes are made entirely of genuine, soft leather. That includes the tassels, the fringe, inner lining, upper & even 95% of the outsole.
You might not know that many outsoles are simply glued onto the upper of the shoe. This keeps prices down, but diminishes the shoe's durability & quality. Shoesinitaly remains old-school in its shoe-making process & the soles of these loafers are sewed on.
Worth noting that these shoes aren't mass-produced, but delicately hand crafted, which accounts for the 'solid' construction of the shoe. The interior beauty shines through to the exterior of these womens tassel loafers!
Comfort & fit:
Sinking my feet into a pair of shoes made of soft leather even on the inside is an amazing feeling. I've walked a ways in these already, all without the need for extra padding in the insoles. And I thought sneakers were my only surefire comfortable shoes option!
I appreciate the addition of a rubber outer layer to the outsole, nixing my need to go to the local cobbler to get one added on. (I'm not a fan of the slippery nature of a smooth leather outsole. I need traction for Pete's sake!).
These tassel loafers fit my narrow feet perfectly, but are soft enough to expand where needed to provide extra comfort. So I'd say they will nicely fit a narrow to medium wide foot.
The loafers fit true to size, as stated on the brand's website
Design:
I don't normally wear masculine flats, but these are so beautifully shaped & lack not in feminine grace.
Perfect combo of a classic style with a trendy twist. I also love the delicate light grey with the stark white base.
Cost & Shipping
If I didn't know that these flats cost $139 USD, I would have guessed more. I haven't seen many well made shoes at this price point that didn't retail at around $250.
US shipping & returns are free & speedy.
The only con I can come up with in terms of these shoes & Shoesinitaly in general is that they only ship to the US….for now! I'm hoping that as the business expands, so will their geographical shipping area 🙂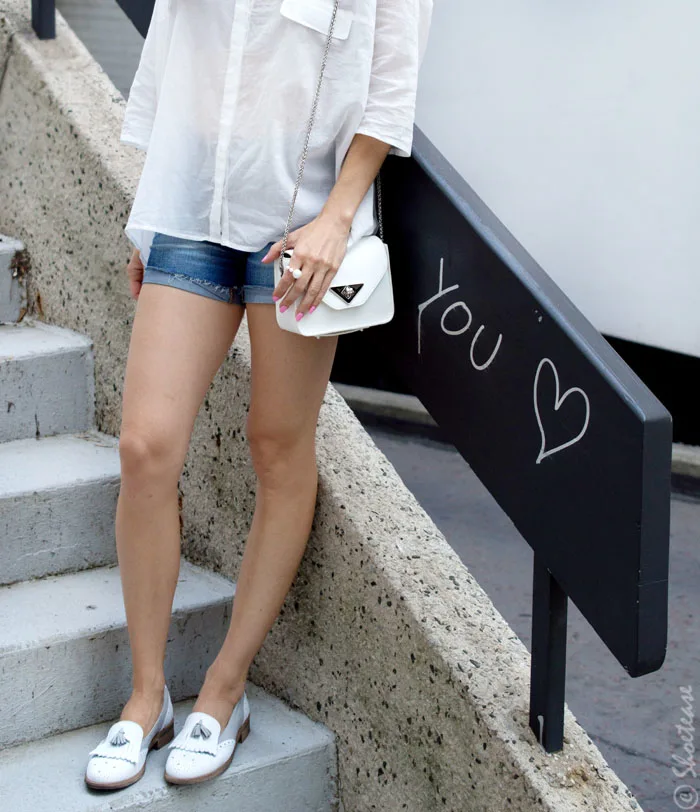 Womens Tassel Loafers: c/o ShoesinItaly, White Purse: c/o Jeanne Lottie, Blouse: Sisley, Shorts: GAP
I'm so glad I decided to try a new shoe style this time around! Also because I never realized how easy it would be to integrate into a simple white-shirt-denim-jeans combo (my go-to look).
These grey & white tassel loafers also work great styled with a structured or flirty dress. I can't wait to find more ways to wear them!
Love tassels but looking for a higher heel? Check out last week's outfit post featuring these beige fringe sandals!
Shop similar white tassel loafers

xo Cristina
Cristina is the chief editor, fashion & shoe expert here at ShoeTease. As a seasoned stylist and women's fashion & shoe designer, she boasts over 20 years of experience in the fashion industry. She loves crafting effortless outfits for ladies both online and off and believes that styling advice should be accessible to everyone. Whether you're a styling pro or just starting out, Cristina's here to guide you on your fashion journey! Learn more.