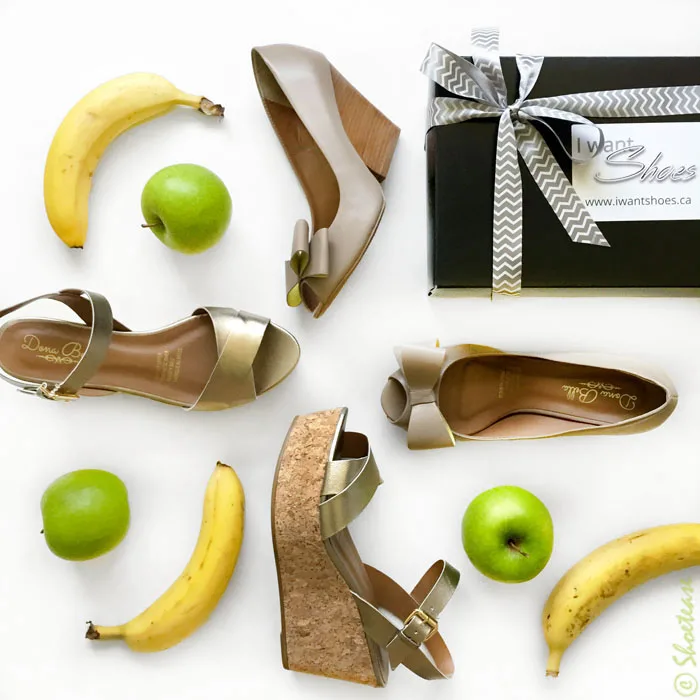 ***UPDATE: This cute shoe brand not longer exists. But take look at my full list in my post about Canadian Shoe Brands for women!
There really aren't many Canadian shoe designers out there. Or smaller Canadian-designed shoe brands for that matter. So it's always exciting to come across a Canadian label that sells cute shoes for women that are also within reach. So these affordable shoes, along with the free Canadian shipping & duty-free packages that come with them, are a doubly sweet treat! Let me introduce you to Montreal designed & Brazilian-made brand I Want Shoes. Because, let's be honest: we all want more shoes, right?!
Cute Shoes for Women
Launched 4 months ago by Brazilian born & Montreal dwelling Mariana, I Want Shoes was conceived from a need for affordable, yet quality-conscious cute shoes for women. Right here in Canada. Mariana just couldn't find what she was looking for amidst Canadian retailers in Montreal, so she decided to fill the gap by creating her own shoe collection. I hear you lady, we've all been there!
I Want Shoes offers an aesthetic all of its own, with its colorful, ladylike & vintage-inspired styles. I love the many unconventional heels, color pairings & detailing. If you're looking for more original shoes, with less overly recycled shoe trends, then this is the brand for you! Kinda like some unique designs you might find over at US-retailers Anthropologie or ModCloth (if, you know, if they actually sold shoes here in Canada, without all the extra$ required for crossing the border!).
In addition to their quirky styles, I Want Shoes also offers great shoe closet staples, perfect for the office or fashionable night out. These include the likes of nude heels, pointed toe flats & almond toe pumps with sensible, albeit sexy heels.
They also carry a wide range of sizes from a tiny size 5 shoe to a larger 10. So, really, if you're a younger girl with a larger foot, there are some cute shoes here for you too! And at a desirable price-point of $59-$114 Canadian. Yes CANADIAN dollars! And all of this packaged in the prettiest black box with striped bow & personalize message! I felt like it was Christmas in July 🙂
I tried out two very different styles (c/o I Want Shoes) from their 2015 Spring/Summer collection (which is currently 50% off, btw). I chose neutral shades of gold & beige which, really, one can never have enough of!
I Want Shoes – Shoe Brand Review
"Firenze" Nude Bow Wedges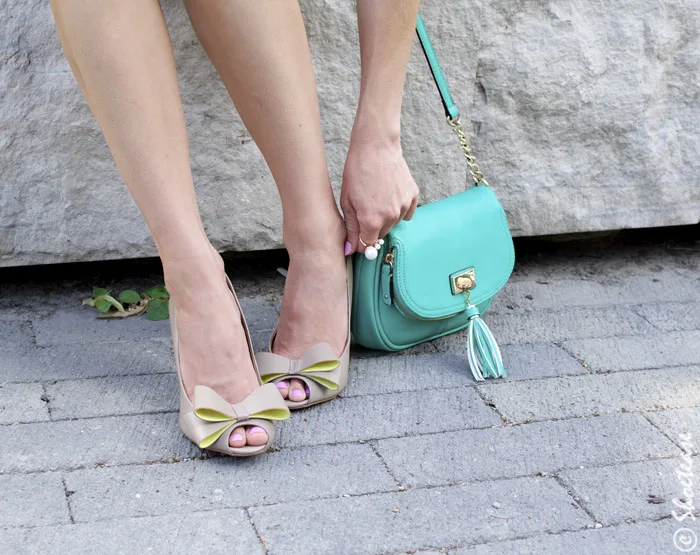 These lime green-lined bow flats were far too quirky to pass up! Not my usual shoes & that's why I needed them. The lime contrast peeking out from inside the triple looped bow is sensational. It really gives an extra oomph that I love! Here is my usual point-form review: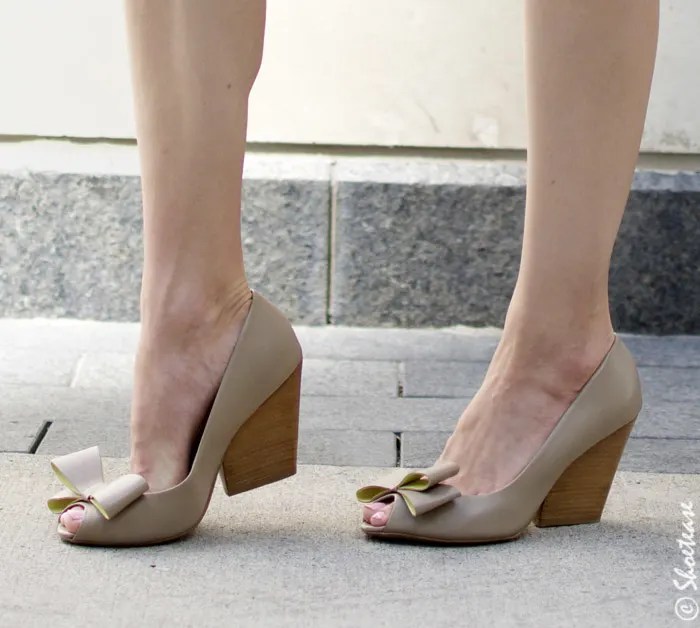 Fit:
I ordered a size US 8 & and they fit true to the size. And although they are a little roomier width-wise, they do fit my narrow feet. Yay!
Comfort:
The substantial padding hidden in the insole from heel to balls of the feet is amazing. Feels like the shoe is massaging my feet as I walk. It also pads my high arch, taking pressure off of my toes
There are no protruding interior seams, so no gratuitous blisters, either!
Quality:
The outer upper is made of a beautiful creamy leather that has that glorious leather smell (yes, I'm weird, I always smell new shoes to see if they actually are made of leather & to check for toxic smelling dyes lol)
The interior part is made of imitation leather, but is free from any chemical smell or plasticky feel
The heel is sturdy & has been successfully made to look like a stacked wooden heel
Design:
The upper color is a rather fabulous beige meets taupe, which complements the pop of limey yellow/green inside the bow
I love the slender almost wedge block heel
High marks for a rubber outsole, so I don't have to worry about slipping on freshly waxed floors!
Did I mention this style comes in bright green suede & mellow yellow with striped heel? Talk about supremely cute shoes for women 🙂
Take a look at the original sketch of the "Firenze", below. It's it adorable?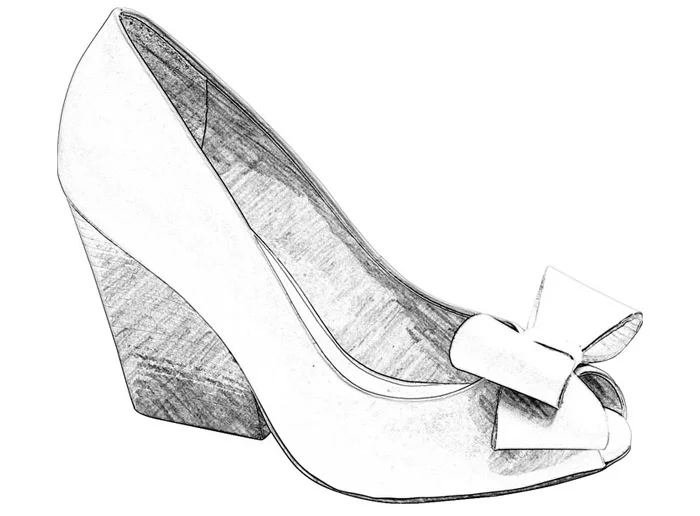 "Verona" Metallic Gold Platforms/Flatforms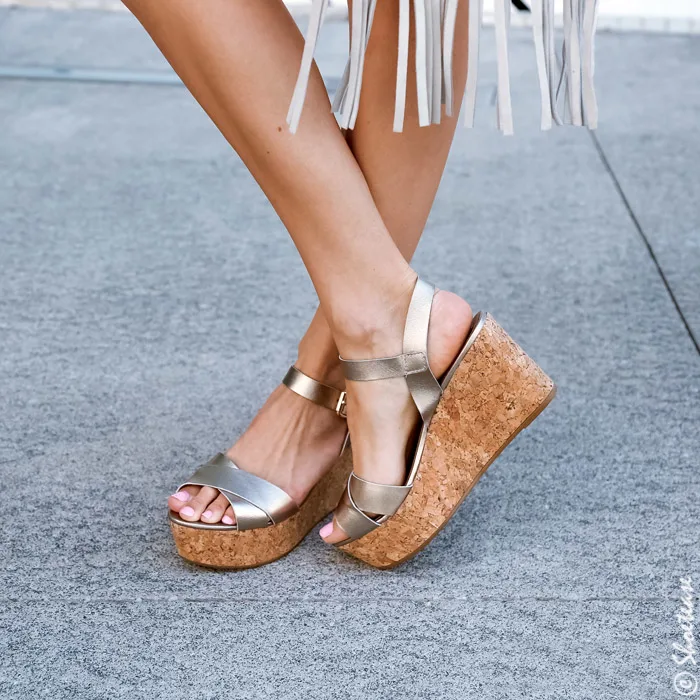 An attractive flatform is a key shoe that had been missing from my shoe closet far too long. So these gold strappy platform wedge sandals with a walkable 3.7″ heel were a fabulous style addition to my wardrobe!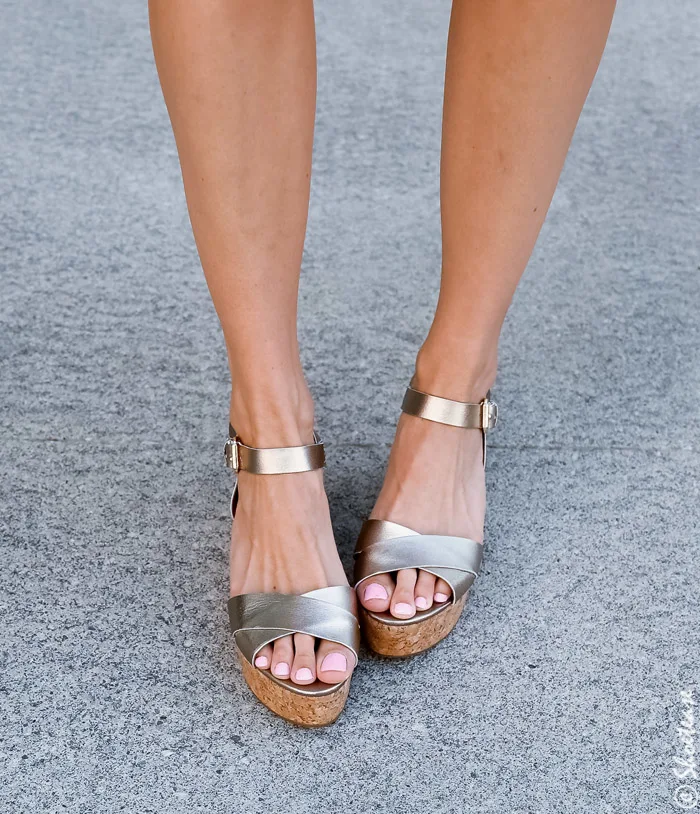 Fit:
Width: These wedges do fit my narrow feet, albeit a little roomy around the toe area, but the ankle strap secures tightly around my small ankles without having to punch in extra holes. So I'd say these are best suited for average width feet.
Length: I ordered my usual size 8, but find they fit a half size small, so more like a 7.5, even though they're completely walkable & no one is going to notice this aside from little 'ol me! If you have a medium to wide foot I'd order a size up in this style.
Quality:
The soft leather upper has a great muted gold sheen & strong gold buckle. I feel very secure in these sturdy platforms, considering their height!
The cork wedge is lovely & well attached to the base material
I do wish they had the same softer rubbery outsole as the "Verona" heels, as it would soften the feel & sound of my step.
Comfort:
These wedges, thanks to the sculpted insole/platform area (which lifts up slightly at the toes) are really comfortable to walk in
The upper straps are soft & don't dig into my toes or feet, yet secure well around my ankles
This is a perfect wedge for those who want height, but don't want to feel like they're walking in heels
Design:
Great flatform meets wedge. You get the best of both worlds!
The gold upper brightens up the shoe & gives the cork wedge an updated & fashionable feel
All around great design. Everything is proportional & attractive. Loved it the moment I laid eyes on it!
The original sketch of the "Verona" style, below: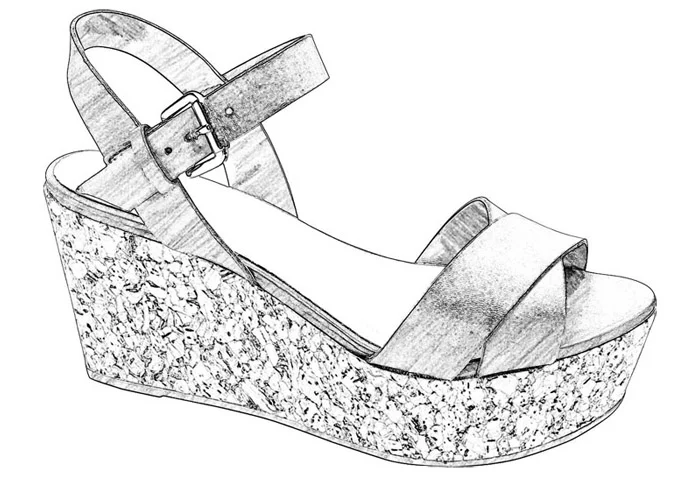 This fun brand with its seasonal quirky & classic collection of cute shoes for women is available for purchase online at www.iwantshoes.ca and ships all over the world. Right now you can shop the above styles & entire collection at 50%. Some shoes start as low as $29.50!
I've also styled both of these shoes with fun, colorful looks, up next week on the blog! So come back soon to take a peek at some new Summer shoe styling inspiration here at ShoeTease 🙂
xo Cristina
Photo Credits: Sketches c/o I Want Shoes, Photo #2-3: Hao Tien Pan , Photo #5-6: Final Spark Pictures