Have you ever caught yourself slipping out of your heels? Or rather, your heel slipping in shoes – or out of them!?
Many hacks exist to help solve this shoe dilemma, but Sticky Shoes has a better solution: tacking the heel of your foot directly into your shoes, in order to make them stay put!
And they've recently landed on Kickstarter to fund the initial manufacturing of their patented & uniquely designed double-sided shoe tape for heels & flats.
I got to test out this nifty shoe accessory before it's even hit stores & we're offering up 2 sets of Sticky Shoes to 2 lucky readers. Yep, you'll be some of the first gals or guys to get your hands & feet on them!
Sticky Shoes Double Sided Shoe Tape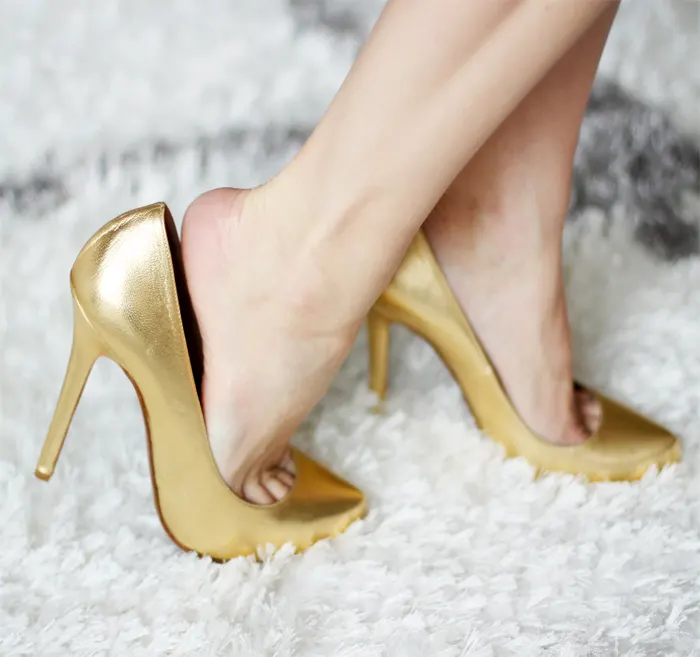 Why Use Double-Sided Tape for Shoes?
Sticky Shoes is a handy shoe fix to prevent your foot from slipping out of your heels or flats while you strut, reducing the risk of tripping, slipping & looking like an amateur heel wearer!
Heels can easily slip out of shoes that are too big, have very high heels, or in shoes that may not fit your foot quite right, even when wearing the correct shoe size.
Ok, so you're probably thinking that fashion tape or more aptly named flash tape already exists to keep clothing onto the skin. You know, in order to prevent nip slips & similar fashion catastrophes (think JLo's green Versace Grammy dress from 2000!).
What makes Sticky Shoes different?
Well, for starters there is no product on the market specifically designed to keep heels in shoes. Which is rather surprising when you think about it.
I mean, Jessica Alba famously stated she relies on off-the-Staples-rack double-sided tape as her go-to fashion fix for heel slippage. And this was back in 2012!
Sticky Shoes shoe tape for heels is designed with the shoe and foot in mind. It has many features that regular double sided clothing or paper tape do not. .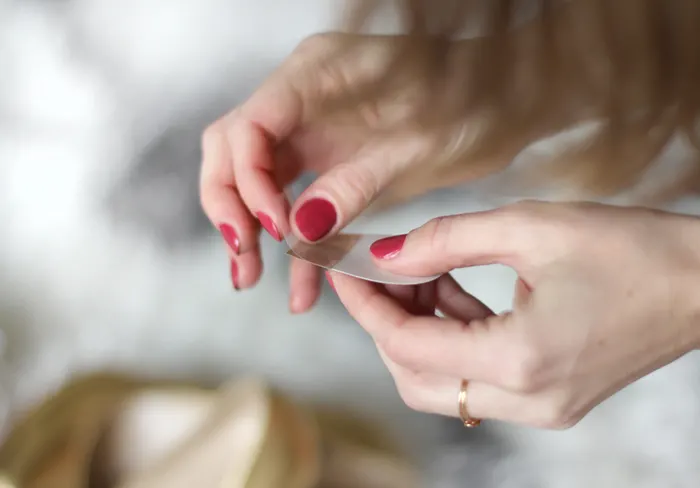 Sticky Shoes Special Features:
Rounded shape designed specifically for the shoe heel
Made with strong dual-sided adhesive last a few wears
Easy release tab
Hypoallergenic
Non damaging to your shoes.
Patented design
How Sticky Shoes Double-Sided Shoe Tape works
It's really simple. Just peel off the white tab, exposing the first adhesive side. Press this sticky part firmly onto the heel of the shoe.
Then pull off the brown tab to expose the hypoallergenic sticky surface that adheres to your foot. Put your heels on. Voilà!
To take them off, simply lift the transparent tab to lift off the tape.
And these work! I tested a pair out in the gold platform pumps you see in this post. These heels tend to slip off my heels when I walk.
Sticky Shoes really helped my soles stay put, making them so much easier to walk in! When I took them off a day or so later, there was no residue, nor did my insole peel off. Woot!
Sticky Shoes is also perfect for sling-backs, mules & flats that don't hold the foot well around the heel area. Heck you could even use them under the balls of the foot to keep your toes from sliding into the front of the shoe. So many functions, so little time!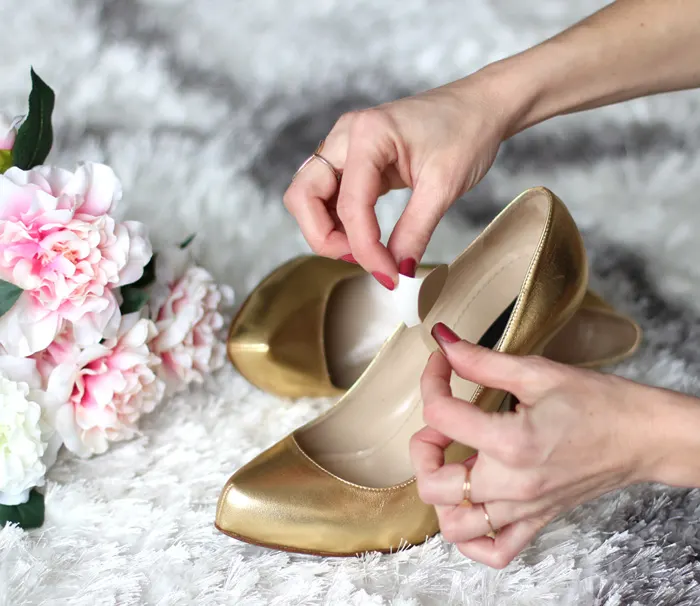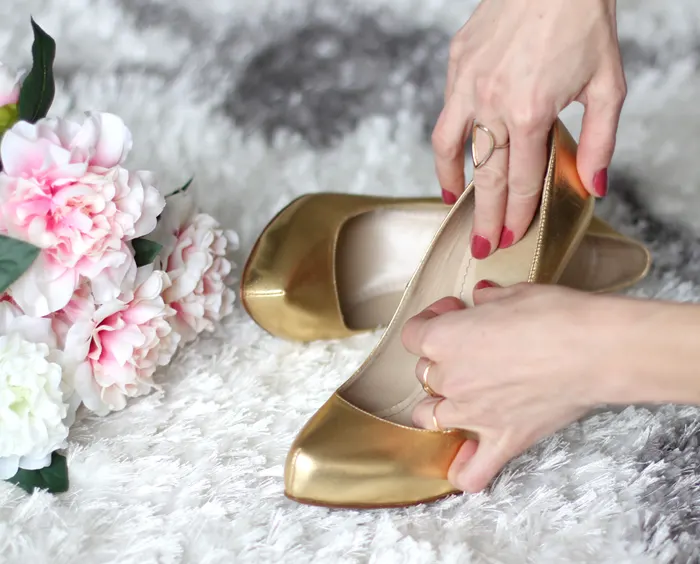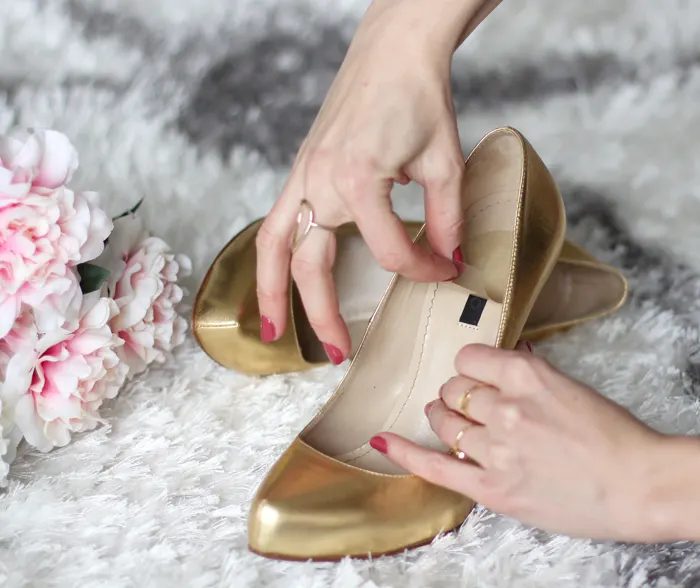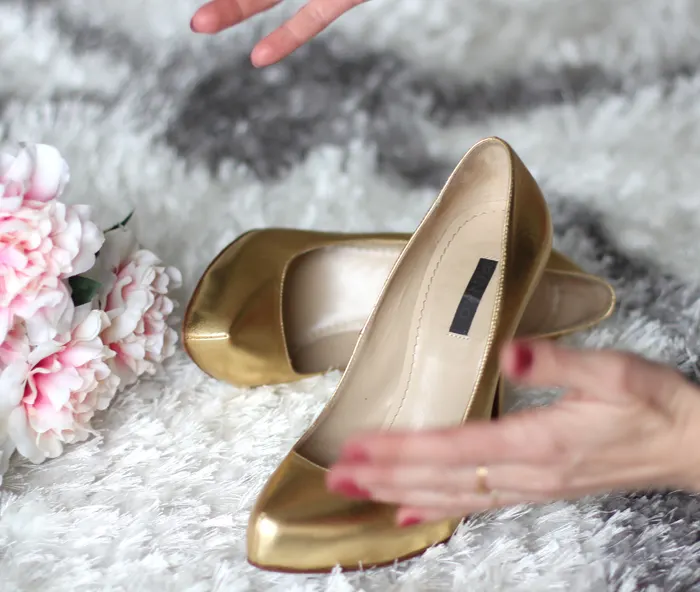 Read the story about the mother/daughter team behind the product & how they came up with the idea of Sticky Shoes, on the brand's Kickstarter page.
Here you'll find more info on the product & how you can help fund their project, along with the many perks that go along with it.
My in-depth guide covers all the amazing shoe-slipping-off-heel hacks and products, so be sure to check that one out!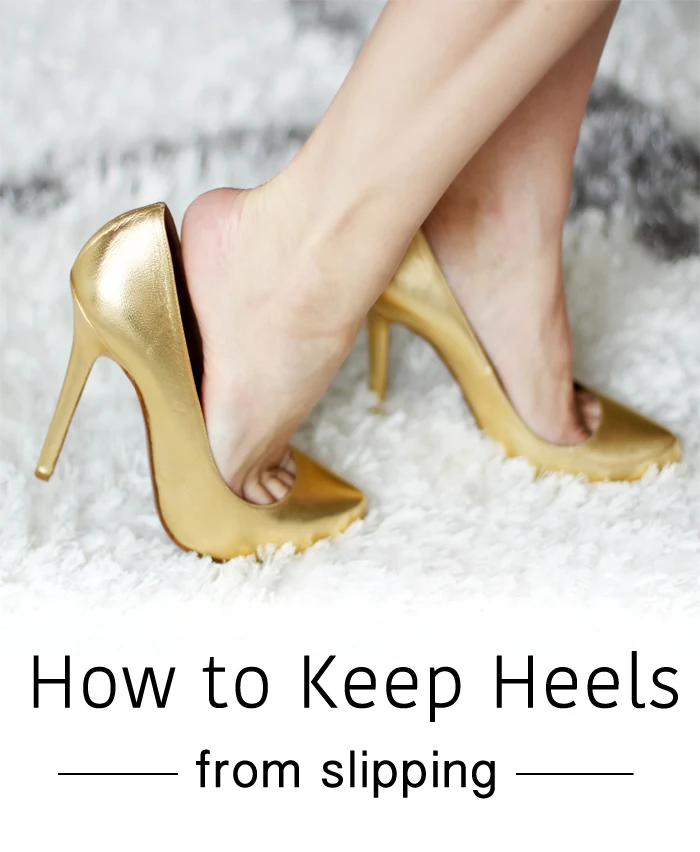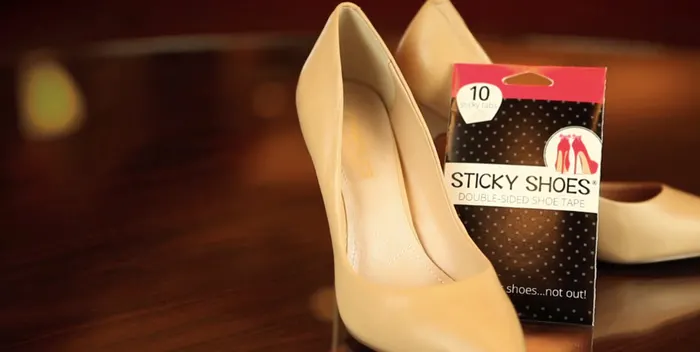 xo ShoeTease
**This post is brought to you in collaboration with Sticky Shoes. All opinions expressed are my own**