-Gladiator Sandals Outfit with Printed Dress-
If you want to make a statement with your shoes this summer, high heel gladiator sandals ought to be way up on your list. They make for a some killer fashion & street style! If you're looking to truly make a long-lasting footwear impression, there's no doubt that knee high/tall gladiator sandals are your best bet. Fair like me? A black version of this trendy strappy shoe will stand out the most (& vice-versa!).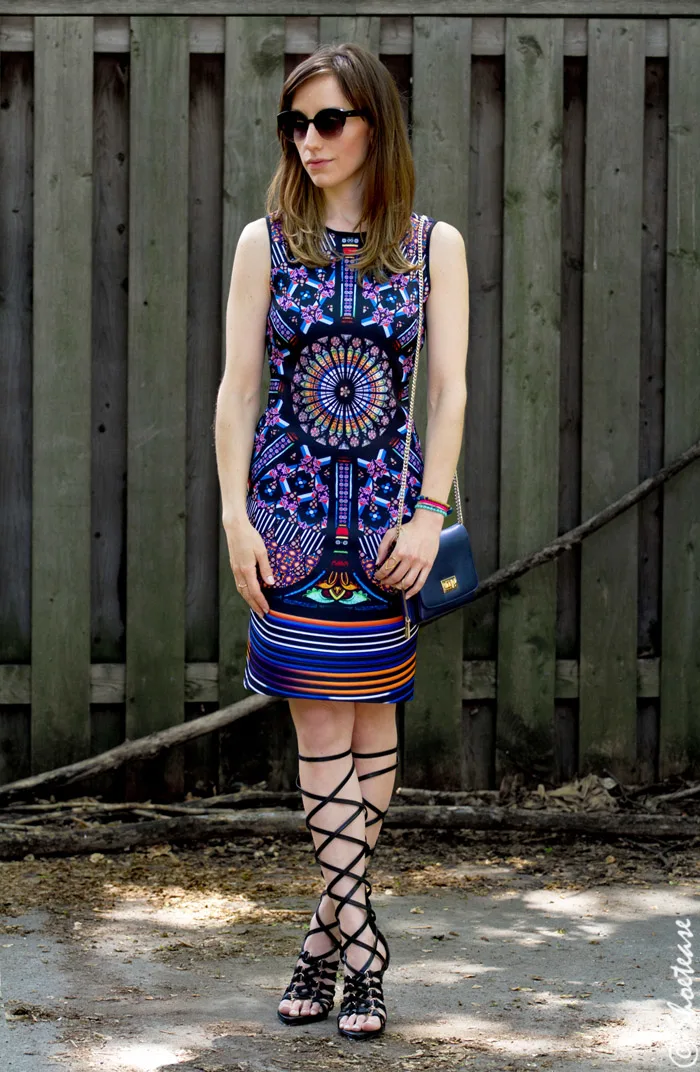 So off I went clothing & shoe shopping at Dixie Outlet Mall (yet again!) to hunt down some great designs & deals to create an haute-looking outfit without the designer price-tag. I decided to jump on the Spring 2015 shoe trend bandwagon & put together a gladiator sandals outfit with an edgy vibe.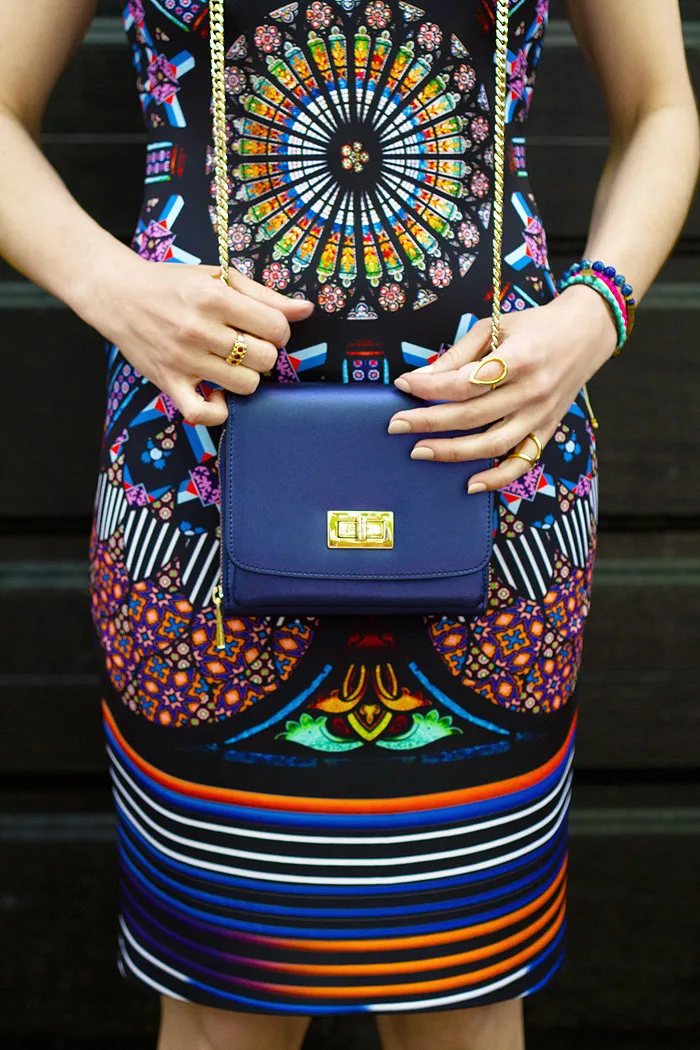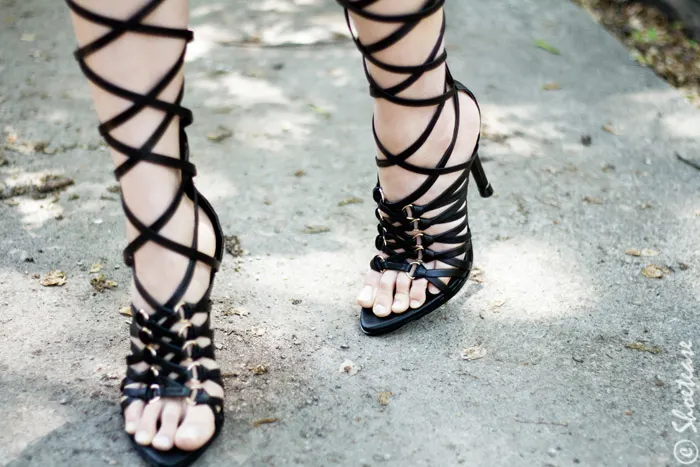 Aldo "Ponente" High Heel Black Gladiator Sandals Review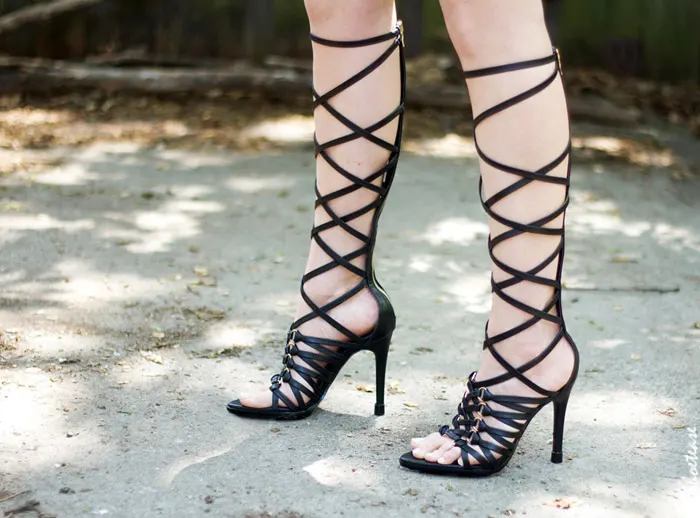 First of all let's talk about these crazy 50 Shades inspired high heel gladiator sandals shall we? When I first saw them in the box, I was none too inspired to be honest. But once I inspected them more closely & put them on, I realized how fantastic these gladiators are! They're currently available at Aldo Shoes here. This is what I like most about these shoes:
The upper is made of leather & small gold metal D-rings hold a corseted front lacing in place (a great contrast to the more spaced criss-crossing of the straps up to the knees)
You can easily get in & out of them with the exposed zipper at the back
Back of each strap has a small elastic inserted before the seam to allow for the straps to move with you as you, uhm, move! Also allows for a larger calf to fit in.
The streamlined pointed toe shape is awesome!
The best part of these black gladiators is the sleek platform that hides nestled under the front part of the outsole
But if you're build like me, these may not be your best bet. The main drawback of these shoes for me personally, is that the straps don't stay put because they're far too large on my narrow ankles & calves. Luckily this is a narrow foot/lower leg problem that not many people have trouble with. But if you do, tightening the straps is going to be a cost on top of the $140 price-tag of the gladiators alone.
Not necessarily a drawback, but worth noting that these heels fit large in more ways than one. I'm usually an 8-8.5 & the 7 is what finally fit me. Which is a good thing for me as the straps were tighter, albeit not tight enough! So if you're going to have to order them in-store as not many Aldo stores have them in stock (Eaton Centre locations do FYI), order one size down. Oh and now they're 50% off!
I love the look of this fine (as in 'thin'!) stiletto, but if you're going to walk in a bit of rubble, they're gonna need protection. Hence, I added these small Clickless caps (you can read my post on these high heel protectors, here) to preserve the heel tips. I've linked the caps in the shopping widget at the end of the post.
So to complete this gladiator shoes outfit, I stopped into a couple stores at Dixie to check out their stock. This fabulous & severely discounted Clover Canyon dress from Winners called out to me, almost immediately. In my size with the perfect fit, I'm still in awe how slimming the dress pattern is! I was in love with last season's Dolce&Gabbana stained glass window motif & happy to get the look without having to pay the price. Literally! This dress cost $199 & similar Clover Canyon dresses presently retail at $300+. Yep, pretty impressive markdown, huh!? I'm more & more impressed with this Winners location every time I visit Dixie!
Since both the high gladiator sandals & printed dress were rather eye-catching, I opted for an Danier Leather purse that I had previously purchased at Dixie Outlet Mall's Danier outlet. It almost camouflages itself with the dress, but isn't matchy-matchy black with the strappy heels which I like. I also scored these quirky sunglasses for $1.99 from the Aldo outlet & wore my season's go-to bracelets from Psihii.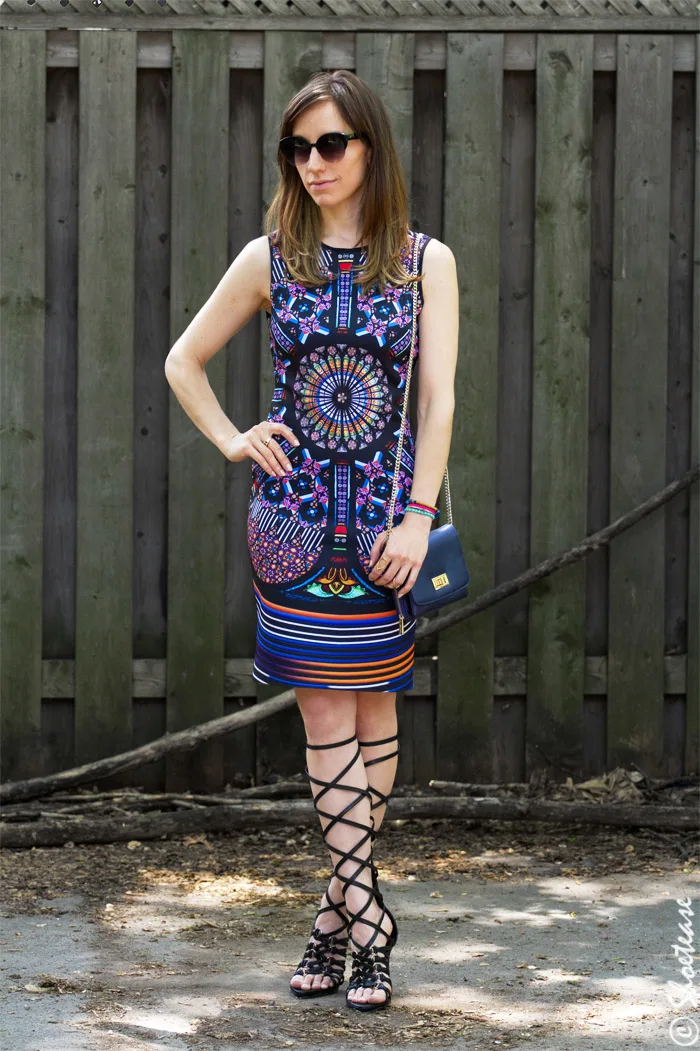 Gladiator Sandals* & Sunglasses*: Aldo Shoes ON SALE, Dress*: Clover Canyon from Winners, Purse*: Danier Leather, Bracelets: c/o Psihii, Rings: vintage & Shop for Jayu (*c/o Dixie Outlet Mall)
I'm so glad to have found the perfect pieces to put together this look, which is utterly true to my style & quenches my high end tastes without having cost a fortune! I'm now itching to experiment with other knee high gladiator sandals outfits in various styles. Heck, maybe I'll even go a little boho, who knows? Want more gladiator inspiration? Check out my latest post with 10 way on how to wear gladiator sandals.
How would you wear tall high heel gladiator sandals for Spring/Summer?
Shop the Look:


xo Cristina
Photography by Conrad Collaco
Cristina is the chief editor, fashion & shoe expert here at ShoeTease. As a seasoned stylist and women's fashion & shoe designer, she boasts over 20 years of experience in the fashion industry. She loves crafting effortless outfits for ladies both online and off and believes that styling advice should be accessible to everyone. Whether you're a styling pro or just starting out, Cristina's here to guide you on your fashion journey! Learn more.