The start of the new year is a way for many to fulfill year long goals of getting into great shape. But when January rolls around, I personally tend to flip-flop the other way (shoe pun not intended!). But February is another story. Let me explain…
Before I do, I'm excited to share that I'm a new ambassador for Dixie Outlet Mall! You've likely read my past posts about my many shoe & outfit shopping experiences at the Mississauga shopping centre.
It's the perfect place to find all sorts of fabulously discounted items to outfit you, your home & more! So this year, I'll be sharing even more great finds. My first order of business? You guessed it: it has something to do with sneakers & a workout wear outfit!
Asics Rose Gold Sneakers (& my Love/Lazy Relationship with the Gym)
I find the swarms of people cramming into the weight rooms starting January 2nd to be, well, a little overwhelming. As such, my usual love for the gym wains & I do my best to avoid it altogether…then I get lazy. I'm talking marathon Netflix & chill lazy! But as February comes along & people start "relaxing" their New Year's resolutions, that is my cue to gather up the will & energy necessary to start exercising again.
So really, my February is everyone else's January with respect to getting fit & staying active! The problem is, after weeks of fitness AWOLness, I really don't want to go back. Breaking the exercise habit is easy, but getting up on that horse again? That's a whole different story! Luckily, what can motivate me is a little help from the fashion department.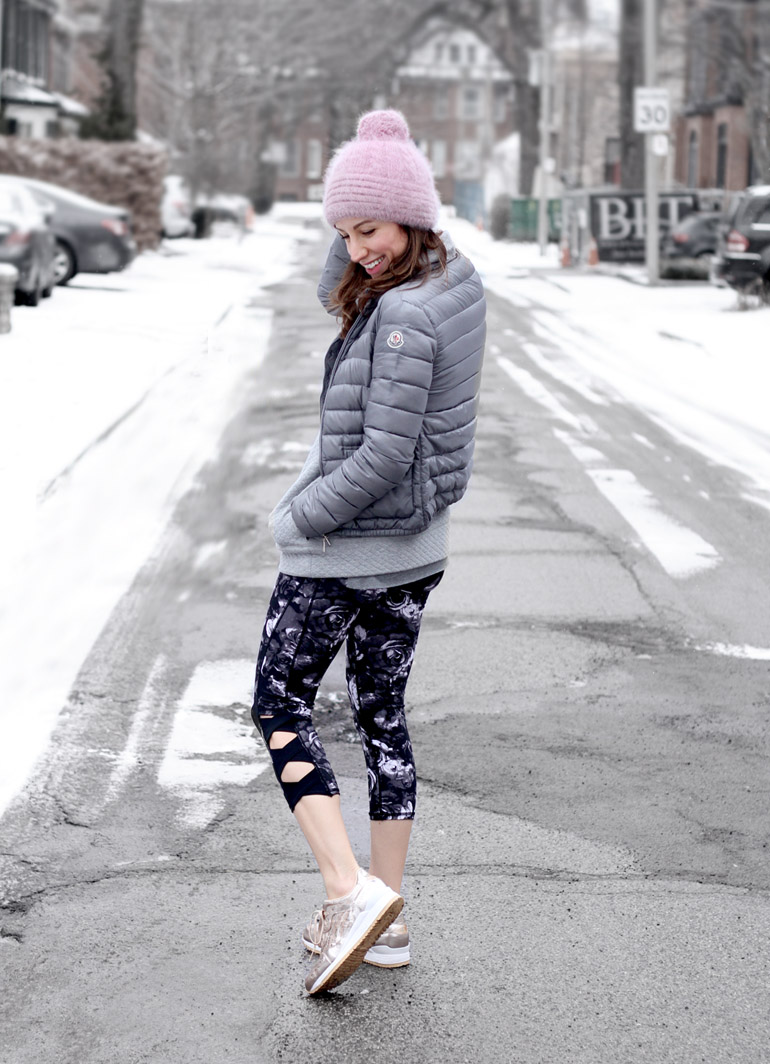 Rose Gold Sneakers: ASICS Get Lyte III from Foot Locker. Floral yoga pants: Urban Planet. Performance Sweater: RBX Active from Winners. All c/o Dixie Outlet Mall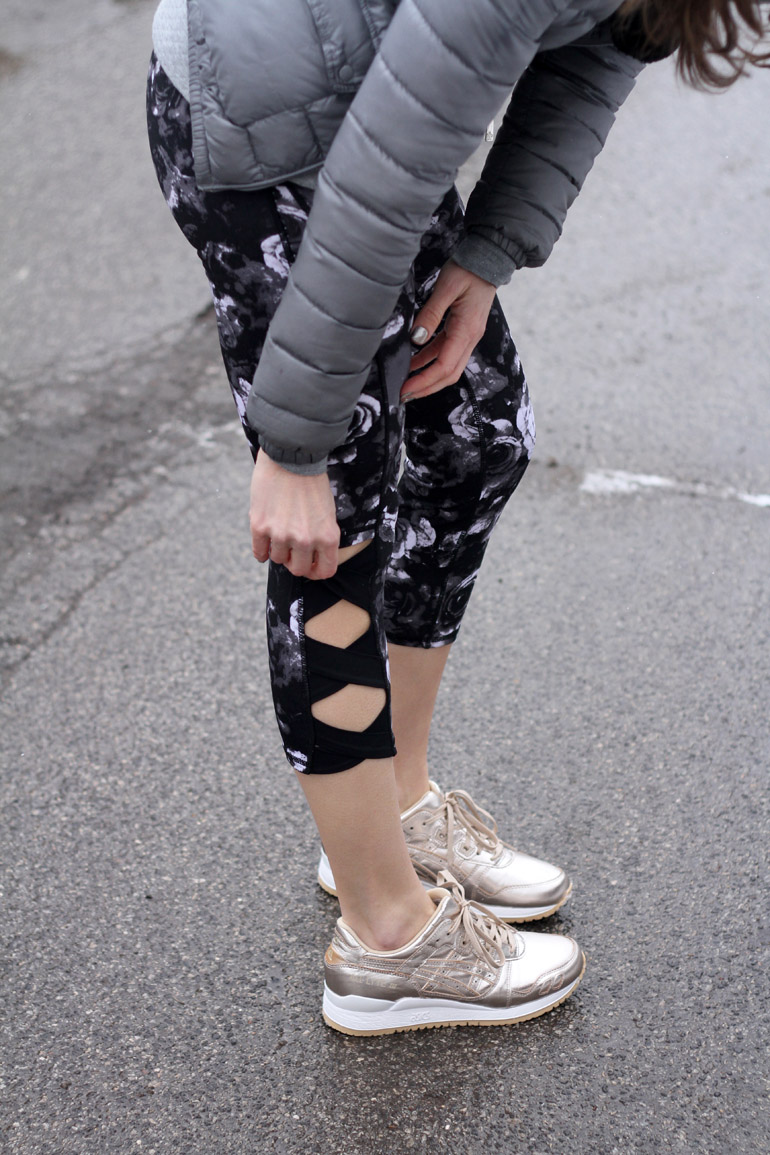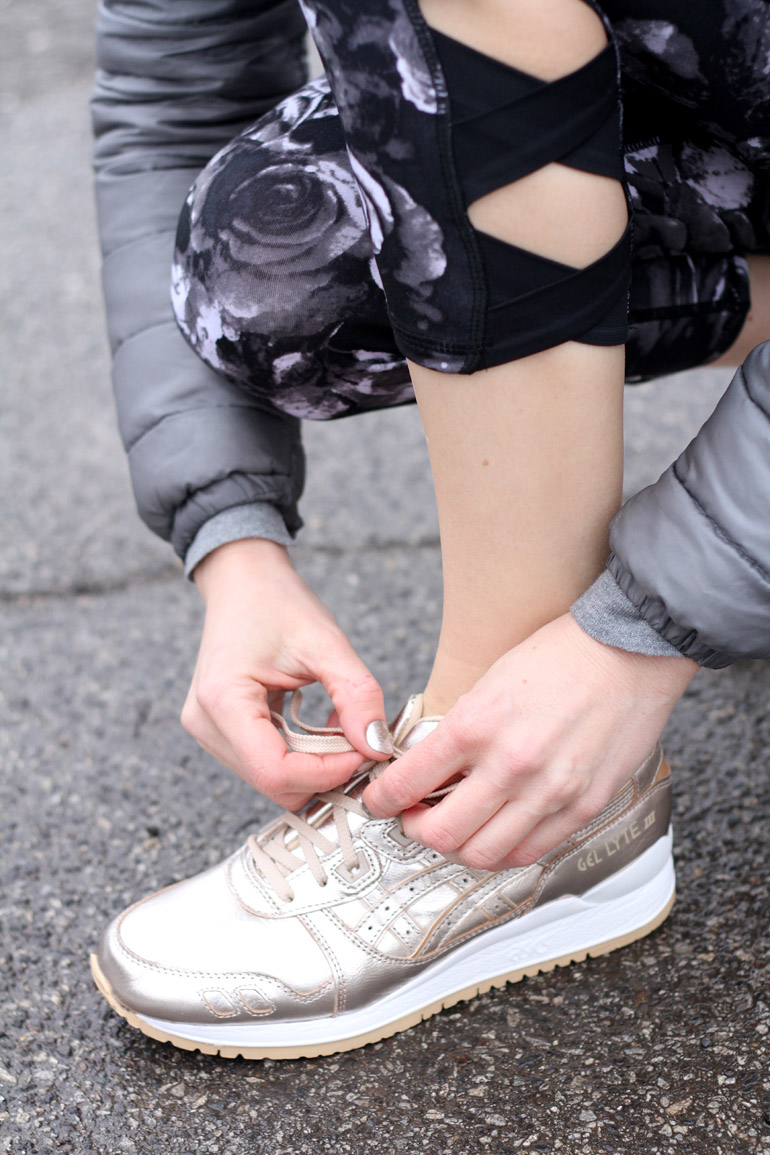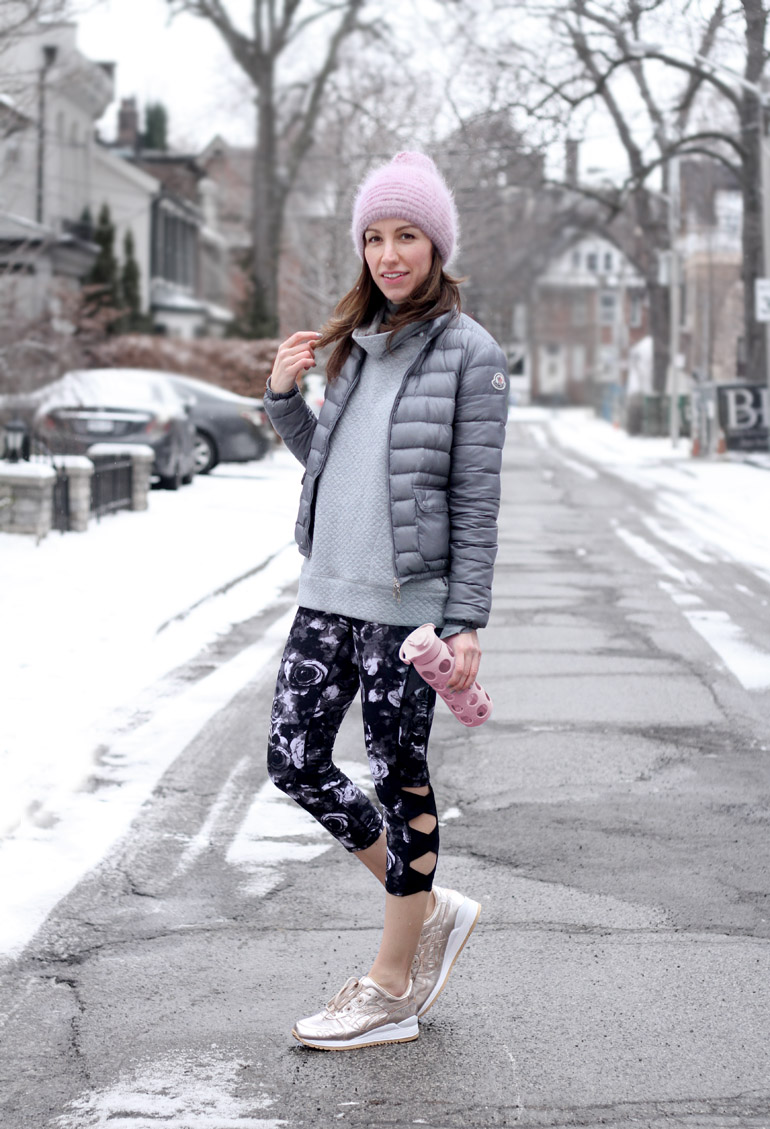 Yep, as silly as it may seem, new sneakers & a fresh workout outfit is often all it takes to get my butt back into the shape it deserves! Or at the very least, get me through those gym doors. Because in this Toronto weather, as you can clearly see in these photos, outdoor exercise is just not going to happen!
As I've been literally going to the gym in the same old, boring — and yes all black — outfit for a couple of years now, a change is definitely in order. So I went on a mini shopping spree to Dixie Outlet Mall to put together an outfit that would breathe new life into my workout routine. I was on the lookout for at least two key pieces: a pair of cute, sturdy eye-catching sneakers & non-boring yoga pants.
The ASICS rose gold sneakers are, of course, my favorite find. I mean, shoes, people! I snapped these up at Foot Locker, which is my go-to sneaker outlet at Dixie. They have so many original kicks at crazy reduced prices. I was lucky to find my size in these Gel Lyte III's & I'm smitten with the mirror metallic shade of the pink-tinged gold! Loving the retro feel & the padded foot bed. Oh yes, and 30% off the original price tag. Me so lucky 😉
I found these fab floral yoga pants from the active wear section at Urban Planet. I never realized their selection was so vast! These pants are my first foray into patterned gym wear. Shocking, I know. I normally opt for — you guessed it — black workout pants for their slimming effect. But this rose graphic style caught my eye, with the mesh crisscross detail & 3/4 length hemline. They fit really well & considering the pattern, are quite flattering. To top it all off, Urban Planet not only had a buy-one-get-one-1/2-off-on-yoga-pants deal, but I also saved $5 on my purchase with a simple text message opt-in.
The quilted turtleneck sweater was a bonus find, really. As I saved so much on the other two items, I had some wiggle room for more 🙂 I found it as I was scouring the racks at Dixie Outlet Mall's Winners. It was the only one left (in my size, yay!) and best of all, it was more than half off the original price. It's a great piece to keep me warm before & after a workout.
Bonus: it has pockets. Don't ask me why, but I'm a really big fan of in-clothing storage! I had never tried any of Reebok's RBX Active wear before, but if it's all as comfy & stylish as this sweater, I can't wait to check out more from their collection.
Now I'm ready & perfectly outfitted to hit up my first spinning or kettlebell class of the season! Or I can just wear my new #DixieDeal finds out & about the city to show off some sporty street style 😉
How about you? Where do you like to shop for active wear?
xo Cristina
Photography by Conrad C. Photo
*** Thank you Dixie Outlet Mall for sponsoring this post. All opinions expressed are my own ***