Are you curious about the accessories & shoes to match bronze dress outfits?
Or specifically, what color shoes to wear with bronze sequin dresses? Shoe-tease.com is here with another dress styling post to make you look fab in your bronze dress!
One doesn't usually think of bronze as the first metallic dress color of choice. We often think of a silver dress, gold or rose gold dress first.
However, bronze is a lovely understated metallic that should have a place in every woman's closet – especially in dress form. They're great as a more neutral metallic for any party. Bronze dresses make a great bridesmaid dress choice too!
Bronze dresses are essentially a metallic version of a brown dress. From shiny pinkish-brown to copper, a bronze dress can have many undertones, including yellow, orange & green. Bronze dresses can also come in a variety of metallic finishes, fabrics and even sequins!
Shoes and accessories can make or break your bronze dress outfit. That's why I'll be showing you the exact color shoes to wear with a bronze dress, along with the best purse and jewelry pairing. After reading through this post, you'll know exactly what to wear with bronze dresses!
If you're looking to purchase a bronze dress, I would recommend shopping at the following retailers: Zappos, Saks Fifth Avenue, MyTheresa and Nordstrom. All of these retailers offer a fab selection of different styles, fabrics & pricing.
If you like edgier or high fashion bronze dress styles, Luisaviaroma, Revolve & Net-a-Porter have an extensive selection too!
9 Color Shoes to Wear with a Bronze Dress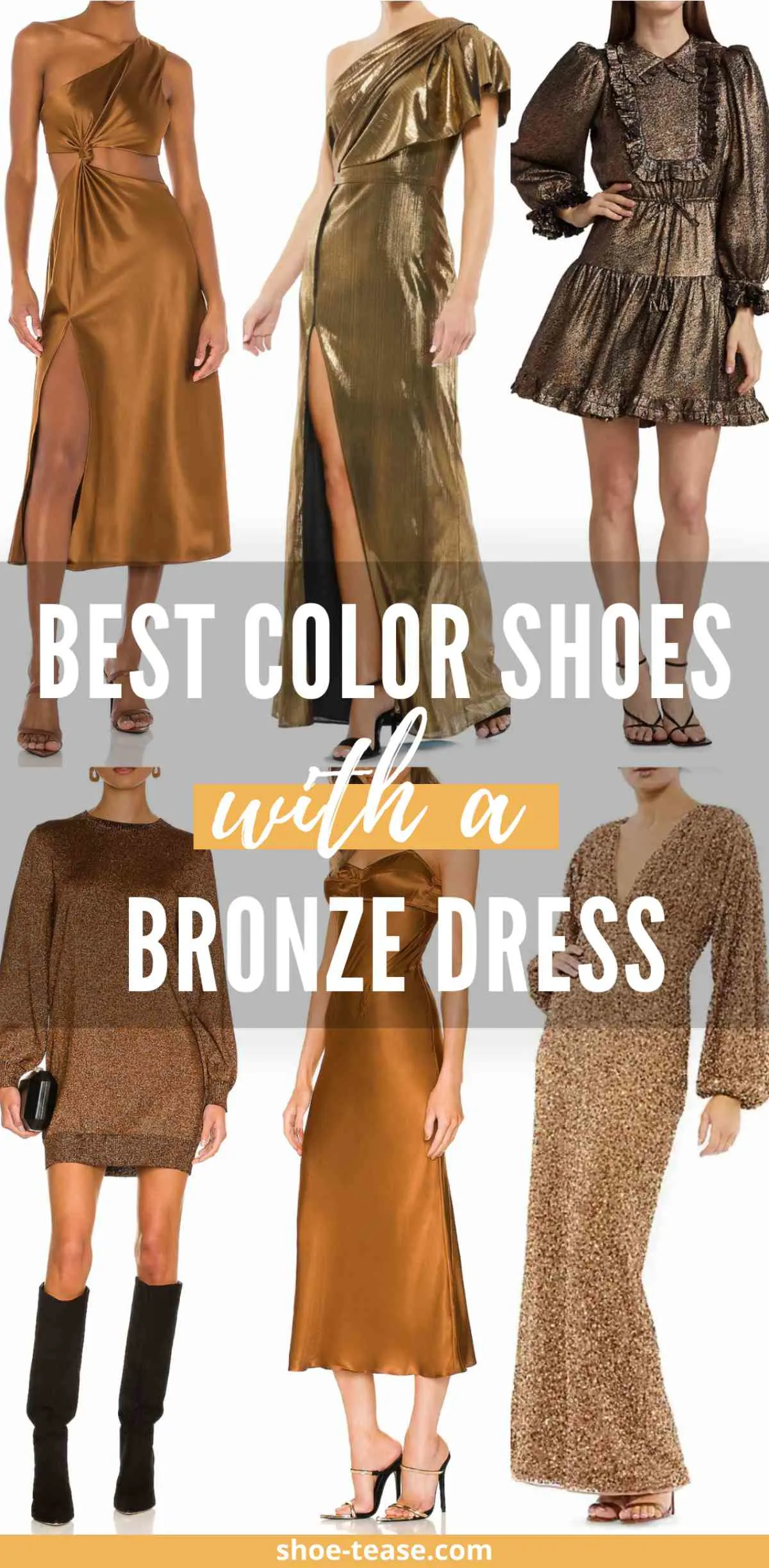 1. Nude or Beige Shoes with a Bronze Dress
A bronze dress with beige shoes is a combination made in neutrals heaven! If your skin tone matches with your beige or tan heels, your legs will look longer, making this mix great for mini dresses or skirts.
Beige shoes look fabulous on all skin tones and will be a great addition to your bronze dress. I'm partial to strappy beige sandals with favorites from Stuart Weitzman's Nudist Collection.
Beige shoes or nude-for-you shades will really let your bronze dress take center stage.
Purse color & jewelry tip: white, black or gold purses would look great. Gold jewelry would look best with this outfit pairing.
Shop Nude Heels – Each Style is Available in Various Tones:
Shop Beige Shoes & Heels:
2. Black Shoes with a Bronze Dress
You can't go wrong with a bronze dress and black shoes. I really don't think I've found a black shoe that doesn't go with a particular color dress! So of course, black shoes will match well with a bronze dress.
To add interest to your black shoes and bronze dress combo, pick a patent black flat, heel or boot. If your bronze dress or metallic bronze dress is particularly busy with detail, pick a simple matte (non-shiny) black shoe in suede or leather.
Purse color & jewelry tip: A matching black, gold, white or beige purse will look great with your bronze dress and black shoes. You can choose silver or gold jewelry that add a little sparkle.
Shop Black Shoes & Heels:
3. Gold Shoes with a Bronze Dress
You might not think of gold as a color shoes to match a bronze dress, but they won't disappoint! Gold is another shoe color that goes with everything, including bronze outfits! That's because bronze has gold tones in it.
High-shine metallics with a bronze dress look great. However, if your bronze dress is super slick, a more matte finish gold shoe might be a nice contrast. Make sure the two shades of your bronze dress and gold shoes don't clash.
Purse color & jewelry tip: I'd opt for black, white or matching gold purse pairings with gold shoes and a bronze dress. Jewelry will look best either in black or gold tones.
4. White Shoes with a Bronze Dress
I love white or off-white shoes with any bronze dress hue, especially for the Spring/Summer season. White flats or sneakers give a more casual feel, while a white stiletto sandal or pump will lighten the look, whether for evening or day wear.
Want to wear white shoes and a bronze dress in winter? Slide into a white leather ankle boot or slip on an off-white sock bootie! White leather pumps, mules or sandals will work well too.
Purse color & jewelry tip: A black or gold purse would look great with this bronze-dress-white-shoe combination. The latter is best for formal occasions. Diamond sparkle jewelry with a gold base will work best.
Shop White Shoes & Heels:
5. Silver Shoes with a Bronze Dress
Silver shoes never disappoint in an outfit and that includes bronze dresses! It offers a cool non-color contrast to the warmth of a copper or bronze dress. That's one of the reasons many color shoes with silver dresses look so good.
It makes for a fresh look, especially with a light high-shine silver. But don't discount darker shades of silver shoes, like pewter!
Purse color & jewelry tip: Black or white purses with silver or pewter shoes will look best, but you can also opt to match your silver shoes to your bag. Jewelry in black or silver is recommended for this bronze dress combo.
Shop Silver Shoes & Heels:
6. Clear Shoes with a Bronze Dress
Clear shoes and heels are THE trending shoes of the moment. As they literally go with any outfit color, they will look fab with a bronze dress too.
You can opt for sparkly lucite heeled shoes with clear straps if your dress is simple. Keep your clear heels minimal with a lace or busy dress that has a pattern.
To keep your clear shoes virtually invisible – and to put your bronze dress on full display – choose a pair with a sole base that matches your skin tone.
Purse color & jewelry tip: you can match your purse with the base color of your clear shoes, or select a pop of color like gold. Choose silver jewelry with this combo, or gold if your shoes have beige or gold tones in them, or if your purse is gold.
Shop Clear Heels for Women:
7. Brown Shoes with a Bronze Dress
Brown is another great color shoes to wear with a bronze dress if you want to keep your shoes and dress virtually the same hue. I highly suggest brown shoes if they match your skin tone, to create a nude-for-you shoe. These are perfect for shorter hemlines.
I like a good patent or suede brown strappy sandal with a bronze or copper dress for a more formal occasion. If your bronze dress outfit is going to be worn to a less formal event, you can choose an ankle boot, knee boot or chunky heeled pump.
You can opt for a lighter brown shoe color, like tan, if you want to create shoe contrast with your bronze dress.
Purse color & jewelry tip: Keep purses neutral in beige, white, gold or black. Jewelry will look best in gold and if you like sparkles, add some of those in the jewelry mix too!
8. Navy Shoes with a Bronze Dress
An unusually good color that works for many dress colors is navy. Navy shoes are an unexpected hue that complements purple dresses, green dresses, and yes, even bronze dresses!
Navy is a subtle way to add color to bronze outfits and the reason why so many different color shoes match a navy dress!
Purse color & jewelry tip: I'd opt for a neutral purse with this combo: beige, gold or black. Since the dress is a warm shade and the navy shoes a cool shade, you can opt for either silver or gold jewelry to complete your look.
9. Leopard Print Shoes with a Bronze Dress
If brown shoes can work with a bronze dress, of course, leopard print shoes can too! I'm talking about the classic cheetah or leopard here: tan/beige/black animal prints.
Of course, leopard, cheetah or animal print shoes with a bronze dress will work best for less formal occasions. They will also match better with a simple bronze dress.
This combo is likely the most difficult to pair from this post, as it all depends on the dress style and shoe print chosen together.
You will learn that I truly believe leopard print shoes are a neutral, after you read my how to wear leopard print shoes post!
Purse color & jewelry tip: You can keep your purses in neutral tones such as tan, beige, white or black. Jewelry will look best in warm tones such as gold or rose gold.
Final Thoughts on What Color Shoes to Wear with a Bronze Dress
How to style a bronze dress might seem difficult, especially when looking for the right shoes and accessories. However, as you can see, combining any shade or variation of a bronze-hued dress is not as difficult to style as you might have expected.
I hope this post has helped you better understand what to wear with a bronze dress outfit, including jewelry, purses and the many color shoes that go with a bronze dress.
As I always say, personal style is subjective. If you have a desire for certain color combinations – and you love how it looks on you – there's no reason why you shouldn't think outside the box!
That being said, the only colors I would be hesitant to style with a bronze dress is any shade of green. I mean I love green shoe outfits, but I much prefer not wearing them with bronze clothing!
For more dress outfit ideas, take a look at all the color shoes to wear with dresses in all shades.
Any other questions on shoes to match a bronze dress or more bronze outfit styling? Ask me in the comments section below!
xo ShoeTease