What Color Shoes to Wear with a Gold Dress or Outfit
If you're looking for what color shoes to wear with a gold dress outfit, you've come to the right place!
Gold dresses & skirts whether glittery or matte, are fun, original & a great choice for a New Year's, bridal party & formal soirees. Oh heck, these will work on any day you're feeling la-di-da too!
However, a gold dress or outfit can definitely be a little tricky to style in a fashionable way with certain color shoes & accessories.
That's because how to wear a gold dress is highly dependent on the tone of the gold in the dress. For instance, certain gold fabrics have a more yellow or orange tinge to them.
Others can be a little or a lot cooler, almost beige-like, often bordering on a silvery hue. Some golds are also darker, antique-like golds, while others are much brighter.
And let's not even talk about pink-toned rose gold dresses! And yes, there's a separate post for what color shoes go with rose gold dresses, just for this reason 🙂
---
---
For our purposes today, I'm going to be talking about most shades of pink to yellow-based gold dresses, both dark and light.
Most gold skirts and dresses tend to be a more yellow-ey gold, although there's a distinct trend leaning towards silver/gold hybrids.
So if you're looking more for what shoes to wear with champagne dresses, (a gold meets pinkish-gold color) click on the link to go straight to that post. Is your gold dress orangey-brown in tone, so closer to a bronze or copper? Check out my style guide on what to wear with a bronze dress!
But in terms of shoe color suggestions to pair with your gold outfits, you'll find that most of the shoe selection below will also work well with most gold tones, even dark, brassier golds & cooler hues.
For now, let's check out the 5 best shoe colors to wear with a gold dress, skirt or outfit, below…
What Color Shoes to Wear with a Gold Dress
Gold Dress, Black Shoes
Black shoes with gold dress? Ha, of course, this one's the easiest, as black shoes literally go with every color dress or outfit under the sun & moon!
What I really like about pairing black heels or booties with a gold dress of any shade is the stark contrast between the bright metallic vs. the deep dark shoe. One of those rare times where black shoes really do make a statement!
Styling Tip: if the gold you're wearing a fully sparkly or glittery outfit, I'd opt for a pair of matte black suede shoes. This way, shiny shoes won't be competing with the dress' dazzle.
Clutch choice here is easy: black or gold! If you're curious, I've written a post on what other shoes to wear with sequin dresses in general too 🙂
Favorite Black Shoes & Heels:
Gold Dress or Skirt with Black Tights + Black Shoes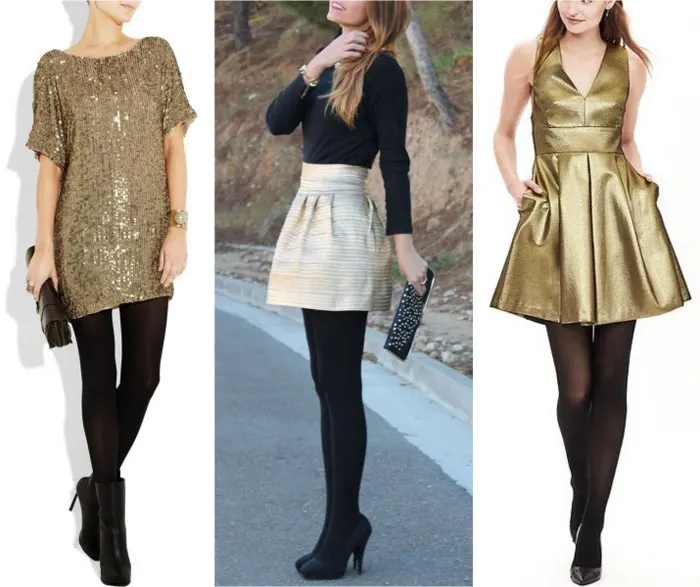 If you're looking for an alternative way to wear your black shoes with a gold dress, then hosiery is a great way to go! Opt for either black opaque tights or semi-sheer for any occasion.
A thick black tight or legging is an easy add-on to turn your fancy dress or skirt into a fun upscale casual to wear even as an office outfit. I mean, even if New Years Eve has come & gone, no need to let that pretty gold garment collect dust in your wardrobe, now ladies!
Styling Tip: when it comes to shoes & black tights styled with a gold dress or skirt, matte black shoes work with all types of stockings.
Booties or ankle boots are a fun, less formal way to style an outfit too. As for other accessories, I'd opt for a black purse or clutch, but you can also go for a beige one or alternatively a cobalt blue colored one to give the outfit some extra punch!
Gold Dress + Gold Shoes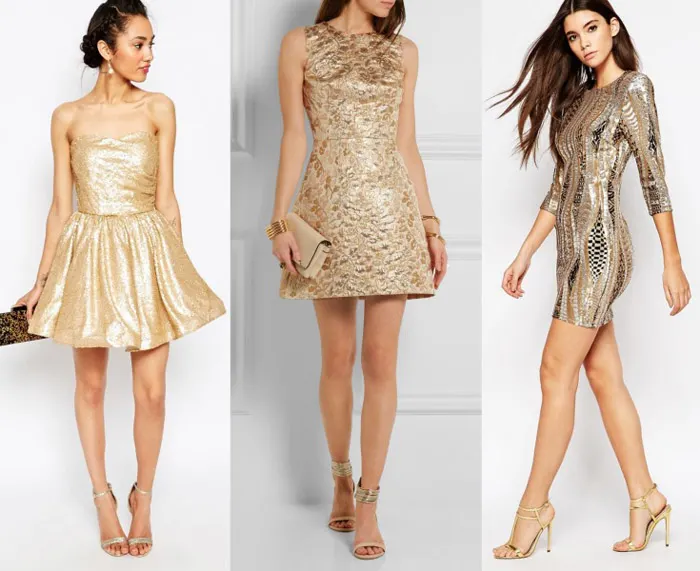 Ah, you wouldn't think gold shoes were an answer to what shoes to wear with a gold dress, did you!? Gold shoes do look rather fantastic with gold, especially if it's a fancy dress you're wearing or chi chi event you're going to.
Best to match the gold of the shoe with the exact tone or at least one gold-tone that can be found in your dress or skirt! Believe it or not, gold is also an unexpected color shoes to wear with a silver dress as well.
And that's because gold is a surprising color shoe that goes with everything. Seriously!
Styling Tip: You can match your bag with the lightest or darkest hue in your dress as a rule of thumb. If your dress is light and/or pale gold, a bronze clutch is fun choice too! Of course, black clutches will never go out of style.
But when you're wearing gold shoes with a full-on gold dress, I'd steer away from gold purses to avoid gold outfit overload!
White, Off-White Shoes with Gold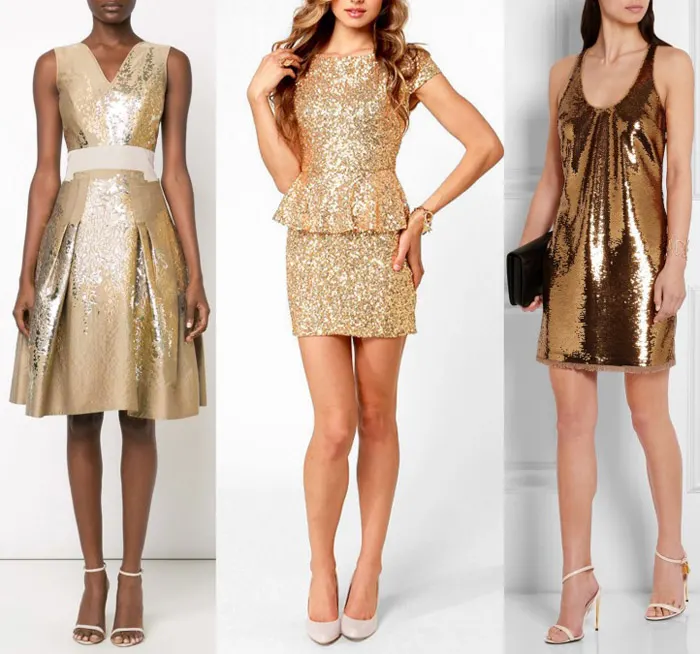 Some would prefer beige or blush shoes with their gold dress, but I much rather choose an off-colored or bright white. Less contrasting than wearing a black shoe, opting for white shoes with a gold dress really does allow your gold frock or skirt to shine without the distraction of say, that black shoe would cause.
White shoes work absolute best when while also appears somewhere on your dress, like in the picture above to the left. Then again, if you have a two-tone dress with gold & blush in it, matching the blush to your shoes will look great too (especially when thinking bridal occasions).
Styling Tip: I love a black clutch added into the style mix of a gold dress & white shoe outfit best. A white purse would just be too forced of a match for my tastes, but it could work in some circumstances. Never say never!
Favorite White Shoes & Boots:
Gold Dress Red Shoes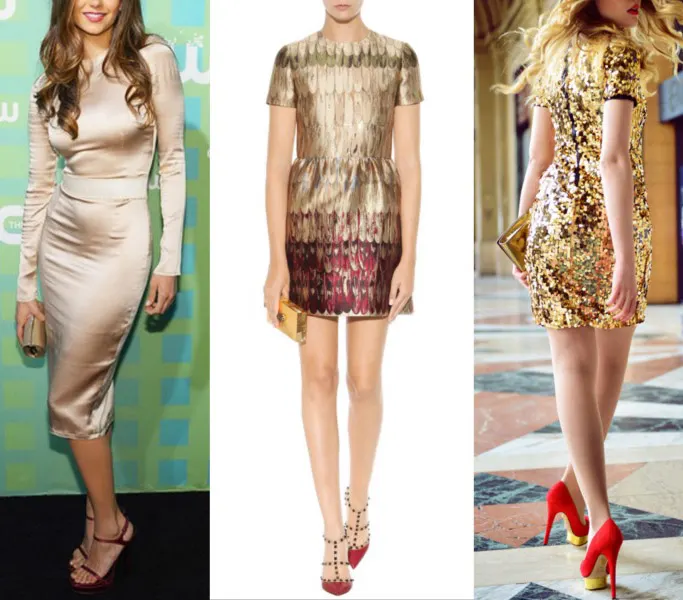 I love gold and red paired together! A gold dress with either burgundy or bright red heels will look stunning. And most surprising.
If your dress or skirt is a saturated yellow gold, poppy red shoes will look amazing, as in the image above on the right. The paler golds that border on silver look fab with a dark red shoe too.
Styling Tip: If your red shoes have another color in them, pick that hue for your clutch! If not, you can never go wrong with black, bronze or gold in this outfit scenario 🙂
Favorite Red Shoes & Heels :
Gold Dress Silver Shoes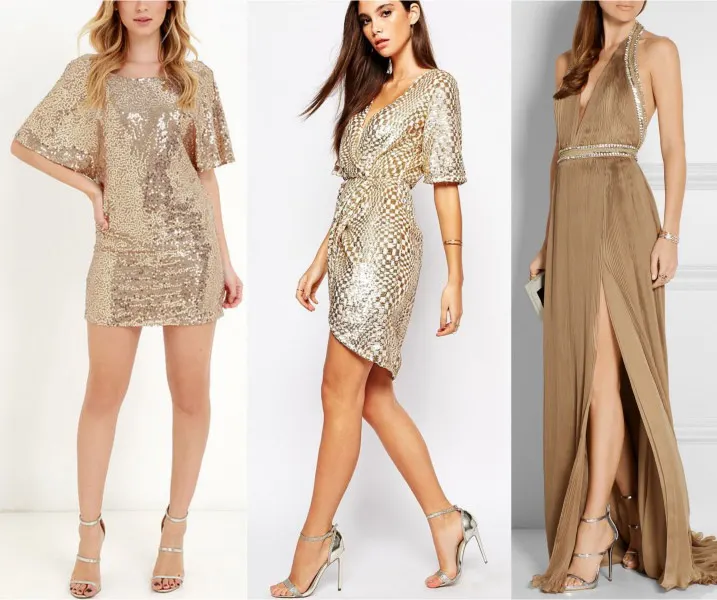 I'm a little on the fence about this one, but I've seen many examples of gold outfits with silver shoes that look amazing. Like in the images above.
Silver shoes with gold dresses work best with two-tone metallic dresses or gold frocks with silver/crystal embellishments.
They will also look fab with almost all light, almost silver metallic fabrics. That's why silver perfectly answers the "what color shoes to wear with grey dress" question too 🙂
Styling Tip: Keep your purse in the metallics family & I suggest silver, especially to a formal event. Accessorize with a beige or black clutch if you prefer a less flashy look.
Favorite Silver Shoes & Heels:
Final Thoughts on Shoes to Wear with a Gold Dress
So if you came over to ShoeTease asking what color shoes should you wear with a gold dress, I hope we've made this decision much easier for you!
As a basic fashion rule when styling gold outfits & dresses (especially those that are composed of more colors than just gold) is to use the other main color featured as an ideal accessories pairing.
If your gold dress is fully gold, then either match your shoes with the same gold shoe, or contrast with black, white or red. Of course, style & fashion is relative, so if you think you can rock it, well, life is short people…might as well give it a try!
Have a question!? Ask away in the comments below, or feel free to contact me!
PS: Have you seen my latest post about what colour shoes with orange dresses?
xo ShoeTease