If you're wondering what color of shoes goes with everything, you're in luck! After writing a post about the 15 women's styles of shoes that go with everything, it's time to talk about shoe colors on shoe-tease.com today.
You'll see a lot of stylish neutral color shoes in this list. However, you will also find some surprising prints, metallics and color shoes that are extremely versatile.
Below you will also find the shoe colors, prints and metallics that will match various different outfit types and colors.
And if you're also curious about what color shoes are in style, all of the hues below will fit the bill. I find them to be some of the best shoe colors out there!
In fact, most of these shoe colors that go with everything I've suggested in my guide on how to build a capsule shoe wardrobe.
Get ready to be shoe color-surprised and to never have to ask yourself what color shoes go with that ever again 😉
RELATED POSTS:
What Color of Shoes Go with Everything – 8 Faves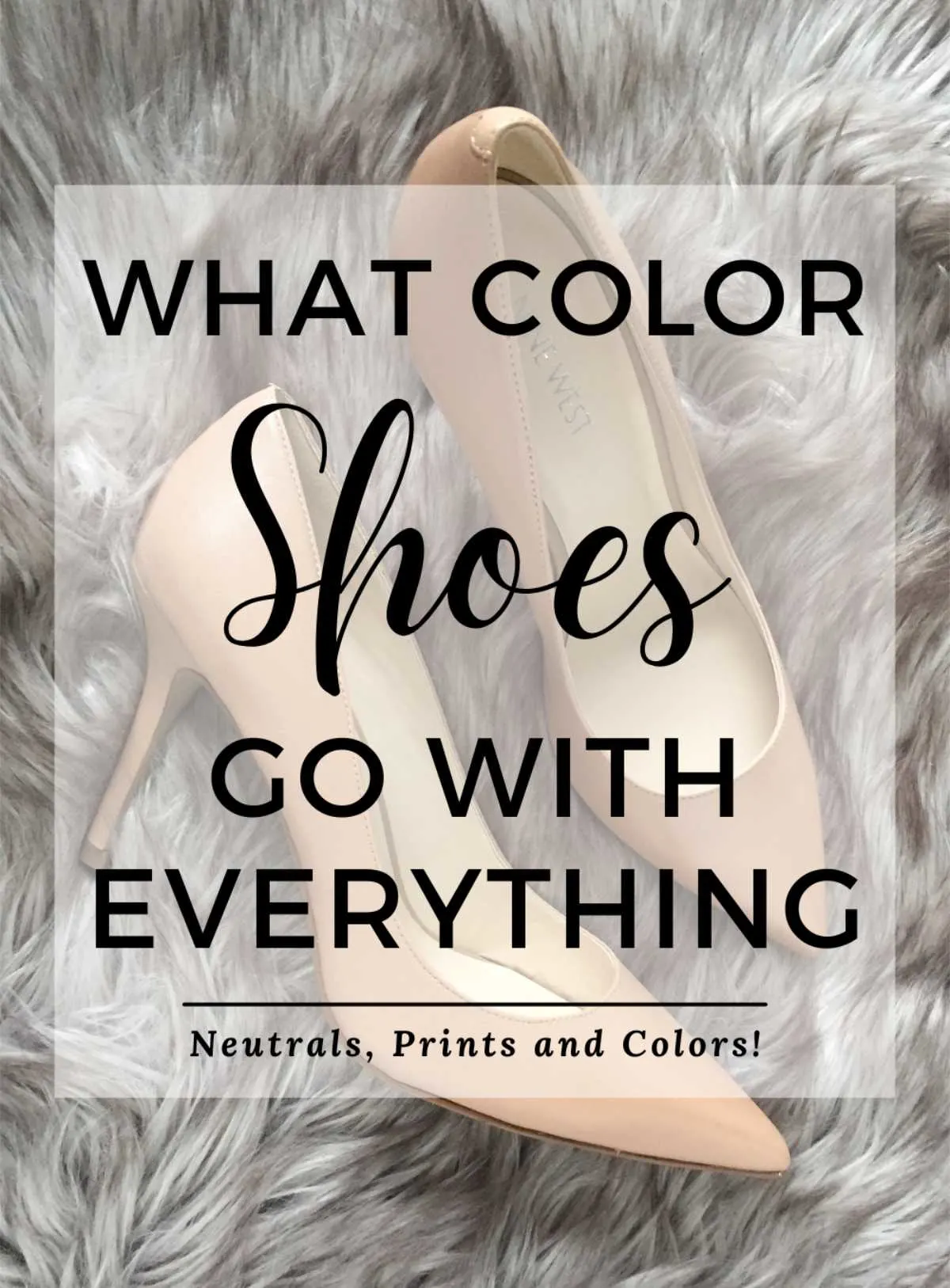 Neutral Color Shoes that go with Everything
Beige Shoes

Beige shoes can match with pretty much anything in your wardrobe. A red dress? Slip-on beige slides. Dark denim and a black tee? Try beige suede boots.
A white monochromatic look? Beige heels will pair flawlessly and work well with all skin tones.
I'd be really hard-pressed to find a color outfit that this neutral hue doesn't compliment! Beige shoes not only flatter all skin tones, but they are also a great shoe color to wear when you want to show off your outfit.
Beige shoes won't stand out as much as, white or black shoes. Especially if you choose a minimal stiletto sandal or pump in a matte material such as suede.
Black Shoes

Do black shoes go with everything? Yes, ma'am! If you're going to choose one of the best shoe colors that match all colors out there, black is your gal.
In addition, black shoes are timeless. They're classic. Think about how effortless and chic Audrey Hepburn's ballet flats still are!
Black shoes go with everything and anything, anywhere. If you're investing in a high-quality pair of shoes, I'd recommend black.
You can wear a black pair of shoes, boots or sandals with a casual or formal outfit – it really depends on the style of shoes you decide to wear. Black shoes are your BFF.
Blush Shoes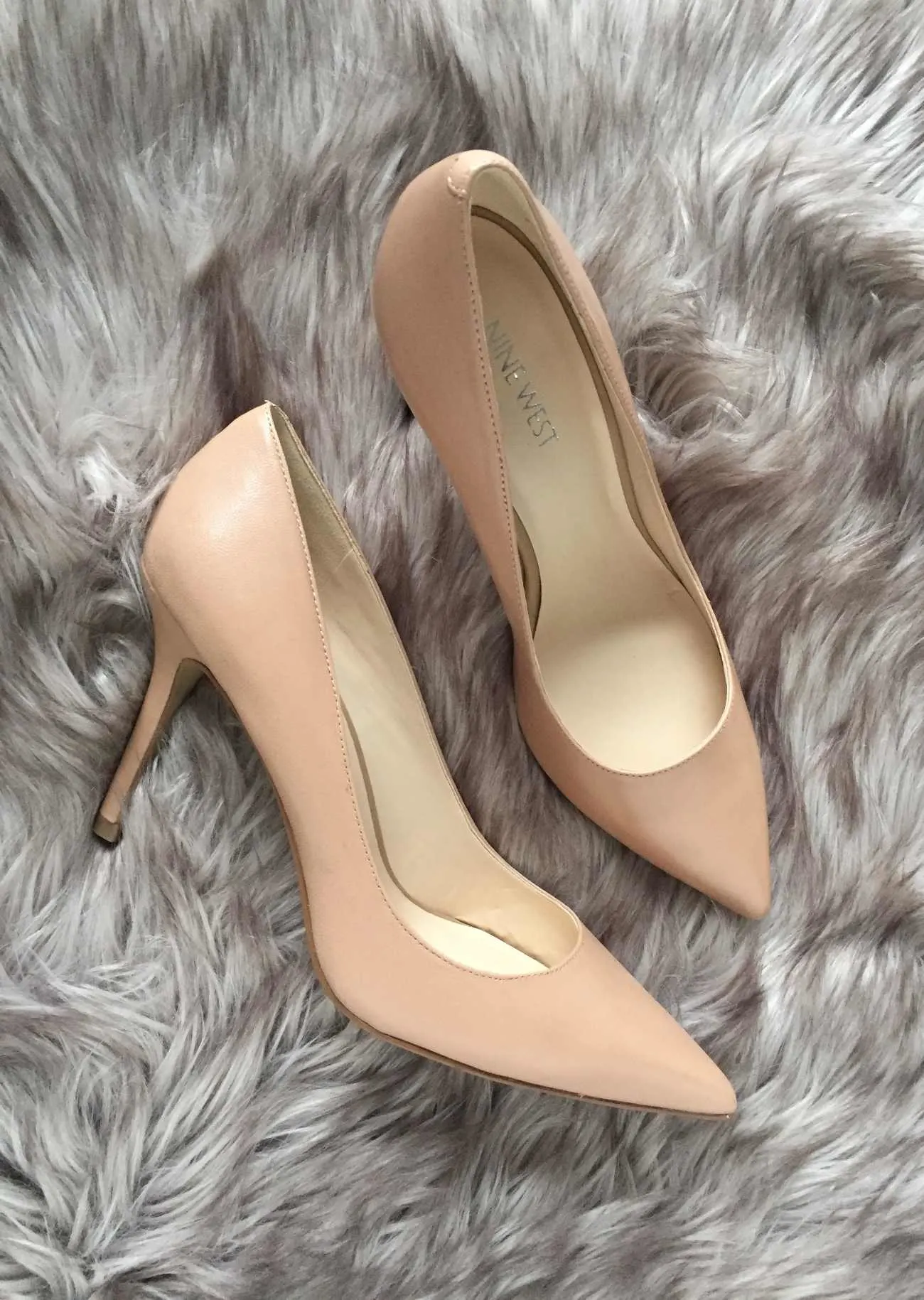 The pink-ish sister of beige, blush is a light-toned pink that gives off a subtle flirty vibe. It's a great shoe color if you're looking to add a hint of color, but not distract from your outfit too much.
You can pair blush pumps with a navy pantsuit, blush sneakers with a casual pink jumpsuit and blush sandals with an emerald green dress.
Surprisingly, even red dresses look stunning with blush shoes. This is your cue to try on a pair of neutral blush shoes, today!
White Shoes

A pop of white could be what your outfit is missing! Think of white shoes like a blank, yet vibrant slate. You can wear whatever you want on top and they'll still look incredible.
Personally, I love slouchy white boots, white mules and white ballet flats. Looking for high-heeled white shoes to go with everything?
Try a pair of pumps for the win! White shoes look great in buttery leathers, patent and even embossed with a white-on-white reptile print.
And don't think that you must reserve white shoes for spring/summer only. Nope, white boots will brighten any winter outfit, and white slip-on loafers will give a clean look to your fall look.
Just remember to clean your white shoes or boots well from any dirt or dust, including removing all scuff marks. This way, you'll look posh and polished.
"Nude" Shoes aka Skin Tone Shoes

Cream, beige, brown, chocolate. Whatever your skin tone, there's a shoe for you! Choosing a shoe — especially a heel — that matches your complexion will help elongate your legs.
Matching your skin to your shoes is the epitome of neutral color shoes! This is a great shoe hue option to choose if you want your outfit to stand out completely, almost like you're not wearing shoes. Try a skin color strappy sandal with a mini skirt or skinny jeans.
If you want them to show just a little, you can choose a patent or slightly metallic version of your "nude". Otherwise, stick with a semi or matte leather and suede.
Clear Shoes & Heels
It's difficult in a post about shoe colors that go with everything, not to mention clear shoes – specifically clear heels.
They're not only incredibly popular at the moment, but are one of the most neutral shoe colors you can find – that's because they're completely colorless. The ultimate nude, if one can say so!
These types of heels, usually made of plexiglass heels and PVC straps or shoe uppers, are incredibly versatile. With pantsuits, jumpsuits, cocktail dresses and jeans, these shoes – usually in pump, sandal or mule form – look great with everything.
Of course, they might not be ideal for certain conservative work environments as the shoes are transparent, but they will add an edge and trendiness to many outfits, both more casual and fancy.
Metallic Color Shoes that go with Everything
Gold Shoes

Yes, gold is a neutral and I will stand on this hill forever! Gold shoes really go with virtually anything, as gold shoes come in a variety of gold shades and material finishes.
A color that works fabulously with gold? Our best friend, black. You can wear a black jumpsuit, throw on a pair of gold heels and you're ready to tackle a night on the town.
The contrast between black and gold is simply decadent. Gold shoes are great color shoes to wear with a black dress.
Likewise, a pair of gold sandals can spruce up a black linen dress. On a really laid-back day, try gold-accented sneakers (like Golden Goose) with denim cutoffs and a white tank top.
Gold shoes for fall? Yes, please! You can also add a pop of gold with a gold embossed ankle boot, wide leg jeans, white tee and oversized blazer. The only time I would avoid flashy gold shoes is at a conservative function.
Silver Shoes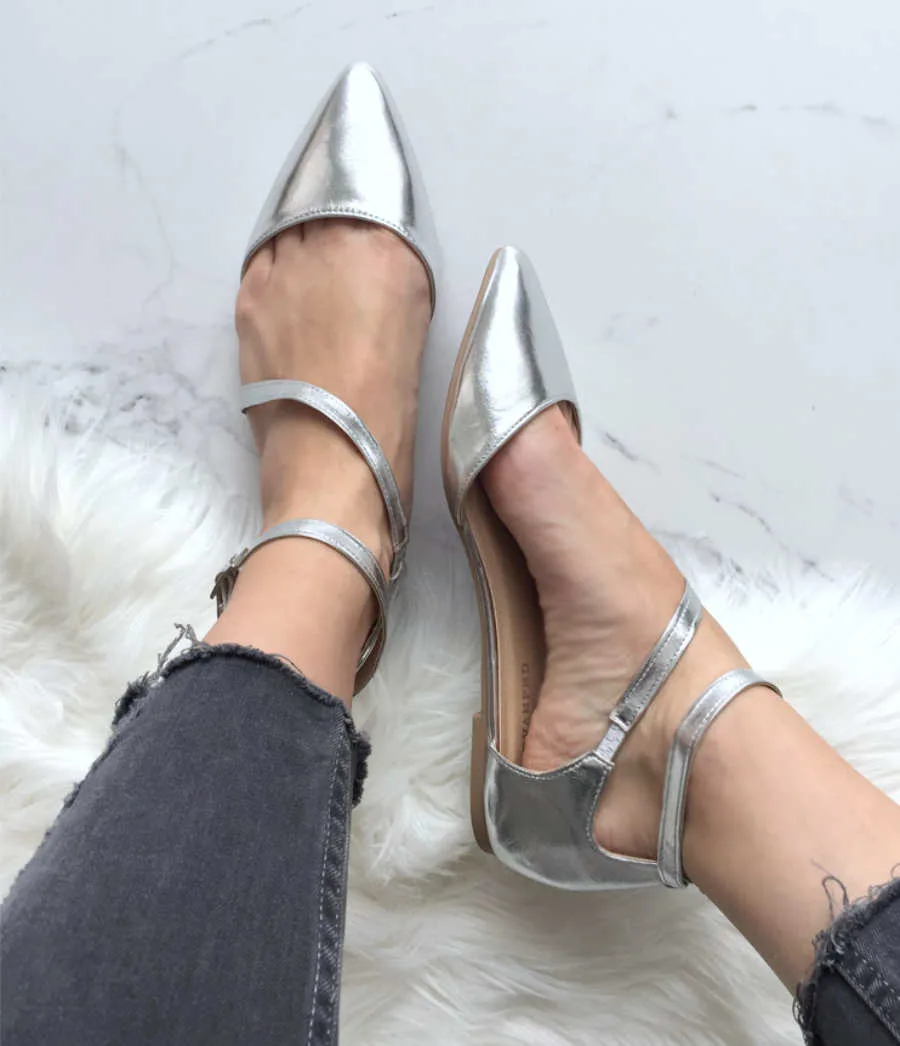 If gold metallic shoes are too much for you, silver shoes might be a good bet. Not only are they neutral enough shoes to go with all outfits and colors, but they make a great fit for holiday parties and upscale celebrations.
Silver metallics like silver boots and pumps can look perfect with reds, greens and even other metallics, like gold. They are also great fitting shoes for cocktail dresses all year round!
However, it's not only for winter festivities. Silver slides can update a summery romper or jeans. And silver Oxfords can add a certain je ne sais quoi to a tailored suit. You'll be the most interestingly dressed lady – or gent! – in the boardroom!
Shoe Prints that go with Everything
Snake Print Shoes

If you're specifically looking what color shoes are in style, let me present you with snake print. Especially my favorite – snakeskin boots. Need I say more?
Many brands play around with colored snakeskin-like mustard, emerald, burgundy, which won't necessarily pair well with all colors.
If you're looking to wear your snakeskin shoes with everything, choose a classic black, beige or brown-toned snakeskin. In addition, you can find many snake-embossed tone-on-tone on a neutral shoe. You can heighten this neutral snakeskin print in a patent finish.
Snake print shoes in any form will add a certain sassiness to your outfit without being too much. It's a safe print that everyone can feel good about. Regardless of your personal style.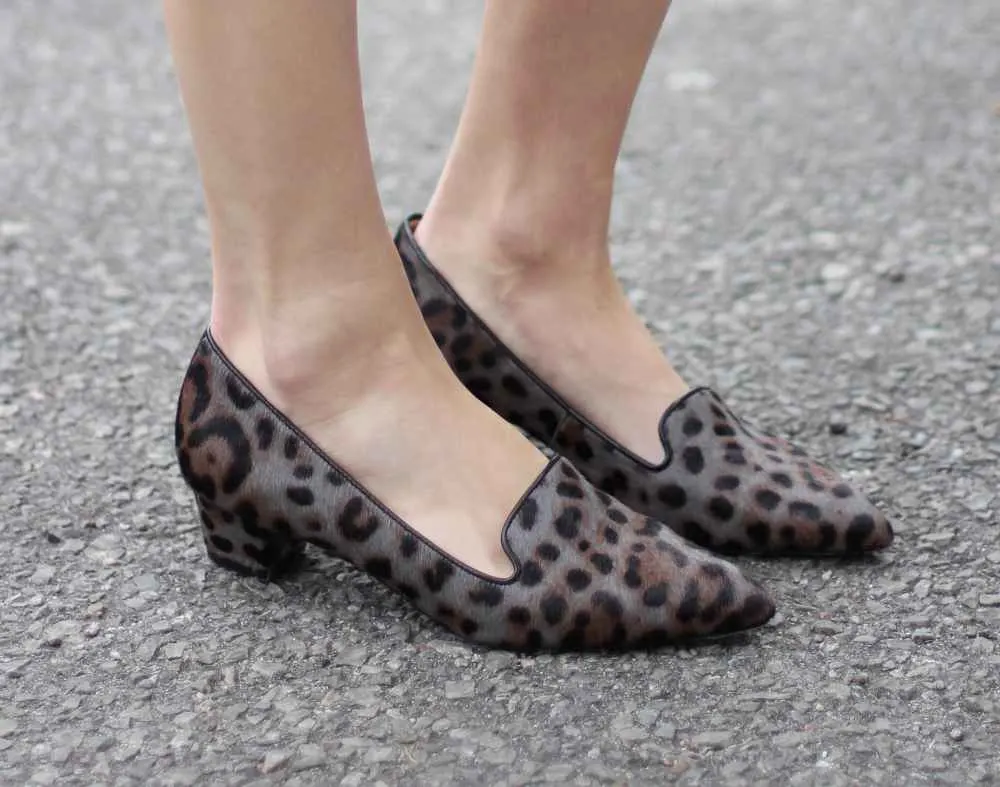 As Jenna Lyons once said, "leopard is a neutral." And that can be said for other animal prints as well – and like I spoke about gold, above. Tiger stripes, zebra, cheetah spots — you name it.
Let these fierce prints pop against a neutral outfit. Think: black, white, beige. However, they also look amazing with a purple dress, grey dress and many more dress colors and styles!
Animal print sneakers are super popular, as well as loafers, high heels and mules. Leopard prints can also come in different hues, like the grey/brown/black shades in the photos above.
You can find so many great leopard shoes Saks Fifth Avenue. Check out my post on how to wear leopard print shoes for more leopard shoe styling tips!
Final Thoughts About What Color Shoes go with Everything
These chameleon women's color shoes that match everything will suit a slew of events and occasions. But most importantly, these shoes make great staples in any lady's closet. Especially when neutral color shoes are at play!
So if you're looking to create a capsule collection with the right color shoes, or want to clear out your closet and keep the most essential shoes, keep this list in mind!
Looking for a list of shoe types that will match pretty much any outfit? See my post about women's shoe styles that go with everything! Looking for color matching? Hop over to my extensive list of dress color pairings with shoes!
If you have any questions, feel free to ask me in the comments section, below. What do you think are the best shoe colors that go with everything?
xo ShoeTease