I finally found myself the perfect black biker boots for Fall. I spotted these a couple weeks back & didn't hesitate to nab them on the spot. How perfect are these leather ankle boots, you ask? Well, not only do they look great (kind of important, you know!) but they're made out of leather inside & out and are stand-on-your-feet-for-hours kind of comfortable. Easily wear them with jean or a dress, I grabbed a keeper for the cooler months ahead!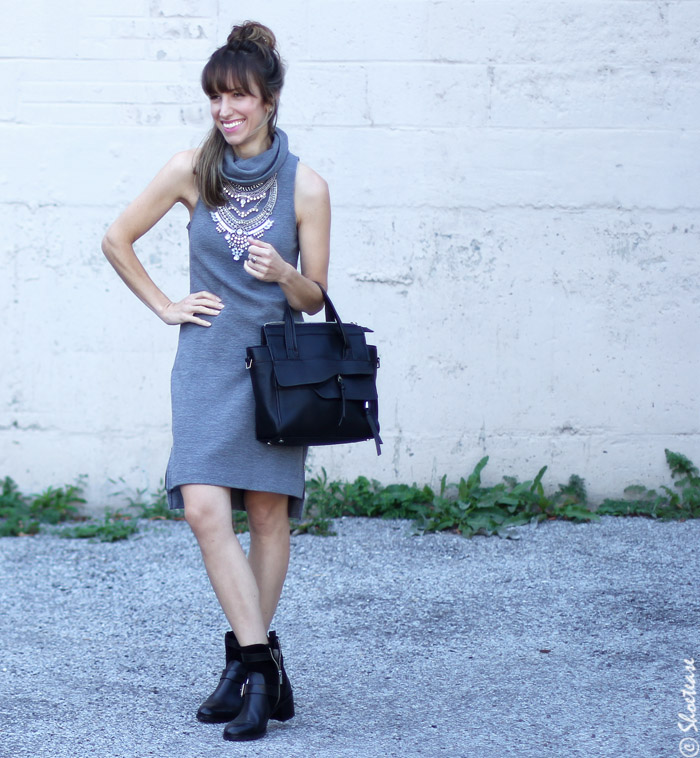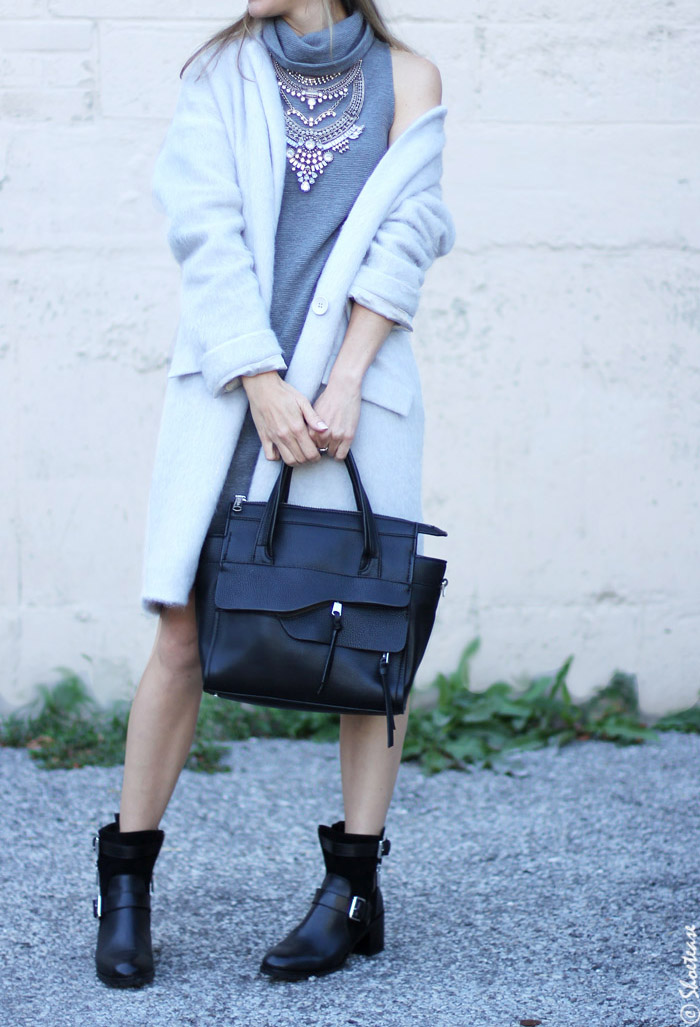 Biker Boots: MICHAEL Michael Kors. Dress: Banana Republic. Necklace: c/o Happiness Boutique. Knit Coat: Max&Co. Ring: Winners c/o Dixie Outlet Mall. Bag: Winners
---
Shop exact & similar items:

---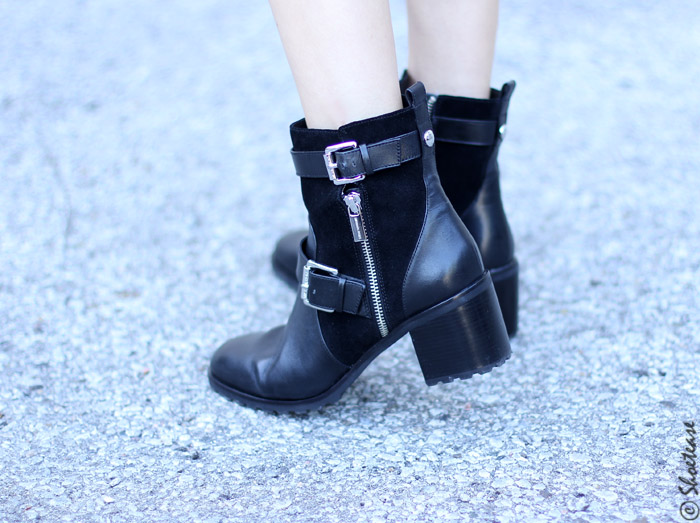 When shoe shopping for the Fall, there are a few things that I look for in my boots: comfort, ease of wear & something with a little edge to keep things interesting. If you've seen my previous post featuring these studded statement shoes, you know what I mean 😉 Extra points for a lug sole on these ankle boots for when the concrete turns to ice here in Canada! I grabbed these MICHAEL Michael KORS booties at Holt Renfrew (Bloor St. Toronto location) & so glad I did.
I've worn them on three separate occasions already & I couldn't be happier. The 2.5 inch heel looks much higher than it actually is & the 1/2 inch lug platform makes it feel like you're walking in 2″. They're the kind of shoes you can easily slip into (thanks, interior zippers!) & make even the most mundane of outfits (like sweatpants *GASP*!) look chic. The black suede material around the ankles creates a nice matte contrast to the shine of the creamy leather & the buckles are the perfect size. Finally, a black moto boot for women with an almond toe shape! I've received a handful of complements already & although these don't come super cheap (approx. $350), they're a solid, high quality shoe comparable to that of a high end design without the crazy high price. It's well worth investing in a quality boot of a classic look that you know you're going to wear on an almost daily basis!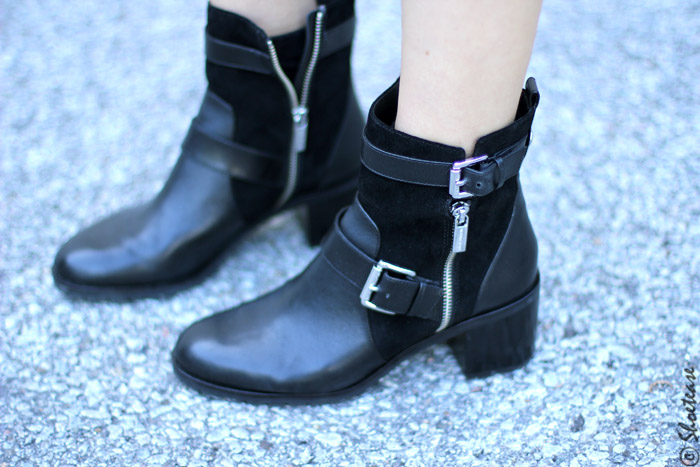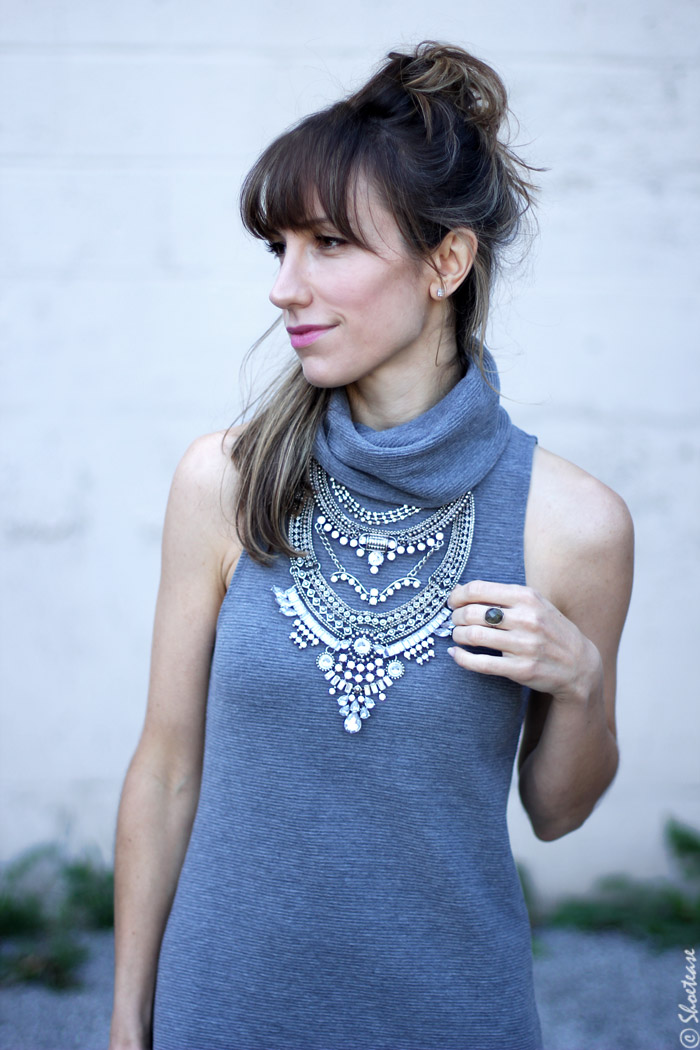 The Silver Statement Necklace:
This rhinestone encrusted silver bib necklace was a surprising find. Yeah, I know, it's all about the minimal, dainty jewelry at the moment, but nothing can keep a good statement necklace down. Especially not one as shiny as this one! Sent to me by relatively new German online retailer Happiness Boutique, I was thrilled when they asked me to test out a necklace from their store. Their selection is rather impressive & shipping lighting fast, so I received my "Glamorous Over the Top" piece in no time. Not a jewelry connoisseur by any means, but I find this piece stunning. I have a few statement necklaces already, but nothing that catches the eye quite like this one! I recently went to a fashion blogging conference & these sparkles were a serious hit. And you know you're in the right when Toronto fashion bloggers are complementing your accessories! Sturdy but light, it actually folds in half for easy storage & has more twinkle than these photos could ever demonstrate. And under $30 CAD!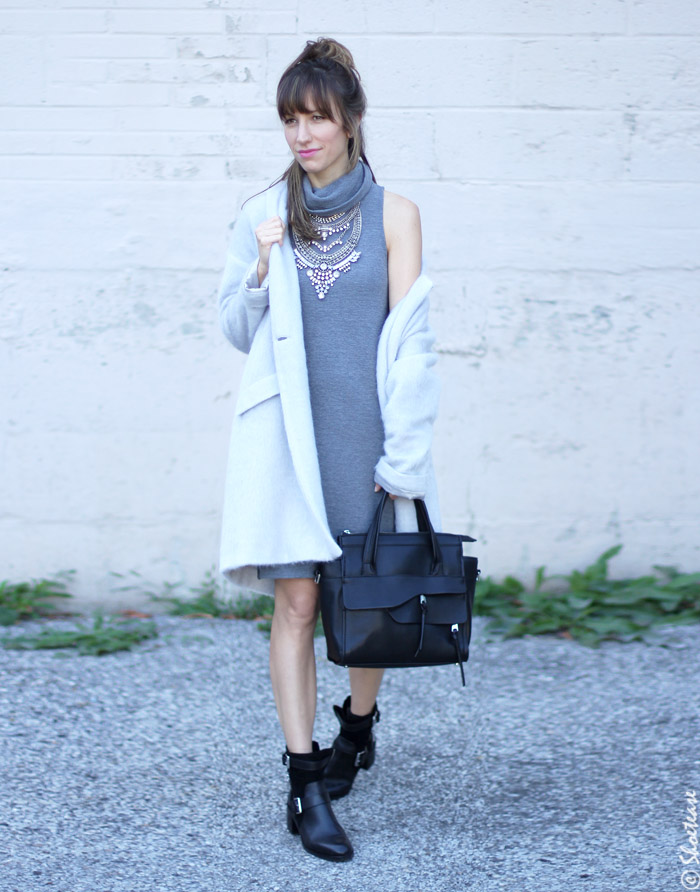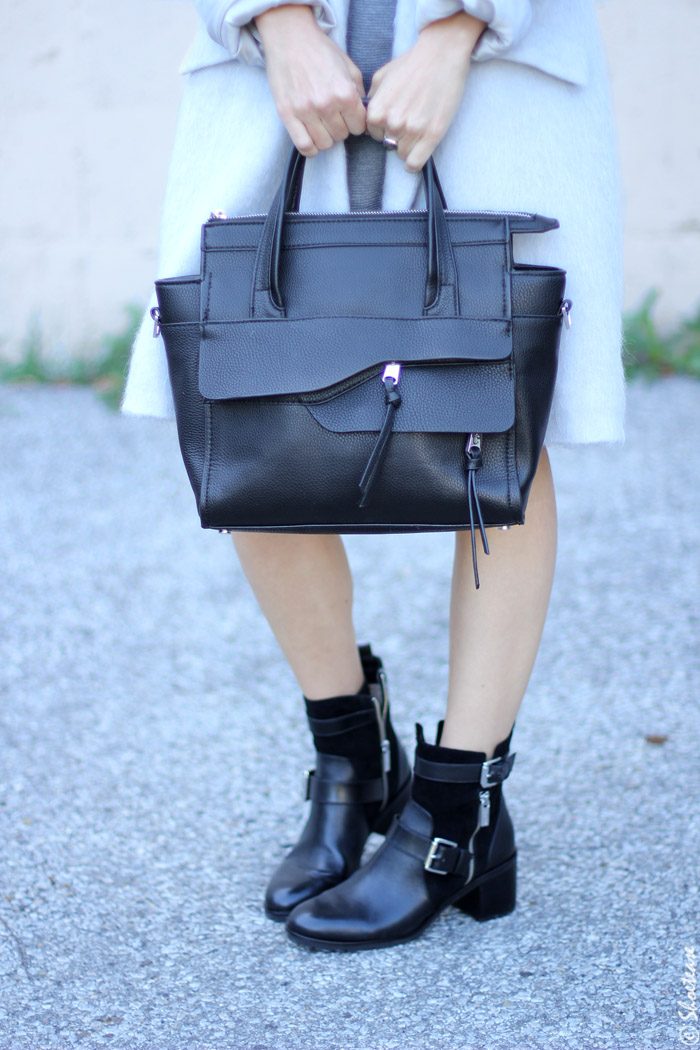 Purchased last month at Winners Bloor St, this purse has been my daily go-to every since. Big to fit enough in, while not being too huge to lug around, this CO-LAB by Christopher Kon faux-leather handbag with tons of pockets inside & out get the job done while makine me look good. Thankfully, it's incredibly sturdy too as I have a habit of mistreating my handbags!
Got this sporty stretchy ribbed dress at Banana Republic (I opted for the petite version, because the regular sizes fit too large). The sleeveless shift with wide turtle neck & side seam zippers works perfectly as a layering item (under, over or both!) & is actually on sale at BR in the US. Regular price here in Canada, but I'll keep you posted if things change. But you can probably score it at 40% with one of their online coupon codes!
My coat crush purchase during my last visit to Italy is from Max&CO. I don't know why this retailer is NOT in Canada, but it's probably a good thing as I'd buy far too much if it were! This mohair blend ice blue knit coat is perfect for the chilly nights of Fall. The loose structure ensures it will fit still when heavier sweaters start to pop up underneath!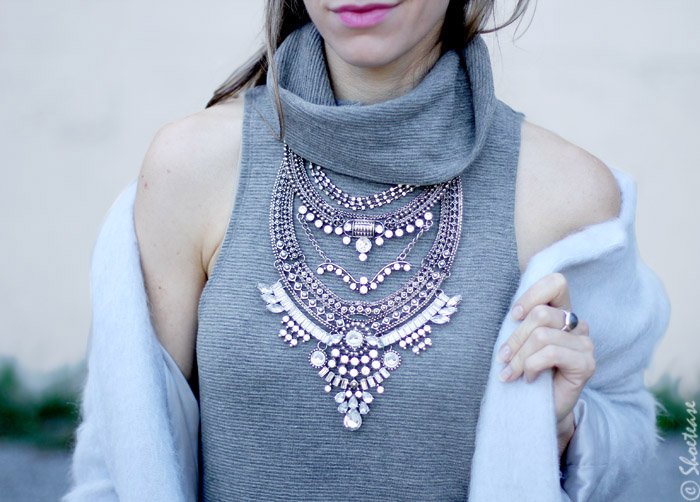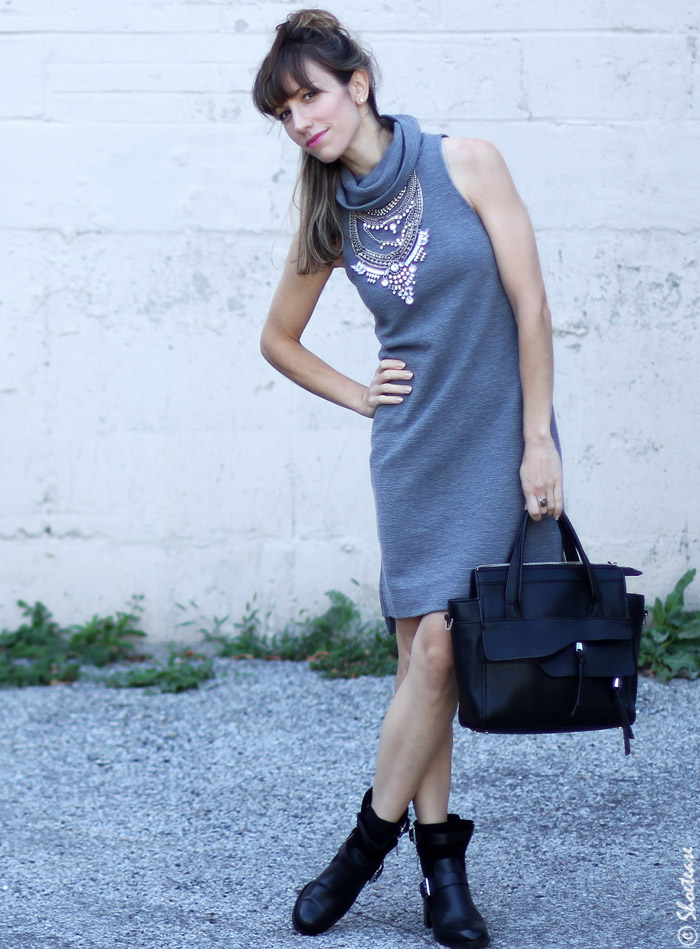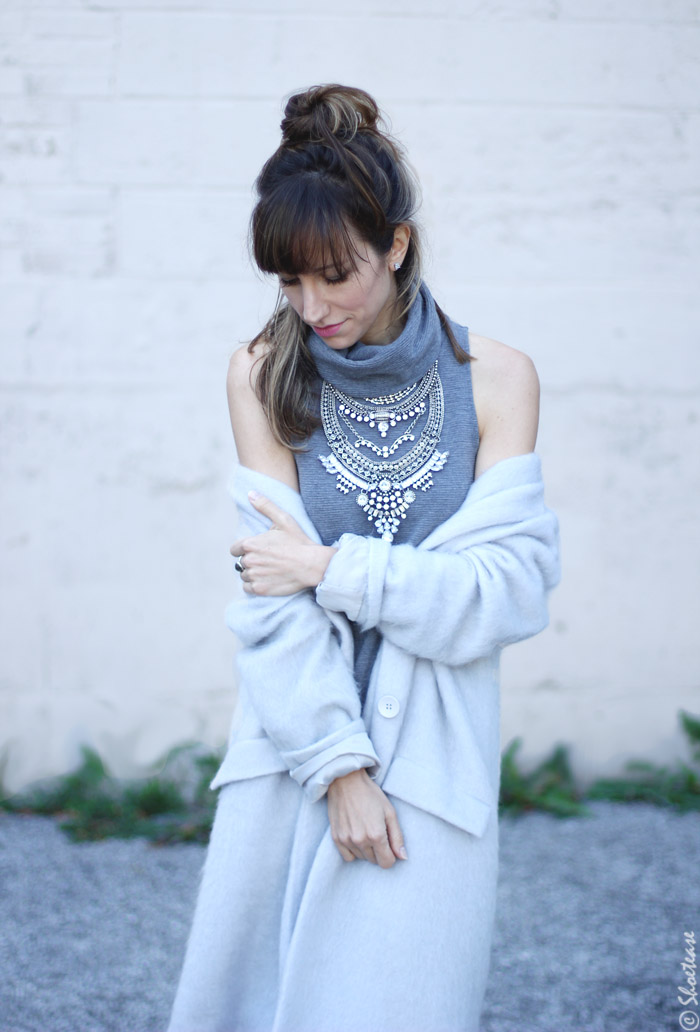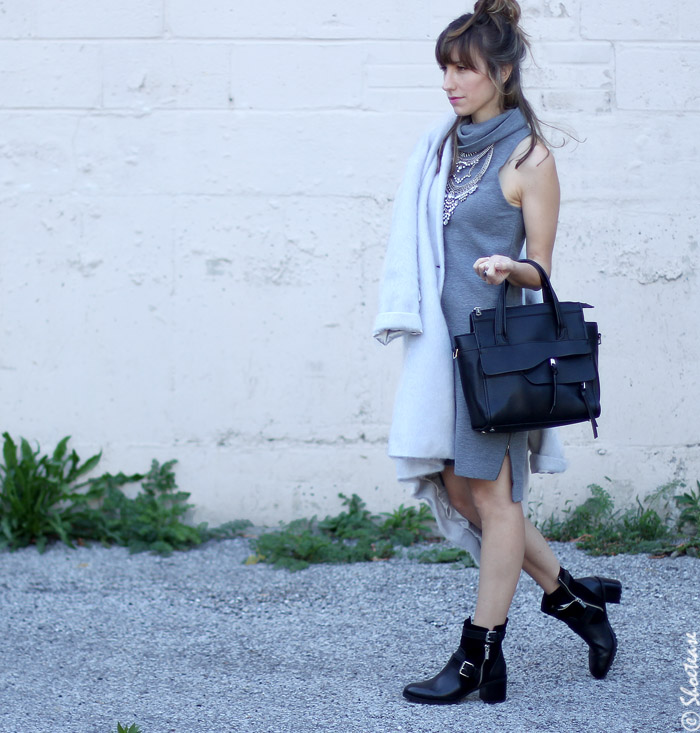 ---

---
Photography by Leonard Shen
xo Cristina